Oct 15, 2006
1,690
5
38
54
Back again for part 2
So off we went again and after short ride next stop but hey this time NO Coffee, only picture taking oppoturnity and for Old man for a smoke..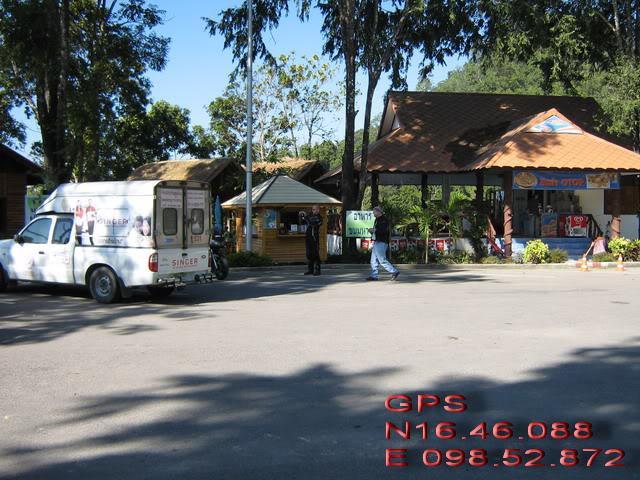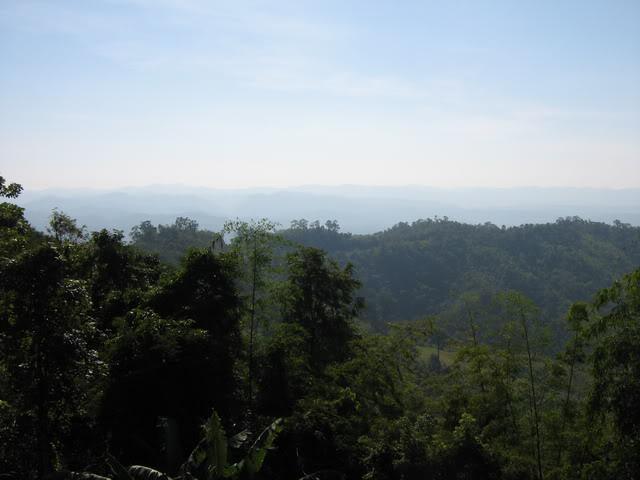 What a nice view point this was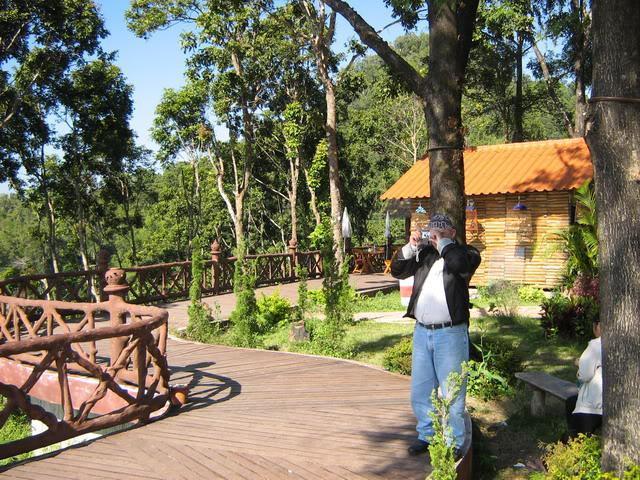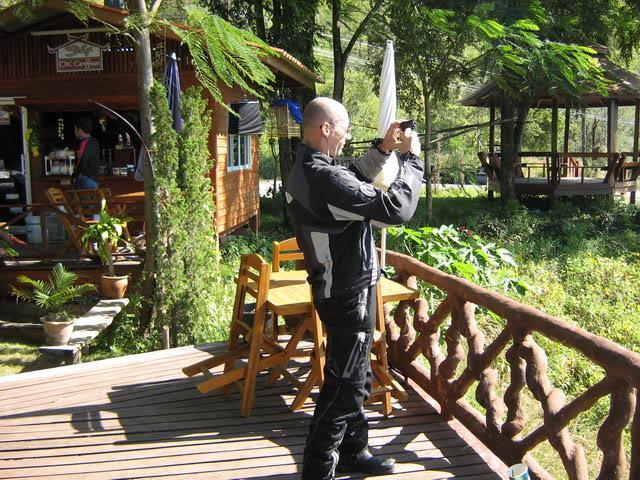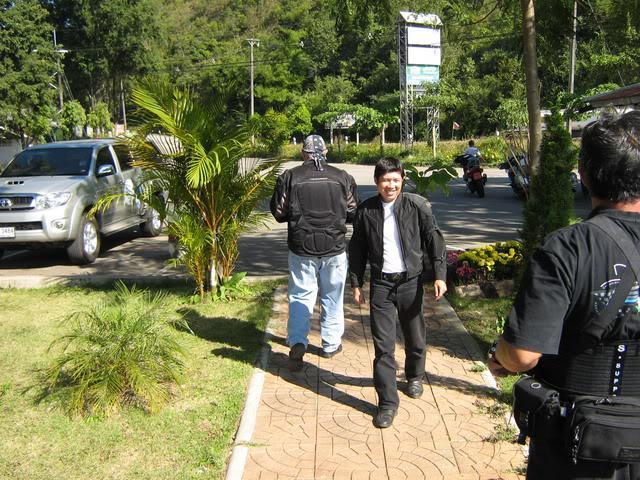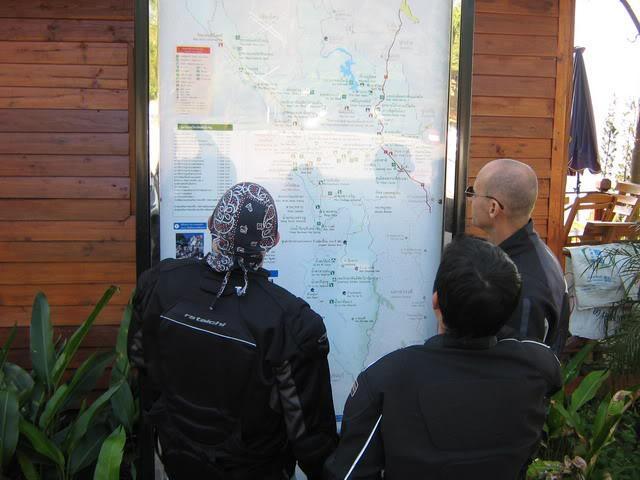 Where are we Guys???any on has idea?? :?: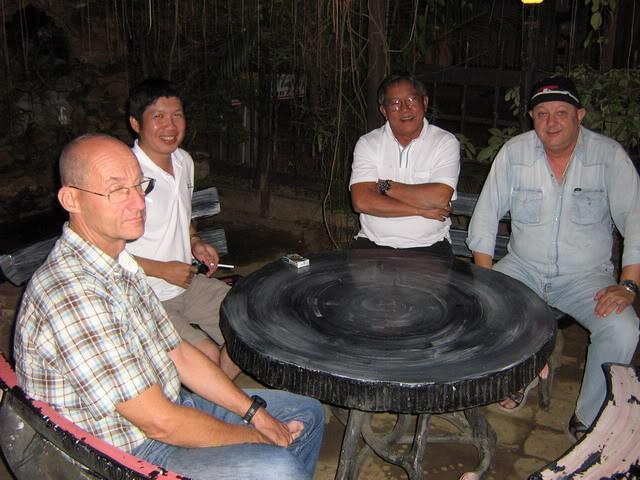 Something missing from the table....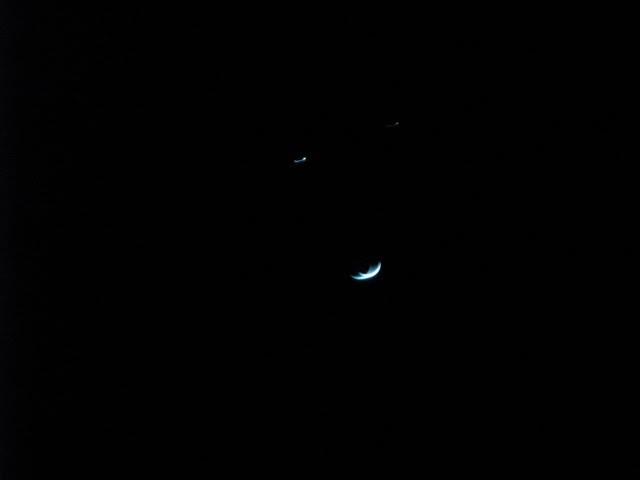 This fellow was in happy mood and looking down to us.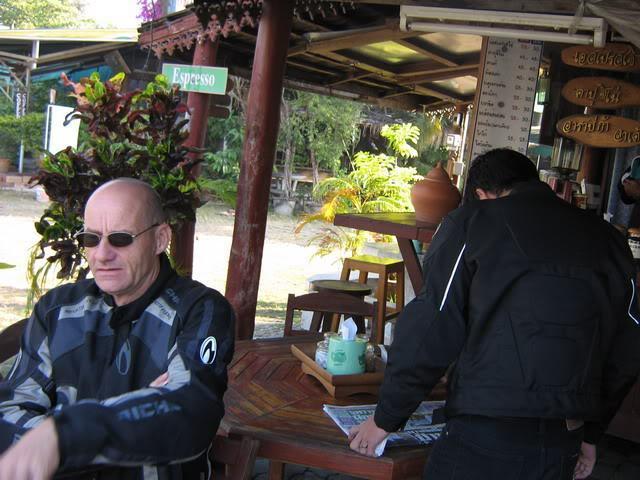 And Morning coffee brake after left hotel.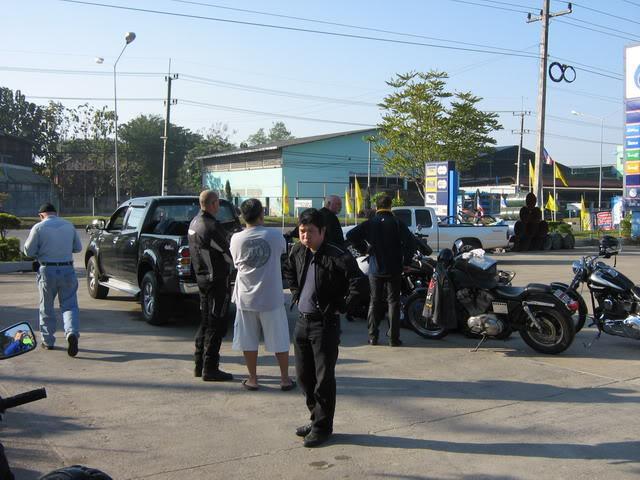 Jesper group guys had nice group but one of they HD had problems and they where doing oil change on the spot.Later on the same day on other HD was under repair on the road, they had really bad day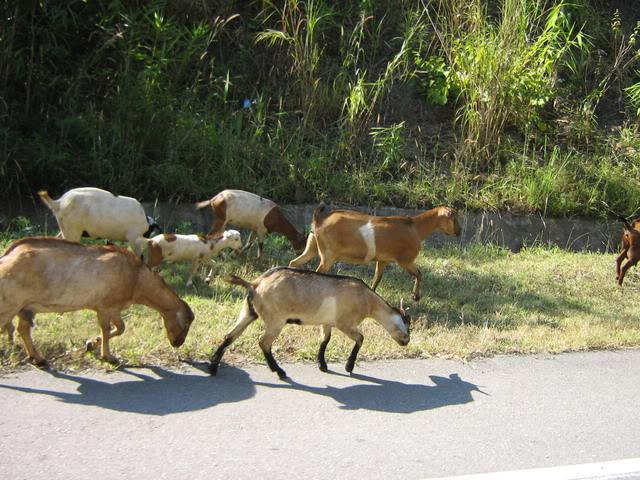 Trent,, ohh Trent,, those what you mentioned?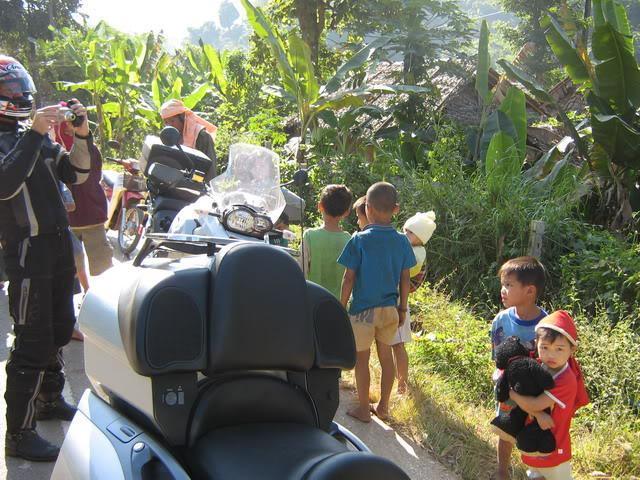 Refugee camp kids between Mae Sot-Mae Sariang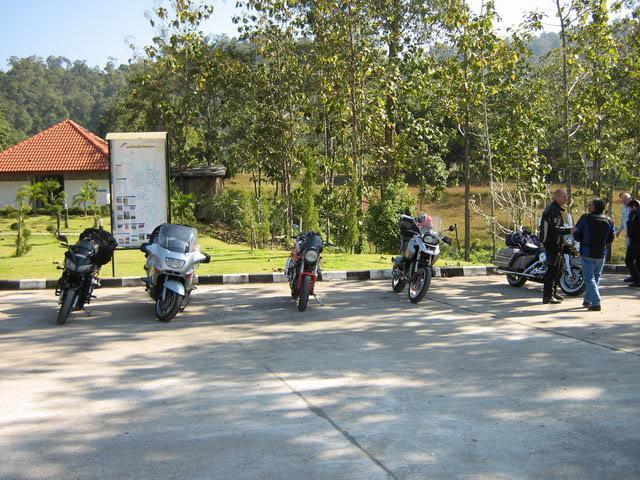 and top up for Peter and then off to coffee brake around half way point on R105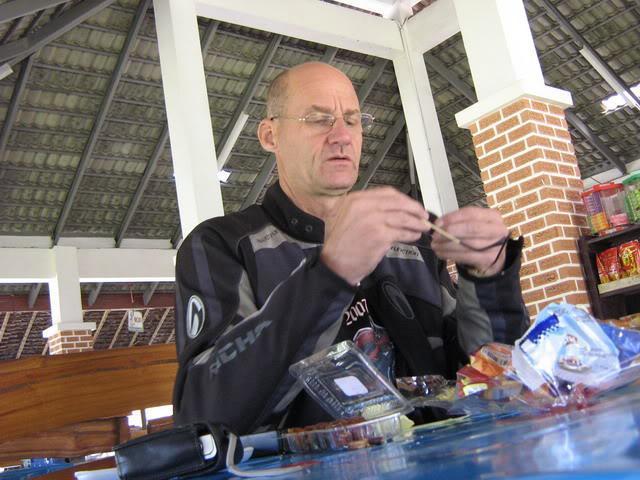 John investigating his nuts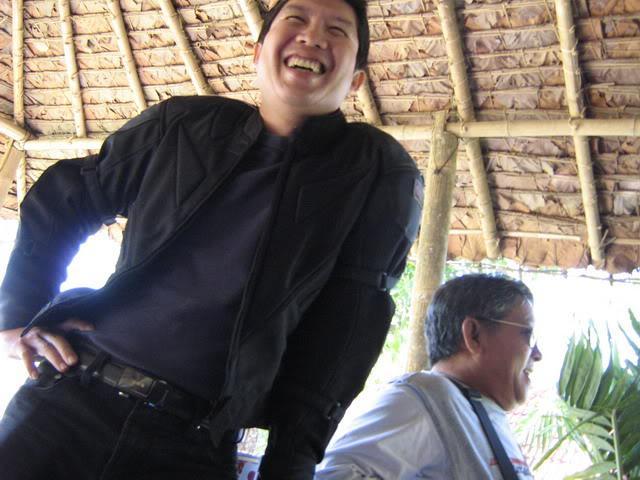 And eddie finds it amusing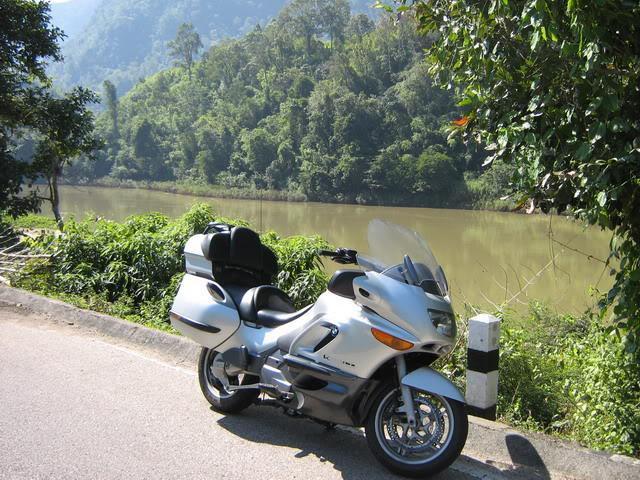 Now, again one mile stone completed, LT has now only one border where she hasn't been and that's down to malaysia, all other border points are completed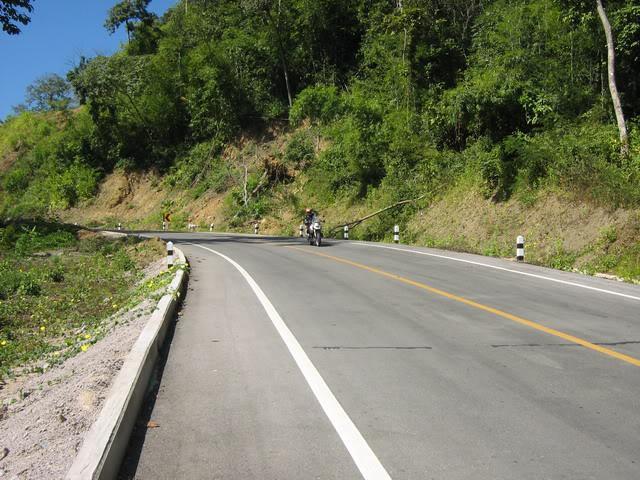 Speed demon on the run, me and John had this thing going on quite a while, he stops on the some bend and take action photos and then after a while i was hanging around in some bush and snapping picture out of him in action, great fun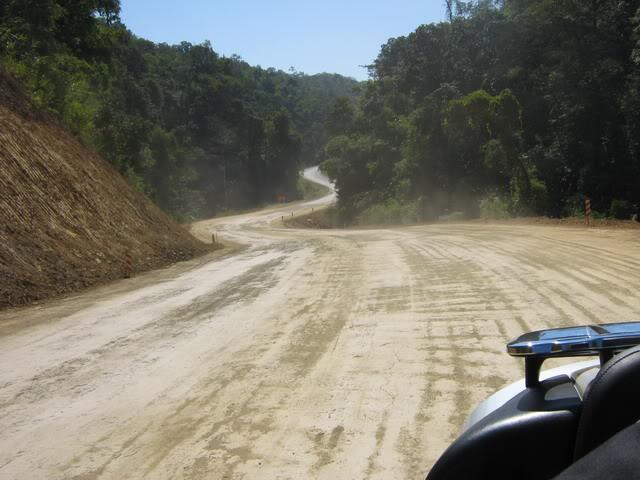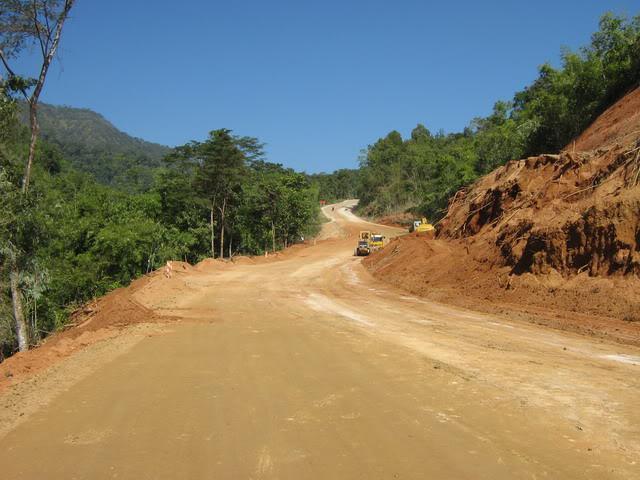 No problem for LT as surface is hard,,on this spot
Roads getting narrow but still comfortable to ride as speed is not needed or even recomended here,,,,John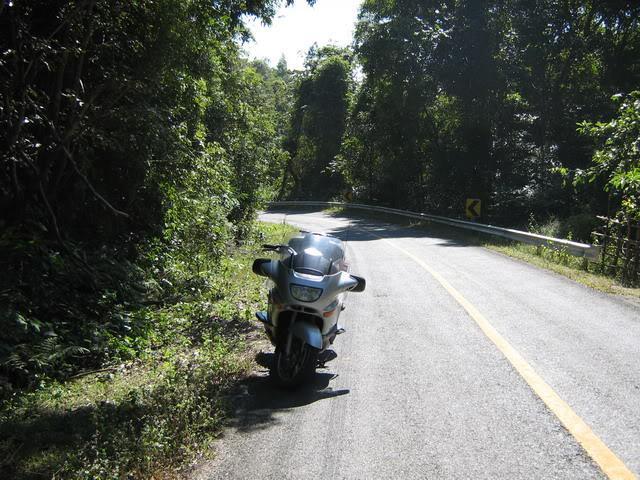 This is actually the very spot where i took that video clip of John speeding while i was in side that bush in the curve
What a view again, i could spend hrs there just sitting and listening for sound of silence, in this point i was way behind every one as i was just crowling in 1st gear and enjoying sceenery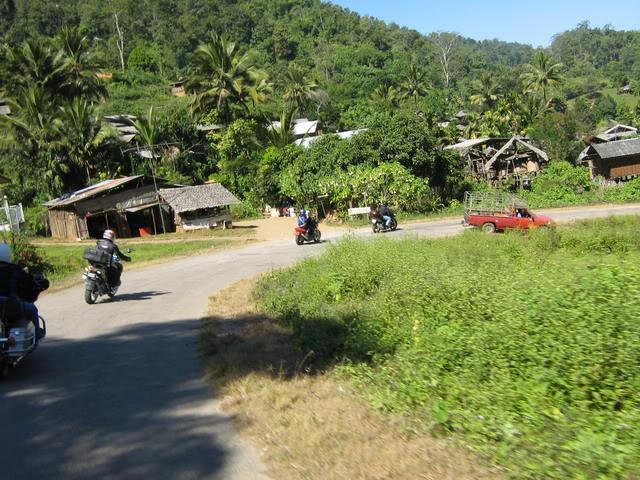 How ever catch the guys little bit later.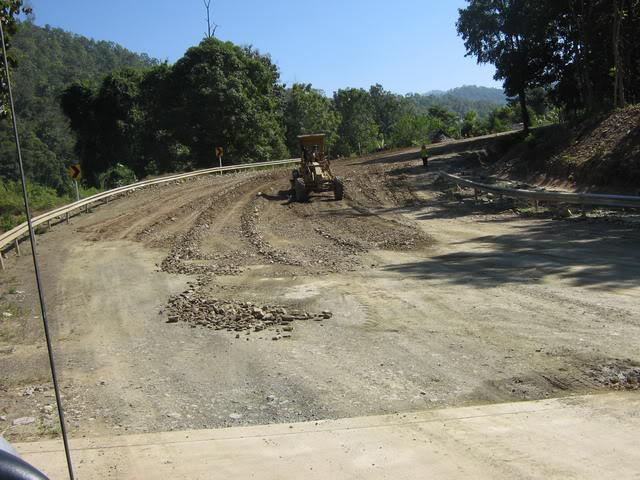 This spot got my attention as LT is not behave very good in the sad box, found outside line and no problem there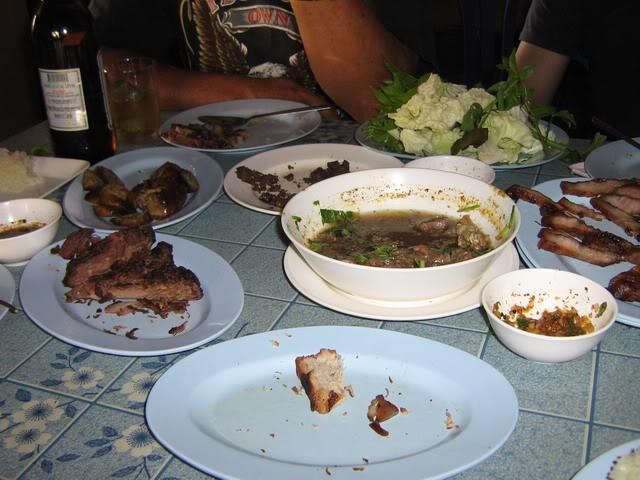 Almost forgot,, FOOD, right after arrived to Mae Sariang and hotel, quick shower and EAT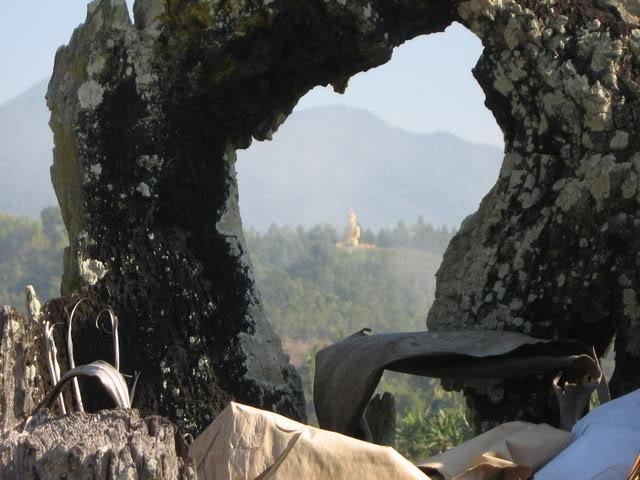 Found this nice half burned tree and opening there to take picture of Buddha on the far by hill, sadly my camera is not that good for long shots.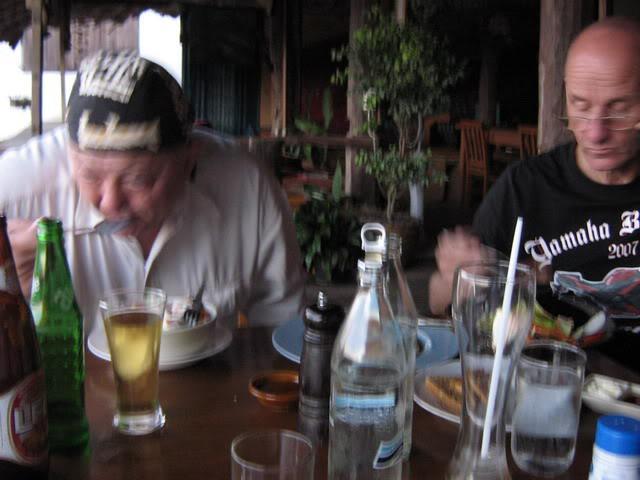 Later on that same night went to out to river house and Peter found this unbeliveble combination of food. Yougurt with Mushli washed down with LEO mixed with sprite....yammy, i drank water and so did John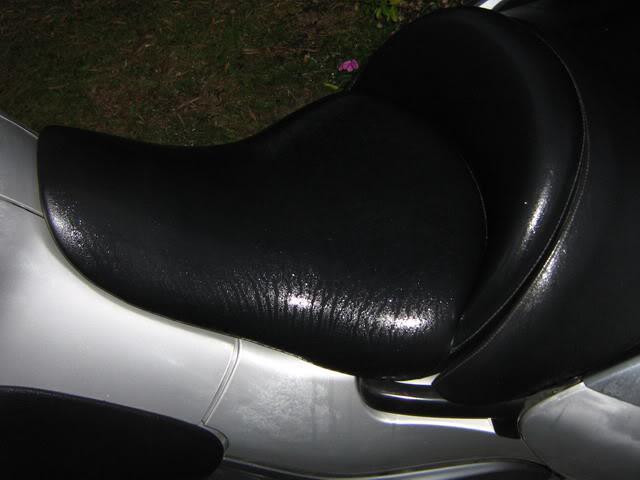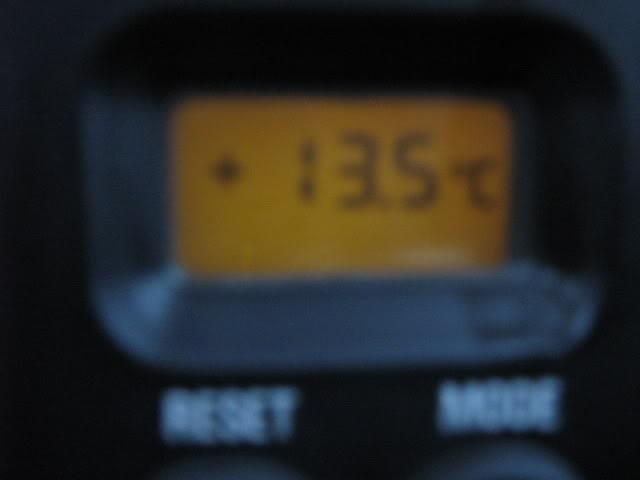 HOLY COW,, next morning was cold as LT termometer shows and wet.
quick guess in what condition was peter's sheep fuhr seat cover what was left out whole night :wink: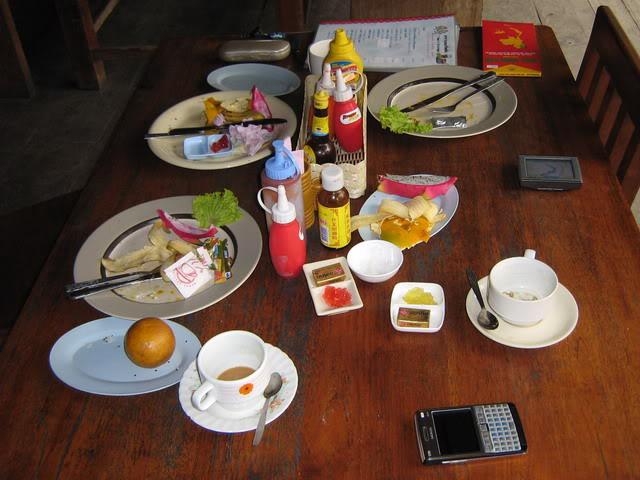 Then off to bfast, in some how i have developet quite appetite, i took bfast 2 times, full meal and noticed the GT-Map on the table?
we left, map stayed,yes we forgot it to there and found out that only when far up to entrance of national park on the way to Doi Inthanon, but later that night when we came back, peter when back to there and after few minutes got the map back, not everthing goes missing in Thailand.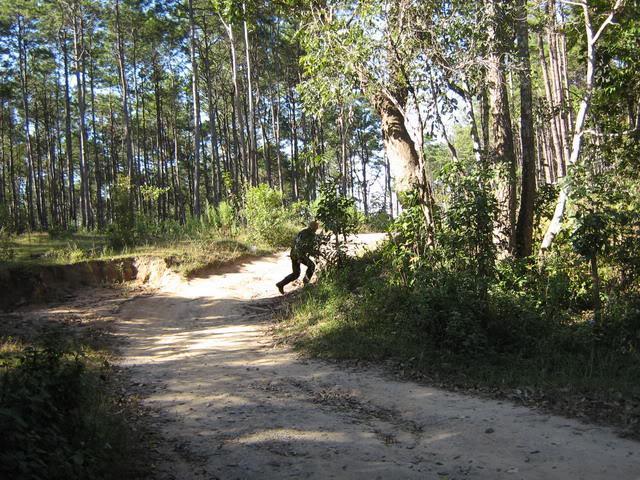 Now this is funny, in some how John has develop small bladder as he is on the way to molest that poor tree and have to say happens quite often :wink: "Captain Slash II?we had a lot's of fun on this trip,on of the funniest group so far, and yes it's getting better when Tony and Trent joins,,i have few exiting snaps from them as well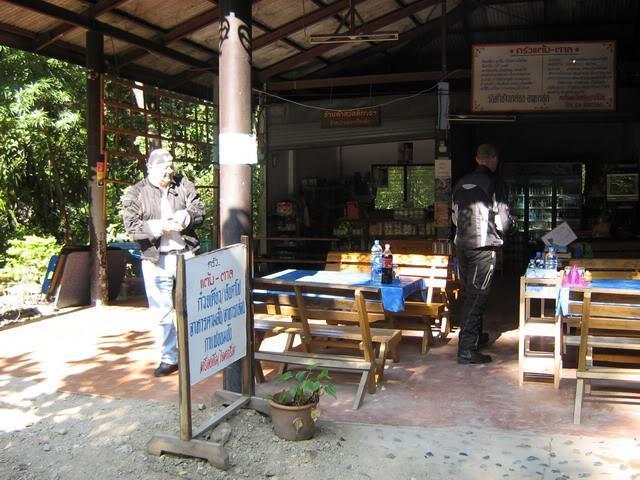 Hey, an other coffee brake just entrance of National park and same place where Peter almost got extra passenger(mentioned in Johns post) Pussy got so intrested of his sheep sattle cover and she almost start to humping on peters bike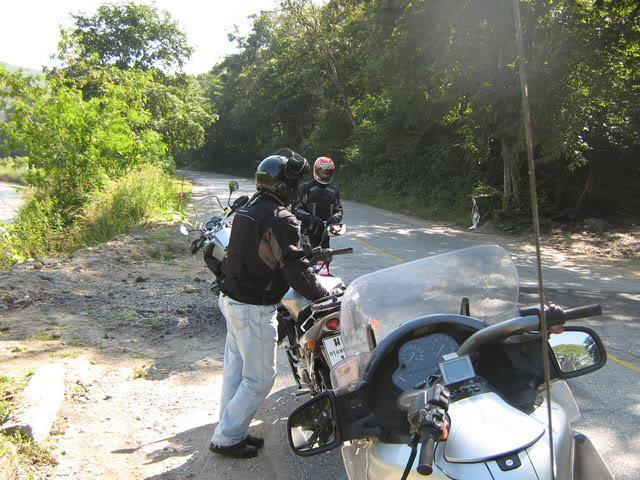 In this point we realized that GT-map is missing, well back up map uot and Peter is looking other route back to Mae Sariang when we are coming back, yes we knew where to go but we missed the junction,,,hahahaha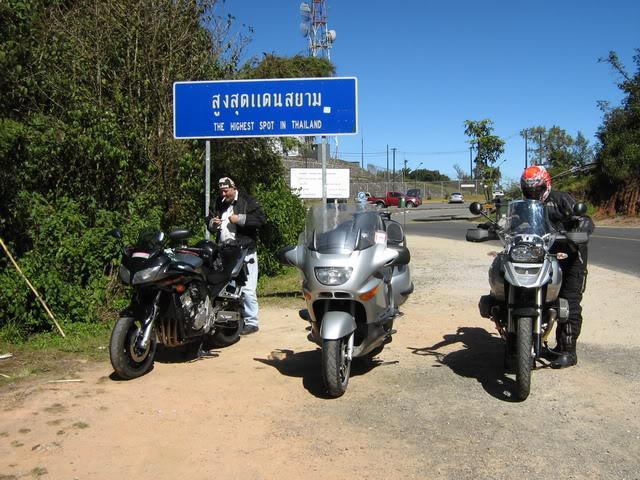 Reach the summit and John "Lining up" his GS for perfect photo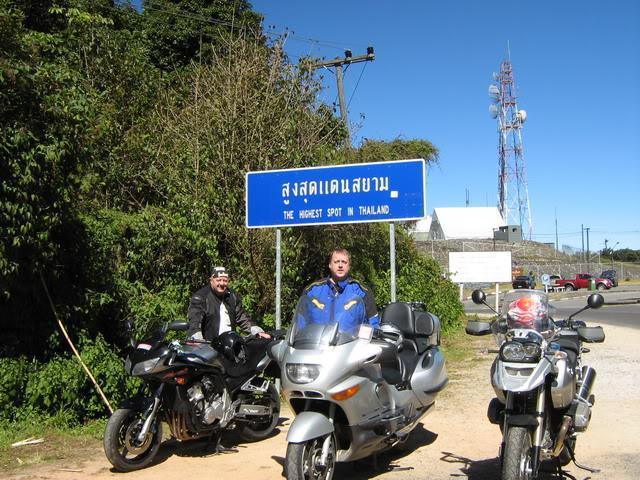 It's somewhat hard to get 3guys in the same photo as there was no one else to take pictures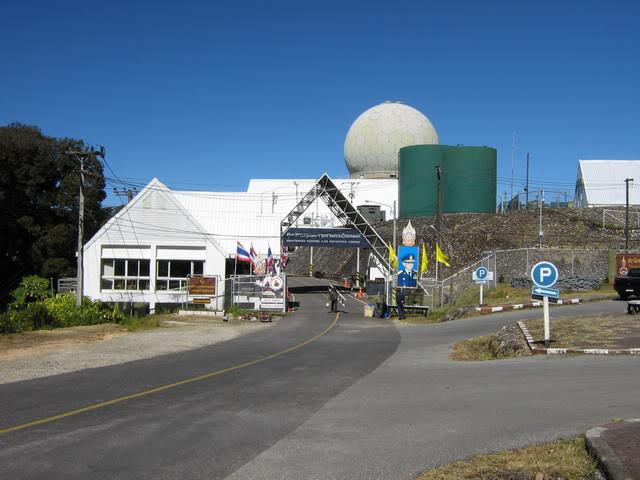 Btw,, there was huge sign on the fence for NO PHOTO, so parently is not allowed to take this picture :roll: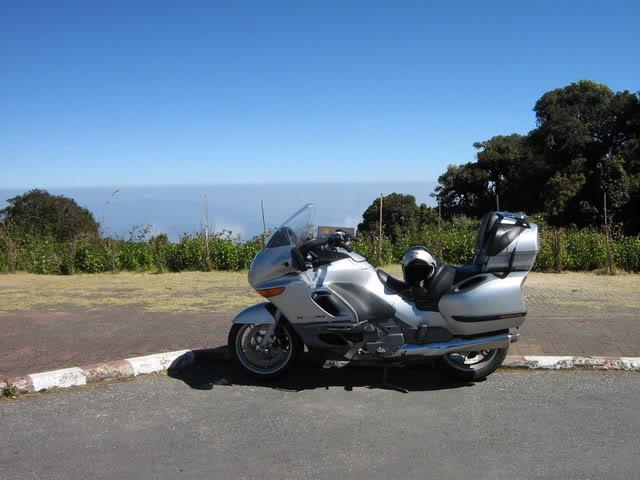 Now i can say that LT has been above the clowds, what a nice view it was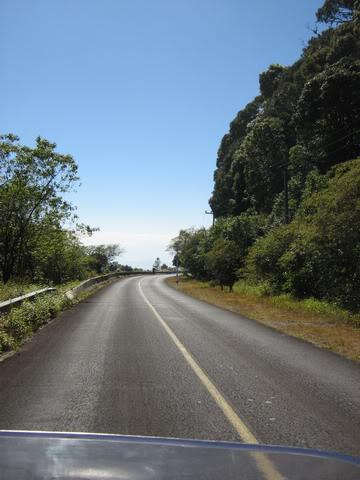 Nice clear blue skies and fresh air, in this time temperature was nice +17c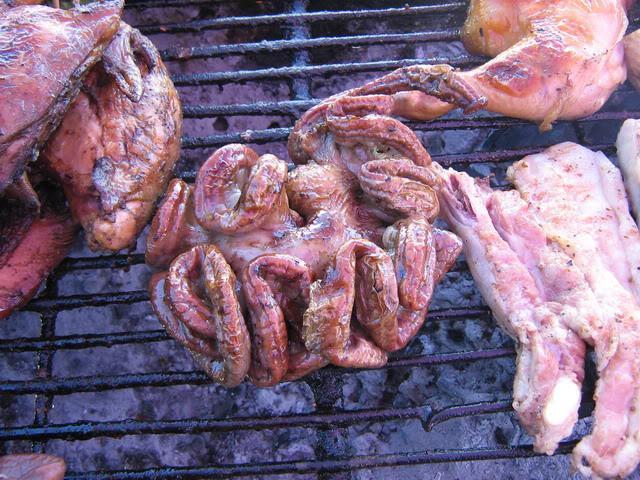 Now we found FOOD again, any one hungry? Pig stomach, i pass this time
Ok, enought this time as it's time to go ride and look for Sisaket town a little.
next part tomorrow..stay tuned