I've put together some answers to most people's concern about riding into Cambodia. Keep in mind that the law, currency info, and/or road conditions in Cambodia change frequently, and this update is accurate as of January 2007.
Fast Facts
Country Name:
The Kingdom of Cambodia
Language:
Khmer
Religion:
Thervada Buddhism (97%), Islam, Christianity, Animism
Population:
13.1 million
Land Area:
181,035 km2
Voltage:
220v/50Hz
Time:
GMT +7 hours
Country Calling Code:
855
Weather
November to February is the "cool season", which is dry and not too hot. In April it gets really hot, but not rainy. Starting around June it gets rainy and still hot. It rains off and on all the time, so roads are muddy and some areas are impassable, and it stays like that until November, when cool & dry comes back. Click here (
http://weather.yahoo.com/forecast/CBXX0001_f.html
) for today's forecast for Phnom Penh.
Money
US dollars in cash terms is best. You will get some riel as change when you spend the US dollars. One USD is about 4000 riels. There are a few places that will change travelers checks. Credit cards are not too widely accepted around.
Visa
Not required if you hold a Singapore passport. However, for other passport holders require to pay 1,000Baht (US$25) for a tourist visa or 1,500Baht (US$38) for a business visa
International Overland Border Crossings
Aranyaprathet/Poipet Checkpoint
Open 08:00-20:00hrs (+7 GMT)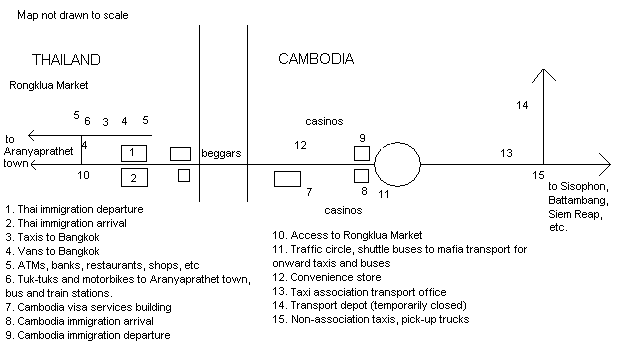 Cham Yeam/Koh Kong Checkpoint
Open 08:00-20:00hrs (+7 GMT)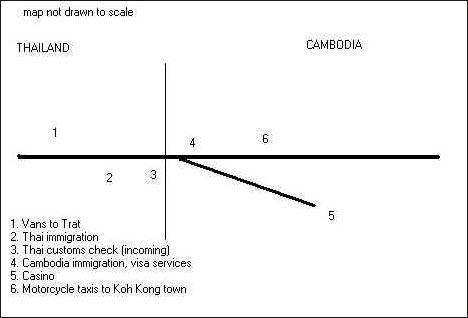 Other International Overland Border Crossings
Bavet (Svay Rieng Province)
Kaam Samnor-Koh Rokar (Kandal-Prey Veng)
Cham Yeam (Koh Kong Province)
Poipet (Banteay Meanchhey Province)
O'Smach (Oddar Meanchhey Province)
Phnom Den (Takeo Province)
Dong Krolor (Stung Treng Province)
Road Conditions
Poipet to Sisophon (Route 5, 51km, 1hr)
- This section is surfaced but quite rough in spots. A lot of big big potholes that will keep your speed below 50km/h.
Sisophon to Siem Reap (Route 6, 105km, 2hrs)
- The first 75km is unpaved road, some are paved, while some are loose sand with plenty of red dust. Lots of broken bridges are under construction. Meanwhile, you need to divert quite a number of times. The last 30km is broken tarmac roads with plenty of potholes.
Sisophon to Battambang (Route 5, 68km, 1hr)
- Nice tarmac roads. Beware of some 4x4 drivers who honk their way through at speed of over 100km/h.
Siem Reap to Kg Thom (Route 6, 147km, 2hrs)
- Nice tarmac roads. Smooth journey.
Kg Thom to Phnom Penh (Route 6-6A-5, 168km, 2hrs)
- Nice tarmac roads on most of the roads. Traffic begins to build up when within 10km of the Phnom Penh vicinity. Has a bike lane across the Japanese bridge over the Tonle Sap.
Phnom Penh to Phnom Chisor (Route 2, 52km, 1.5hrs)
- Tricky road if you decided to head from the Killing Fields to Phnom Chisor as the narrow offroad trail is being divided by a river. I managed to detour and find a bridge to get to the other side and head back to the tarmac road on Route 2 South to Phnom Chisor after that.
Phnom Penh to Kep (Route 3-31-33, 164km, 2hrs)
- New tarmac roads along Route 31 and Route 33 with beautiful scenaries... More breathtaking once u reach the beach of Kep. It has a hill on the left and the road is bordered by the sea on the right.
Kep to Kampot (Route 33, 25km, 20mins)
- Narrow roads with a couple of bridge crossings that are underway.
Kampot to Sihanoukville (Route 3-4, 132km, 1.5hrs)
- Great tarmac road leading to Cambodia's premier beach area. Has a toll plaza along the way, but its free for bikes anyway!
Sihanoukville to Koh Kong (Route 4-48, 239km, 4hrs)
- This is the most interesting part of the ride in Cambodia as it comprises of 4 river crossings. Pretty smooth tarmac roads (about 87km) from Sihanoukville till the turn off into Sre Ambel. From Sre Ambel to 1st river crossing is made of hard compact soil/gravel. At the 1st river crossing, the platform is connected by 2 small boats and you ride onto a narrow plank to get onto the platform. Construction of the bridge looks like its more than 60% done. Road from the 1st river to the 2nd river has nice compact soil/gravel and the 2nd river crossing is on a similar platform like the 1st river crossing.
Here comes the fun part. The paths from the 2nd river to 3rd river is fun if you are on a dirt bike. Lots of road works along the way, with loose soil/mud along the way. Dusty red sand everywhere as well. At the 3rd river crossing, its on a big boat, where bikes cross with cars/trucks and you need not balance on narrow planks to get on the boat. Similarly, the path from the 3rd to 4th river is a little challenging, with up/down slopes on loose soil/gravels. Can see that road works are on the way, and should complete by end of the year. Also, at the 4th river crossing, the big boat sends the bikes & cars/trucks together across.
After crossing the main bridge from Koh Kong to the Khlong Yai border, there is a toll plaza and bikes need to pay 1200 Riels. Its about a couple of minutes away from the border .
Travel Guides / News / Magazines
Tales of Asia - The most updated & comprehensive guide to Cambodia
http://www.talesofasia.com/
Travel Guides & Tourist Reviews
http://www.virtualtourist.com/travel/As ... bodia.html
Canby Publications Travel Guide
http://www.canbypublications.com/
Comprehensive Guide to the Angkor Temples
http://www.canbypublications.com/siemreap/srtemples.htm
Bayon Pearnik - Cambodia's Tourism & Infomation Magazine
http://www.bayonpearnik.com/
Cambodia Travel Tips
http://www.garella.com/rich/travcam.htm
Cambodia Pocket Guide
http://www.cambodiapocketguide.com/
Cambodia Online - Cambodia's Gateway Portal
http://www.cambodianonline.net/
The Phnom Penh Guide
http://www.phnom-penh.biz/restonet/pp/a ... ument&l=gb
Info on Sihanoukville
[email protected]
Best of Cambodia
http://www.bestofcambodia.com/
The Cambodian Scene Magazine
http://www.cambodianscene.com/
Motorbiking in Cambodia
Golden Triangle Riders
https://www.gt-rider.com/
Adventure Rider Forum
http://www.advrider.com/
Dancing Roads
http://www.dancingroads.com/index.html
Voyage Vietnam
http://www.voyagevietnam.net/eng/38.php
Hidden Cambodia Adventure Tours
http://www.hiddencambodia.com/
Cambodia Red Raid Motorcycle Tours
http://www.motorcycletourscambodia.com/
The Motorcycle Shop in Cambodia - Rental & Repair
http://www.motorcyclecambodia.com/
Angkor Dirt Bike Tours
http://www.toursintheextreme.com/
Cambodia Expeditions
http://www.cambodiaexpeditions.com/
Motorcycle And Motorbike Rental, Hire And Tours in Cambodia
http://www.ridetheworld.com/98_Cambodia.html
Cambodia Motorcycle Tours
http://www.ecosea.com/eco/HTM/Cambodia% ... 0Tours.htm
Field Reports and Blogs
http://www.pauche.blogspot.com/
http://cambodia.mellenthin.de/
http://www.horizonsunlimited.com/tstories/everett/
http://www.cafecaliforniaphnompenh.com/motorcycle.htm
http://trip-reports.blogspot.com//
http://cardrona.spaces.live.com/
Maps
http://www.canbypublications.com/maps/maphome.htm
http://www.cambodianonline.net/homemapsgallery.htm