I don't usually use this crossing, but this weekend I was planning on trucking down the Motorway, the Sadao crossing is perfect for accessing the N-S motorway.
I was looking to speed the process up by purchasing my insurance in Hat Yai prior to arrival, previously at Betong and Wang Prachan it has taken the insurance people an hour to make calls and print off a cover note and then a further 50 minutes at JPJ, but I was unsuccessful in my attempt.
Im glad to say that at Sadao, things are improving - the departing immigration hall is now operational, and has been for 2 months. Malaysian coaches now drop off their passengers and circle the building ( ignoring the coach parking ) and collect their passengers at the exit for foot traffic. It makes getting through a bit tricky, as there are coaches blocking the exit and passengers walking everywhere.
However, motorbikes and pillions have no need to queue and use the departure hall. Just follow the signs around the building and one of the white booths will be open.
Its still not as simple as Malaysia, you have to dismount or get out of your vehicle and go to the window, but its better than queuing for upto an hour, as is the way on a Sunday afternoon.
The whole process took a few minutes.
I wasn't asked to produce a TM2/3 form but I was asked about this on return, this is a separate issue.
After stamping out of Thailand, it was a simple process stamping into Malaysia - however, the whole border system is still a mess - coaches blocking traffic, cars doing U-turns, trucks backed up for 3km into Dannock and the area around the JPJ is being rebuilt.
However, I called into Zurich insurance, they have an awning affair next to the JPJ office. I handed over a copy of my passport, drivers licence and the current owner page of my green book. I asked the price, she asked for 75 MYR, I have been paying 70 MYR.
I asked why 5 MYR more than previous trips, she immediately discounted, which makes me think i should try 60 MYR next time. The agents in Betong don't seem to be on the level, one guy is based in a site office for construction and the agent in the tent takes your documents and rides off on a scooter and returns with your cover notes, they ask for 90 MYR in the first ( 200B is quite some difference ) but i thought the whole process at Sadao was very efficient and business like.
I asked how long ? "10 mins" was the reply, time for a quick coffee next door. No calling to another agent, no waiting for an email to return, the girl sorted the cover note there and then. Perfect !
Insurance can be purchased from 8.00 AM MY ( 7.00 AM TH ) and there is a Thai number - 081 - 7666 220
However, during the quest for a HY based insurance agent, a Thai person informed me that if you use LINE messenger, send a picture of your green book, and both sides of your Thai DL then the paperwork can be prepared prior to arrival, and its just a matter of payment. Maybe helpful, as at 9.00 MY there was a queue of Malaysians buying insurance.
The girl can be contacted on LINE by searching this number - 012-4584681 ( subject to change )
JPJ Office
There was one guy ahead of me, but I was out within 10-15 minutes, a pretty good service, all you need is a completed form from the insurance agent, a cover note, copy of your passport, copy of your translation and your original (Thai) DL.
If you wish to speed up the process even further - heres a scan of the JPJ form, print off and complete prior to arrival.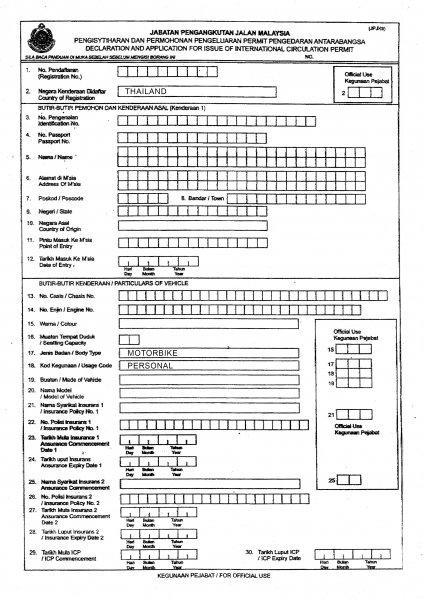 The Malaysian point of entry is called Bukit Kyu Hitam - If you don't have a hotel or a plan, you can just write a town such as Gerik, Ipoh or tourist destination Cameron Highlands.
Last edited by a moderator: