0
Staff member
Subscribed
Jan 16, 2003
13,947
4,920
113
69
As some of you know in the last couple of weeks I've moved on from Chiang Mai to Chiang Khong on the Mekong.
It was a difficult decision to make after so long in Chiang Mai - at 64 years of age, more than half my life has been in Chiang Mai!
We had a nice GTR send off at the Kafe on 27 March 2018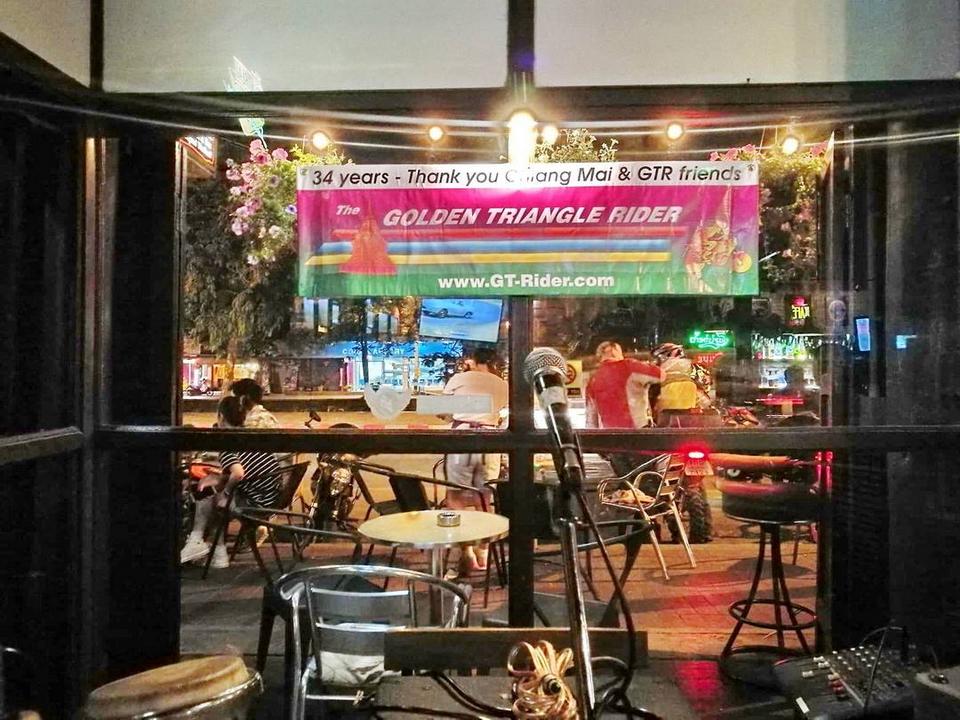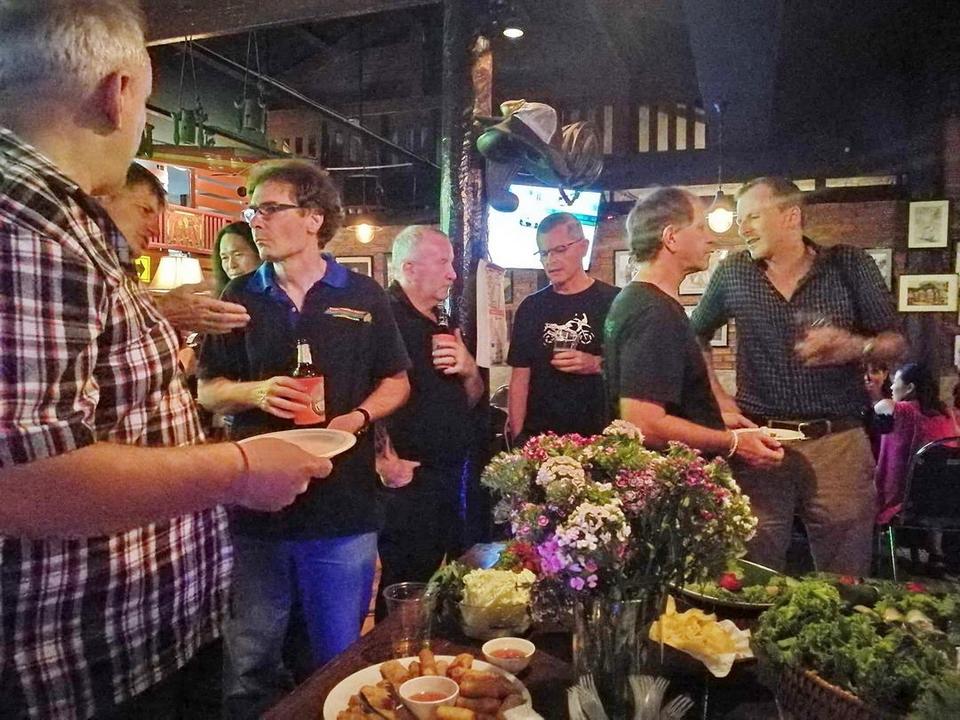 The Kafe was packed with 50 plus mates to make sure I was leaving town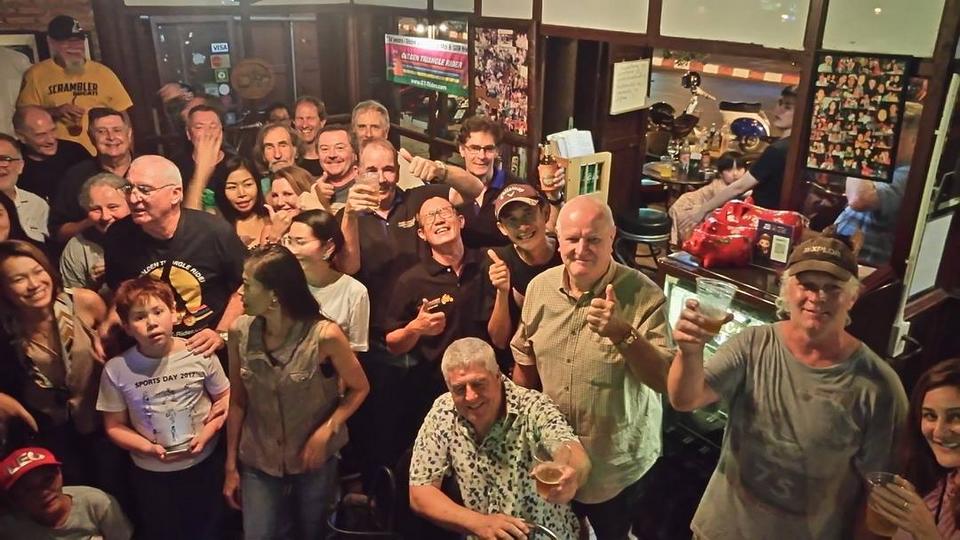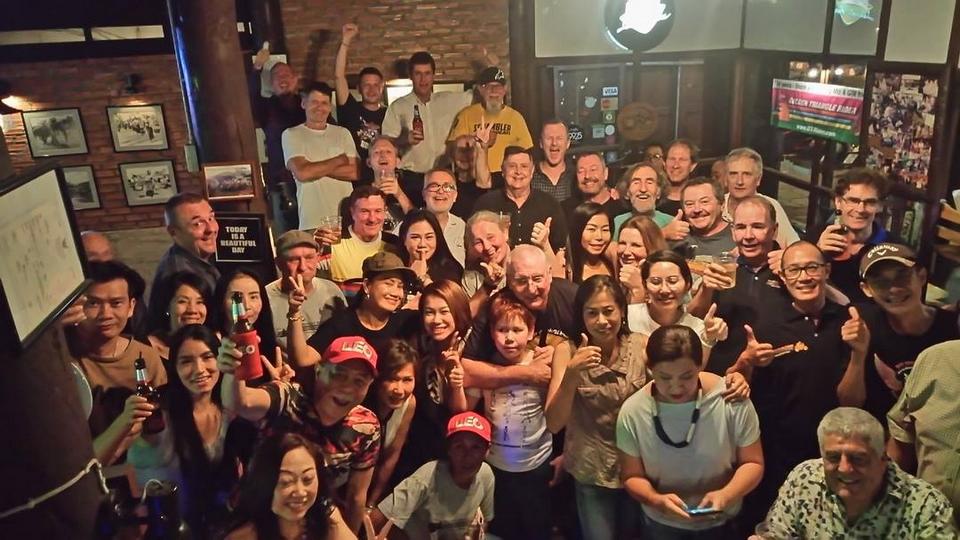 This post carries on from here
Best Part Of Chiang Mai To Live In (from A Rider's Perspective)?
Some details & "logic" for moving on will follow, but first some notes I had for a speech I endeavored to deliver without being too emotional. Public speaking is certainly not one of my strengths.
​
Gday & welcome everyone to the Kafe & a happy hour drink with me.​
​
I'd like to thank you all for coming, this is supposed to be the last happy hour for me at the Kafe.​
​
As you maybe aware I've decided to leave Chiang Mai after a long time here. 35 years in Chiang Mai, & at the age of 64 that is more than half my life. The time has flown by such that I've actually lost track of it, confirmed by the fact that I originally posted it as 34 years, but yesterday at the Bier Stube I was reminded that I've been in Chiang Mai longer than the Bier Stube, so it is probably 35+ years.​
​
These have been 35 fantastic years & an incredible life!​
​
My reason for moving on after such a long time is that I've become unhappy with what is happening to Chiang Mai & the valley.​
​
Chiang Mai is no longer a sweet charming upcountry town. The new pace of development means that the city is being choked by traffic – from the road & in the air, + with Chinese tourists.​
The old Lanna charm is disappearing at frenzied pace. The city is becoming a china town.​
There used to be lovely shady lanes to walk down, now it's just a busy concrete jungle with traffic congestion & no parking.​
In the next 10 (-15?) years I don't see any satisfactory solution to the traffic & environmental issues involved. So for me the quality of life here in the valley is only going down & going down rapidly. I didn't come here for that dilemma, so the time is right to move on.​
​
There are much better places than Chiang Mai in North Thailand to live now. But once upon a time = 35 years ago for me, there really was only Chiang Mai. It was such a gem – the Rose of the North. Sadly it isn't such a sweet smelling Rose of the North anymore. The place for me now is Chiang Khong by the Mekong, Chiang Khong has always been my favourite town in North Thailand, some perhaps it is only right that's where I should end up.​
​
But I must say I had thought I was going in the other direction to Thung Hua Chang, 60 kms south of Lamphun, with a very sweet lady Gaa, but that is not working out because of a very significant cultural speed bump we seemed to have hit. Sadly she is not here, and I wish she was. So perhaps that's another reason time to move on.​
​
My life here has been very special & it is extremely pleasing to see so many friends old & new here.​
​
Thanks to the motorbike rental shops for selling GTR maps & keeping me alive & on the road.​
​
I'd like to acknowledge the presence of​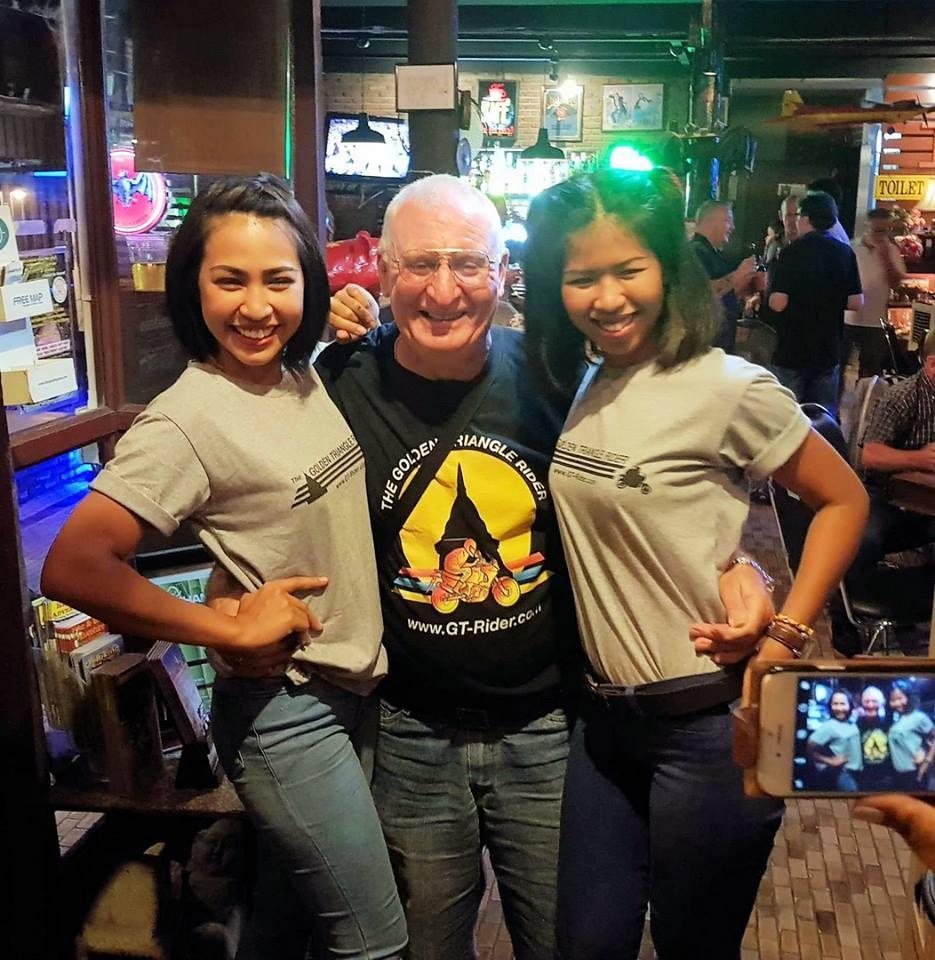 Tim & Veronica
Zed
Well Schack from Euro Diner
Danny Siam Sun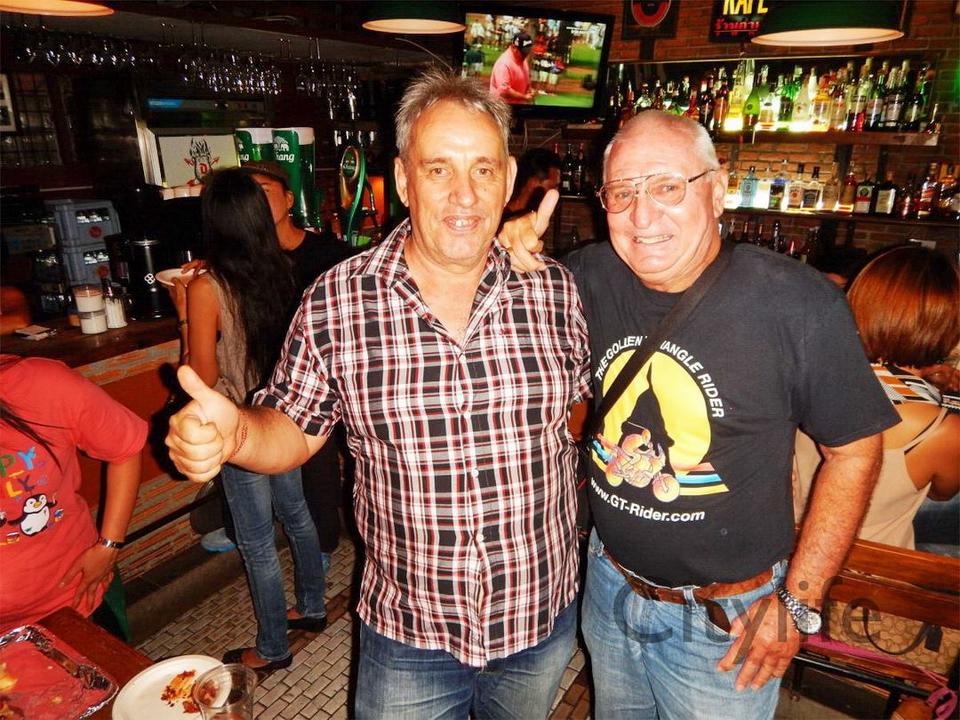 Sandy for the UN Irish Pub & MotoGP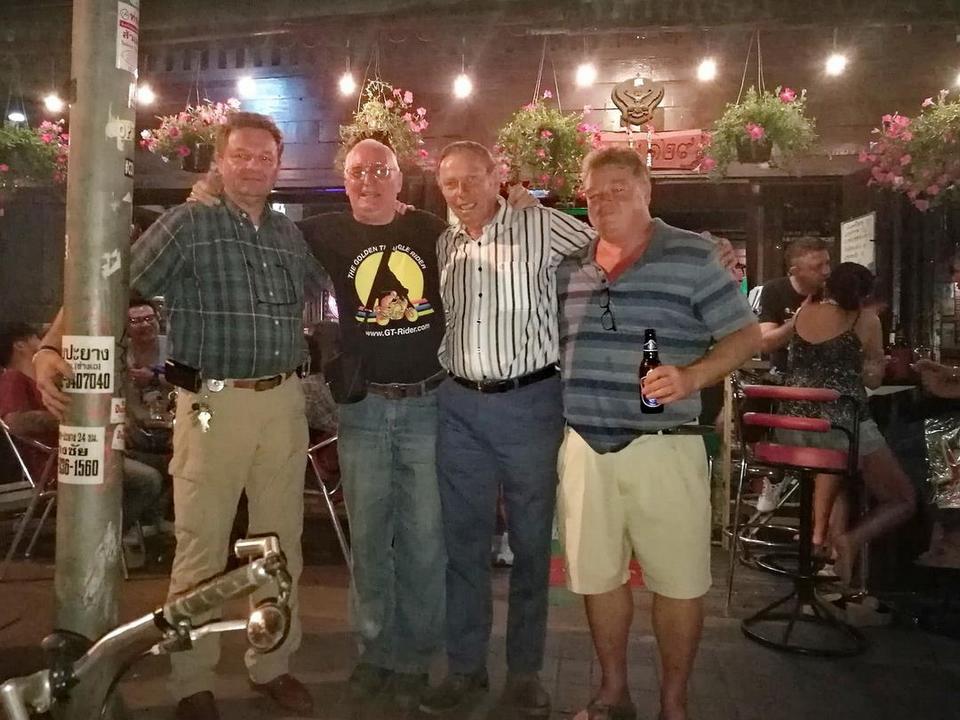 Katai & Joe new dear friends at the Erotic Garden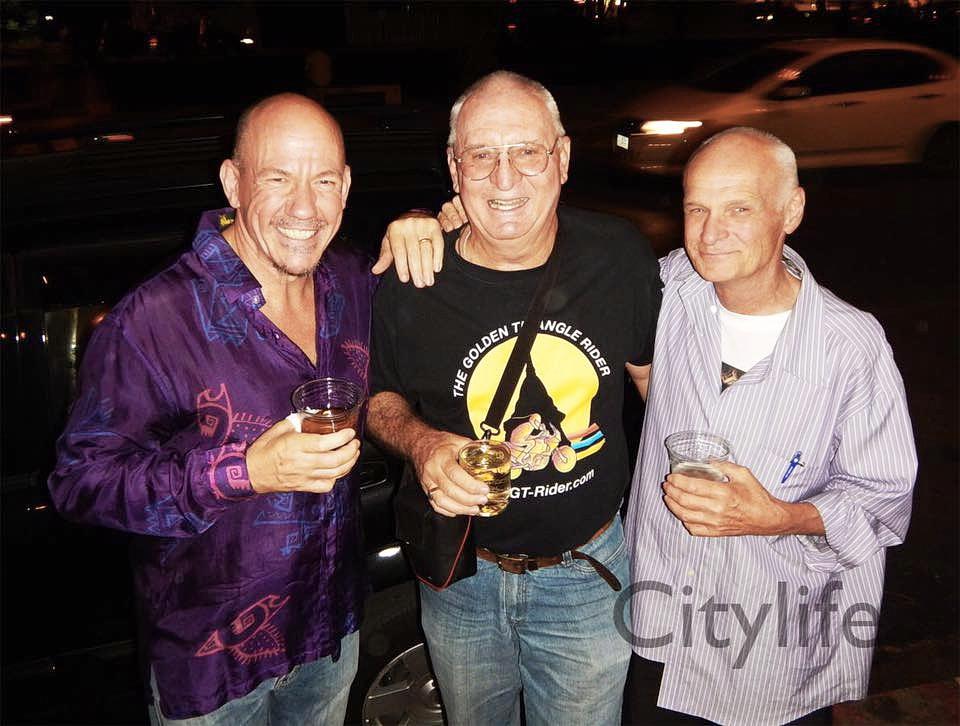 ​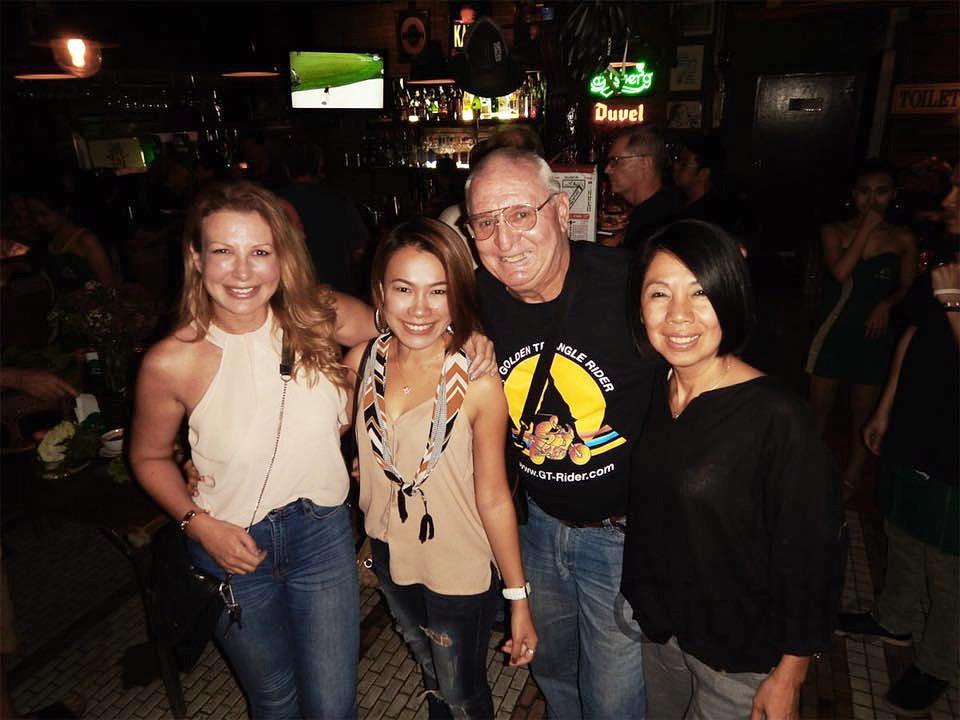 Kay & Noah at BBT tours for being Kafe buddies.
Joe from Joe's Bike Team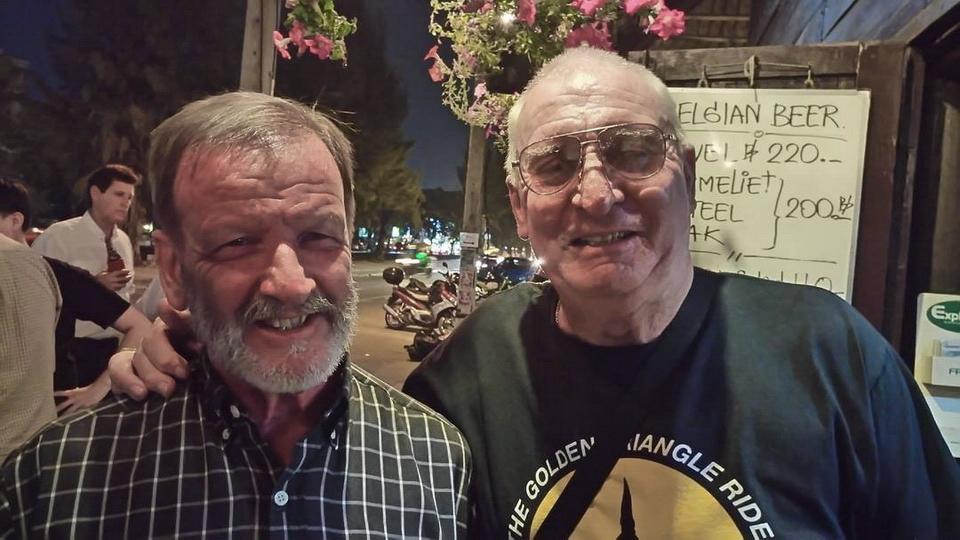 Joe witnessed my massive bus crash in 93, He was the first one on the scene. Joe also went to Laos with me on the first bike ride in Laos in 95.​
​
Now some thanks for special people and relationships over these many years.​
​
I would like to thank the Kafe first for their TLC in all my time here. You guys run the friendliest happiest mixed pub – Thai & Farang - in the universe. And without the Kafe I may well have moved on years ago.​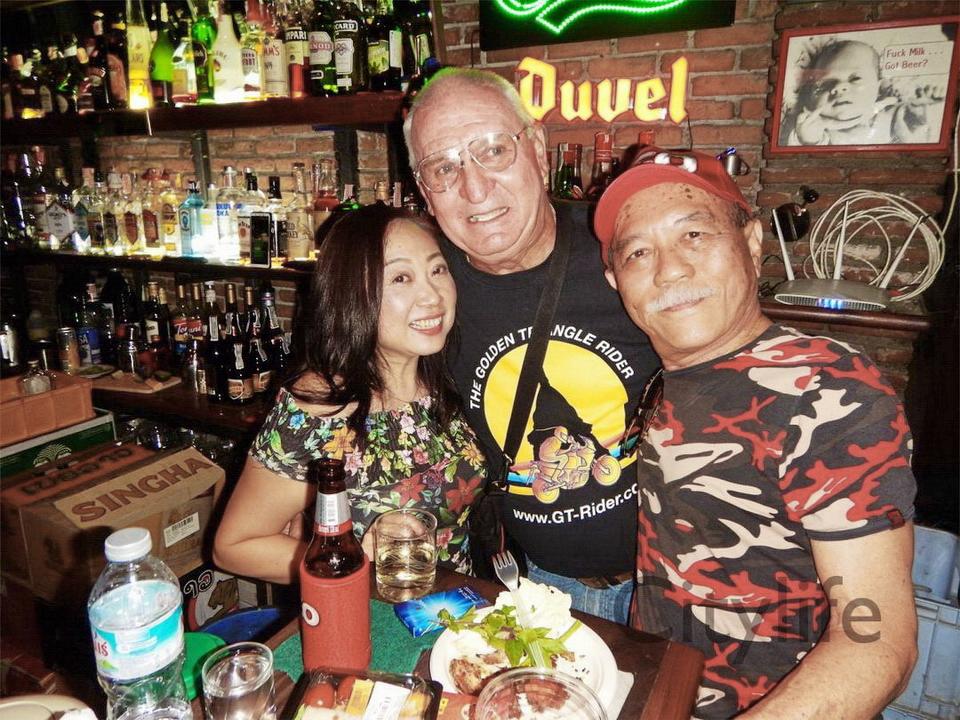 ​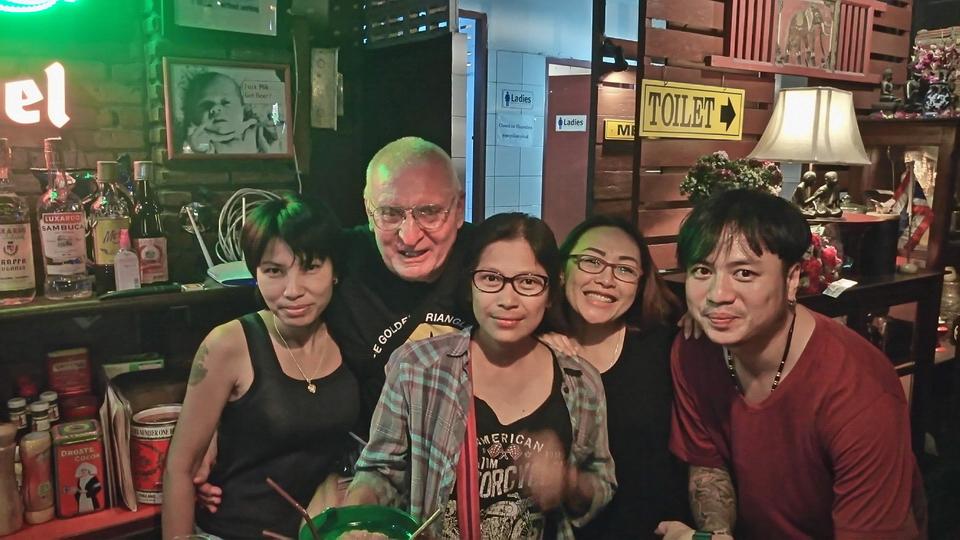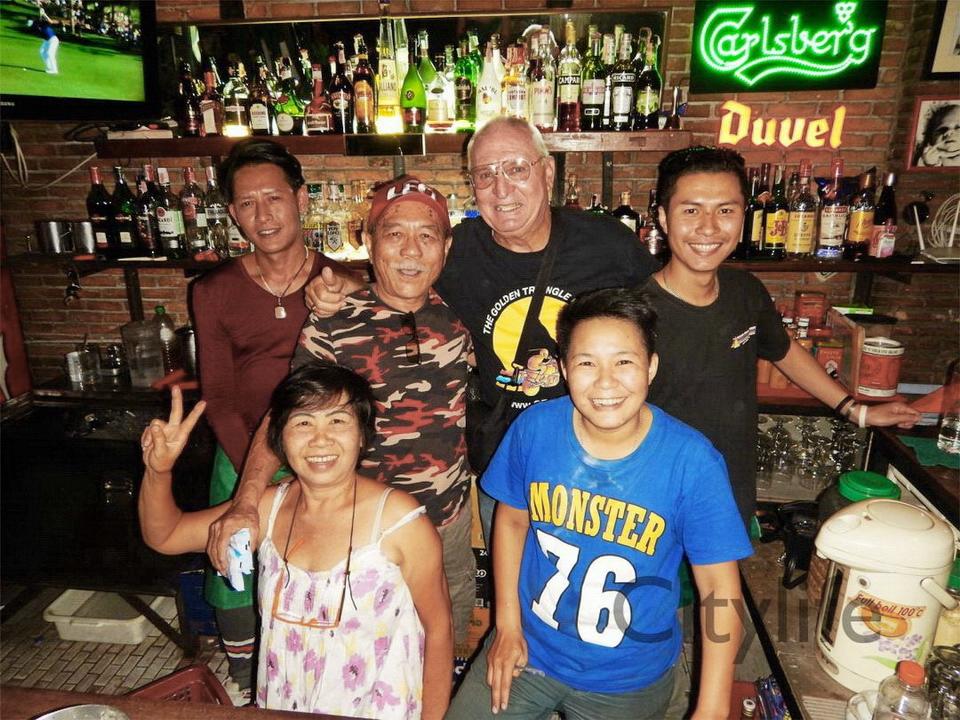 ​
Old mate Scotty is here. We rode together to Sipsongpanna in China in 1995 – 23 years ago. No GPS, no mobile phones & pretty much no map; just 2 paper maps - a Nelles Indochina map & a S-W China map. That was real adventure, no pussy riding as some of you like to say.​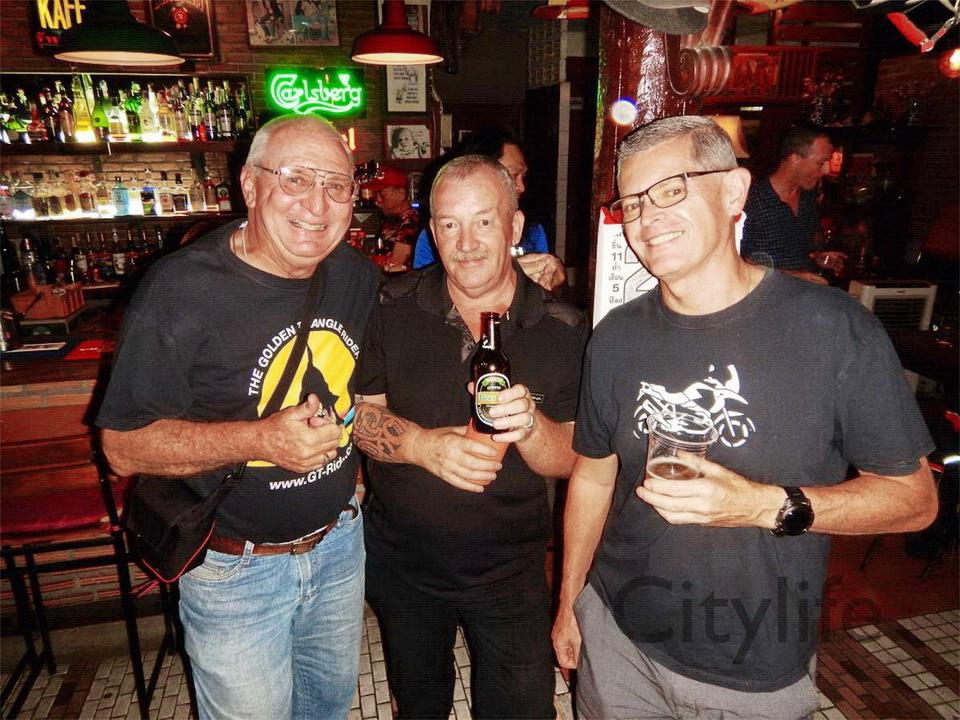 ​
David Lek is here & without David I would never been able to ride so many hundreds of thousands of kilometres on my bikes, because David was the one who kept them going, even after a nasty bus accident in 93. A smashed up NV400,​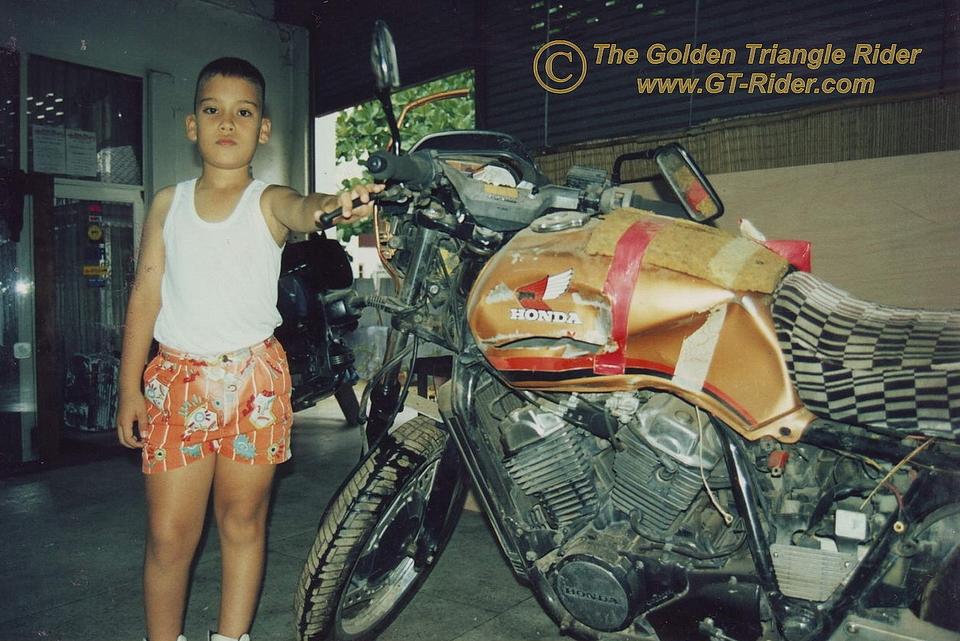 ​
Then the fantastic Africa Twin that had only 16,000 kms on it when I bought it, but ended up with 340,000 kms! Even if I do say, that is impressive for this region where the distances traveled aren't actually that great. Chiang Mai Ducati is lucky to have such a meticulous mechanic working with them now.​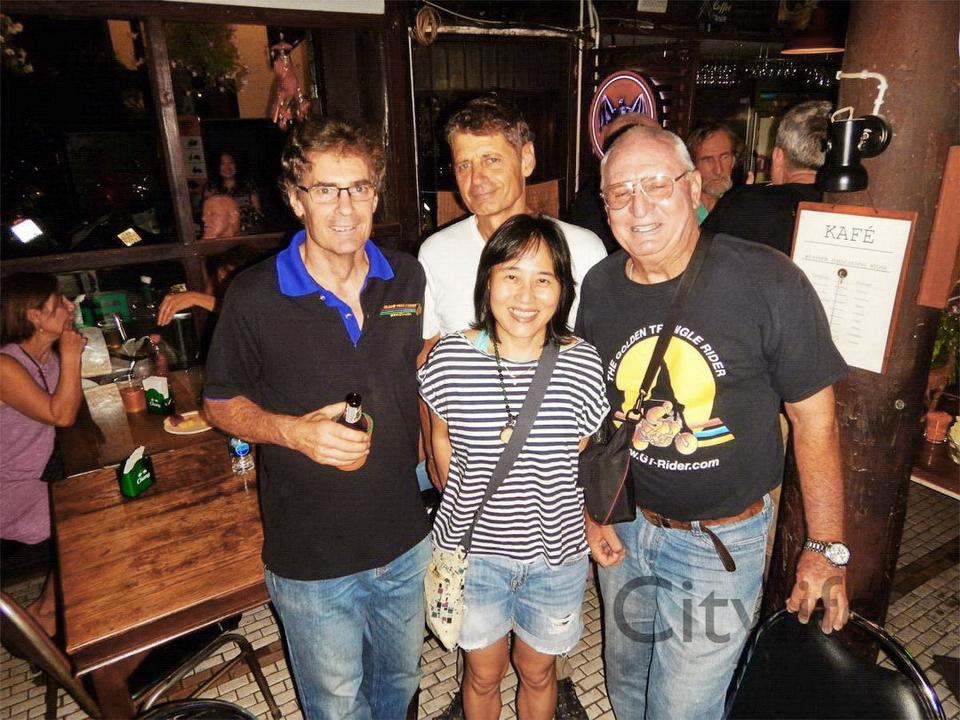 ​
In more recent years Dave Early has been a brilliant mate riding with me in Laos surveying for the guide maps I did for the Laos national tourist office when tourism in Laos started to kick off. Dave was also there to support me when I & a certain singer & I split up.​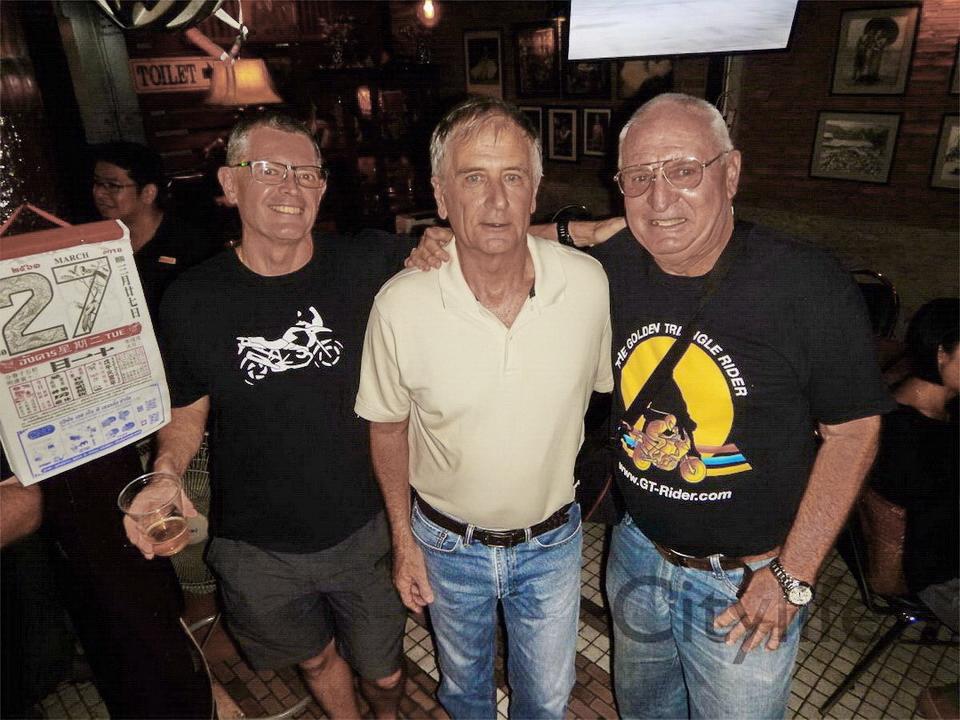 ​
Dave Early was instrumental in getting the Toy Ride up & running. As was Robert & the X-centre people.​
​
Thanks to Ben Kemp. GTR would never have really got off the ground & be so well known if I had not met Ben. He is the one who redeveloped the website & got the forum going. Ben was also extremely supportive of me when I struggled after that certain singer & I split up.​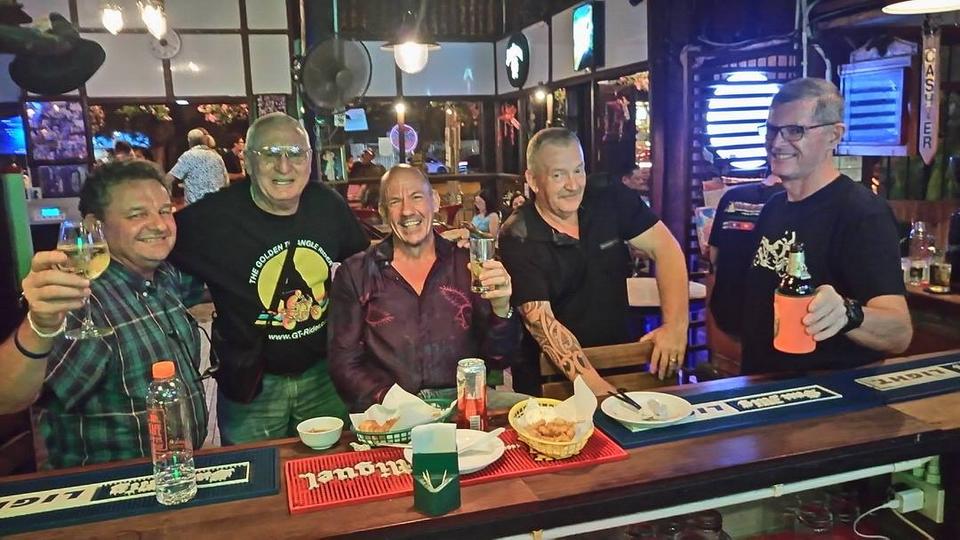 ​
So that brings me to the singer – Meow. I knew her as "Happy go lucky" & for 13 years we had an amazing time & life. I can never forget those fantastic times & life we had together - travel, loving, & errh drinking somewhat. The drinking often included feeding the monks in the morning on the way home from the pub.You were & still are a gem of a woman & I'd like to thank so very much for coming tonight & letting us be dear friends again as if nothing happened.​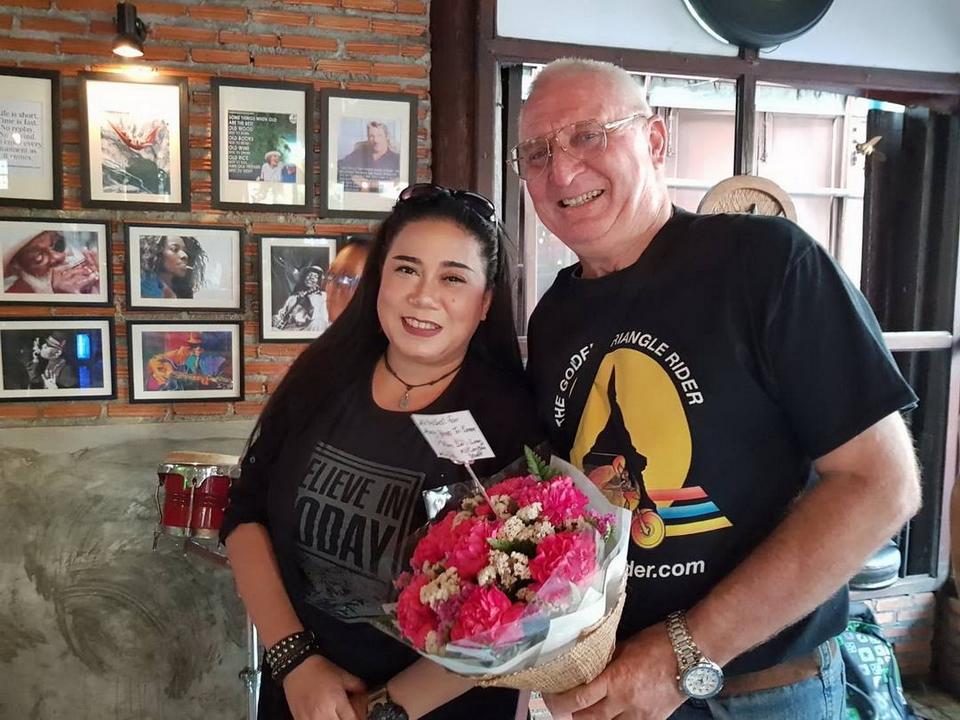 ​
Now Meow is here as a singer because of Toei. Toei is the guitarist here tonight & I've known him before I met Meow; & it was Toei who gave Meow her first job as a singer. Thanks Toei for giving Meow her first gig as a singer at the old Seasons Pub & plus for playing some good music for so long in Chiang Mai.​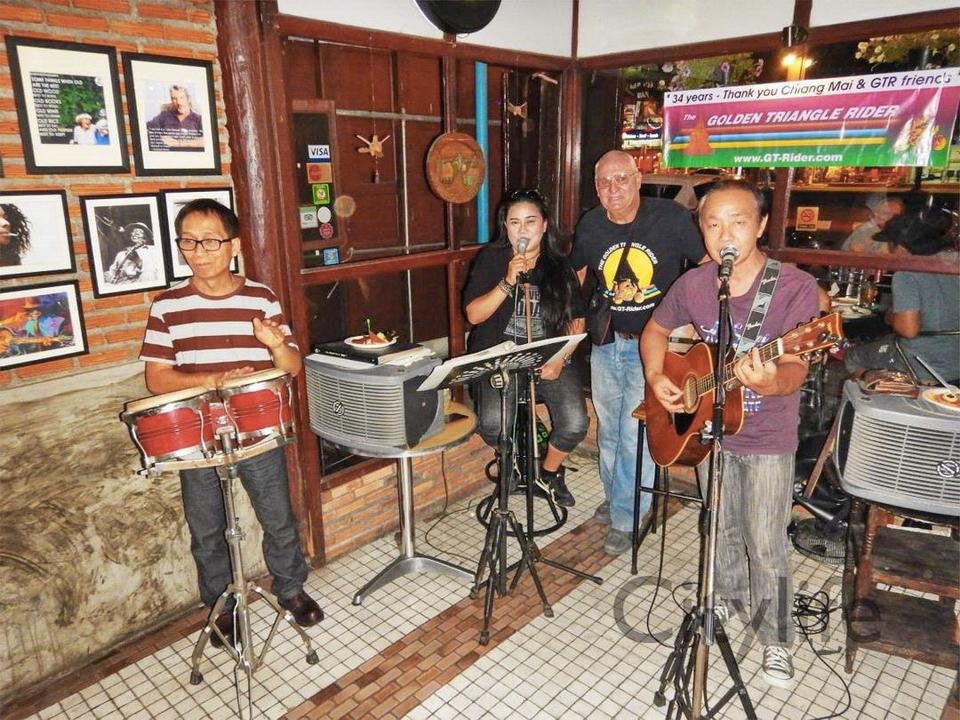 ​
7 years in Mae Rim & the traffic finally got to me. It was the straw that broke the camels back! But one of the joys of Mae Rim has been spending time at the X-centre & knowing Ian & Long. In all my time I've never met such a devoted hard working couple. They can be compassionate to a fault when you are in need or help. Thanks for all the love & help you have given me (& Jason at the time). I would not have survived that extremely difficult period in my life, if it had not been for Ian & Long & the X-centre!​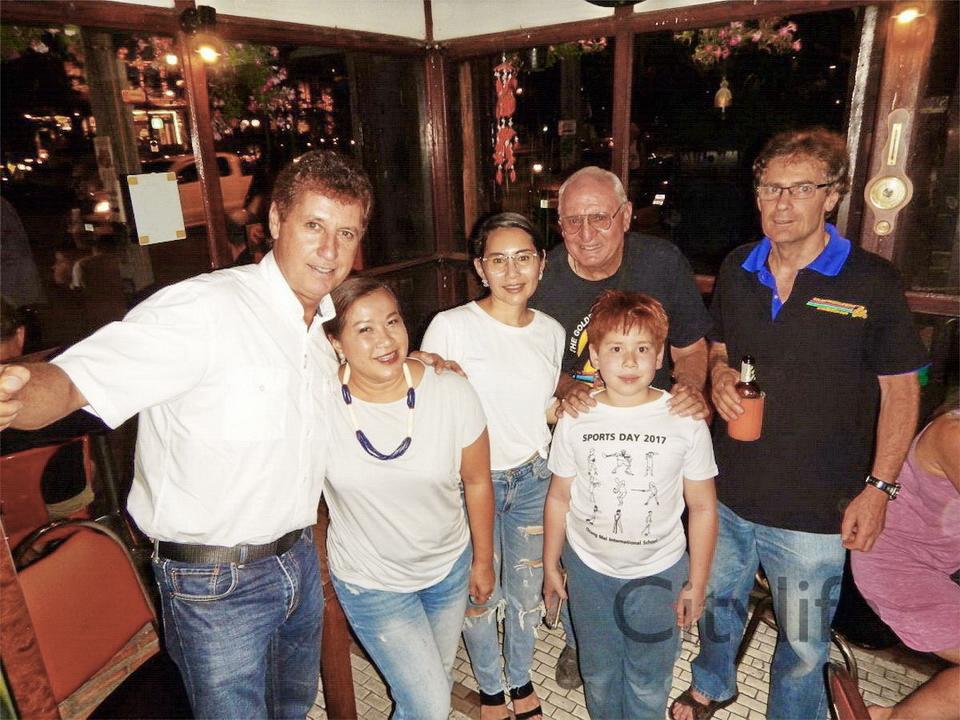 ​
Now the last & most important person here. None of this motorbike riding would have been possible as there have been a few broken bones++..... Dr Sudhee​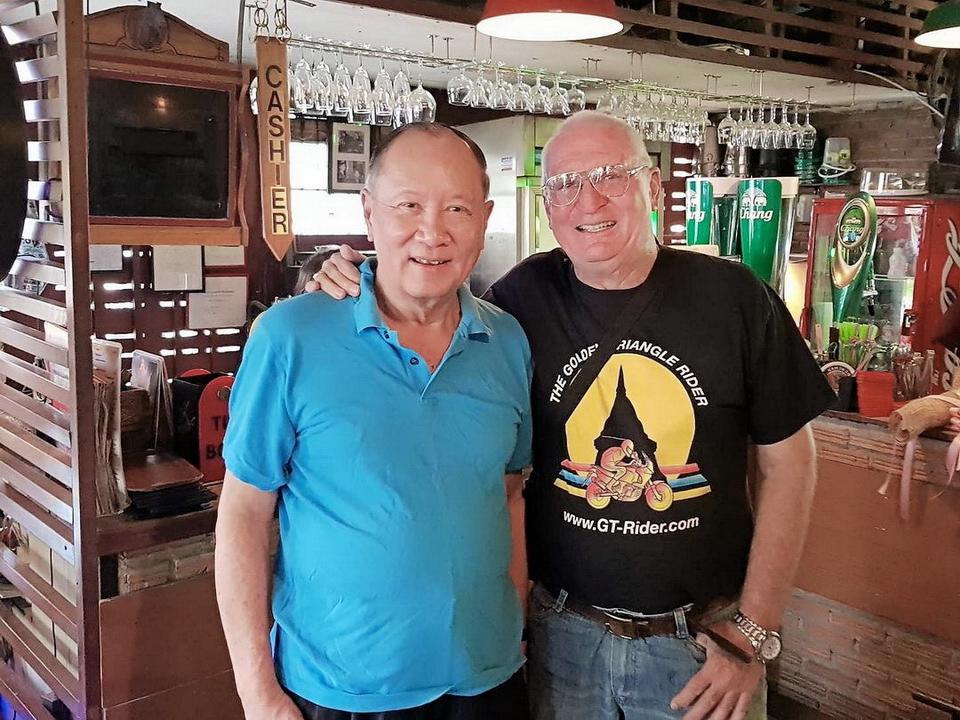 The bus accident in 93 – 100 stitches in my left leg, that came dangerously close to the family jewells.
A broken ankle falling of Walter's bike in Tanin market
My right wrist wore out & the triple joint was pinned
Then the "worst" one - the humerus head broken in Laos 10 years ago. It happened in Hongsa on a Friday afternoon. Saturday lunch time David Lek picked me up at the Huay Kon border crossing. David brought me back to Chiang Mai & home with my arm in a sling. At 3AM Sunday morning I was forced to go to Ram hospital because of the pain. The on duty orthopaedic doctor wanted to do an emergency operation "to save my life." I refused, got a jab & waited to see Dr Sudhee at his clinic 8AM in the morning. He was furious that someone would try to operate on that crushed humerus because of the main artery passing through. The result for me via Dr Sudhee – no surgery, a cast on my arm & 6 weeks later I was ok to ride again!
Dr Sudhee looked after me every time & without his magic I wouldn't be riding.​
​
The Hongsa spill was an interesting one. It happened Friday afternoon. On Saturday lunch time David Lek picked me up at the Huay Kon border crossing; brought me back home with my arm in a sling. The master plan was to survive, endure a bit of pain, then see Sudhee at his clinic Sunday morning. However at 3Am Sunday morning the pain was too great & I was forced to go to Ram hospital. The on duty orthopaedic docor wanted to do an emergency operation "to save my life." I refused, got a jab, went home & at 8AM saw Dr Sudhee at his clinic. Sudhee was furious that someone would try to operate on that crushed humerus because of the main artery passing through. The operation alone would be more life threatening & would probably never achieve a satisfactory result, except to fatten the doctor's bank account! So, the result for me via Dr Sudhee – no surgery, a cast on my arm & 6 weeks later I was ok to ride again!​
​
He is a very special dear person & apart from Scotty & the Kafe here, is the one I've known the longest. He operated on my son Jason at an early age, he saved David Lek's life after his leg was crushed in a car accident. David could have lost his leg, but he ended up only losing a big toe!​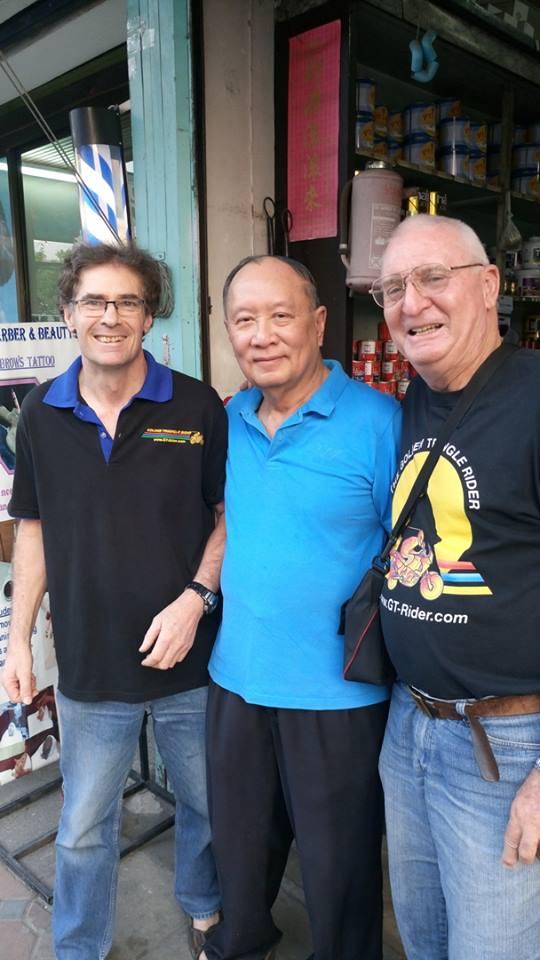 plus helped Dave Early & Ian. You've been a god for some of us riders here.​
Thank you very much for coming & the skillful magic of your hands & heart. May you live a very happy healthy retired life.​
​
On that note I want to thank everyone for coming. Thank you all for your friendships & sharing a lot of good times together. It has been a wonderful 34 years in Chiang Mai. Please enjoy yourselves tonight.​
​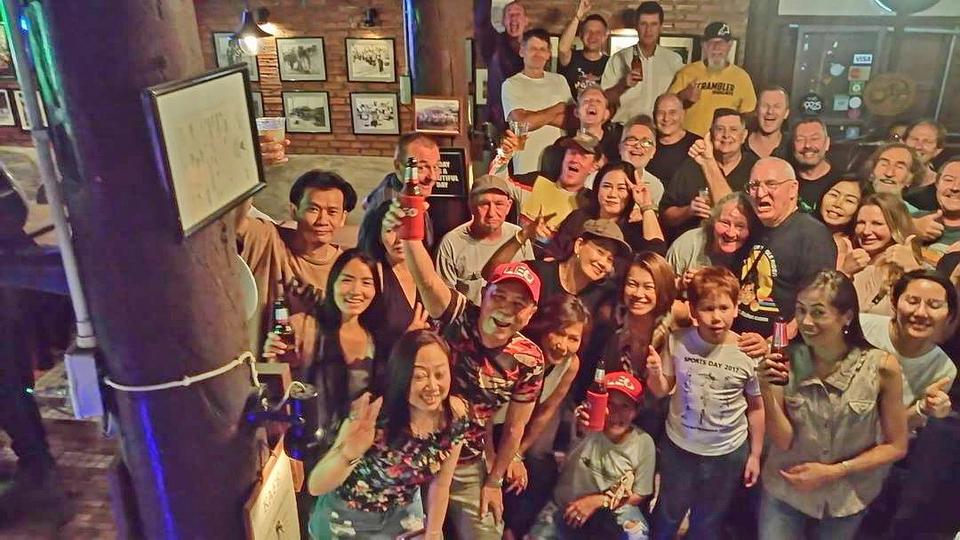 ​
Coming next .....trying to pick the right place to live - some ideas for the North.​
Last edited: