Muang Sing, to where Laos, Myanmar, and China meet. The Green Triangle.
The original plan was to take around four weeks riding in Laos, where I would check out a few tracks that I hadn't ridden before, and see if I could incorporate a couple of remote boat trips to link up two of the tracks Id been looking at on Google earth.
The plan did require riding some big Kilometres, and I was probably trying to squeeze a bit to much riding into 4 weeks, but I thought Id give it ago anyway, and when on the morning of day one I began riding north out of Luang Namtra I felt confident that I could stick to the plan …… but when about 30kms up the road I stopped at the Muang Meung dirt turn off, I had a feeling even then, that the trip mite not go to plan.….I had never been so hot.
Looking west to where the dirt track would take me to Muang Sing, there was big plumes of smoke, and I guessed it was coming from a large bush fire. So I decided not to risk being barbequed, and took the hwy instead.
I hadn't been on this road for years, and was amazed just how good it was.
First of many drink spots.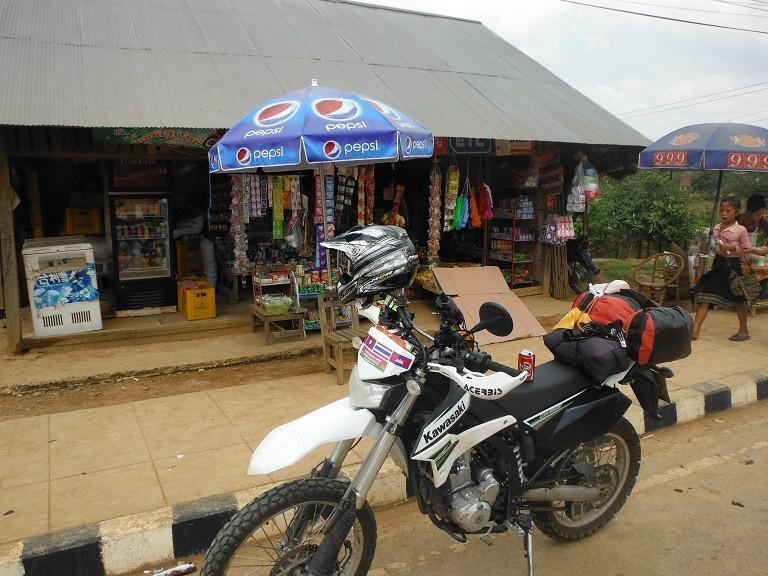 Local kids having a laugh at the red faced melting foreigner.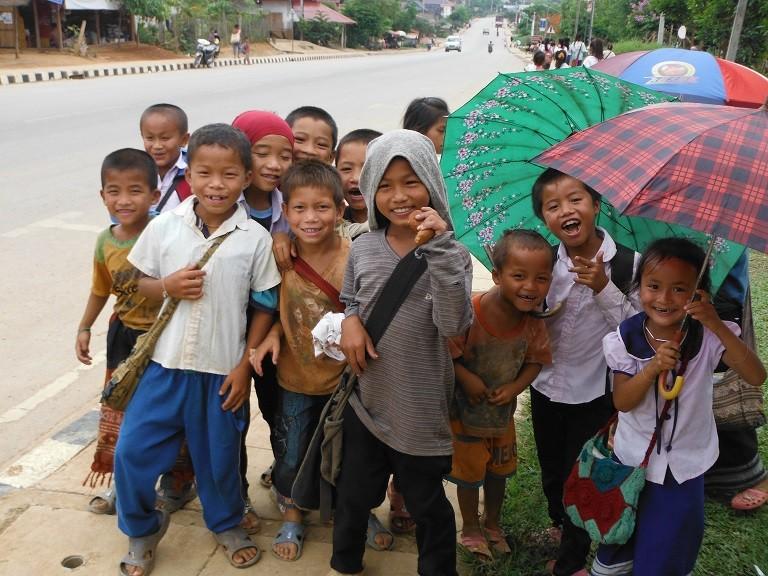 I arrived in Luang Namtha after stopping several times for drinks, (I did have a camel bak with 3 litres but didn't drink it in case I got a flat and was stuck in the heat), and headed straight for Manychan restaurant for an iced lemon juice, and to check the phone to see how hot it was.
The closest city on the weather app was Luang Prabang.
Yep, it was hot, and going to get hotter.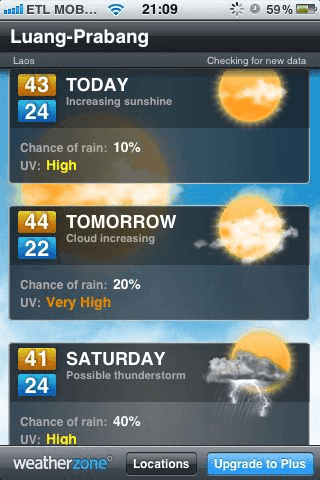 After several cool drinks, it was back on the KLX to ride hwy 17A that run through the beautiful Nam Ha National Park, and on to Muang Sing.
The Muang Sing welcoming committee.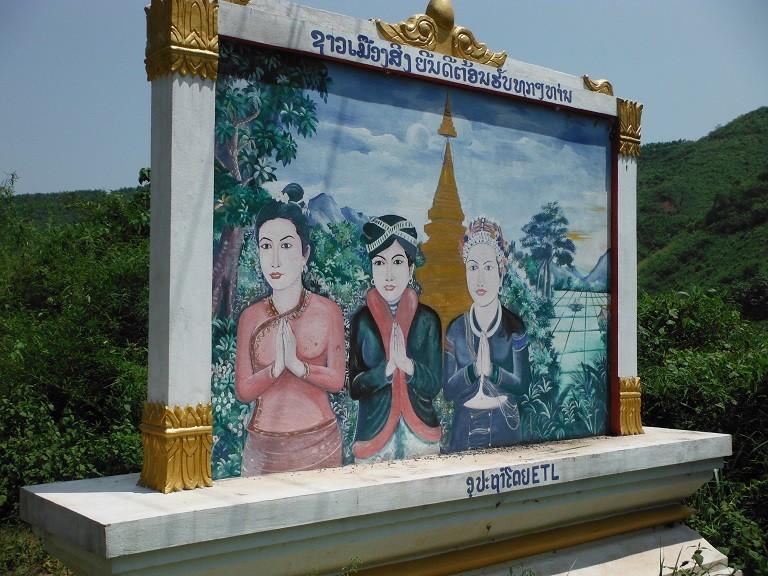 After arriving in Muang Sing I got cleaned up, and went down to the tourist information office to see if it was possible to ride to the Green Triangle the next day. After trying to explain with no luck at all where I wanted to go, I pointed to the spot on a map, and guy said that there was no way I would be able to ride there because the police and army would stop me at Mon. which is about 30kms up the road.
The guy was very vague, so I asked a couple tour operators. One said there was no such place and there was nothing but jungle, and the other said the same as the tourist office, but I got the feeling no one really knew.
So I decided that the next day I would head towards the Green Triangle and see what happens, and if I make there, I would try and get a boat back down the Mekong to Xieng Kheng, and from there, ride back to Muang Sing. This was to be a one of three tracks that I really wanted to ride while on this trip in Laos.
Next morning, on the road that goes north out of Muang Sing.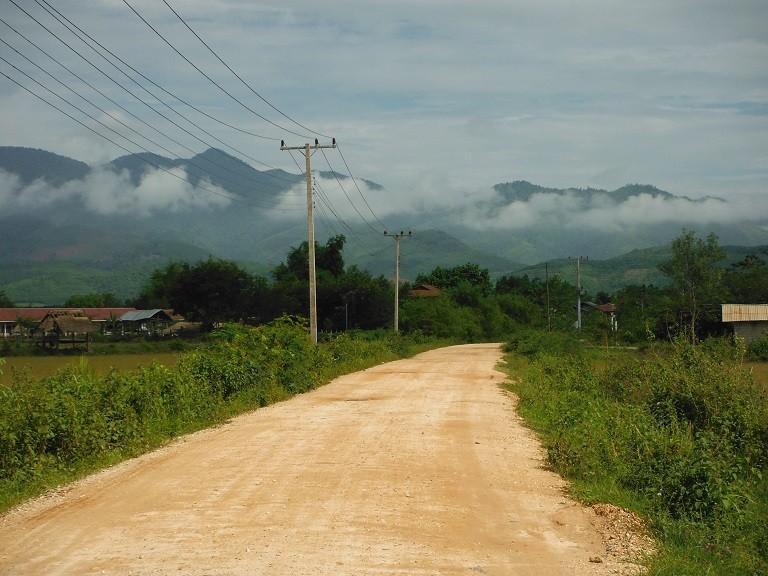 Nice cool start to the day, but it didn't take long for the clouds to disappear, and the temperature to rise.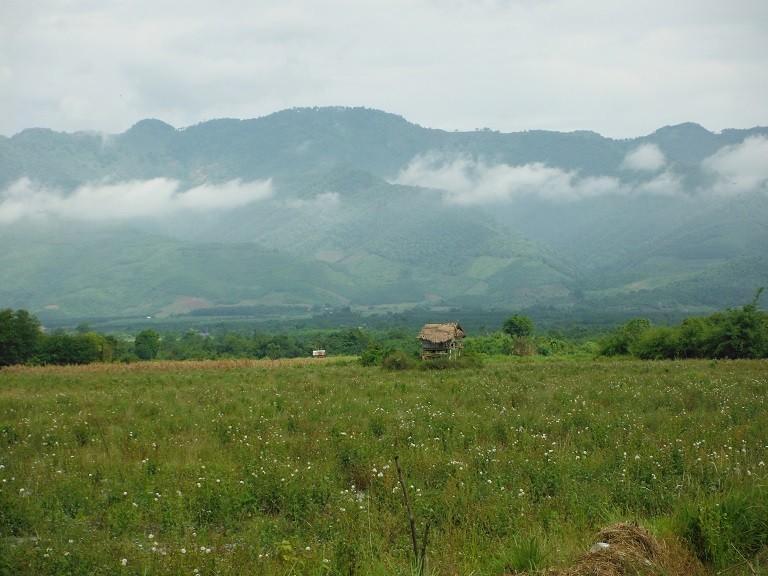 These three young fellas were washing there bike in the river, but stopped to strike a pose for the camera.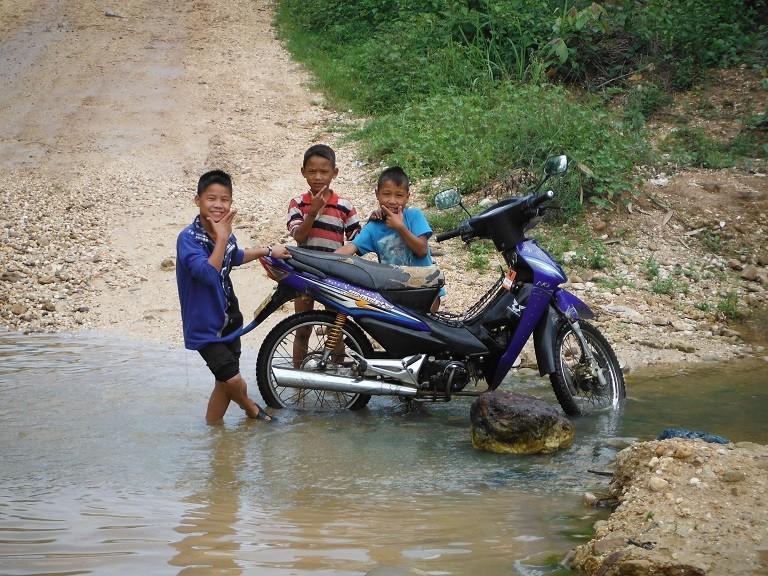 Mon city. The town where I was told the army and police would turn me around. I didn't look sideways, I rode straight through without being questioned. So good….I was on my way.
On the other side of Mon there is huge banana plantations that you follow for miles.
This is a Banana processing plant. Note the Chinese writing on the boxes. The bananas were washed, boxed, put on a big truck, and taken on a small road that goes into China only two kilometres away.
Funny thing, or not so funny, was I tried to buy a some bananas at the Muang Sing market, but they didn't have any.
Nice and cruzie through here.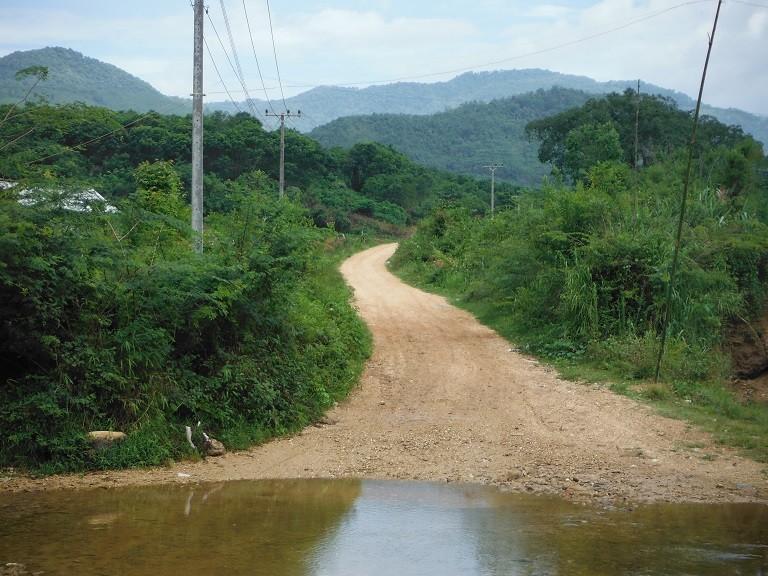 I just kept heading north.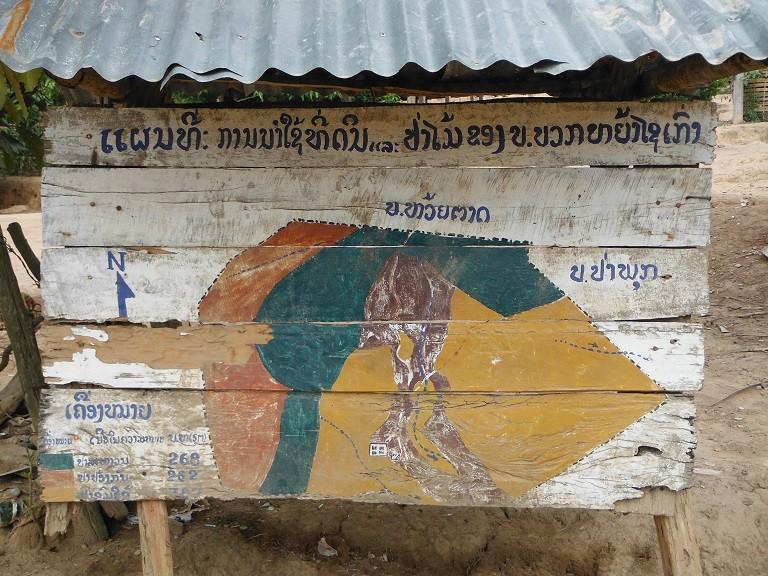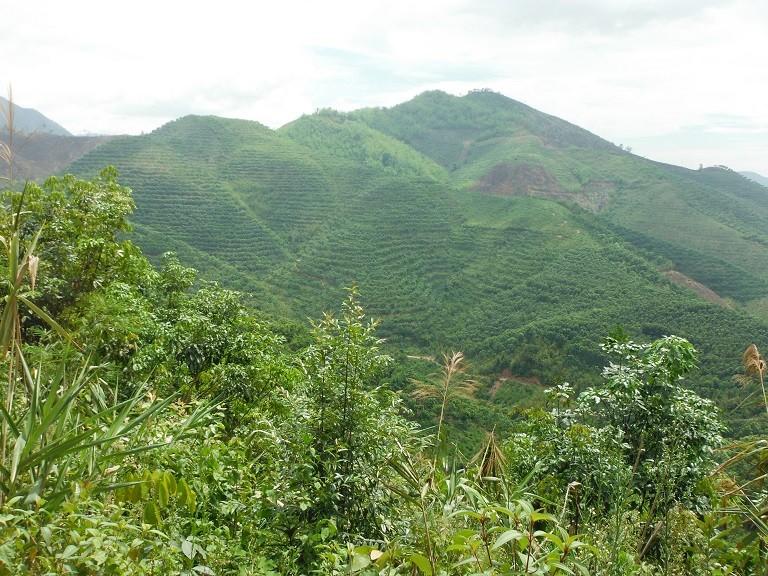 I came to these two tracks, which seemed to be going in the right direction, so I rode off down the wider one, and it came to an end in the middle of a Banana plantation. So I tried the other, which became very narrow and had think vegetation growing over it, which made me think that it wasn't the right one either.
There was another larger track 200 metres back that had power lines next to it, but it was heading east instead of west, but I thought it mite turn west further along so I took it.
It didn't, the track kept heading east, so I decided to see where it would take me anyway.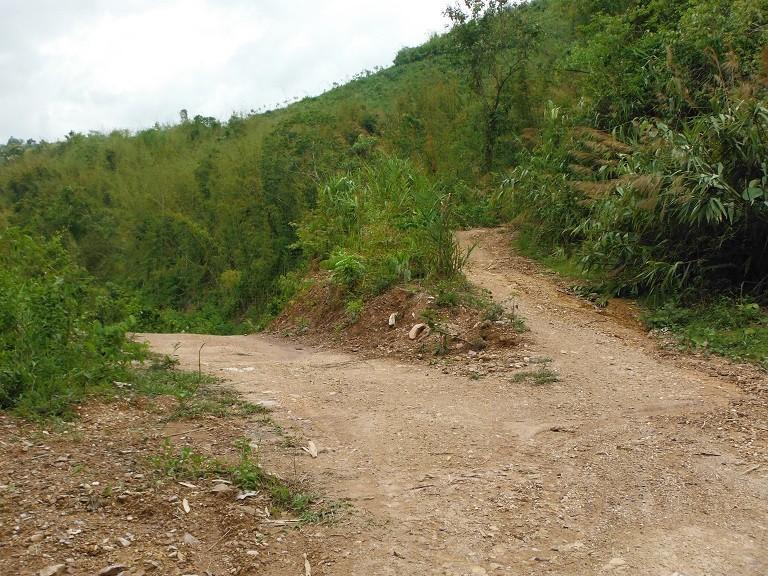 Going east.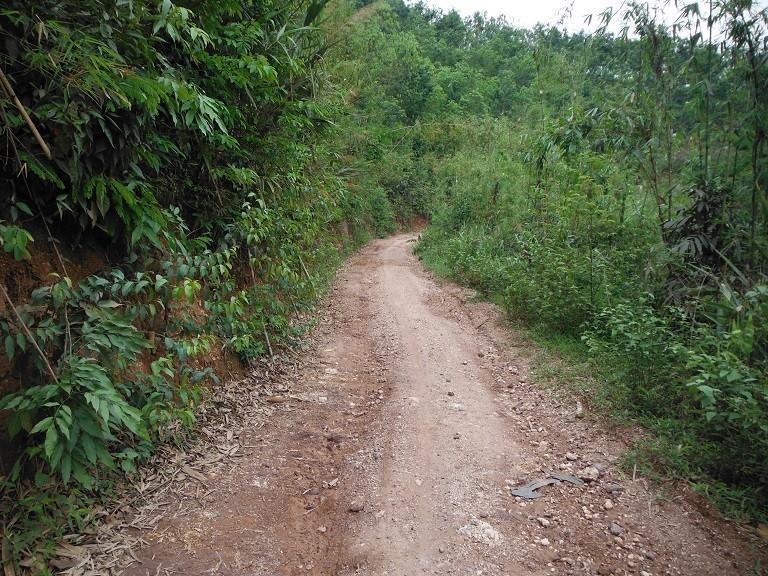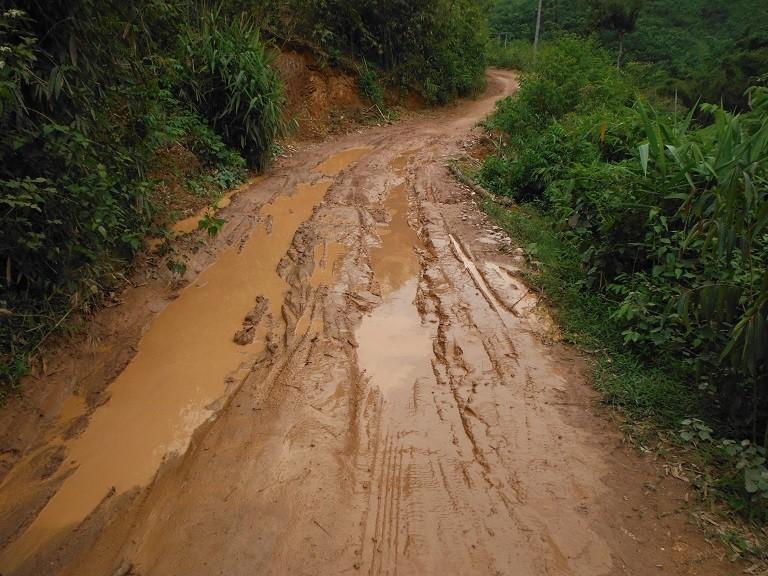 It was a nice ride, and I came to this large village, I should have kept going a as there is a Border crossing into China only a few Kms further on, but I wanted to get to the Green Triangle that day so I turned around and went back.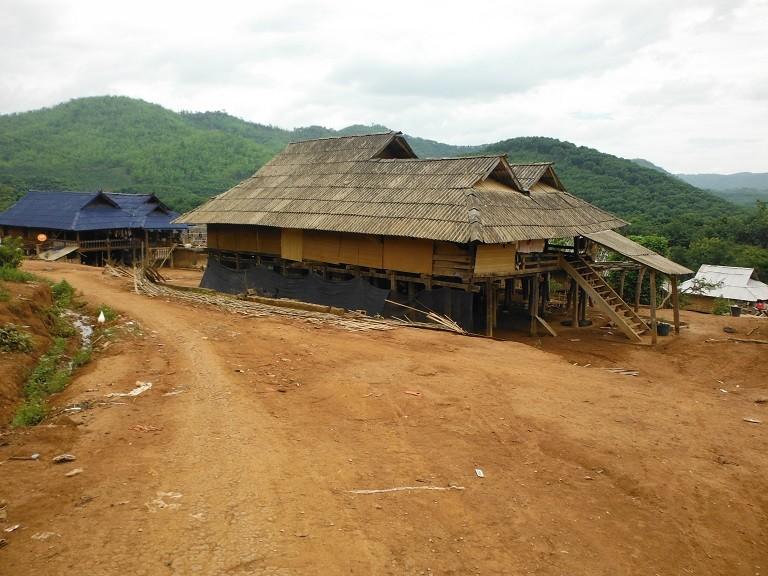 I got back to the fork in the road, and decided that the narrow over grown track that Id rode up to check out, had to be the one that goes to the Green Triangle, but it was now stinking hot, and as I didn't have any idea what I would like, I also only had a few litres of water, so I decided to go back to Muang Sing, and have another shot at it in a day or two.
The track heading back with a Kawasaki Green puddle.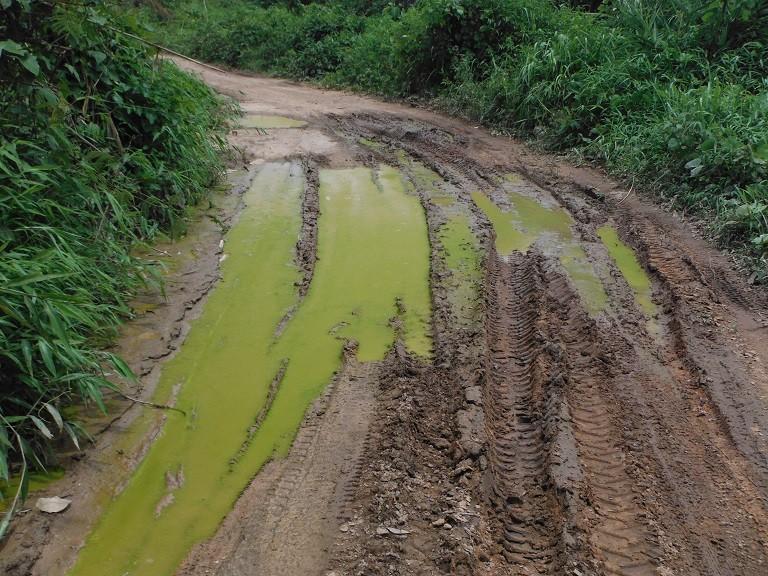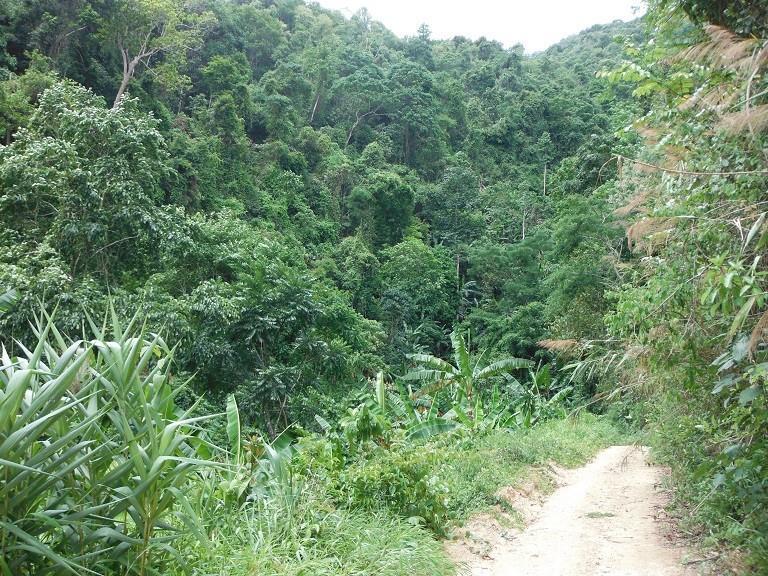 This is the road that the bananas trucks use to get into China just 2 kilometres away. I wasn't going to go down there, as behind me there were a lot of Lao and Chinese communist officials, and Johnny was hot.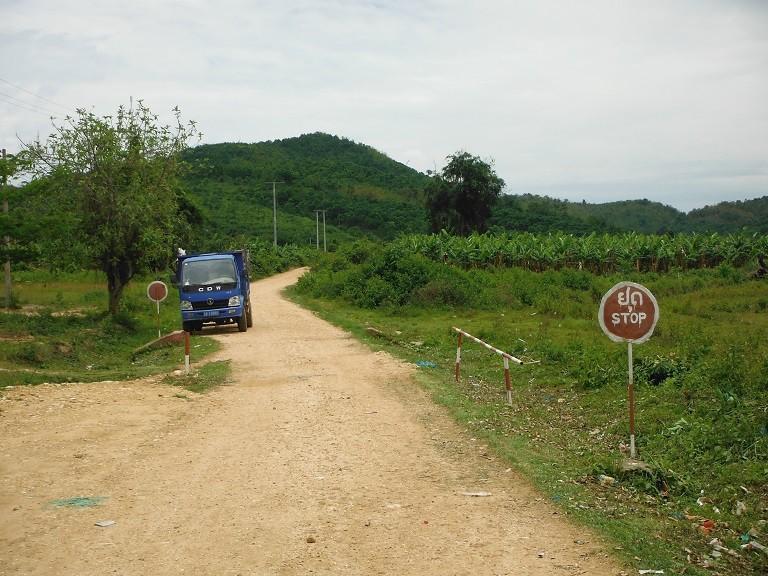 Back on the road to Muang Sing.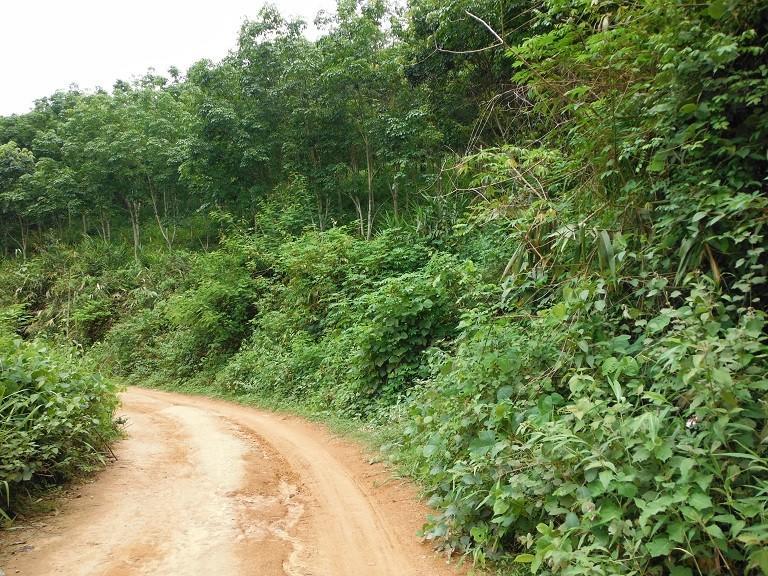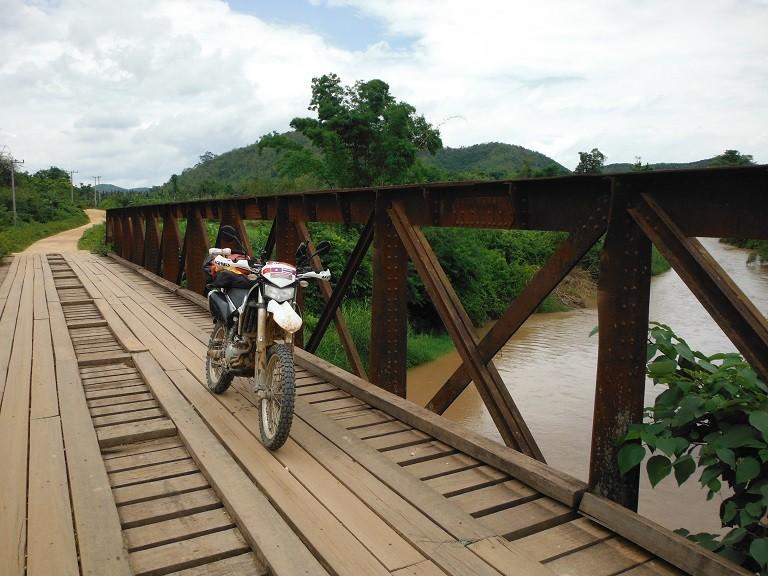 Back in Muang Sing I had a beer and a feed, and started to think about the next shot at getting to the green Triangle.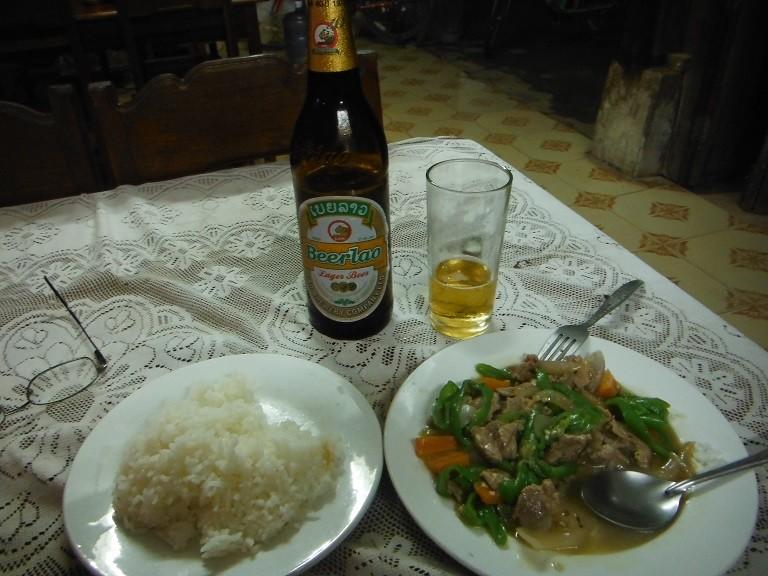 This lady was keeping busy between refuelling duties.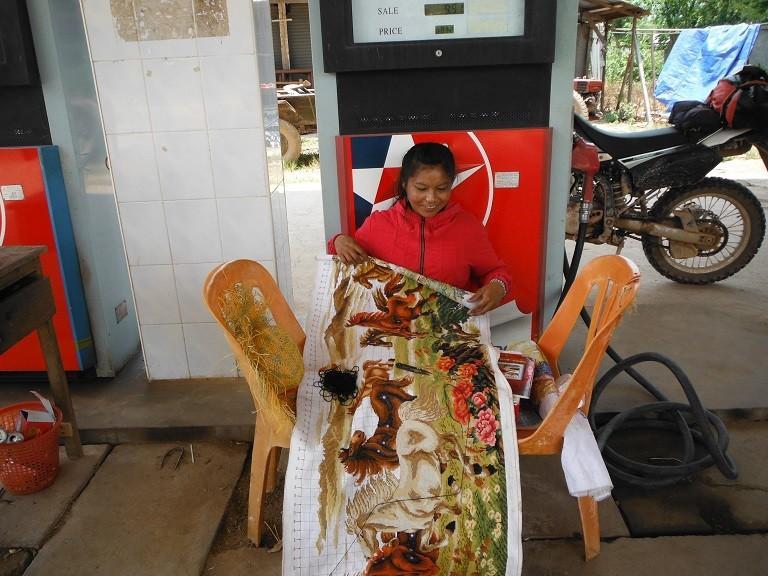 I check into Phoulu2 resort. What a great place to stay. Its on the GT-Rider Laos map.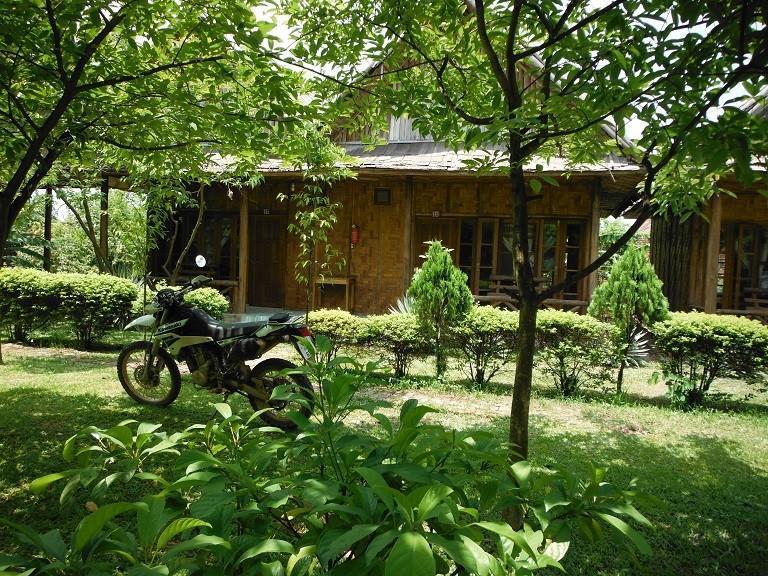 I began that next attempt a couple days later leaving Phoulu2 at 6am so as to beat the heat, and carrying around 9 litres or water.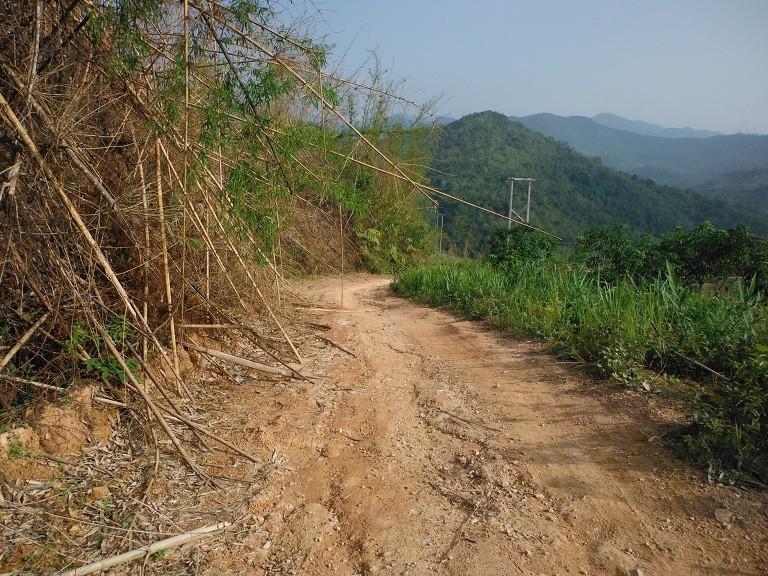 I got to the turn off and began riding North west. From this point its beautiful lush jungle.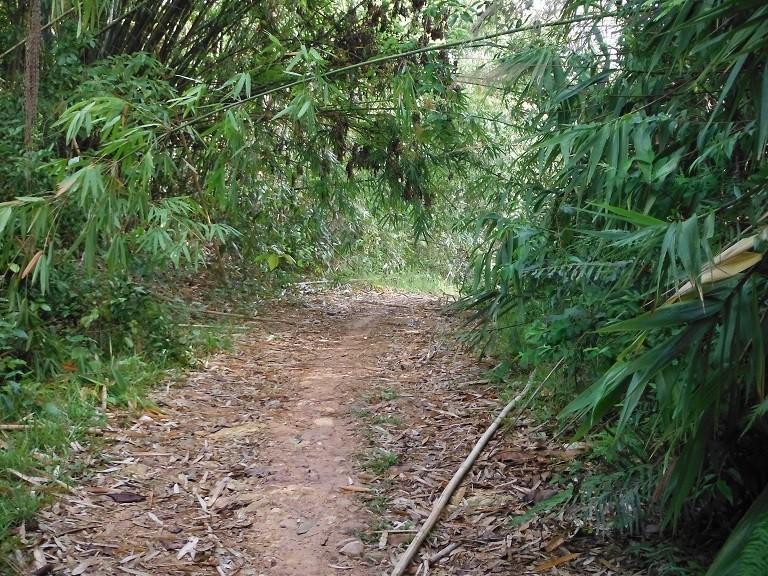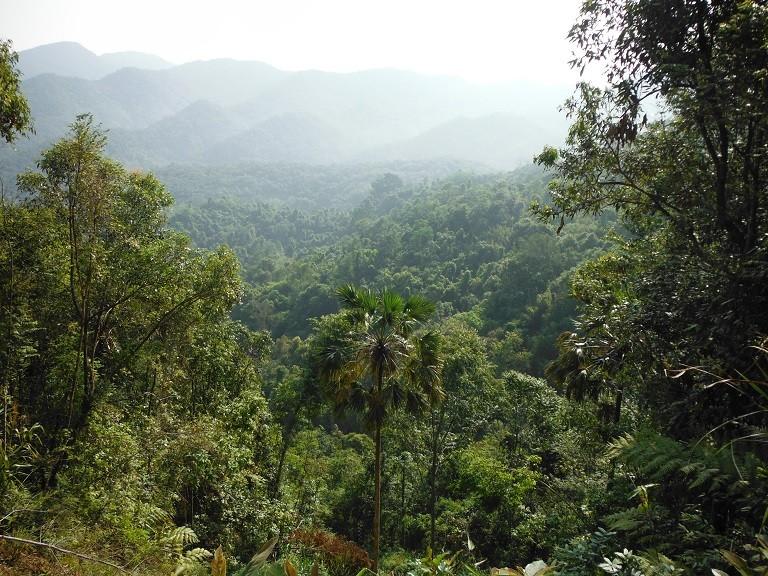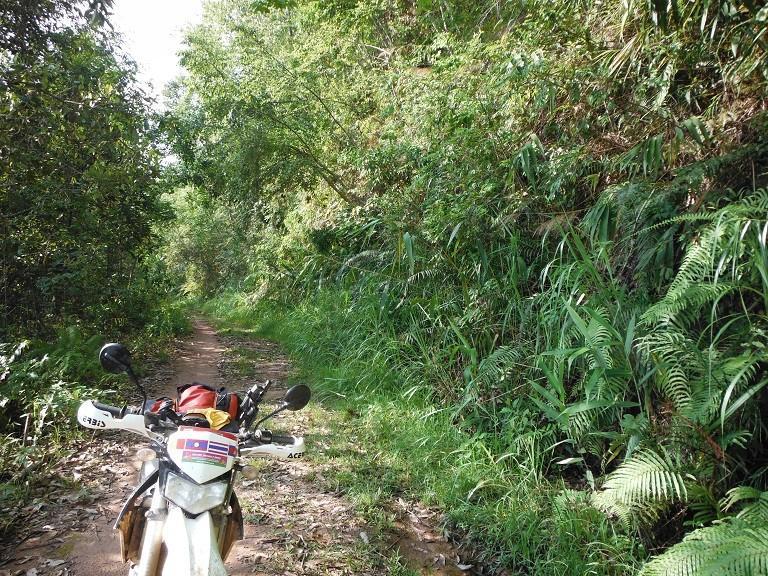 There was a real sense of remoteness through here. You just don't see anyone., and there was only one tyre mark on the track besides mine.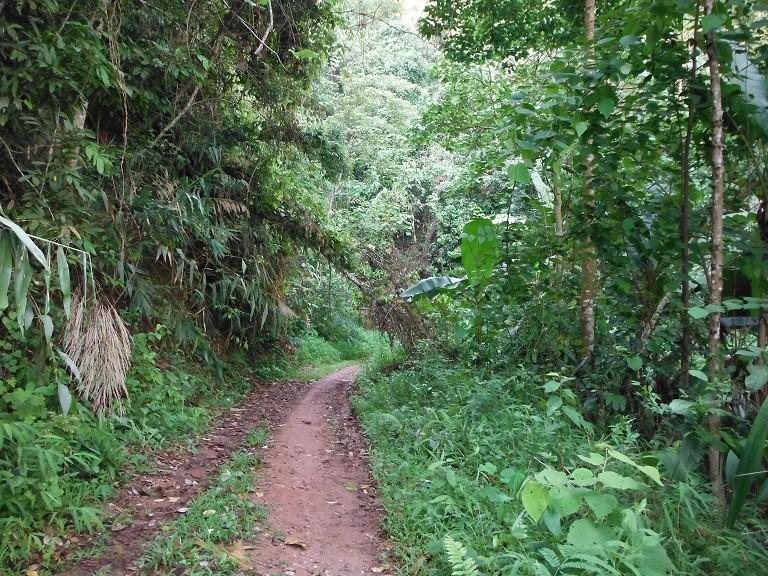 This was one of the most enjoyable tracks I've ever ridden.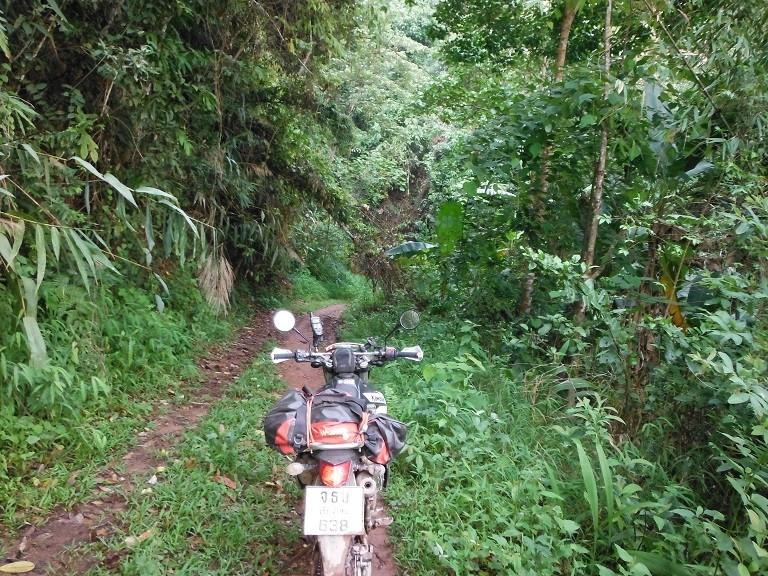 Eventually you pop out of the jungle, and end up on a mountain ridge that looks over to Burma.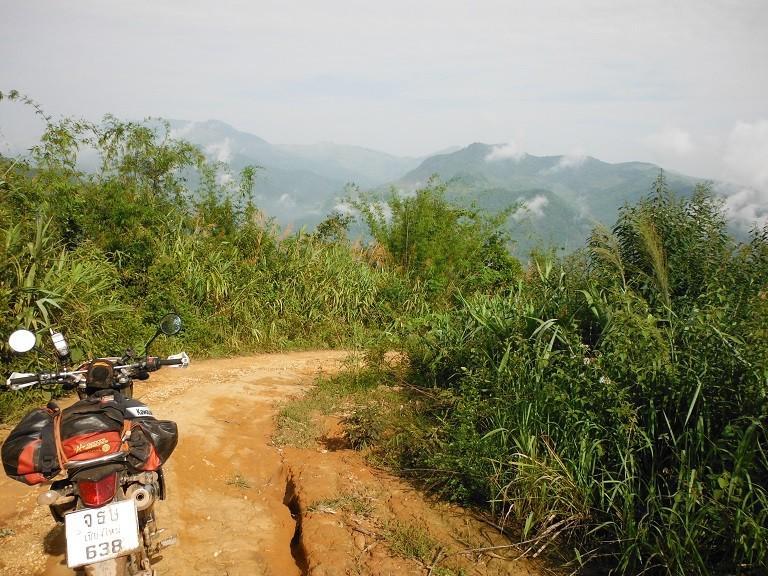 After riding for a few kilometres along the ridge I came to a small village that looked like it had been ransacked. The track also appeared to come to an end, and I was still well short of the Green triangle.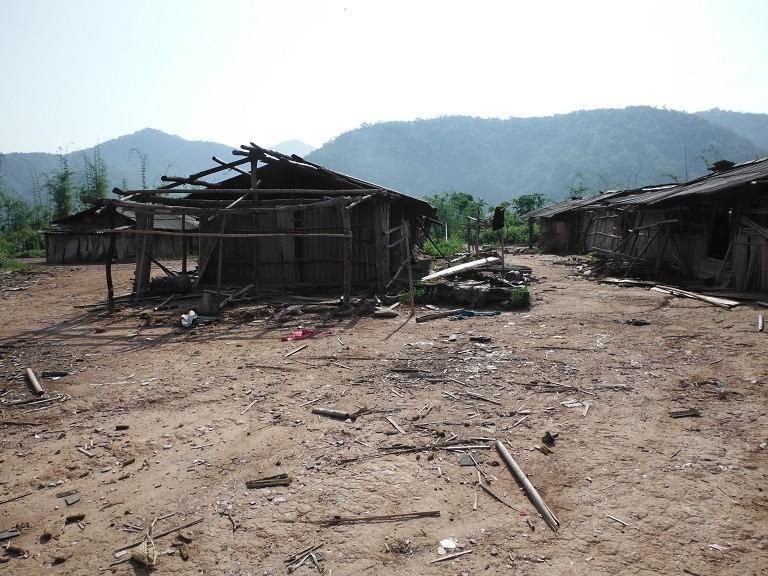 I turned off the bike, and as I sat there on the KLX trying to see if the track continued on some where, a guy come out of one of the huts. I have to admit to being a little worried for a second as he walked towards me as there was no one else around. But he was fine and pointed towards a gap in between to demolished huts to where the track started again.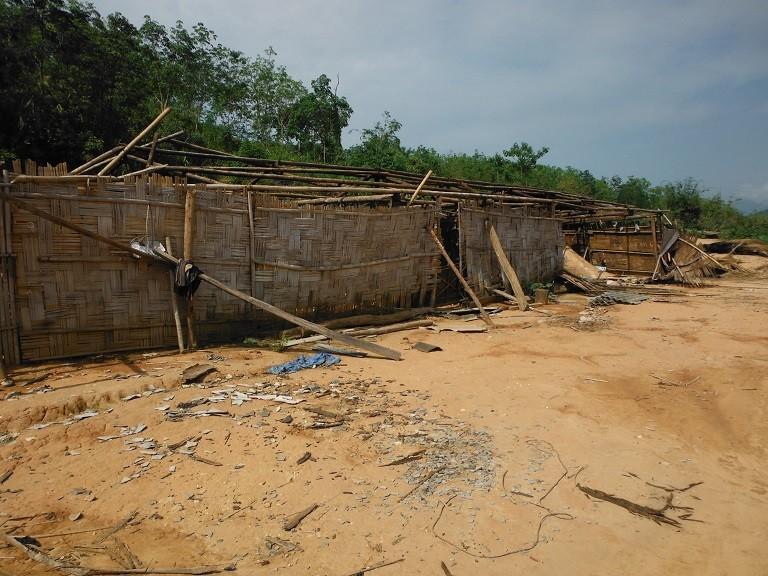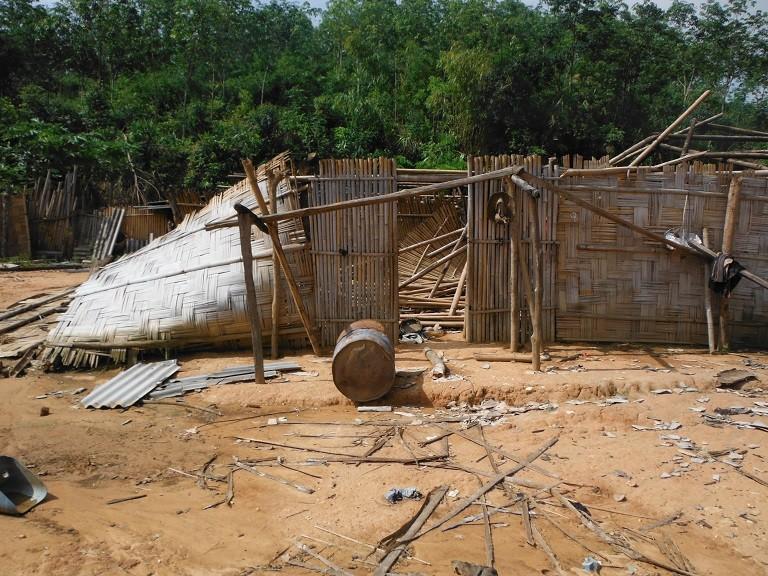 Burma in the distance, with what looked to be a track that had some recent work done to it, or maybe new.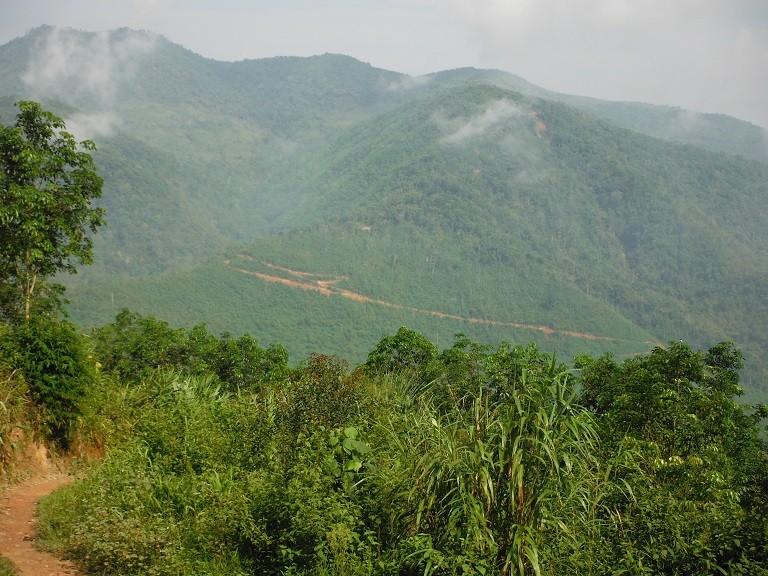 I was getting close to the Green Triangle when I came across this small village, and that village didn't look much better then the ransacked one. The people were shocked to see me, but were very friendly. They only spoke Chinese, but I worked out, I had only 2 kilometres to go.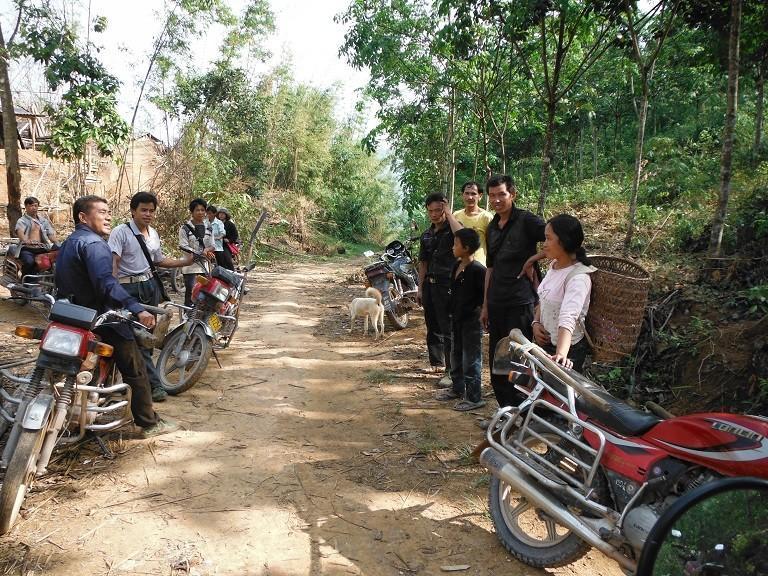 Getting close, the first glimpse of the mighty Mekong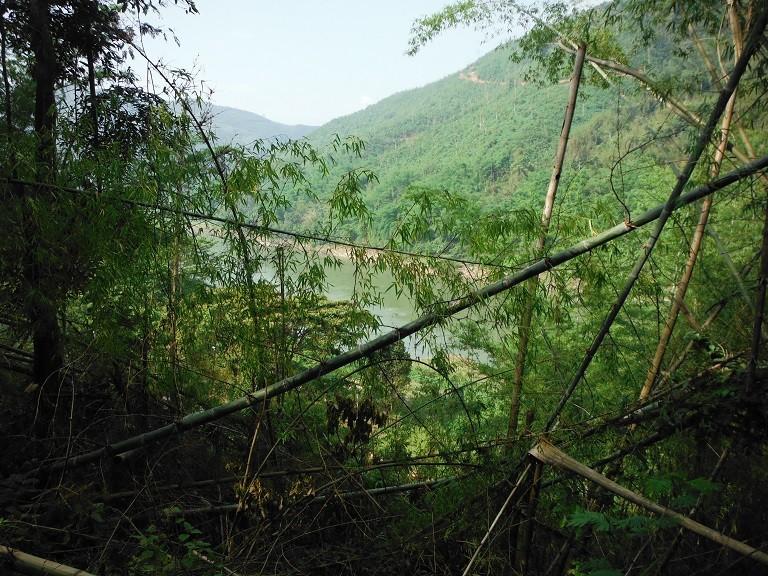 And finally the Green Triangle.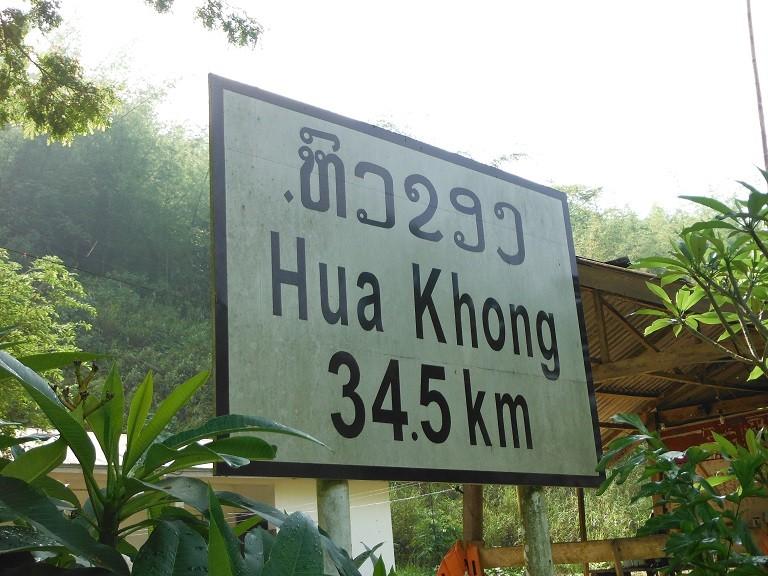 This seemed to be the immigration, customs, communication, and Premier League viewing hut.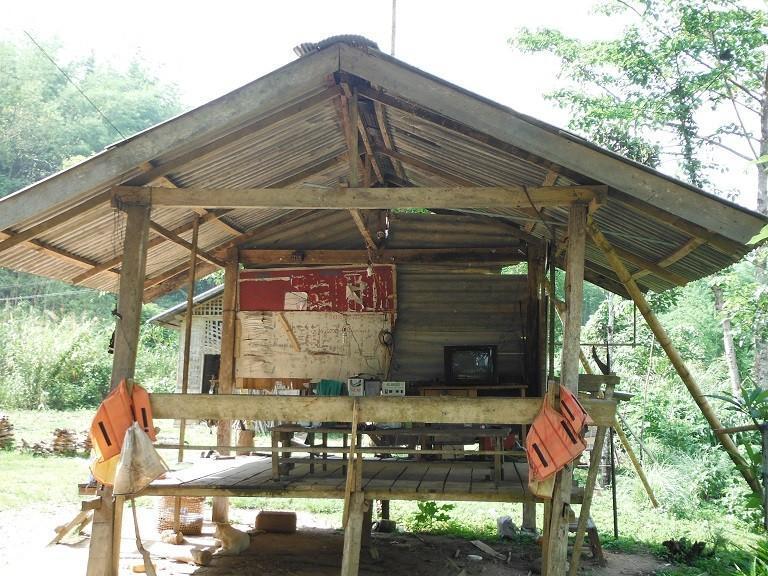 There were three army looking guys there. They didn't seem very happy to see me, so I asked them if I could take a few photos and one of them just said OK. I also asked about getting a boat down to Xieng Kheng….he just laughed and said "no boat", and walked off.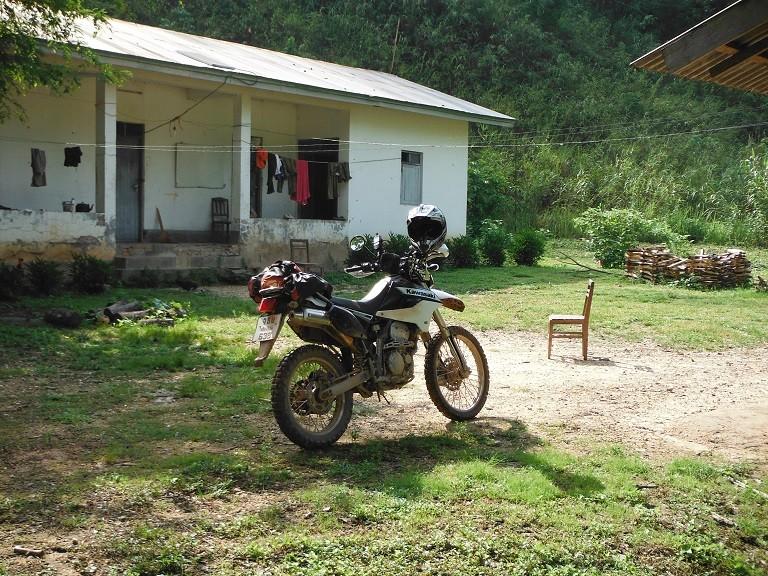 Check point building that's no longer in use.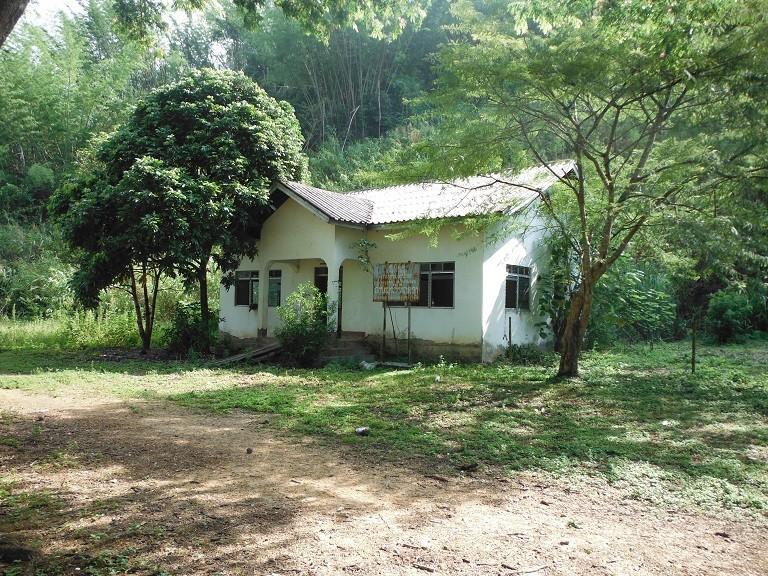 There was a very well built boat ramp and stairs leading up to were the main check point was located. And looking around at the ramp and buildings, I would say at some stage this would have been a busy crossing. Even the track looked like it was once in good condition, but the jungle now is taking it over due to lack of use. Apart from the three army guys, there was no one, a no sign of any boats either.
The entry into Laos.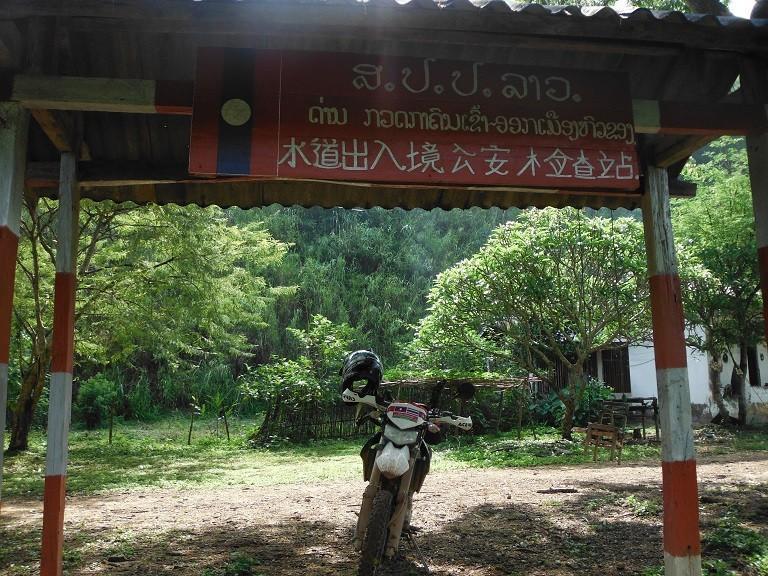 You can just see the ramp in this photo. I wanted to get a few more photos, but there was two big dogs that were less than happy with my presence prevented me from doing so.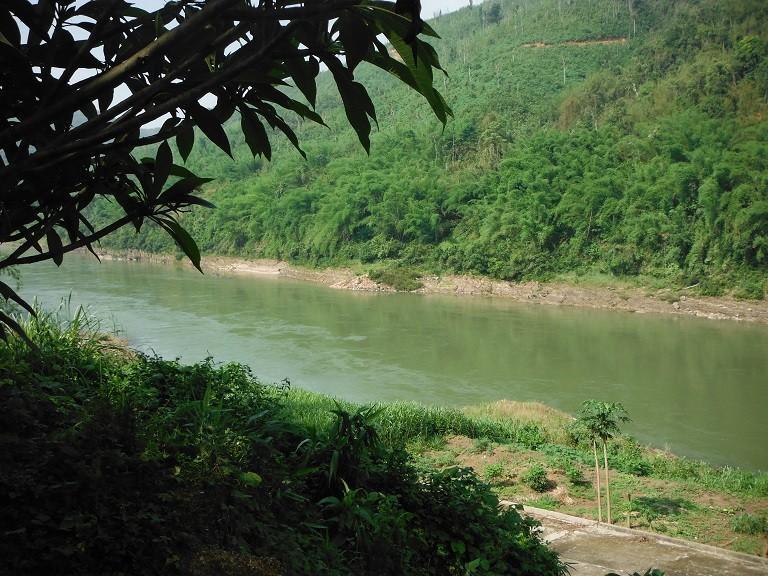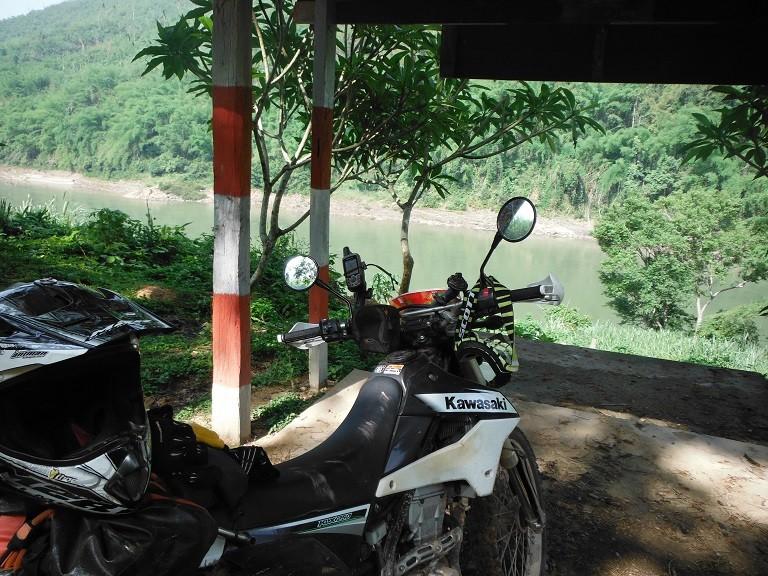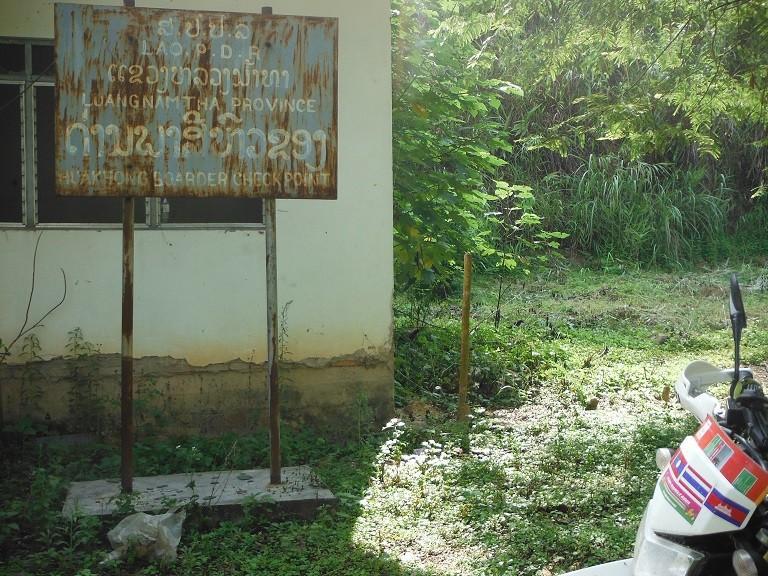 Me striking the pose at the Green Triangle….How cool are those goggles?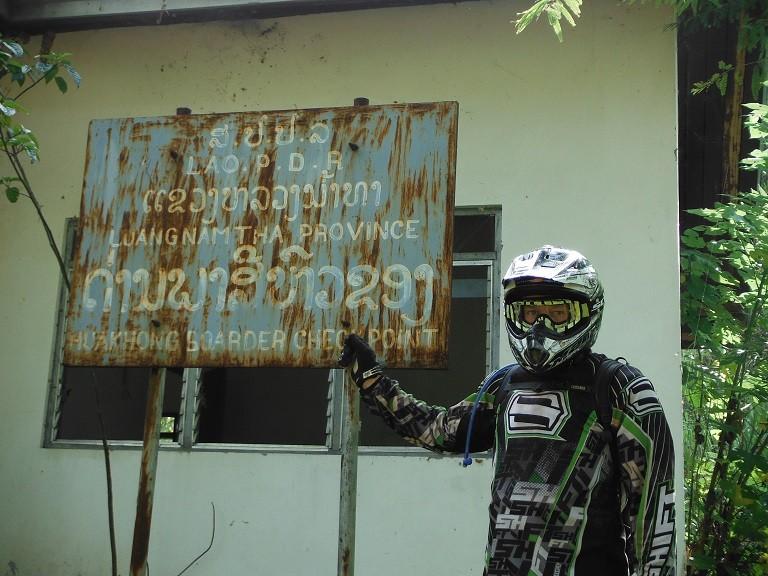 After a few photos it was time to head back to Muang Sing.
These next two photos will give you an idea of what the Chinese are getting up too.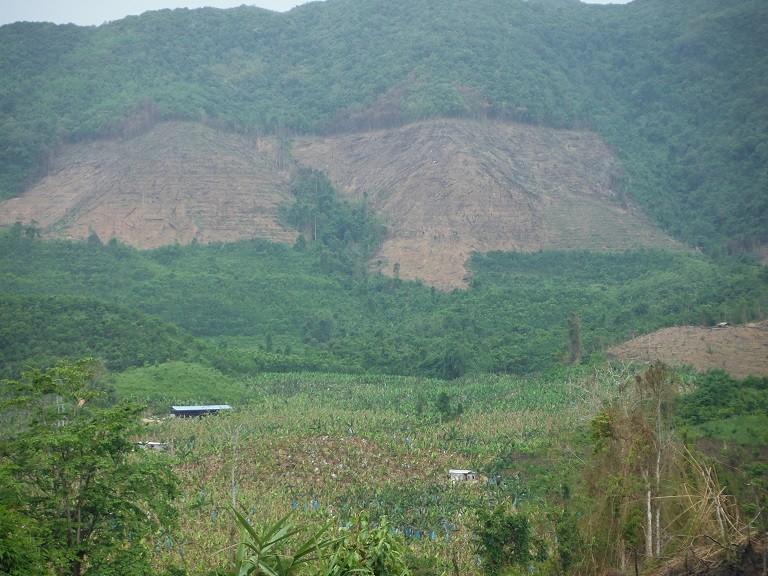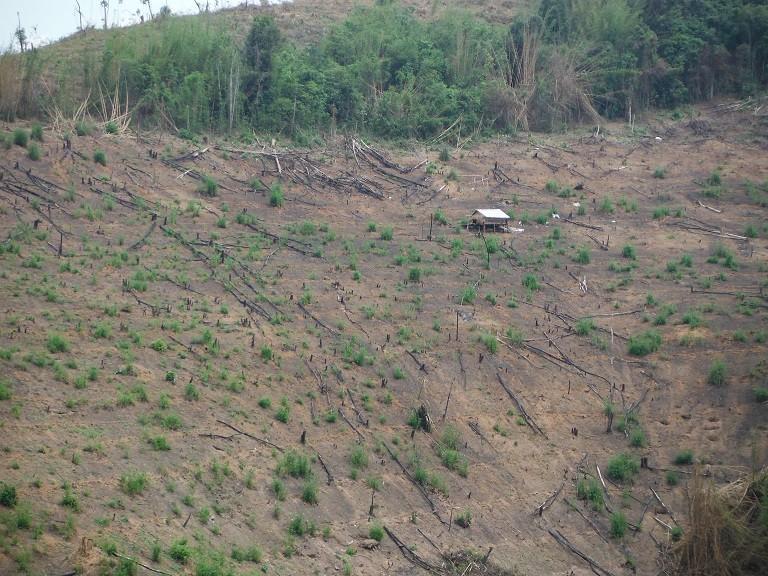 A small village north of Mon.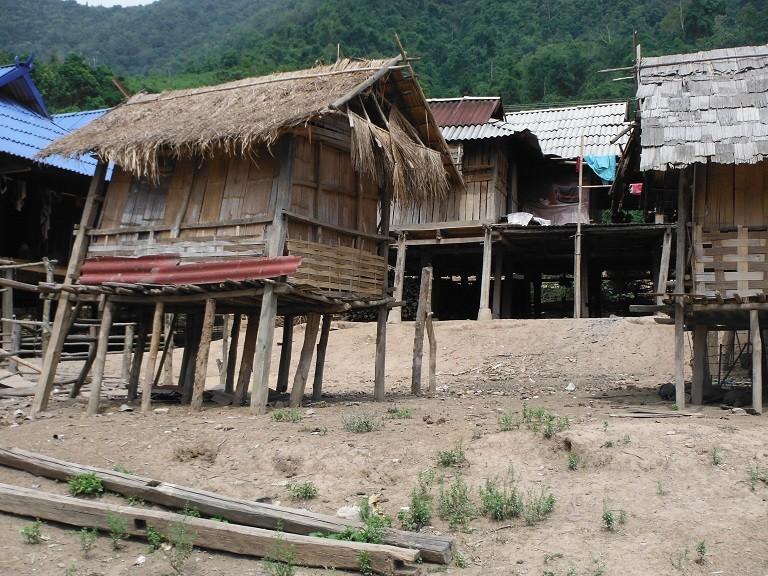 This is there school.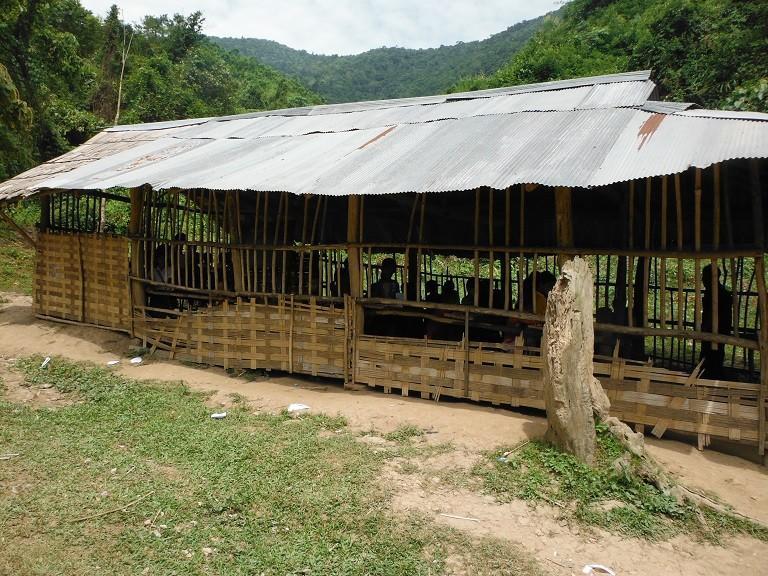 The young communist children were keen to learn. They where calm, but the teacher was going crazy.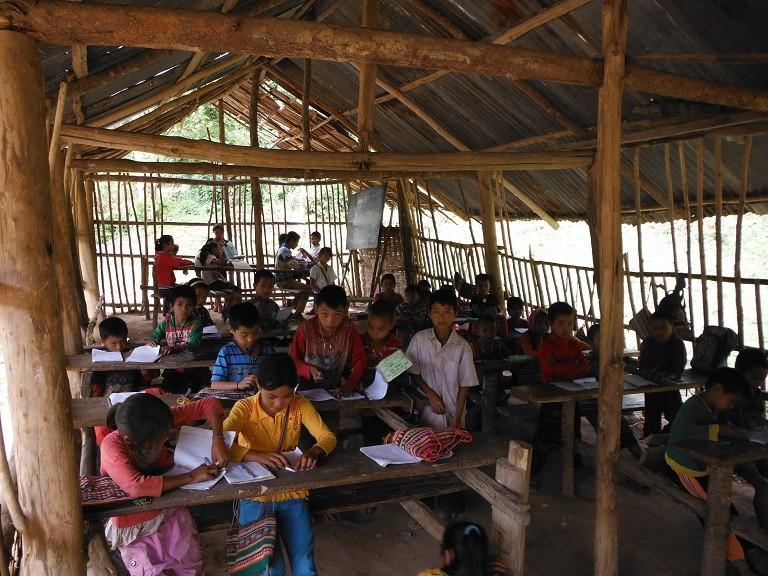 I ventured on,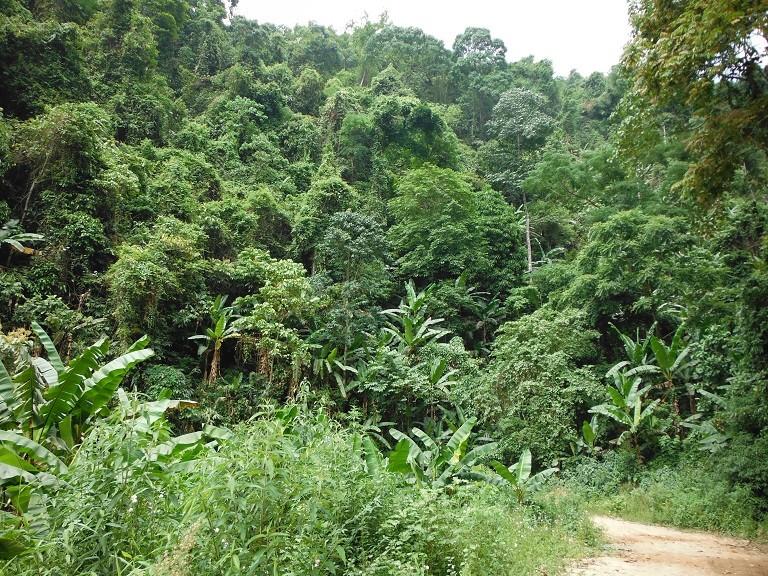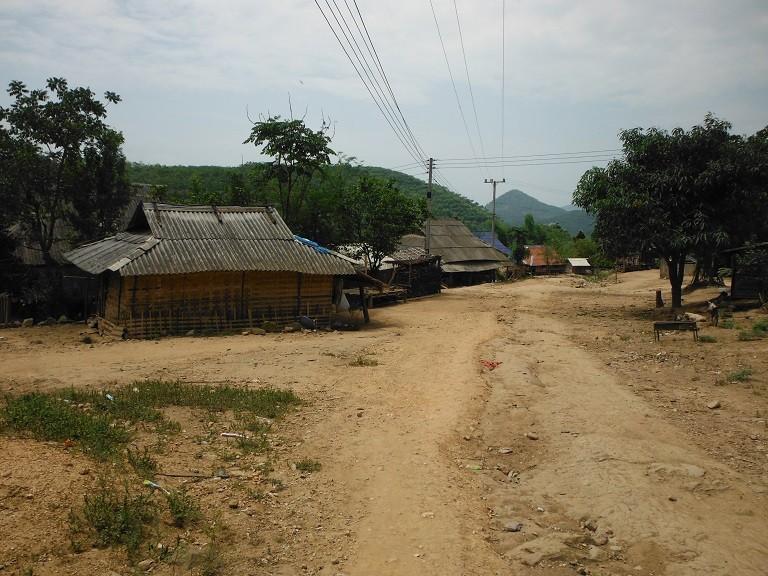 I was back in Muang Sing before it got too hot for a late lunch.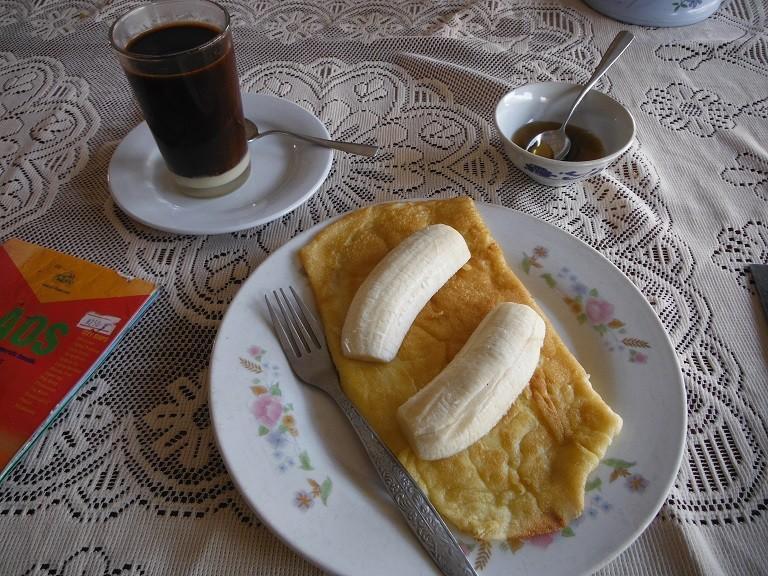 And with wave goodbye from the locals, the next morning it was back down to Luang Nam Tha.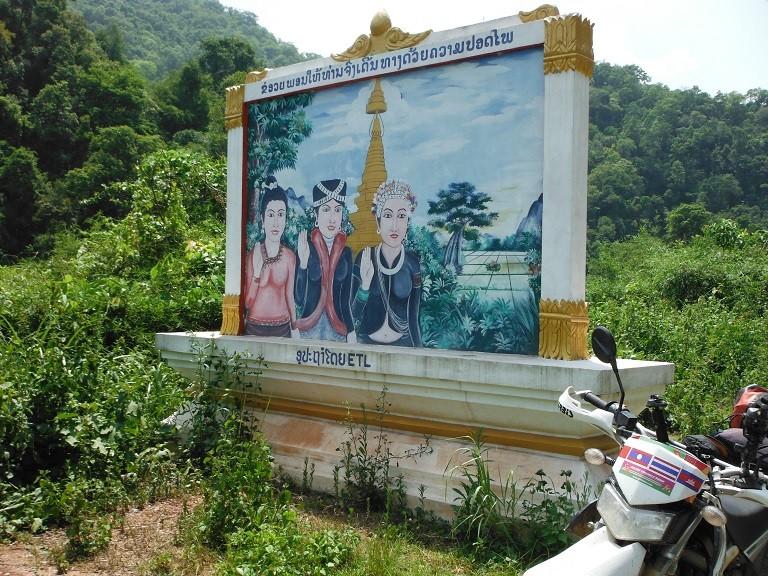 I stayed a couple of nights in Luang Namtra, before heading back to Thailand, leaving a few tracks to be ridden next time. I was 7 days behind in my original plan, and Id had enough of the stifling heat. So I spent the rest of my time riding a few short rides, and spending a lot of time on beer, food and Karaoke in around Chaing Rai.
There's a few photos of Muang Sing coming. soon.