Google Earth image added 15-04-08
Just completed a very nice ride over the following route:
Kompong Thom – Stoung - Preah Khan - Tbaeng Mean Chey - Stung Treng – Kratie
I followed the tracks of the Cambodia gps map available here.
http://mapcenter2.cgpsmapper.com/getfil ... &prev=4959
Its fairly accurate however ox cart tracks gradually change due to wet season damage etc so the actual route meanders on and off the gps track but not too much.
Day one
Kompong Thom – Stoung – Ta Seng - Preah Khan – Phnom Dek - Tbaeng Mean Chey (TMC)
Depart Arunras Hotel-Kompong Thom 7am (excellent value rooms with cable, Fan $5, Aircon 8$)
Travel ~50km to Stoung on Route 6 for khmer style breakfast (pork and rice) at Sokimex restaurant opposite Sokimex gasoline station.
8am Turn off route 6 onto dirt road to Ta Seng (Preah Khan) as per GPS map.
Following the gps track takes one on a combination of bush tracks and good laterite road up to O Sakram.
I suspect the good laterite road goes all the way from route 6 to O Sakram so perhaps this gps map is pre recent road works. Anyway, even the bush track sections are reasonably easy going on a dirt bike.
O Sakram to Ta Seng is a sandy track and can be slow going in parts.
Arrived at Ta Seng after ~2.5hrs of riding from Stoung, then its several K's out to the temples.
Spent around 2 hrs looking at the temples. The first temple I came to was Prasat Preah Stung with the four sided Bayon.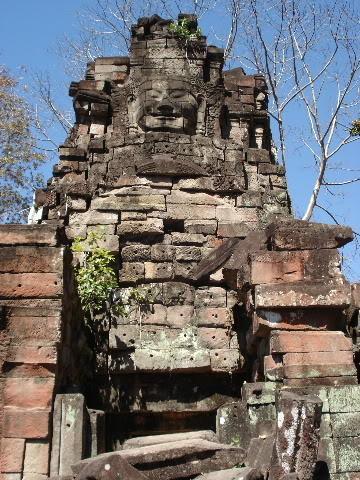 400m down the track is the main complex of Preah Khan
I was carrying gear/food etc to camp at the temples but decided to push on to TMC for the night.
Departed Ta Seng for Phnom Dek at 2pm. This is a notoriously sandy route and although it looks a short distance on the map it can still take a couple of hours .
I reached Phnum Deik at 3.30pm then headed up route 64 to TMC. (route 64 not shown on google image but its a straight forward laterite road)
Nothing much happening at night in TMC but luckily I ran into some dirt bike riders on an organized tour from Phnom Penh so had a bit of company in the evening.
I should mention that many people recommend camping at the temples for a night as part of the experience and I would have done this if not alone.
Day 2
TMC to Kratie via Pou - Mui Prey – Sralau –Sam Ang – Stung Treng - Kratie
This is a good days ride and one should take food and water as most of the small villages have nothing.
Departed TMC at 7.30am and headed off on a very sandy track to Pou. This is the slowest part of the journey. On the remainder of the route from Pou to the Ferry crossing for Stung Treng, there's some nice stretches of red dirt track going through forest and some not so bad sandy bits. Very pretty ride in parts but the loggers are quietly plugging away unfortunately.
Make no mistake, this is off the beaten track so go prepared for breakdowns or a night roughing it.
I made a 1 hr side trip at Pou heading Nth East (refer google map). This is very sandy but goes through some nice forest. Wouldnt do it again unless I was going that way.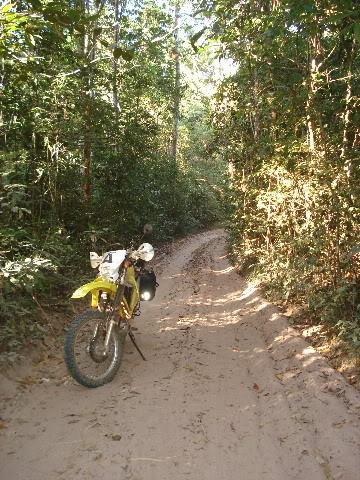 Arrived at the Mekong ferry crossing to Stung Treng at 3pm. Bit of stuffing around loading the ferry so got across to ST at 4pm.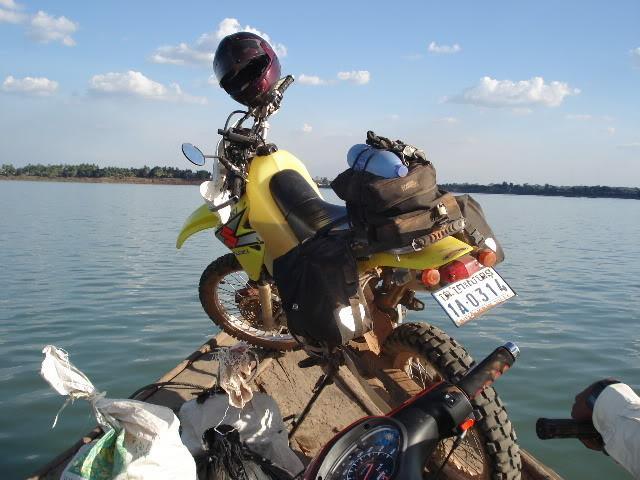 Stung Treng has reasonable food/accom options but I much prefer Kratie on the Mekong with its French colonial buildings.
The road from ST to Kratie is newly built by the Chinese so just a quick blast down there had me arriving at Kratie on Sunset. There are several western food restaurants in town with tour info, internet, etc and a good selection of hotels $5-15 fan/air.
Nice Boulevard along the Mekong to have a beer and watch the sun go down.
Summary
Carry plenty of food / water and hammock /mozy net for any planned or unplanned overnight stays in the bush.
Bring the usual bike spares and have someone in the group with mechanical repair know-how.
New tyres (knobbly on front at least) and new chain/sprockets will make life a bit easier in the deep sand.
No cellphone coverage at Preah Khan or enroute TMC-Stung Treng (at least none for Mobitel anyway).
Without a gps track or guide there are many opportunities to get lost.