0
Staff member
Subscribed
Jan 16, 2003
13,841
4,802
113
69
My absolute lucky day = first prize in the lottery!
A quick one day ride to Luang Prabang from Chiang Khong, to deliver some maps & catch up to a few friends.
It's been too long since I've been in Luang Prabang, so rather than bus the maps to Luang Prabang for delivery, why not just pop over for a ride. I must have done that road at least 30 times & know it like the back of my hand.
And so it was, but I did have a slightly uneasy feeling. You sometimes get these...
I have a favourite monk in Thoed Thai, who I visit at his wat to make merit a few times a year. It is usually for my birthday or at New Year & then again for Thai New Year in April.
It was raining for new year so I didn't make my pilgrimage, and the again in early January it was wet again, so I skipped once again.
Then 2 days before I planned to go something still didn't feel right so at 3.45PM 2 days before I was due to set off I raced off to Thoed Thai for the night so I could make thamboon the next morning at the Wat.
At 9am I bumped into the monk, just as he was leaving in his car, off to the market. 55. We chatted briefly & i asked to make merit with some offerings at the Wat at a convenient time in the morning, when he was free. Well not this morning, I'm off for most of the day, as I have another Wat & village to go straight after the market. When you come back, it is ok. Make merit then, don't worry.
ok I agreed - who was I to argue.
He's a really cool, funny monk & told me to take a selfie with him before we parted.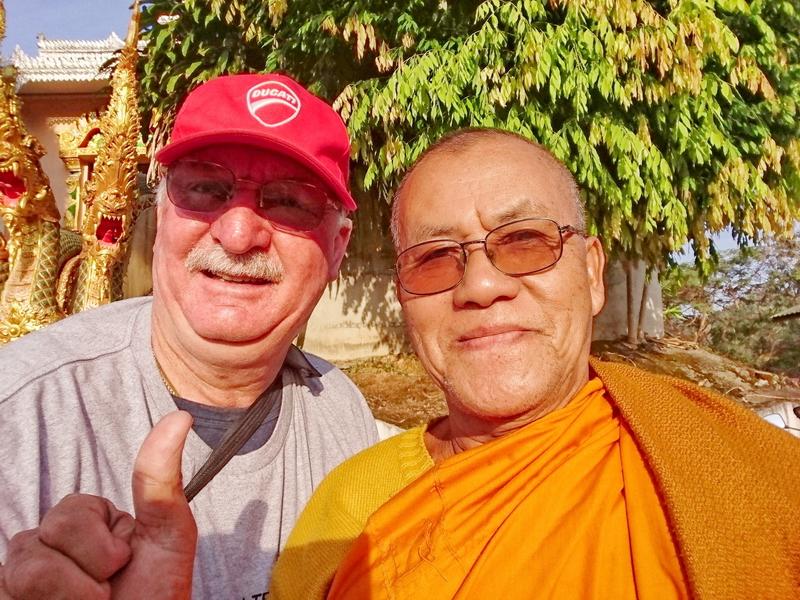 to be continued.
Last edited: