25th March – 3rd April 2019. 9 day trip. Hot Season.
Well this is going to be a hard one to write about for sure, as so much happened in nine days, but will try.
FULL ROUTE
(google map links):
Day 1
/
Day 2
/
Day 3
/
(Day 4-5 -no map)
/
Day 6
/
Day 7
/
Day 8
/
Day 9 (secret)
(Accommodation links at end of report)

The last (and only) time I visited Siem Reap and the Angkor Wat complex was eleven years ago. It had been on my wish list for some time to revisit the complex, and in recent years it was on my bucket list to do it on my bike. Ever since I was around seven years old I was fascinated by the ancient Khmer temple ruins after I watched a documentary on it. I said to myself at the time that I must visit there one day, so I smile when I think back to that little girl who looked at the tv documentary in wonder, only to have now visited it in a way I could never even of conceived of at the time!
Day 1: Chiang Mai to Khao Koh, Via Sukhothai (Google Map Link)
500+ km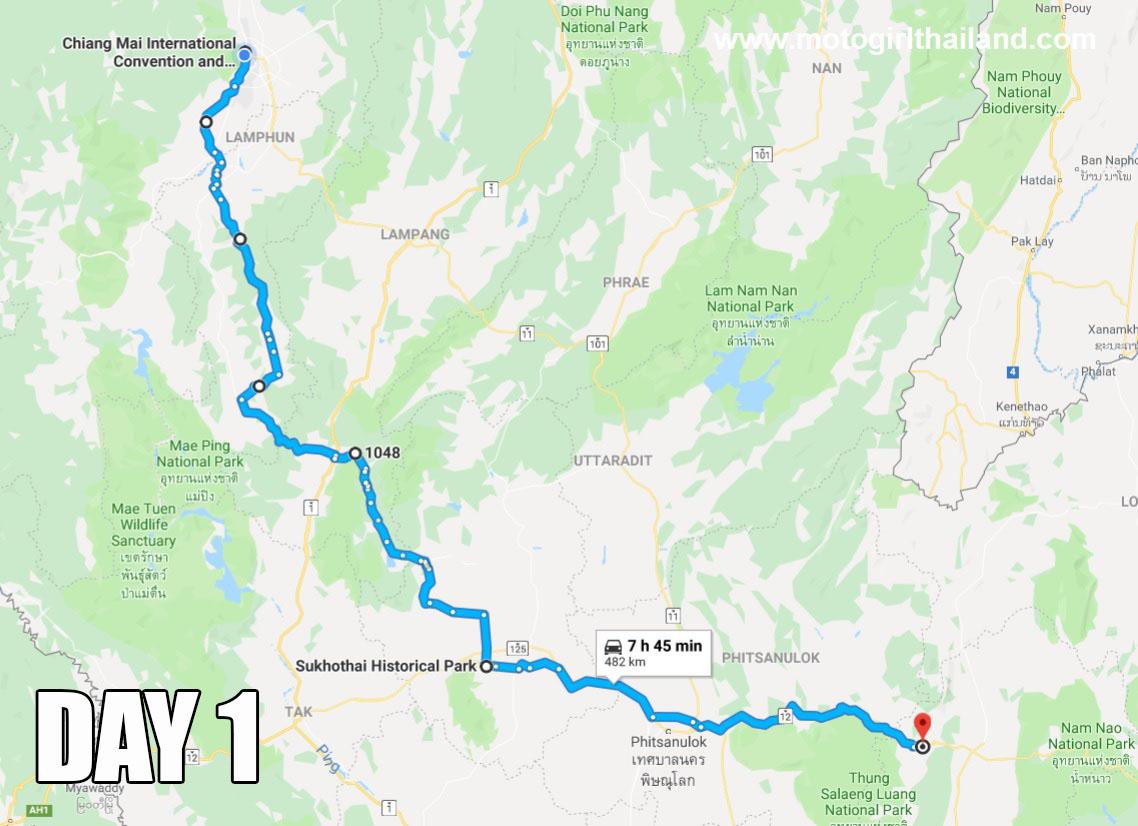 Knowing that I had a lot of ground to cover, I set off early. So by approximately 5:30am I was on my bike and off. This was an additionally good idea because it was the hottest time of the year, with temperatures reaching as much as 40 degrees centigrade. So hitting the roads in the early hours made sense. It was also the test run of my
new pannier brackets (and cheap soft panniers) <–I will make a separate post about this soon
, so was keeping my fingers cross that all would work out ok with them. The initial ride was in the dark, but as the first part of the ride is main highway, I wasn't missing out on much. By the time the sun was rising, I was already on the nicer B roads.

Nice mountain in
Klang Dong area
. Smog mask on!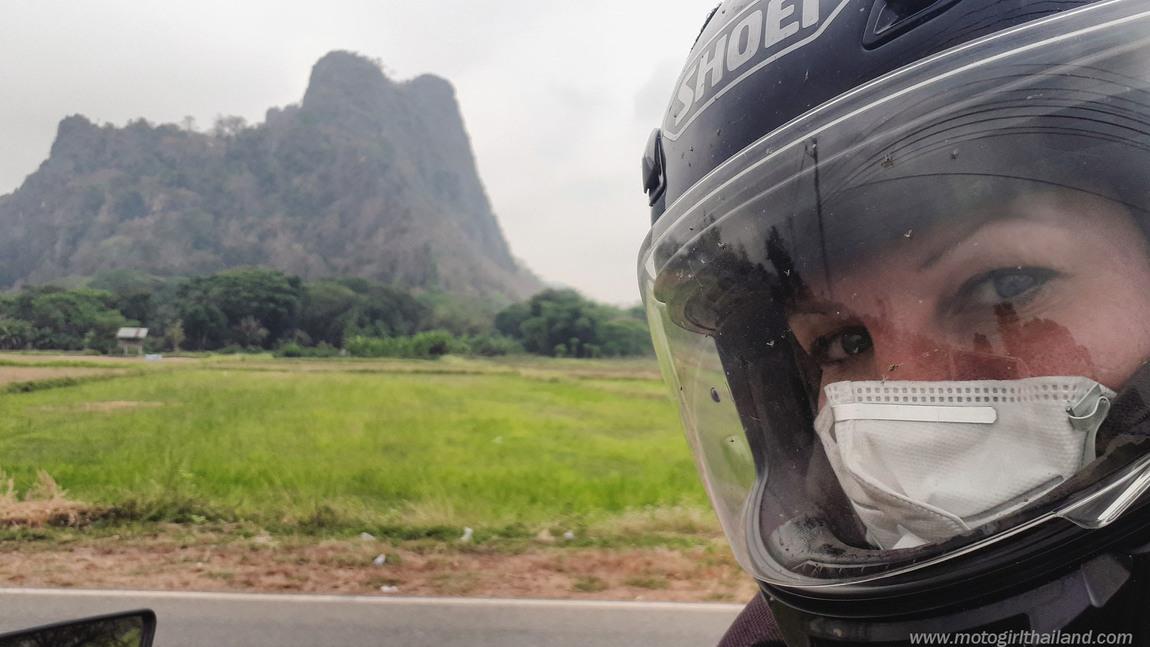 The route was nice, but smoky. Sadly at this time the forests are set on fire, creating toxic pollution and hazy air
(read more about why this happens here: Chiang Mai on Fire, Why the North Burns)
First stop: Sukhothai!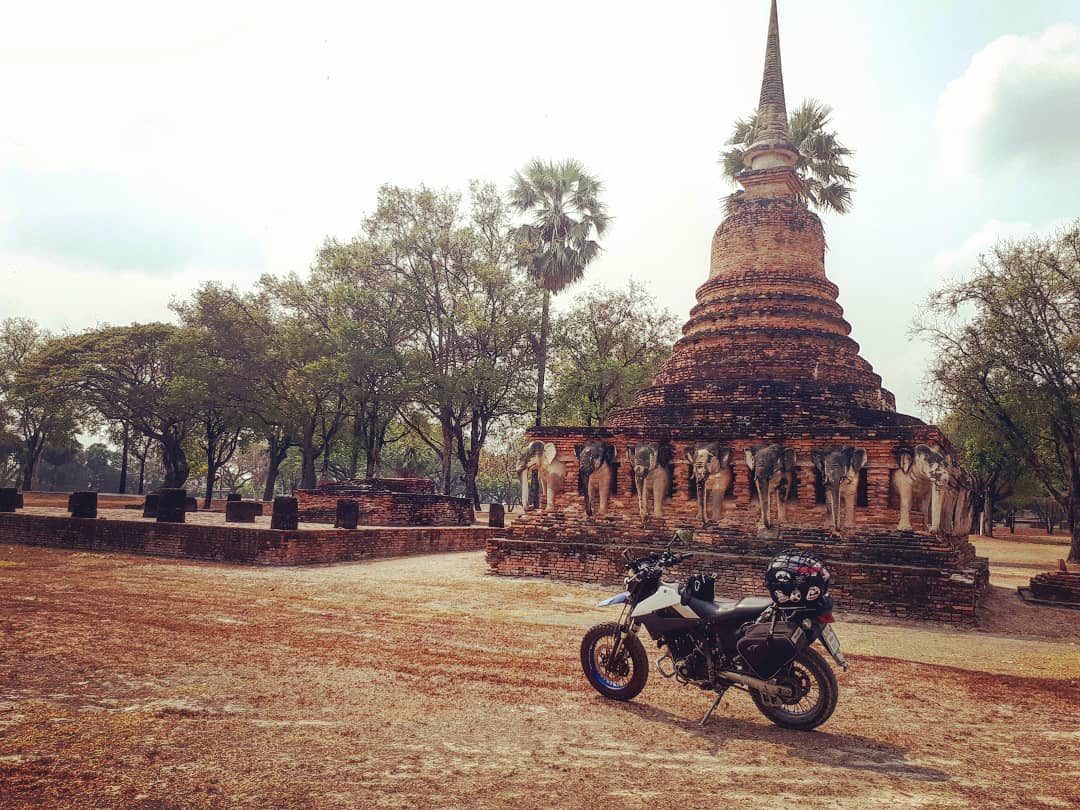 I reached
Sukhothai Historical Park
by just 10:30 am, but it was already heating up.
Sukhothai
(meaning 'dawn of happiness')
Historical Park is the site of the ancient Sukhothai Kingdom, which in the 13th and 14th centuries was under the domination of the Khmer Empire. A good starting point for my Cambodian trip.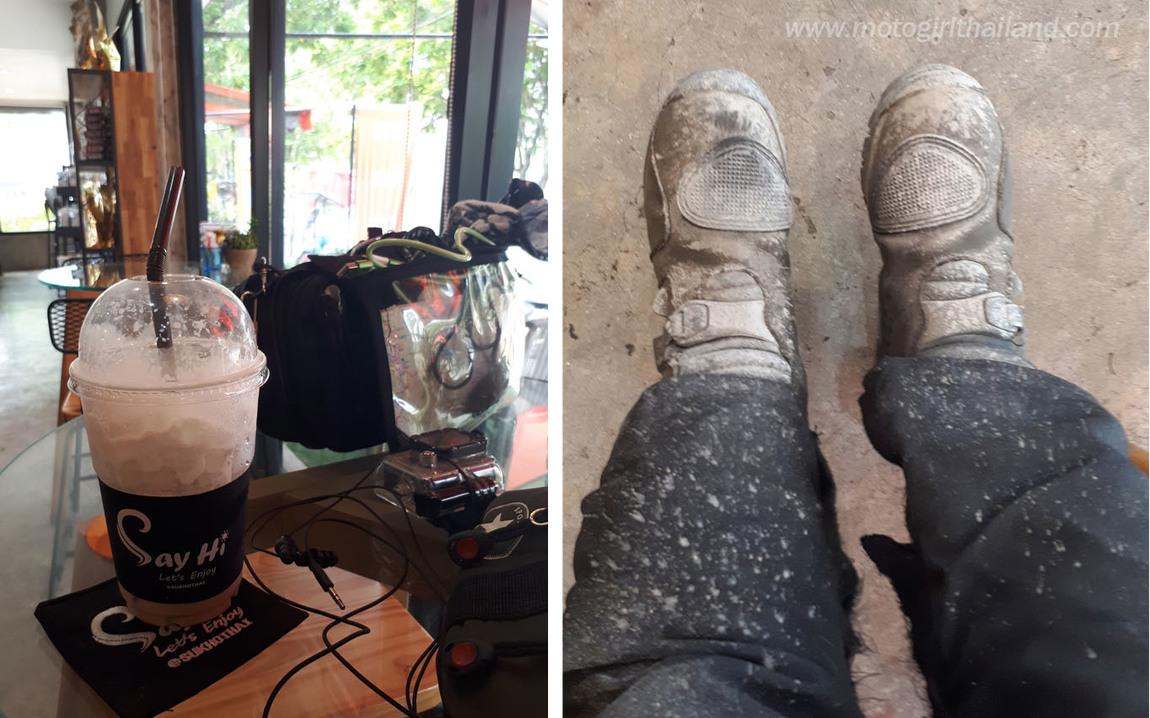 Dirty already. Haha!
Had a cool iced cappuccino and a nice ride around, before heading for
Khao Koh
.


Nice lady gave me some ice shavings to cool me down.
The
R12
to Khao Koh is well known as one of the best racing style roads in Thailand. I am not much of a racer on my 250cc, but the speed was consistent.
However, suddenly a flash rain storm hit! Wow, it was heavy..and I got a nice big gobfull of dirty rain water, and it soaked me through..lol. At least it helped wash away the smog!
Anyway, I still made good time and arrived in Khao Koh at around late lunchtime. So plenty of time to rest up.
I stayed in my favorite resort in this area
(Phu Fa Sai Resort)
and in the exact same room as I always stay in.
The normal price is 2000 baht (even in low season), but she discounted to 1500 for me.
I love this room and the view:

(this image from August 2016, when the view from this hotel was at its most beautiful. At this time the skies had a bit of smog)
My plan was to ride the short distance to
Wat Prasornkeaw
(have a great trip report on this stunning temple HERE)
, to see the sunset at the temple, but to be honest, when I got to my room and had food in my stomach, all I wanted to do was sit quietly and watch the sun go down from my balcony. It was like my feet had been replaced by blocks of lead. It had been a long day riding and I was too relaxed and too peaceful to leave. So, the temple at sunset will be for another time instead.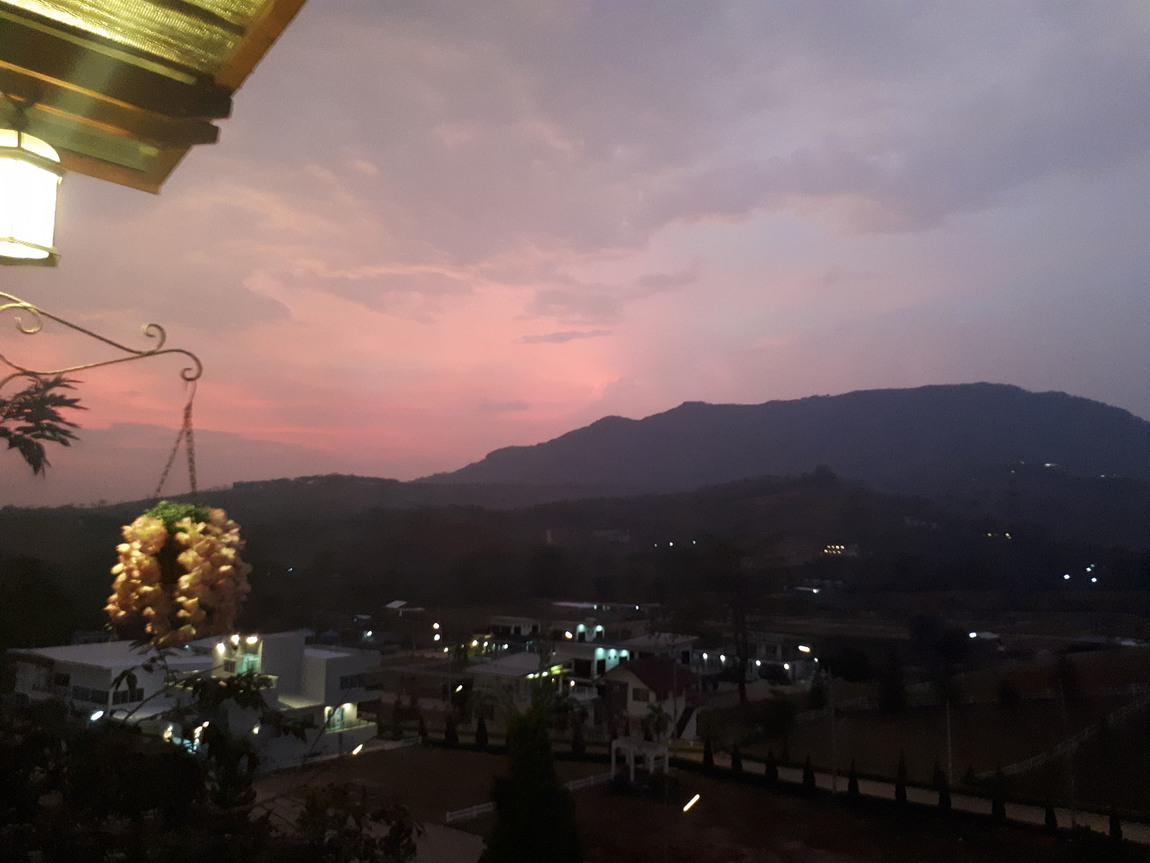 Plus, ended up that I had a companion for a while anyway…
Relive Route Tracker for Day 1: Relive 'Day 1'


Last edited: