Ok, here goes, my first post on this excellent Website, I have been lurking for at least 3 days and though I ought to join and post too.
I am very interested in Trail Riding particularly in Northern Thailand and will probably give it a go next April if I get the chance.
However, this is a few words and pics about a great time had on a little bike in Samui last month, despite the near disastrous ending.
After seeing all the ex-pats whizzing around Chiang Mai a few days before, when I arrived in Samui and saw loads more, combined with the rip-off taxi prices I decided to do what most people do and rent a bike to get around. Having ridden 750s etc in the UK I felt that something fairly big would be alright, the roads and traffic looked ok, but finding a decent bike near to our hotel was a different matter. I shopped around for prices and availability, but as I didn't fancy a pseudo Chopper and most of the 400 upwards bikes were IMHO total wrecks so I gave up and went back to the hotel.
At the desk the girl offered me the best she had, a 'new' Yamaha Neuvo for 200 Baht a day, all in with no questions asked – All she needed was the Room Number. Faced with such little choice and the lack of formalities I decided to give it a try for a bit. The Nuevo wasn't a bad choice as it has slightly bigger wheels than a 'Click' or a 'Dream' and copes with ruts in the road a little better.
So furnished with keys, crash helmet for rider only and a minimal amount of fuel we were ready to go.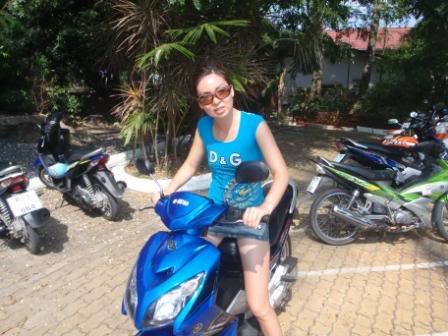 No Idea how to ride it but looks good
We set off to explore some of the more interesting places, armed with a trusty (free) Map from the Hotel and my GPS equipped mobile phone. Actually its not that bad – The map was quite good and my phone is HTC Touch Diamond with Garmin Thailand Maps, so we were ''sorted''
Having fuelled the bike we whizzed round the island, not going at great speeds, but thoroughly enjoying the freedom that the little bike gave us. I was surprised that the traffic was indeed quite well behaved, even when we were stuck at traffic lights, in amongst a gaggle of locals on Dreams, Clicks and Neuvos there were never any problems. Our first day was a total success, however we were not yet adventurous enough to go out at night – but maybe tomorrow.
Next day we decided to venture inland and see some of the Waterfalls and other places so well advertised on our excellent Tourist Map. Off we went, totally confident, experts now, after all, we had survived a day already.
Turning off the 'Round the Island' road brings you to wonderful villages, quiet little roads and…hills, lots of very steep hills. We let the little bike scream up a few of them and then I sensed that if we carried on then 'mechanical death' of the auto clutch was a distinct possibility.
Time for a decision, do we ……
A) Turn Back and Give Up or…
B) Reduce the Load and continue onwards.
The decision was made, time to remove the excess weight and throw 50 Kg off the back.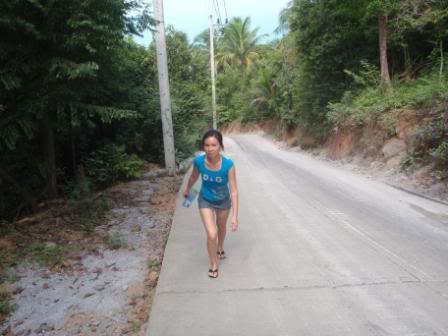 Not too happy, but keeping fit
Now that we were so confident we used the bike day and night, it became almost impossible to resist jumping on it and nipping into town, just because it was there. A couple of times when pulling away from rest I heard a distinctive mechanical 'squeak' from the rear end, but put it down to the grief we had given the clutch on the hills, after all the bike was still going ok – or was it ??
I know I should have checked it out properly and had it been a bigger machine or not merely a rental, I surely would have found out what that 'funny' noise was.
On our last day we made our first visit into Lamei for lunch, we had passed a few times, but never stopped. It seemed quite nice, however it was obvious the place is pretty dead during the day, but comes alive at night.
So with that in mind, on our last night we decided to make the 10 km ride to Lamei and sample the nightlife, setting off about 9 pm.
Whizzing down the road at our standard 50 Km/hr everything seemed ok, however the bike was becoming a little bit more noisy – It was still going well and felt ok and the noise was not bad enough to warrant stopping – we were nearly there anyway.
Slowing down to turn left from the main road into the Lamei Beach Road, now there was no wind in my ears, the noise from the rear of the bike was horrendous, I was going to stop and sort it out as soon as I got round the corner. As I was turning in the back wheel went all wobbly and we stopped instantly, something was really amiss, the bike was unrideable so we jumped off to investigate. First of all apart from the tyre being red hot there appeared nothing wrong and not being on the mainstand it was difficult to rotate the wheel etc. As I tried, the remains of a spoke fell onto the road, then it dawned on me. Most of the spokes in the wheel were loose and a good number were broken or missing altogether – so that was what had made the 'squeak' each time we pulled away from rest. The wheel had failed totally, causing the tyre to rub on the swinging arm. I was horrified, moments before we had been whizzing down the road doing 50 km/hr wearing nothing but shorts n t-shirts !!!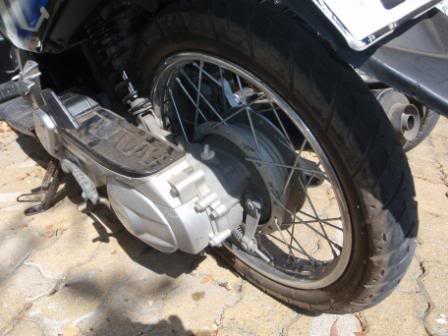 Broken, Missing Spokes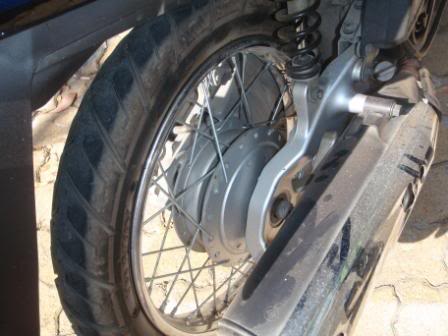 Rubbing Tyre
Now being an observant sort of chap and knowing there was possibly something amiss with the little bike, I had spotted a small Motorbike Repair Shop we passed about 100m before the Lamei Beach Road, and it had been open. Walking back up to the shop I found a Thai Family of about 7 people all eating dinner from a mat on the floor of the shop. The owner jumped up and I explained the problem and where we had stopped.
"Ah, Neuvo, big wheel, problem, I only have small, cannot repair – I call my friend"
He whipped out his mobile, called his mate and then shook his head
"No can do, maybe tomorrow morning ok"
- I told him it was no good as I had a flight to catch next morning and needed to take the bike back beforehand.
"Ah, you rent this bike, where from?"
- I explained it came from our (5 Star) hotel near Chaweng.
"Ah Chaweng, long way, but from hotel, ok no problem, you take back and throw it, they plenty money, no care"
I smiled and said that would be ok if we could get it back there, at least then I could sort it out in the morning.
"No problem, you need a pick-up"
- I nodded, yes we needed a pick-up.
"Ah, I no have pick-up, but I borrow if you like"
He took me next door to a Pharmacy and asked the owner to borrow his pick-up to help me out.
"Ok, I finish dinner, I come in 5 minutes ok"
We agreed and I walked back to the 'dead' little bike to await.
About 15 mins later round the corner came my saviour in a brand new Toyota Hi-Lux Double Cab, armed with his two sons. The two lads jumped out and deftly put the bike in the back, while we hopped into the cab. We drove back to the hotel in comfort while the two lads held the bike safely upright. Twenty minutes later at the hotel the two lads lifted the bike down and carefully parked it so as to look normal.
The shop owner smiled and said
"See all look ok, no problem, where you go now, you want ride to Lamei?"
I nodded and off we all went. He dropped us in Lamei and I asked
"How Much"
"I don't know, I never did this before, what you think is good price, up to you"
he said.
So with the two lads watching I gave the guy a 1000 Baht note and said thank you very much. I had already been thinking how much trouble this guy had saved me, we could still be stuck with a broken bike, next day missing flights to get it all fixed etc etc. So as he was about to get back into the car I slipped him another 1000 and said
"Don't tell your wife"
The guy laughed and drove off smiling happily. I know it may seem excessively over the top to give him so much, but we were nearing the endo f out hiliday and had a tight flight schedule; which he helped us to keep.
We had a great night out, somewhat later than expected, but also much more beer than my usual 'one with dinner' as I now didn't have to drive at all.
I don't know the name of the shop, but it is exactly where I have described it. The owner is the most helpful chap and if I get the chance to go back, I will certainly drop in and see him again.
I have to say, despite the one problem, the little bike was a brilliant way to see Samui, and so cheap to run it was incredible. Now we knew why all the locals, including whole families used them for everything.
Next time I will rent something a bit bigger, preferably without spoked wheels too.
Cheers MH
PS: Never heard a wink from the Hotel, but it was obvious the bike was knackered, there was no chance of anyone renting it, not noticing and having an accident - so I didnt feel so bad after all. Oh and, Yes they can afford it!!!