Excerpt: The province of Champasak, royal and relaxed, is all about waterways, sunsets and hammocks. From Pakse, down to Cambodia, it hosts the stunning ramifications of the Mekong, sculpting "Four Thousand Islands".
South Laos Trip
Part 1 - Ferry tales

See also a trip report about North Laos
(in four parts):
Excerpt: Laos is attractive for biking tours, but all roads are not build the same. To avoid the worst and the off-road segments I entered through Muang Ngeun. It is an easy crossing with great itineraries from Chiangmai to Pak Beng and Oudom Xai. First part of a Laos trip report (2). The...

www.gt-rider.com
Excerpt: After exploring Oudom Xai's neighborhood, I took fabulous route 13 toward Luang Prabang, with an overnight in Nong Khiew. LPG is still an Asian jewel city worth a longer stopover for cultural visits or just to hang around. Second part of a Laos trip report (2). The road to Luang...

www.gt-rider.com
Excerpt: "Plain of Jars" is filled with secrets and mysteries. It is also a great biking place with a good access road and scenic itineraries. The archaeological sites are testimonials of the past whilst scars in the landscape are reminiscent of more recent war turmoils. Third part of a Laos...

www.gt-rider.com
Excerpt: Back from Plain of Jars, my journey goes down route 13, toward Vang Vieng, Nam Ngum reservoir and Vientiane (illustrated with old and new pictures). Then, I bid farewell to Laos and cross to Thailand over the Friendship bridge to Nong Khai. Fourth part of a Laos trip report (1). Back...

www.gt-rider.com
The complete photo story can be found at :
http://picasaweb.google.com/campusadvise/SouthLaos1FerryTales#
Trip maps
(see at the end of the post).
Crossing at Chong Mek
For the first time, I started my motorcycle trip by boarding a plane. Actually, the story began a week earlier, when I brought my companion to the Maerim post office. She got a "bubble-wrapping" and my farewell: " I hope to see you in Ubon, in a week's time, and in good shape".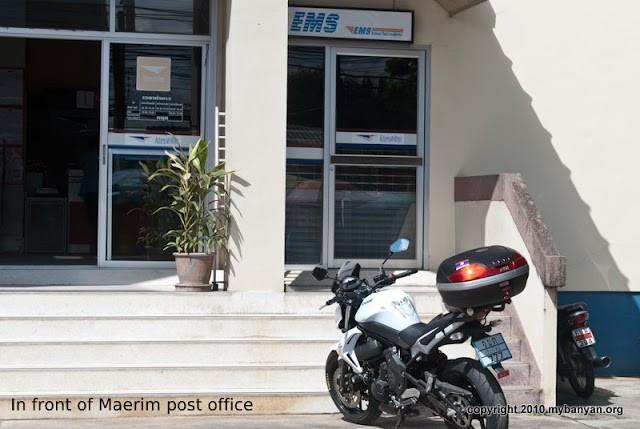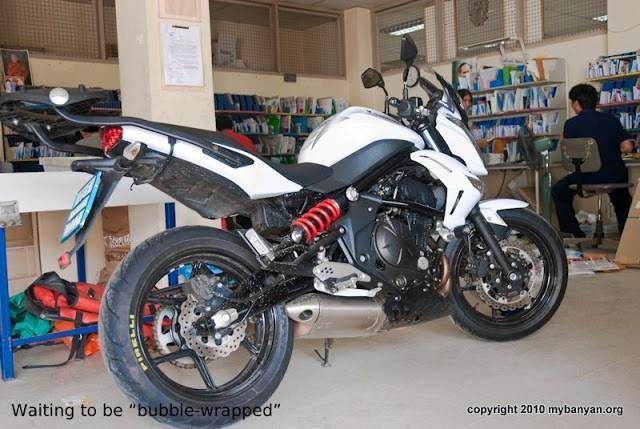 In full biker's attire, I checked in with Thai Airways and walked through security. I had forgotten that "weapons", useful on the road, like a swiss knife, are not welcomed on board. Fortunately, the compassionate girls at the scanner forwarded my tool to destination.
Flying to Ubon Ratchasima, on a journey that friends would drive in one motorcycle leap, seems heretic. But for me, bypassing a two days highway trip, with shower bonuses, was worth a trial. It would also give me more time to amble around South Laos.
My travel fantasy, set me back of 3'100 Bath postage for the lady ("bubble" packing is 100 Bath), and another 5'000 Bath for my airline ticket.
In Ubon, I reserved the "Sri Isan" hotel. I was greeted at the airport by friendly staff who drove me directly to the central post office. My "girl" was waiting there, unharmed. She arrived the same morning, as promised, with one week deadline. The hotel's receptionist, in her "pa sin", jumped on the rear seat and showed me the way. It was all Thai style, friendly and fun.
I had no precise itinerary for the following days, but knew that I would travel to Laos and go South. My schedule was a two weeks trip, including the way back to Chiangmai, this time on my own wheels.
****
I woke up to a bleak day, with a sad sky crying down on my morning departure. There was no hope in waiting for better times, so I packed my things waterproof and hit the road toward Laos.
Route 217 after Ubon, and particularly after Phibun Mangsahan was not at his best. Two of the four lanes were useless and the last sector was totally under renovation, with muddy trails and treacherous levels between old asphalt and soft dirt. My mood was somber as the clouds and, to escape from the permanent rain, my camera never left her dry hiding.
Chong Mek border crossing is on land, as in Muang Ngeun, were I had crossed into North Laos. These places are relaxed, without bridges or ferry burden.
It was easy to pass Thai immigration. I had prepared 3 copies of my passport, the bike's green book and the border documents, downloaded from GTR site. The data were not totally completed but were all accepted, without addition. In the custom's booth the officer typed the data in the computer and gave me the printout. Thailand was done!
On the Lao side, I began with the police booth, got the arrival card and was asked for a visa. As I did in North Laos, I went to the "visa on arrival" counter and was pleased to learn that Swiss nationals could stay two weeks for free. I rushed to the next room, were a lady typed data in a computer, asking for the motorcycle's passport. I made the usual answer stance that there is only a "green book", and this was confirmed by an "insurance man" sitting next to her. I paid 100 THB and and another 150 THB for two weeks third part coverage. Some stamps, another stop, two hundred meters down the road, for a control and I was all set, happily driving in Laos, at least this is what I thought …
(for interested "border crosser" see my blog post "walking into Laos"
8 mo old honda dream 125 for sale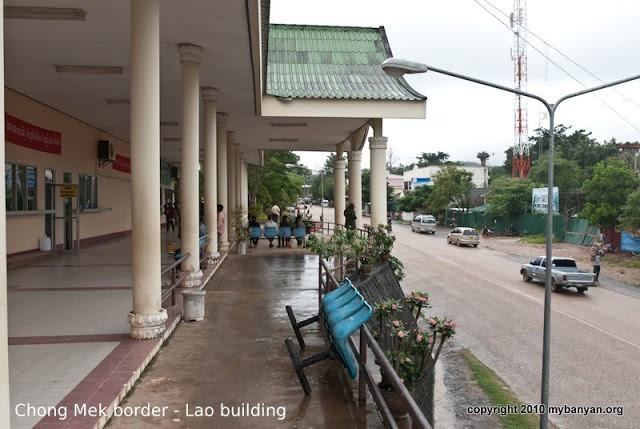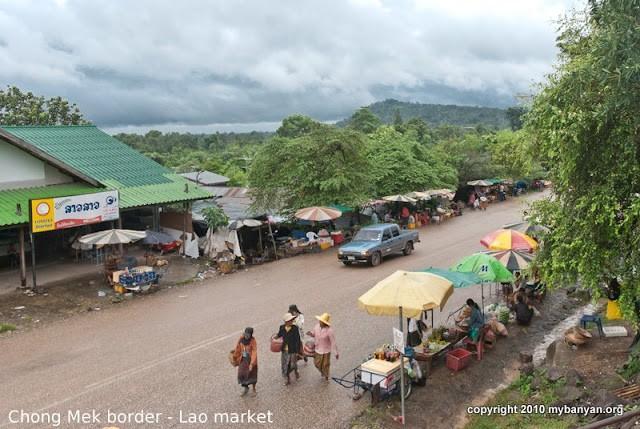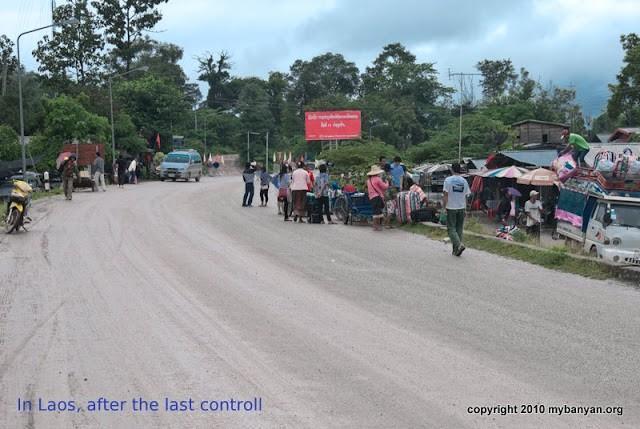 Gliding straight down,
on the right side
of the road, I droved to Pakse, through a curtain of mist and rain. Route 16 W is smooth but shared with all sort of cattle and other animals. When I reached the Lao-Nippon Bridge, I parked my bike and went to greet my old friend: the Mekong.
My stop-over was short lived. As I walked to take pictures, a policemen came hunting me on a "Honda", making me understand that I had to go back to my bike. Something was probably against the law, no idea what it was.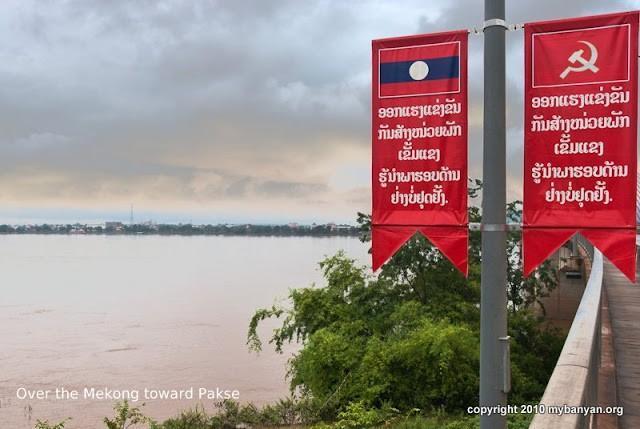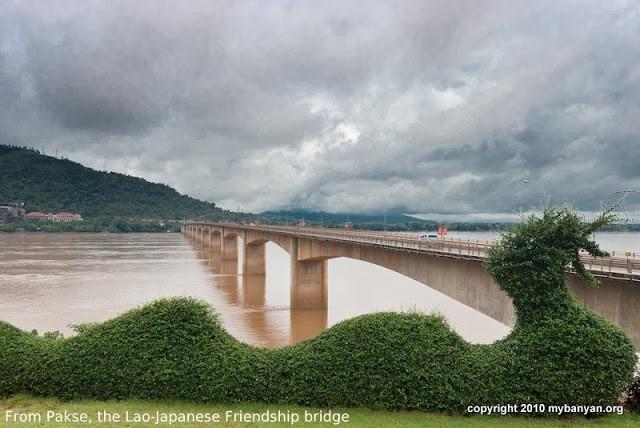 Champasak – Wat Phu
The light was not appealing, and I took few pictures of Pakse before driving toward Champasak, happy to discover the South face of route 13. The side road leading to the Mekong ferry pier is at Lak 30. There, big and small boats charter people and vehicles to the west side of the river.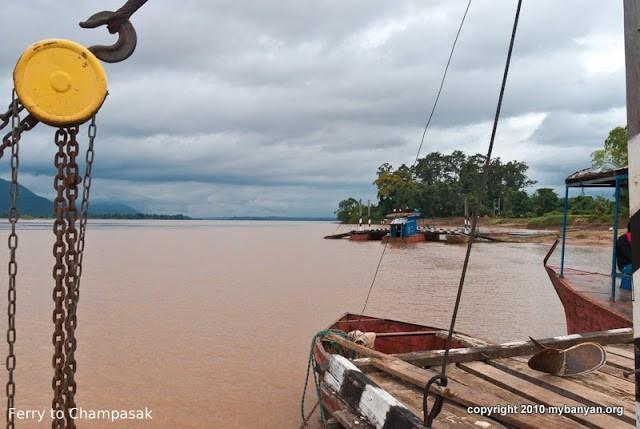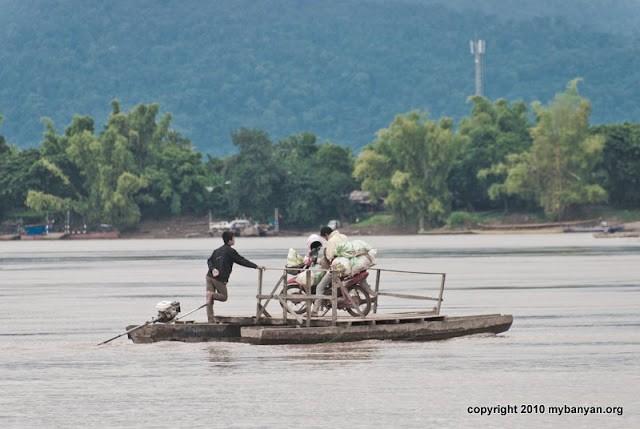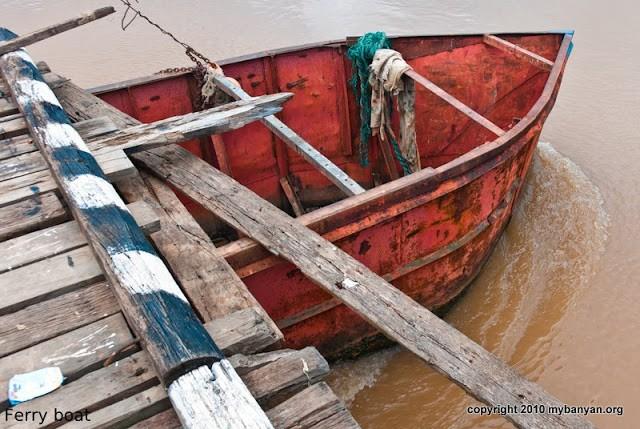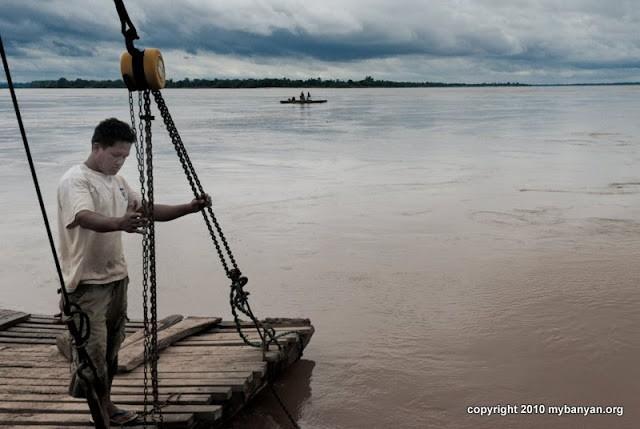 I checked in to "Anouxa Guest House", a friendly and relaxed place, with simple but comfortable rooms, a delightful view to the river and a terrace restaurant. It reminded me, on a smaller scale, to Nong Khai's "Mut Mee", patronized by a mix of travelers, with different backgrounds and plenty of stories to share.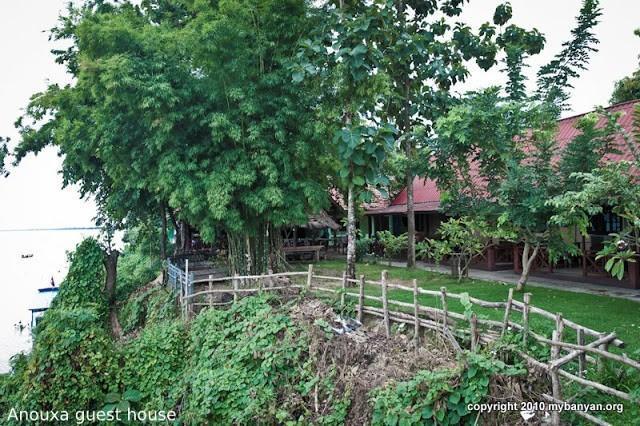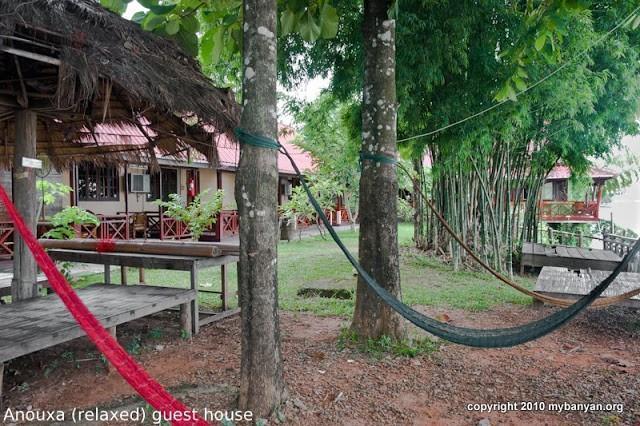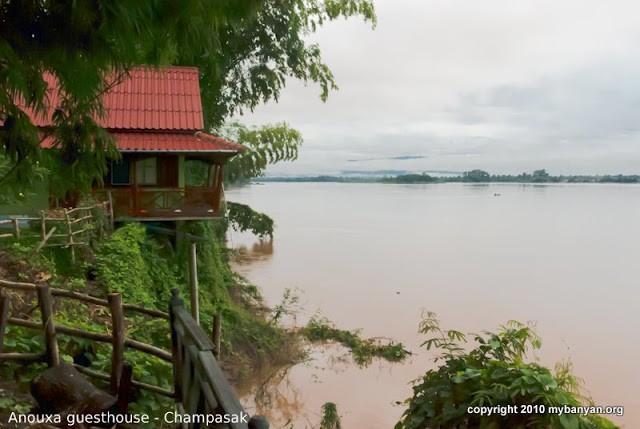 Thirty years ago, Champasak was the seat of royalty. Nowadays the village is just a road, on the rim of the Mekong, with houses and guest houses on both sides. A couple of temples, some colonial buildings, old palaces and all sorts of small shops boarding the street.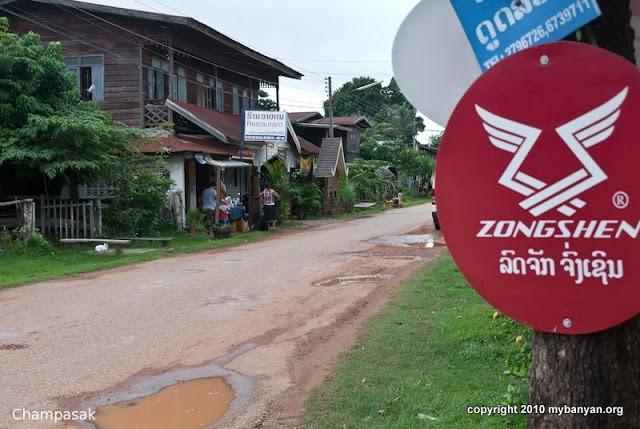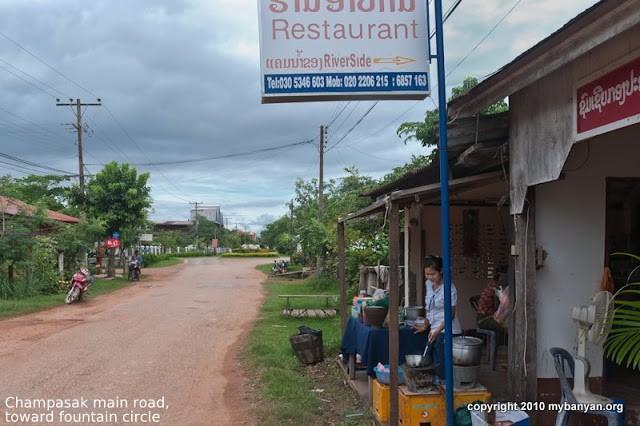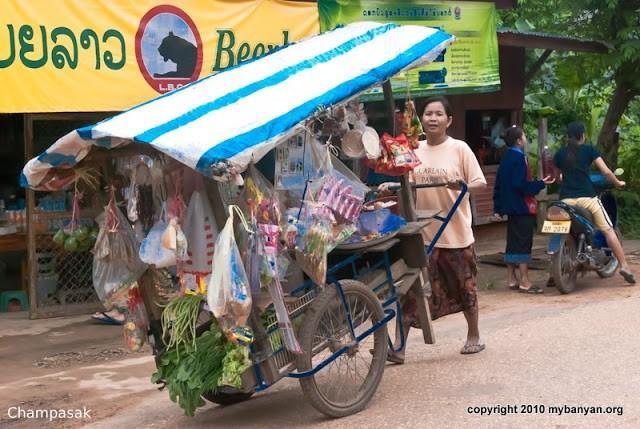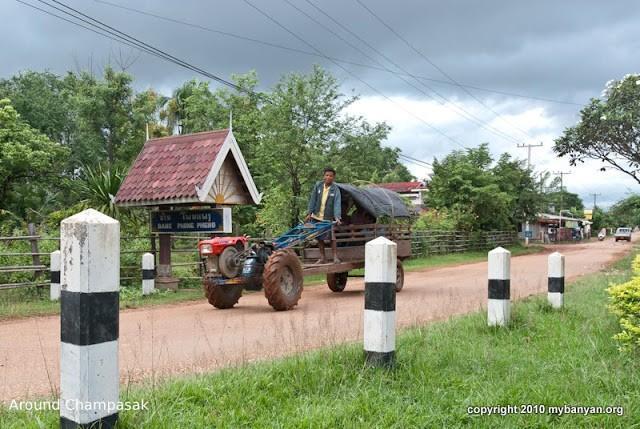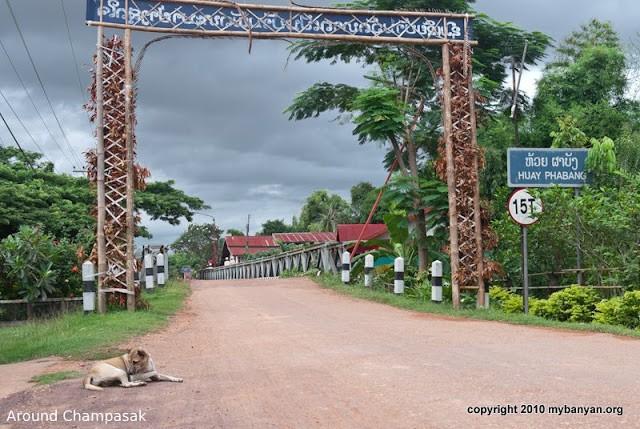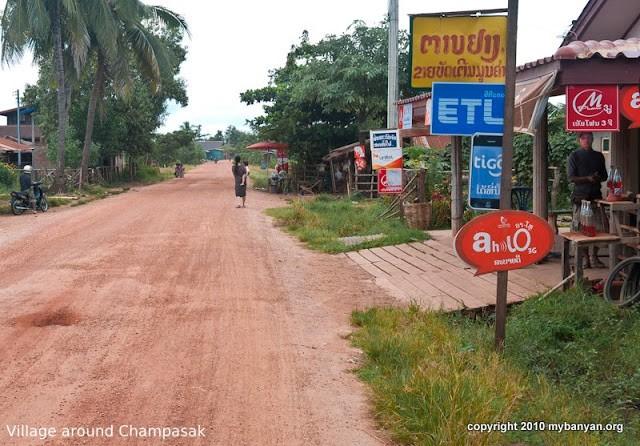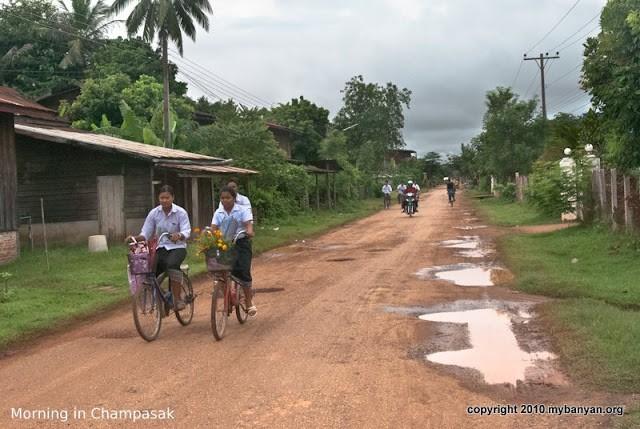 I kept one day to visit Wat Phu, a Unesco world heritage temple, and the neighborhoods of Champasak. The morning was gray, with an agreeable temperature for an excursion, but dull light for pictures. Despite a flat and colorless illumination, the venerable stones were posing majestically against the dark backdrop of the cliff.
Morning mist and clouds hanging around the mountain's peak, add mystery and a sense of peace to the site. No comparison with the big brother of Cambodia, but it is not about similarities or differences, but to enjoy the place for itself and for the important piece of history that it embodies.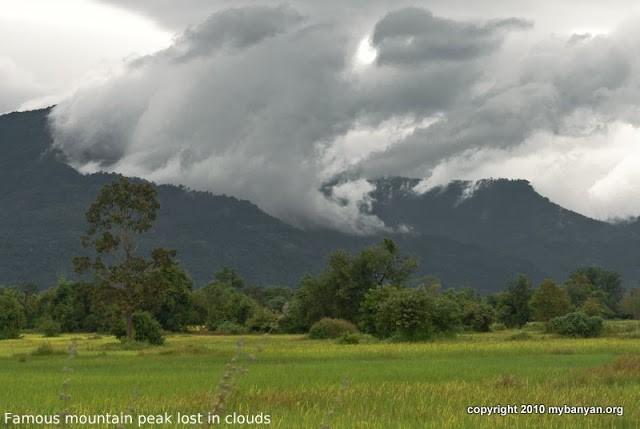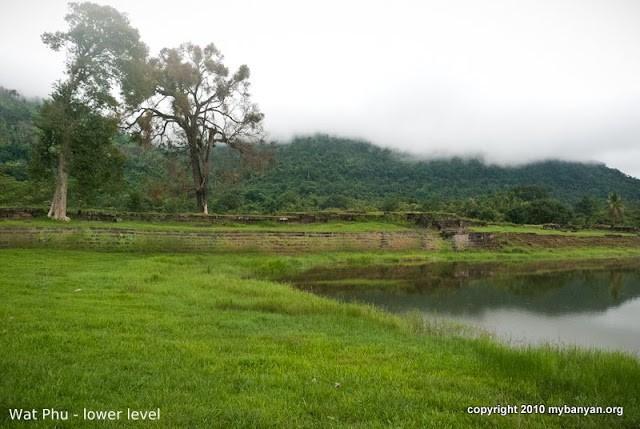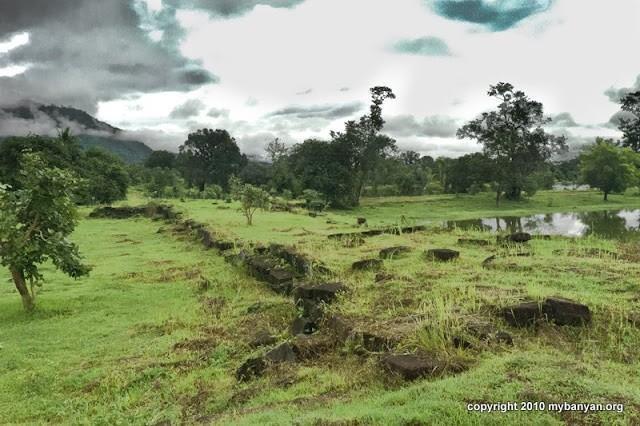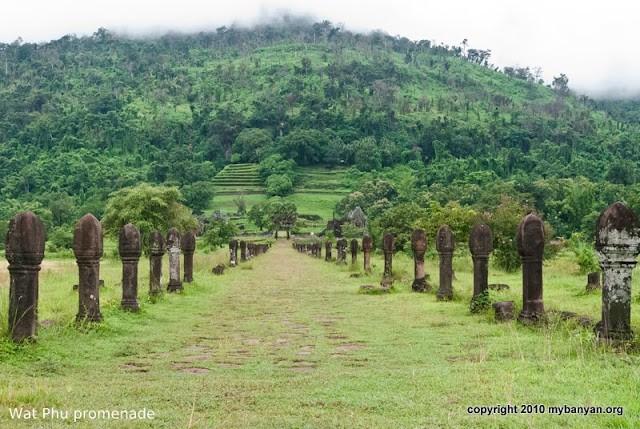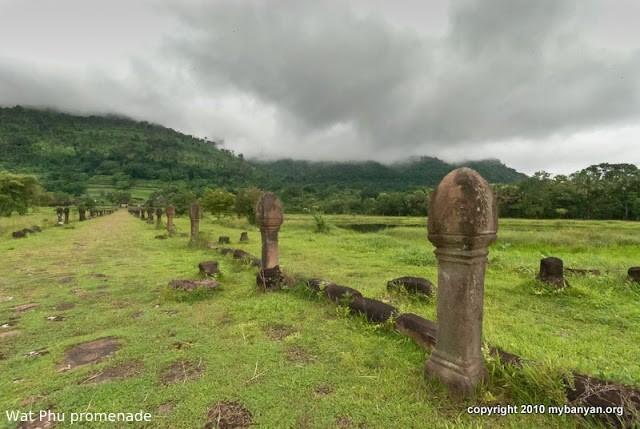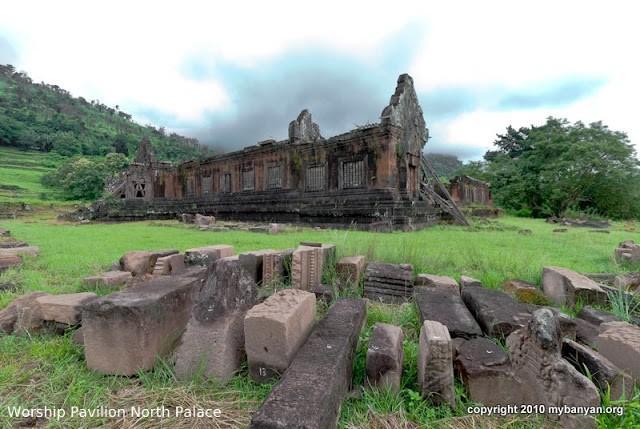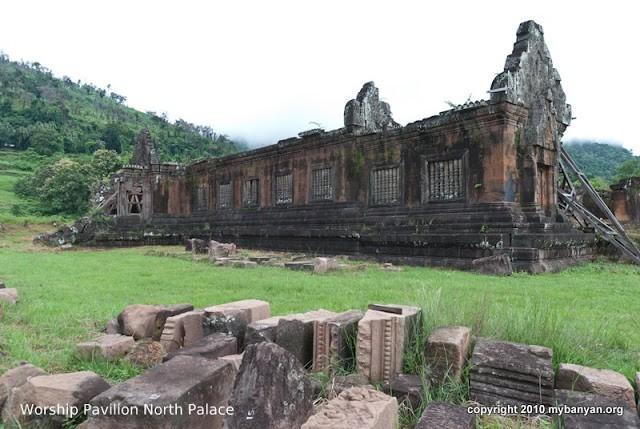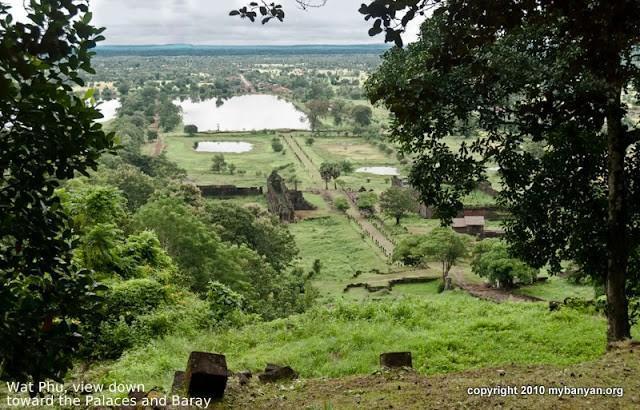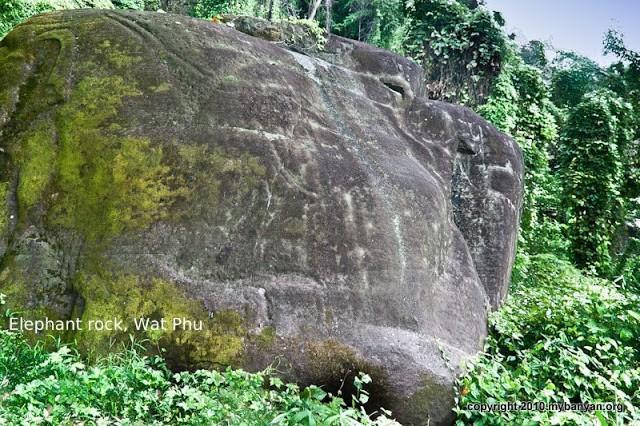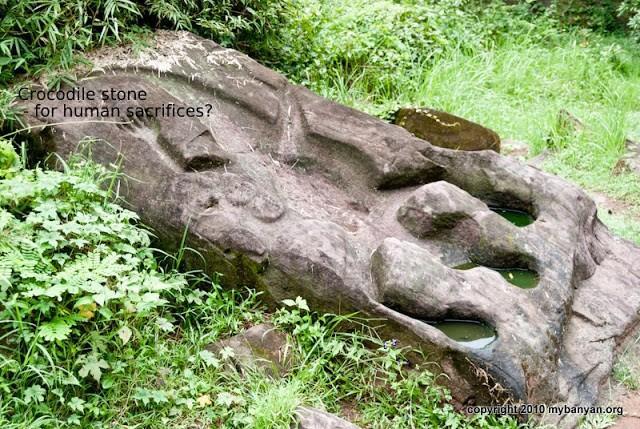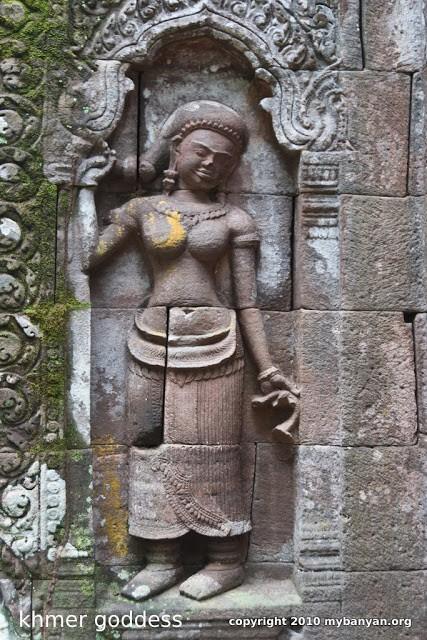 Women where selling artifacts near the worship places and I discussed the theory of relativity, with one of them. We did not quote Einstein, but had common views about happiness. Then she tied a Baci cord around my wrist and, in her prayer, wished that I be reborn in Laos, as her husband. To bring good fortune, the cotton thread has to remain intact for at least three days … months later I still wear it.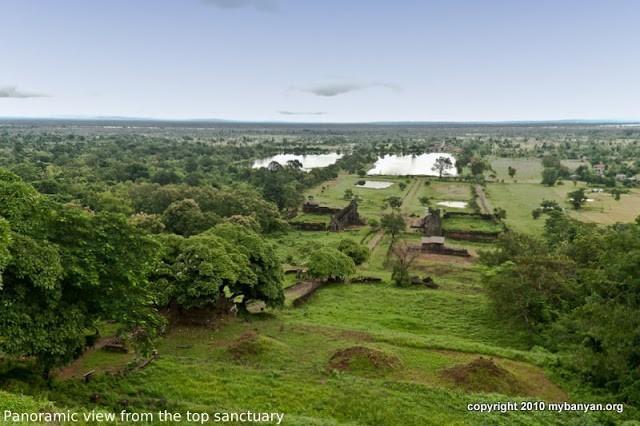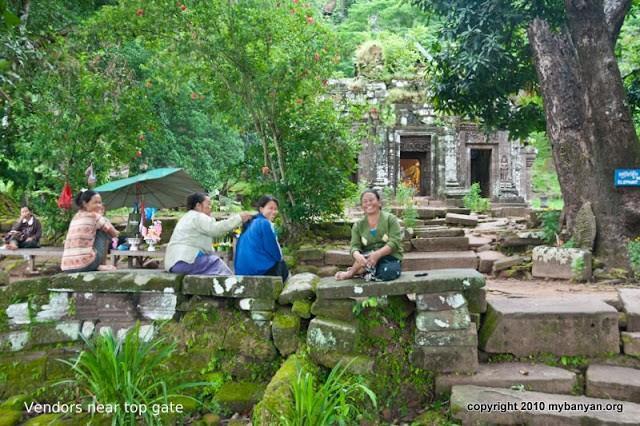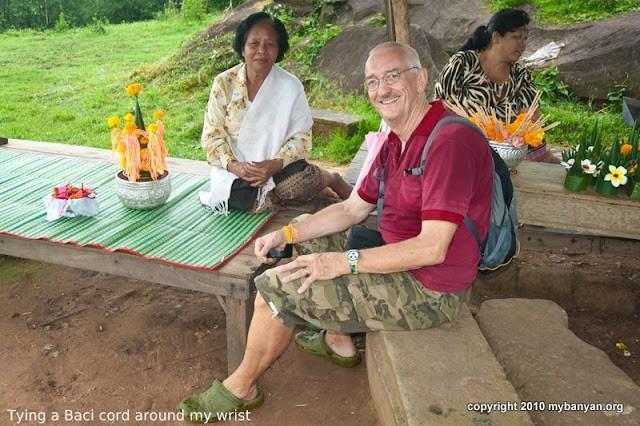 My intention, when writing trip reports, is to illustrate itineraries for bikers and point to interesting places. Description of Wat Phu's historic importance (it is a pre-Angkorian temple) are found in many "Lonely" travel guides.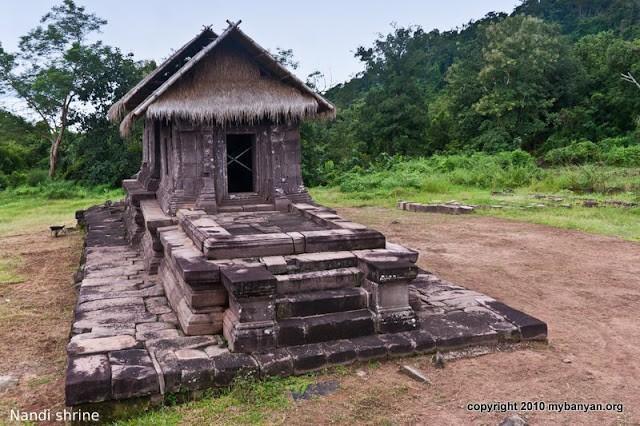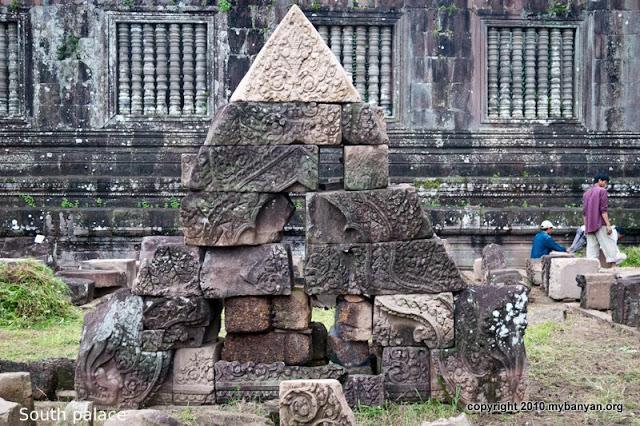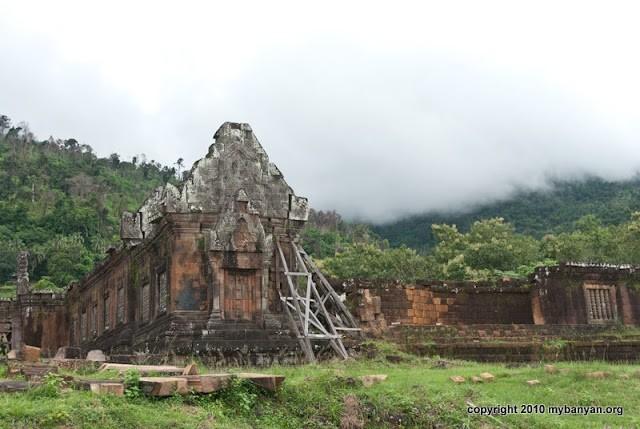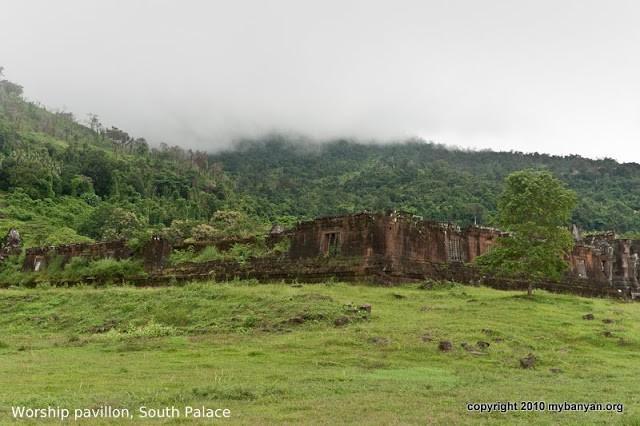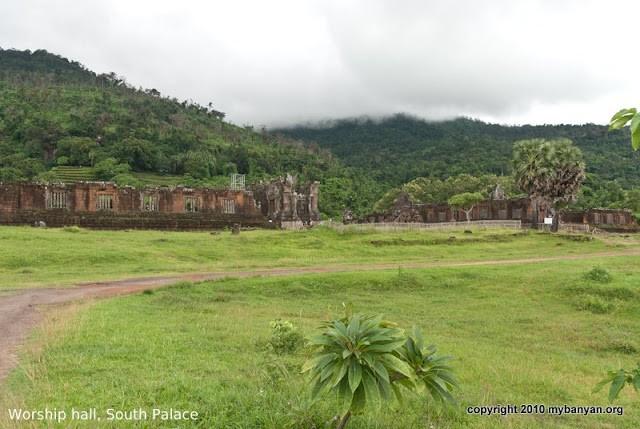 A trail, toward the South, once linked Wat Phu to Angkor. The first part is a pastoral footpath. It leads to the collapsed shrine of Nang Sida, a girl once scarified to a legendary monster. I walked at the pace of a pilgrim as the intense quietness of the environment was only disturbed by the rhythm of my shoes, brushing the grass. The place feels like it had fallen asleep, many hundred years ago, crumbled and forgotten.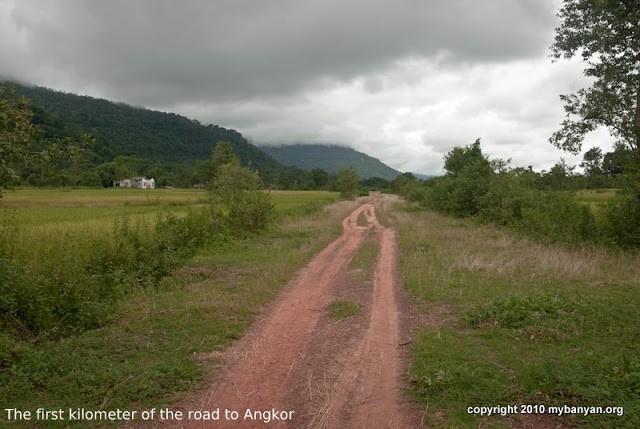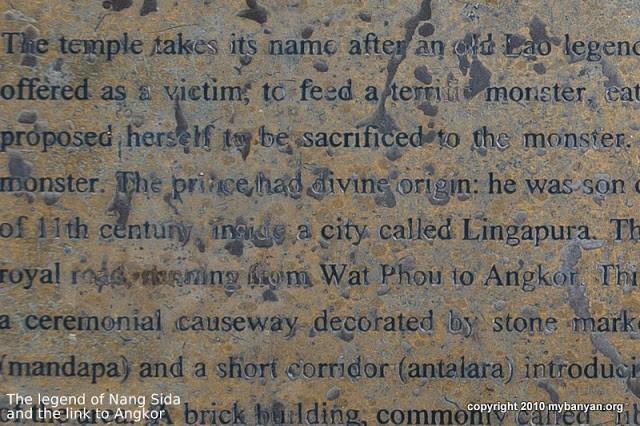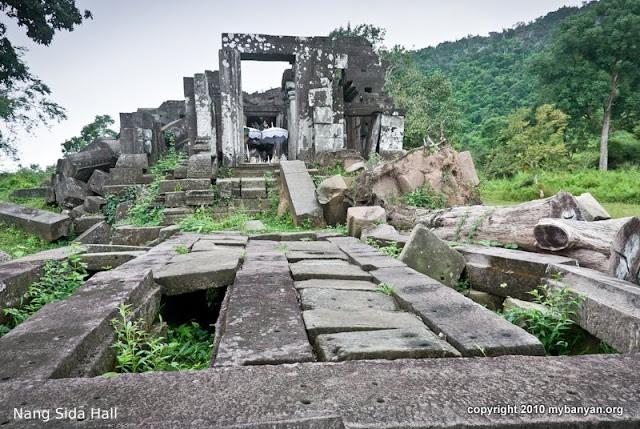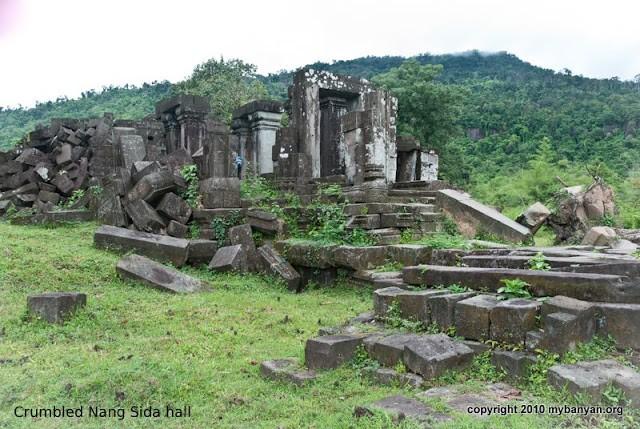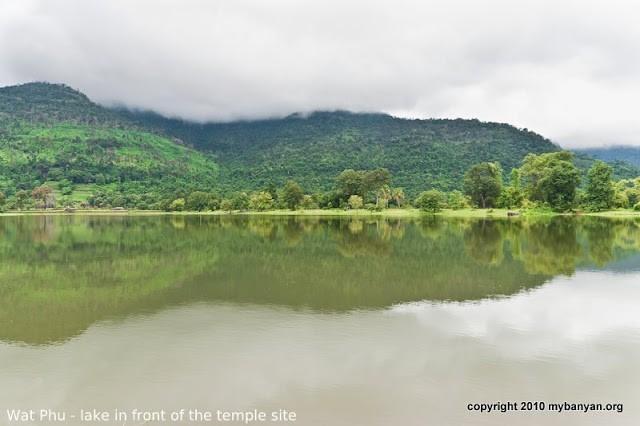 The access to Champasak used to be a ferry boat, from the pier located off route 13, at Lak 30. A new link has been cut, down from Paxse, on the west side of the Mekong. It should now be totally asphalted, but during my visit there was still a large proportion of red dirt. I scouted a part of it and the slippery surface, with traffic in both directions, was not yet real fun. Escaping into the mud, when crossing vehicles, was acrobatic on a road bike. I was told that everything should be sealed in a couple of months, for the temple's annual festival, in February. This will provide a speed link and bring more people to Wat Phu, but less might stay overnight in Champasak.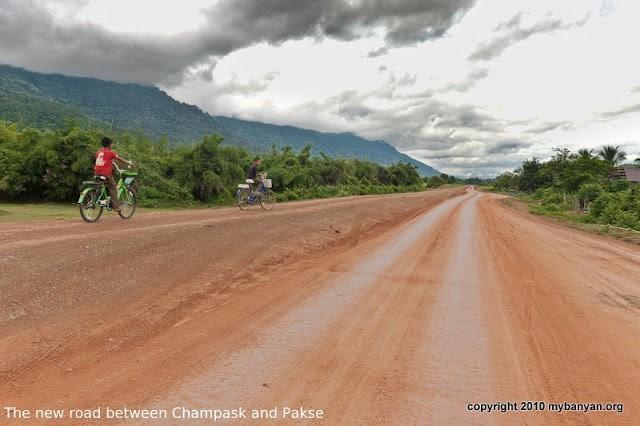 In Champask the Mekong is broad and belongs totally to Laos. It is an ideal surface for boating, fishing, cruising or racing in traditional dragon boats.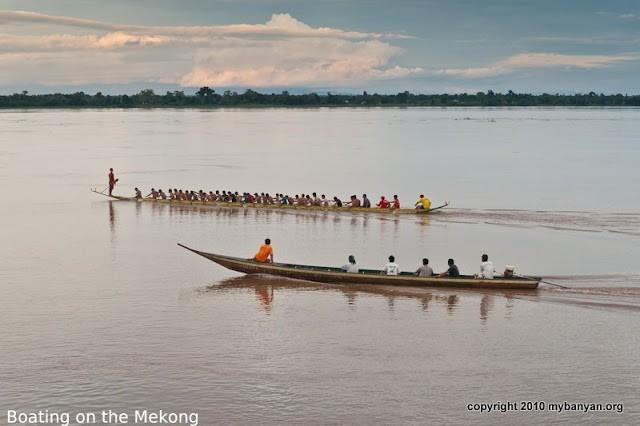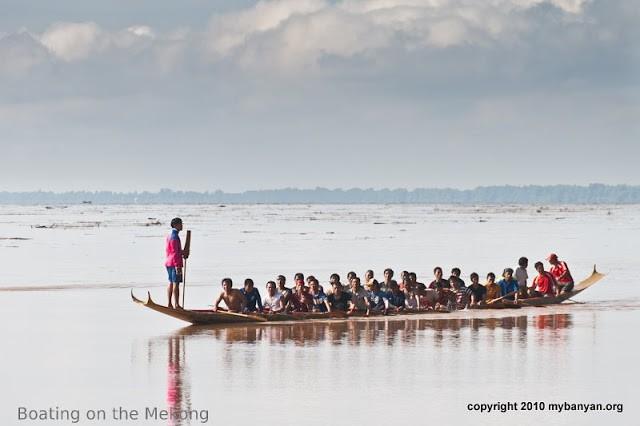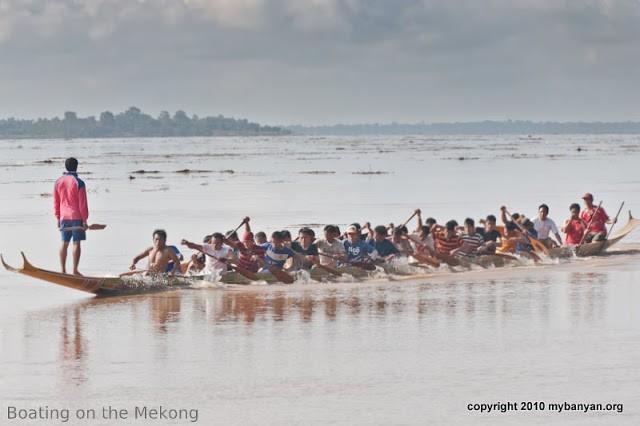 Kong Island
I woke up with the dawn filtering through the curtains, announcing a sunny day. There was no reason to hurry and I took my time for breakfast, before driving to the pier. It was still early and the first travelers cruised on small boats, the large ferry waiting for consistent loads. My motorcycle was not am interesting freight and I had to wait for quite a while.
Eventually, the boatman decided to sail, but quickly turned back, when he spotted a truck loaded with passengers. It was a laid back process, nothing speedy. The alternative is to charter a small pirogue, but they leave from a different boat landing.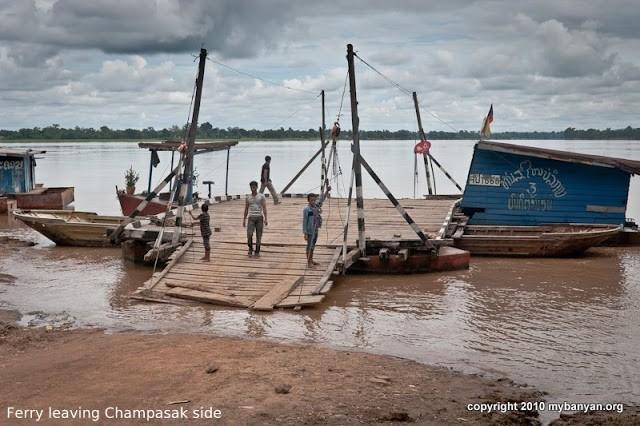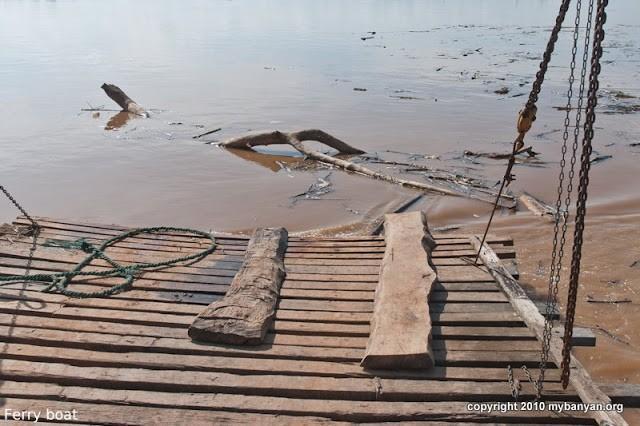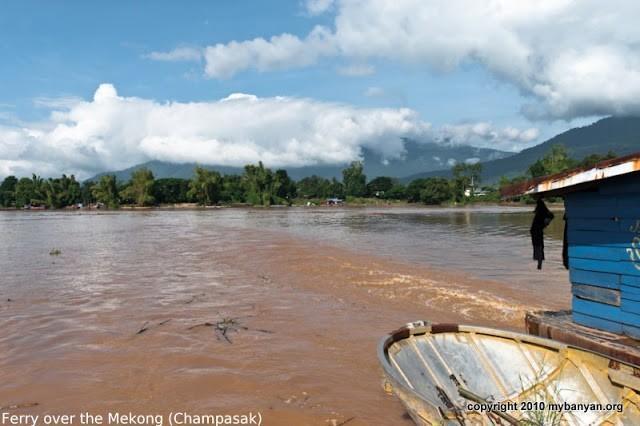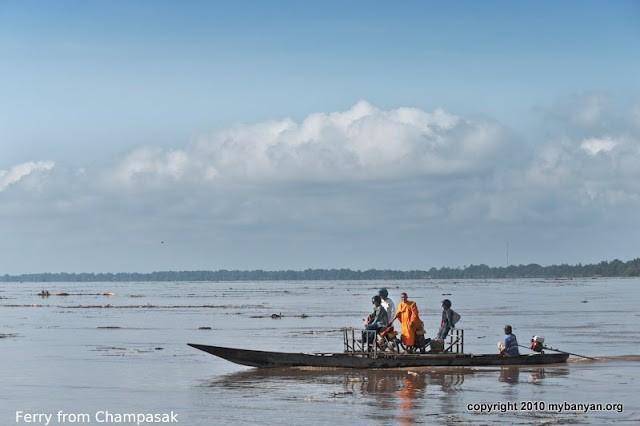 Back on the East side, I glided down route 13, to the next interesting intersection. At "Lak Si-Sip-Pet" ( kilometer 48 ) the worn out route 18A leads to an elephant village and to "Kingfisher Ecolodge" (Ban Khiat Ngong). The territory is part of Xe Pian National protected area and travelers have to pay a fee of 30'000 kip to enter it.
Going on a retreat, in the natural surrounding of the lodge, and spending days watching herds of water buffaloes or ambulating elephants must be the utmost way to slow down time. As I had other projects, for the immediate future, and jumped back on my bike.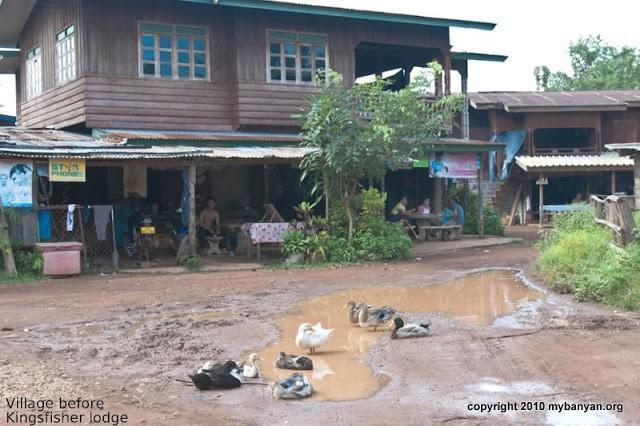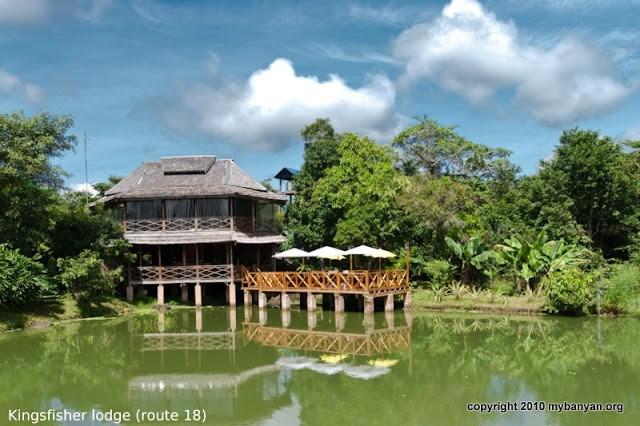 Route 13 leads to the border, through an area called the "Esmerald Triangle", a parallel with the Northern "Golden Triangle". The boundaries of Laos, Cambodia and Thailand meet in this region and discussions are held for common economic developments.
Champasak province is the main destination of South Laos trips. Despite obvious national similarities, the geologic and human environment here are very different from the North. There are no important mountain ranges but the watering Mekong is omnipresent, sometimes split in branches covering wide areas (as much as twelve kilometers in Si Phan Don).
I noted another difference in the layout of villages. As there is enough space available, small hamlets are build offside and linked to main road 13 through unpaved trails. Traffic, however, is still very low and the itinerary often deserted, with the exception of rambling cattle or scattered drying bamboo and rice.
As I reached the last barrier before crossing into the Khmer kingdom, I hesitated on my itinerary. I was attracted by a loop through Angkor, but ill prepared for this. My information about roads, lodgings and administrative paperwork were all for Laos and I had not yet exploited all the possibilities here. No second thought, I turned back, and headed toward the North.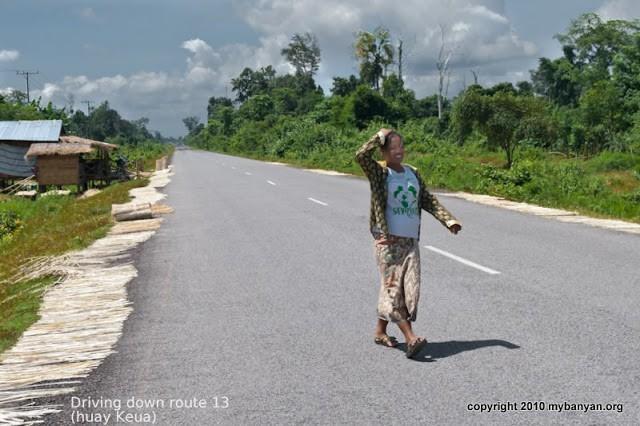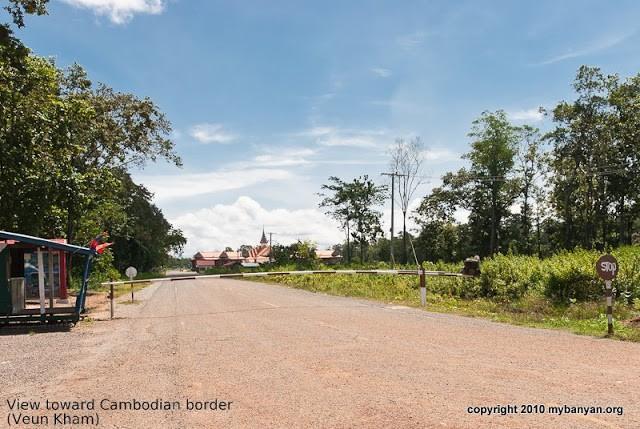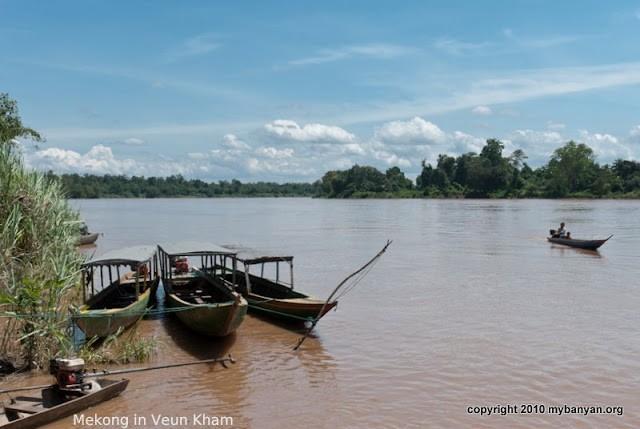 My next visit was for Khong Papeng, to watch the waterfalls. The stream of the Mekong, cascading down a wall of rocks, performs one of the most spectacular show in Asia. The strength of the flow has the power to wash away the spirits usually hanging around people. This makes Thai nationals flock to the place, a highlight of their Laos trip. The white foam of the rapids, punctuated by dark boulders on a blue backdrop has something magic, even if it is not enough to frighten ghosts.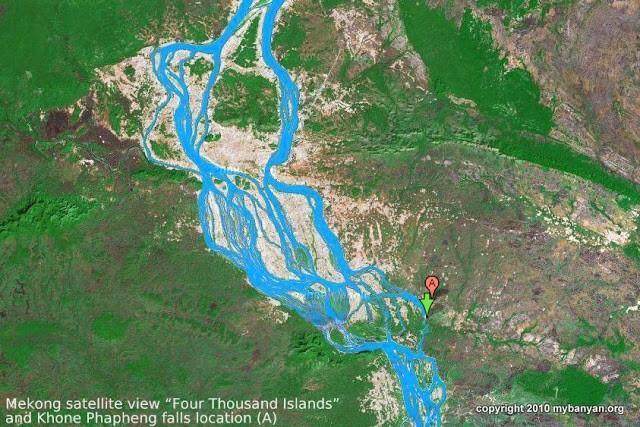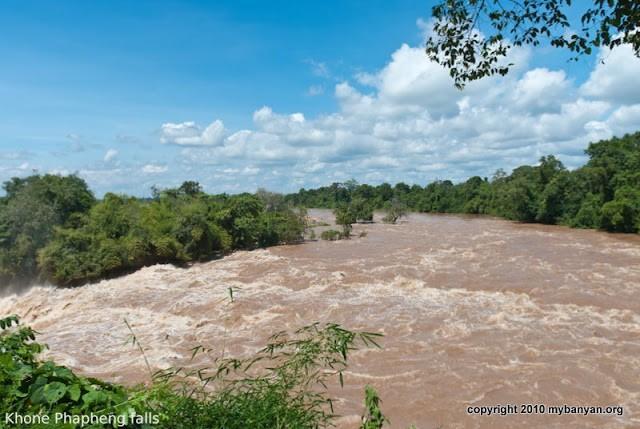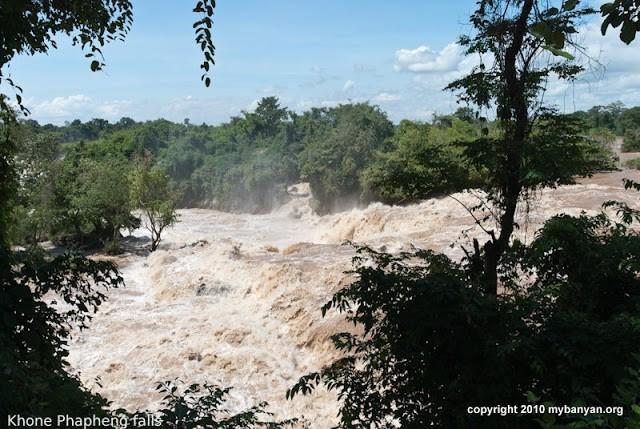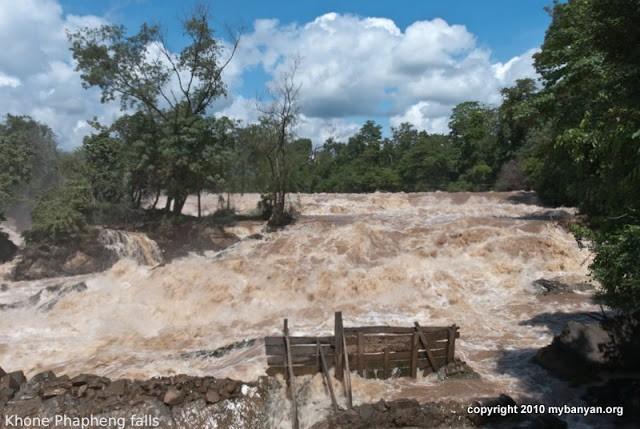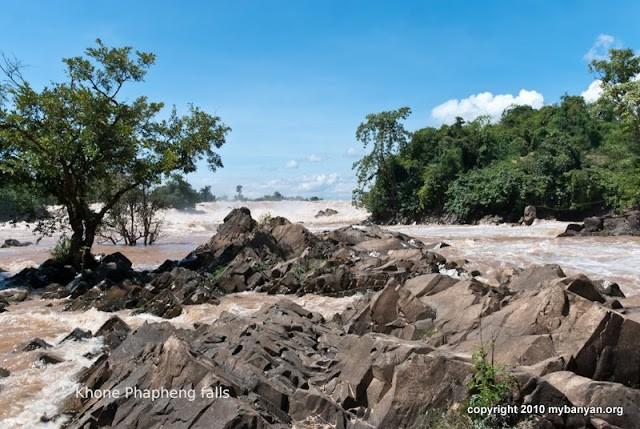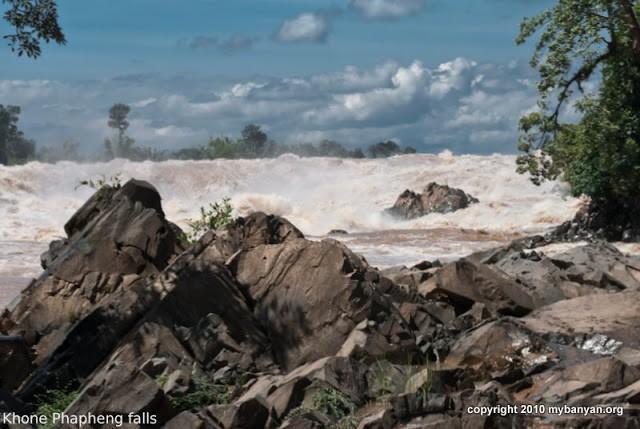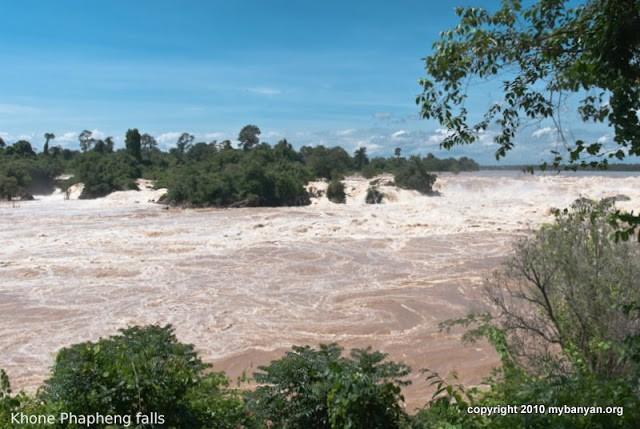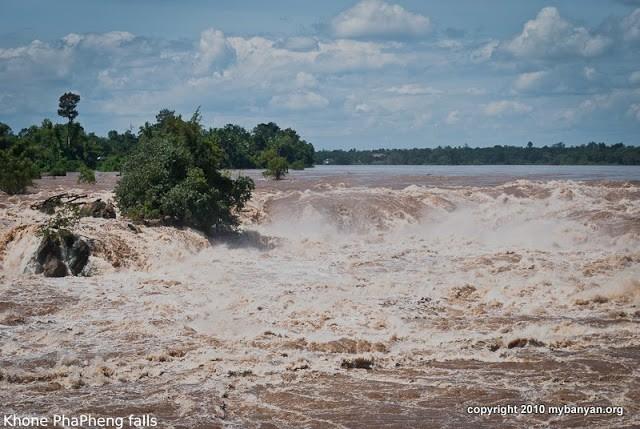 Only a couple of the "Four Thousand Islands" have touristic activities. The twins, Don Det and Don Khon are beloved backpacker's destinations. Their motorcycling infrastructures, however, seemed limited. I was still curious to asses the crossing possibilities and went to Nakasang, on the shore of the river. There I found small pirogues prepared to charter my bike to the other side. Despite the attraction to relax in this remote heaven, I left the visit open for another trip and went back to route 13, in direction of Vientiane.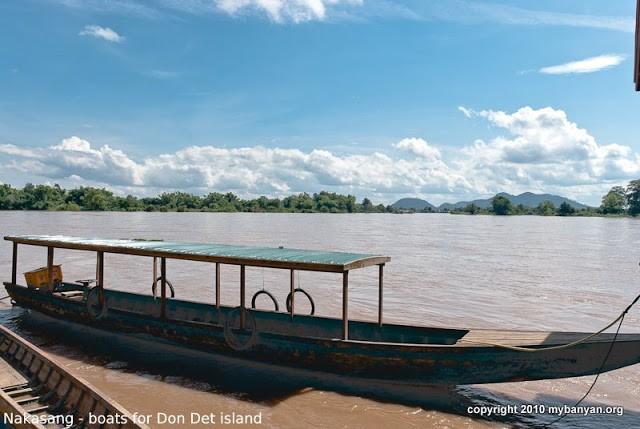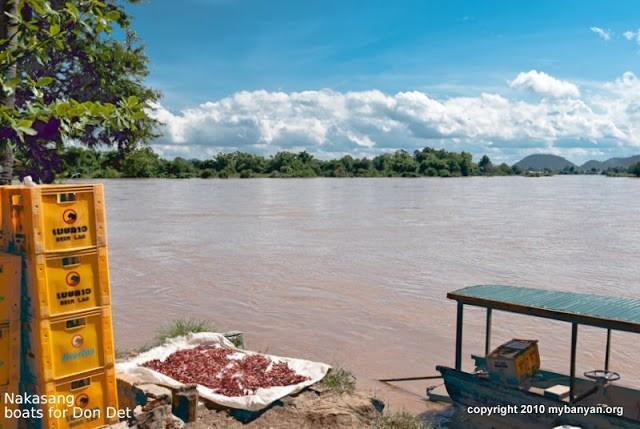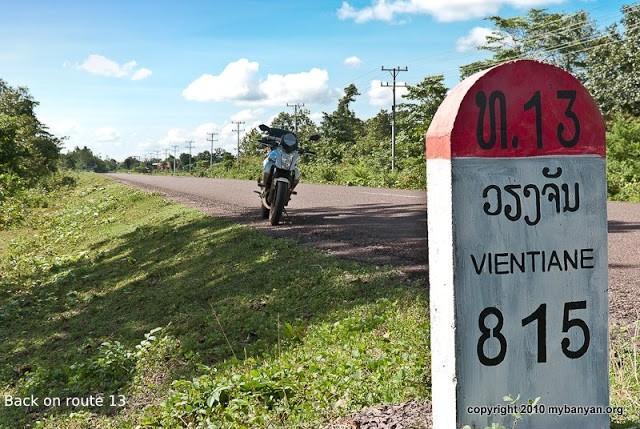 The intersection to Hat and to the ferry pier to Don Khong is a couple of kilometers up. It is the south branch of a loop and this "lower" part is totally asphalted whilst the northern part is mostly dirt.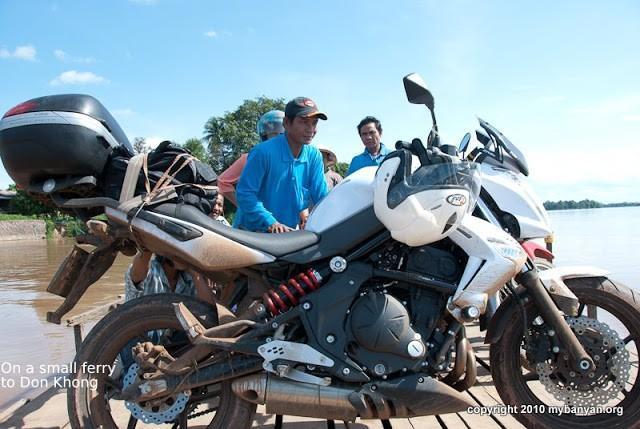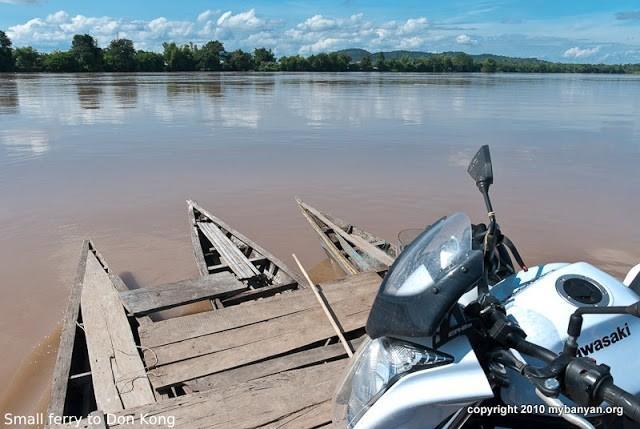 Don Khong, one of the four thousand sand banks and islets, is the largest with a length of eighteen kilometers and eight in width. It is a popular destination for Thai travelers and some hotels can be crowded with groups. I choose "Pon's Guest House", particularly for his Mekong terrace (even a hammock is available). Rooms facing the river are well located, they have air conditioning and TV sets. Unfortunately, not all cubicles have a nice view and access to the balcony. The price, at that moment, was 1000 Kip (400 THB).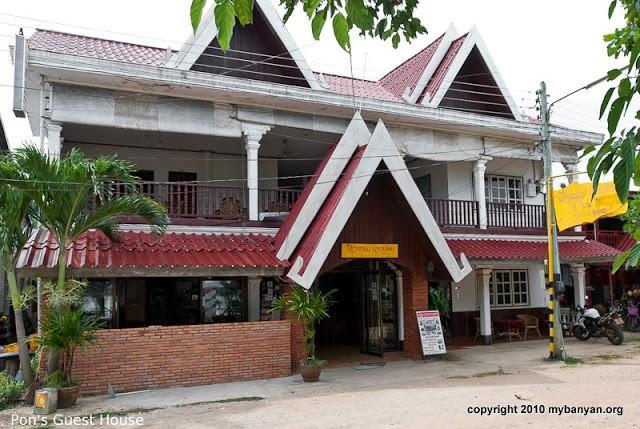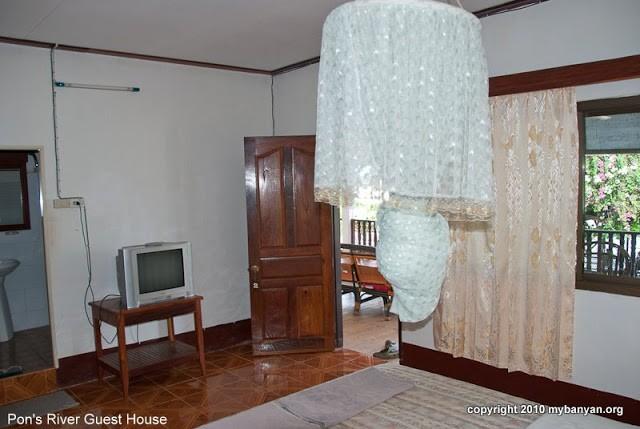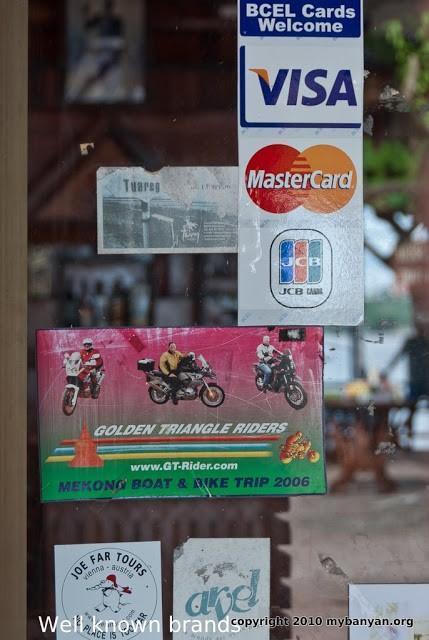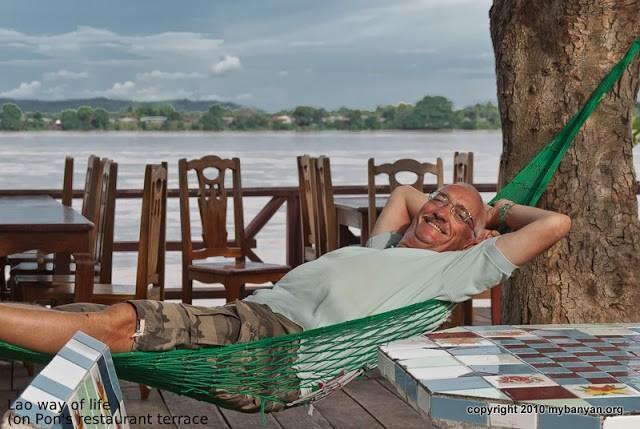 Night life in Don Khong is limited. Enjoying the twilight from a balcony and admiring the changing colors of the dimming light, over the flowing the water, makes a rewarding end to a biker's day.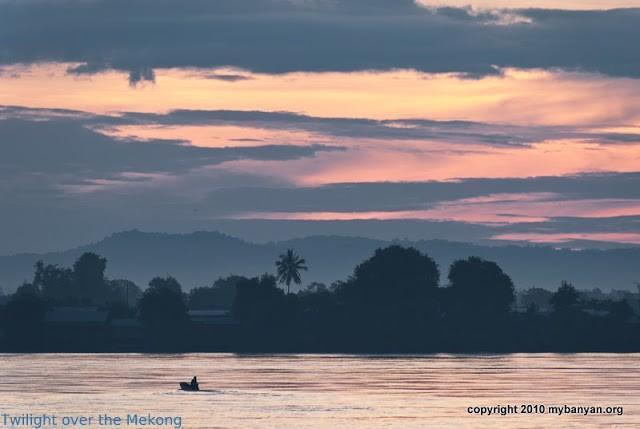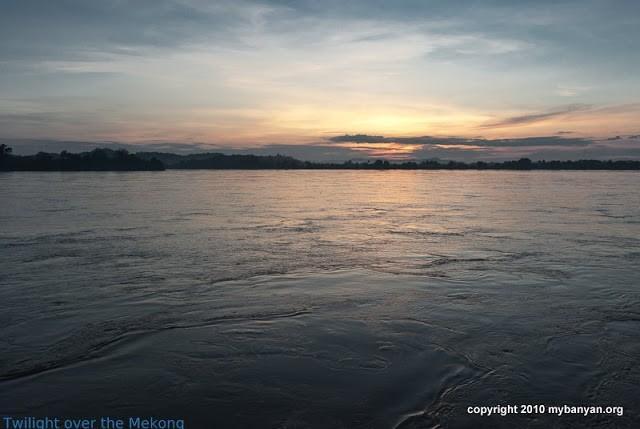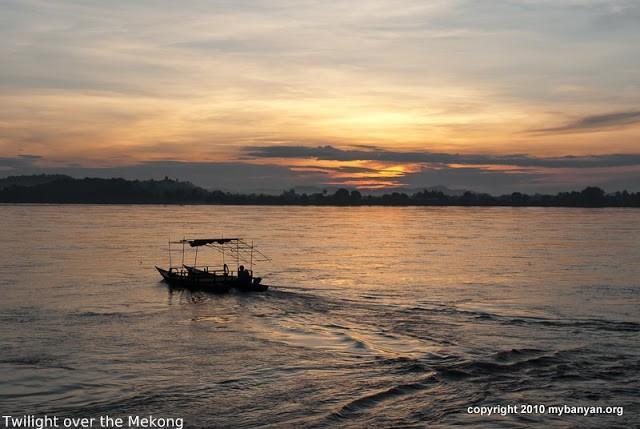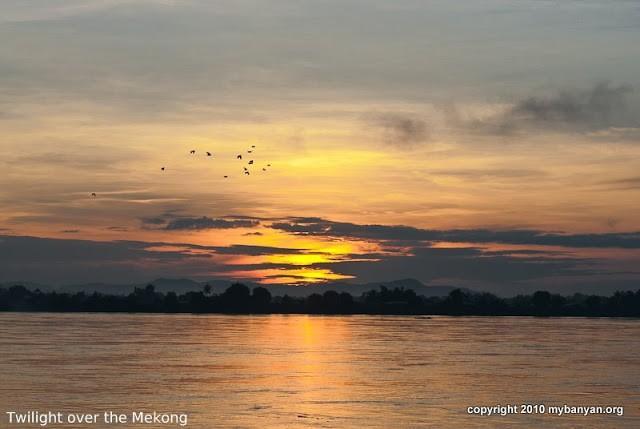 At five thirty, the sun began to poke over the Mekong, illuminating a couple of stratus on a clear sky. I walked to the morning market, nothing huge, just a small authentic place were locals are gathering to trade goods.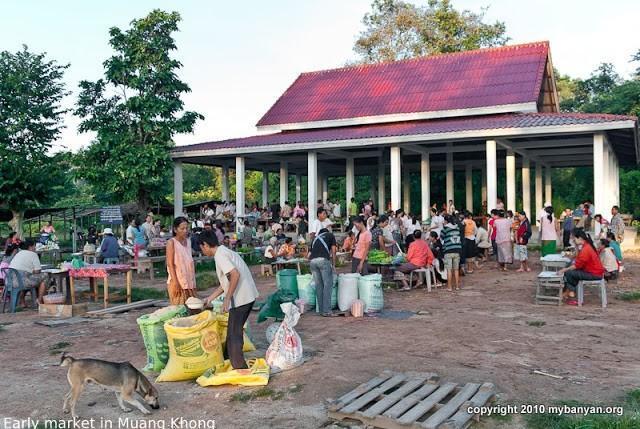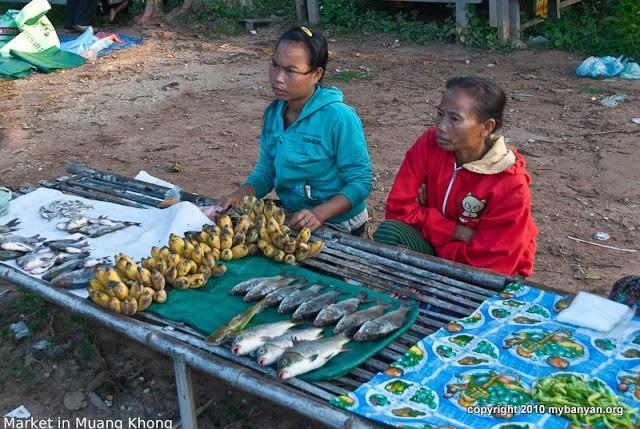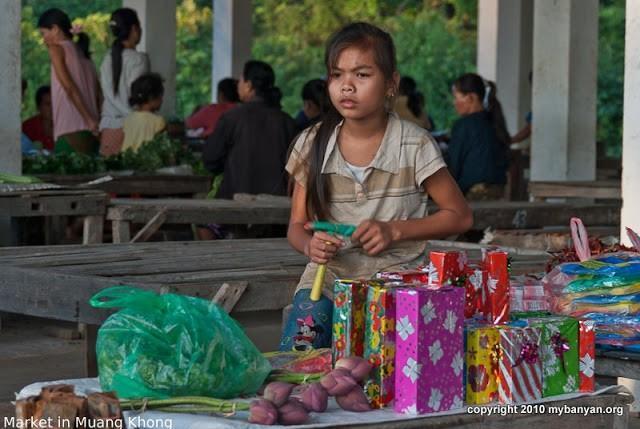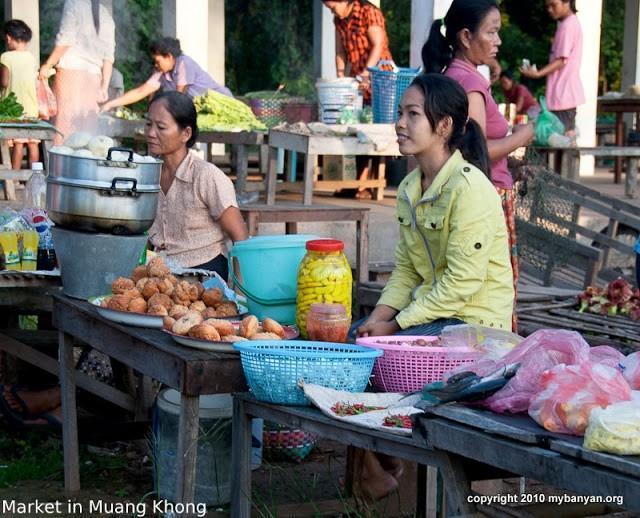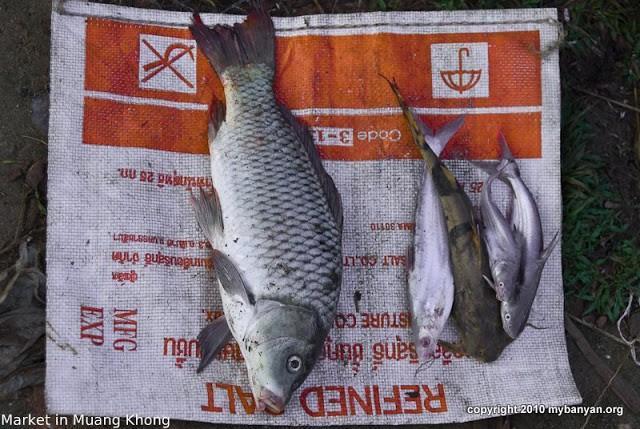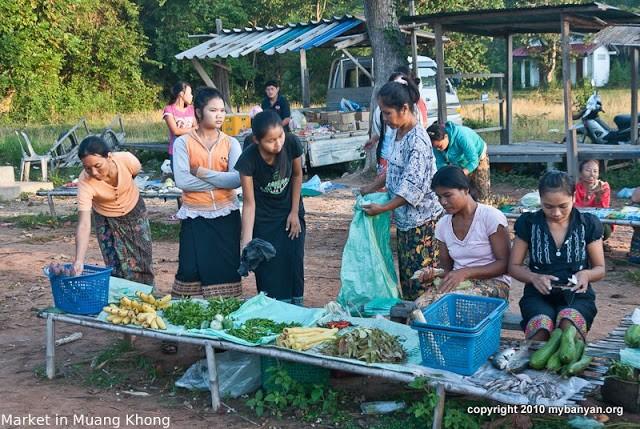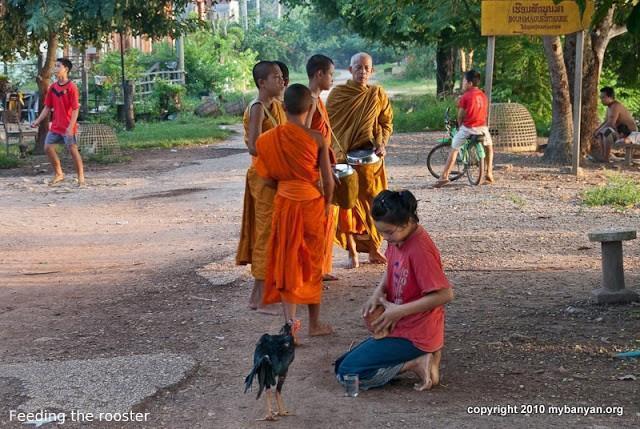 After breakfast, on Pon's terrace, I began to circle the island at a appropriate pace, avoiding to frighten villagers and cattle. For once, I just put on a cap, to fully appreciate the scent of fresh cut grass and to enjoy the flaming yellows of the rice fields, contrasting with the azurean sky.
My first stop was in Muang Saen Nua village, on the West shore. From there small boats sail to remote destinations with no other communication links. In the evening it is a great place to watch the sunset.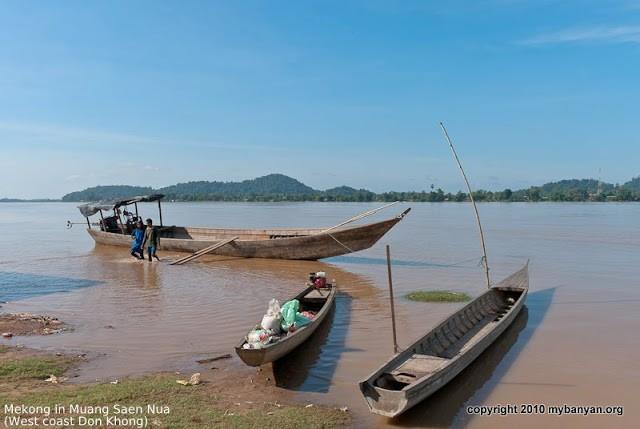 Further down, Maha Kung, the utmost South point, was my next destination. The last sector is not paved but the road is good till Ban Hang Khong. It offers no particular attraction, just the same boating activities, the slowly flowing Mekong and few people.
Like everywhere in Laos, kids came running toward me when I stopped my motorcycle. For the first time, however, they opened their hands in a beggar gesture. It is a maybe a sign of progress, a legacy of tourism.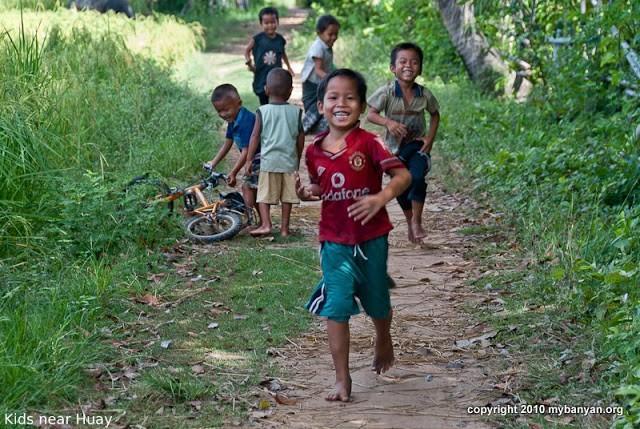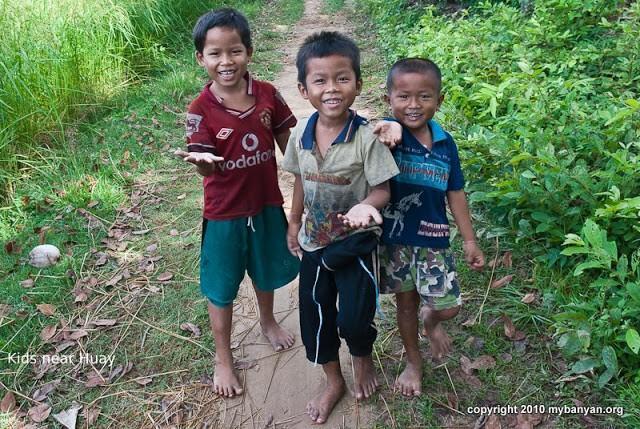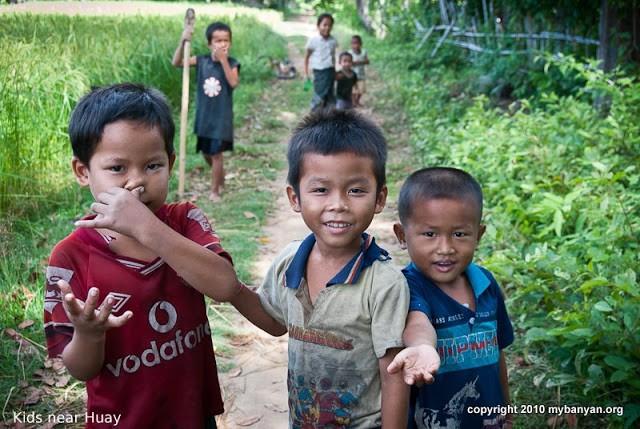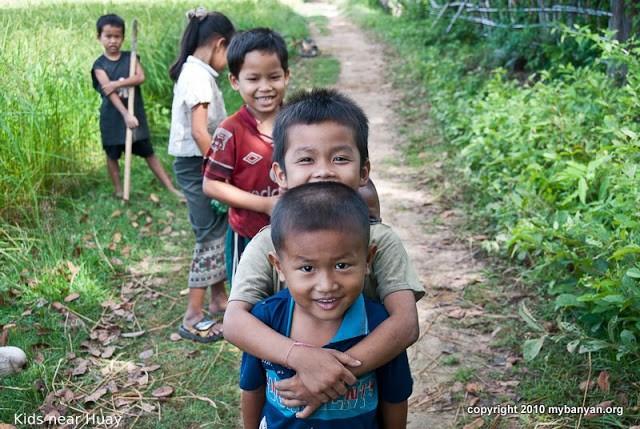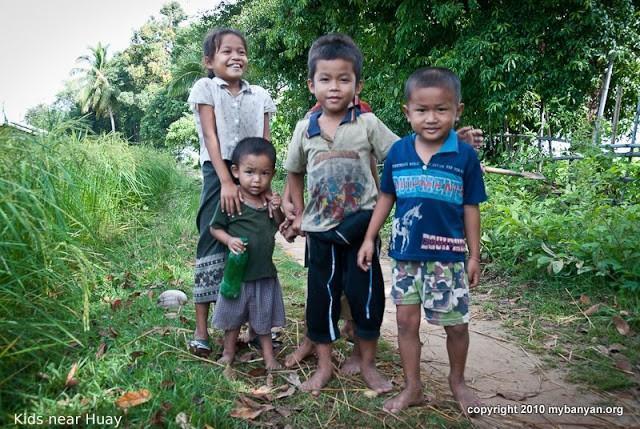 On the way back the road passes again Ban Hang Kong and Ban Huay, near to the vehicle ferry pier.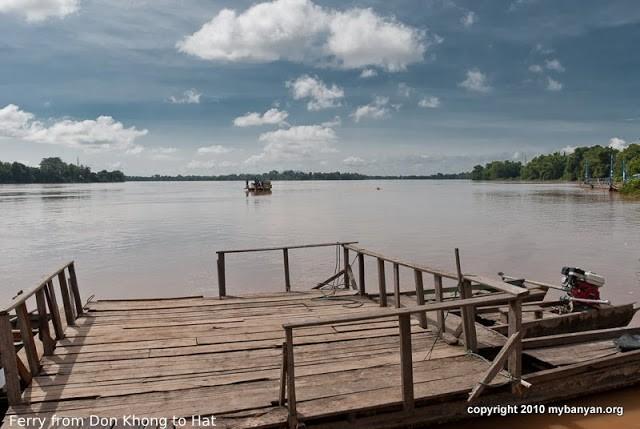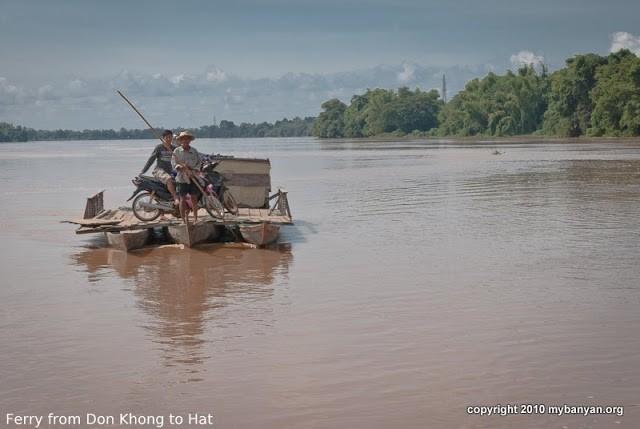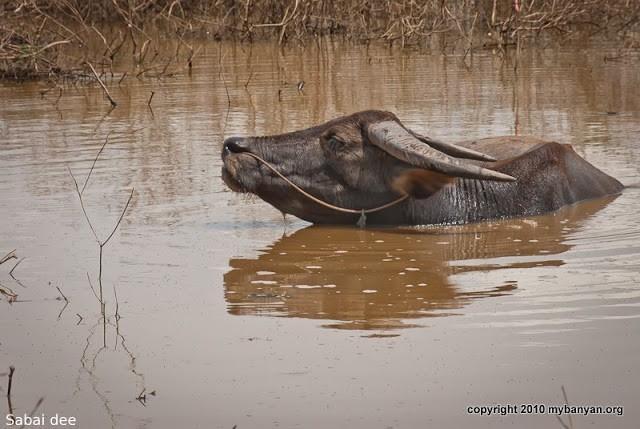 When traveling around Laos, one of my quest is for a shack smaller than his parabolic antenna. I came close to it, but till now, the huts, in all their styles and materials, were still slightly bigger. I often wonder how they get electric power. In such remote places, Thai TV, with his profusion of korean soaps, is the only modern distraction ... now that demography is no longer a national concern.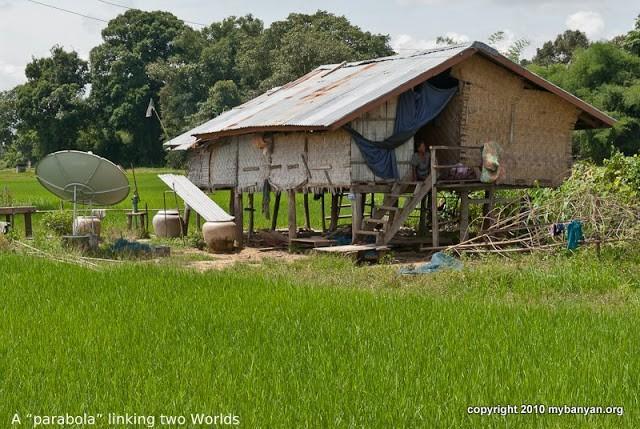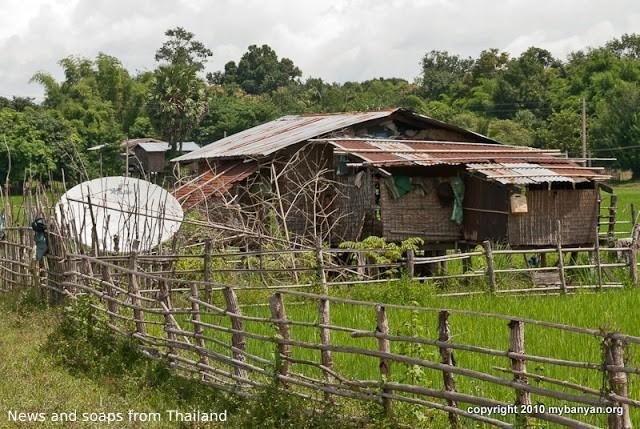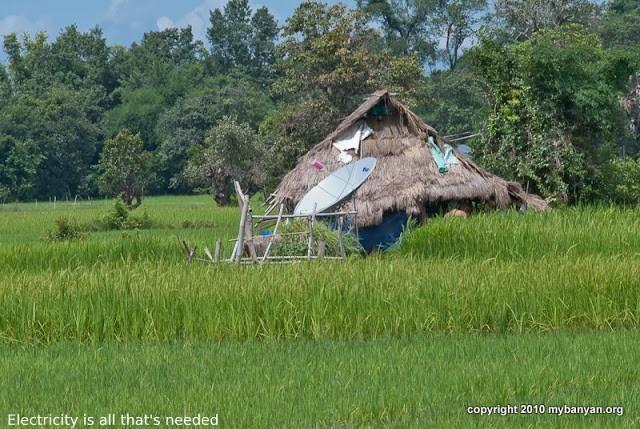 My next destination was the far North, Ban Houa Kong Lem. It is a view point over the Mekong and toward the island of Don San. Ubiquitous boats are part of the landscape, as they are the only mean to connect secluded neighborhoods.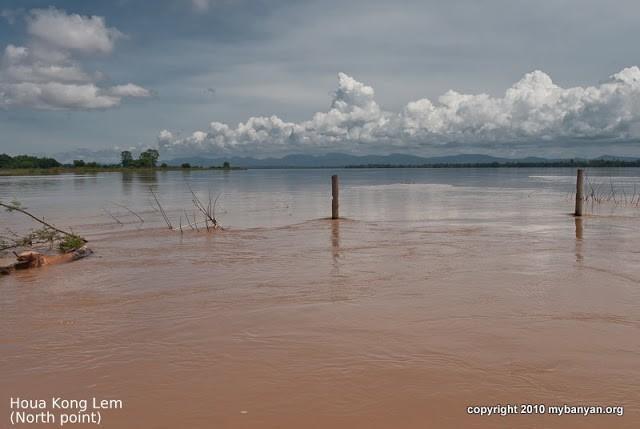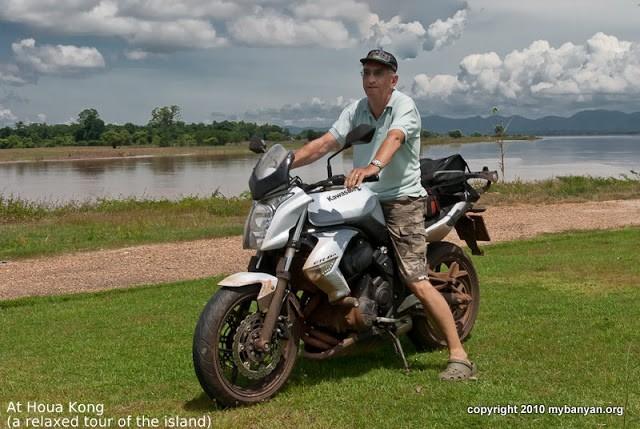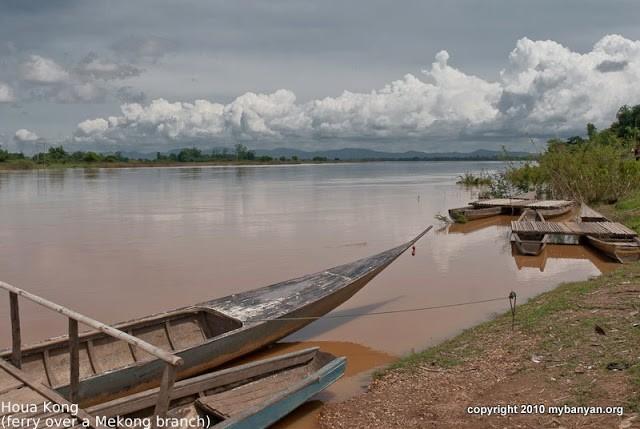 In front of a temple, near the river, a group of novices where preparing a cruise to a remote destination, in company of a senior monk. I rejoiced to take colorful pictures of the departing party but, as long as I waited, the motor gave no sign of life. I had plenty of time to chat with the reverent father but, after a while, decided to hit the road again.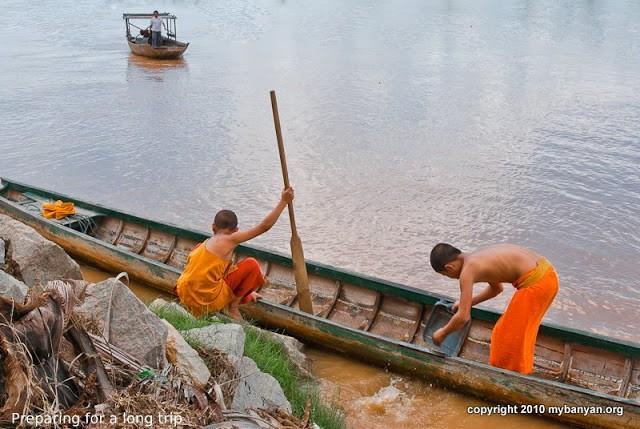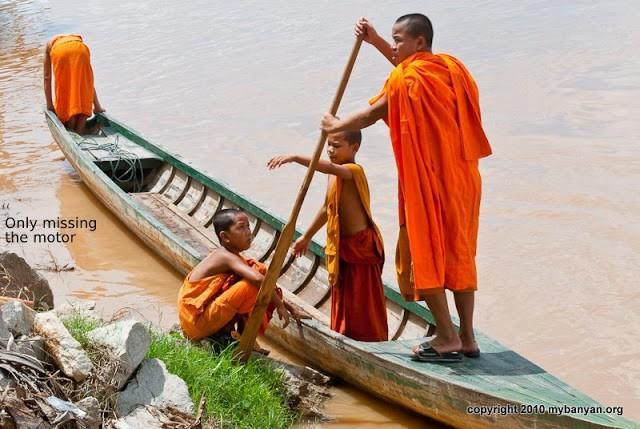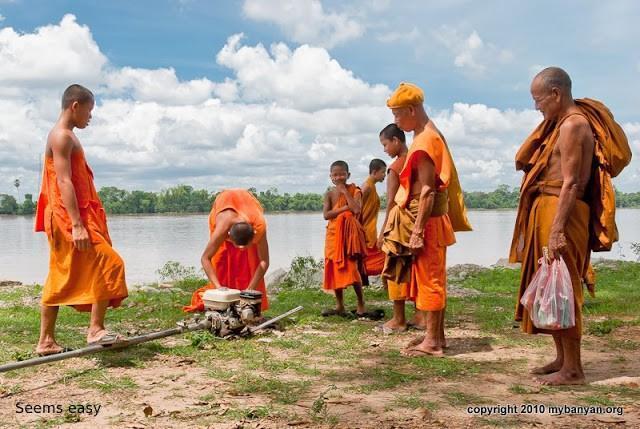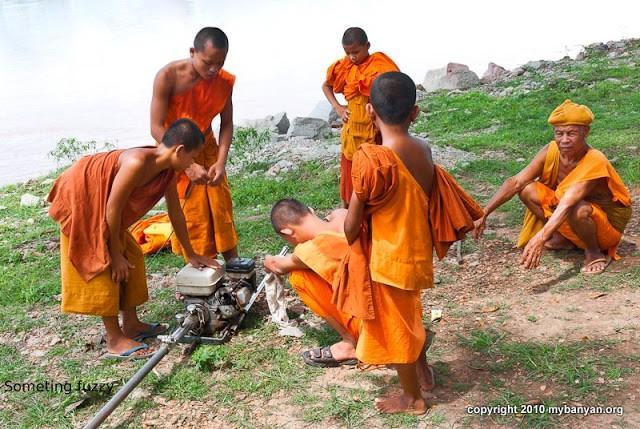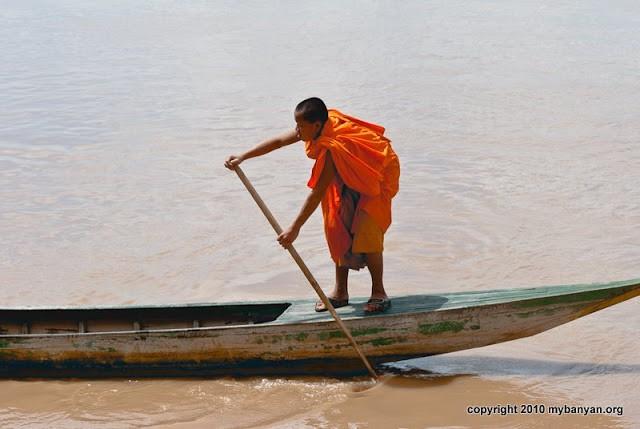 I had almost spend a day rambling around Don Khong, driving a figure eight loop around the island and just added 63 kilometers to my odometer.
Trip maps: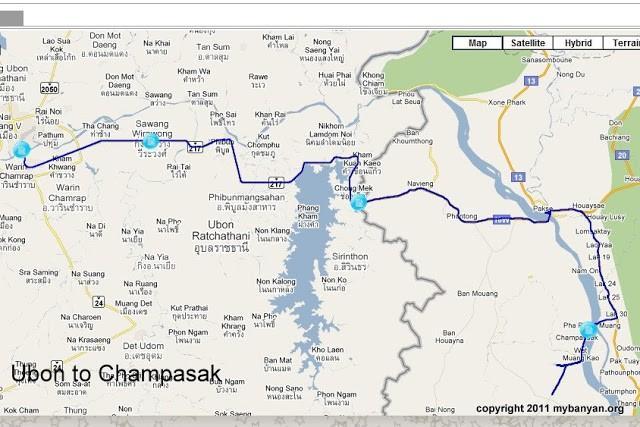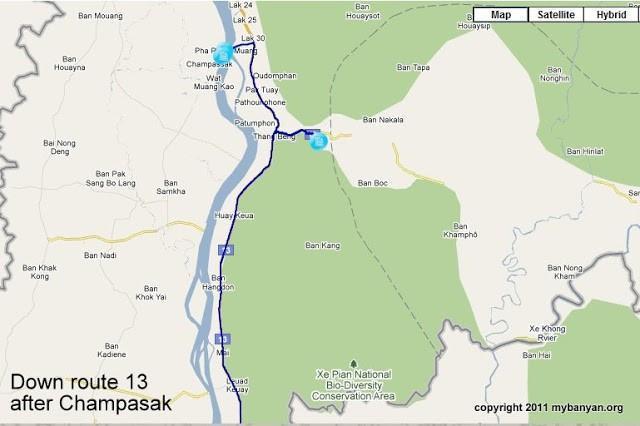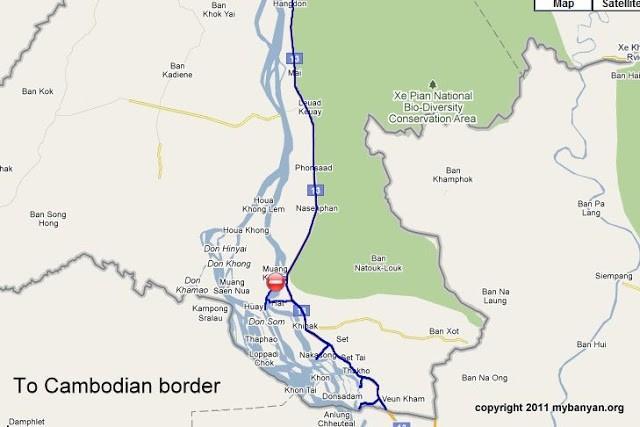 Last edited by a moderator: