1 . Introduction
North Thailand features a wealth of interesting destinations linked by an amazingly well-built road network. This is an invitation to travel and attracts many visitors, locals as well as foreign tourists. There is, however, more to the Lanna region than asphalt ribbons, mountainous landscapes, lush forests and yellow rice fields; it is home to a unique diversity of populations still showcasing ancestral traditions.
Knowledge fosters interest, the deeper our acquaintance with an area's residents the more likely we are to slow down and to get in touch with strangers. The immediate rewards are additional insights in different cultures, often proudly maintained against the odds of civilization.
For a series of short North Thailand stories, I will focus on one particular ethnic family: the "
Tai Lue"
. This group is not as popular with visitors as the various "hill-tribes",it is, nonetheless, well represented and can be found in numerous dedicated villages (see list at the end).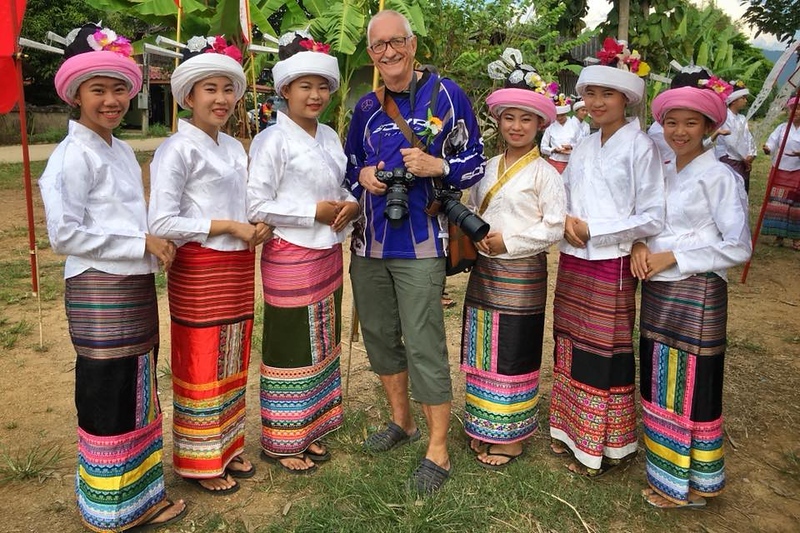 A group of Tai Lue ladies dressed for a Chula Kathin festival in Sri Donchai; these festivals make great pictures opportunities.
Globalization leads to uniformity, and, in addition, for about one century, Thailand's central policy promoted "Thai-ness" as a way to integrate minorities. The beginning of the twenty-first century has seen a revival in local costumes, a proudness to be part of an ethnic group and to showcase inherited cultures.
Despite its official acceptance and support, the pride to be different and the sense of belonging to a particular community, might not be enough to maintain all traditions alive for future generations. It is a favor to experience bustling societies, content to share their traditional lifestyles. Interest from outsiders, visit to villages, participation to festivals and support to craftsmen will foster preservation of this valuable diversity.
Not every culturally interesting places or activity can be experienced on a daily basis; festivals, notably, have their particular calendars. Other interesting features, like temples, handicraft shops and museums visits, are available all year round.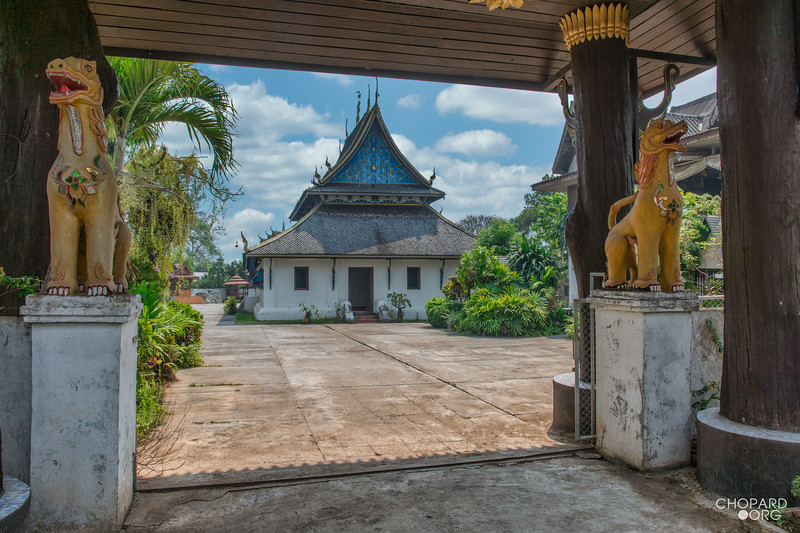 Traditional Tai Lue temples feature a unique architecture (Wat Tha Fa Tai)
The most striking aspects of the Tai Lue's way of life are found in the following rubrics: temples (building and decoration), traditional houses, handicraft production (particularly weavings), dedicated museums, festivals, food outlets, handicraft shops, clothing and apparels, dances and music, social life.
Depending on individual interests, visits have to be scheduled at specific times and to particular destinations (i.e. festival periods and precise localizations). For the casual traveler, however, it is already enriching to stop for a short visit and appreciate the cultural gems found along the North Thailand roads.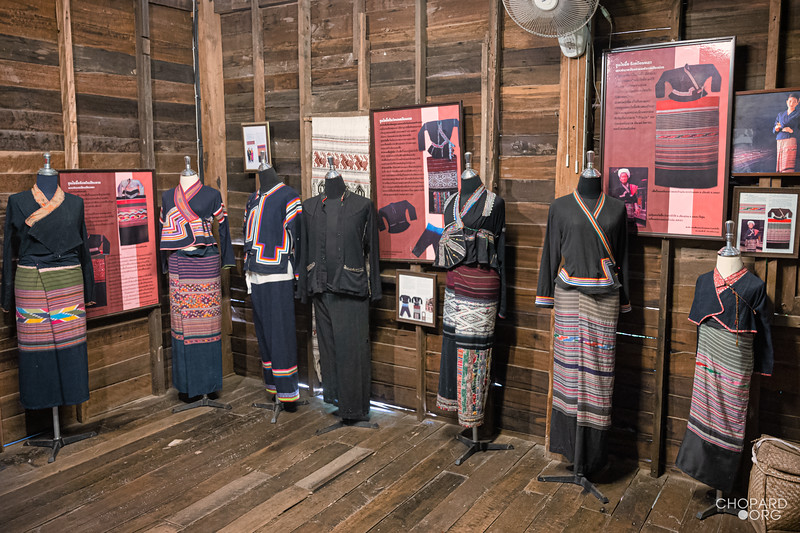 « Lue Lai Kham », a dedicated Tai Lue museum in Sri Donchai, near Chiangkhong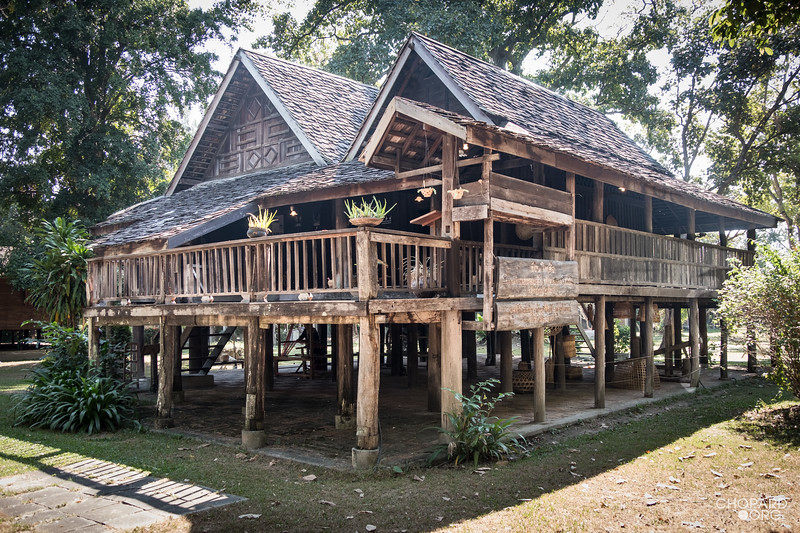 A Tai Lue house with an history, a modified architecture to adapt it to Lanna style (Chiangmai University)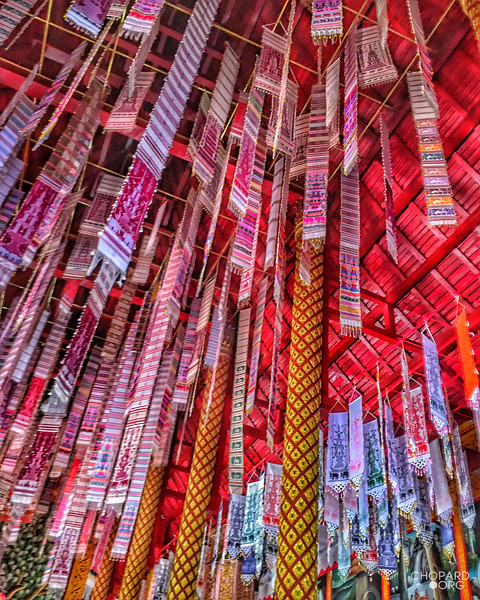 Woven banner decorations are a colorful features of Tai Lue temples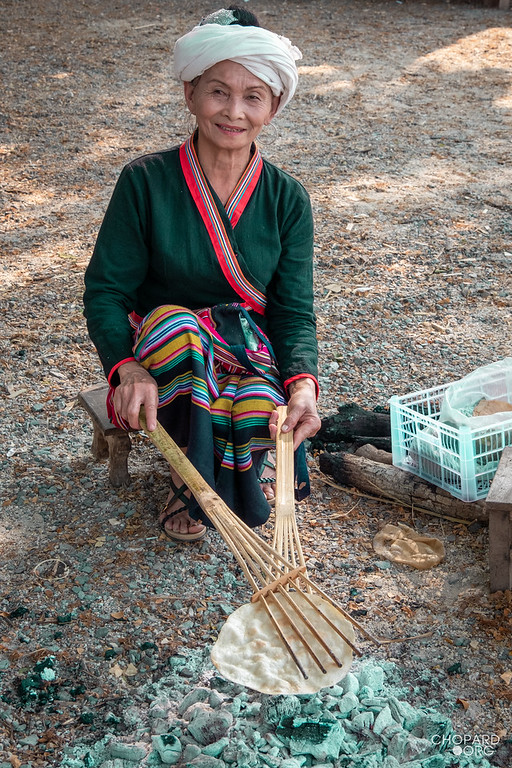 Tai Lue food can be enjoyed in restaurants or during festivals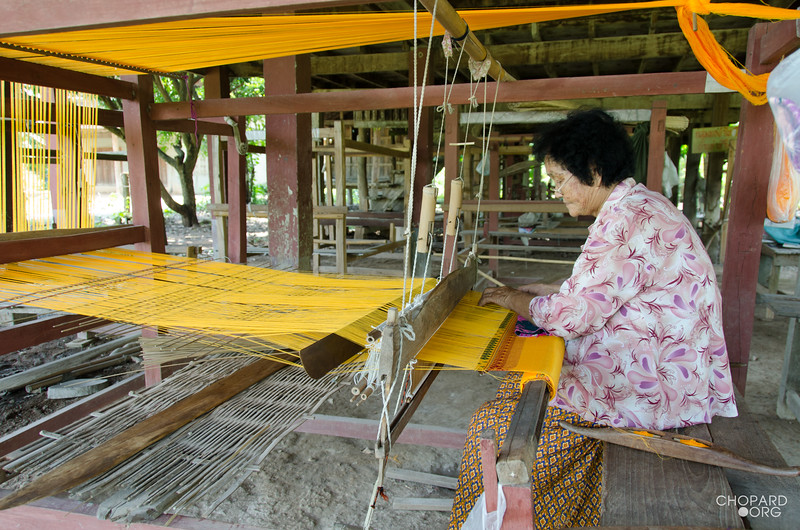 Weaving looms are still found under the houses in Tai Lue villages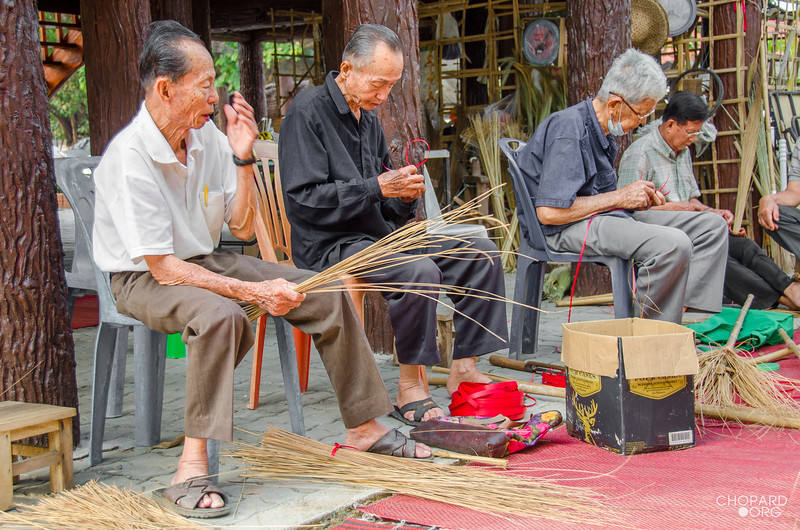 Handicraft demonstration -Wat Phrathat Sob Waen, Chiang Kham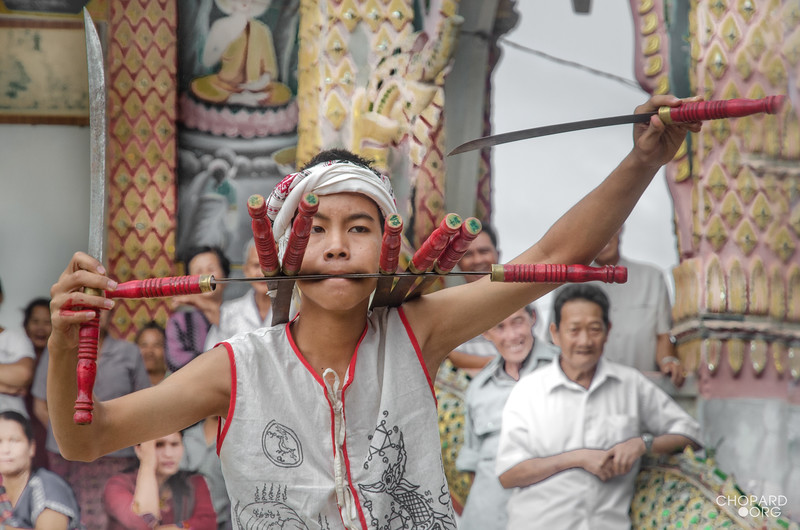 Tai Lue are skilled in sword manipulation and dances (Had Bai festival)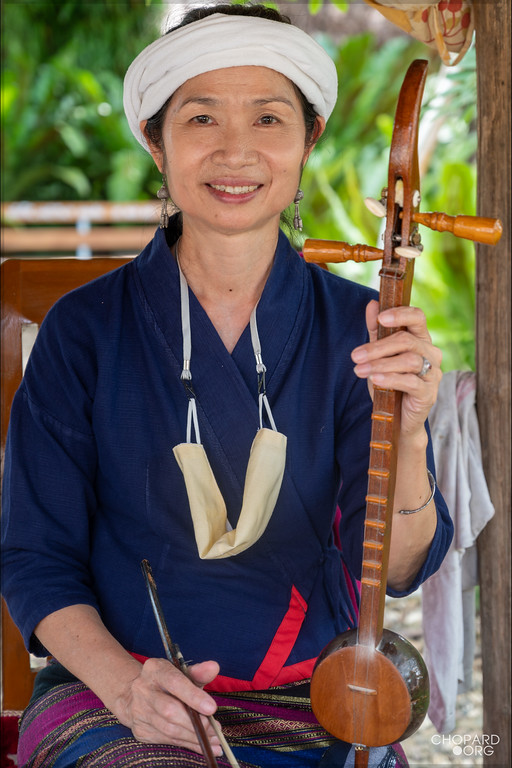 Traditional music is played during festivals – the picture shows a musician performing in Wat Nong Bua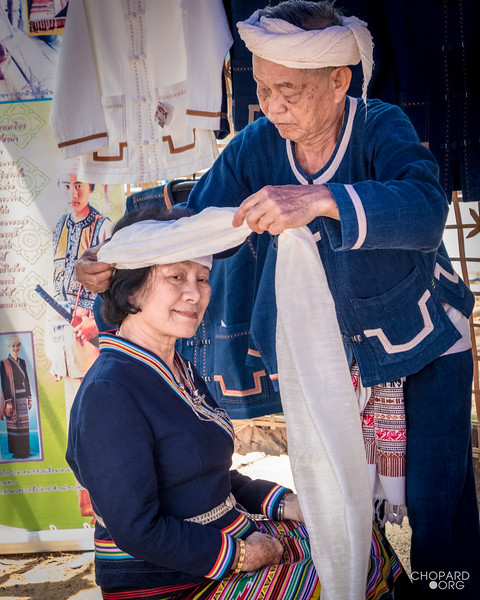 Tai Lue no longer wear costumes for daily chores – the traditional dresses are reserved for festive days and temple visits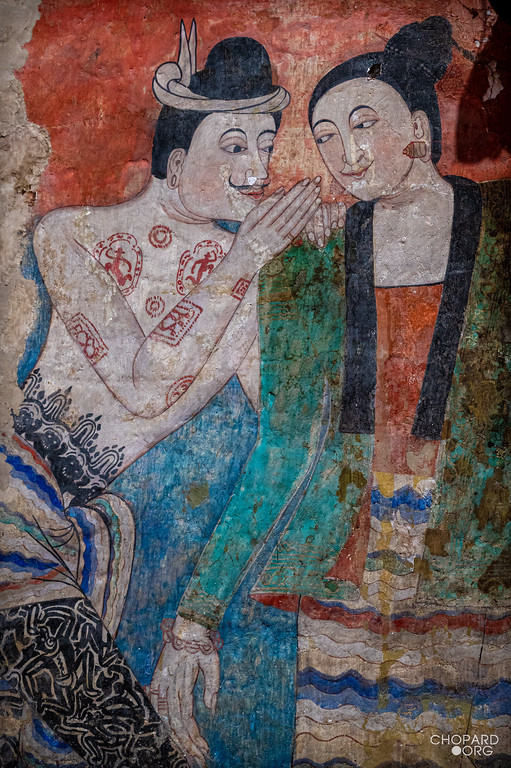 Tai Lue artists greatly influenced the Nan school of painting – iconic examples are mural painting like the "Whispering Lovers" (wat Pumpin in Nan)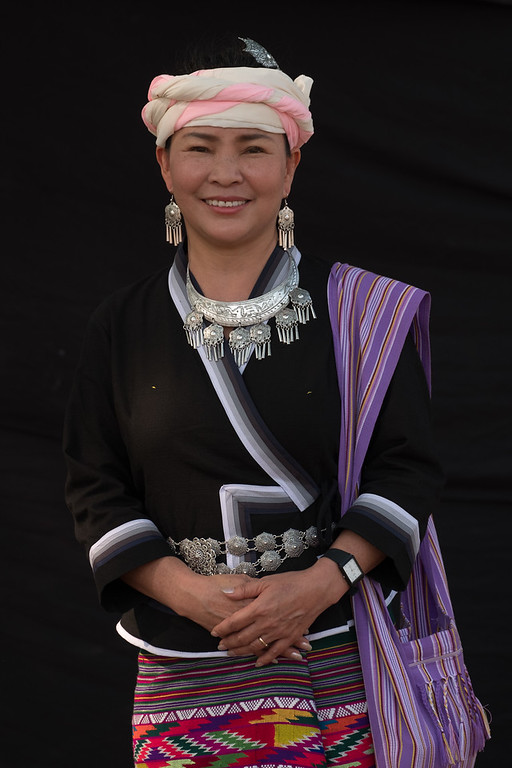 In memoriam: Nikham (Fai ) Kuntawong wearing her Tai Lue outfit
Nowadays, people from North Thailand refer to themselves as "Khon Muang" (People from the Principalities). This appellation replaces the name "Yuan" fallen in disuse. However, as populations were heavily mixed in the 19th century, after Lanna's complete repopulation, it covers more ethnics groups, with similar languages and cultural backgrounds.
The Tai Lue have partly kept their vibrant heritage, but they also share many similarities with the Yuan, notably religion, architecture and many traditions. In larger cities and with integration in other communities, an increasing number do not retain their specific customs. This is, again, a reason to take the chance to support and appreciate what is still available, now-a-days, from their ancestral legacy.
To conclude this "introduction chapter", I am adding two quotations relevant to the Tai Lue integration in North Thailand:
« Officially, around 83,000 Tai Lues live in Thailand according to an early 2000 census. In reality, though, the population of Tai Lues is believed to be much higher than that »
"Half of the people in Chiang Mai today are of Tai Lue descent," said Dr Vithi
In: A tale of a mythical, lost kingdom and the Tais from China
Pear Maneechote, August 7, 2020
www.thaienquirer.com
« Prior to the 1980s, the Lue of Thailand commonly avoided calling themselves Lue, for fear of ethnic discrimination. The Lue assimilation into Thai nationality was almost complete in the 1990s.They spoke standard Thai, wore mainstream clothing and built houses in Thai design. Since then, however, Lue communities in Thailand were encouraged from outside, especially by the Ministry of Education in Bangkok, to recall their Lue heritage. In response to these influences, the Lue underwent a cultural revival and today are proud of their origin. Lue tradition and customs are now promoted across the northern"
In: Tai Groups of Thailand volume 2
Profile of Existing Groups
Joachim Schliesinger
White Books, Bangkok 2014
Tai Lue villages can be found several North Thailand provinces.
(References: Displayed panels in "Lu Lai Kham museum" - Wikiwand :Tai Lue in Thailand – personal visits)
Chaingmai:
Doi Sakhet: Ban Luang Nuea – Ban Luang Tai
San Kamphaeng: Ban Buak Khang
Samoeng: Ban Mae Sap Nua - Ban Mae Sap Tai
Mae Ai: Ban Wang Phai - Ban Hua Muang Ngam
Chiangrai:
Chiangkhong: Had Bai - Sri Donchai - Wiang - Mai Thung Mod
- Huay Meng
Baan Tha Kham, Muang Yai,
Wiang Kaen
Chiang Saen (district), Mai Sai (district)

Nan:
Tha Wang Pha (ditrict)
Pua (ditrict)
Chiang Klang (ditrict)
Thung Chang (ditrict)
Chaloem Phra Kiat district
Phrae:
Ban Thin
Payao:
Chiang Muan (ditrict)
Chiang Kham (ditrict),
Lampang:
Mueang Lampang/Tambon Kluay Phae : Ban Kluang Luang – Ban Klang Klang – Ban Klang Phae, Ban Klang Fai – Ban Kluay Muang
Mae Tha: Ban Mae Pung – Ban Hong Ha
Lamphun:
Mueang Lamphun - Ban Thi (district),
---------------------------------------------------
Bibliographical notes:
While all illustrations are my own pictures, the accompanying stories are based on published researches.
A Brief History of Lanna
Northern Thailand from Past to Present
Hans Penth
Silkworm Books, Chiangmai 2004
Tai Groups of Thailand Volume 1
Joachim Schliesinger
White Lotus, Bangkok Press 2001
Tai Groups of Thailand volume 2
Profile of Existing Groups
Joachim Schliesinger
White Lotus, Bangkok 2014
Khon Muang. People and Principalities of North Thailand
Andrew Forbes and David Henley
1997 A Teak House Publication
Cultural heritage of Tai Lue textiles
Soangsak Prangwatanakun
Faculty of Humanities, Chiangmai University
August 2008