The Akha hilltribe people are originally from China; like other folks from the Mongolian and Yunnan regions, some migrated to the South, particularly to Laos and Thailand, when conditions in their homeland became harsh or when they were pushed aside by invaders.
North Thailand has been particularly welcoming and provided a suitable environment for these new settlers; nowadays the Lanna region hosts a wide diversity of ethnic groups. Some of them still dwell in specific villages and maintain parts of their ancestral practices.
A very important tradition, for the Akha tribe, is the "Big Swing Festival". As implied by its name, the rejoicings are organized around large bamboo poles constructions, allowing people to swing in the air with a rope (for more information and links, published in Gt-Rider Forum, see note[1])
The Swing Festivals are organized, mostly at the end of August or beginning of September, in many Akha villages. These venues, however, are not touristic and some dwellings are remote and difficult to access. The Mae Salong Nai subdistrict, in Mae Fa Luang district (Chiangrai), has an important number of Akha villages, and the provincial authorities decided to hold and finance a get together for a larger public, with the aim to promote the knowledge and culture of this important hilltribe group. A viewpoint along road 1234, just before Sam Yaek village [2] [3] (coming from Mae Salong), was laid out for this event, which, in 2017, was organized, for the sixth time, on September 9 and 10.
This photo story features pictures from this interesting, joyful and colorful venue. It had been announced in the "GT-Rider events thread" [1], as it provides a real photographic treat.
Akha Sam Yaek village is a crossroad along Route 1234 (Mae Salong to Pasang) and Route 4032, a paved road to the Burmese border, through Thoed Thai (Hin Taek), the former den of the opium warlord Khun Sa. The view point, set aside for the venue, offers gorgeous panoramic sights, over the hills, to the North and to the South.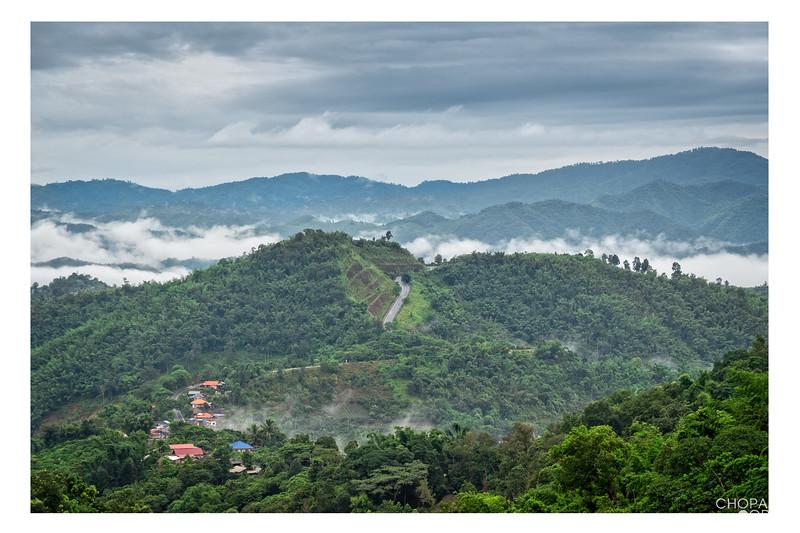 View toward the North and the Burmese mountains behind Thoed Thai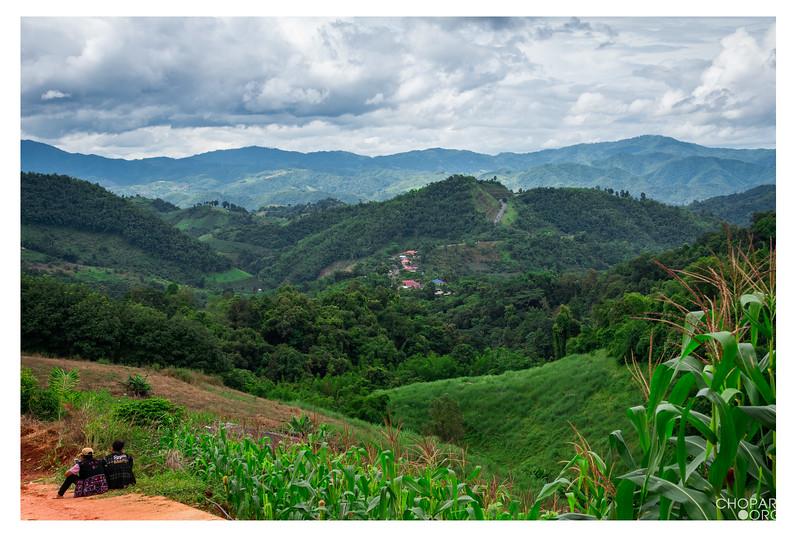 View toward the North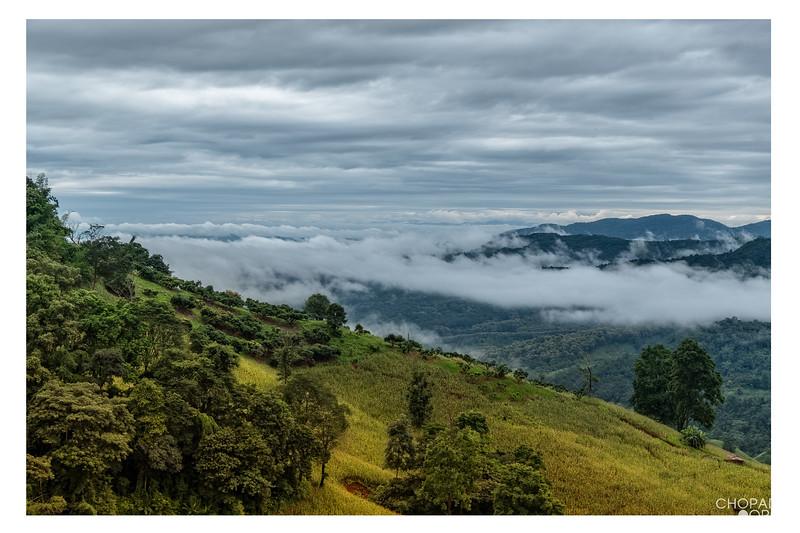 View toward the South
The Akha Sam Yaek view point host a small Buddhist altar with a mirror background, an ideal place for group pictures (and selfies). Open all year long, it is a valuable stopover for travellers along this itinerary.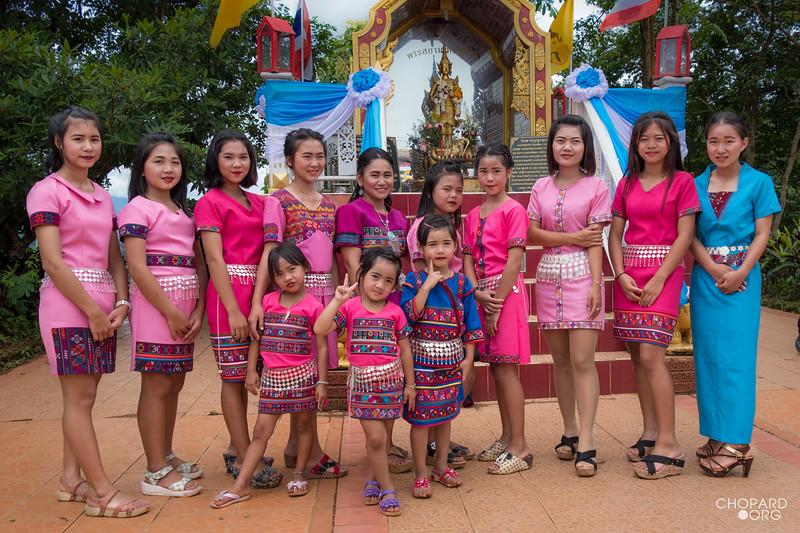 A group of Akha girls in modern attires.
During the Swing Festival, as the playground is of limited size, cars must be parked, in one lane, all along the main road. It is worth to arrive early, around nine o'clock in the morning, to find a slot near to the center. The official part, however, starts only at around eleven o'clock.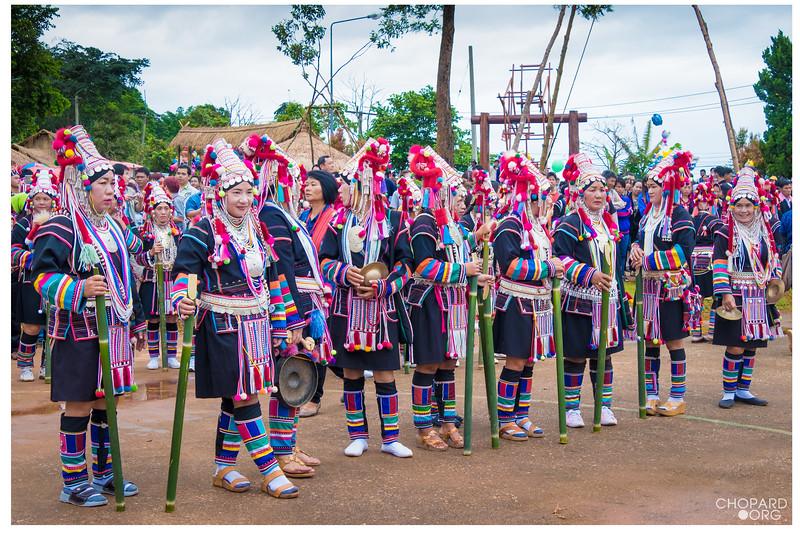 Akha people in traditional costumes preparing to perform a dance
Few foreigners were among the spectators and, despite a quite large attendance, most visitors were Akha themselves, some traveling from villages in other provinces. Finally, as open as it might be and promoted for tourists, the venue remains mostly an ethnic rejoicing, with a slightly commercial touch. Spending two days at this festival allows to experience an enjoyable and different culture and to meet and befriend new people.
The crowd of spectators watching a dance performance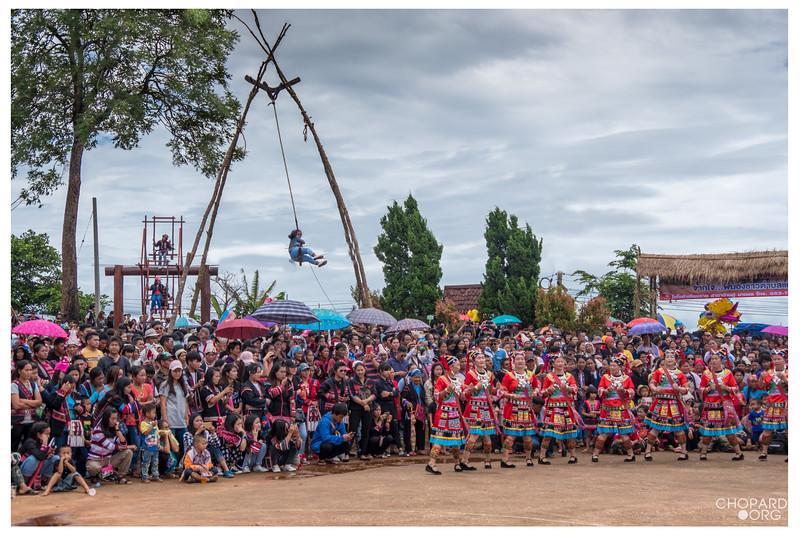 Other ethnic groups, from the region, are also performing in their own colorfull dresses.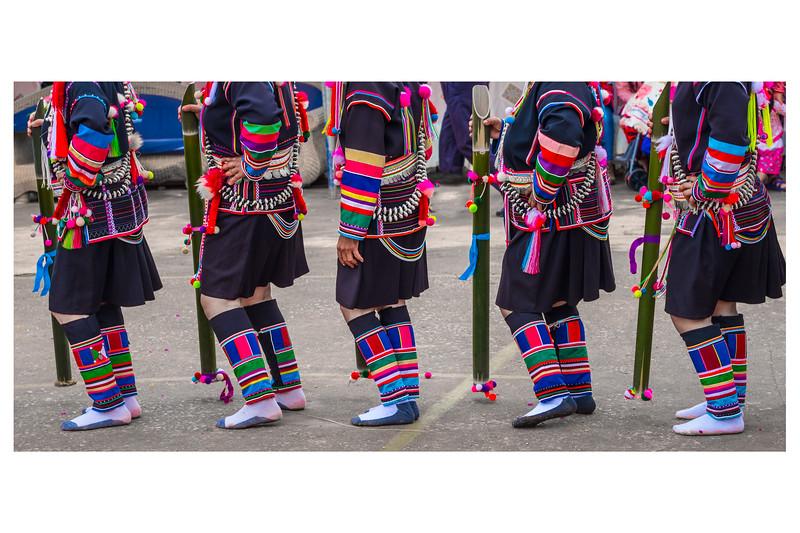 Vibrant Akha dancers
The festival's central attraction is the "big swing" (ching chaa), a large wooden poles construction with a rope allowing people to jump through the air. In the villages the swing is used for a coule of days, then the rope is taken away and it is prohibited to use it again. At the Sam Yaek viewpoint, howeveer, the swing is built with stronger wood and remains in place for the next year.
During the two days, people who fancy a flight, might take turn on the swing. Men will put one foot in the rope's buckle and stand, while women sit on a stick slipped through the buckle.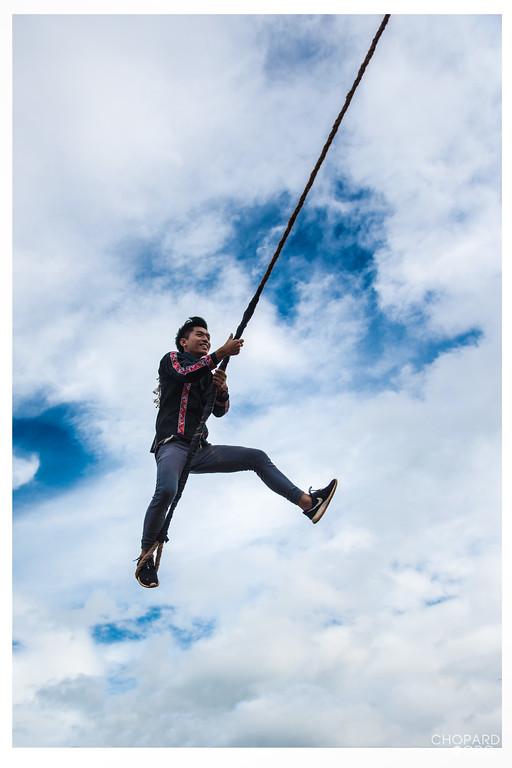 High in the air, a men standing on the rope's buckle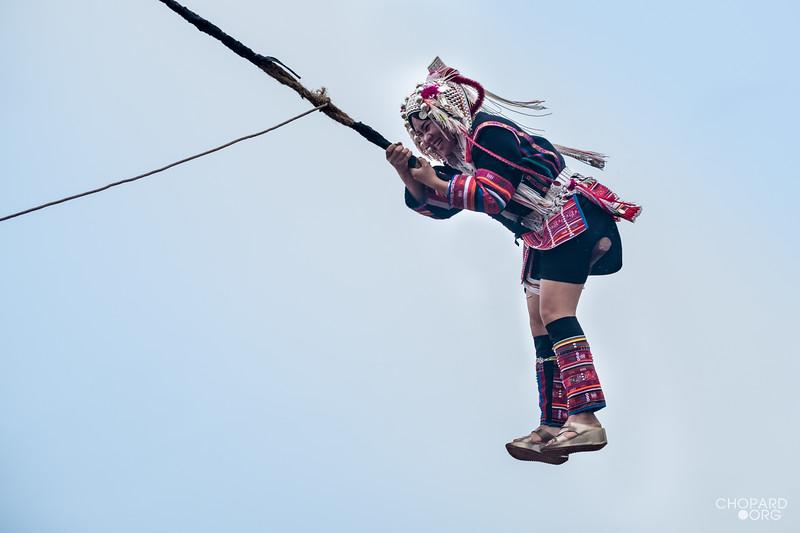 An Akha women, swinging nicely while sitting on a stick at the rope's end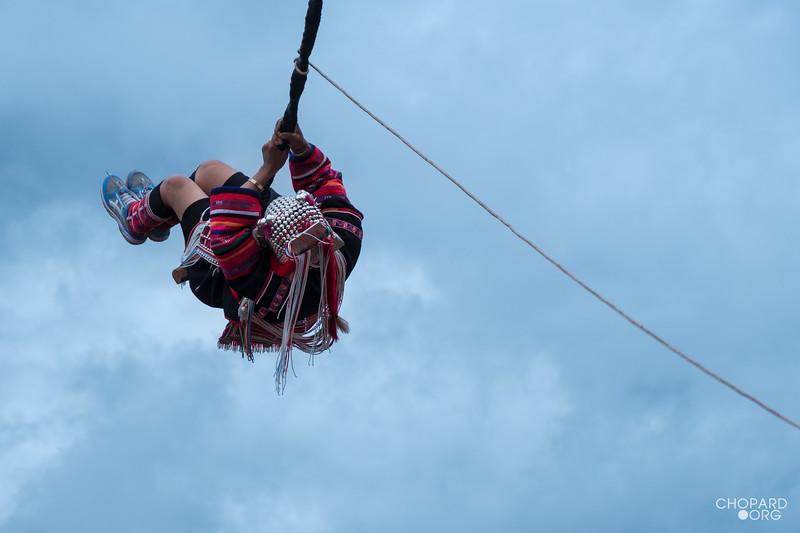 An Akha woman in an acrobatic flight.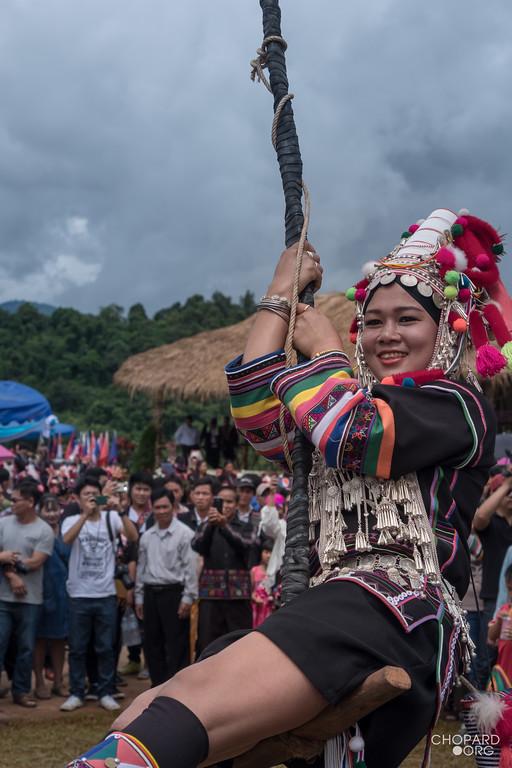 Akha ladies, on the swing, are themselves an attraction
In addition to the "big swing" a turning wheel also provides aerial sensations for people of all ages.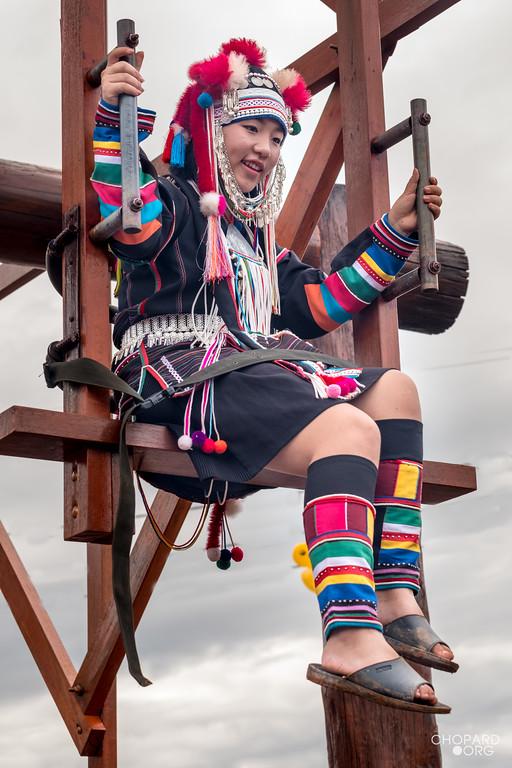 Young Akha girl on the "turning wheel"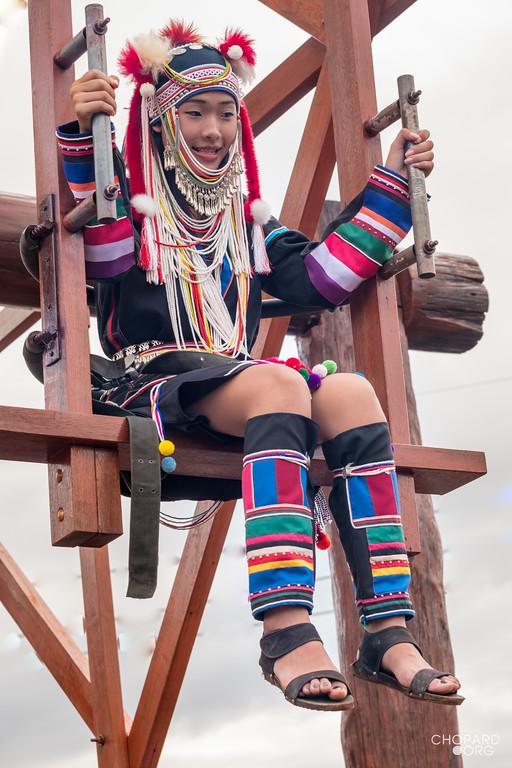 The highlights, for visitors, are arguably the Aka themselves, with their colorfull dresses, parading around the place and performing traditional dances
Group of Akha girls waiting to perform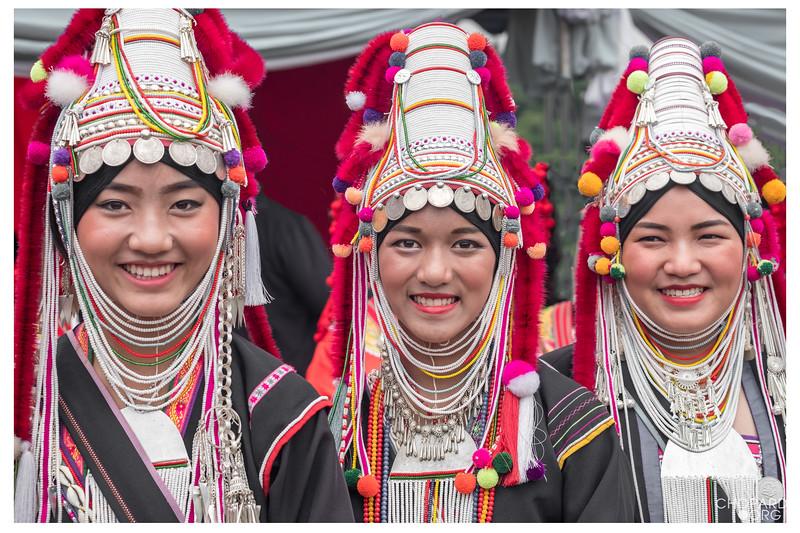 Akha ladies in traditional dress
Before the performances, the participants are updating their makeup, helped by skillfull friends or mothers.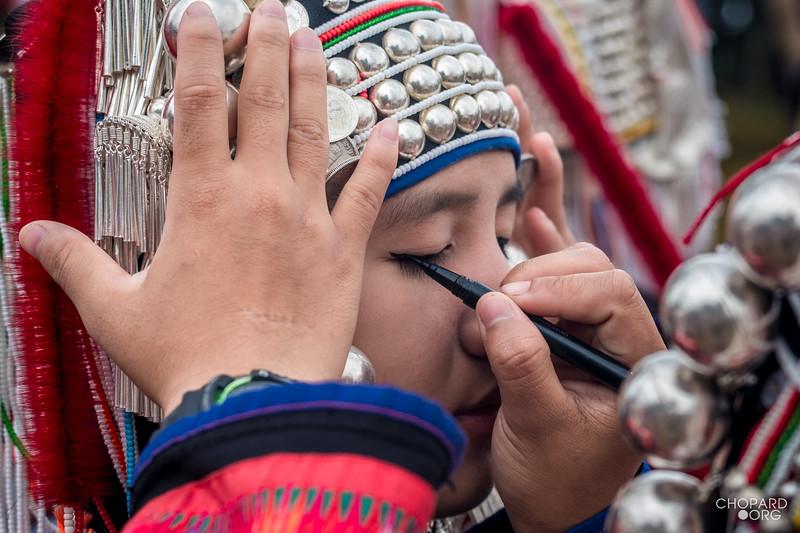 Updating the makeup
Skilfully adding some shades
The Akha festival offers a permanent opportunities to shot colorfull pictures, in an environment where most people are not shy to have their portraiture taken.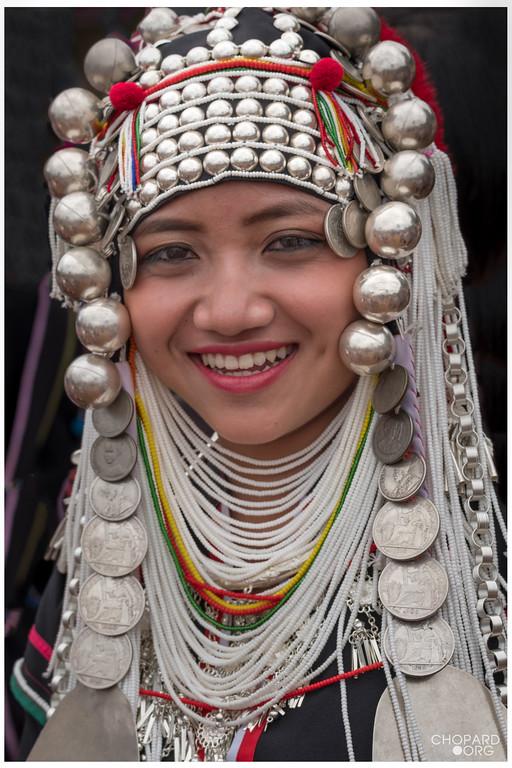 Smiling young Akha lady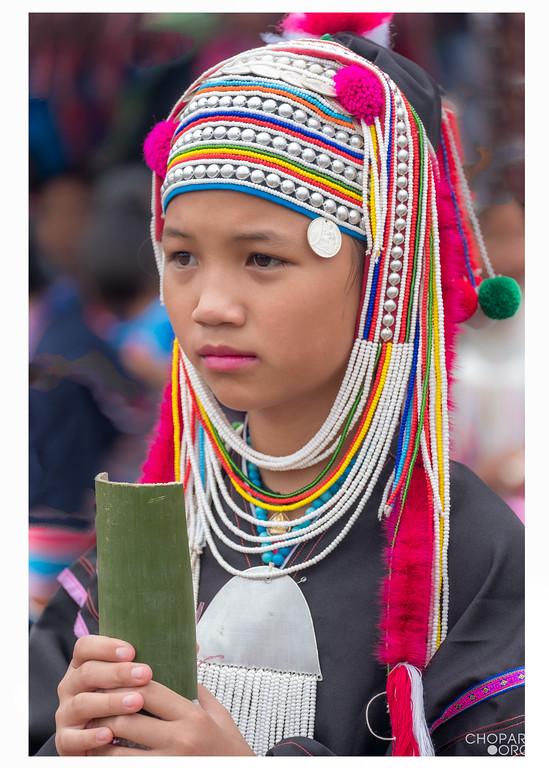 Young Akha concentrated for her next performance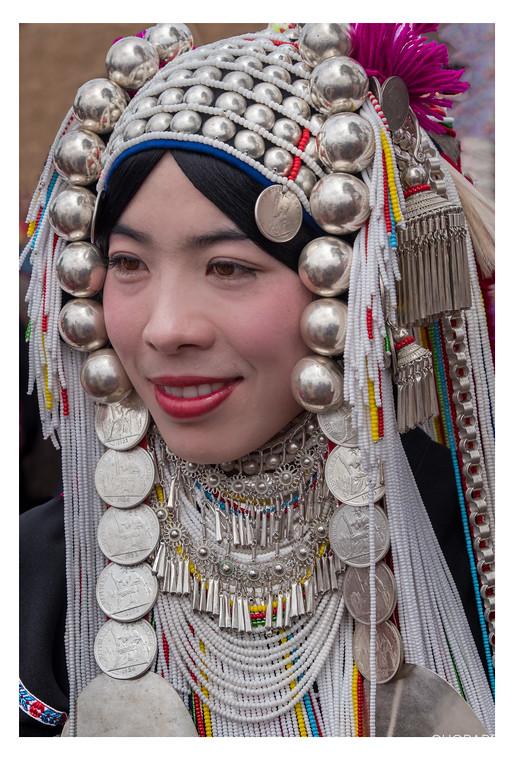 Akha lady with her heavy silver headdress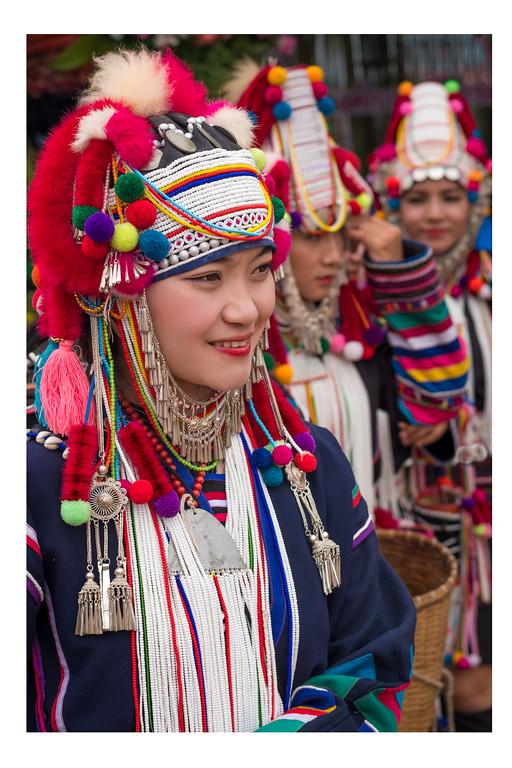 Colorfull Akha dresses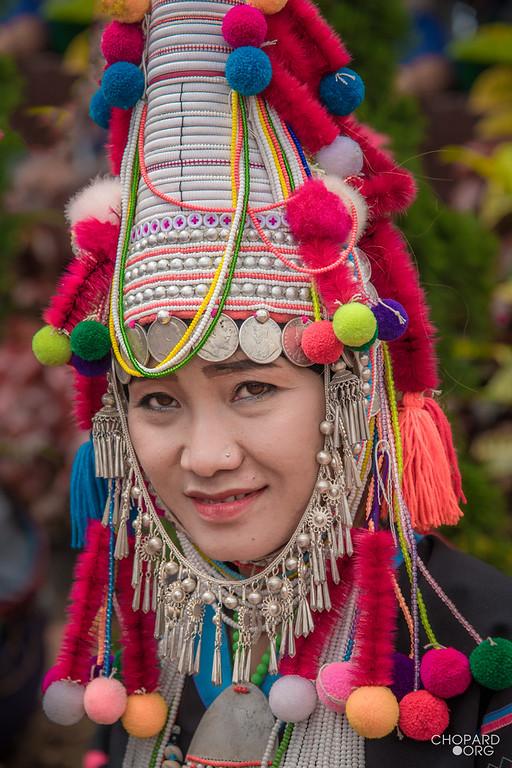 Many variation in the modern Akha headdresses exist, some are linked to different groups, some are just fashion.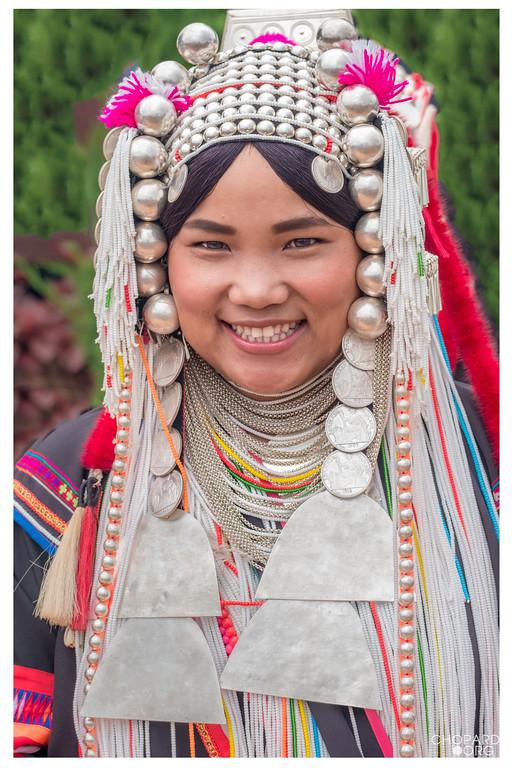 Smiles are everywhere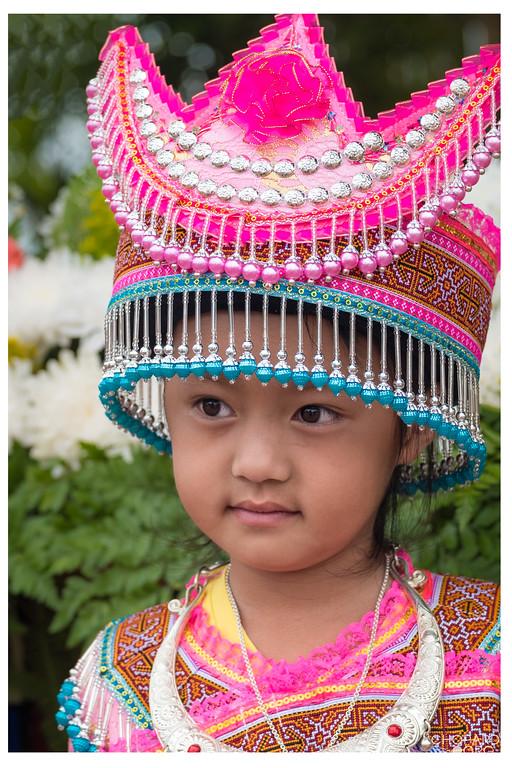 Young girl with a modern Hmong dress
The senior akha people are still full of charm, joyfull or concentrated, they are great subjects for portraitures.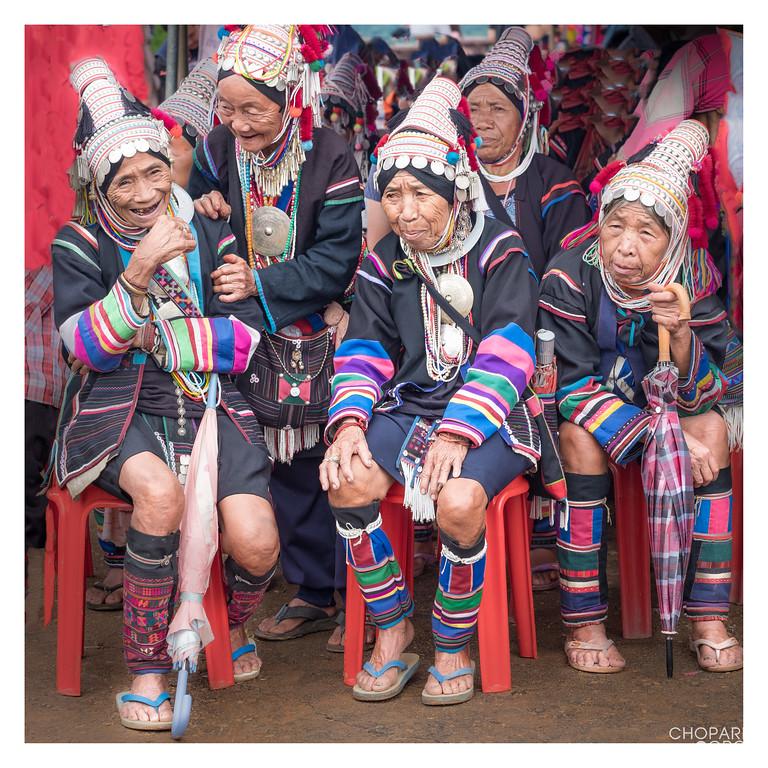 Group of joyfull Akha women watching a dance performance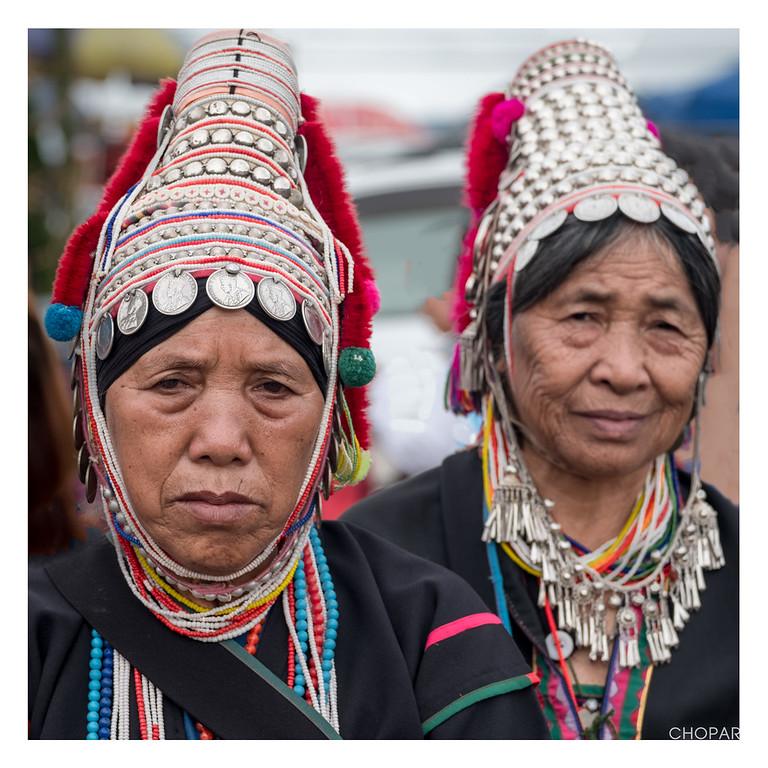 Akha ladies in traditional dress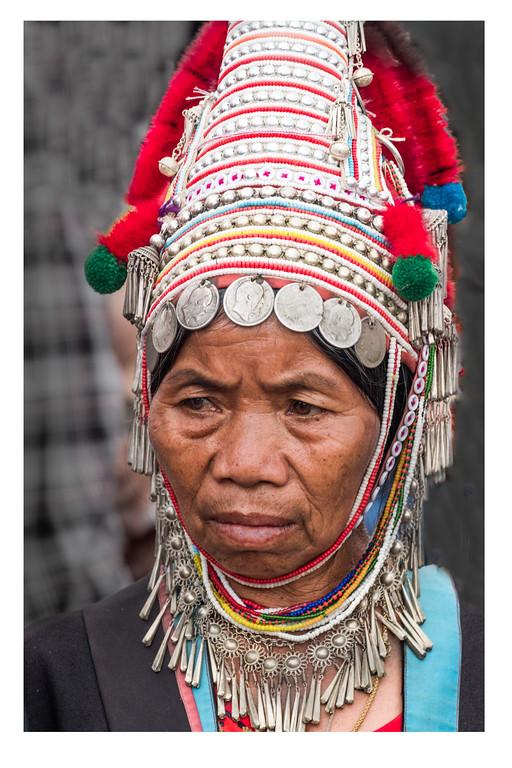 A concentrated Akha lady with her tradition headdress
Akha men also wear typical costumes, usually less decorated, but with typical pieces of embrodery and a particular headdress.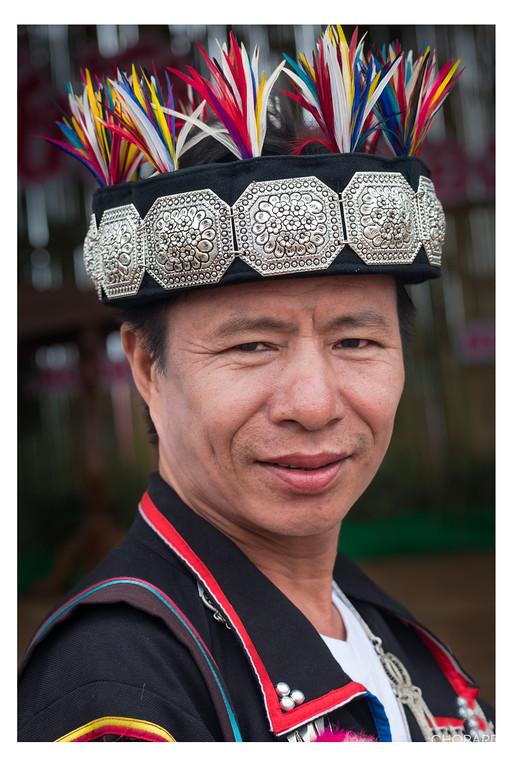 Typical Akha men headdress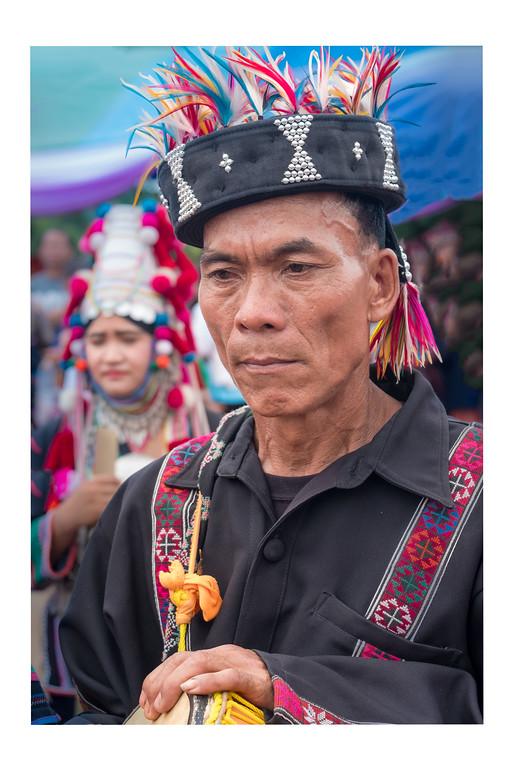 Akha men in costume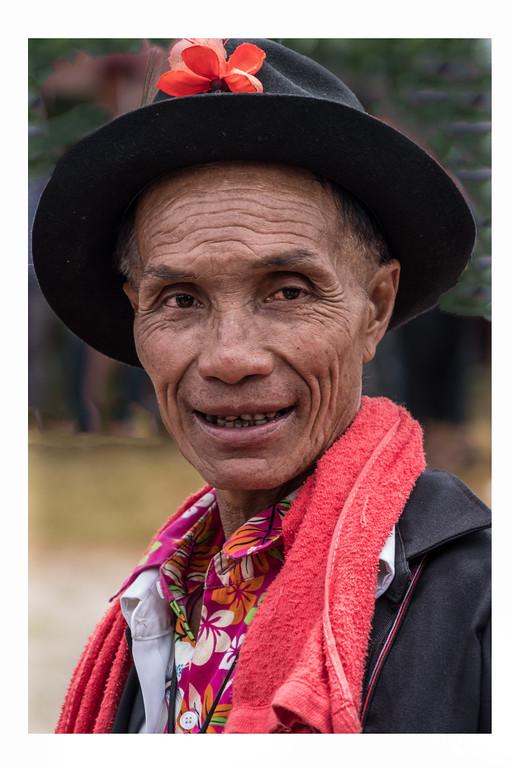 A colorfull character selling his handicraft at the venue.
Some other ethnic groups, living in the Mae Salong region, also participate to the festival.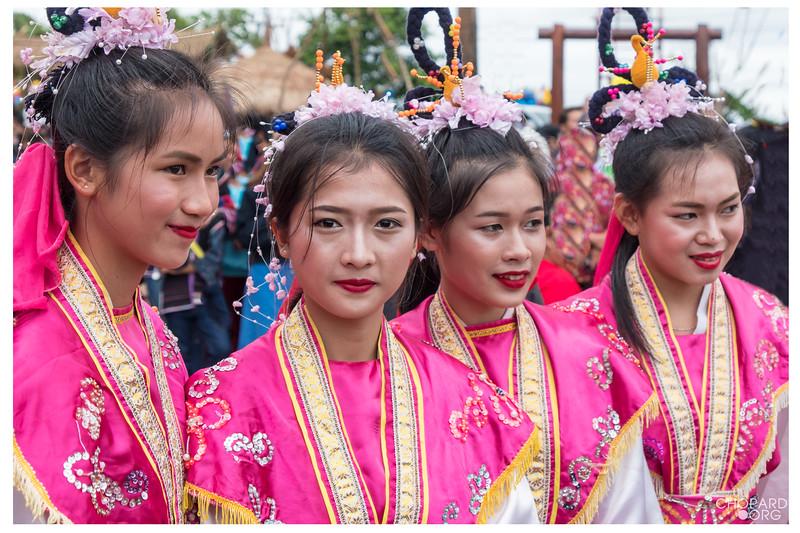 Ethnic group from Mae Salong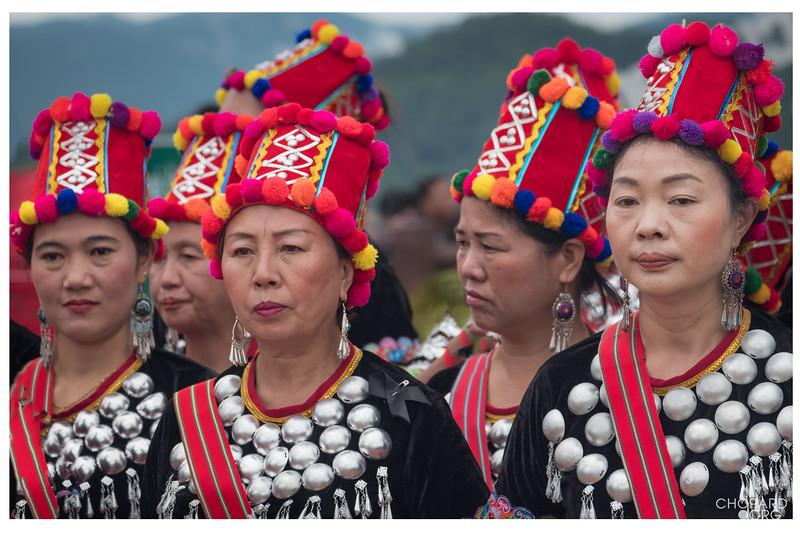 Ethnic group from Mae Salong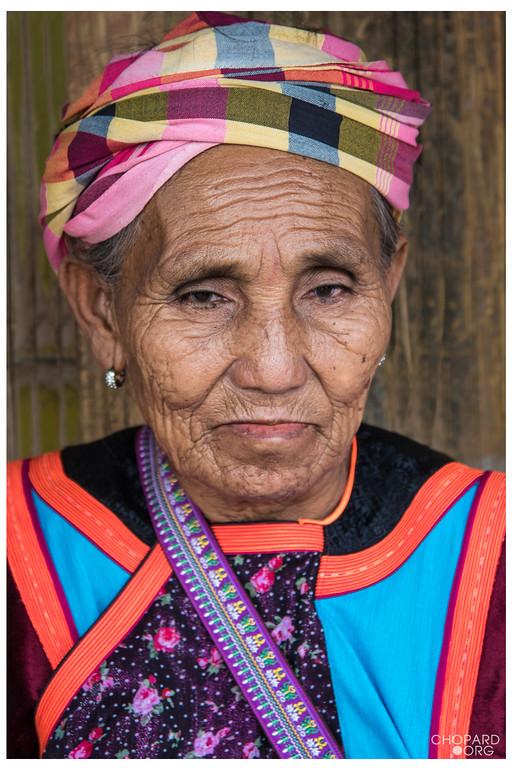 An old Lahu (Muser) lady
The festival also provides opportunities for the Akha themselves to take pictures.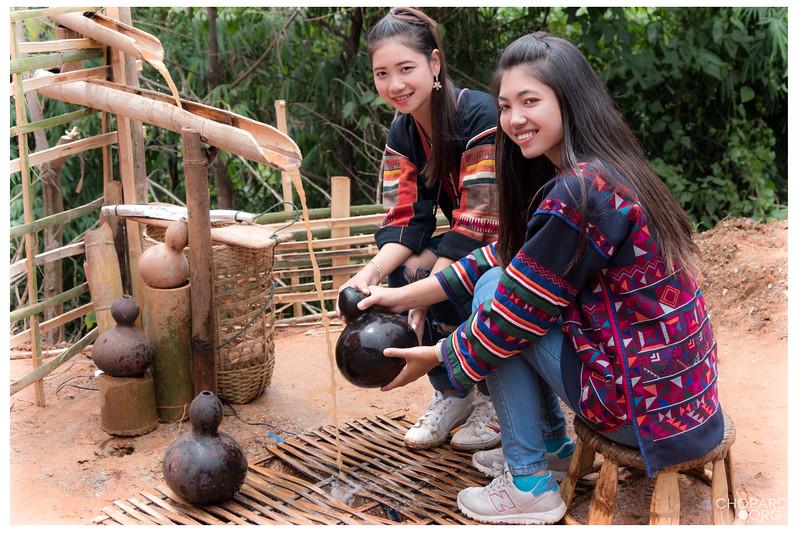 This place was set-up by an Akha friend, specialized in wedding and portrat pictures, allowing people to be photographed and to get their portraits online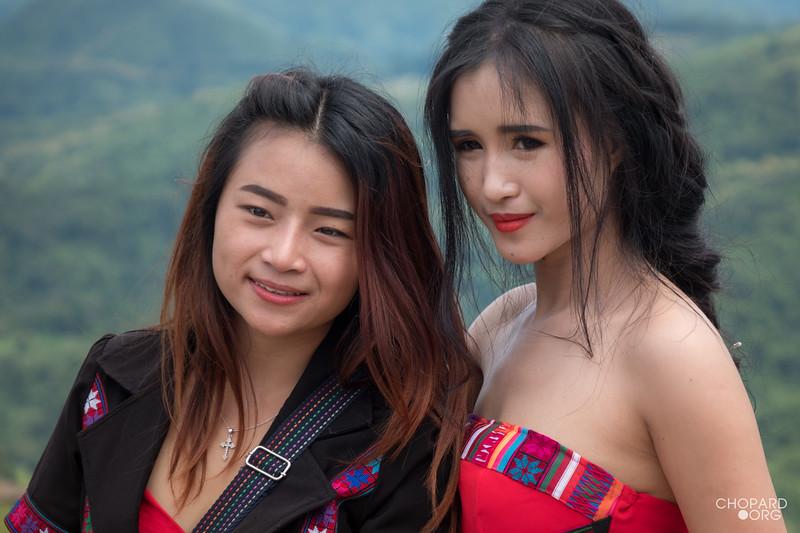 Modern Akha girls taking pictures against the Mae Salong backdrop
------------------
Notes
[1] for more information refer to the following Gt-Rider Forum links:
2017 Akha Swing Festivals
Akha Swing Festival, Doi Chang 2012
[2] Ban Sam Yaek Iko (บ้านสามแยกอีก้อ) – The Thai call the Akha people "Iko"
[3] Facebook pages for Sam Yaek Akha: "บ้านสามแยกอาข่า" and "SamYak.Akha. –