0
Staff member
Subscribed
Jan 16, 2003
14,081
5,079
113
69
Wat Wiang Kaew is a small temple on R1290 in Wiang Kaew between Mae Sai & The Golden Triangle.
It has a unique large black bamboo Buddha.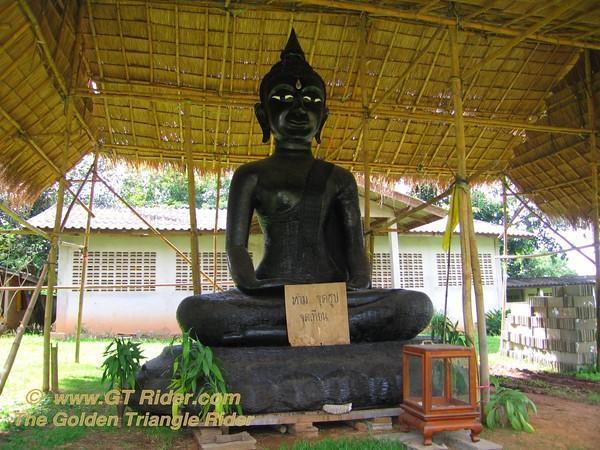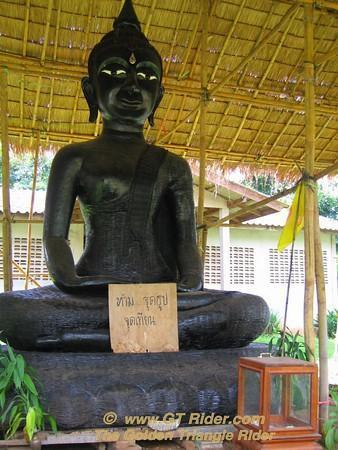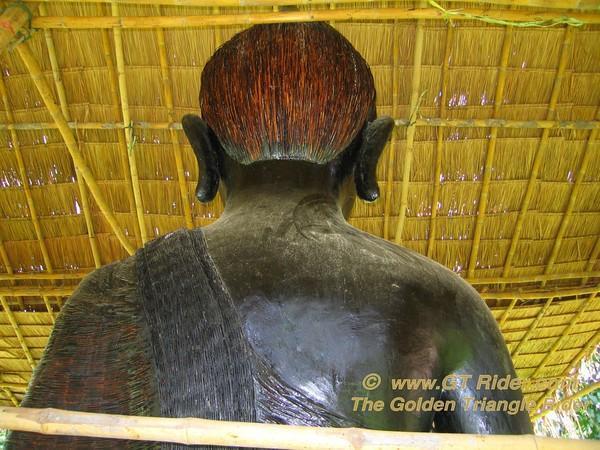 From Wat Wiang Kaew there's a 1km track that runs up a hill to Phrathat Nang Koi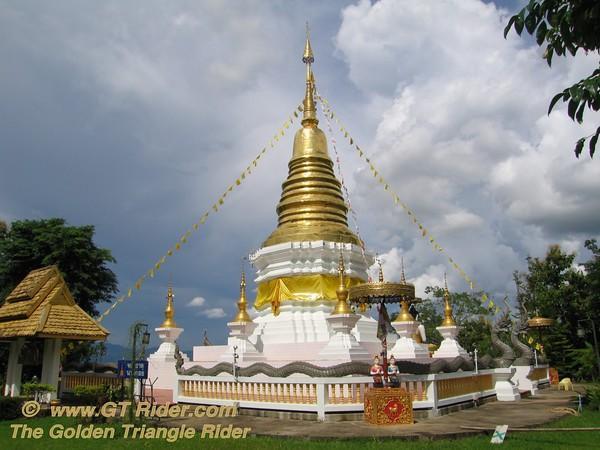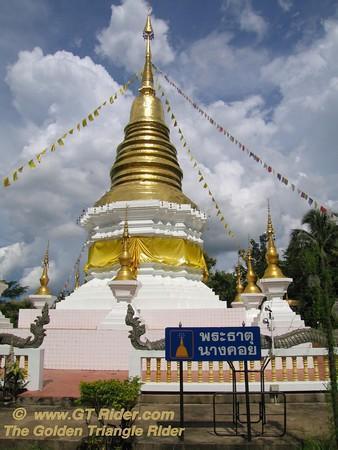 which has fine views over the border area to Burma & Mae Sai (through the trees.)
And what's so important about Wat Wiang Kaew?
Well it's sort of the home of Kruba Boonchoom, the famous Shan monk who was once arrested by the Burmese.
http://www.buddhistchannel.tv/index.php ... 23,0,0,1,0
Revered Shan monk prays for Burma's generals
Shan Herald Agency for News (SHAN), Jan 8, 2008
Tachilek, Thailand -- "I pray for the well-being of the people of Shan State and Burma as well as the country's rulers," Krubar Boonchoom Nyanasangvaro told thousands of his devout worshipers coming from Burma, Yunnan, Laos and Thailand in Maesai on 4 January, a day before his 43rd birthday.
He nevertheless lamented the bloody crackdown on the monks protesting peacefully against the country's military government in September. "I could have been among those prosecuted if I were still back in Burma," he mused.
The Abbot of Mongphong, Tachilek, as he is known, left Burma after he was placed under 'temple arrest' by the military authorities in May 2004. He was reportedly grilled for 5 hours by the military intelligences officers on 22 May 2004 about his latest trip to Panghsang and Hsipaw where he was given rousing welcomes by ceasefire leaders Bao Youxiang of the United Wa State Army (UWSA) and Gaifah of the Shan State Army (SSA) North.
He was later officially expelled from Burma on three charges: Instigation of the people against the military government, support for drug smugglers and association with outlawed groups. His close aides have rejected all the accusations.
The abbot's birthday was attended by an estimated 40,000 devotees from as far as Bhamo in Kachin State in the north, Xixuangbanna in the northeast and Bhutan in the west. "Last year, it was twice as many," a resident of Maesai explained. "The downtown is due to the increasingly ailing economy as well as the tightening restrictions."
Immigration officers had refused to issue border passes for Wa worshipers without national registration cards. The Military Affairs Security (MAS), the successor to the dissolved Military Intelligence Service (MIS), had also refused to honor letters of recommendations issued by the UWSA. "Had you been applying for other purposes, it would have been easy for us to vouch for you," an MAS officer was quoted as saying. "But we'll certainly get into trouble if we allow you to visit Krubar Boonchoom."
"So we came across the Maesai (the river dividing the two countries) through unofficial checkpoints," said a Wa disciple from Panghsang.
Krubar Boonchoom Nyanasangvaro was born on 5 January 1965 in Chiangrai. He became the youngest abbot in 1975 when he accepted the invitation by village elders of Monghpong to reside there. The monk who spends most of his time traveling, preaching and meditating is reputed to be endowed with powers to recall previous reincarnations.
His 43rd birthday was celebrated also at Buddha Gaya where a Shan temple has been dedicated since last year in his name.
The locals claim there were 100,000 people at Wat Wiang Kaew for his birthday in 2009. His birthday in 2010 should be even bigger & worthy of checking out, if you can get near the place
.
ALSO FROM 2004
REVERED SHAN MONK UNDER 'TEMPLE ARREST
Tuesday, 20 April 2004 23:25 S.H.A.N.
Khru Bar Boonzoom, the Shans' most venerated monk, has recently been 'advised' by Burmese authorities to suspend his roving missionary tours and stay put at his temple for 1-2 years, reports Flying Horse from the border:
Military intelligence officers from Rangoon together with local officials paid a surprise visit to his Sri Dawn Herng temple, 40 miles from Tachilek and located along the western bank of the Mekong on 22 April, sources from Pahsa village, Monghpong tract reported yesterday.
The 39 year old monk, a Thai national of Shan origin, was interrogated by the officers for 5-hours about his latest circuit of Shan State, that included Panghsang, where he was welcomed by big names like Zhao Yilai and Bao Youxiang, and Hsipaw, where Shan ceasefire troops provided him with an armed guard.
Col Gaifah, Deputy Commander of the Shan State Army "north" and General Secretary of the Shan State Peace Council, who at present is attending the military-organized National Convention outside Rangoon, is known to be one of his most devout lay disciples.
Since the meeting, squads of soldiers from Tachilek-based Light Infantry Battalion 331 have taken guard duties at the temple on rotation.
During the period, the monk had twice flown from Tachilek to Rangoon (20 May) and Mandalay (25 May) to visit his adherents, but each time he was detained on arrival and flown back.
"All of us are worried", said one of his followers in Thailand. "We know he is not engaged in any political activities, but the generals, jealous of their own positions, may see him as a potential contender."
Khru Bar Boonzoom (Boonchoom Nyanasamvara Bikkhu) was born to a Thai father and Shan mother in Chiangrai on 5 January 1965. He was ordained as a novice in Chiangsaen at 10. Two years later, Shans in Monghpong, impressed by his noble bearing as well as his zest for meditation, invited him to make his residence among them. He was ordained as a full monk in 1986 in Chiangmai.
Some Burmans are also among his devotees. One of them is said to be Brig Gen Htun Htun, Commander of Military Operations Command #14, based in Monghsat.