0
Staff member
Subscribed
Jan 16, 2003
13,762
4,724
113
69
2017 Suzuki Vstrom 65o.
The old GTR fellah's bike. Bought second hand with 23,000 kms on the clock & now with 47,000 kms on the clock.
You can read how the bike's been tweaked as I go here
Finally time to bite the bullet & get another Vstrom 650. There's not enough funds around to justify buying another new model, so a a good second hand one was the way to go. And the winner was a 2017 model One gentle farang owner & only 23,658 kms on the clock = a new bike for me with the...

www.gt-rider.com
I've enjoyed some epic rides in torrential rain the last couple of months, one Lampang - Chiang Khong wet all the way; one Chiang Khong - Chiang Rai & the last one Thoed Thai - Doi Mae Salong. No big deal you might think, but I had no rain gear on any of these rides, & the Lampang - Chiang Khong ride was a demanding endurance test at the end.
Why do it? Well once you're wet you might as well keep riding, because you're already wet, stop & start again in the rain it will only be colder to get going again.
Best to power on through the rain, although a couple of times I never got through the rain, it kept raining all the way; and well the bike has developed annoying electrical issue, cutting out in the rain & running on what seems like one cylinder or reduced power.
It's been going on for a few months now, but only in very heavy - torrential;, prolonged rain of at least 20 minutes +. Light - medium - heavy rain & short sharp thunderstorms are not an issue.
The final crunch came last week on a ride from Thoed Thai - Doi Mae Salong, with the plan to hit Tha Ton for the night & catch up to Steve, but alas we were defeated & totally knackered by the time Dave DKT & I got to Doi Mae Salong, such that we called it quits.
Two drowned rats checked into the Shin Sane GH, got a shower, ate at the closest restaurant across the street & the old GTR fellah was in bed by 7.30PM. Pretty much destroyed. Sorry Steve.
The elevation profile Thoed Thai to Doi Mae Salong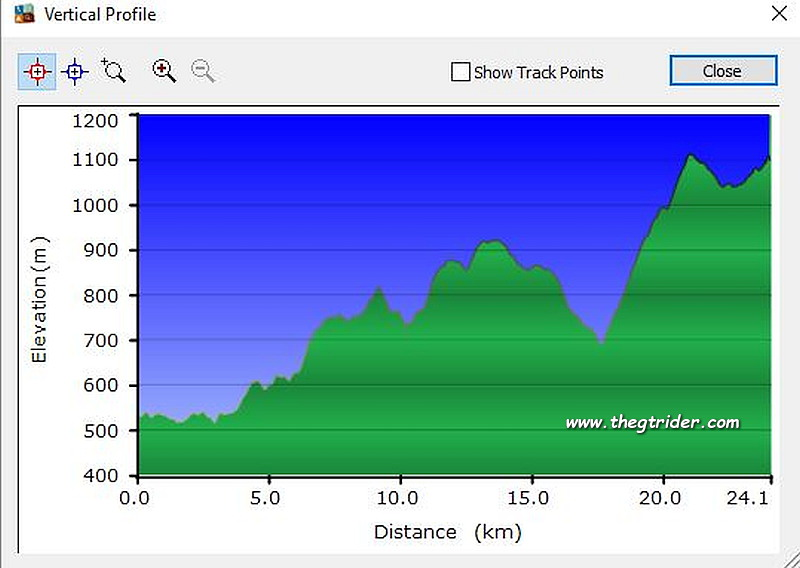 With no rain gear & our tropical mesh jackets on we took off from Thoed Thai at a fast clip as we could see the storm approaching from the East, with the master plan to beat the storm, race on up to DMS & then down to Tha Ton for the night.
It is only 12 kms from Thoed Thai to Akha Sam Yaek, however by the time we hit the road junction to turn to Doi Mae Salong the storm had started.
With no rain gear, we carried on undaunted foolishly thinking we would get ahead of the storm.
In reality it caught up to us & we got hit with the full force of it riding along that damn ridge line.
The rain was blinding, the winds a strong a gale gusting along the road, lightning all around & poor visibility.
My glasses fogged up, my visor fogged up & visibility was minimal, at least for me. I rode into some bamboo across the rod that I did not see until the last second!
Trees were coming down, we were forced to a halt by a tree across the road. 3 cars with lady drivers all stuck wondering what do. assist some lady drivers stopped by a tree across the road.
It was a surreal experience in the foggy conditions, gale force rain, everyone drenched to the bone struggling to "bounce a tree" of the road.
Eventually we succeeded. The 3 cars of saturated lady drivers took off, & the 2 water logged riders got on their trusty steeds & plodded along; but sure enough one of the steeds was soon not so trusty - yep mine!
The water was finally getting into it somewhere, and it started cutting in and out onto one cylinder. No problem you think, you can still ride it, but you've got those nasty steep turns ascending to Doi Mae Salong.
It was your worst nerve racking nightmare going up those switchbacks with the motor cutting in & out. I was sure eventually it would cut out on a corner & I would have to drop it. The bike might never start again out there? No, don't stop, keep going, and so I did.
At various stages I had it running in first gear @ 6,000 revs so it would pull up the hill, then sometimes both cylinders would fire up & the bike would take off, so there was an emergency pull of the clutch, then start off again at lower revs. I was totally drained - exhausted - by the time we got into DMS. Praise the Lord. I survived & miraculously made it.
That was indeed one of my craziest scariest rides ever. One that I hope I never have to do again!
So, time to try & sort out that bloody short circuit.
Kong's Electric in Chiang Rai is my local go to man.
Hi, I broke the brackets for my extra lights and need to get some new ones made out of steel. Any recommended shops in Chaing Rai that could do simple fabrication quickly?

www.gt-rider.com
A damn good electrician, Kong son picks up a fault with the O2 exhaust sensor on the bike not reading cylinder one correctly. It is faulty.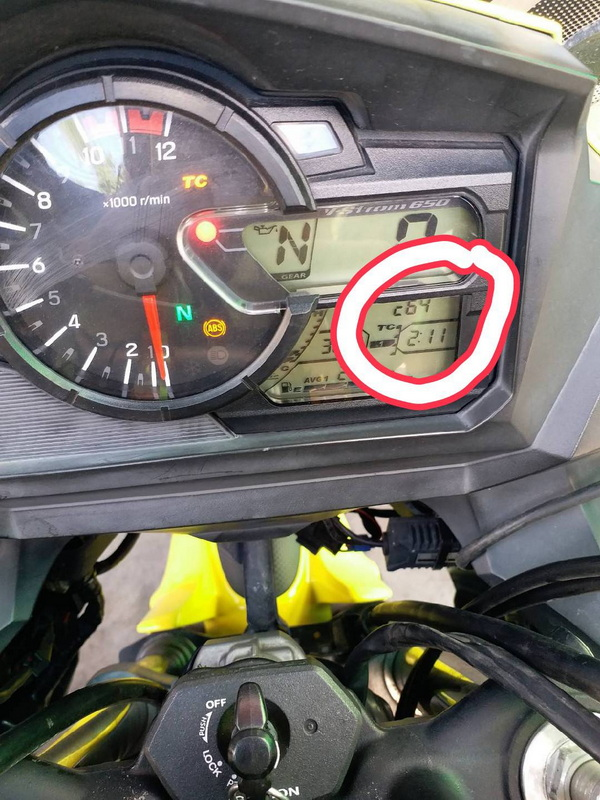 Electrical shorts are a pain in the arse to sort out, especially when the bike runs fine in the dry & is running perfect when you take it to the bike shop. A new sensor is 4400 baht.
Neither Kong nor I were convinced it was the sensor causing the problem though, as the bike still runs fine. The front cylinder is running a bit rich, but it runs right out to 160KPH still, so I'm not complaining. Kong douses the bike water & it still runs ok. It actually needs to be drowned to get the desired result I think.
We need to check the bikes data long & see what turns up, but Kong doesn't have the gear for that.
Phayao is the next stop. Enter Dong & Tokico Motorsports.
Tokico Industry Motorsport Shop by Khun Dtong A small excellent bike service & cleaning shop. Run by mr Dtong, a super happy friendly, professional passionate bike mechanic. Dtong has done a 2-year Superbikes / MotoGP mechanics training course in Bkk. He also speaks reasonable English &...

www.gt-rider.com
Dong is a top pro mechanic with a 5-star workshop.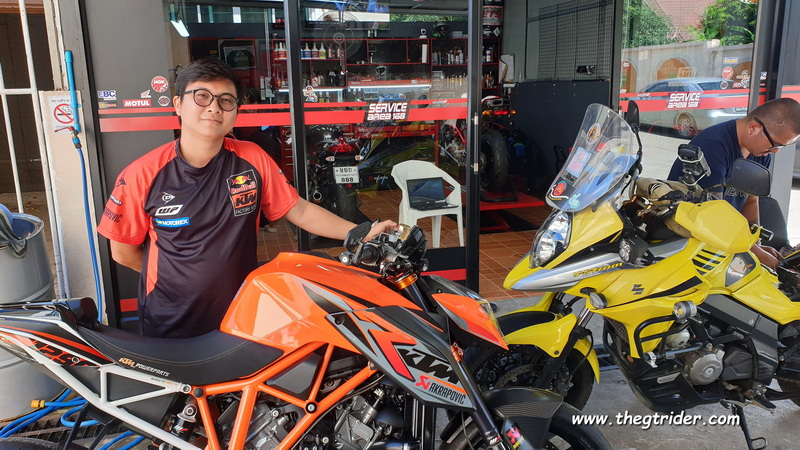 All the tools plus aircon. He's also done the SBK / MotoGP course in Bkk. He once wanted to be an aircraft engineer, went to the USA, but got bored there & came back home for his love - bikes, speed & hot cars. He's real petrol head, into tuning & speed. He is also passionate about his work & workshop.
He has a helping hand from a retired English guy, Ron Wheeler, an ex F1 fuel systems specialist who worked with Williams, I think it was.
Two top guys who love tuning bikes and motors.
The bike goes into the super cool aircon workshop
It's parked on a remote controlled stand hoist. All the plastic comes in search of that hiding, sniggering loose connection.
The only error that shows up again is the faulty 02 sensor.
The coils & plug caps all come off & are checked. No apparent issue.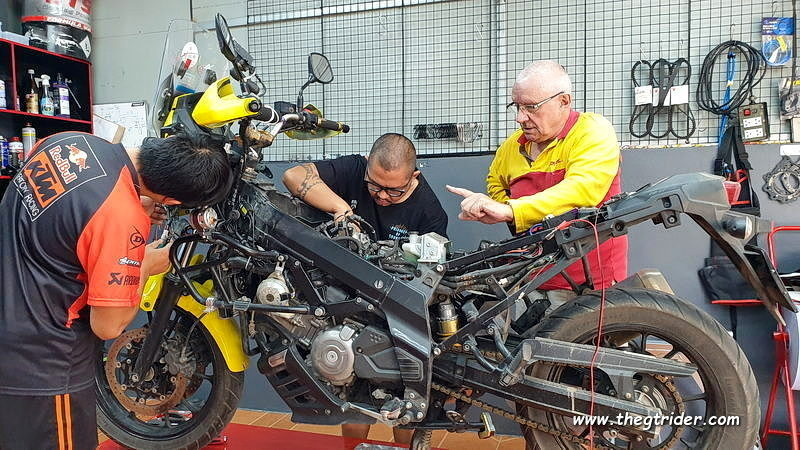 Damn! But it can't just be the 02 sensor failing in heavy prolonged rain, can it?
Let's try and replicate the heavy rain situation, & get it to cut out.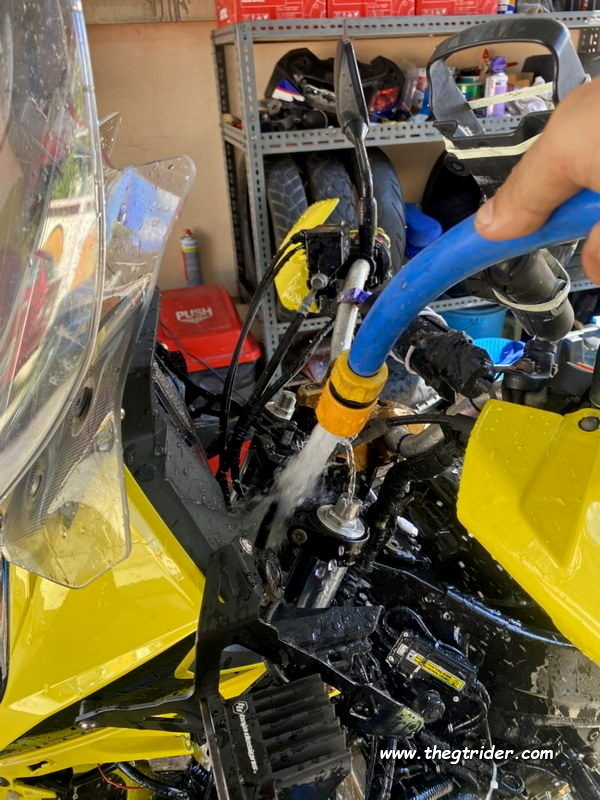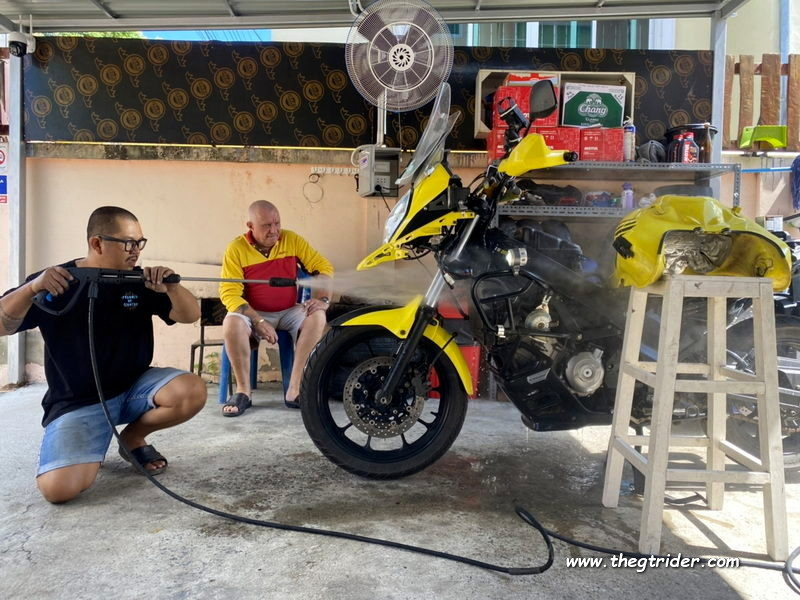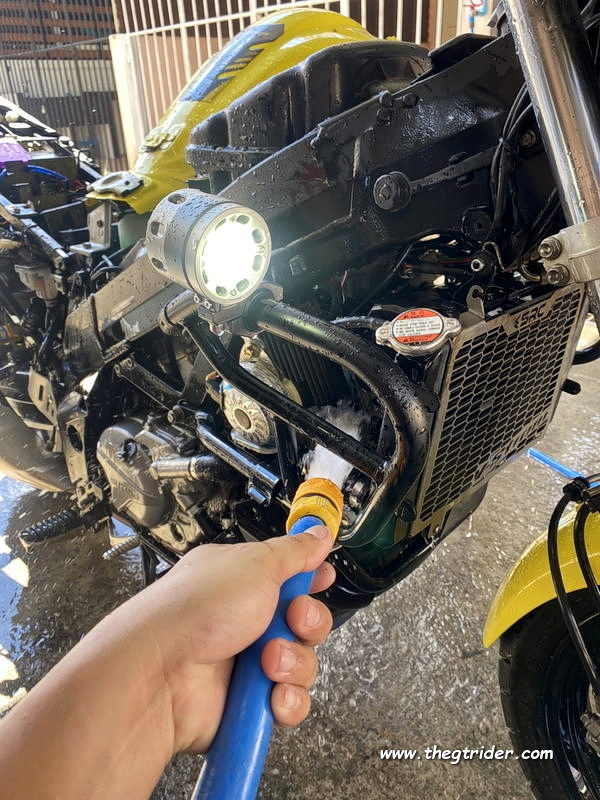 And the bike ran perfectly.
NO issues
. Obviously not enough water I thought, damn!
So we give up for the time being. Let's wait for the new 02 sensor to arrive and see what happens.
Sadly we are nearing the end of rainy season, and there may not be another big storm to ride through to test it out. Ha Ha.
So it may even be next year before I know if it works & how good the mighty Vstrom still is.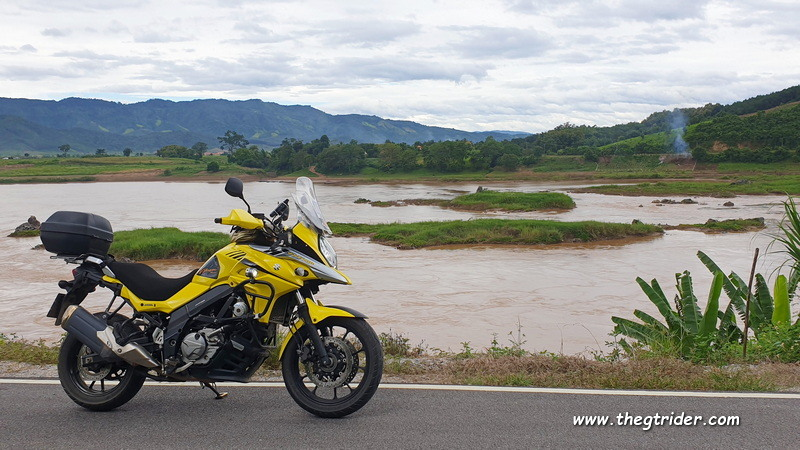 Purchased in Feb 2021 with 23,658 kms on the clock & now with 47,000 kms = doubled the number of kms.
Bring on the riding season & open borders, I can't wait to take the bike for an all-Laos run in 2023 once we are free to travel again.
Last edited: