Administrator
Staff member
Jan 16, 2003
12,332
2,719
113
67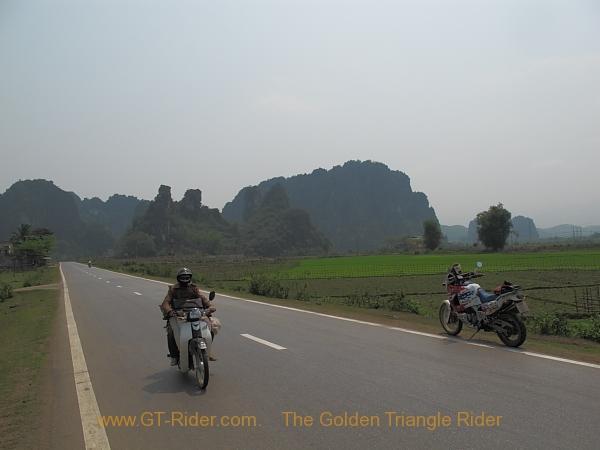 Continued from
Chiang Mai - Hanoi Back Part 1
and
Chiang Mai - Hanoi Back Part 2 Sapa
and
Chiang Mai - Hanoi Back Part 3 Bac Ha
and
Chiang Mai - Hanoi Back Part 4 Hanoi
DAY 9 HANOI - MAI CHAU. 23 MARCH 2010
Homeward bound...
Hanoi - Mai Chau is only a short distance so we elected to skip the Hanoi rush hour & make a leisurely departure, with the guide again riding pillion on Armin's bike to see us out of town on the correct road(s).
Departure time was a pleasant 10.00AM.
Today's route & scenery was a big contrast to what we had experienced in the north - hot & dry & smoky.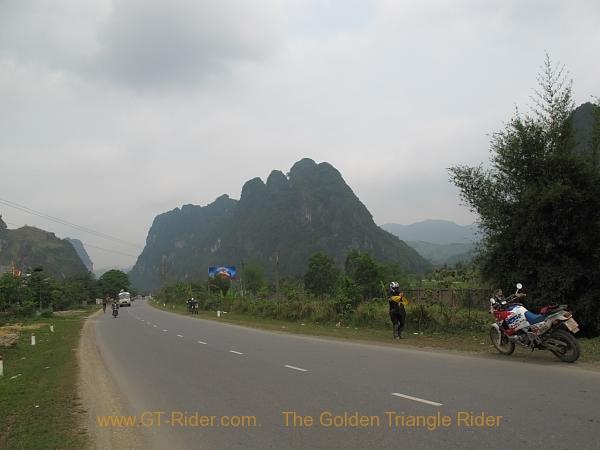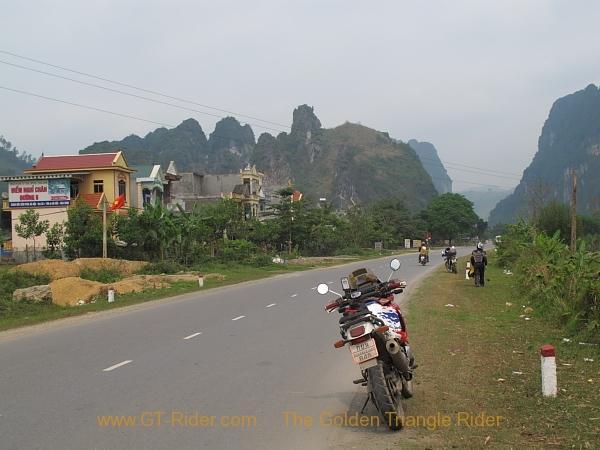 Fueling up with the cutting edge securely strapped on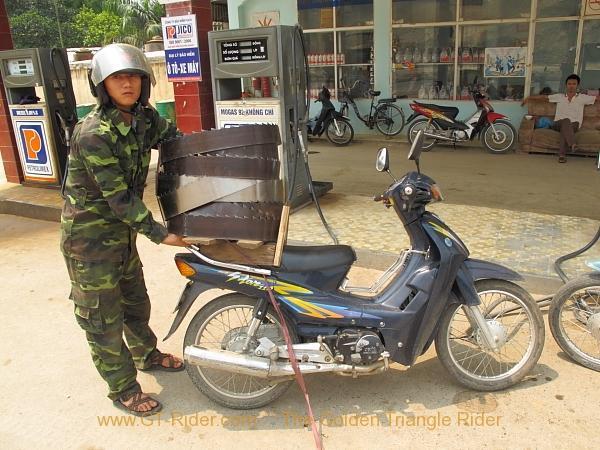 You wouldn't want to pull a big wheelie or you'd cut yourself in half I thought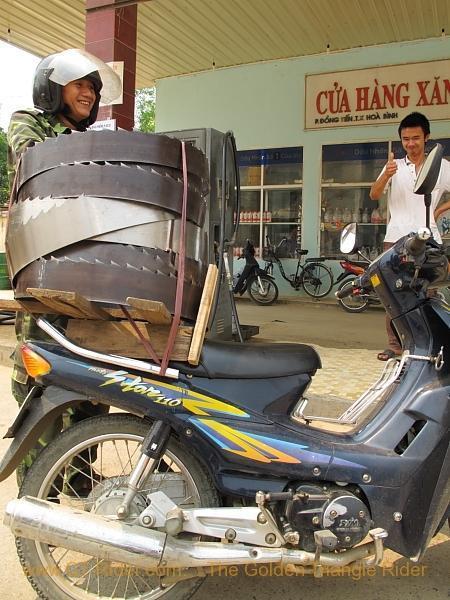 Nice generally flat straight roads at the start, with lots of greenery.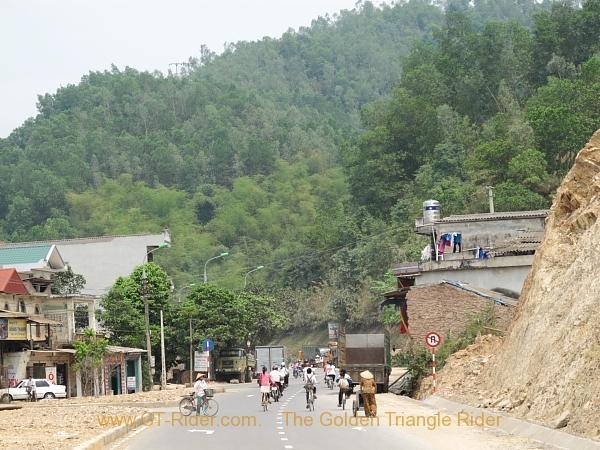 Turn off time & waiting for the service vehicle, so we did not lose them with our luggage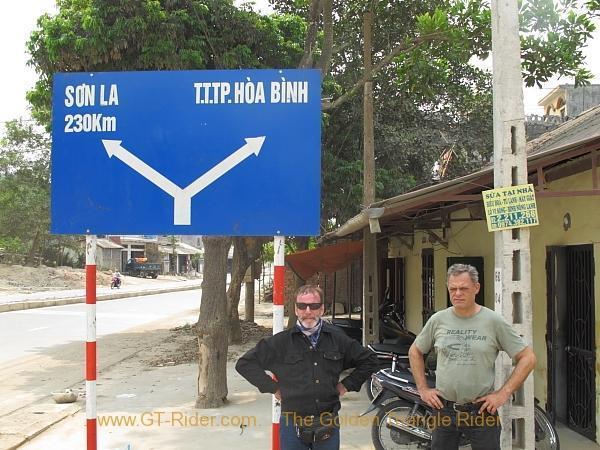 The local gardener has been out pruning the bushes....
A "no-name" dam along the way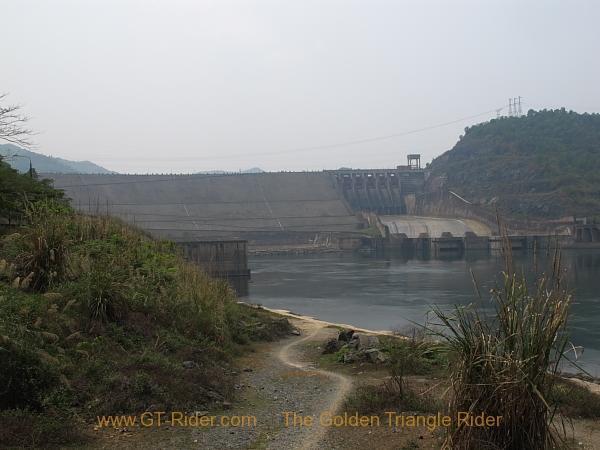 More easy roads & nice scenery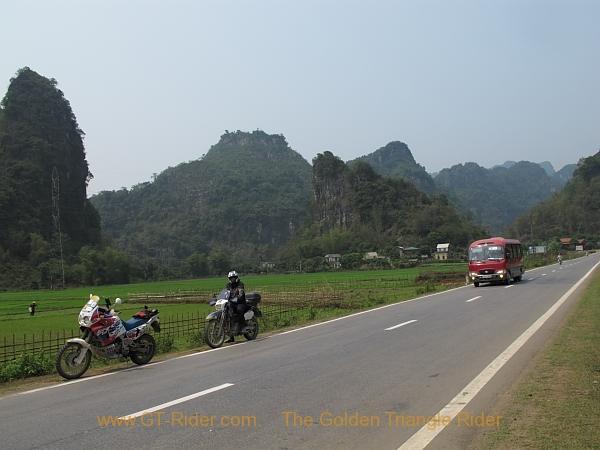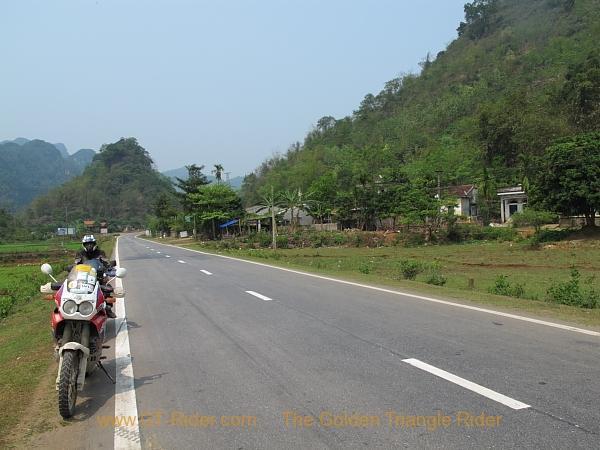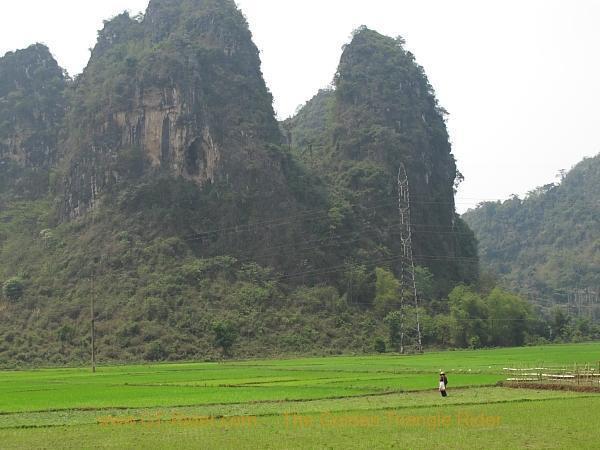 It's pleasant enough around here I thought, eh Slash?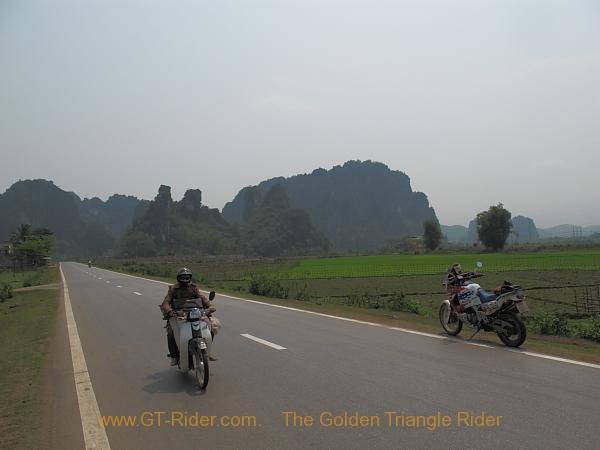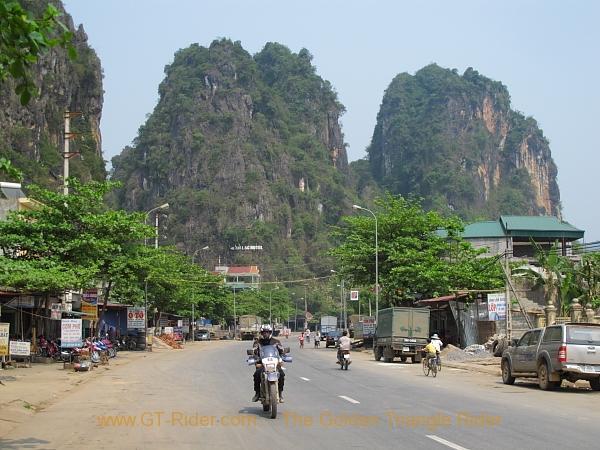 The road climbs up into the mountains 110 kms out of Hanoi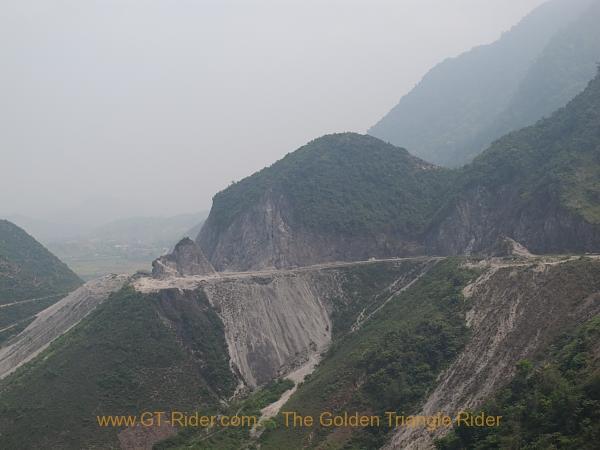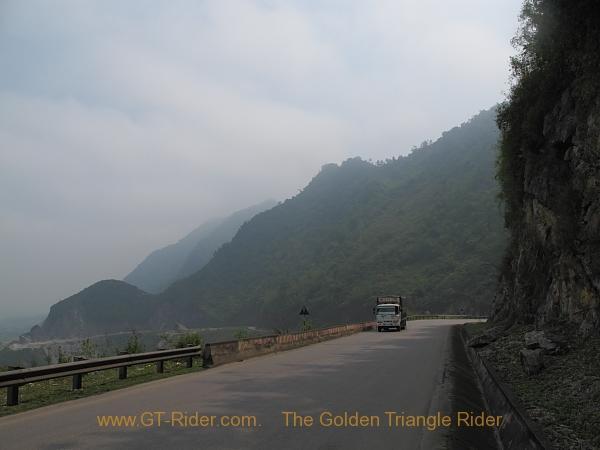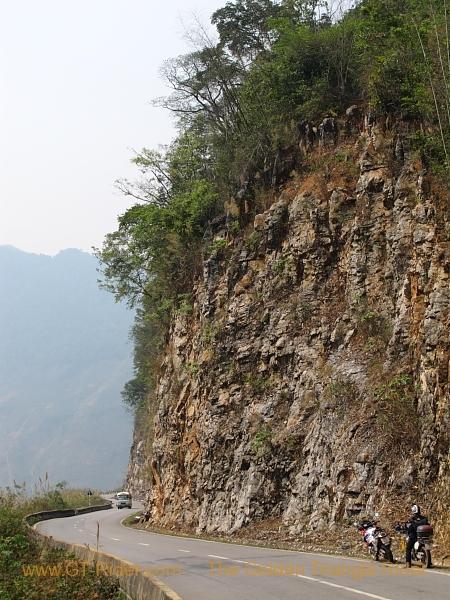 Don't fall over the edge now....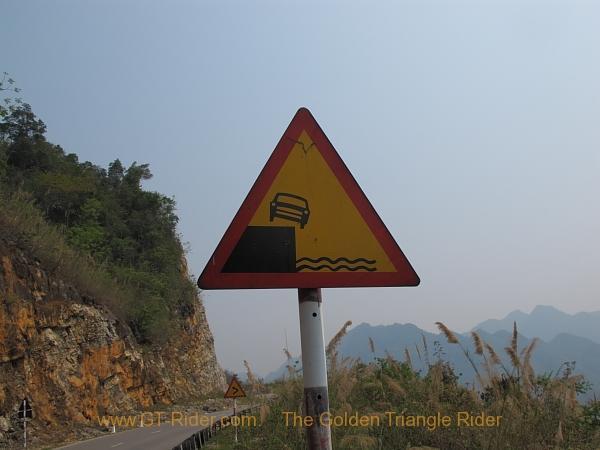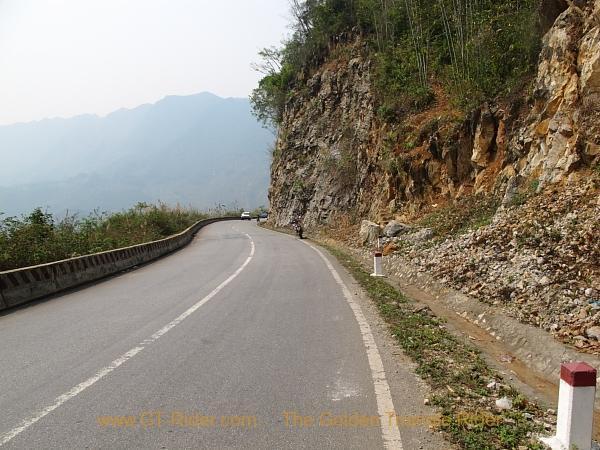 Mai Chau soon appears in the distance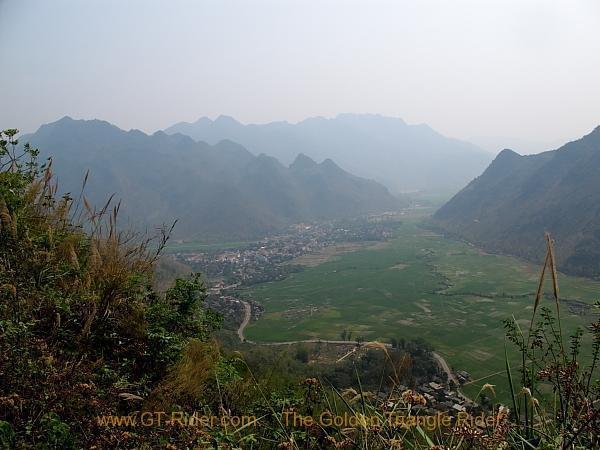 There's a road junction 6 kms out of Mai Chau, so Silverhawk & I decided to wait for Armin & Joe to catch up.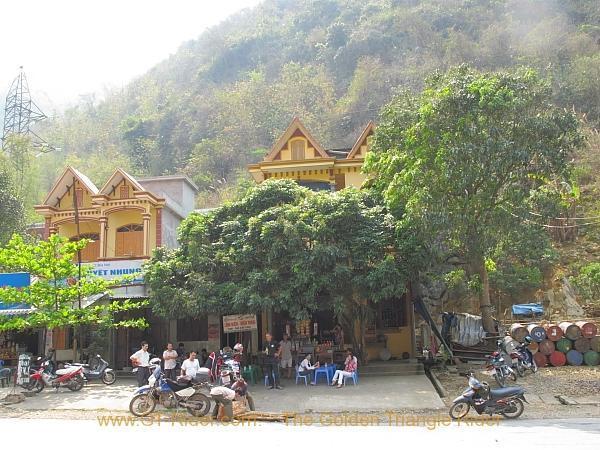 This proved to be an entertaining little stop, because we had no sooner parked & sat down, when the locals rolled a nice log out & placed it beside our bikes. :wtf: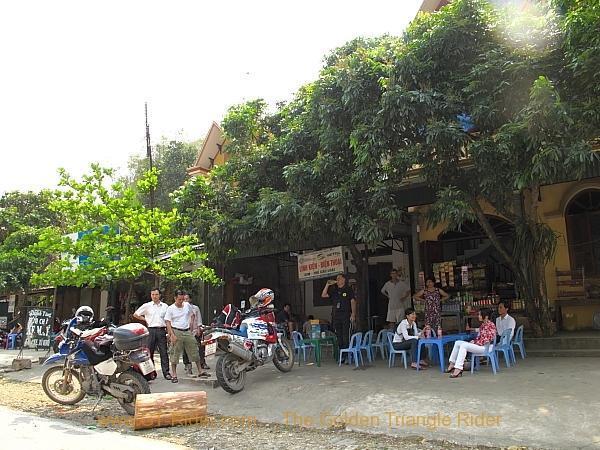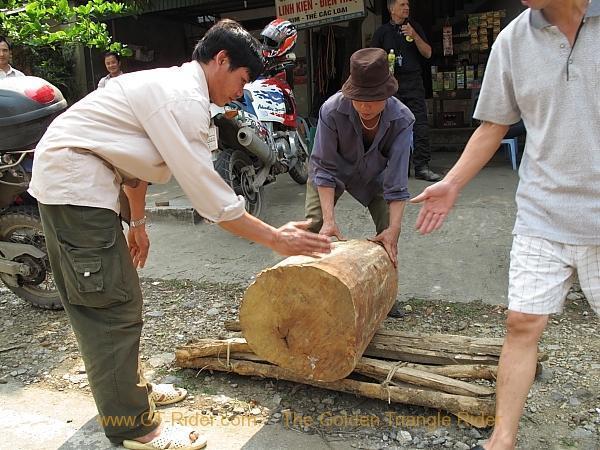 The proceeded to cut it up, roadside.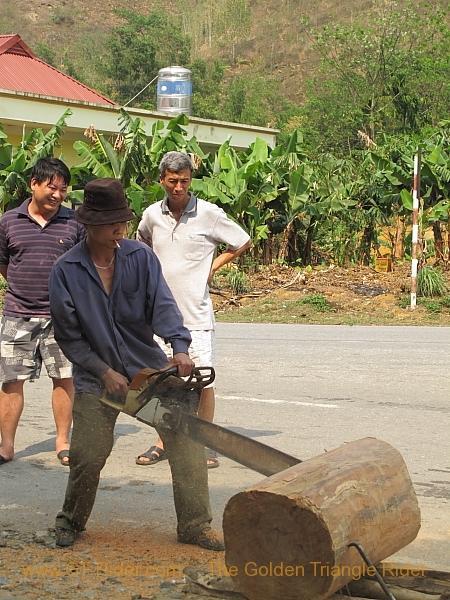 covering our bikes with sawdust & wood shavings.
Silverhawk wisely moved his bike, but I was so engrossed in the humorous activities that I neglected to move mine. Not a problem I thought, except that I had both my jacket & helmet sitting on the bike.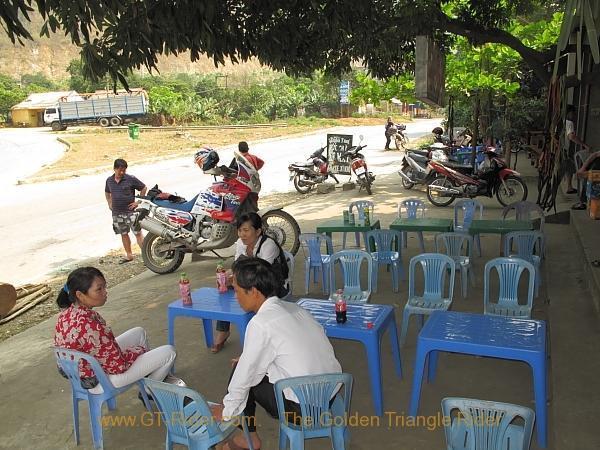 It took me a good 10 minutes to get all the junk out of jacket & helmet.
These ladies thought it was all very funny too!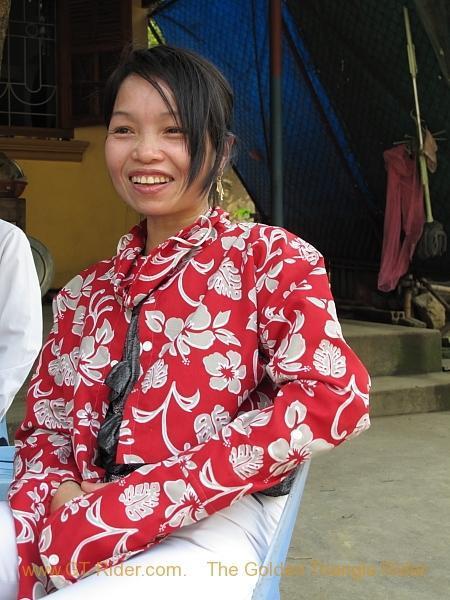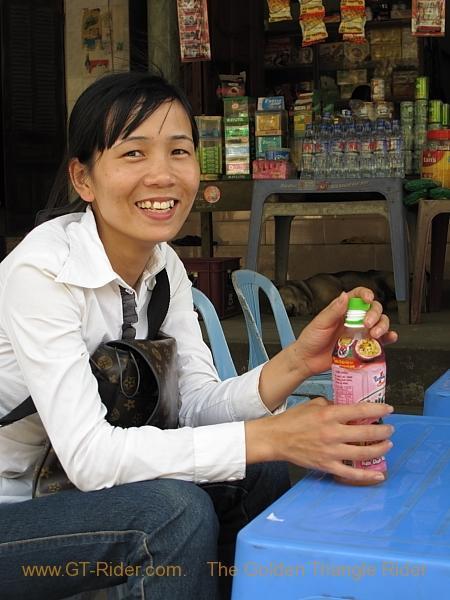 Glorious Mai Chau beckoned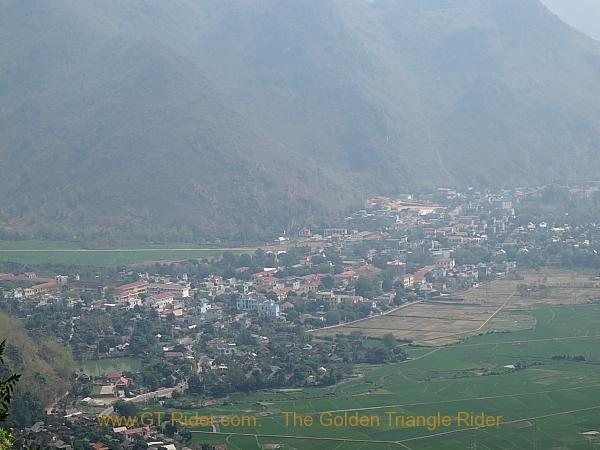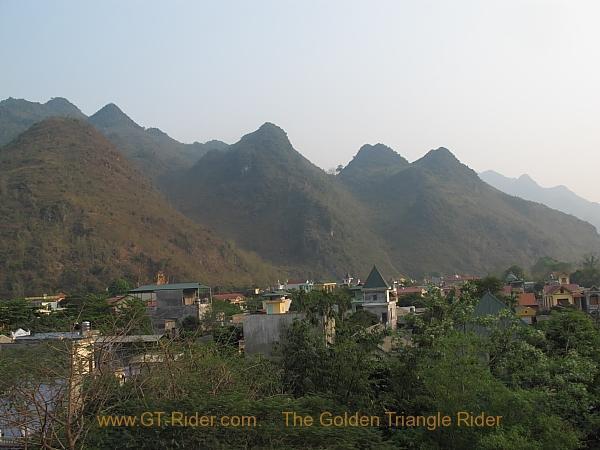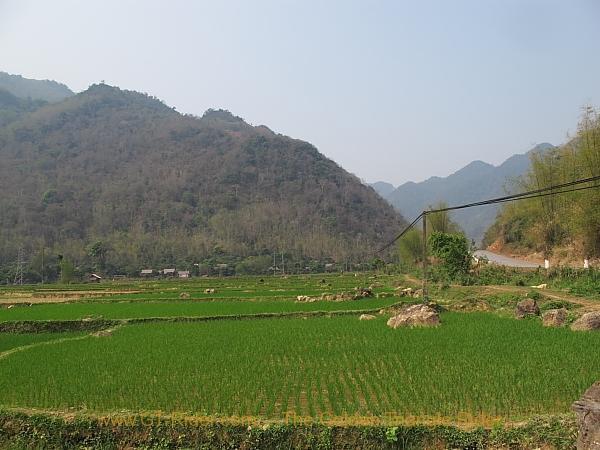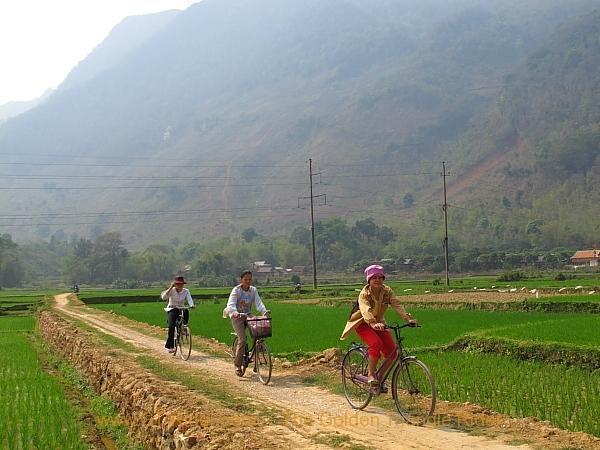 Joe & Armin caught up so we regrouped, & waited in the main street for the service vehicle to arrive.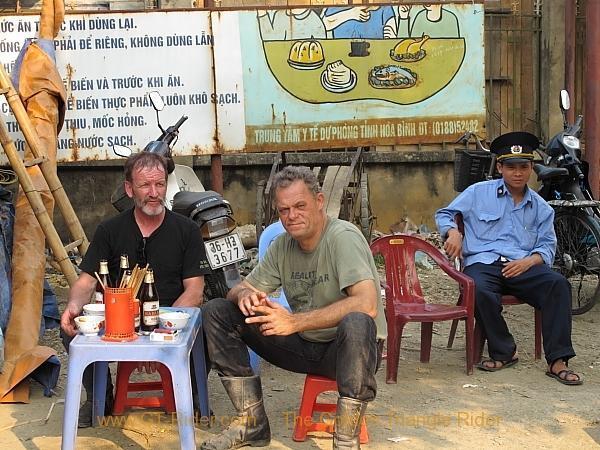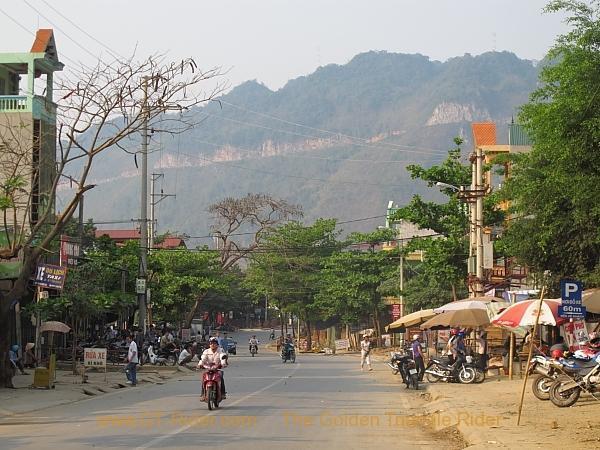 The bus came & dumped off a load of cargo in the middle of the street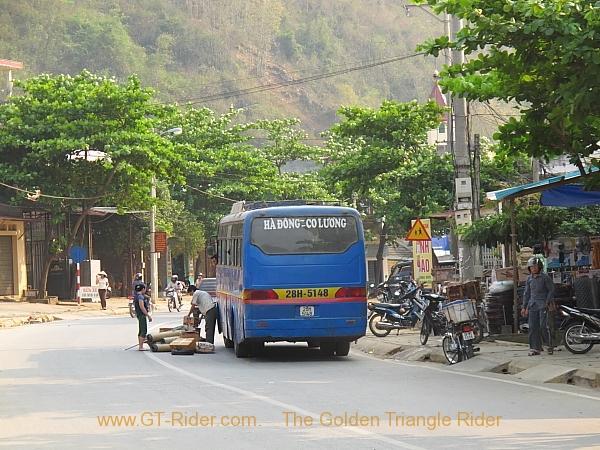 and drove off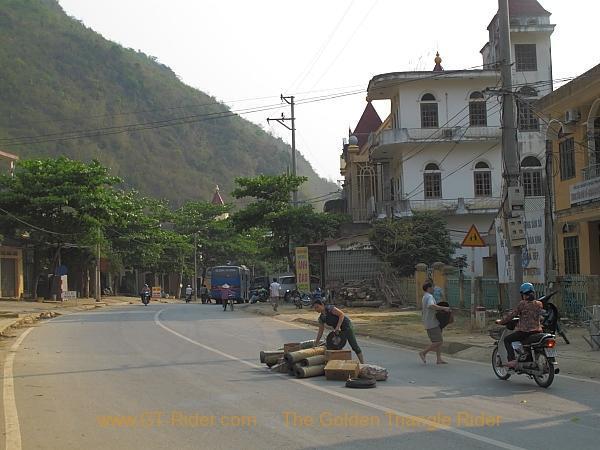 it was a busy town!
The back-up vehicle was still not there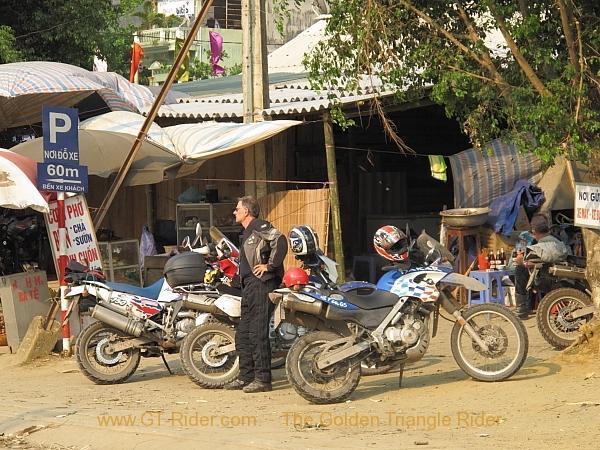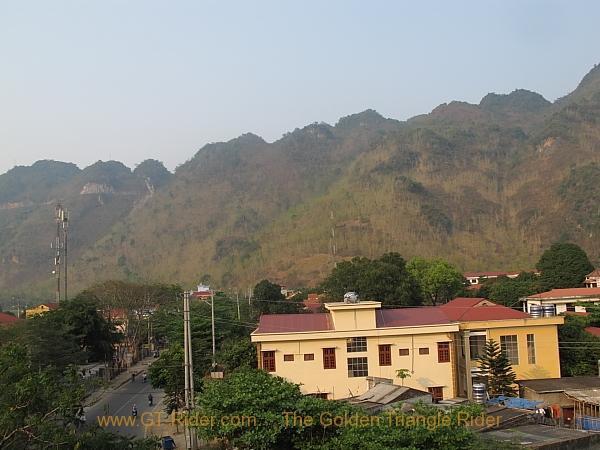 So I headed off into the market for some happy snaps.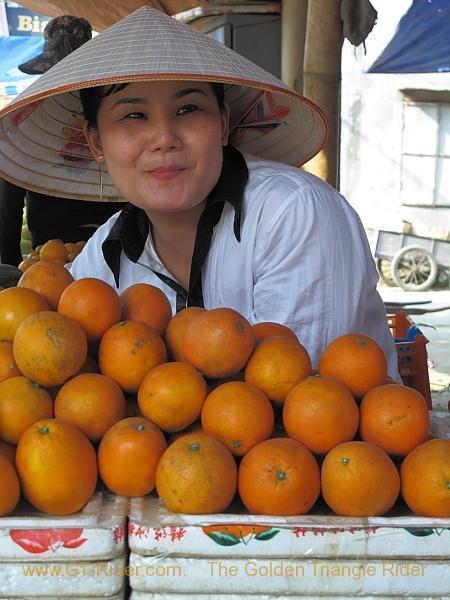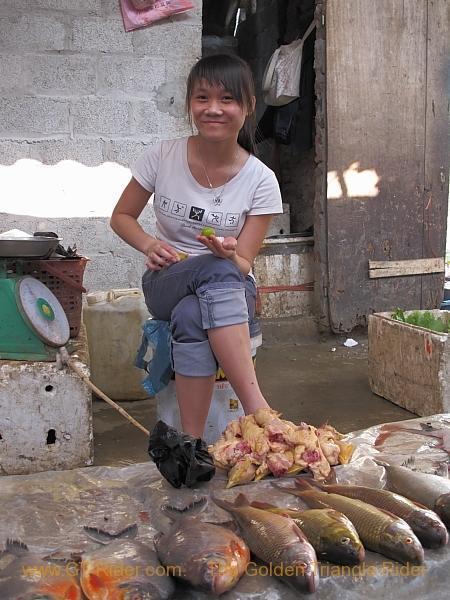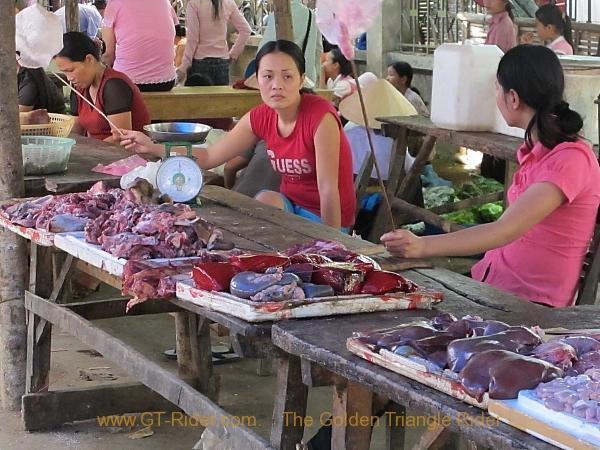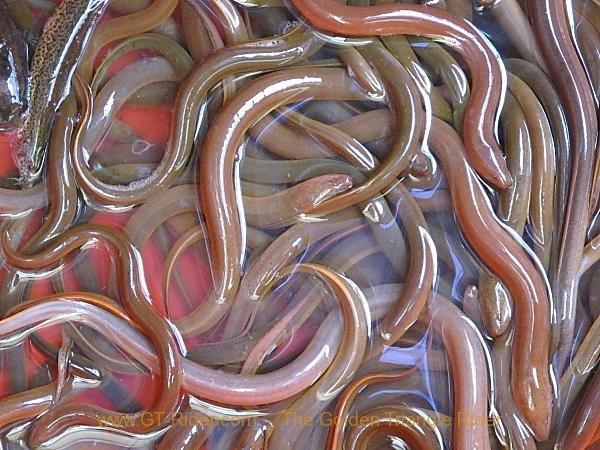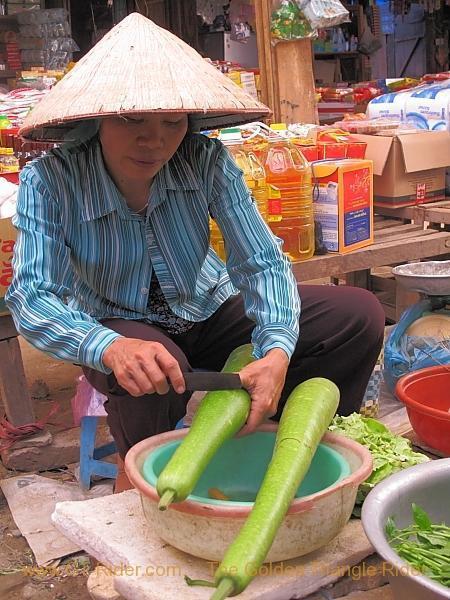 The boys in khaki were busy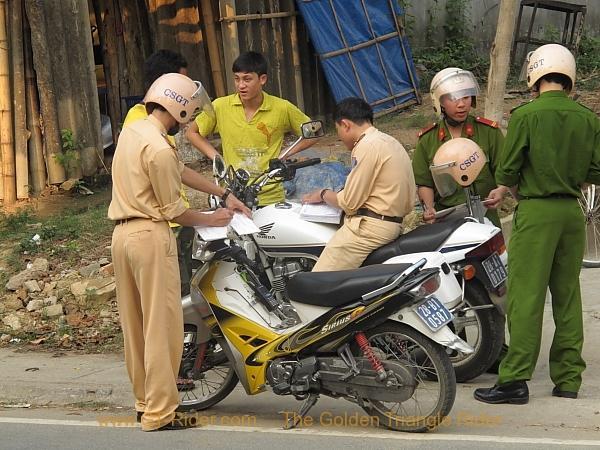 no helmet. Bike impounded & carried off to the police station. 3 infringement notices issued with the fine paid at the police station. No on the spot payments. T-o-u-g-h - don't get caught. No negotiation. Bike seized & off to the police station you go!
The other side of town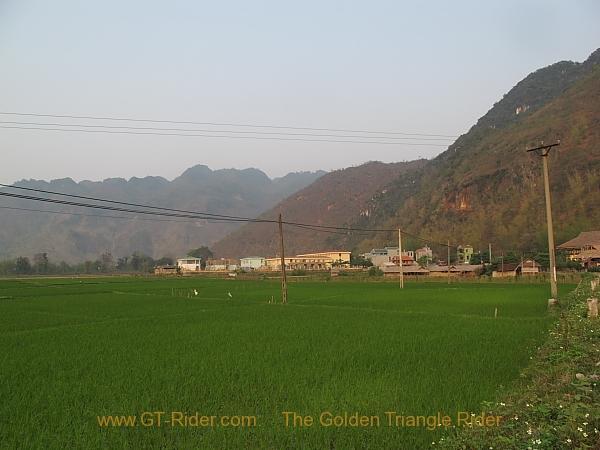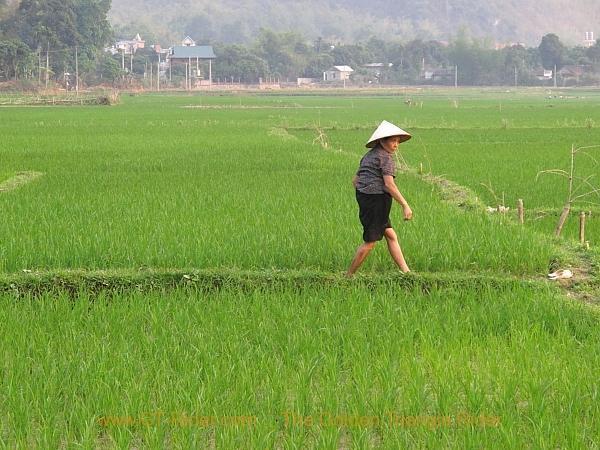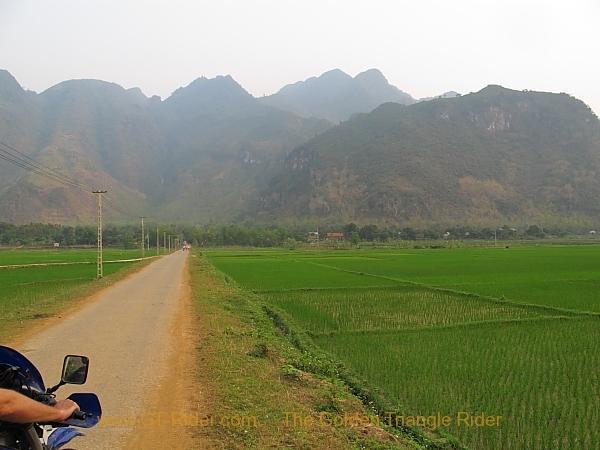 Hotel for the night in Mai Chau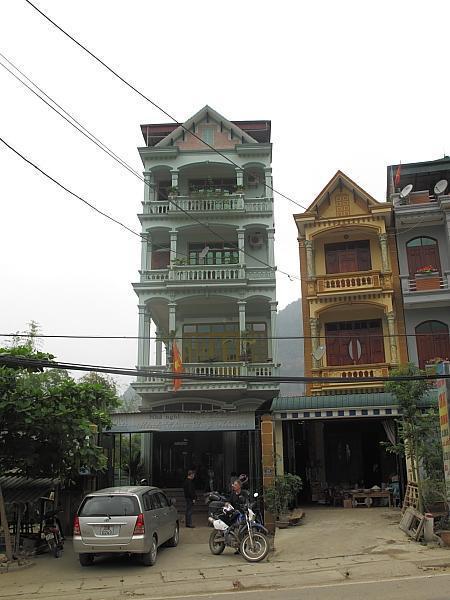 The room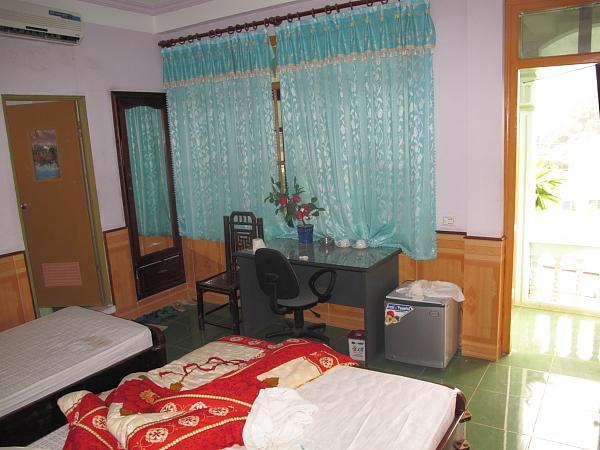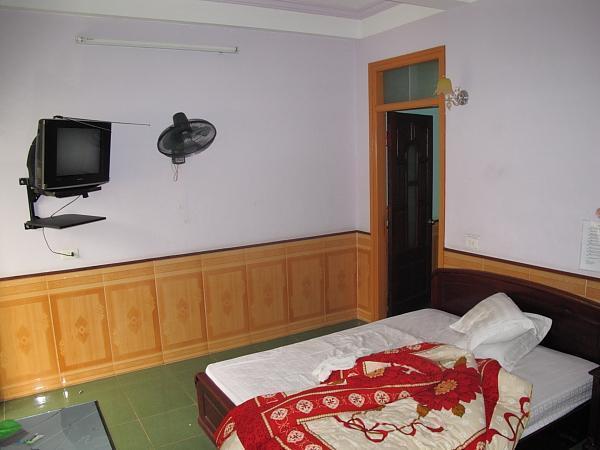 And dinner from a fabulous cook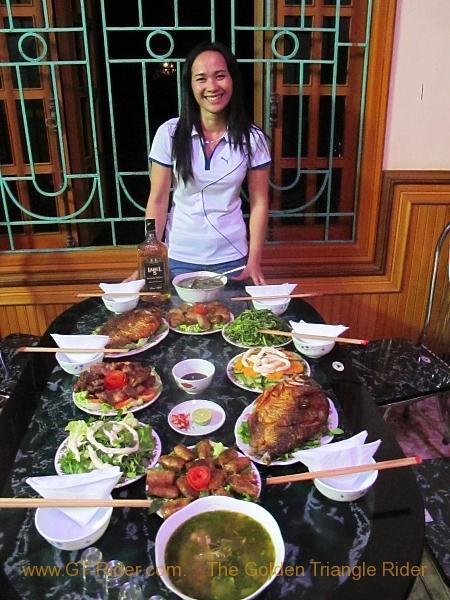 Profile Hanoi -Mai Chau
Distance = 135 kms. We left Hanoi at 10.00AM & arrived in Mai Chau at 2.30PM.
Last edited: