0
Staff member
Subscribed
Jan 16, 2003
13,841
4,802
113
69
MEKONG BOAT TRIP
Sailing the Khong from Houei Xai - Luang Prabang is a very popular tourist activity in Laos. These are usually a two day trips with a night in Pak Beng, a place that used to have a terrible reputation for a dump of a town on the banks of the Mekong. Pak Beng has improved a lot over the years, but if you're doing the Khong by boat then IMHO opinion the only way to go is with your own boat & in a day. Put your bikes on board & sail down the Khong in style, eating & drinking as you go. No phone calls & no emails to answer - a totally stress free relaxing day.
I've done it a few times before
Early Mekong Boat Trip
The Mekong Boat Lost Rider Trip
Losing my Laos Cherry...
Laos Expedition 2004
it had been a few years since the last one & with proposed dams for Pak Beng / Luang Prabang still on the cards I thought it's time for another one before it is all gone.
The Mekong is a magnificent river with amazing changes of scenery & riverside village life that has not changed for generations.
But you need to pick the right time to go.
1. Wet season is no good - too much water, with maybe rain & low cloud cover so you can't see anything. The problem with too much water is that the river floods to the muddy forest clad river banks & you don't see any of the amazing rocks & rapids on the river.
2. Cold season is not good because there is often too much fog on the river, making navigation slow & dangerous. With reduced day light hours & a slow speed you can't do Houei Xai - Luang Prabang safely in a day. It is a 2 day trip; & for me 2 days gets a bit boring.
3. Hot season sometimes there maybe not enough water & too much smoke again so you can't see anything.
So the optimum time to go is usually sometime in the last week of Feb - the first week of March.
And so it was.
Bungy, BrianBkk & TonyBkk have already submitted reports.
You can check out their reports here
Bangkok Weekend Warriors ride Laos ---- In style.
Laos, The Boat, Birds, Bikes and Booze trip!
Cruising the Mekong and Riding through Laos, February 2013
It was a ripper trip, not without a few hiccups, but still great fun & extremely enjoyable = let's do it again.
No need for a big boat trip report from me, as the other guys have written & photographed it beautifully.
So here's a few pix to keep it rolling.
The skippers wife praying to the spirits before the boat sets sail.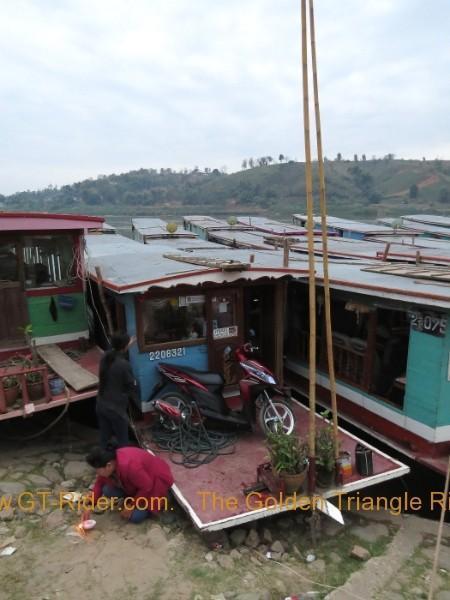 note the boat skippers daughter's Honda Click stowed on the bow.
The bike had just been in Chiang Rai for repairs, as it can't be serviced properly in LPQ they claim!
On one of my
early Mekong boat trips
, they tried to set off with the AT on the bow.
It looked like this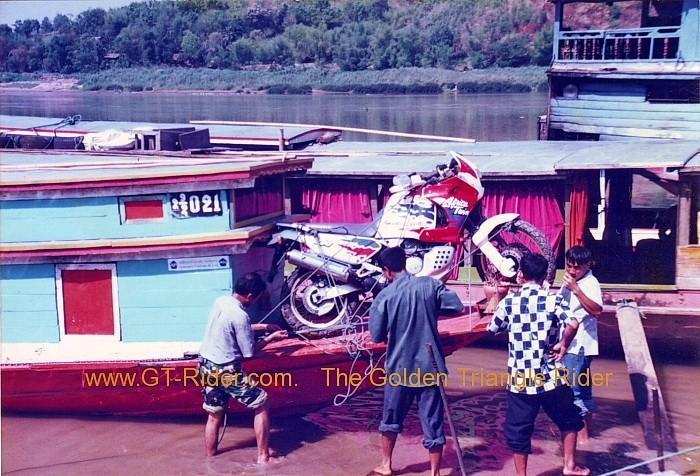 not a good idea & eventually we settled on this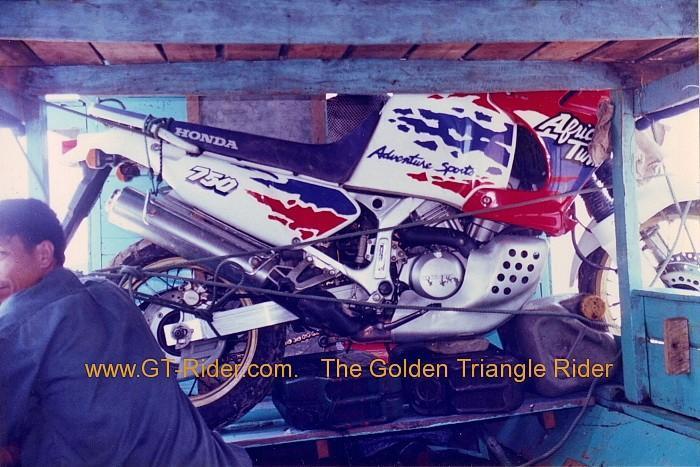 but now we've got it down pat & it looks like this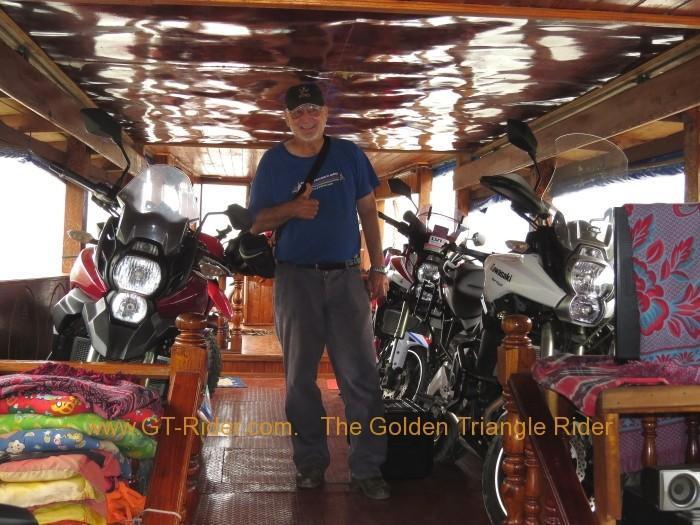 the boat can seat 40 people, but the plan always is to have less than 15 on board & not more thahn 10 bikes absolute max.
Anymore bikes or people & it gets crowded on the boat.
This trip was 8 bikes & 13 pax - pretty much perfect.
Early morning departure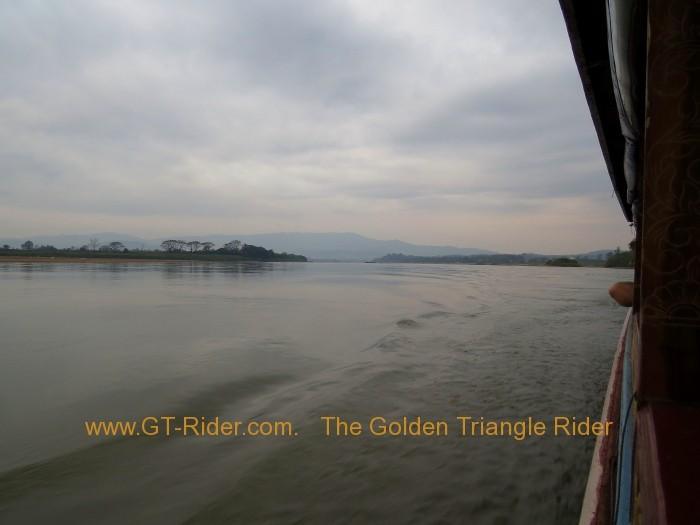 you haveto get away early - on time - at 7AM to beat some fog that comes around 9AM at some rapids downstream.
Don't get away early & you get caught in the fog, can't negotiate the rapids, & have to tie up to wait for the fog to clear.
Then there's the danger of not reaching LPQ before dark & having to sleep on the boat somewhere.
The new bridge at Chiang Khong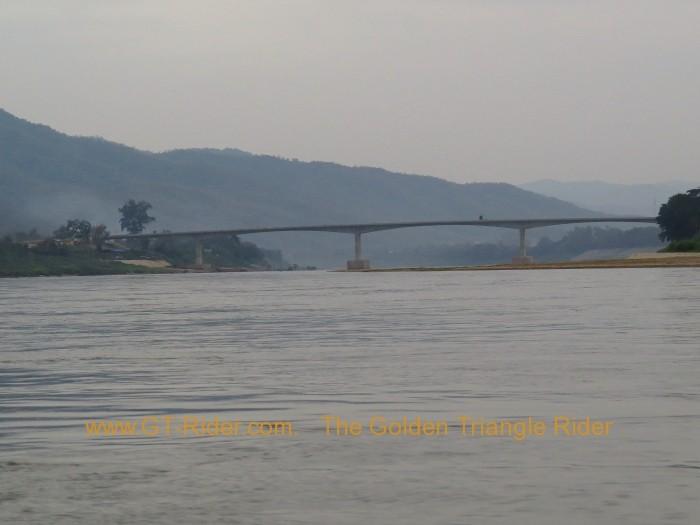 The viewpoint on R1155 overlooking the Khong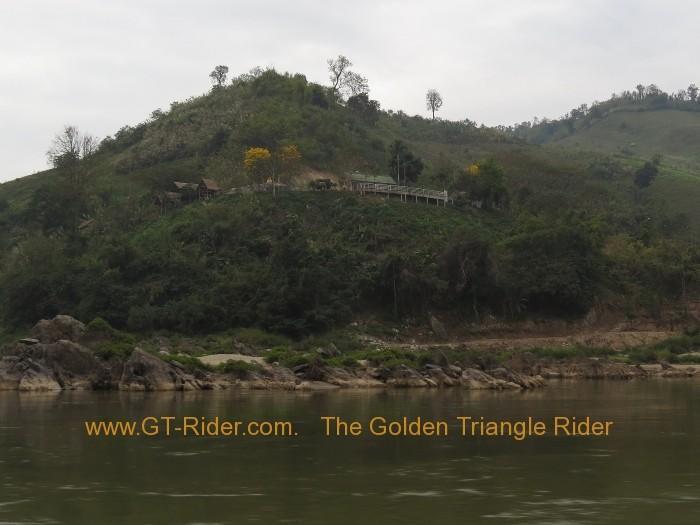 The pic with the Snail below was taken at the viewpoint just a few weeks earlier.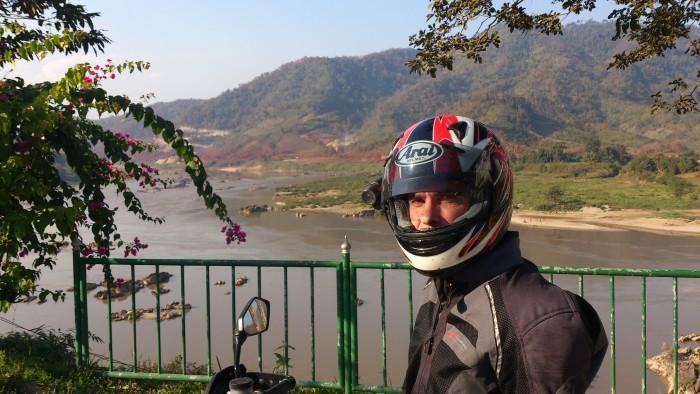 The boat stops at Pak Tha, to check in with the police, before carrying onto LPQ. You get to take a quick break here & take some pics on the rocks in the river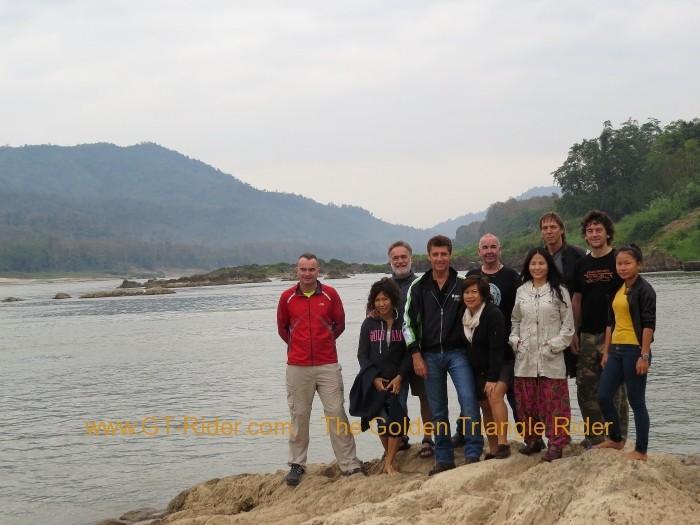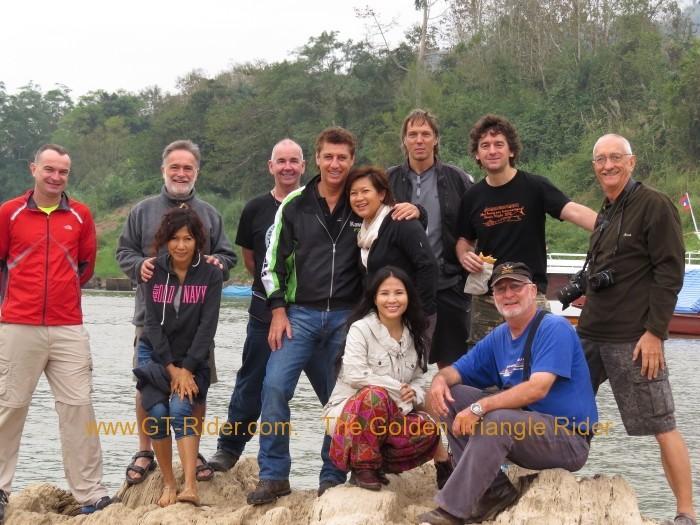 A happy Ambassador & Ambassador-ess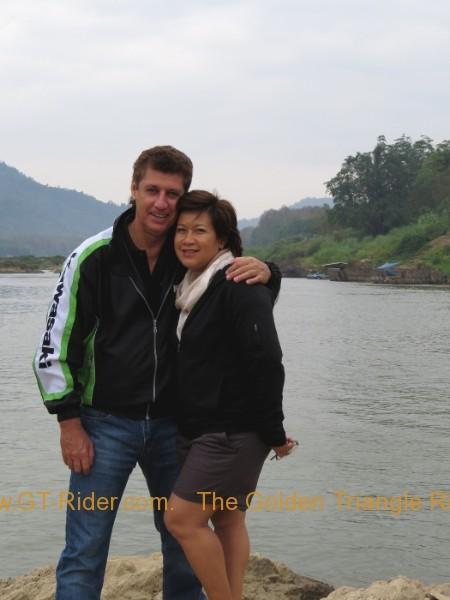 Last edited: