Also when the fuel quality gets better international, there are still areas where you will run into trouble when you use an Euro5 exhaust emission standard based car with an managed diesel particulate filter "DPF". But you can avoid these problems.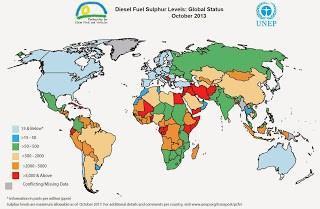 Here is an article about that topic. About people who had breakdowns because of this, about how they could solve their problems during their journey:
In german language:
4x4tripping: Moderne Euro5 Diesel-Fahrzeuge auf Weltreisen
In english:
4x4tripping: Using an Euro5 Diesel car for an worldtrip
Better you prepare your car before your journey, if you plan to use such an modern car...
Safe journeys!
4x4tripping