Not every plan turns out golden and I have a fair few regrets on this ride, but none-the-less I have no regrets about setting off on the ride itself. If I were to wind back the clock, I would have planned the route very differently. Hiccups in timing and various factors on the ride turned the planning on it's head. These things are always a learning experience though, so it is what it is.
I had been dormant for a while riding-wise, after my
trip to Laos
, due to many commitments. With just a couple of short day-rides since Laos I was desperate for a "proper" ride.
I had my heart set on getting to
Wat Prathat Phasornkaew
in the Phetchabun mountain range, so that's where I decided to head to come rain or shine..
and rain it did (for one solid day!)
FULL ROUTE TAKEN (part 1 & Part 2)
A better Route I should have taken (part 1 and part 2)
Approx 1100km. August 29th – September 2nd, Rainy Season.


Or even something like this on day 4 instead : (map link)
Day 1: Covering ground Chiang Mai to Phrae (Google Map Link)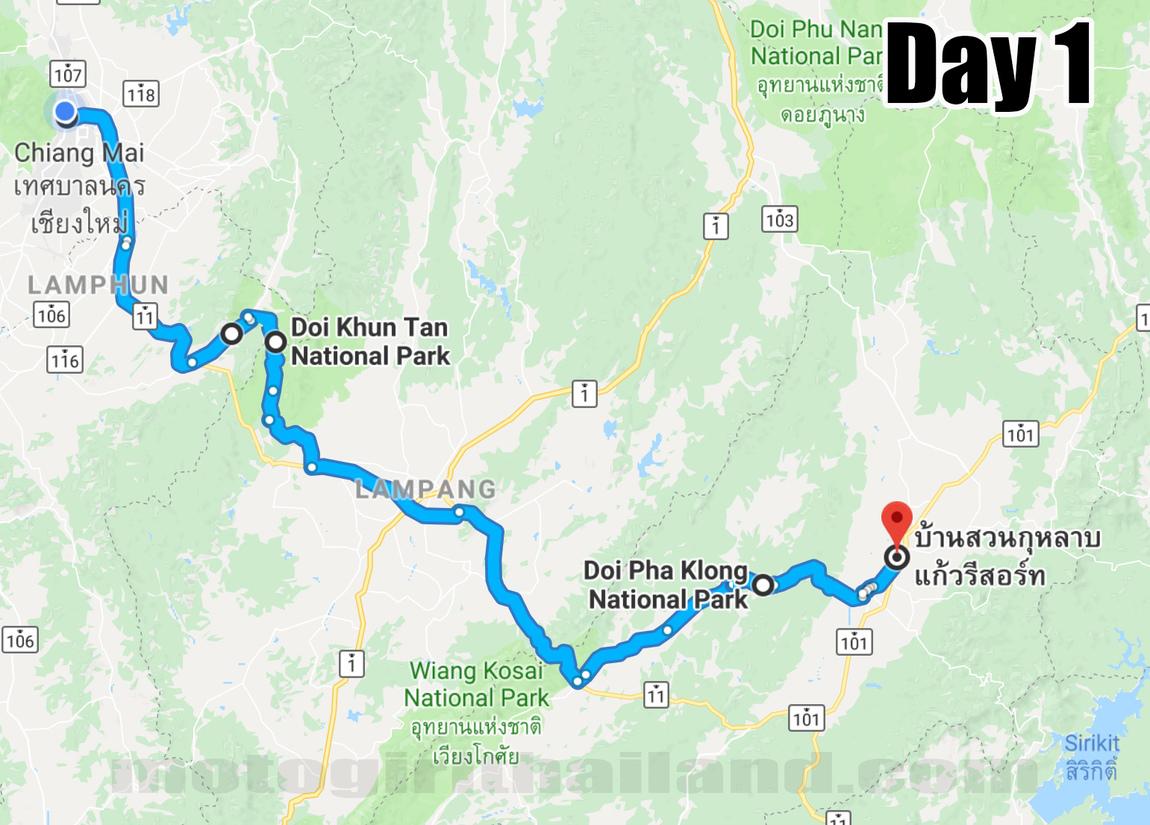 On day one I needed to cover ground fast, so took the main R11 down to
Ban Mae Khaem intersection
(so much dusty road works here!)
then took a right onto the 1023 to escape the main traffic route.
On the first leg of the journey I broke up the long highway ride by stopping in at
The White Bridge
railway bridge and then rode through
Khun Tan National Park
area.
(A write up on this area is in my other trip report HERE).

Stopped in at
The White Bridge Camping
coffee shop, just along from the White Bridge. Great coffee and a nice view. You can also do "glamping" here, if you want!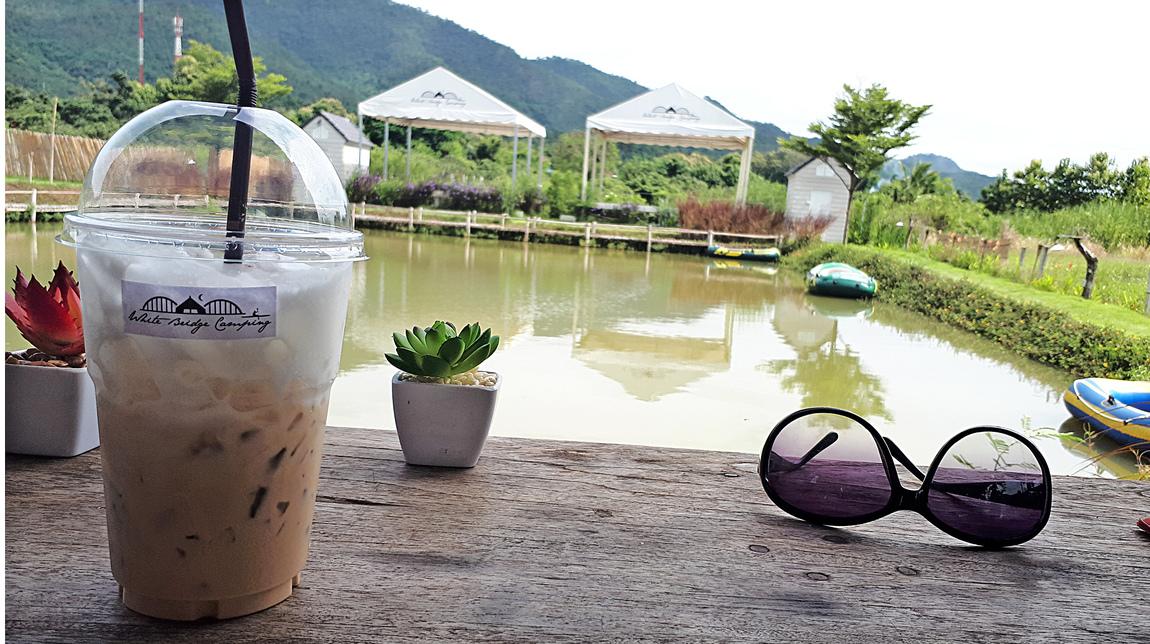 I headed back on the R11 and saw an interesting coffee shop en-route (
Duomo Cafe
), so stopped in. For some odd reason though it was closed, even though the opening hours on the door stated it should be open. No idea what was going on, so instead I sat inside the bus on the grounds and ate some snacks. Would be nice to visit it some time when it is open.

After that I continued along the R11 then turned left onto the 1023 at
Ban Mae Khaem.
After approx 50kms I arrived at
Doi Pha Klong National Park
, where I stopped in for a quick visit. Turned out to be an interesting national park
(you can get into the rock garden section for free, but the national park is 100 baht entry into the main section)
.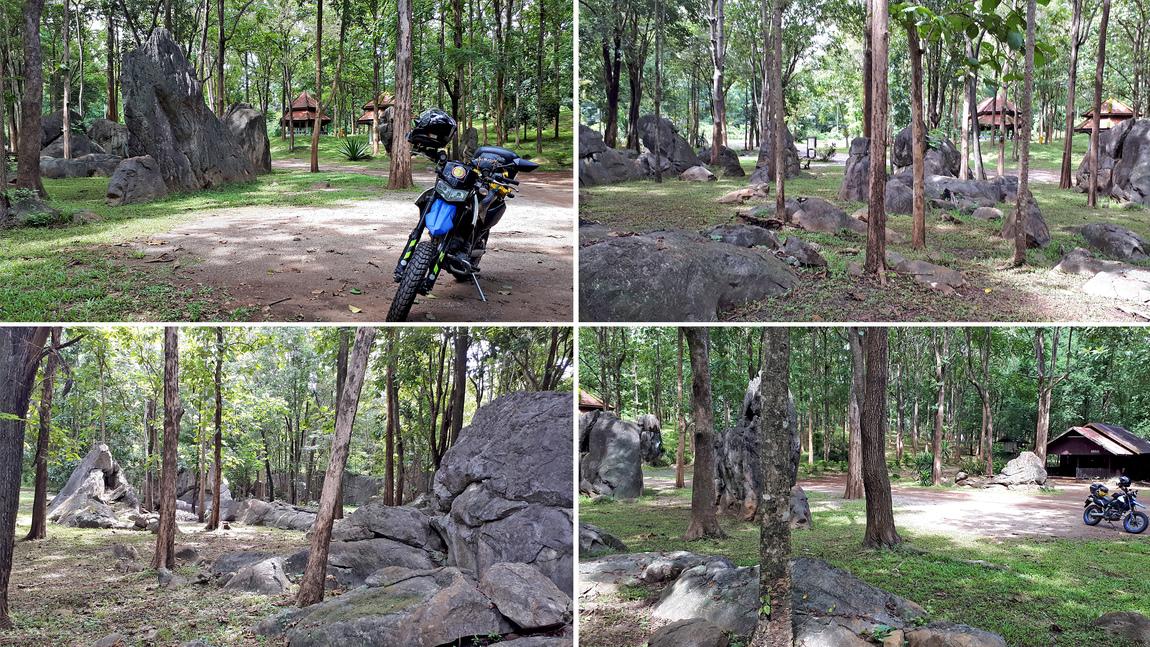 Doi Pha Klong National Park is the origin of many canals that flows into Yom River within an area of 112,500 rai. The park consists of mountainous landscapes and cliffs. More info on this interesting park that I have yet to visit properly
HERE
.
After the national park it was a steady ride through the outskirts of Phrae to the accommodation I found online.
บ้านสวนกุหลาบแก้วรีสอร์ท.
A nice small resort of bungalows next to a scenic rice paddy view
(400 baht).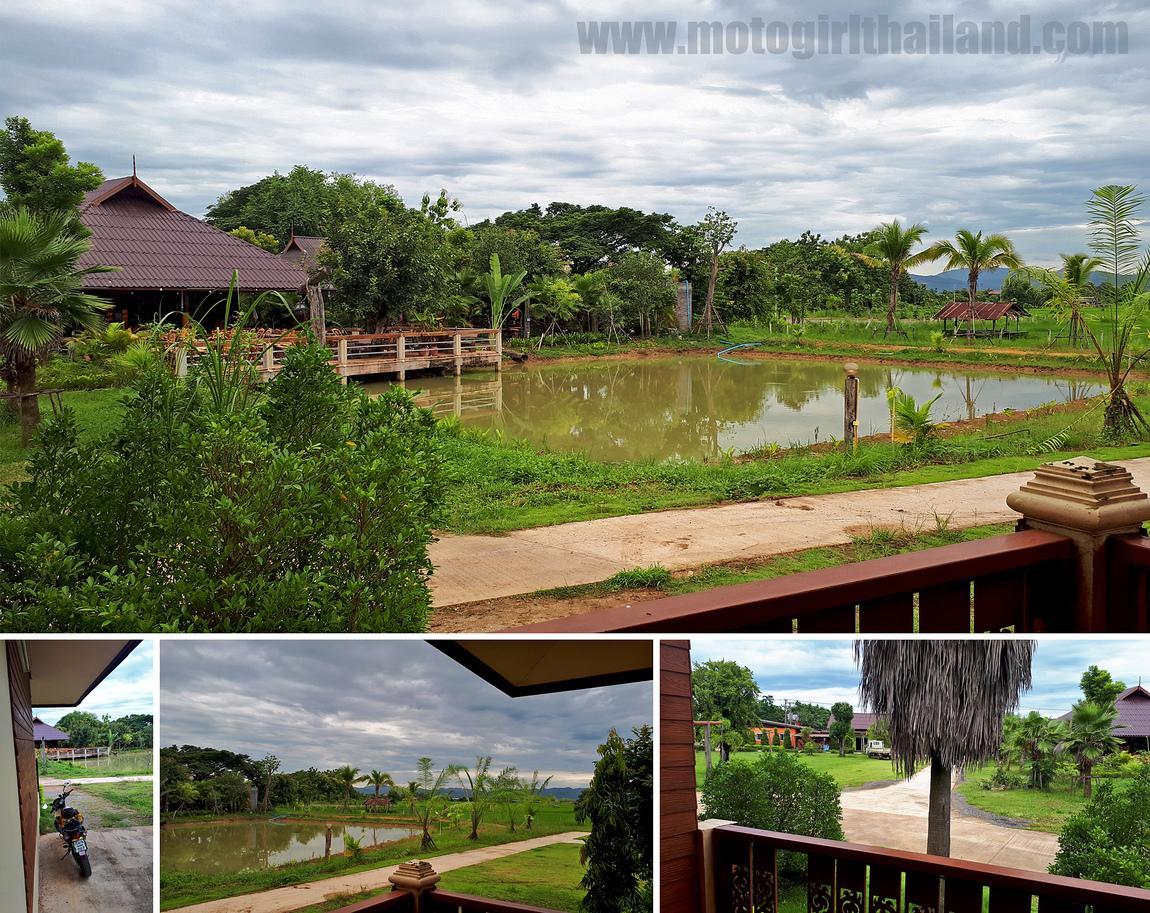 There was also a really nice
restaurant
on site, so was a perfect rest spot.
(Apologies for half-demolished food. I was so hungry I forgot to photo prior to eating!)
The price for a large single bungalow at this time (off-season) was only 400 baht. I ate very well that evening and headed to bed early.
Day 2: Phrae to Nam Pat – Map Link: (plan B route) (Plan A route)

In the morning I looked out across a beautiful view but had a distinct feeling in the air that rain was on it's way, which was not good for my plan A route.
Route A would take me to Queen Sirikit Dam where I would need to cross over on a small ferry and then ride up the clay steepish embankment at the opposite side. This could be a bad idea if it rained heavily, as it may mean the dam might be too high for crossing and that the embankment climb on the opposite side would be very wet and slippery (you can read about this route in my previous trip report HERE). I decided to play it by ear for a bit and see if it was worth carrying on along the Plan A route or take the rather boring plan b route instead.
After a quick coffee break at
ร้านกาแฟคุณหมอ
I checked out and headed out to
Phae Mueang Phi Forest Park.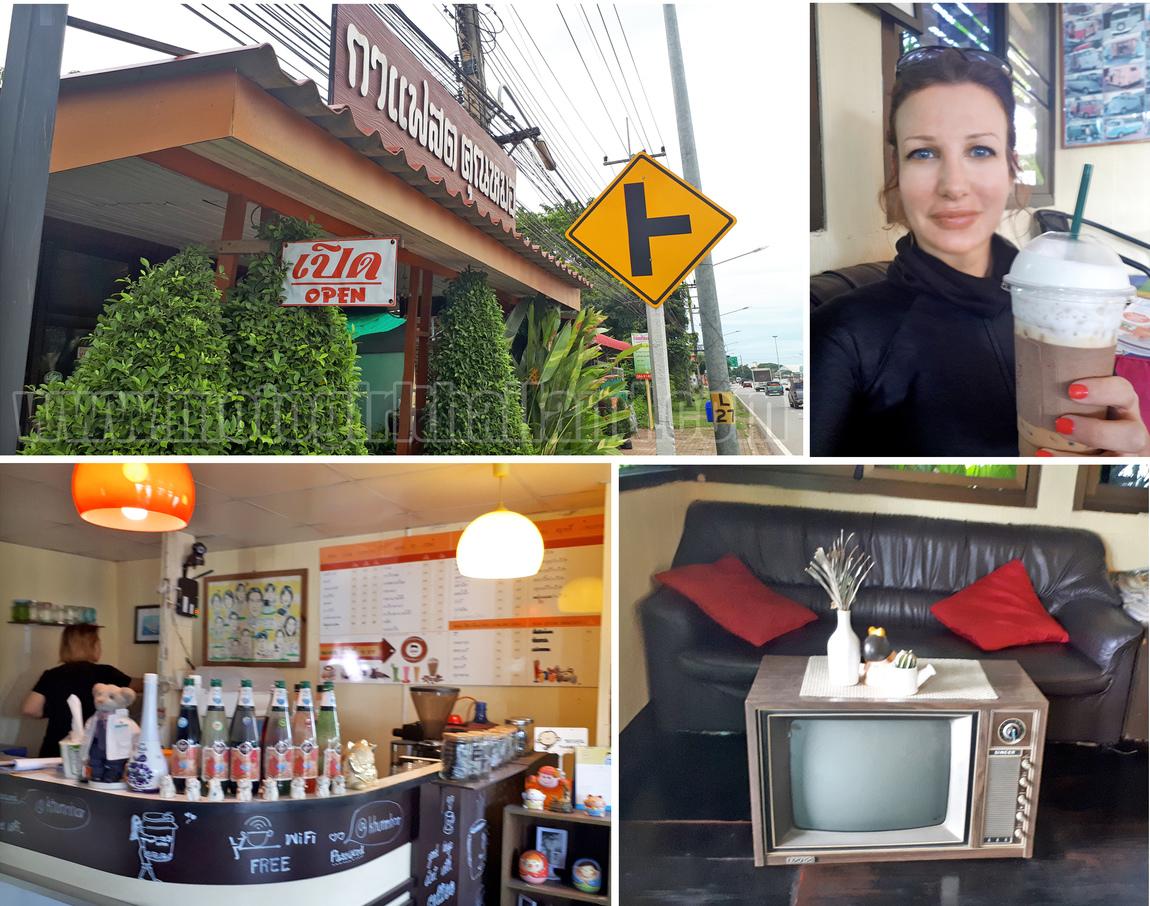 No day can start right without coffee!
Phae Mueang Phi
is an interesting national park in which the natural erosion of sandstone has formed various unusual shapes.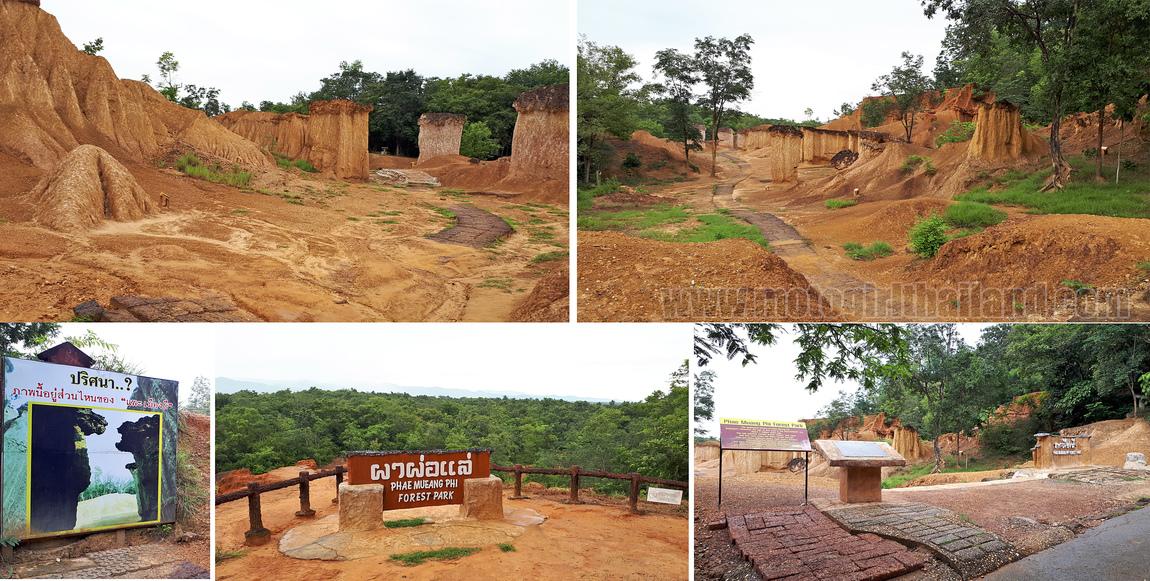 Some nice walking trails around there too and some great little restaurants.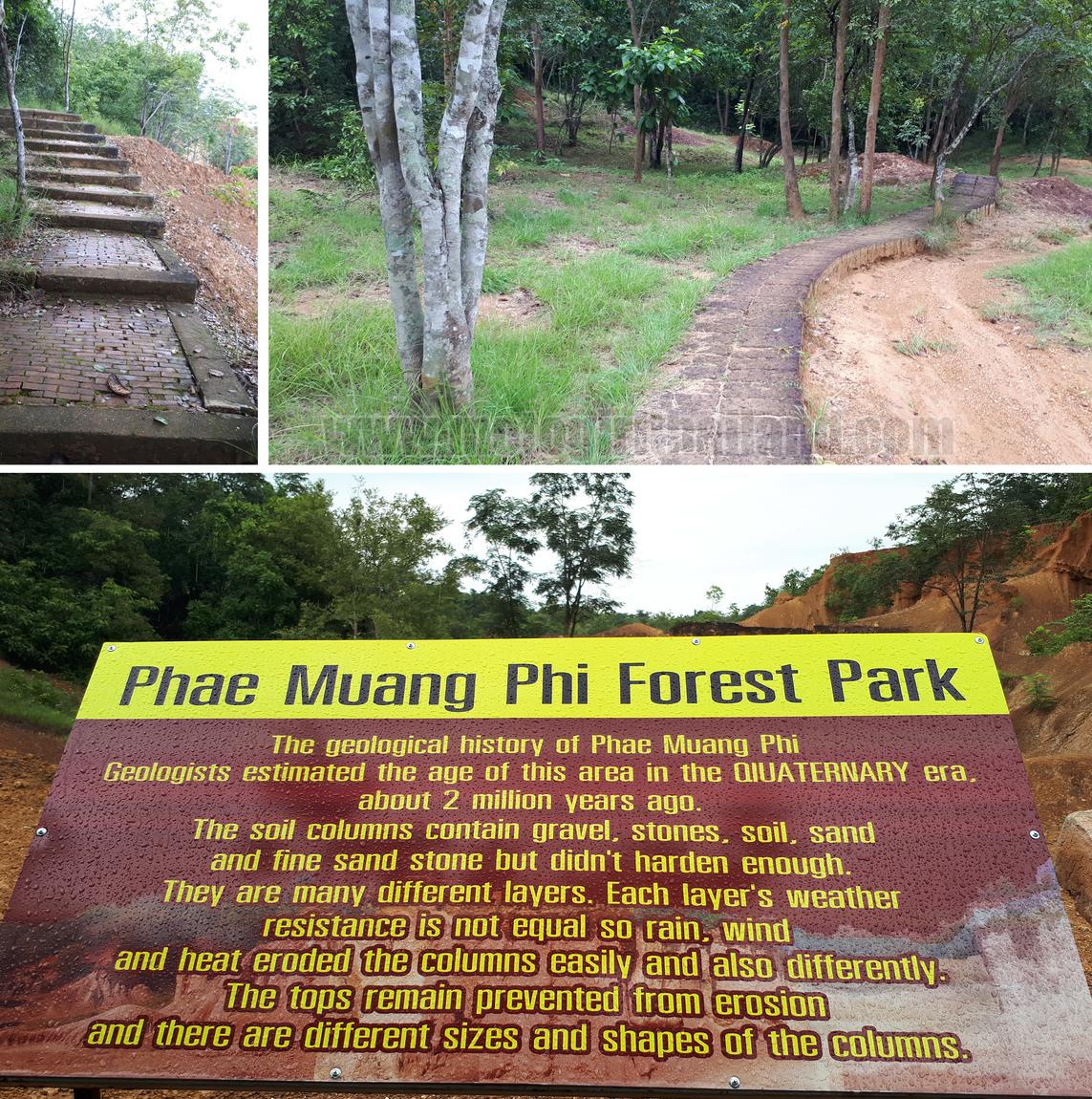 I ate a very fresh and tasty Somtam Thai and a couple of local dogs had a nice big piece of barbecued chicken to dine on by my side. More info on this park
HERE.

..and then the heavens opened
.
On this day the Weather Gods Hated Me…!
As I was walking through the forest park the heavens began opening up and the rains came..getting steadily heavier and heavier. Drat! It wasn't letting up and now it looked like boring plan b needed to be executed after all.
I put on my rain gear and then a VERY wet ride took place for me. I had hoped it would let up, but it didn't
(well it did for a short spell and I removed my wet weather gear, only to get rain on again and drenched!).
Had to pull over a few times when it became excessively heavy. Thank goodness for little shelters along rice paddy fields!

En-route I spotted a few vehicles that had rolled and also one vehicle that was hanging slightly off the side of the mountain cliff with policeman and people trying to prise it back onto the road.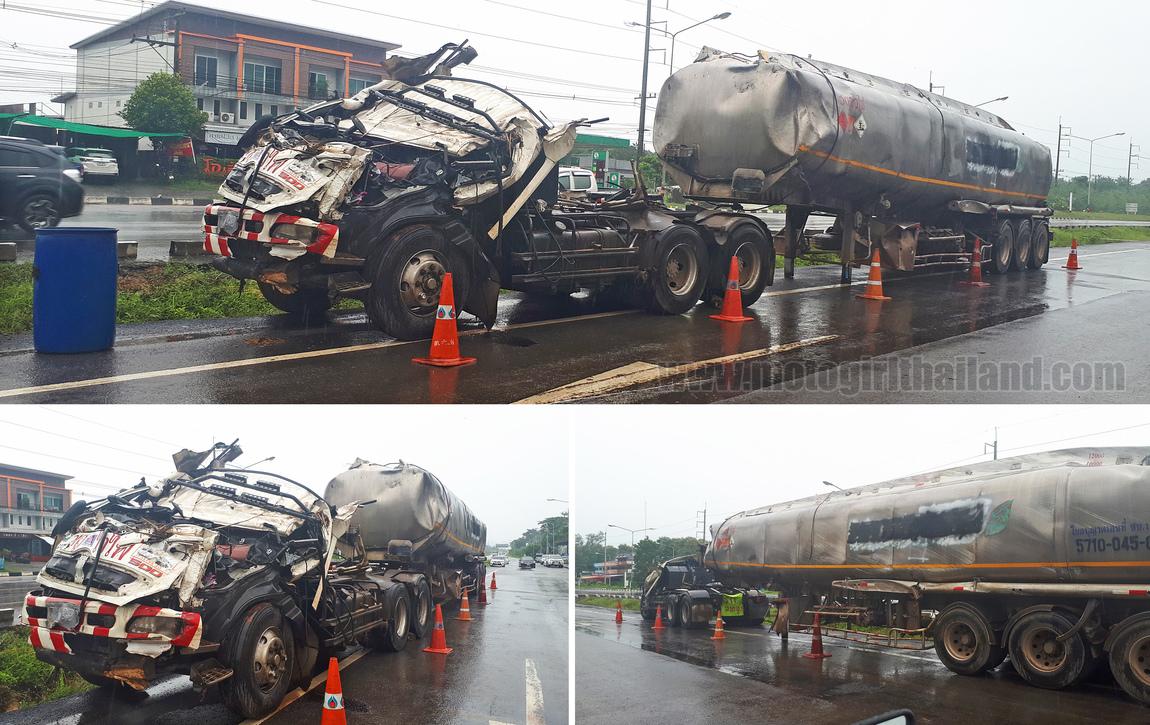 By the time I had arrived at my accommodation
(Takayai Resort 2)
(450 baht)
in Nam Pat I was drenched wet and feeling very cold.
(I have wet weather gear but initially I didn't have it on and most rain gear would have trouble withstanding that level of rain).
As I cleaned up I felt apprehensive and concerned about the next days ride. Not such a good feeling and caused a restless sleep. I ate well at
ร้านอาหารกังสดาล
restaurant though and attempted to keep a positive mind.

I also hoped that my gear would dry out in time for the next day…
Day 3: Nam Pat to Khao Kho (Google Map link)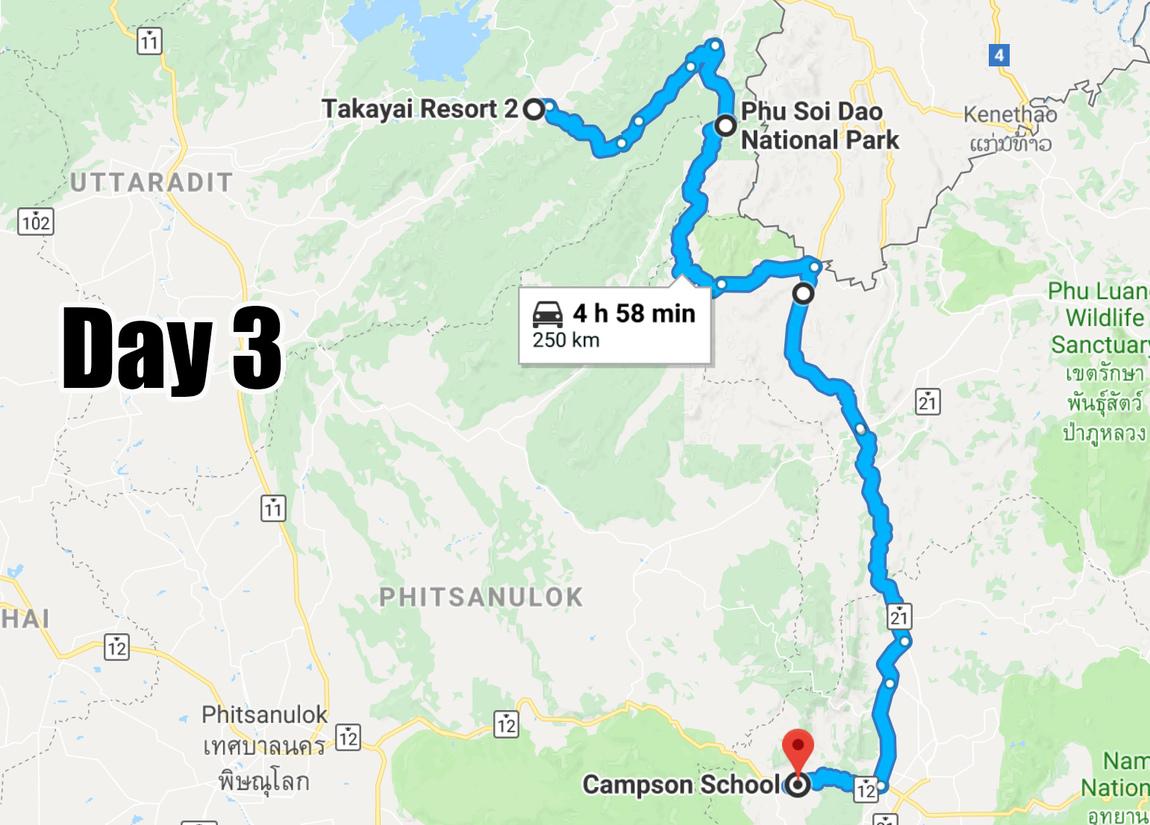 Finally a fantastic day of riding! The whole ride should have been more like this day, but sadly was not. Day 2 was out of my control due to the weather, but Day 4 was unnecessarily messed up, which I have regrets about. No matter…cant do anything about that now.
A fantastic ride and the weather gods were kind!
Woke up to dry weather but a little concerned about my Forma Adventure boots! No matter, I knew i had cable ties and electrical tape if there were any issues.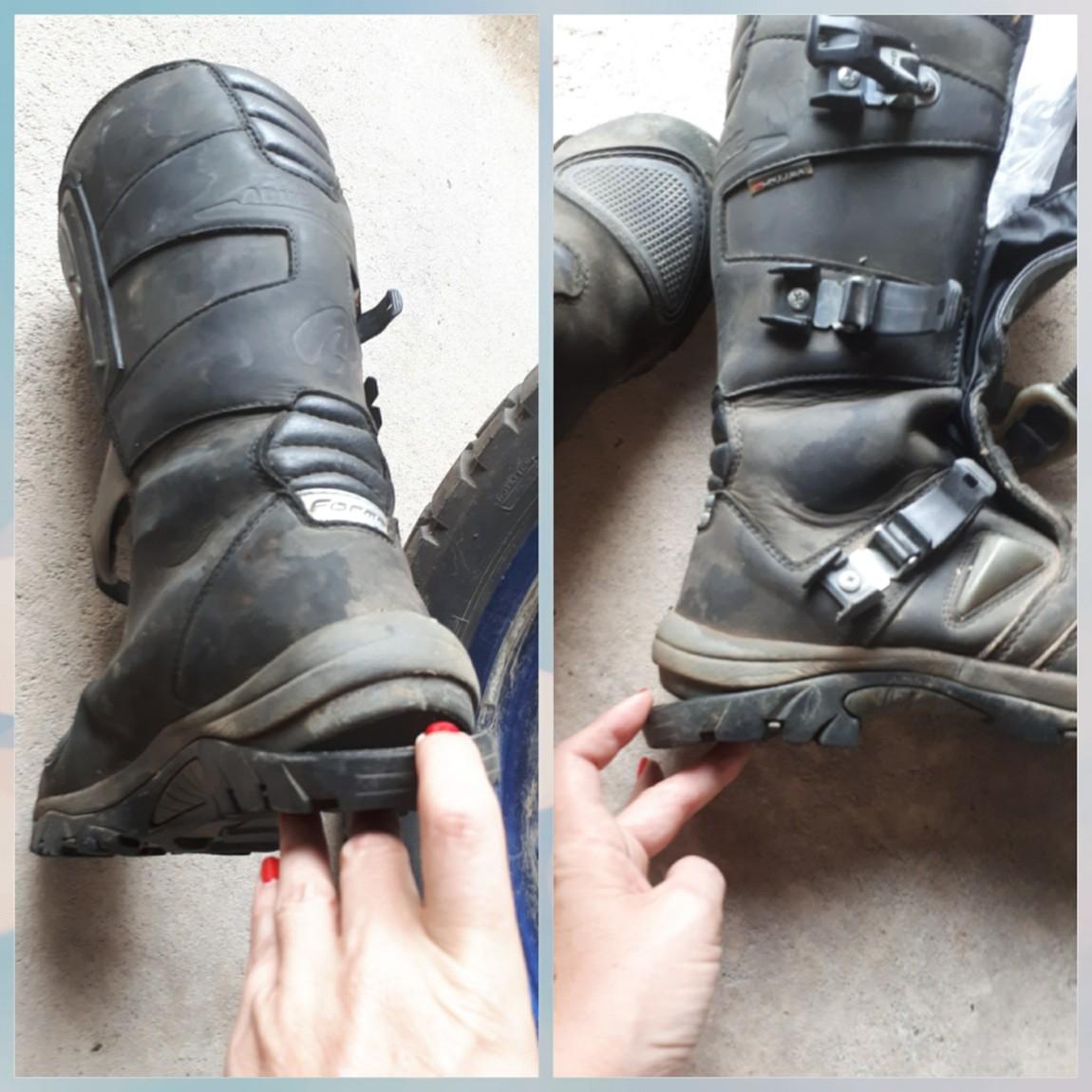 The ride took me into the pineapple region of Nam Pat and along the Thai/Laos border mountains. I stopped in at
Phu Soi Dao Waterfall
for a simple lunch and then carried along the border route on the non-stop twisties that seem to go on for forever
(in the best possible way!)
.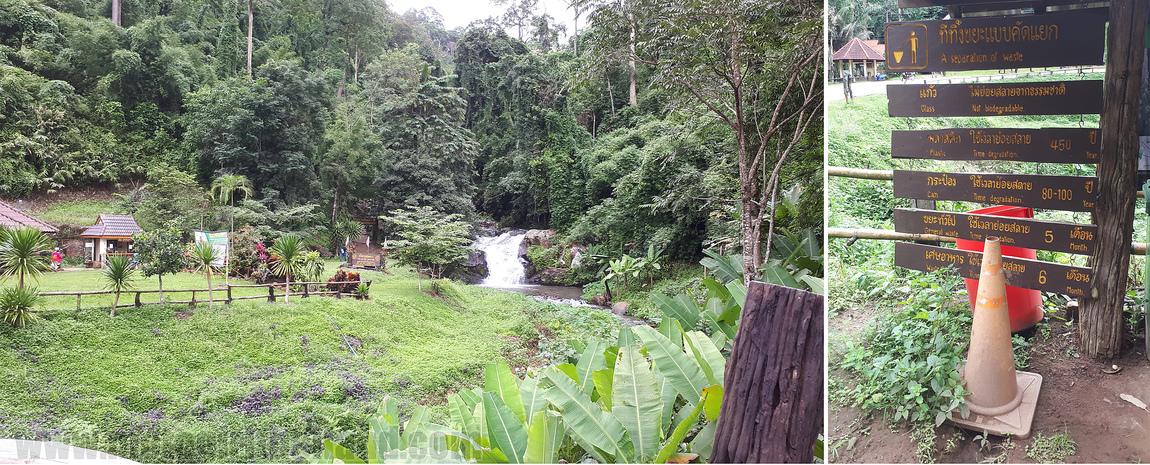 The border control checkpoint police also came to have a chat with me and wished me good luck for my journey.
At a small scenic town (
Saeng Pha
),I stopped to eat a snack and spotted this public fitness area. I thought it might make a funny video so enlisted a poor victim to record it.
I always feel sorry for the poor victim I ask to take a photo or video for me..haha!
Also spotted this interesting vehicle in the same town too.
Once i hit the intersection at Na Haeo I took a left onto the R2113 and carried on south, stopping at
Dan Sai
for a coffee break.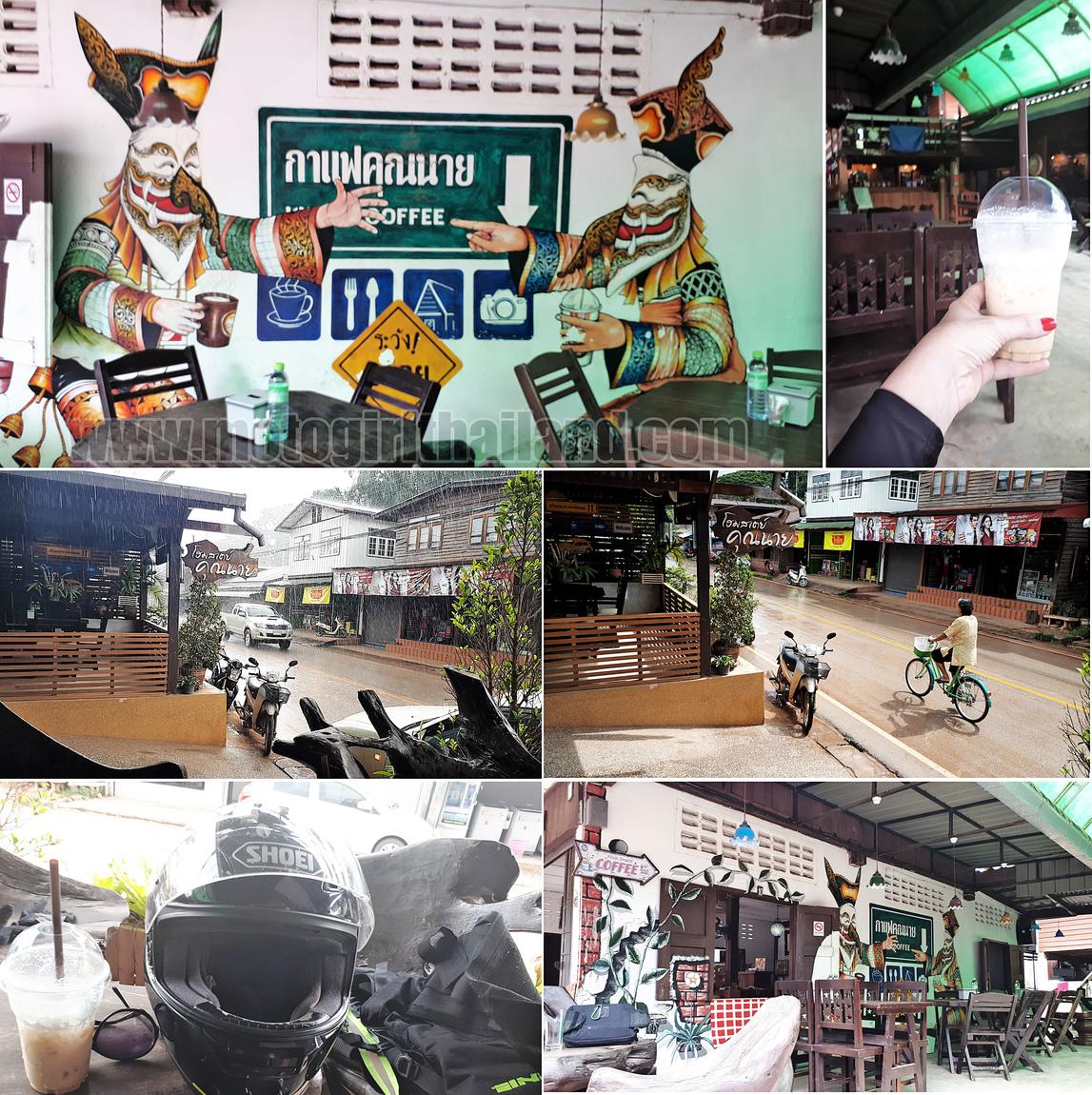 I enjoyed a really nice coffee at a place opposite from
Chu.a.pa cafe
and it was good timing, because it began to rain hard for a short spell.
As I was getting ready to leave I noticed three gorgeous little tabby cats at the shop across the road. As a self-confessed Crazy Cat Lady I had to go to see them.
On the outskirts of Dan Sai I stopped at the viewpoint. Some fantastic statues are along this viewpoint also.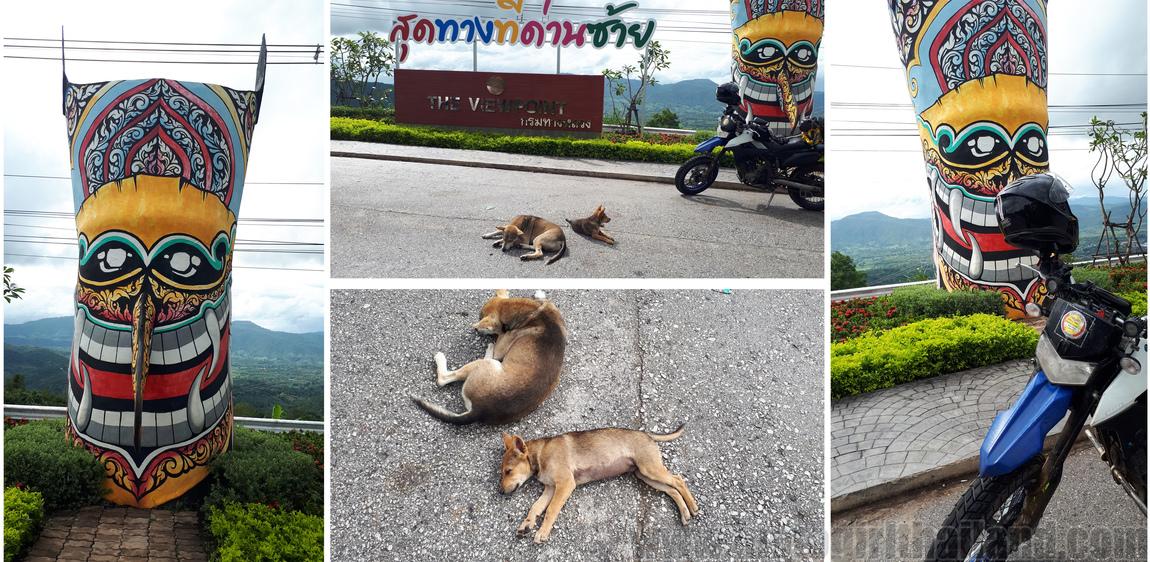 The main group statue called out to me. Telling me it was time to dance….
After Dan Sai it was a quick ride down to my accommodation in Phetchabun. I stayed in a stunning small bungalow (
Phu Fa Sai Resort
-1500 baht.
Originally it was 2000, but she gave it to me for 1500
) which offer amazing views of
Wat Prathat Phasornkaew.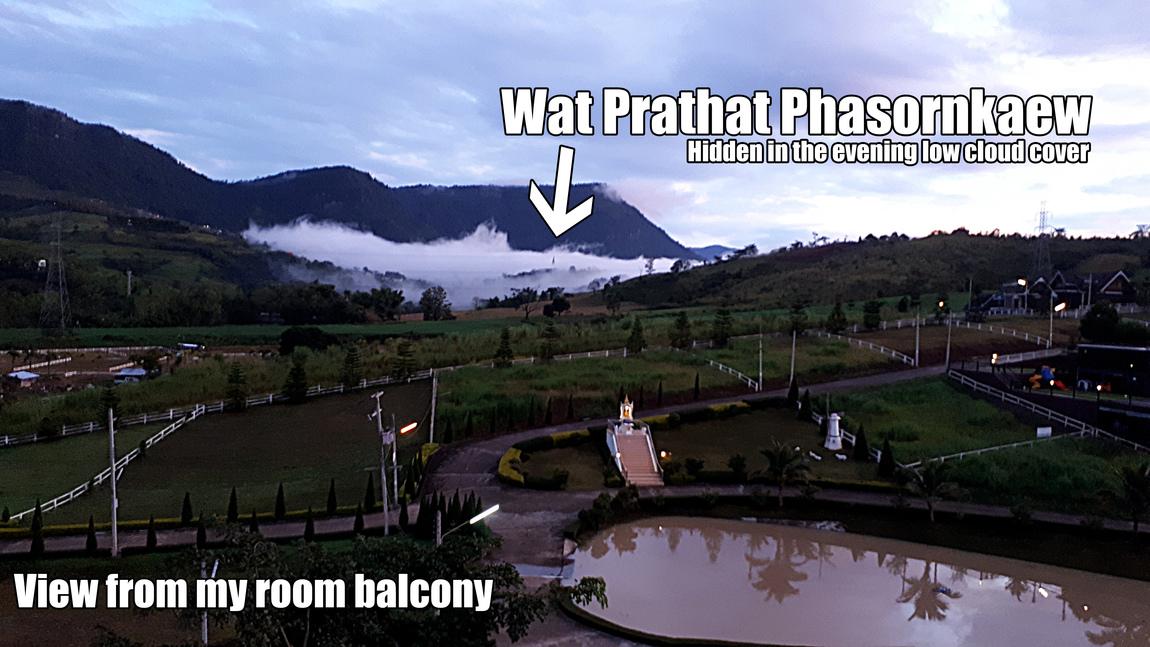 I had been to this area once before
(August 2016)
and wondered if my memory still served me right. I recall it being breathtakingly beautiful but wasn't sure if i would still think so this time around. However, it did not fail to take my breath away again. Absolutely stunning views!

photo from my trip last year
For dinner I ate at
Jollyland,
a very pretty restaurant on the R12, then headed to bed.

image source:
Jolly Cafe' ☕️ คาเฟ่สุดอบอุ่น ที่เขาค้อ
Day 4: Khao Kho to Lampang (via Sukhothai) (google map link).

I did not expect to be riding to Lampang that day, but a few factors threw me off-course and messed up my thinking process about the route plan. Originally I had planned to ride the twisty R2331, maybe stopping in at Phu Tubberk and then probably head into
Phu Hin Rong Kla National Park
, but i noticed a route closure on the R2331 which would mean a big around detour and/or doubling back considerably on myself.
(A previous trip report on this area is HERE)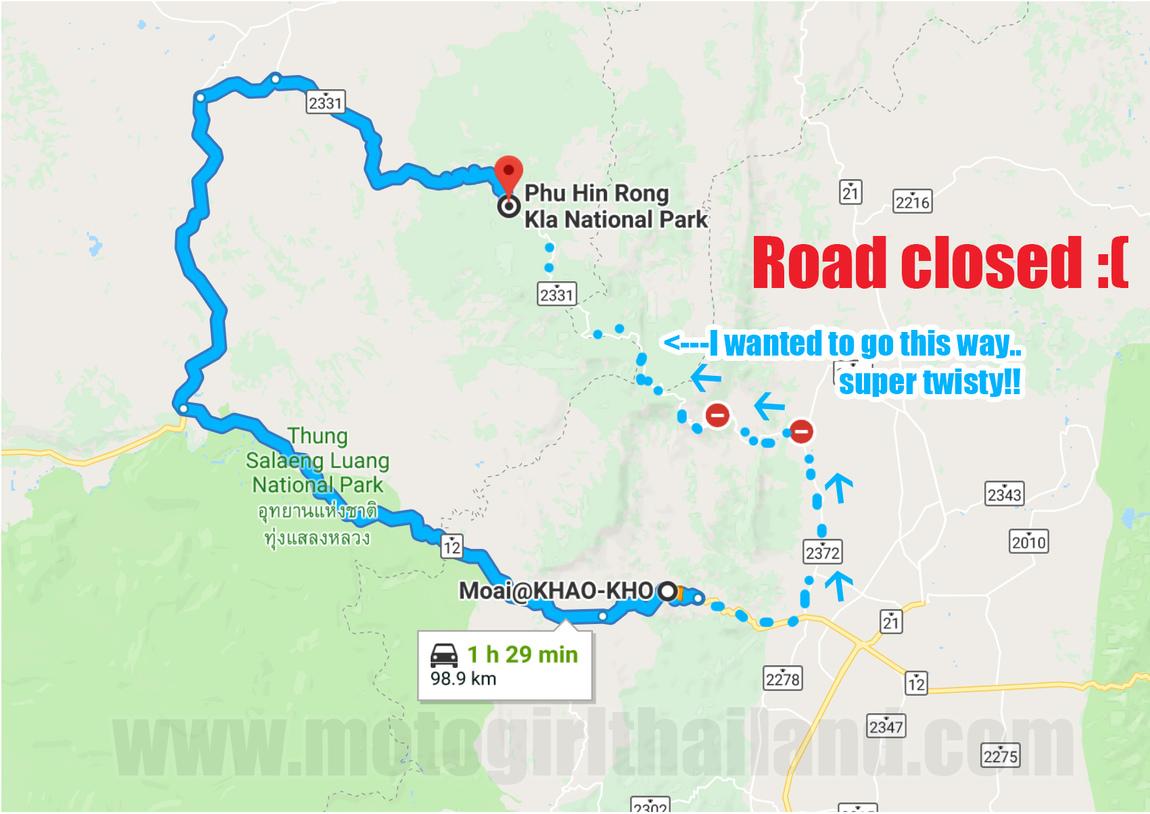 I then made a rash decision to head to
Sukhothai (the Historical Park had been on my bucket list for some time). As it turned out, Sukhothai Park (as beautiful as it is), really wasn't worth the massive detour on highway roads.
In hindsight I wish I had just doubled back on myself and gone north
(seeing as the weather was holding up)
. I could have retraced the route over the opposite side of Sirikit Dam. Route idea (
map link
)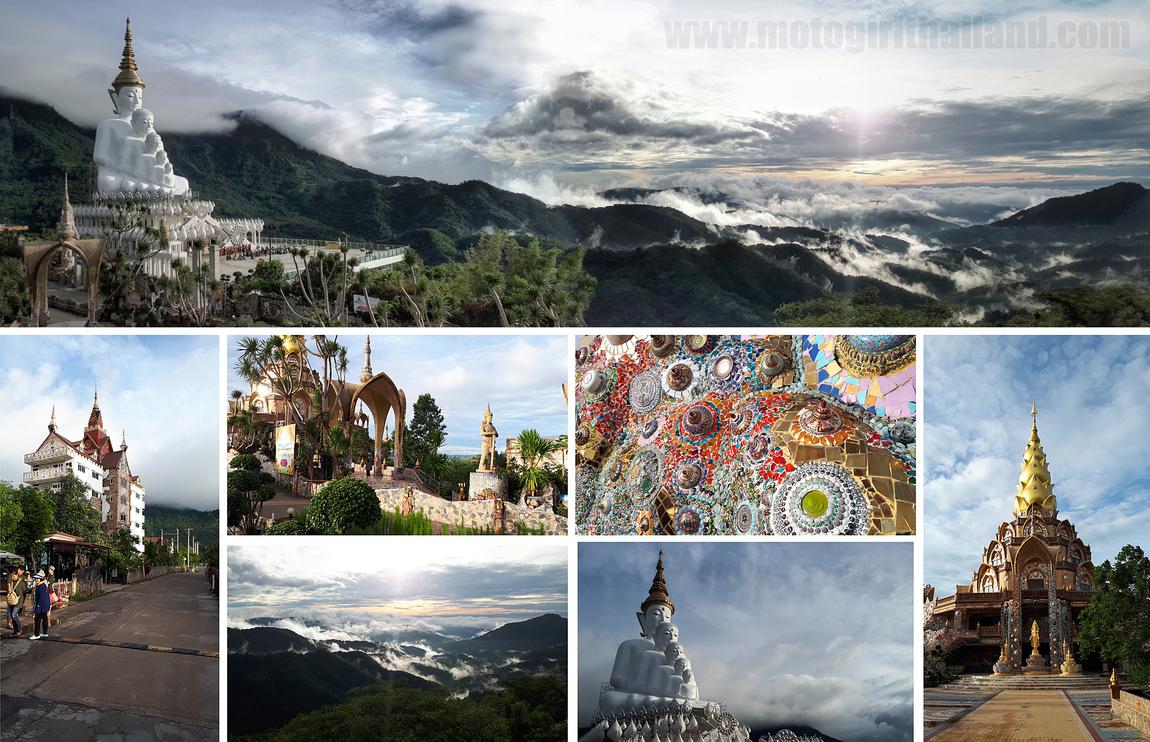 Anyway, in the early morning I headed to the stunning Wat Prathat Phasornkaew..and it was breathtakingly beautiful!!
After enjoying the temple I went to
[email protected]
for a coffee..and figured I would have yet another silly dance moment…
..and a silly photo op.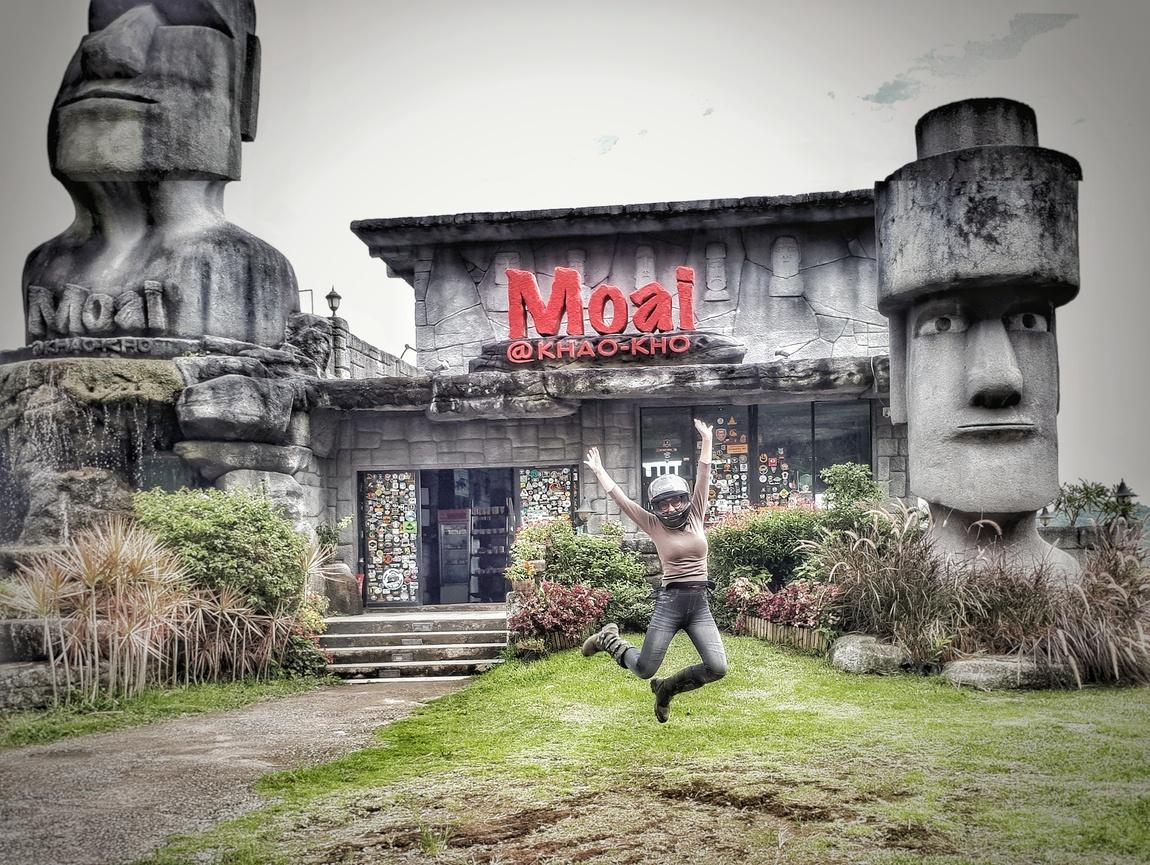 After coffee I stopped in at a fresh fruit and vegetable market…and was amazed at how great the fruit and veg looked. Bugs Bunny himself would have salivated at the juicy looking carrots!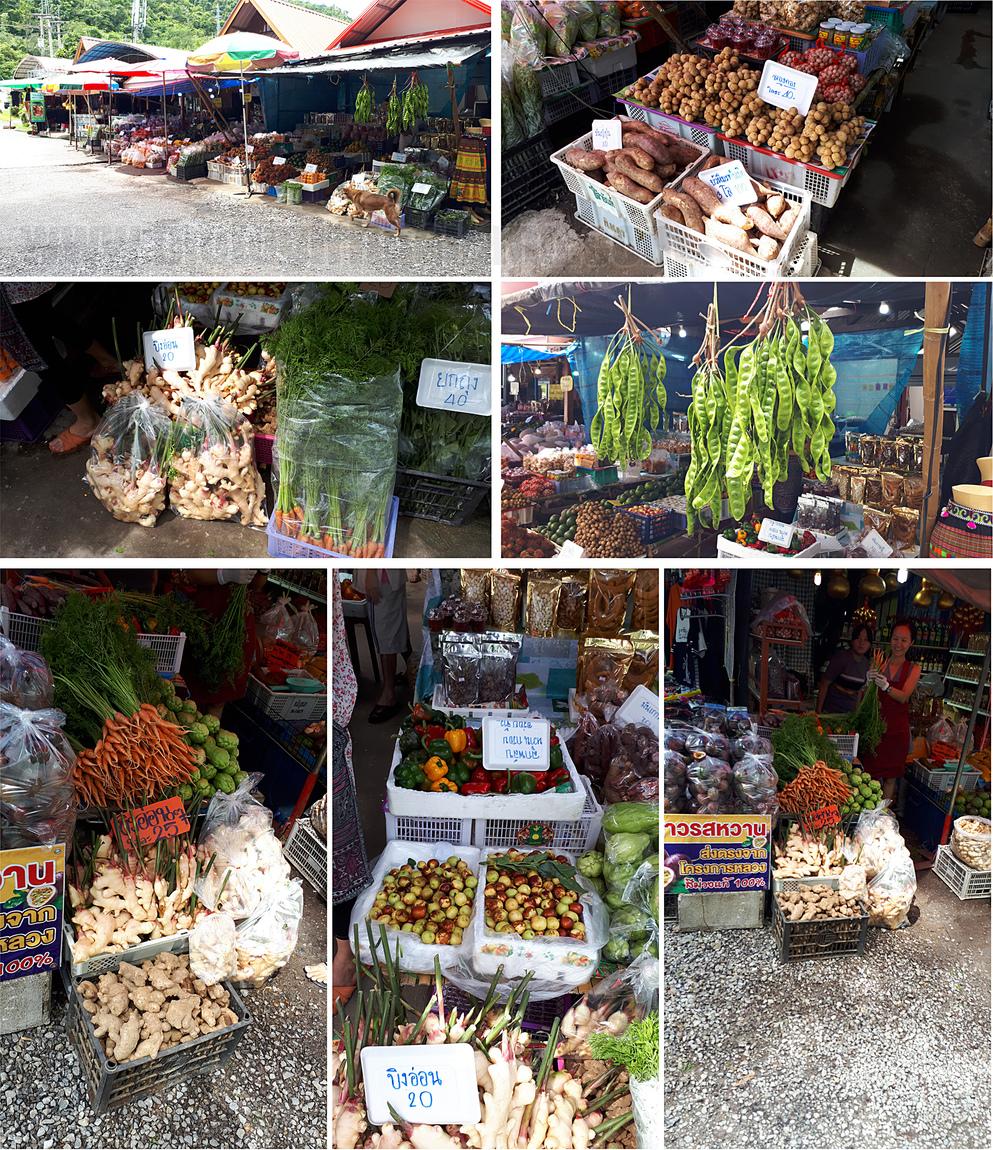 Bought some fruit and headed back to the hotel to pack up.
Next stop Sukhothai.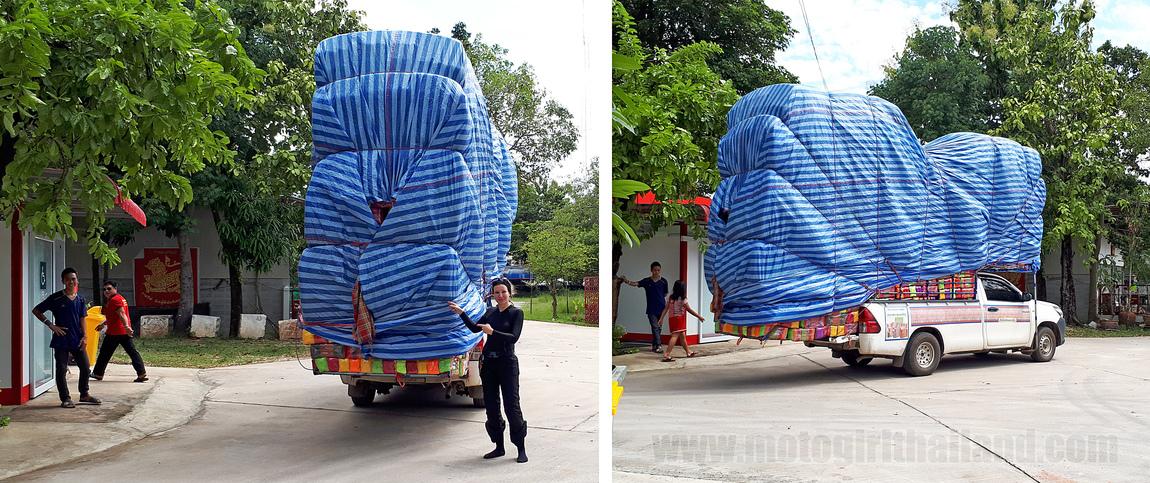 Fuel stop and snack break and wow that's a pack truck..haha!
Sukhothai Historical Park.
Capital of the
Sukhothai Kingdom
in the 13th and 14th centuries.

I met this little boy who was shaking a plastic bottle filled with (something) happily.
I stopped to chat with him and he told me he was collecting crickets to cook and eat. Haha! He told me they are very delicious
After Sukhothai I took the scenic R1048 north, which although lovely in many sections was just too straight and flat really. The rock formations were amazing though and I would like to know what else is around that area. Will need to do some research later on.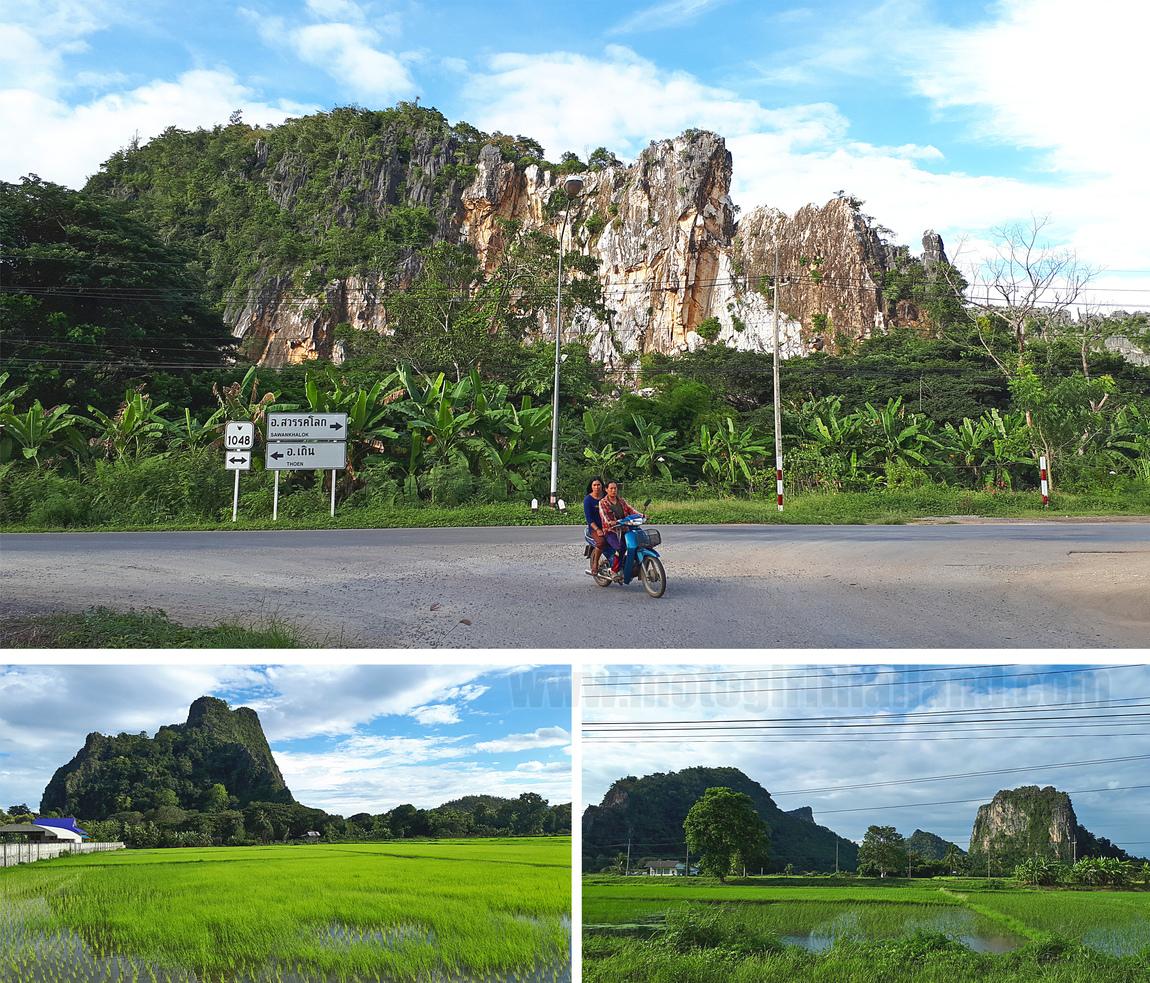 I pushed until i reached the outskirts of Lampang where I checked into
Lampang Vintage
(540 baht)
for the night. I ate close by at
ครัวลำปาง
and the food was good, but i struggled with my tiredness and weariness from overthinking and lots of riding. I slept hard that night. Like I had been hit by a baton.
Day 5: Lampang to Chiang Mai (google map link)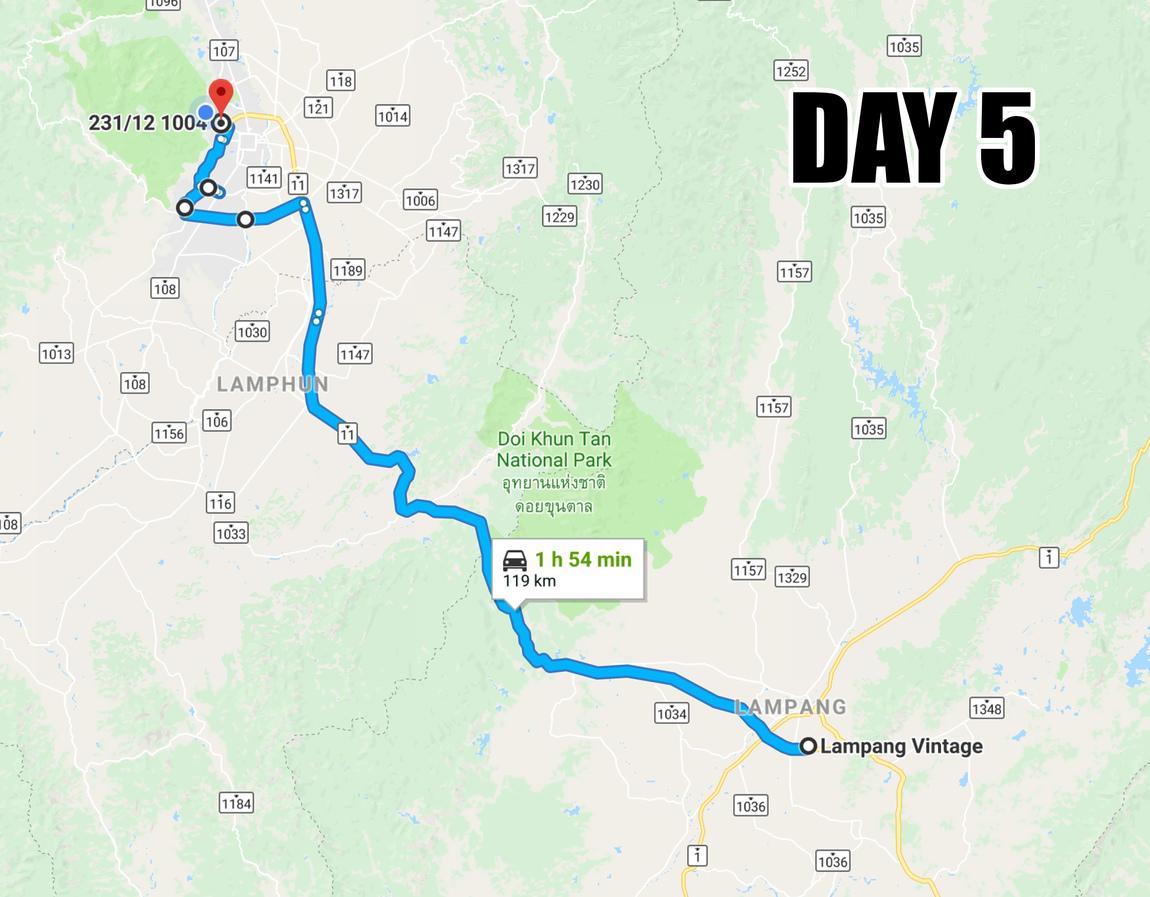 I woke early and initially I had thought to head to
Wat Chalermprakiat
(trip report for that temple HERE)
and possibly head through
Chae Son National park
,
(guide to this park HERE)
but my mood was broken from some personal thing on my mind…
Instead I just headed straight back to Chiang Mai.
Such is life sometimes!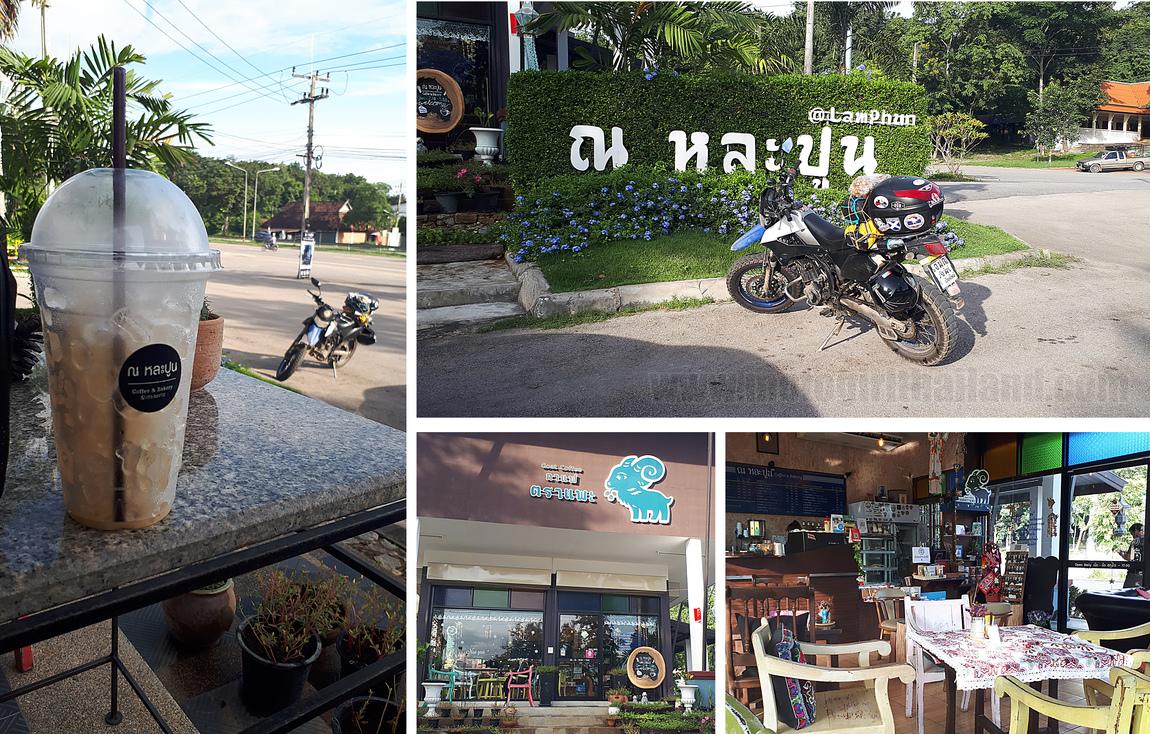 coffee break!
Stopped in at
กาเเฟตราเเพะ
for a coffee and a quick stop at
Wat Doi Ti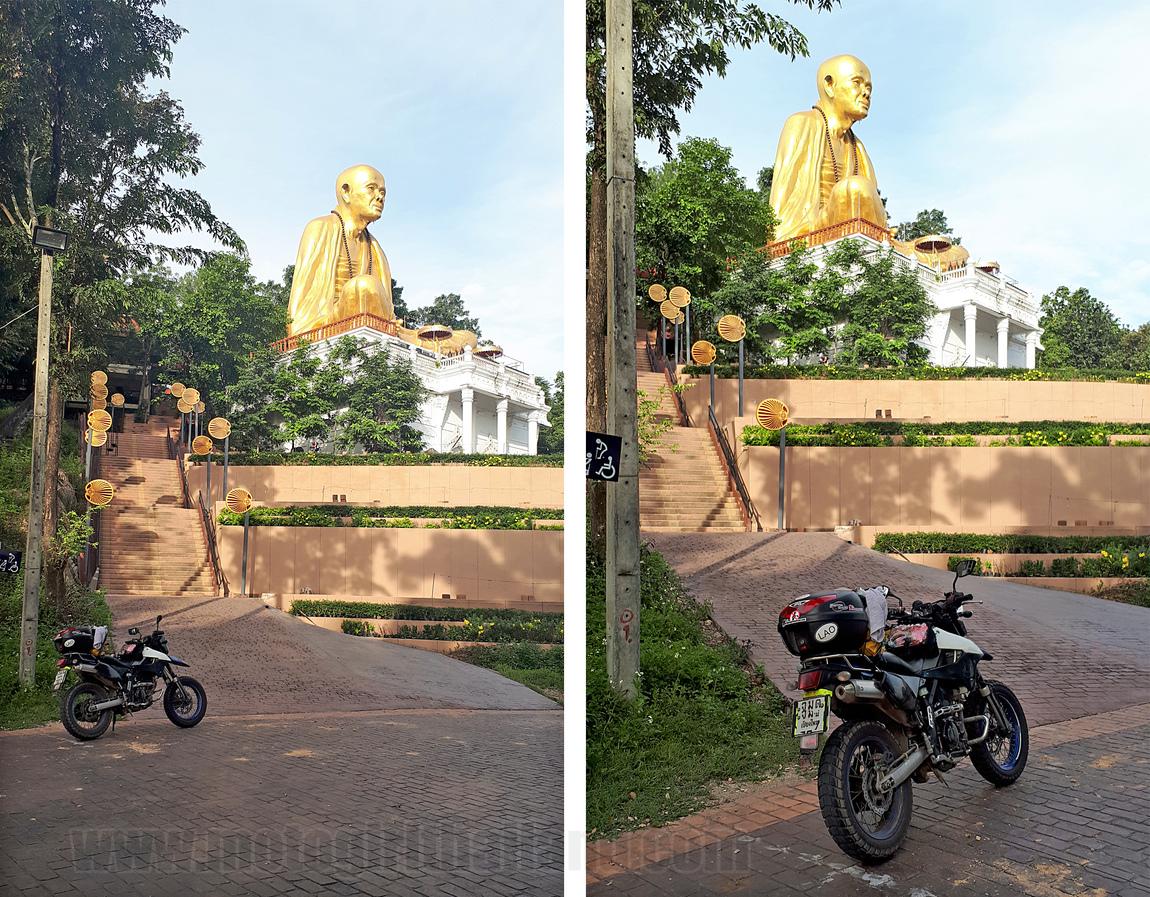 At least I had a happy cat to return home to!
(Who, as always, had kindly been taken care of by my wonderful neighbours!)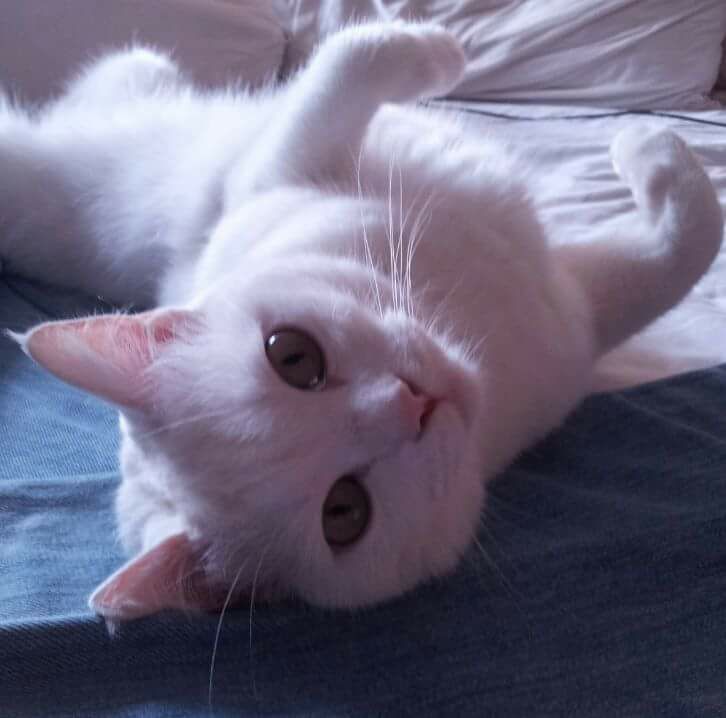 Video compilation of the trip:
Hope you enjoyed!
Last edited: