Administrator
Staff member
Subscribed
Jan 16, 2003
13,363
4,308
113
68
It started off as an innocent Sunday ride with my son Jason on his Honda 125 EFI Wave. Just a cruise out to Chiang Dao & back, to confirm some hill tribe villages waypoints & names for the new GT Rider Golden Triangle map.
These villages are east of Chiang Dao & already crack a mention in the old GT Rider Golden Triangle guide book on P20-21. I've been going out here for 20 yrs & have even been to a few weddings in the Lisu & Palong villages so know them pretty well.
They are all great little villages & worth a look or two if you're cruising by, or even just want an easy day / overnight trip from Chiang Mai. You can stay in most of the villages or with Mon & Kurt in Chiang Dao.
Anyway, back to the story, sort of….
It was in the Karen village of Tachilek that I asked about a possible exit to Lahu Huay Pong, instead of backtracking. Yeah, just go straight ahead was the reply. The road's easy all the way. But sometimes the hardest part is finding the right way out of the village onto the easy road ..............800 metres later we'd probably missed the right way & came across a small obstacle on the trail.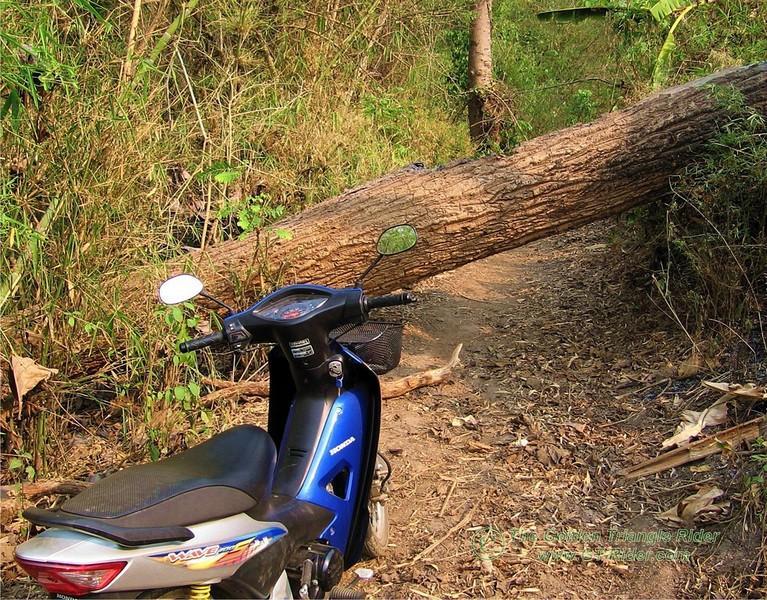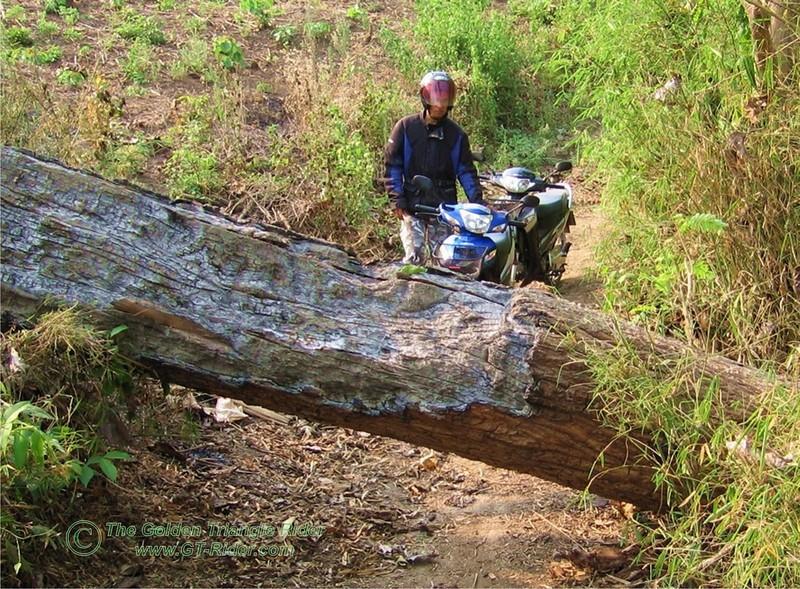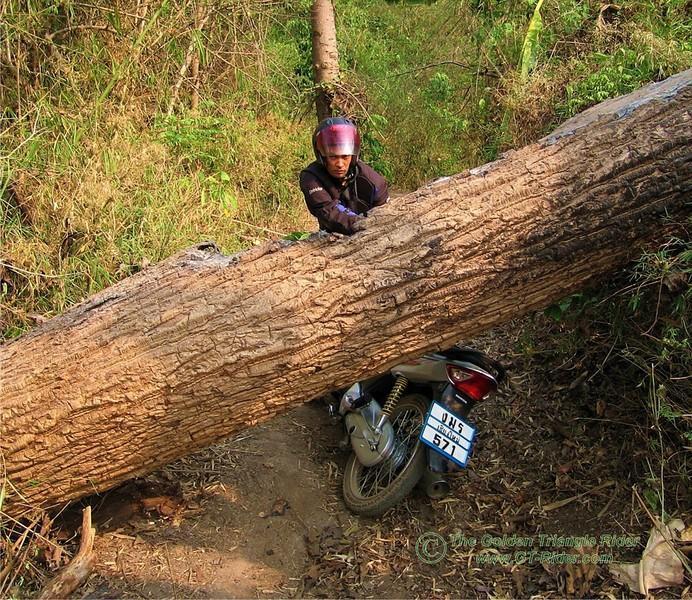 Jason thought this was fun, a perfect day out on the road with his dad. I wasn't so sure with the temp hovering on 40 celsius, but perhaps it's something to do with the age.
I also don't think the happy go lucky girlfriend singer would have been terribly impressed with what I was doing with her bike.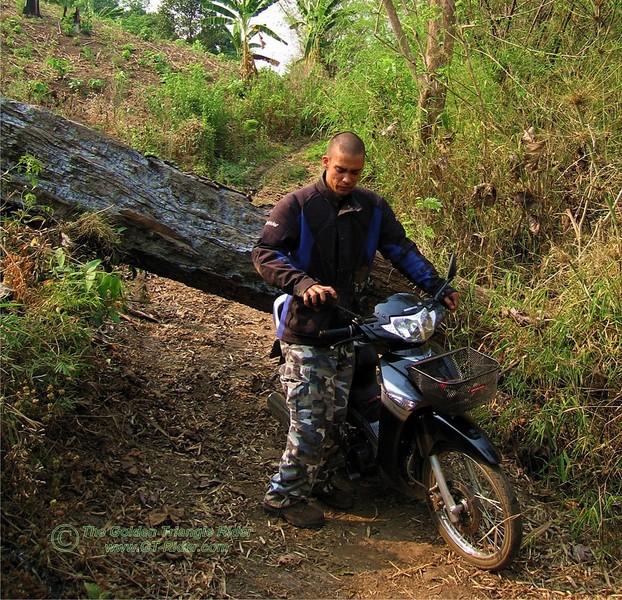 Having successfully negotiated the log, it was on on & up up into the fields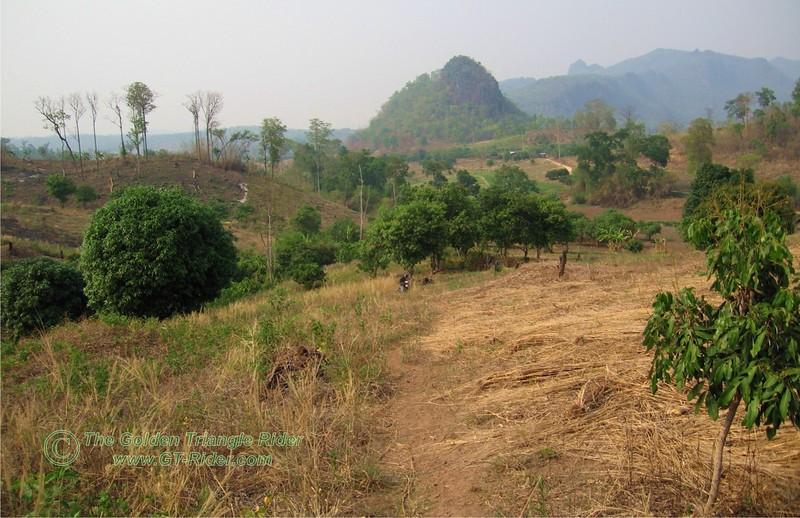 not much of a trail & I was really wondering if this was the right way
Jason didn't always pick the right line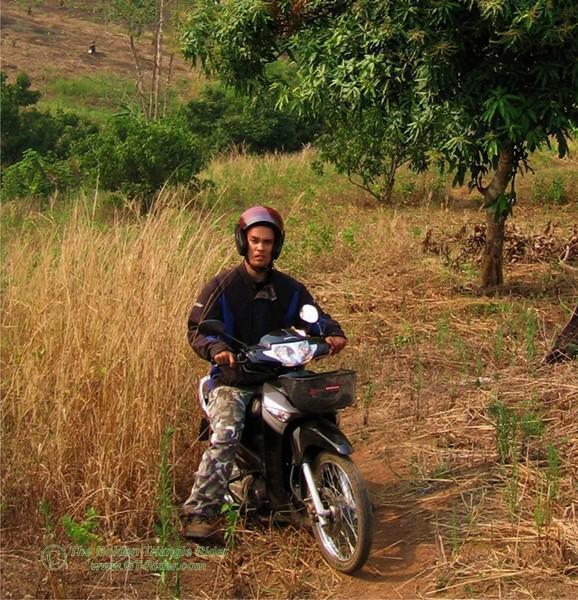 We crested a small hill, came out of this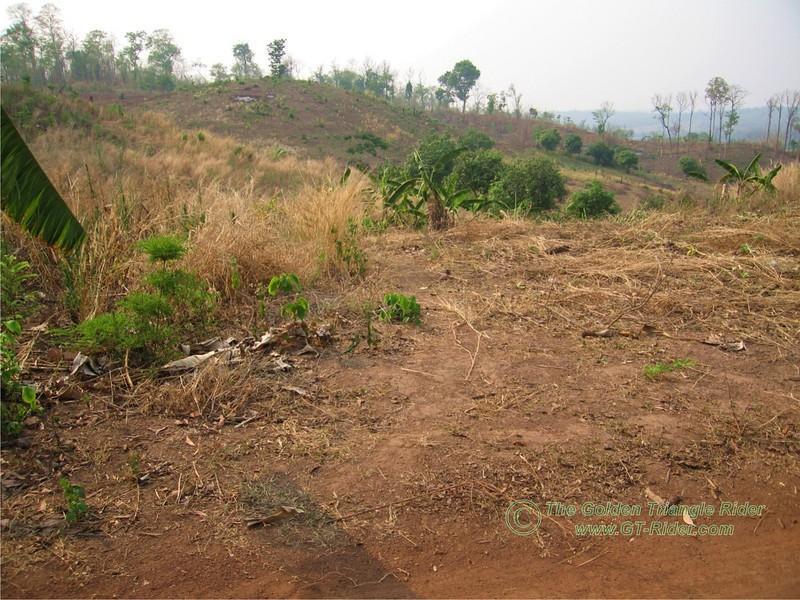 & crashed into this, the right road.

We'd obviously missed the turn! It was easy sailing after this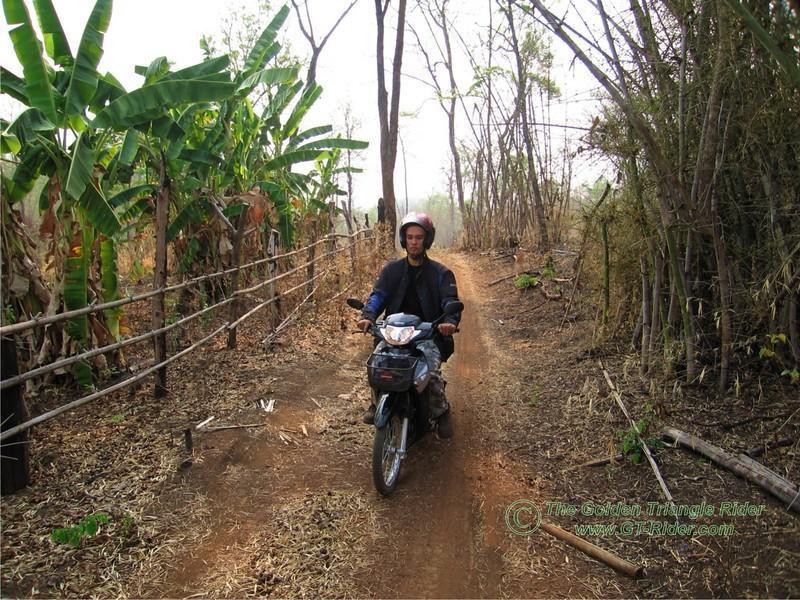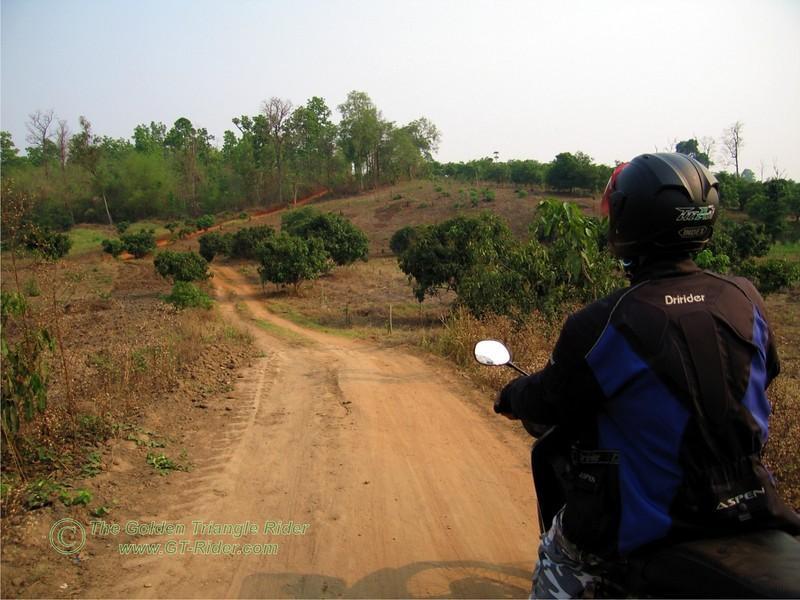 A drink stop was called for in Lahu Huay Pong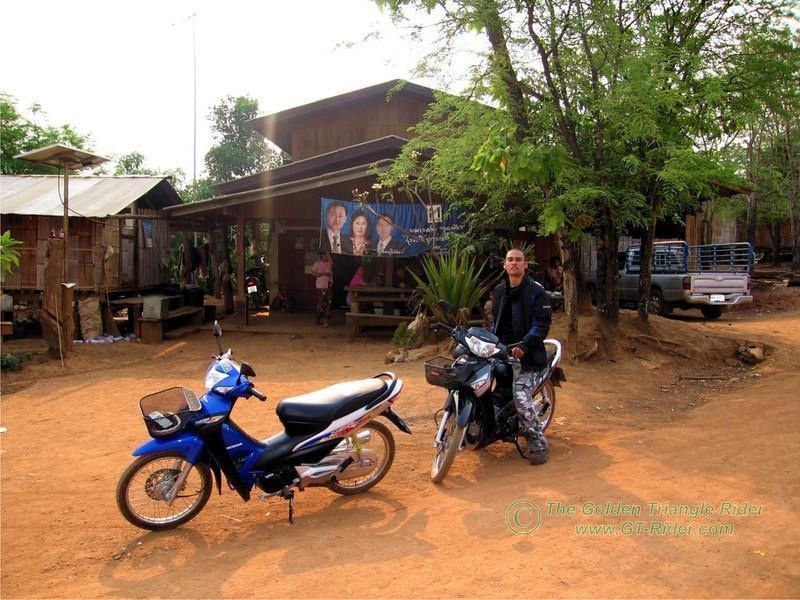 and we went cruising the fields & orchards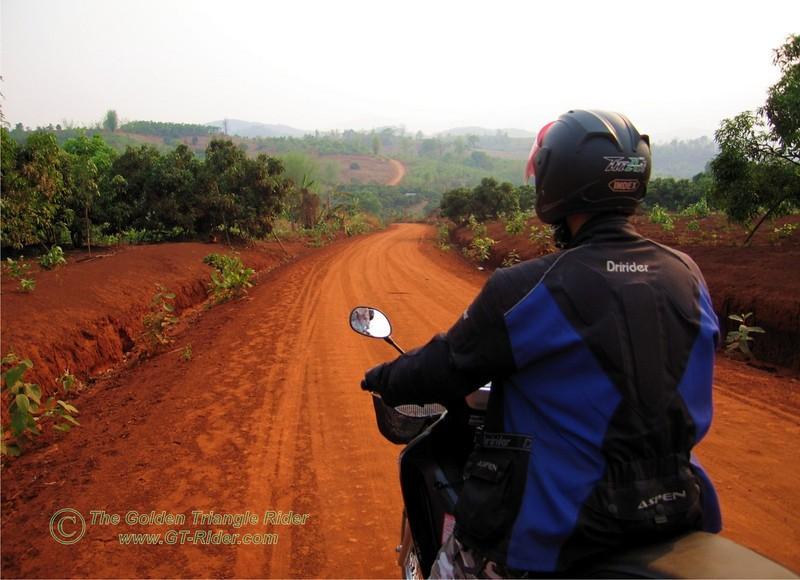 Eventually you end up in Mae Or Nai & the asphalt to run back onto R107, 7.7 kms south of Chiang Dao.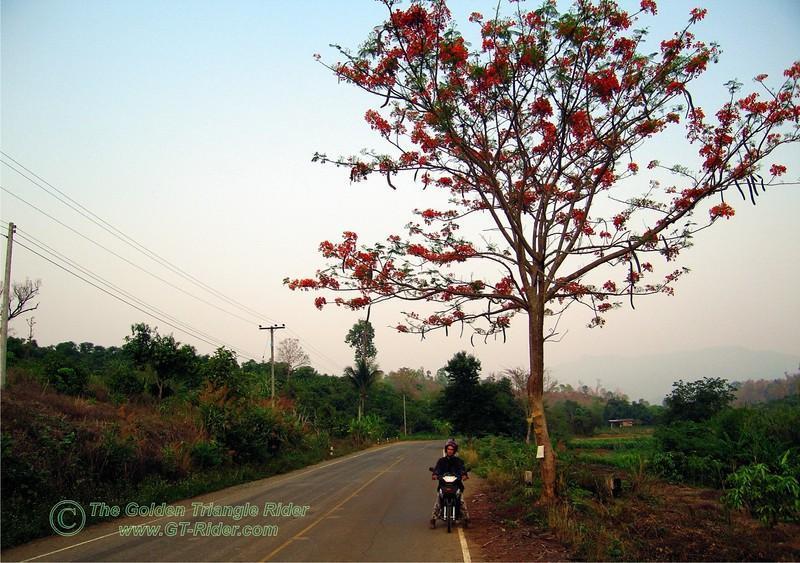 If you're looking for some nice & easy trail riding with lots of hill tribe villages, then go to Chiang Dao & ride the dirt roads of the east of town.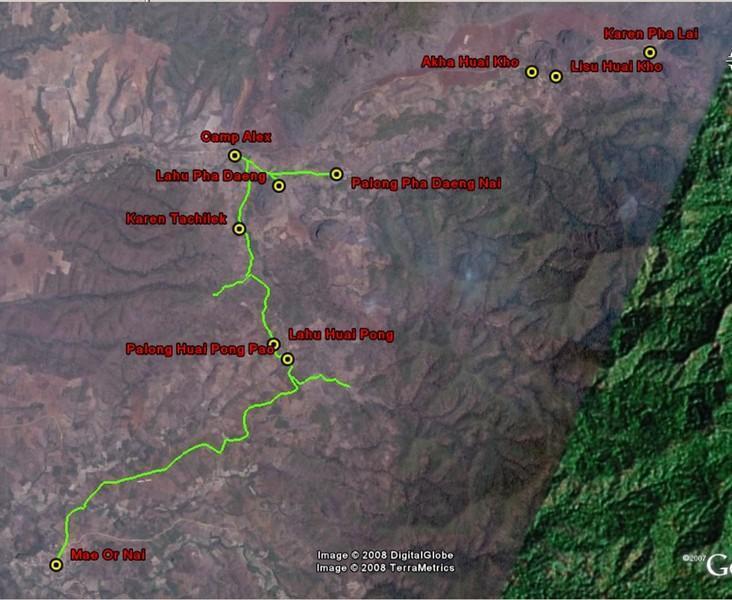 Take your time & over night in Chiang Dao if you like.
Or if you want steeper tougher trails, then ride the south side of Doi Chiang Dao. Start from P26 "Hmong Pakhia" in the GT Rider Golden Triangle book & you can keep yourself amused for several days in the Chiang Dao area. Right Happy Feet & Honda Honkey?
Last edited: