*NOTE*: this may seem a little morbid depending on your mindset. It is a controversial topic.
However, for me the focus is on learning and also tales of overcoming adversity.
For many of us, our accidents were significant moments in our lives and in some cases defining.
Some accidents were through no fault of our own and some user-error.
Certainly on most we will have faced learning curves.
I hope members will view this request in a positive light, rather that feel it is something grotesque or voyeuristic in nature. Thank you.
( I received prior permission to post this)
Photos of me. 2 separate bad accidents (7 years ago):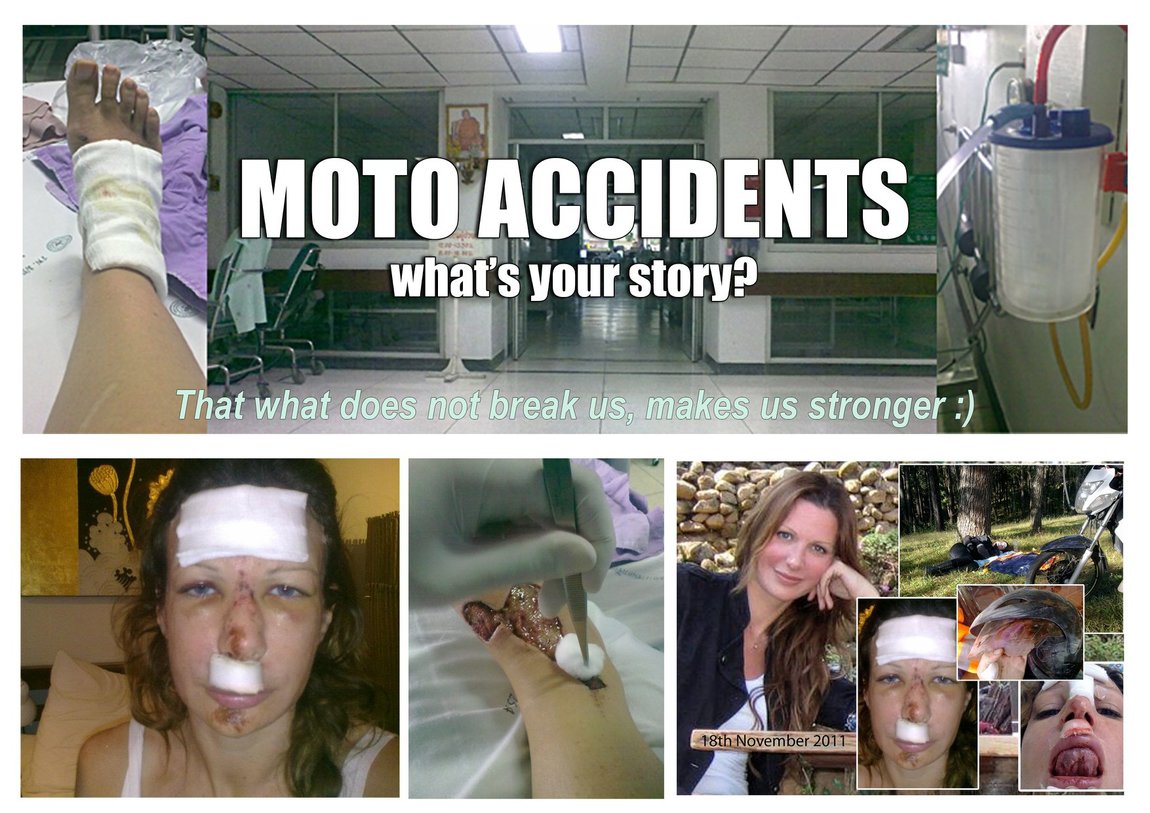 I wish to put together a couple of books (2nd book proposal coming soon - which is Thailand specific - and I think will interest many).

This first book is inspired by my own (two) nasty accidents 7 years ago (they happened within short periods of each other). One had me nearly having my foot amputated, the next one I landed on my face (open faced helmet), and was very distressing - as you can imagine.

(You can read about these accidents here:
(1st accident): http://motogirlthailand.com/moto-talescooter-accident-warn…/
(2nd accident): http://motogirlthailand.com/moto-tale-my-accident-warning-…/)

So, I wish to put together a book of stories, about riders own personal accidents. I think this could be an inspirational and touching book of riders stories. I have been meaning to do something like this for many years.

How did you overcome the hurdle of this accident?
Did you over come it?
.. and did you continue to ride or not (if able)?

The book submittion criteria is as follows:
Submit a story about any motorcycle accident(s) you have had.
Best if from 500 to 1000 words (approx.)
Please include images.

Some questions for inspiration:

1. What bike were you riding?
2. Where were you riding?
3. What happened?
4. What was the outcome?
5. How did you get through it?
6. What have you learned from this experience?
7. What do you think could have prevented the accident from happening?
8. Any other relevant info you wish to include?

INCLUDE (optional):

Name:
Profession:
City:
Bike:

Bio:
Contact name (nickname, etc):
Email:

All accepted submittions will be be kept up-to-date regarding the progress of this book, but please allow time for me to collate all the stories and images.

If interested in participating please email your story and images to

[email protected]



Thank you so much!