0
Staff member
Subscribed
Jan 16, 2003
13,947
4,920
113
69
On my recent trip to Savannakhet I rode in the dark for 1.5 hours going into Loei & the lights were brilliant.
The new Baja Design 20W LED driving lights were installed just a few days before
Interesting enough now though, I noticed that when I switched from high beam back down to low only I struggled to see.
I did not ride again in the dark again until Savannakhet city on the first night.
However, the second day in Laos I noticed my low beam was not working, so checked high beam & the driving lights - nope nothing working at all. Damn!
Fortunately I was able get around at night with the weak performing 600 baht Lazada specials.
I wouldn't worry about it anymore, until I got back on the Thai side. Fuses I thought?
Back on the Thai side I found found the Royal Enfield dealer & workshop.
I drove straight into the workshop & mentioned the issue - probably fuses, but would you check please.
No problem. 3 mechanics appeared & I was told to go sit in the air-con coffee shop, while they checked it all out.
2 coffees down & 40 minutes later I get called back to the workshop.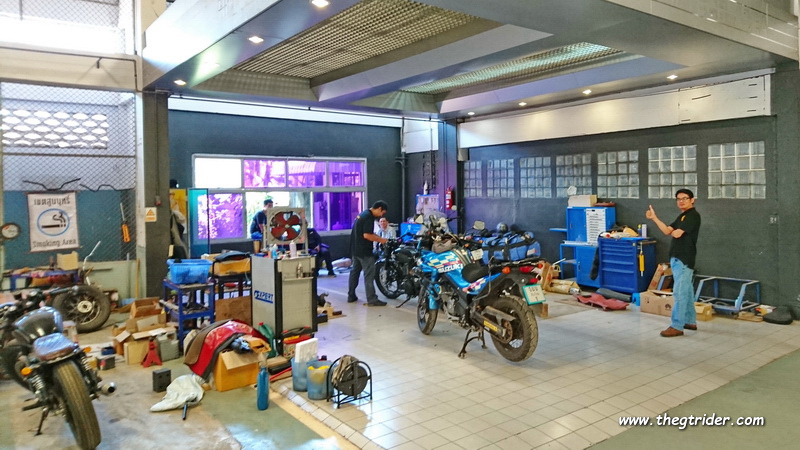 Everything is working as normal. It wasn't the fuses, just a faulty driving light switch??
Errh I'm not sure about that, but lets go, I'm not complaining as it is all working & I'm looking forward to clocking up the kms & see how close I can get to Chiang Khong.
The original master plan was to have a crack at NKP - Nakhon Phanom in one go. 1,200 kms. Not a problem I thought riding on the 4-lane super at night with good lights, as long as they are working.
So off we went. I got nicked by the police for speeding at Sakhon Nakhon doing 113kms & over the 90KPH motorbike speed limit.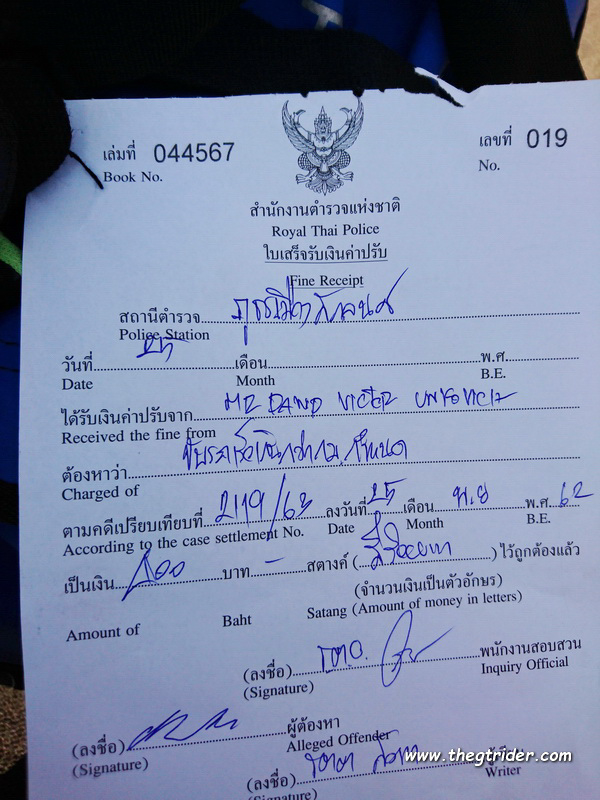 Loei came up at 5PM & I checked the lights again - not working again. Grrrh.
So Loei it was for the night.
Up the next morning & a phone call to Chiang Rai, with a plan to test out Kong Electrical & Motorcycle Service. Kong has a reputation for being an excellent motorcycle electrician.
Kong & I had spoken a few weeks earlier about checking & rewiring my electrical accessories. He was OK to do it, but there might be a queue.
Arrival time in Chiang Rai was 4PM & I went to his shop before getting a hotel; and fortunately I was able to convince him to do it the next day.
So Chiang Rai for night it was & still no lights.
The next morning they still were not working, so that was perfect – easier to find the fault.
The bike was dropped off at 8.30AM as agreed, the issues were explained & how it was all connected - manual switch for the running lights & driving lights wired into the high beam switch.
Come back later to check or if it is done beforehand, I will call you.
I sauntered off up the street & hit the Nang Nong Coffee for brekky.
Breakfast finished it was still too early, so in order to kill time I enjoyed a 2 hour massage with a satisfying ending.
Two hours later, a walk back to Kongs & a chat, & he believes he has found the problem.
The starter switch is getting hot & burning out.
Oh yes I can relate to that problem, because I had that problem before. It was a common Vstrom problem & in my experience @ 55,800 kms in January 2017.
Can you come back in 2 more hours!
Damn what to do....back for another massage. The masseuse thought it was her lucky day, & so did I...round 2... one of the perks of living in LOS I guess.
In 2017 this problem was installed by installing a relay kit from Beaver Electrics in the USA
H4KITS
But in Kong's examination of the bike today there was no evidence of that relay kit & the old starter switch gremlin was back!
Finally the bike is ready at 4PM. Kong asked for 800 baht for his day's work, cheaper than two massage rounds.
But where was the relay kit that was installed in 2017?
No idea but I can only assume it went missing in the repairs from the Chinese truck accident earlier this year. The headlights & spotlights were all replaced.
Kong then rewired some lights with heavier wiring, a big heavy duty relay, plus modified the starter switch.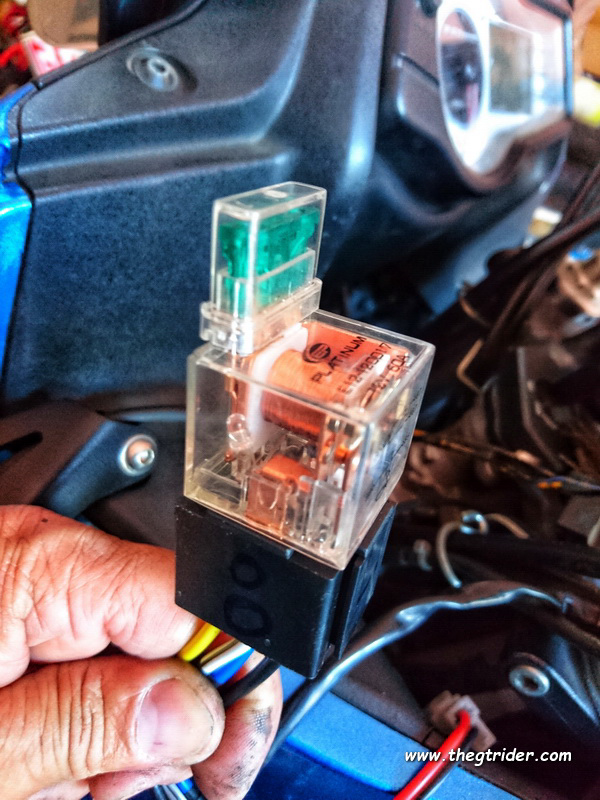 I'm good to go until another electrical glitch.....let's hope it is not a lighting failure riding at night in a remote rural area.
See also
Tweaking my Suzuki V Strom 650
Lights & Lighting
Chiang Rai Bike Repair
Kong Electrical & Big Bike Service:
خرائط ‪Google‬‏‏
Last edited: