Administrator
Staff member
Jan 16, 2003
12,599
3,099
113
67
The Great Roller Coaster Ride & Route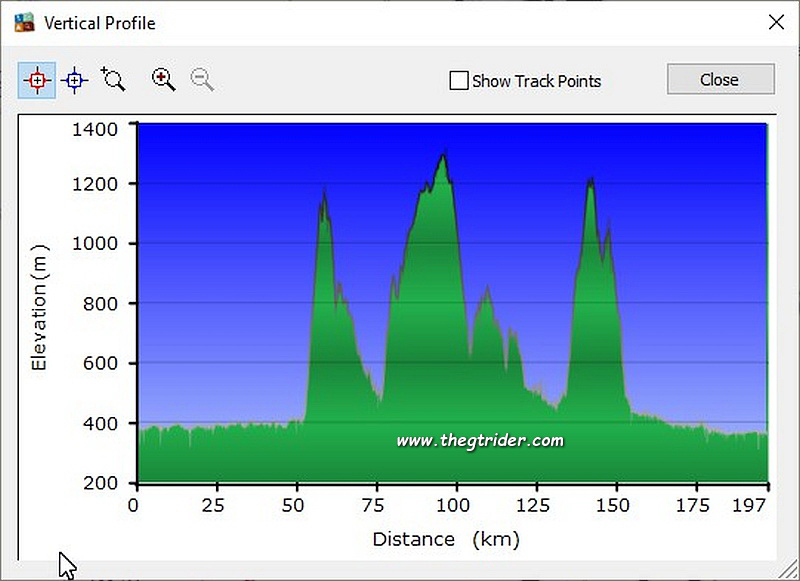 is a one day trip I've been looking to piece together for over a year since I discovered a couple of new roads out on the Laos border, south of Chiang Khong.
Most people know about R1093 & ride that road along the Laos border, getting on or off at Chiang Kham / Phu Chi Fah or Pha Tang, depending on which way they are heading.
But there are four other fantastic steep roads out there & the other main one riders seem to know is
The Big Dipper:
R4018 The Phaya Phipak road
The other lesser known ones are
Huai Laeng:
Huai Lang / Laeng Another Steepest Road - Wiang Kaen / Chiang Khong
Lao U:
The Lao U Road - Sensational, Excitement Plus.
Singapore road:
The Sensational Steep Huai Kuk - Pha Tang Loop - Singapore Road
There are five roads you can stitch together to make up the Great Roller Coaster Ride & Route.
1. R4018 the Big Dipper / Phaya Pipak road
2. The Lao U road
3. R1093 the Phu Chi Fah Road
4. 4029 the Pha Tang Road
5. Singapore Road
The Huai Laeng Road is left out because it is only a side road, which means you have to go in and back out the same way, so it doesn't work to be included as part of a loop.
Rivo, aka Heinekin, alias Gavin was my riding partner for day & we got on well just cruising along & taking photos as we went.
And I was lucky Gavin came along fully armed with his Samsung phone to get some great photos, as my camera battery expired early in the trip. Silly me for not checking properly. Thanks Gavin you were the star of the day.
The rendezvous time was 8AM & the place at the junction of R1020 & R4018, the turn off to Phaya Pipak & the Big Dipper. From Chiang Khong it is a fast 48 kms down the 1020 to the turn off.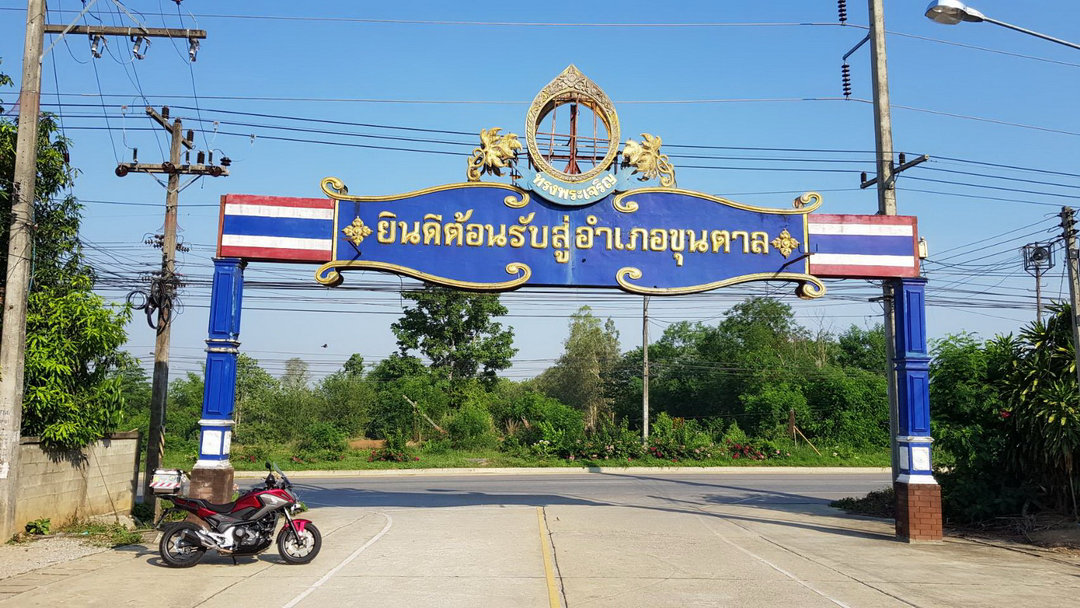 I was a bit late having been delayed by my landlord as I was trying to make an early fast get away, which is most unusual for me. I'm no Mike Gagne!
Phaya Pipak
Off up R4019 it was & Rivo showed the way to the new Phaya Pipak memorial & proposed tourism handicraft market site.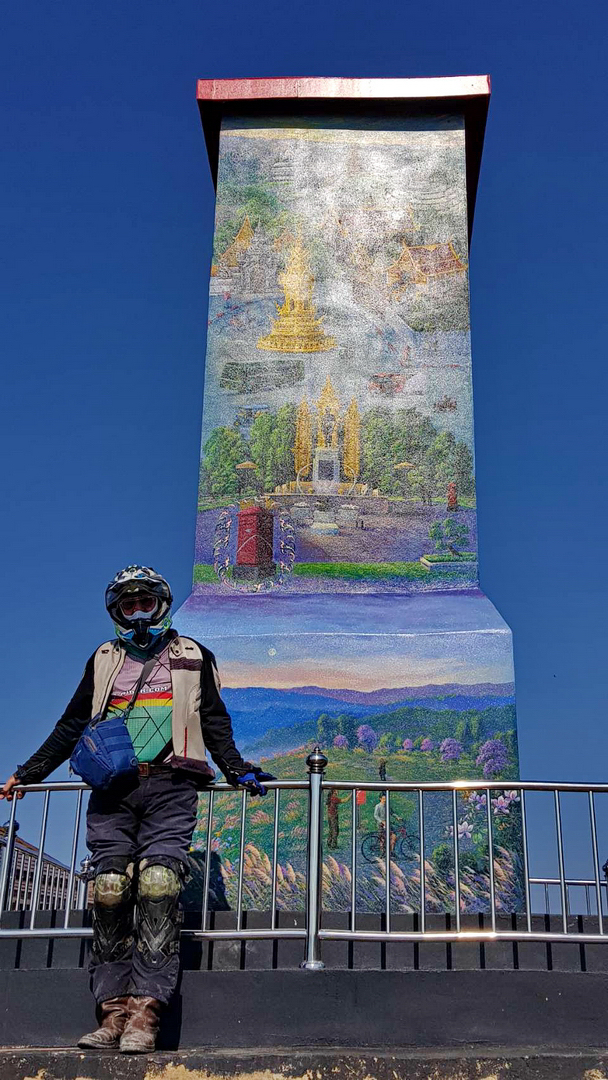 Then it was my turn to show Rivo the old original forestry royal sala, which made the score one-all.
Big baht have been spent in here to turn the place into an impressive tourist attraction, displaying the military's victory over the communists, who surrendered at the invitation of King Rama IX.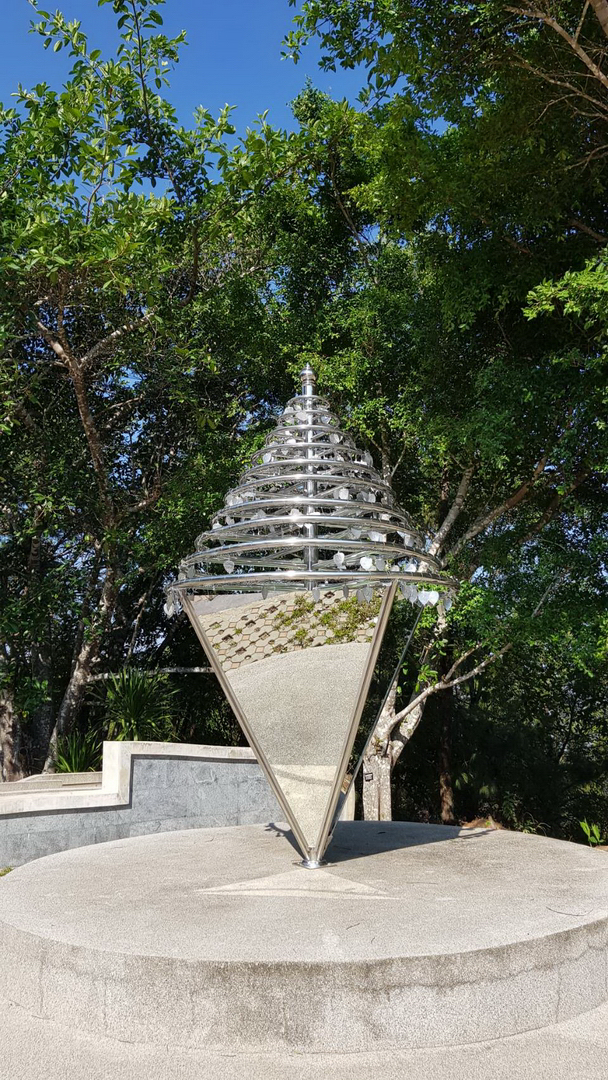 From the forestry park it was down to the Hmong village & a look at the old commie photos in the now dilapidated museum.
There is a view from here across to Phu Chi Fah, but sadly the air was a bit hazy in the early morning looking towards the sun.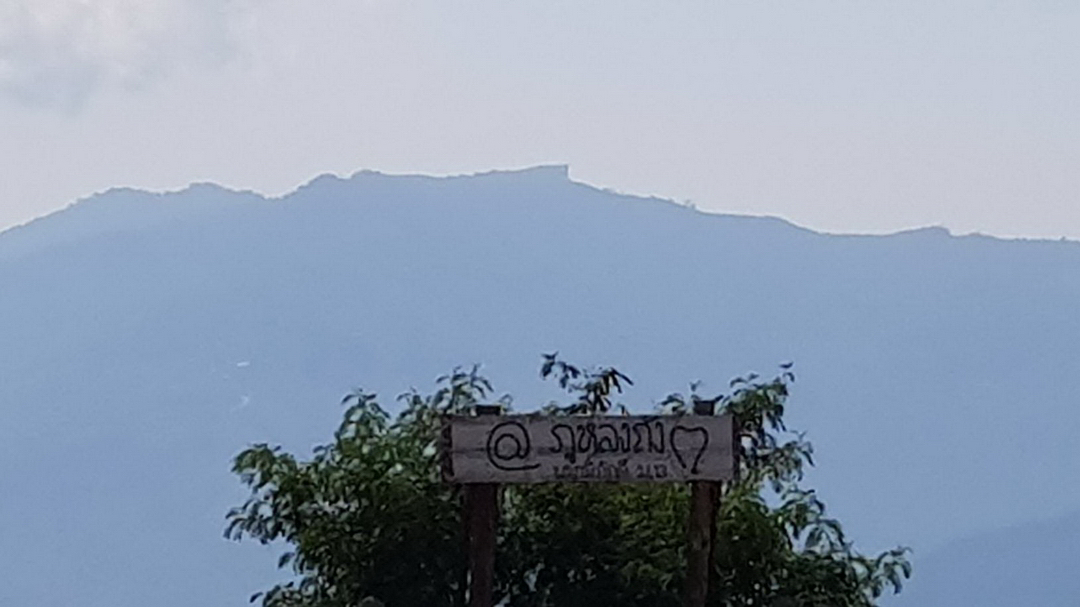 Rivo inspected the dragon pond with no water & we were ready to hit the road.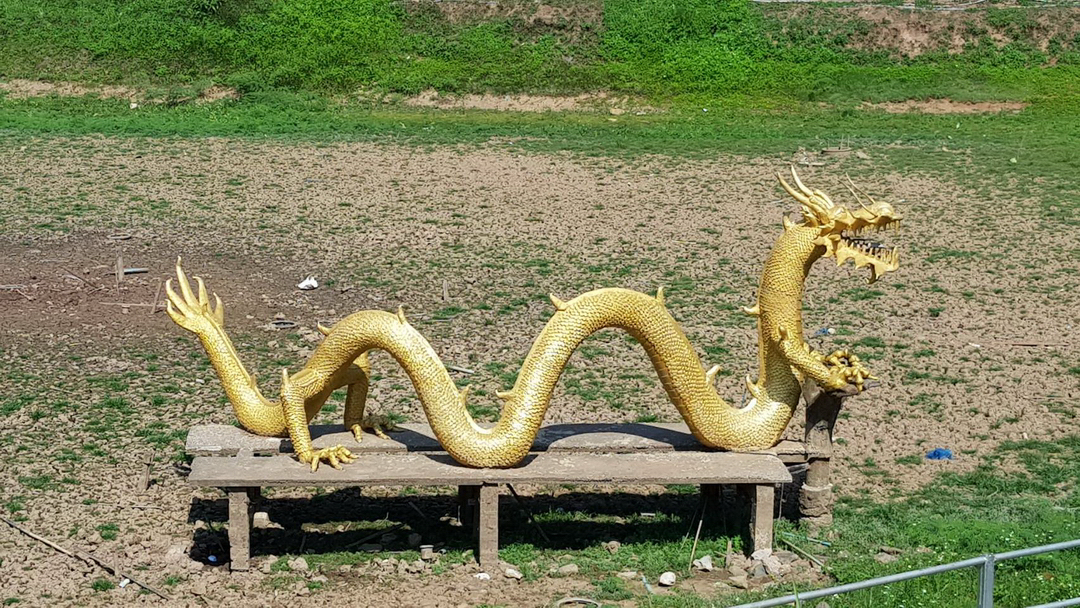 Just as we got on our bikes to saddle up & ride off, one of the renowned Phaya Pipak commie characters, complete with a brand new commie cap, walked past.
I recognised him for an earlier visit & called out to say g'day. In response we got an immediate invite into his house for a coffee and a chat. The guy was fantastic & at 66 years the same age as the old GTR fellah. Over a few cups of strong coffee we got his story & were well and truly impressed.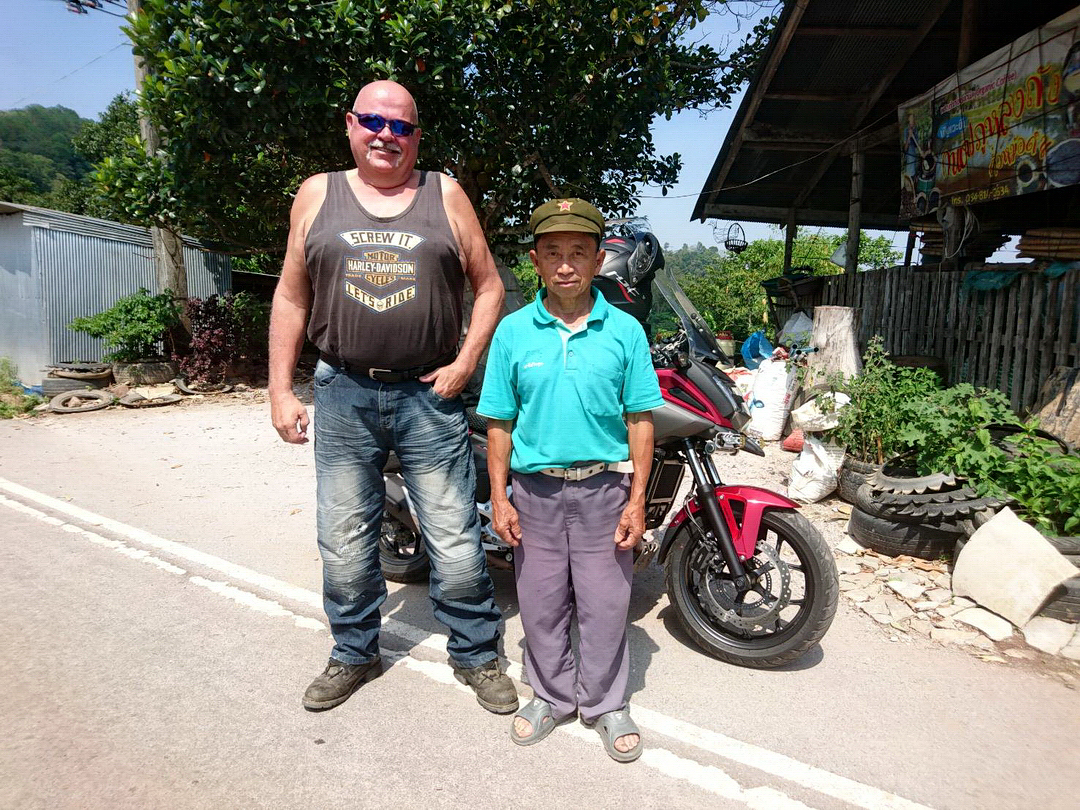 Born and bred in Phaya Pipak, he was 15 he went to Phongsali in northern Laos, with 20 other Phaya Pipak villagers to school for 3 years, for some indoctrination you could say. They went to Phongsali by walking! Entering Laos from a track near Phi Chi Fah & walked down to Pak Khop, then on up to Oudom Sai & Phongsali. After 3 years it was back to Phaya Pipak & be on the side fighting for the right to live & survive in your birthplace.
To survive nowadays he has 2,000 organic coffee trees & sends his coffee to Bangkok, Chiang Rai, Hua Hin & Vientiane. Grade AA is 1,000 baht a kg & Grade A is 800 baht a kg.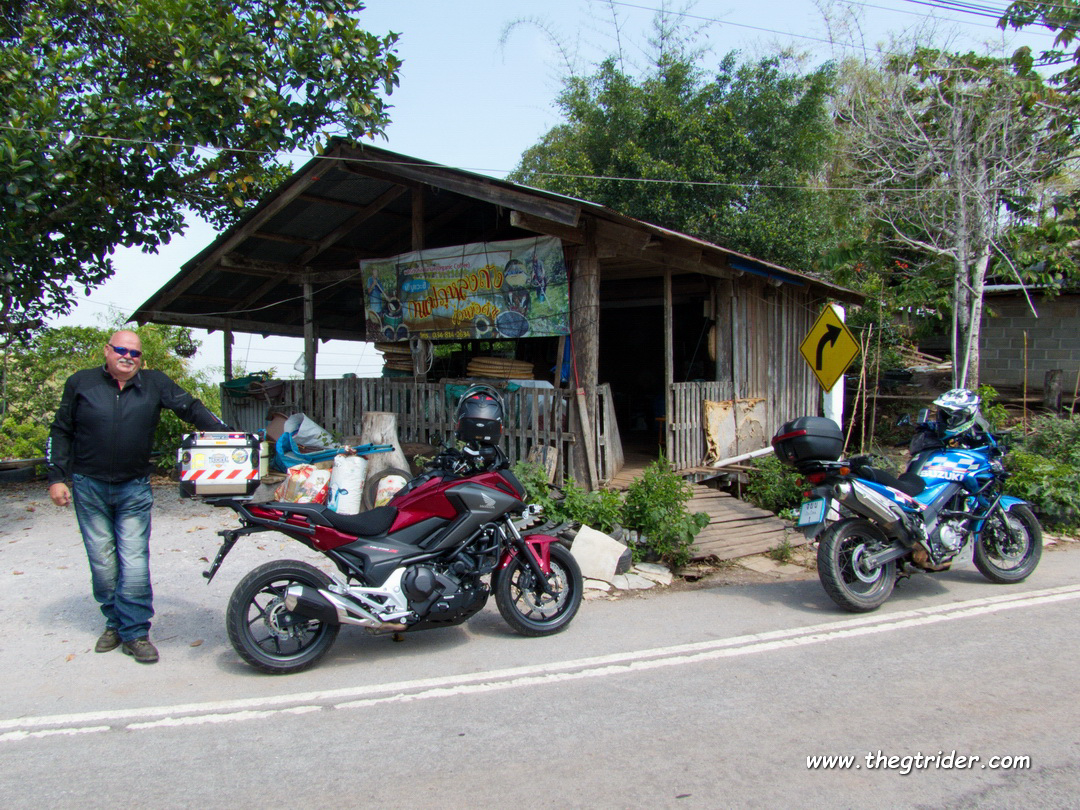 If there are any coffee fans out there who might want some nice coffee, you could take a ride to Phaya Pipak, make contact & buy some. Later on you could get it delivered by Kerry Express or some logistics company.
The Big Dipper road is 10 kms from R1020 across to R1155, & it is one hell of a road.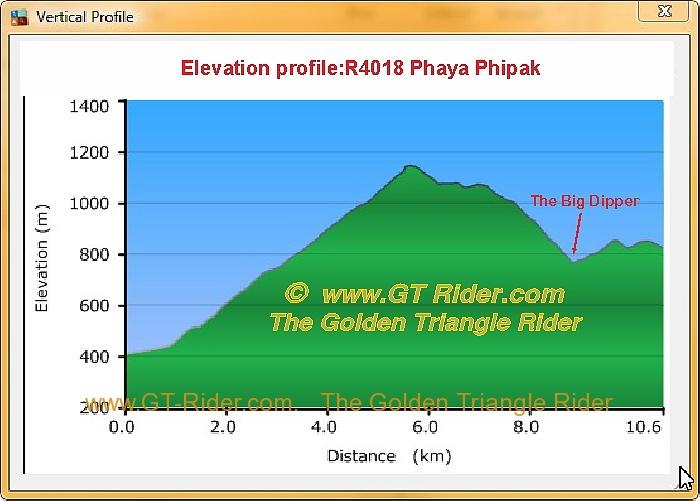 The Lao U Road
The Lao U road, no number, was the next one to ride. This was a new one for Rivo & I'm sure he was suitably impressed.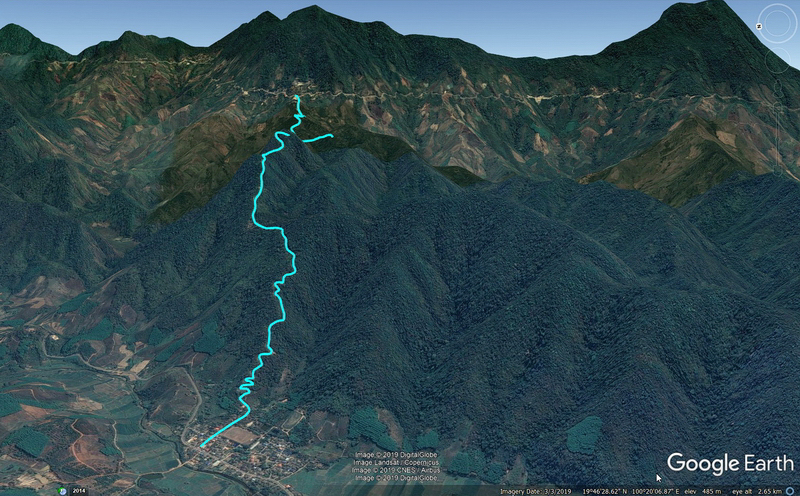 Nearing the top on level ground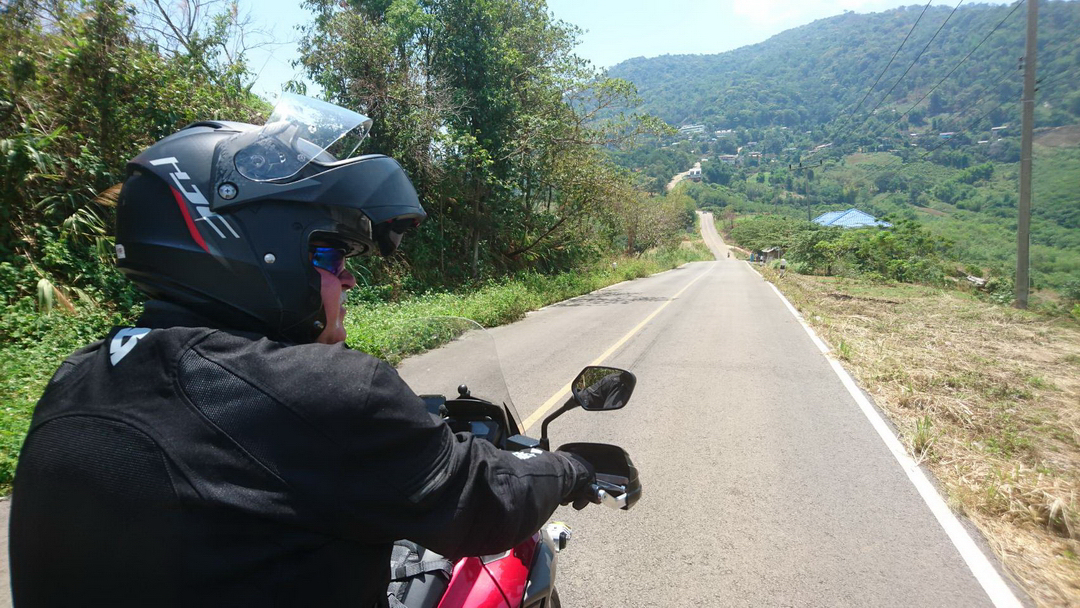 It is 8 kms on the Lao U from R1155 to R1093 & it is basically straight up.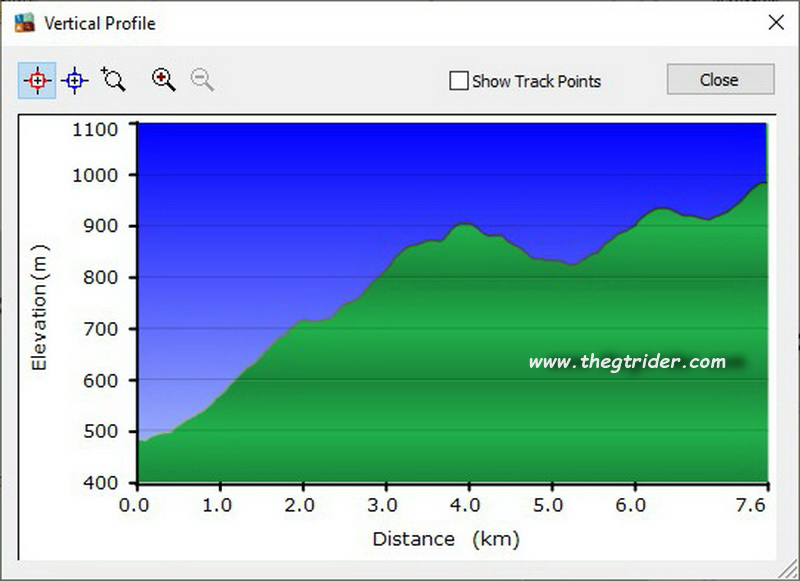 Along the way there were several covid protector effigies to announce you were entering Hmong territory.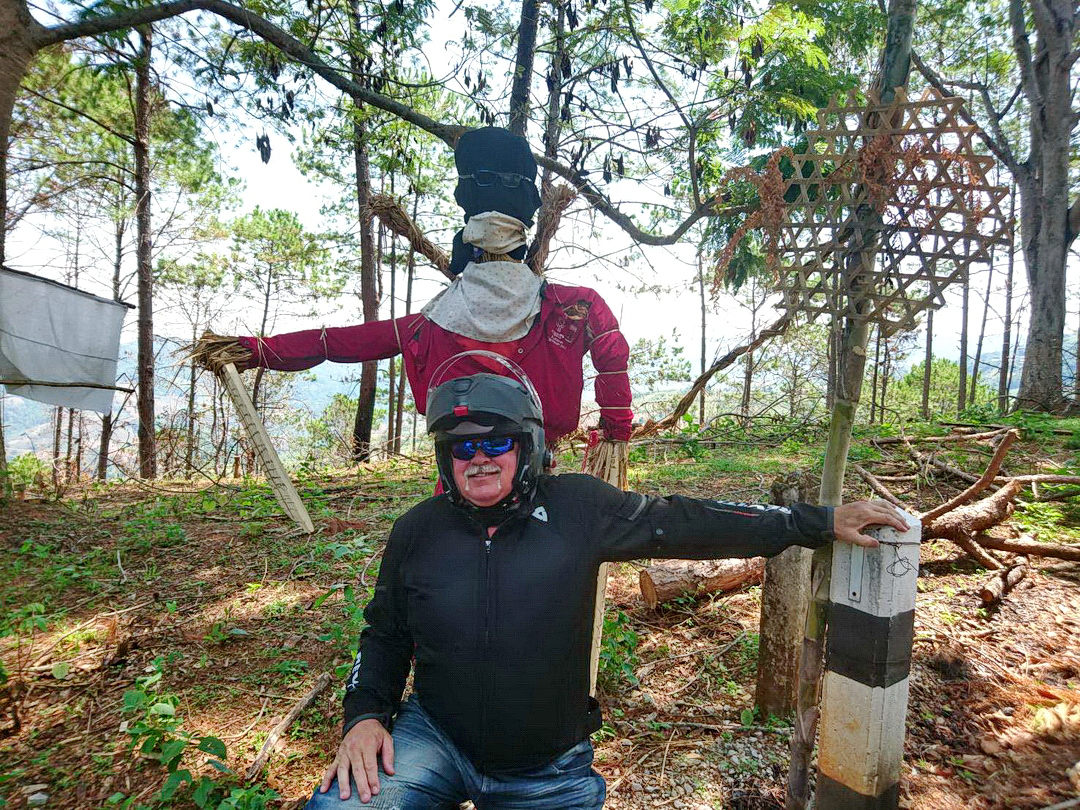 Lao U is another old Hmong village
, now known as Rom Pho Thai, that once used to be on the commie side, due to years of neglect by the government of the day. The original name Lao U comes from a charismatic Hmong man resident in Lao-U in the 1960s. After the government gained control of the area it in the early 1980s is was renamed Ban Rom Pho Thai, which means "village under the realm of Thai patronage."
Lao U
I've got a favourite stop in Lao U, & that is to catch up with the old one legged Hmong guy weaving baskets from bamboo beside the road.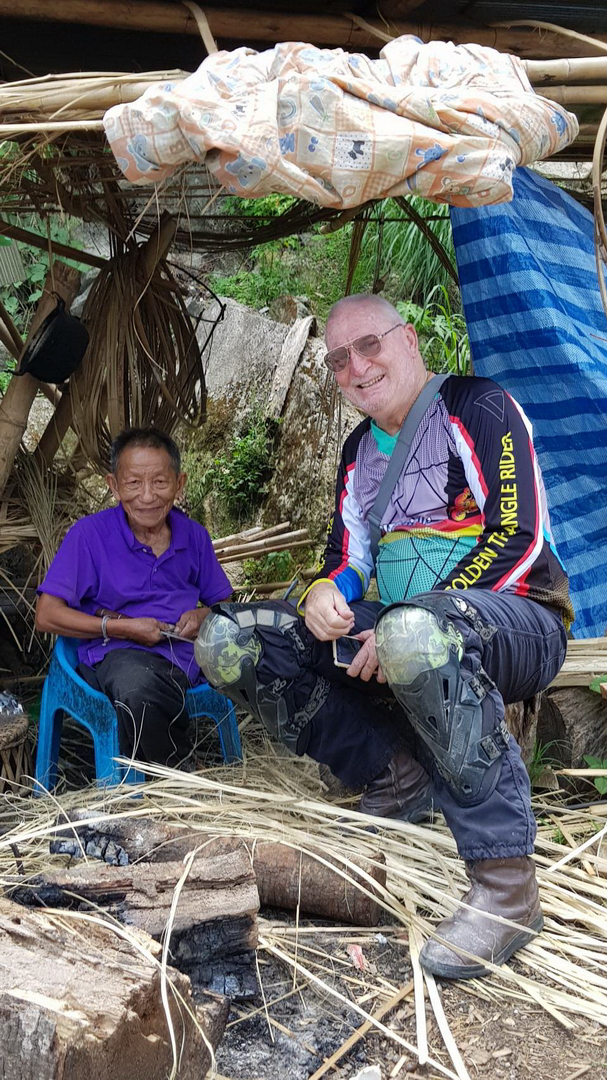 A fabulous lively old guy, he is always a delight to chat to & shoot the breeze a bit.
His story is that years ago that while out hunting near Pha Tang, he stepped on a landmine & lost a leg. Incredibly he is still alive, relatively strong and healthy & is gainfully employed by himself in a little roadside hut enjoying his simple life. You can't keep a good man down.
After chatting about the Covid scare & effigy protection he insisted that Rivo & I protect ourselves & bikes against bad spirits, so Rivo and acquiesced, took his advice & protection. We're ready to take on all comers now...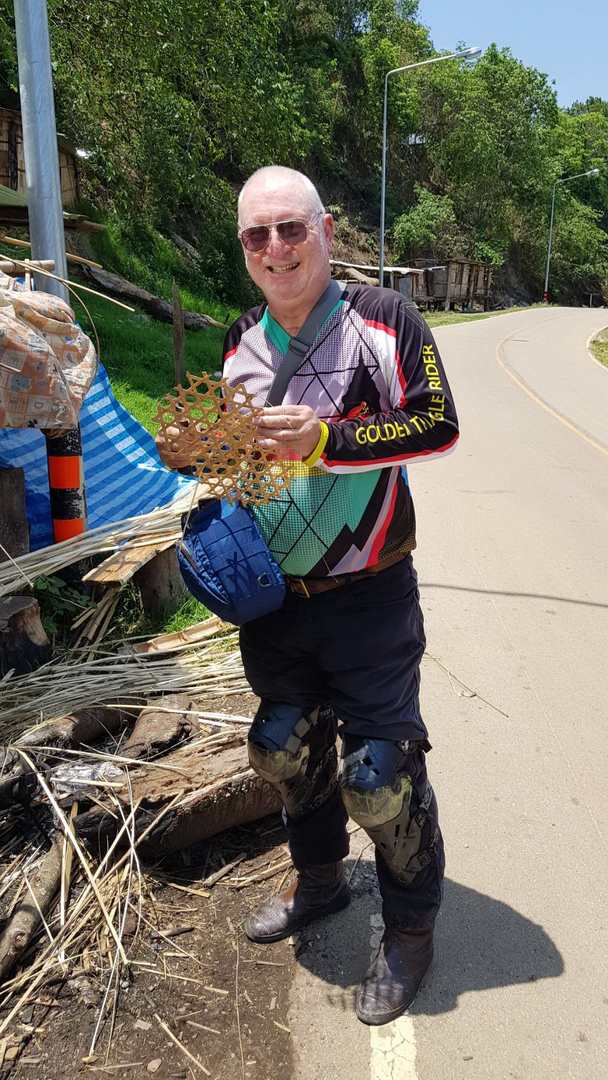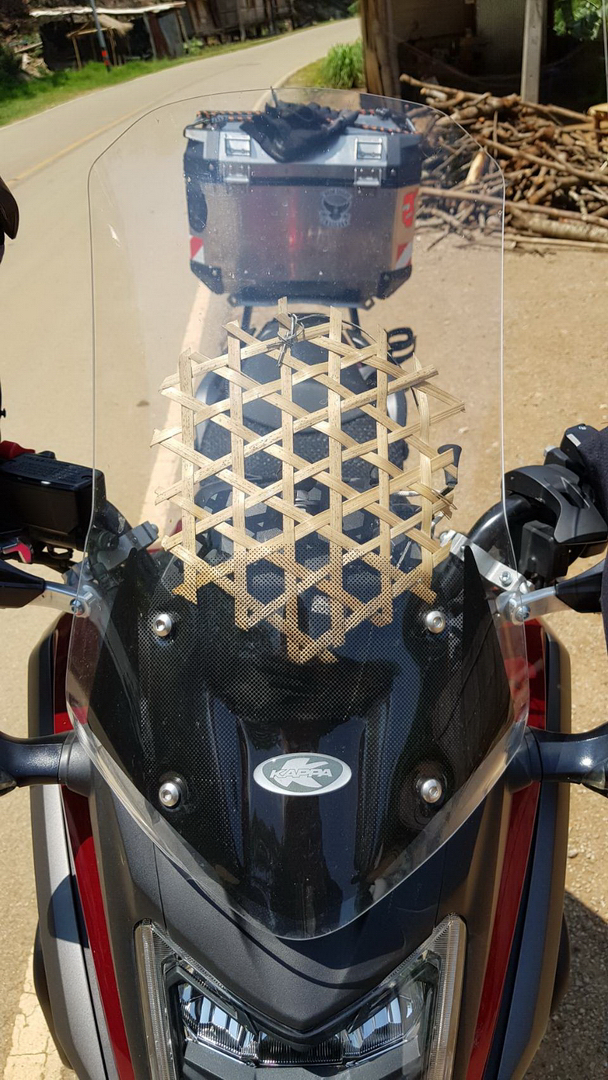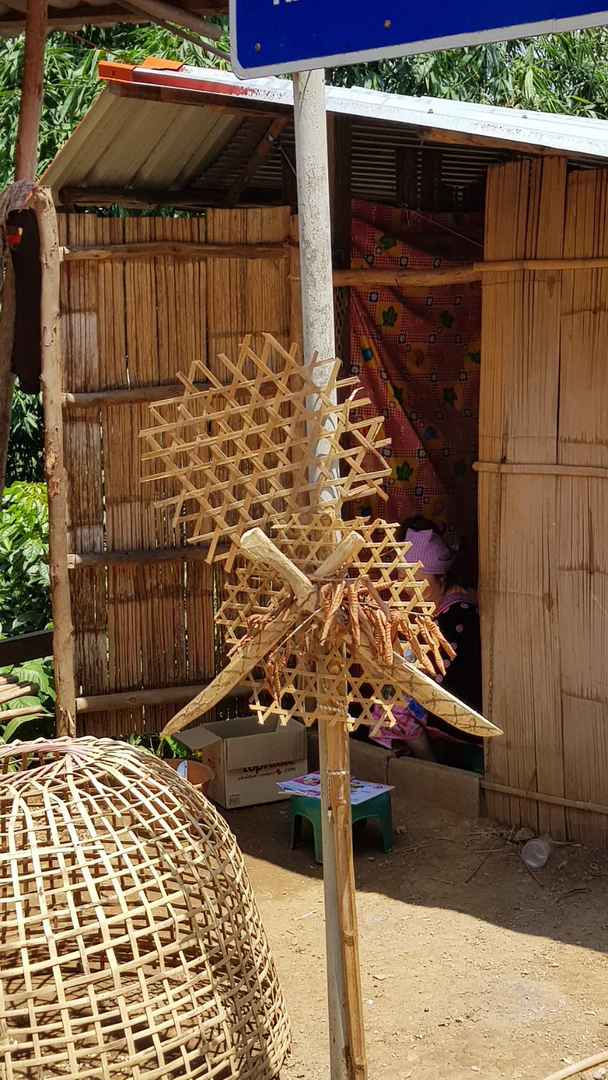 A young Hmong gal with her 5-day old son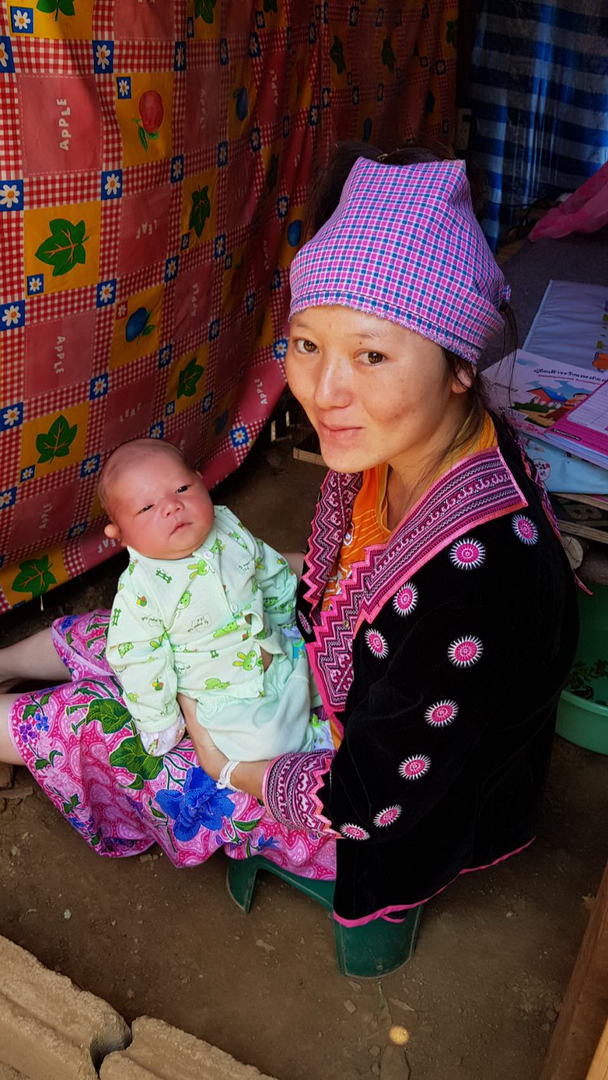 R1093 Villages & communists
Most of the original old villages along R1093 were Hmong & communist, such was the care of the government of the day. However once the Thai government regained control of the area in the early 1980s the village's old names were changed to new Thai names.
Ban Lao Jaw (named after a previous village head), was renamed Ban Rom Pho Thong "village under the golden land".
Other villages along R1093 were specifically set up to counter communist influence & only villagers who were previously fighting on the Thai side were settled there. In total there were 30 villages set up to counter any communist influence.
Some examples of new R1093 village names
Ban Rak Thin Thai = "Love Thailand" village"
Phitak Thai = "Protect Thailand" village
Ban Thai Samakkhi = "United Thai" village
Ban Pracha Phak Di = "Royal Citizen" village
Ban Rom Fah Luang = "King's Patronage" village
Ban Rom Fah Siam = "Siam Patronage" village
At the bottom of the hill before the steep Phu Chi Fah ascent is a Hmong village, Aung Lia. It used to be the centre of a Hmong communist base "Company 85", and there were bunkers, a cave for weapons storage, a hospital, political and military training schools.
It was first renamed Rat Phak Di meaning "loyal citizens, but the Hmong did not like this & still preferred the original Hmong name "Zos Av Liab," so it was renamed yet again to be "Pracha Phak Di," which also means "loyal citizens." The game goes of conquest on.....
Phaya Pipak
is the original Hmong name for the village atop the Big Dipper, but it too has a new Thai government name of Phu Long Thang—the Dragon Pool. "A pool with an artificial dragon that was constructed in the Hmong village in accordance with the KMT's belief that a dragon existed near the village?"
The Phaya Pipak forestry park was set up in 1999, & you can see with recent redevelopments there the promotion, with photographic displays, of the Thai military victory over the naughty Hmong & communists.
Doi Yao – Phamon
used to be the name of this area, and most old reports refer to the battles of Doi Yao – Phamon mountain range; but with the setting up of the Phu Chi Fah forestry park in 1998 it is now more famous & commonly know as Phu Chi Fah.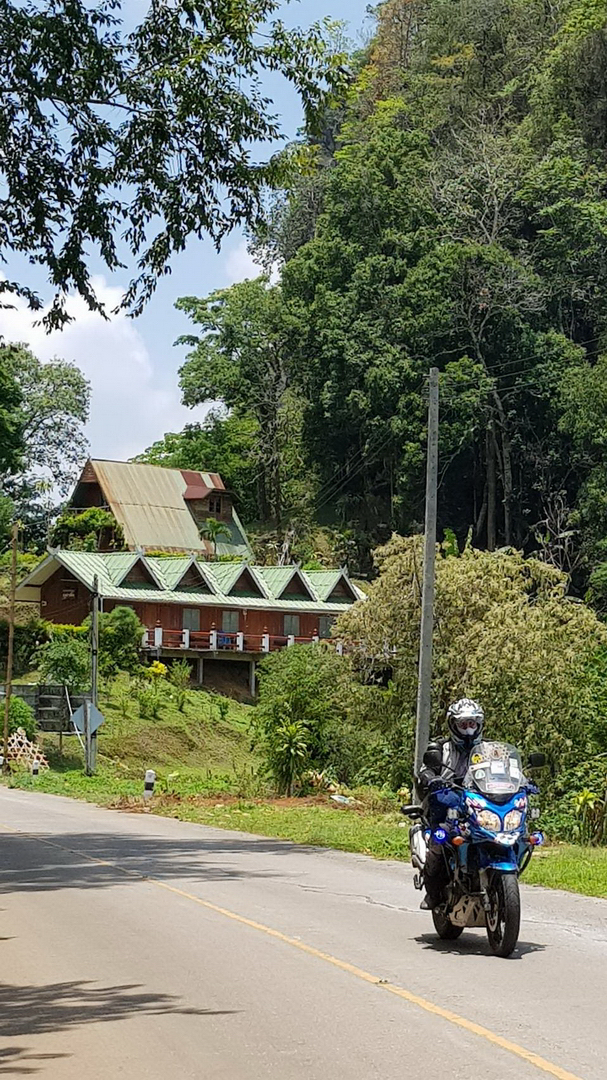 From Lao U, R1093 runs along the border just below the ridge line & it is 13 kms from Lao U to Phu Chi Fah.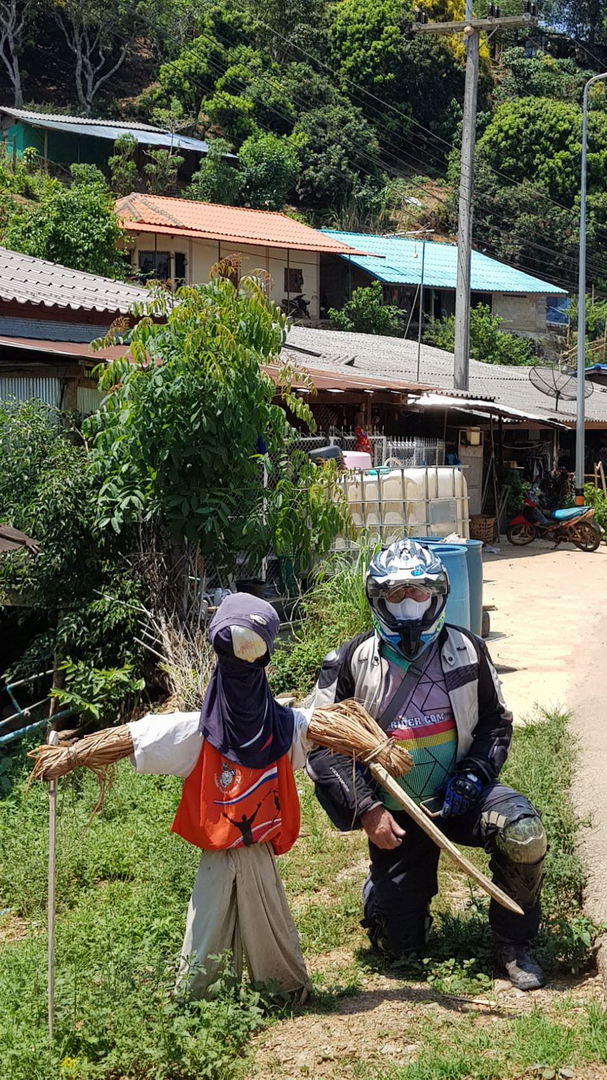 In
Phu Chi Fah there's a favourite restaurant
in town, that is supposedly the best & from experience the only one open at night in of season. Rivo & I took a quick break here for a bite to eat & a drink.
1.7 kms further on it's time to take a ride back down the hill to R1155. It is 9 kms downhill from Phu Chi Fah to R1155.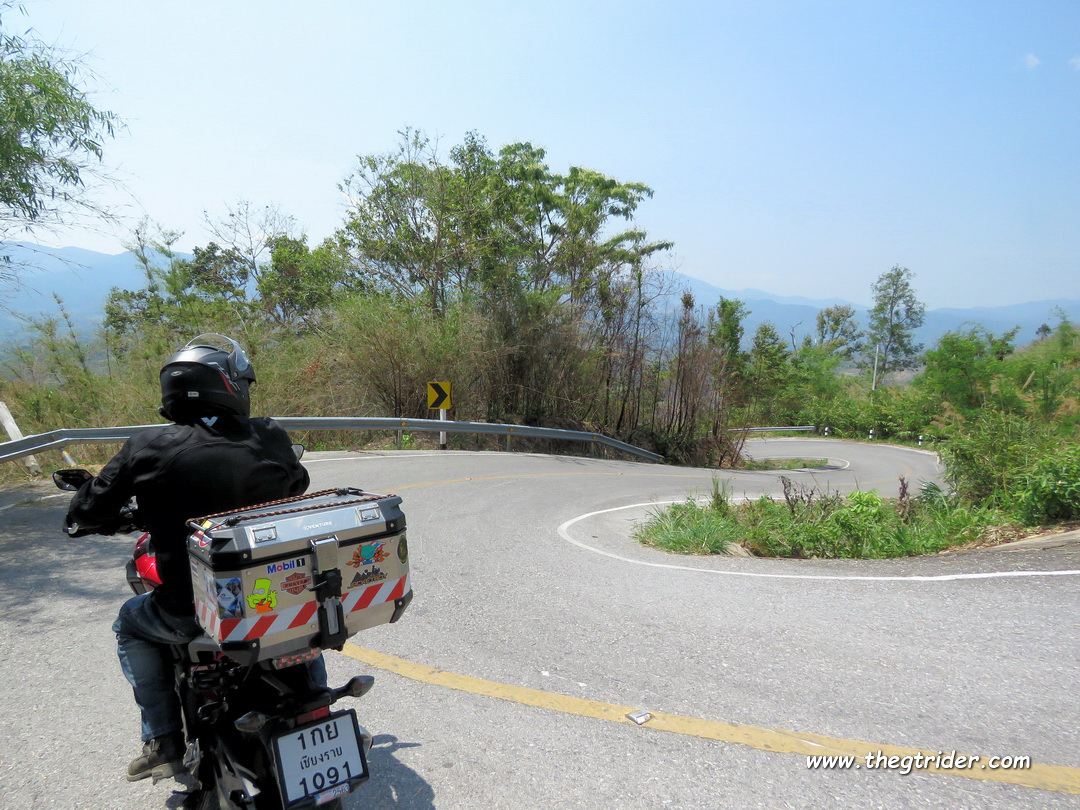 When you hit 1155 turn right & head north. It is 22 kms to the R4029 Doi Pha Tang turn off @ Pang Had.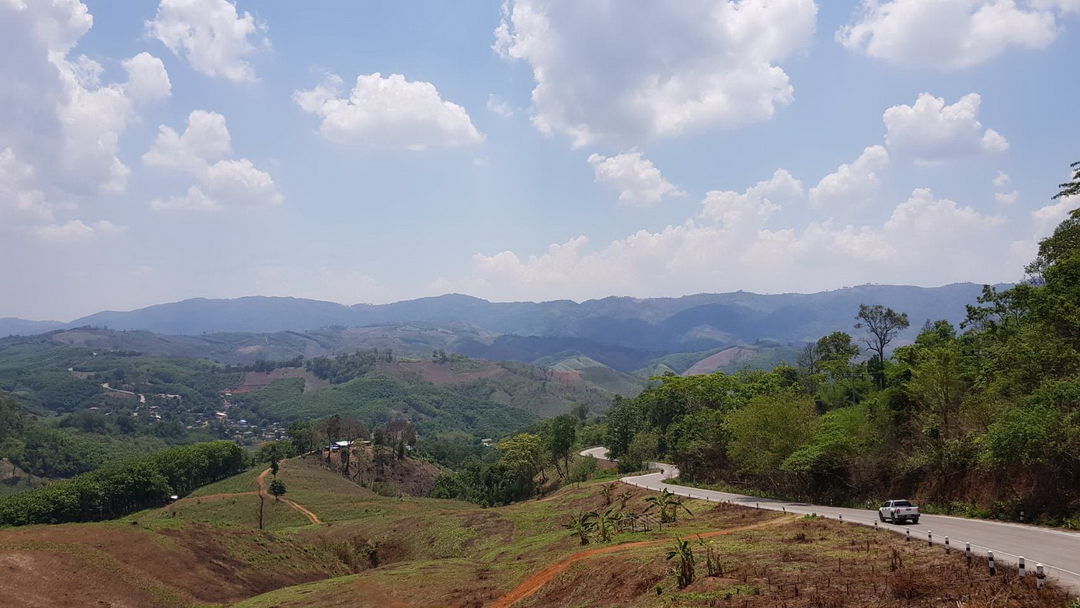 The 1155 along here is a gem of a rider's road, 22 kms of twisting winding road asphalt that, on a good day, has stupendous views of the surrounding countryside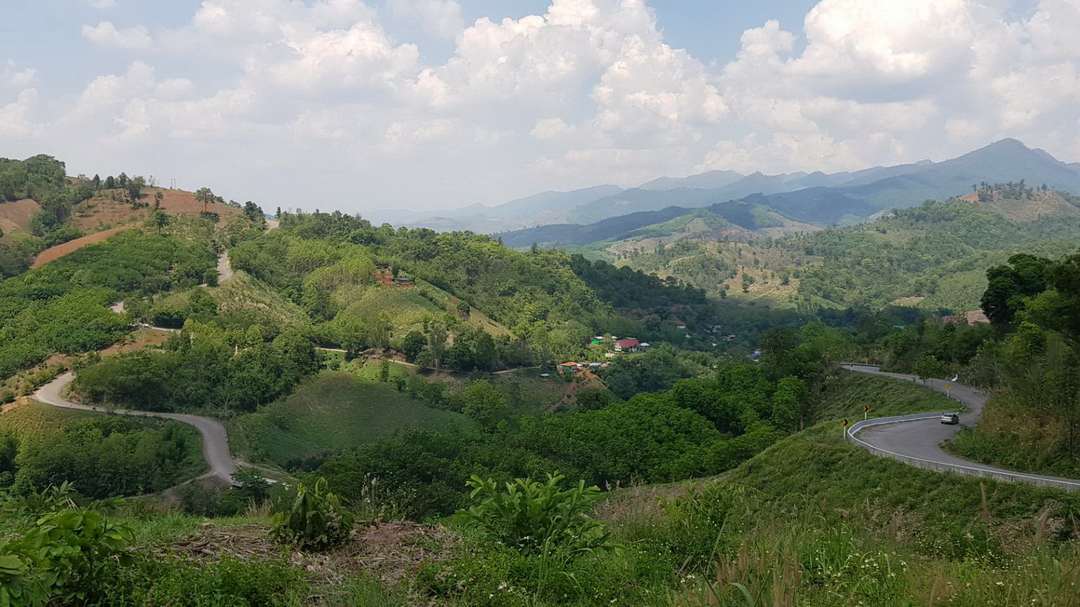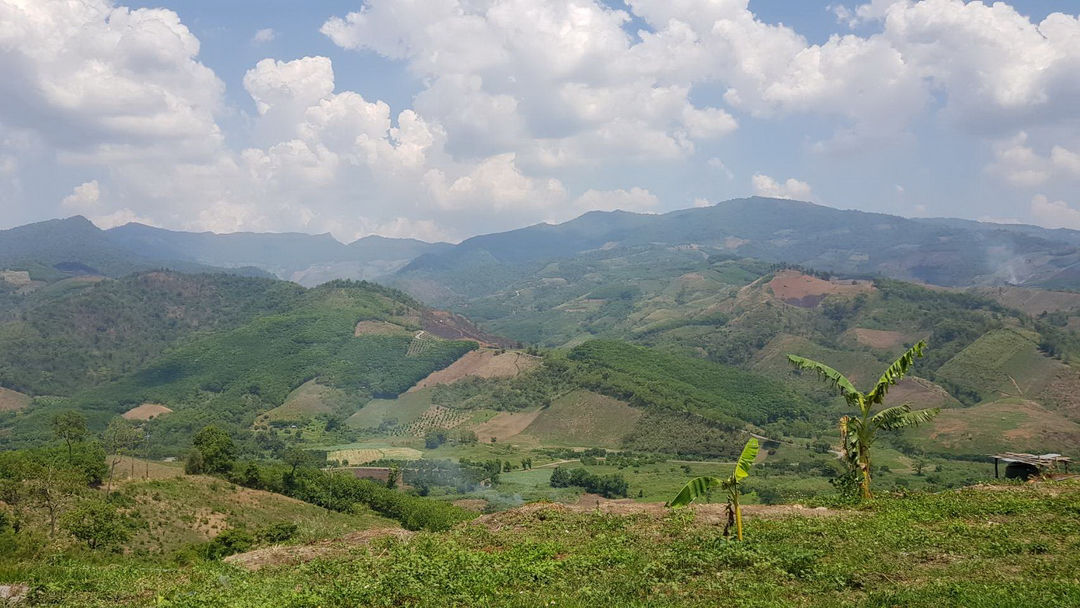 From Pang Had & R1155 it is 9 kms up R4029 to the Singapore road turn off.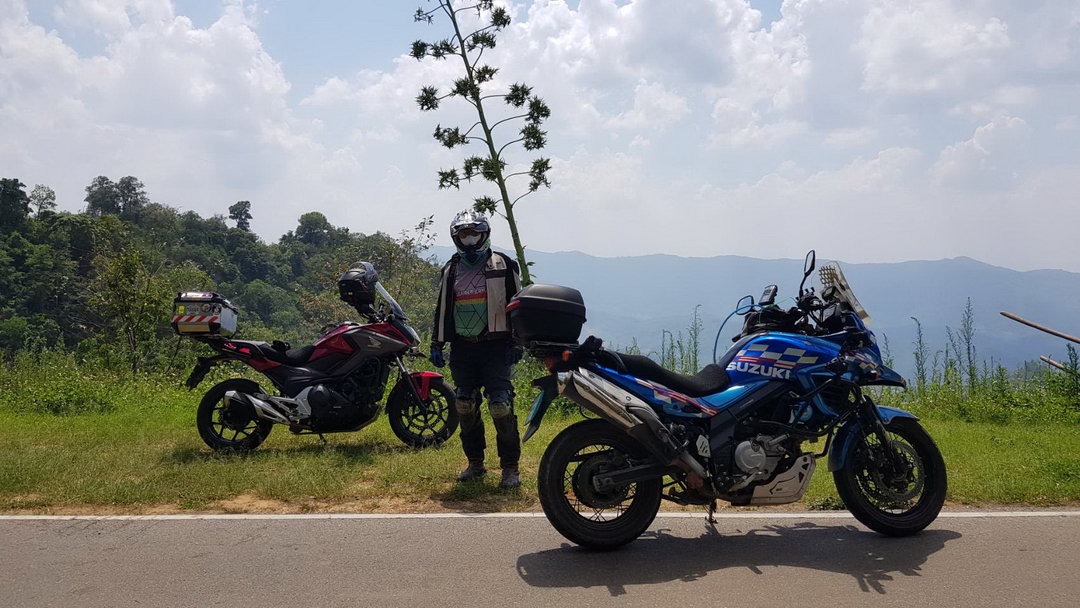 Singapore Road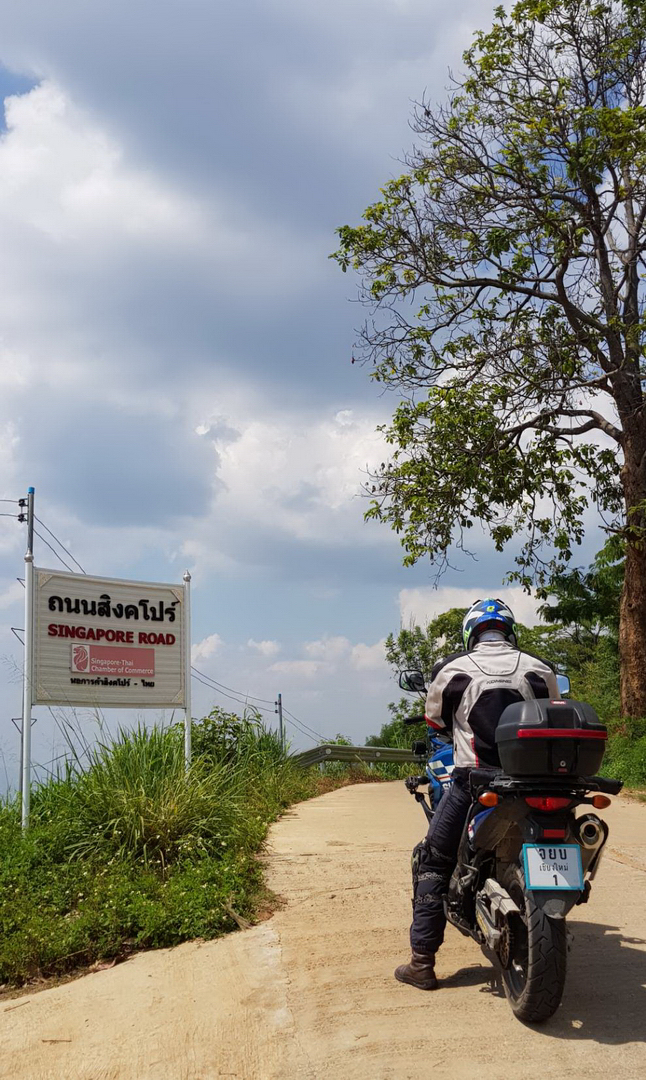 Singapore road is a narrow little concrete road, funded by the Singapore – Thai Chamber of Commerce, that is incredibly steep & winds it way through farm lands and a couple of Hmong villages.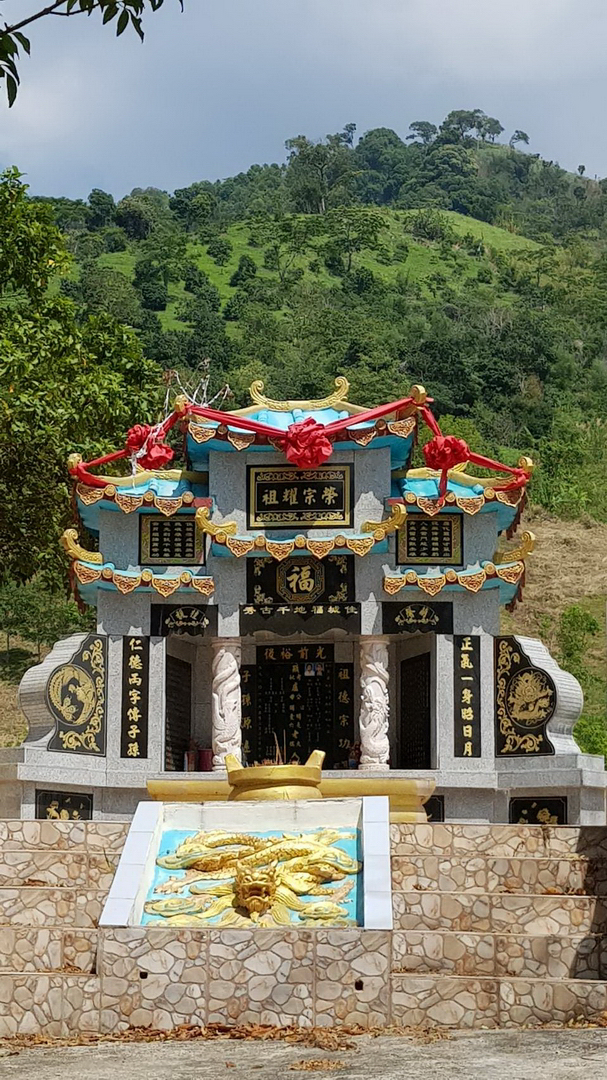 It connects back up with R1155 to the North of the Pha Tang turn off R4029.
If you've never done it, it is quite daunting the first time on account of the steepness.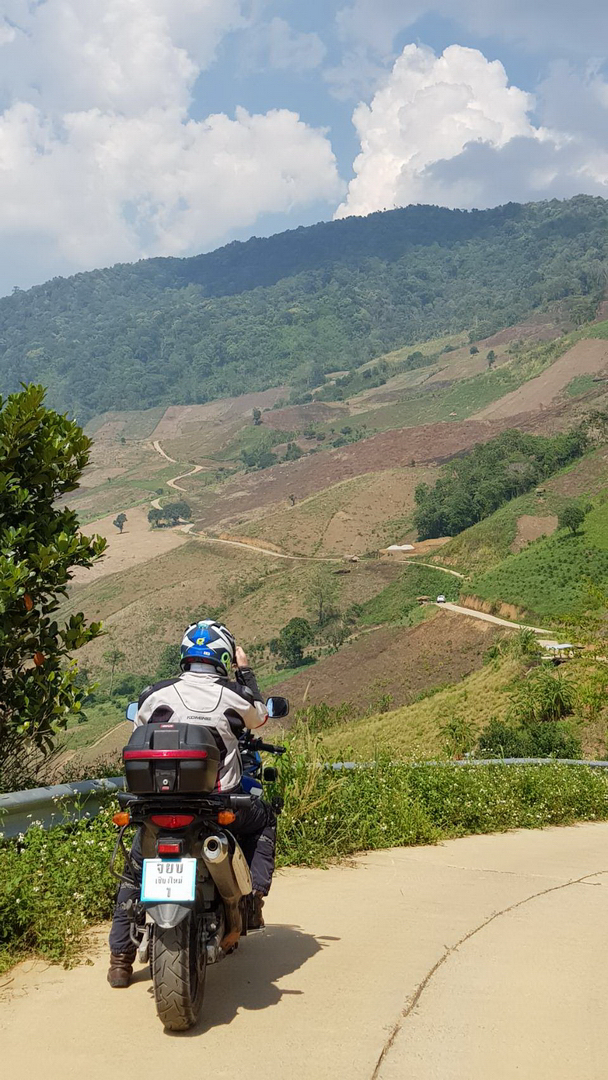 It is one hell of a ride, especially if you're out there doing it alone for the first time.
Singapore road runs for 15 kms down hill to link up with the 1155 at Ban Po.
Right at the very end there is 500 metres of bumpy dirt gravel, which may not be so enjoyable for those of street tyres.
From Ban Po is it 13 kms to Wiang Kaen or 42 kms to Chiang Khong.
Heading home to Chiang Khong
you can always stop at the Lai Ngao viewpoint for a coldie to celebrate a fantastic days ride.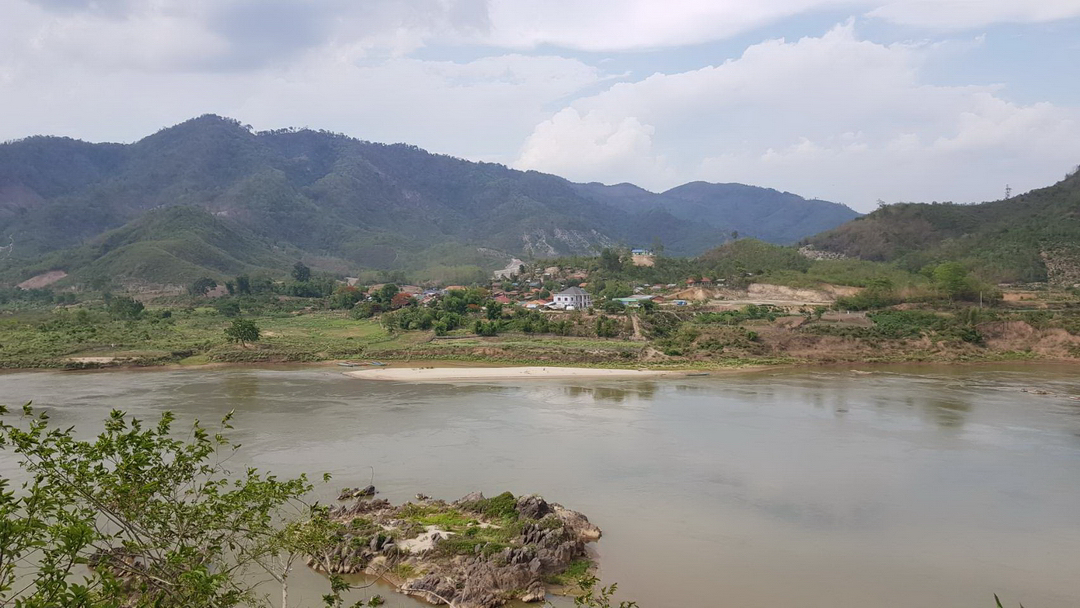 Thanks Rivo for a fantastic day out & the pics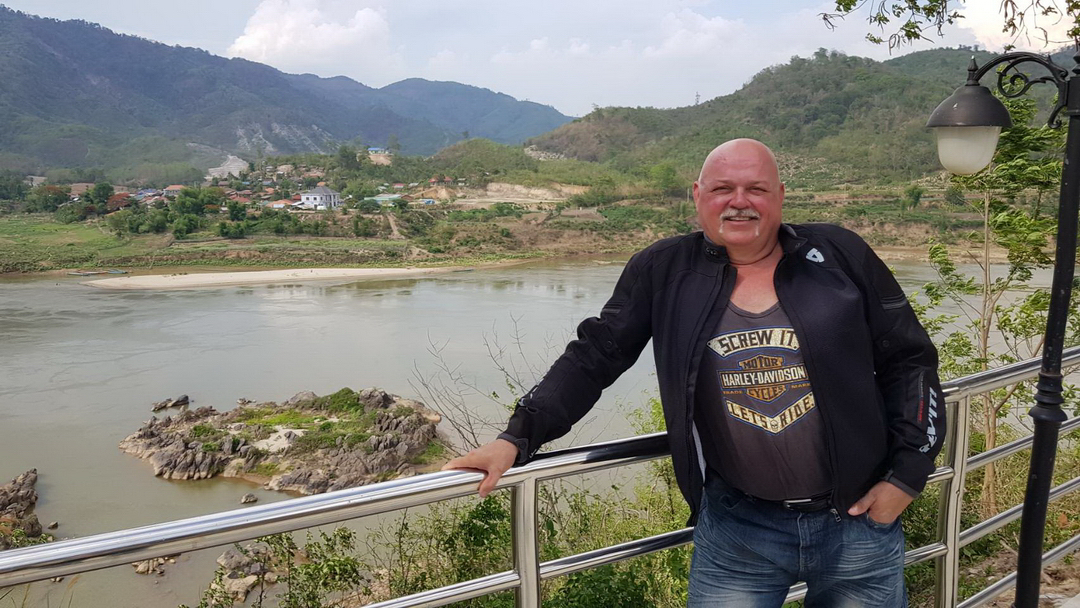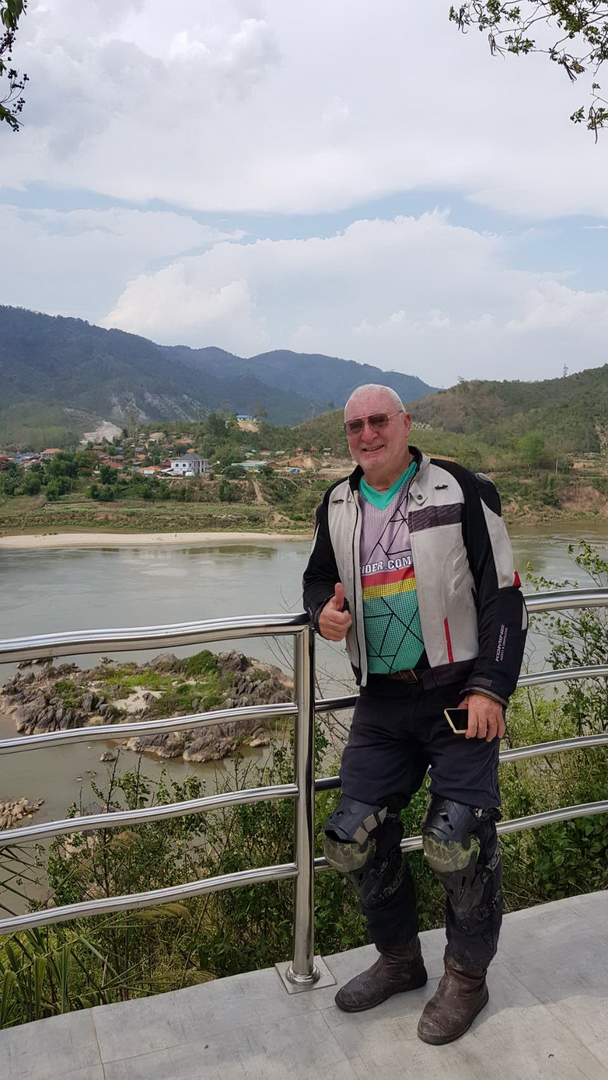 And that my friends makes one hell of a Great Roller Coaster Ride & Route.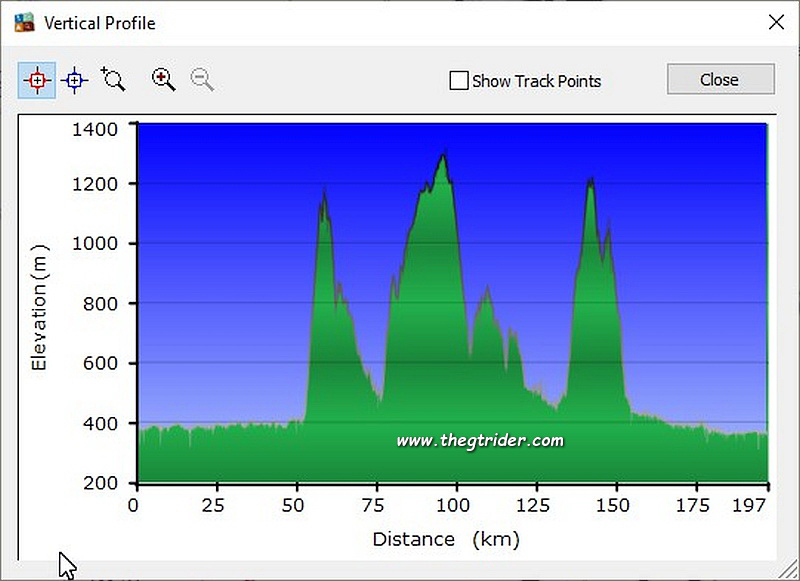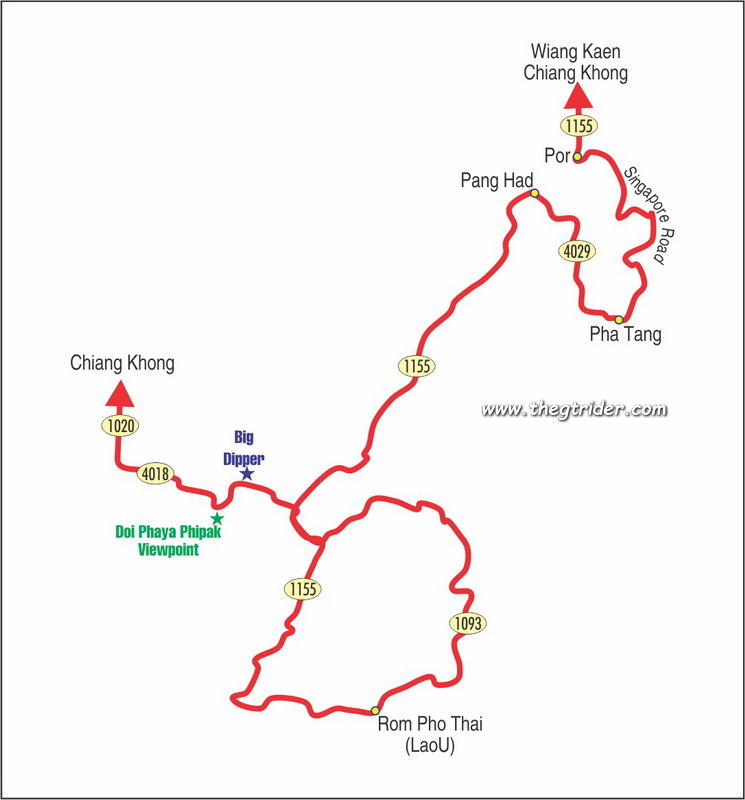 Check it out as a day trip from Chiang Khong sometime.
If you're not familiar with area, pick up a
GTR Golden Triangle Map
to understand the road network, plus help GTR survive the current economic dilemma.
P.S. I hope the bit of history thrown in makes the ride out there much more rewarding. Source:Contesting Memories in the Hmong Thai Community: A Study of the "Red Meo" at Doi Yao-Phamon in Northern Thailand.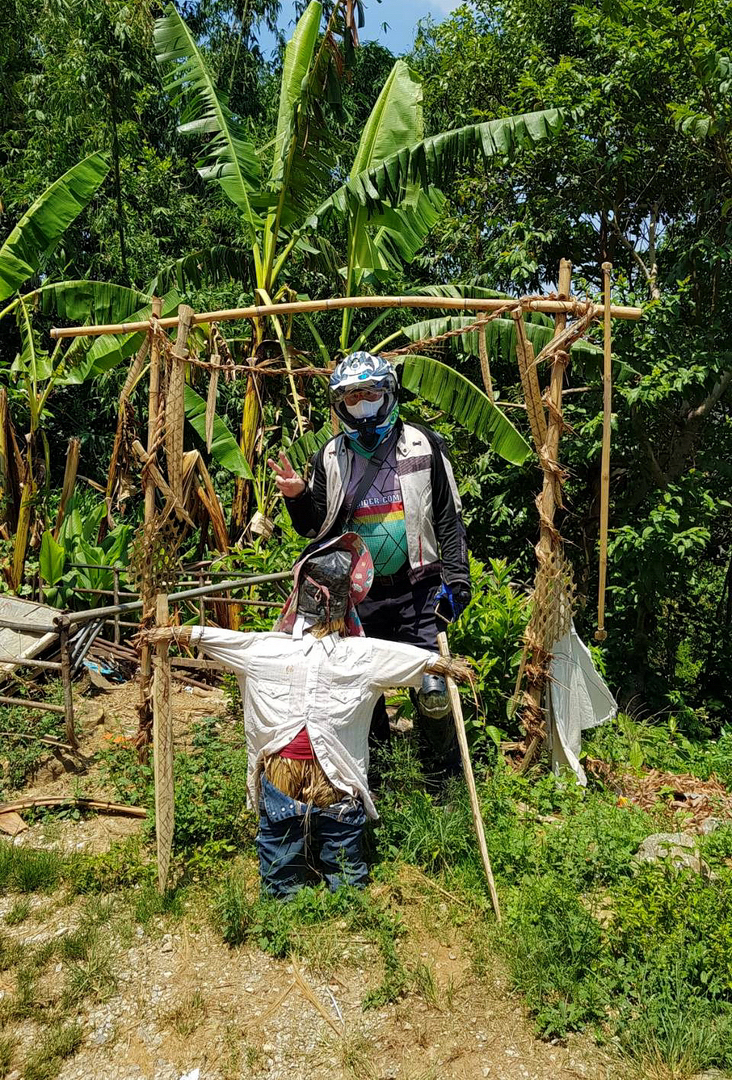 Last edited: