Excerpt
: After completing various loops around North Thailand, I decided to drive a circle at the periphery of the provinces. This post describes the itinerary of the upper North Thailand arc.
"An Unbroken Circle"
(2)
First Part: Upper North Thailand
Preamble
As I wrote a report about a trip in the east of North Thailand (
A loop through Eastern North of Thailand
), I envisioned the main itineraries of the region as a trefoil around Chiangmai. Then, I pondered about the possibility to ride a circle around the area, crossing most Northern provinces, whilst staying close to the periphery.
I had already rambled through most of these roads, but enjoyed the idea to drive a complete loop around the North. Such a trip can be started at any point of the circumference. Nevertheless, it makes sense to choose the shortest radius. From my home, in Maerim, it leads toward Mae Teng, on route 107, a distance of 20 kilometres. Then, without an obvious reason, I choose a clockwise circumlocution.
In addition to depicting this journey, my report is also an "index" to other stories, linked to segments from the same circle. They provides additional informations and illustrations of the itineraries. The
"URL"
to other threads are referenced in the text, with a comprehensive listing at the end of this post (1).
Map of the circle:
My upper North Thailand arc is similar to the "Golden Triangle Loop" described in the GT-Rider map (
www.GT-Rider.com
). After Chiang Kham, however, I continued South, toward Nam Pat and Sukothai. Another GT-rider map, the "Mae Hong Son Loop", covers most of my second arc, lower North Thailand.
Up to the Golden Triangle
"I was standing by my window,
On one cold and cloudy day"
(2)
After an out of season period of rain and chilly weather, my March departure day was enjoyable. I begun to drive early, just as the morning sun greeted an almost full moon. The air was still fresh and only enjoyable with an airtight jacket. I rapidly rallied my starting point, the "Kilometre Zero" milestone at the intersection of route 107 and 1095 (the junction of my return journey).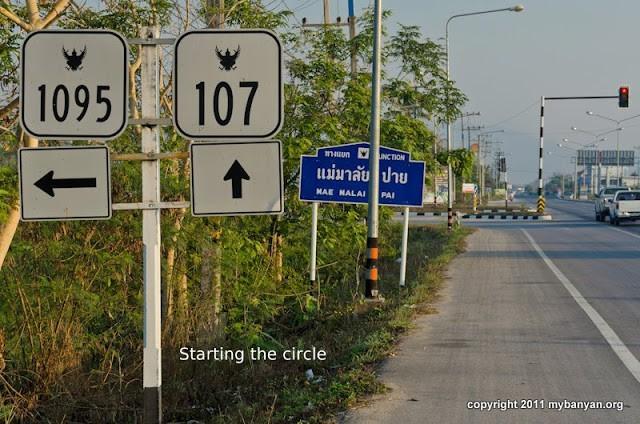 As this trip includes many sectors covered by former tours, I decided to stop less often for pictures, shooting only the landmarks.
It began as an agreeable drive, with moderate traffic on route 107 and on the ring-roads passing the main cities. Doi Chiang Dao is worth a glimpse, and the dark karst boulders, punctuating green rice fields or fruit orchards, afford a scenic landscape all along the way. Wat Ton Luang's large Buddha image is also watching over the road, just in a steep and winding curve.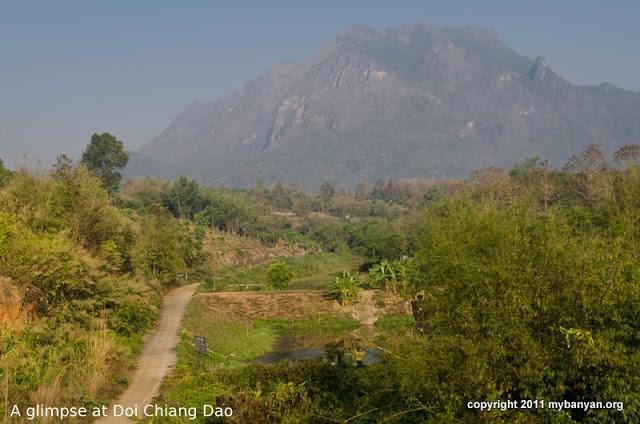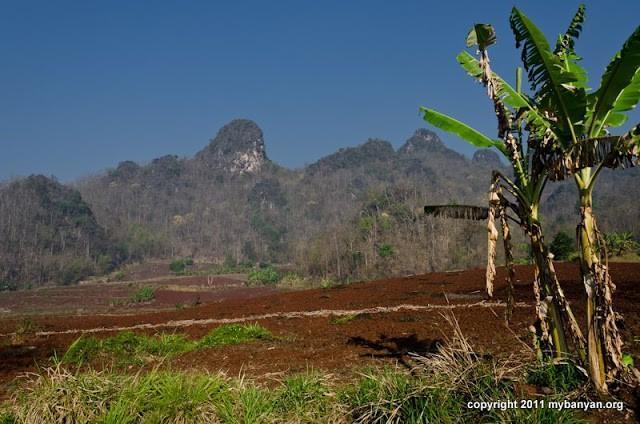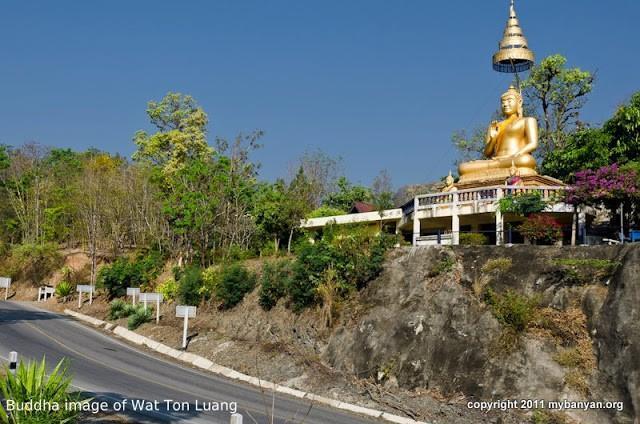 As usual, I took my "toasty" breakfast in Tha Ton's Sunshine Café.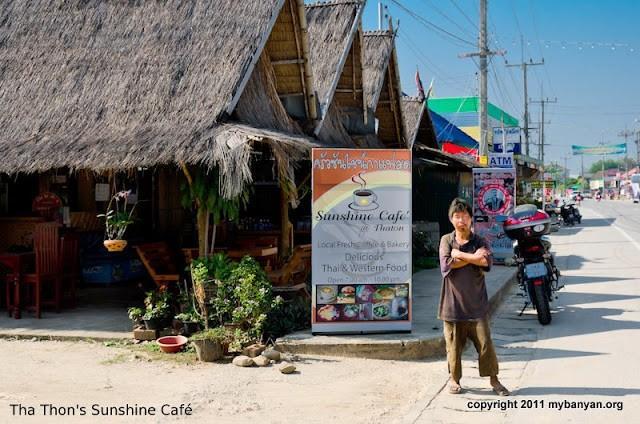 Then I went further to the intersection with route 1234. It is the road up to Doi Mae Salong, an enjoyable portion of the loop, and one of many great trails in North Thailand. The temperature was pleasant, as the increased altitude compensated the effect of a stronger sun.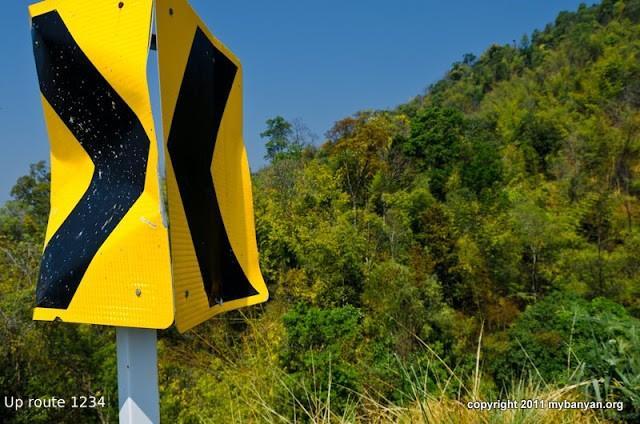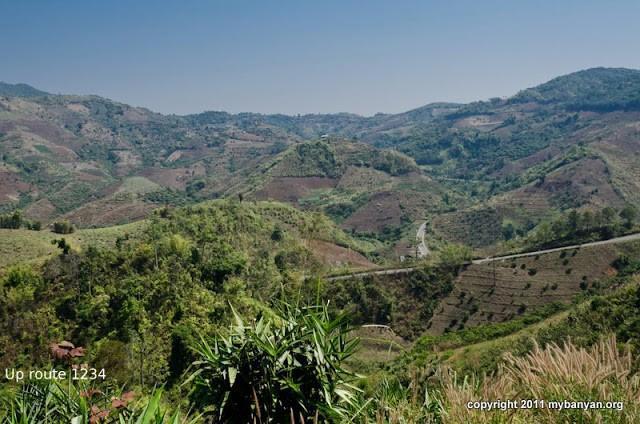 Hilltribe people sell handicrafts and local products in roadside markets. I stopped to buy small stuff from the kids and to take pictures of Lisu "living postcards". Their chatters, laughers and skilful negotiations to share my small gifts make my day.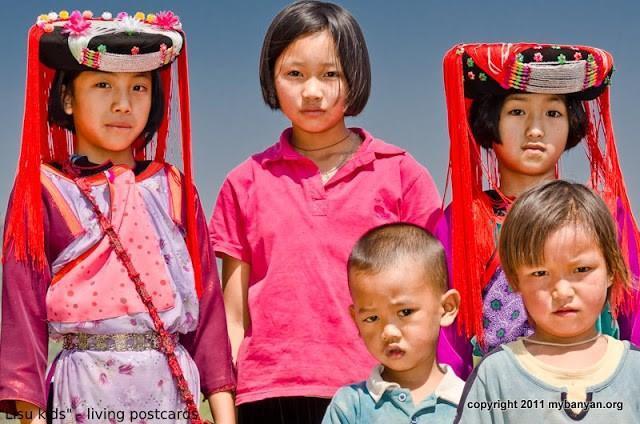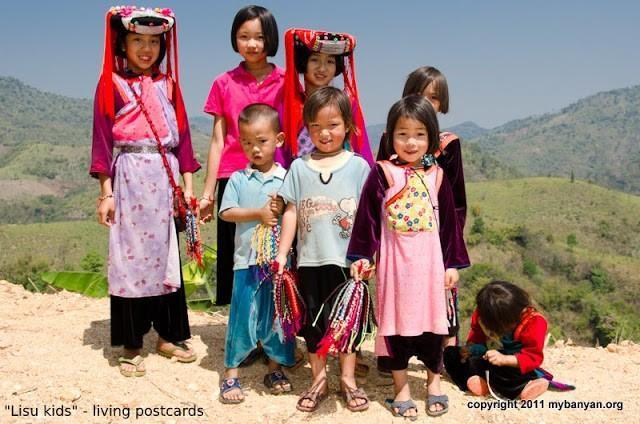 In Mae Salong (the city is now called Santikhiri), I went up to Phra Boron That chedi, a place with a gorgeous view over the mountains and the road ahead. The hill is shaded through pine trees, perfuming the air with Mediterranean scents.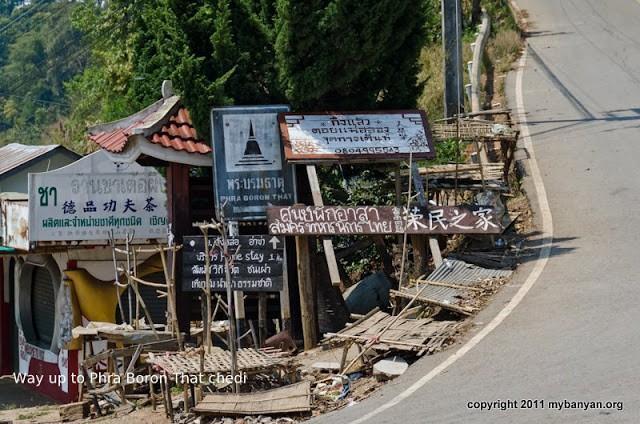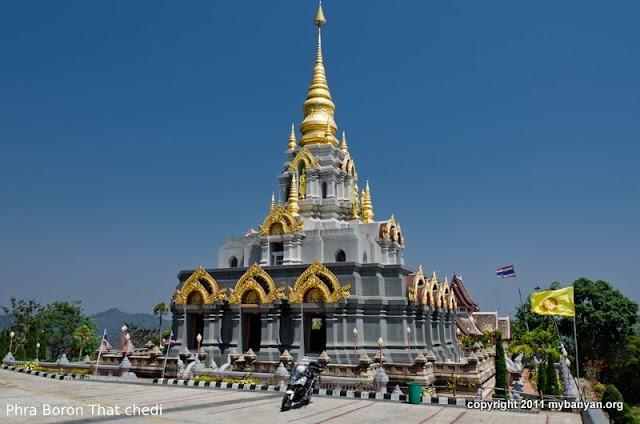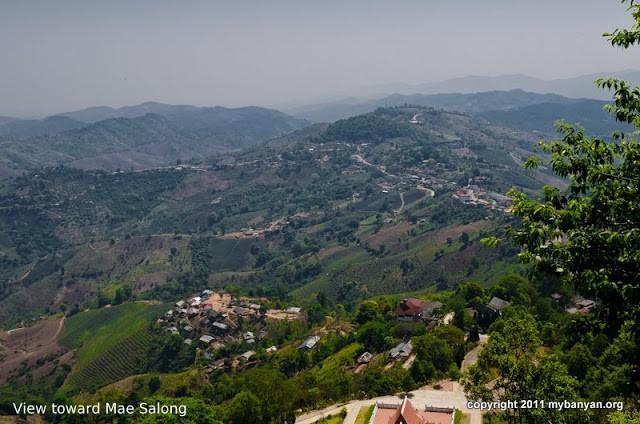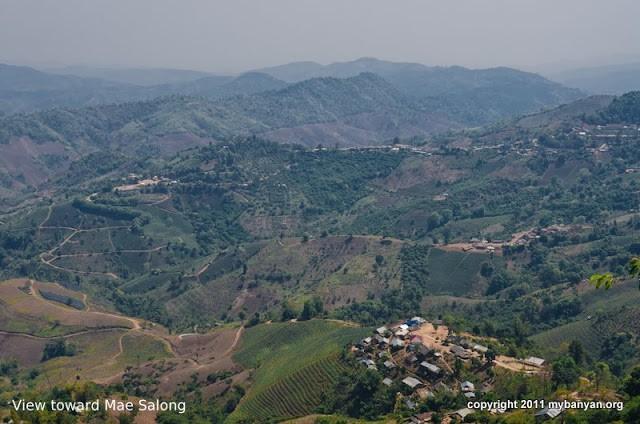 The next intersection is with route 3051. Entertaining roller-coasters, loving like snakes around the hills, make the way to Toed Thai an exhilarating drive.
Upon arrival, I checked in to Rim Tan guest house (400 THB).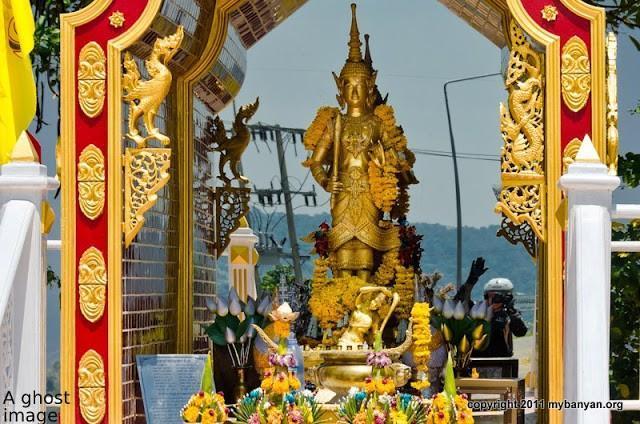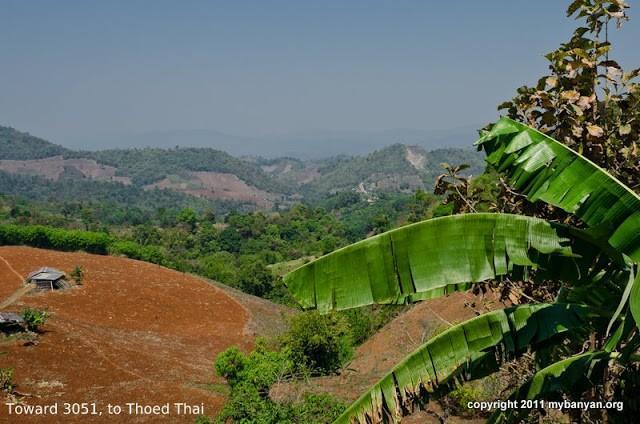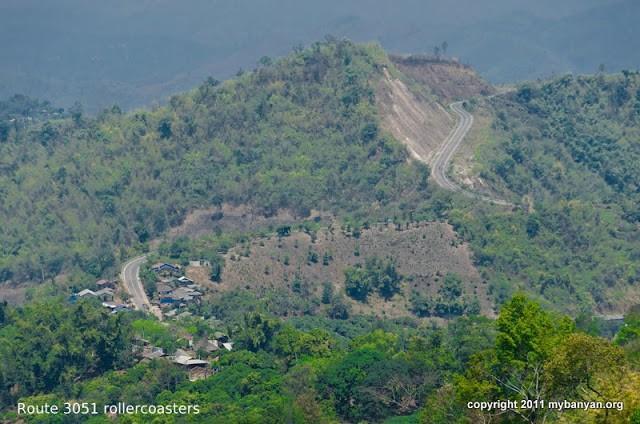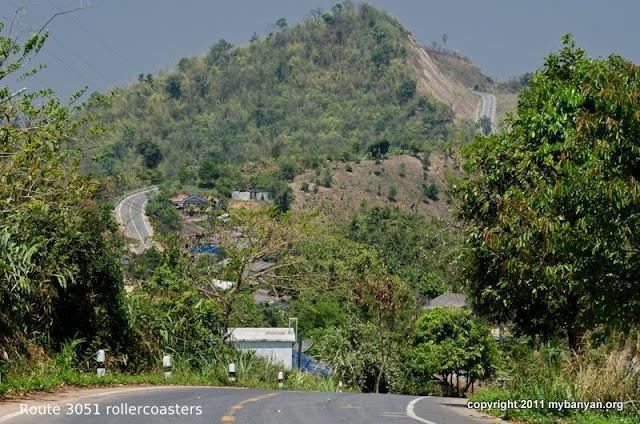 A walk through Khun Sa's old camp, the visit of the Shan style temple That Ka Kham, on a hill behind the market, and a call at Wat Kam Ka Kao, with the large Arya Maitreya image, were on my itinerary before dinner. Finally, from a slightly elevated place, I appreciated the flamboyant spectacle of the dimming light over the valley.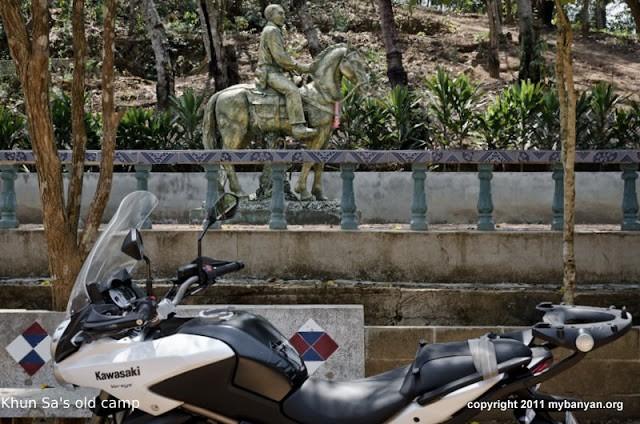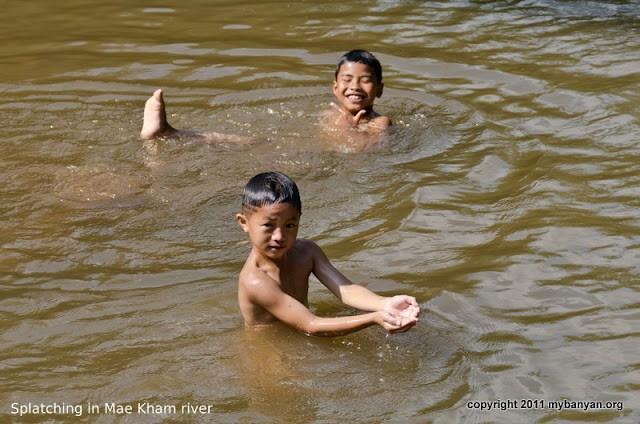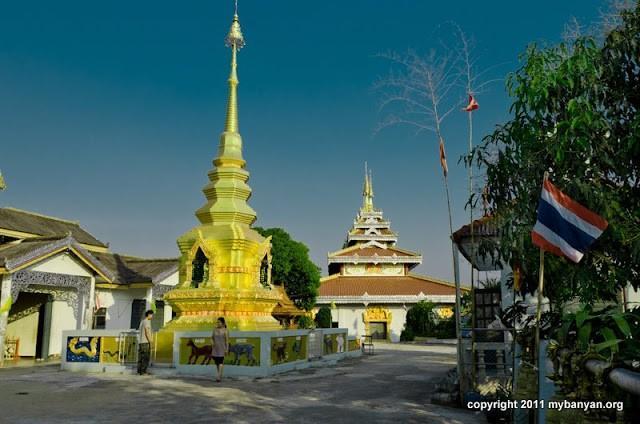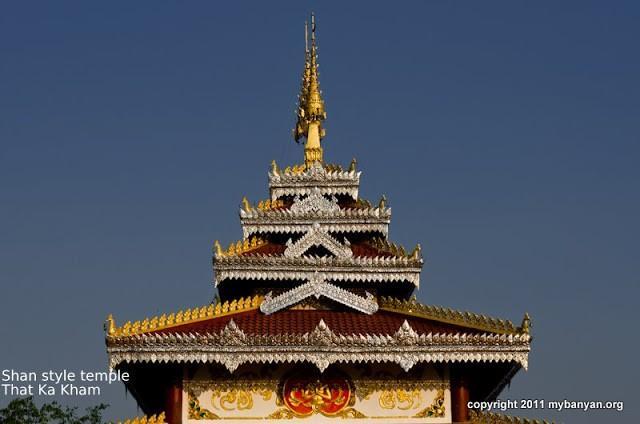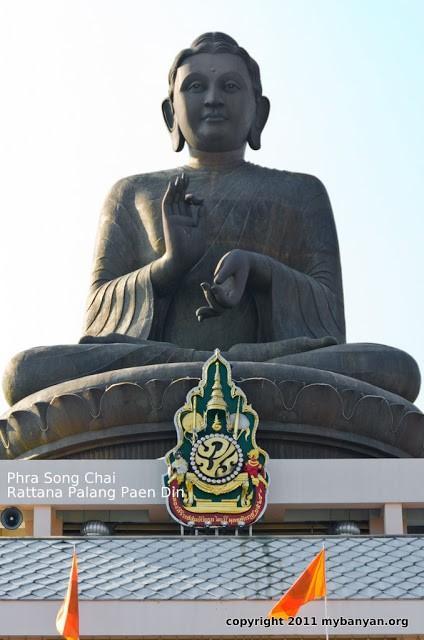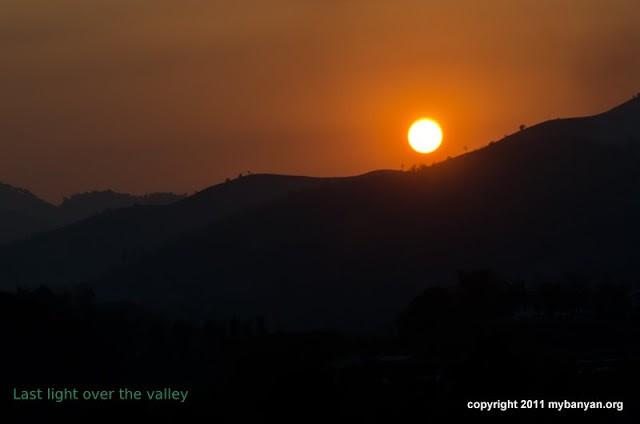 "Santiburi" restaurant is the only hangout (!) that I have discovered in town. Other distractions are of the "karaoke" type so that, after a meal and some beers, I was ready for an early rest.
The driving distance of the day was 236 kilometres (including local tours, without counting the 20 kilometres to join the starting point of the circle).
Links to my related stories:
The quest of the Laughing Buddha
North Thailand - 1 The Quest For The Laughing Buddha
A New Golden Triangle :
Around North Thailand – A New Golden Triangle?
Itinerary from Thoed Thai to Chiang Khong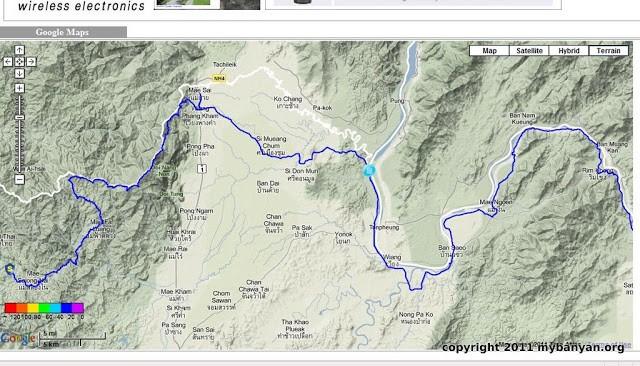 After a long rest, I got up early, and enjoyed the clear and fresh day to visit the colourful morning market.
A "Farang" pointing a curious camera toward salads, old ladies or kids is still an amazement. Not all locals appreciate to be in pictures, but smiles, on both sides, create the confidence. If there is any doubt, I give up and choose another subject.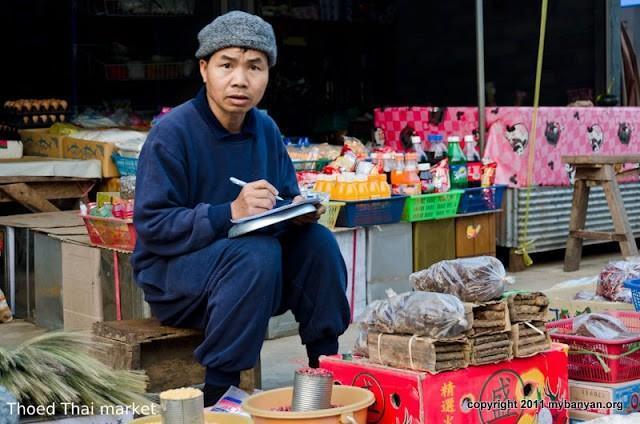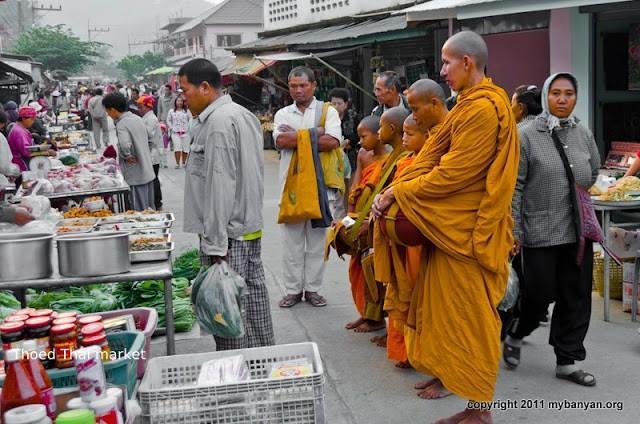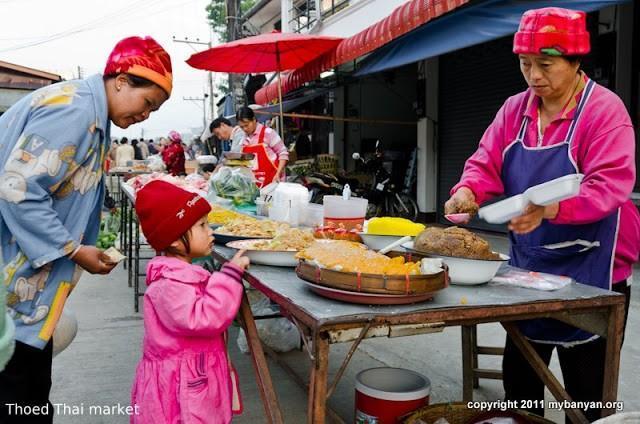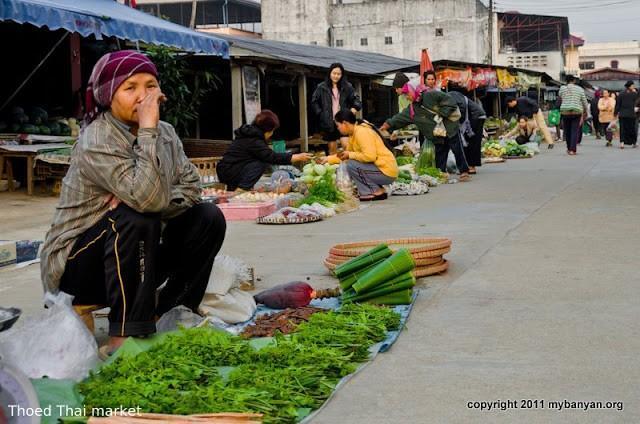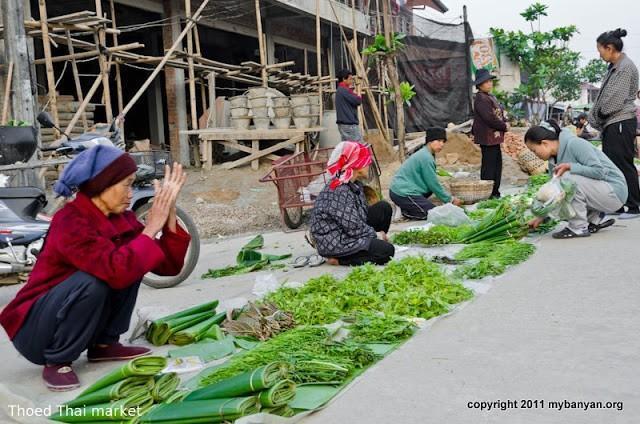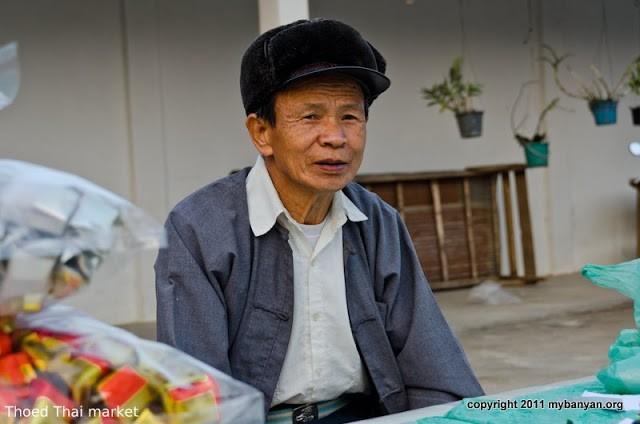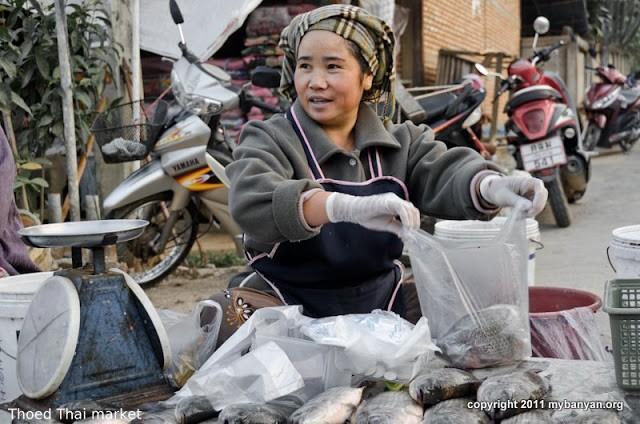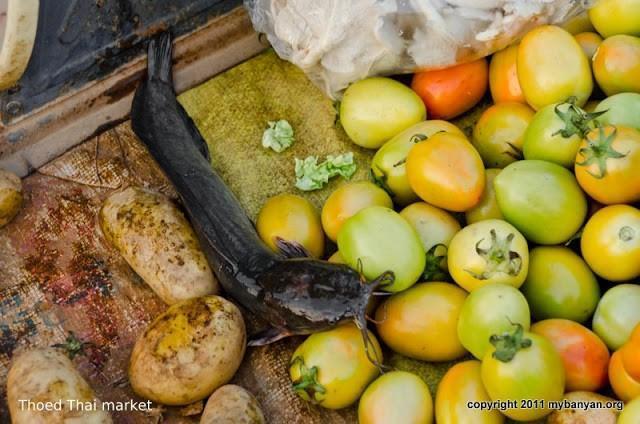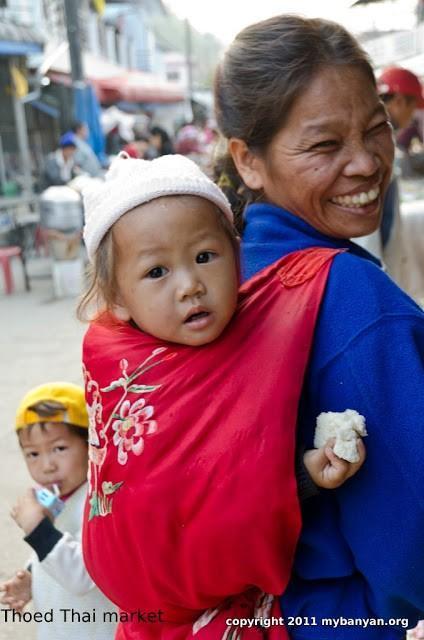 Breakfast was not yet open at Rim Tan Guesthouse so that I patronized "Ting-Ting", the restaurant next door. They provide Nescafe, eggs and sort of toasts, just enough "American" stuff to keep the machine going for a couple of hours.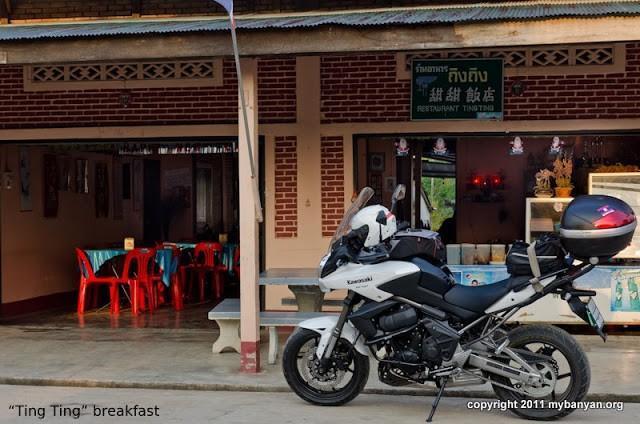 About four kilometres outside Thoed Thai, a small mountain road (1334) links to "Mae Fa Louang Garden", on Doi Thung mountain. The first segment is irregular, sometimes worn out, sometimes under construction, always narrow and winding, with a backdrop of lush forest.
My friend the bike, and me, take bumpy trails with serenity, but we dislike surface improvements, the spraying of asphalt, freshly covered with rolling gravels. It's a dangerous drive and might definitively ruin the white robe of a lady. Unfortunately this sector had a big share of it.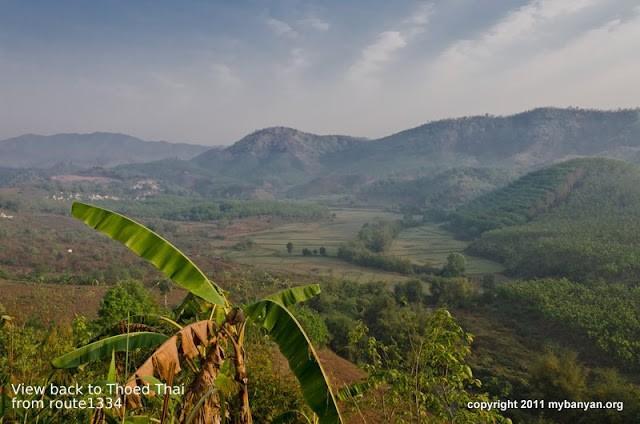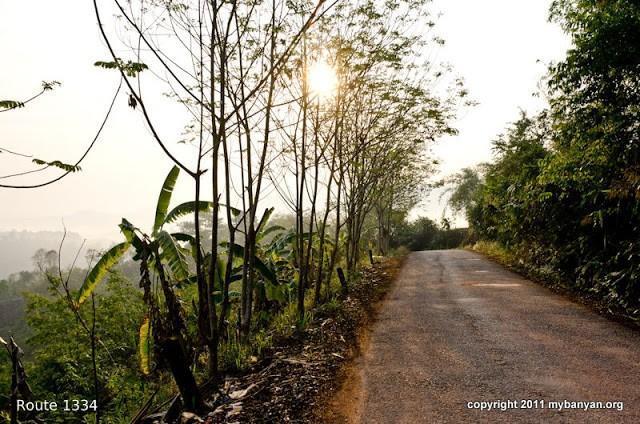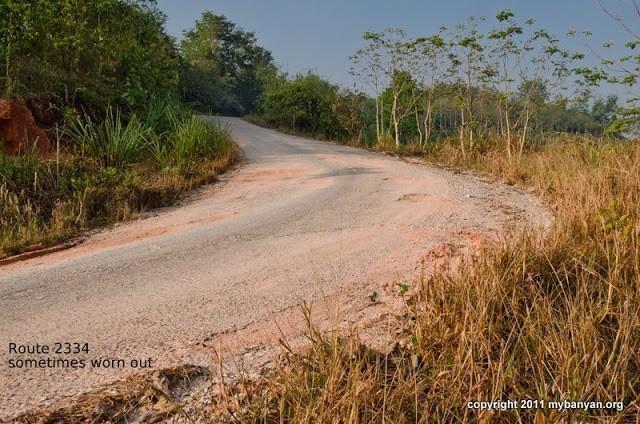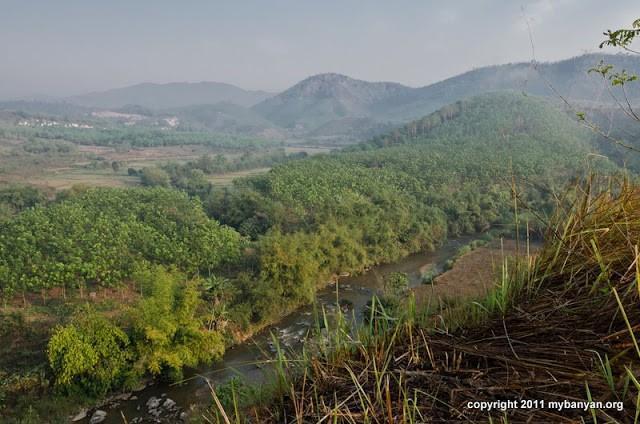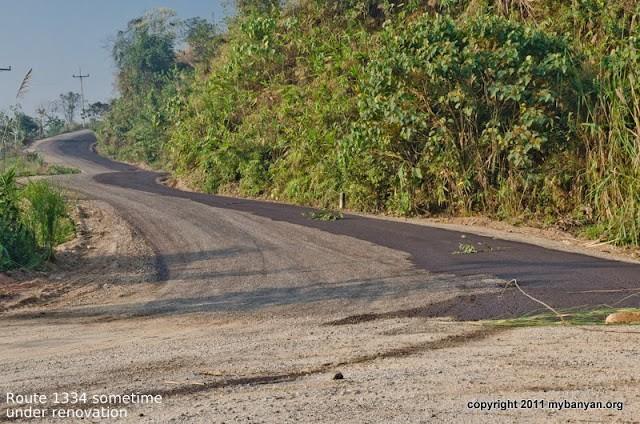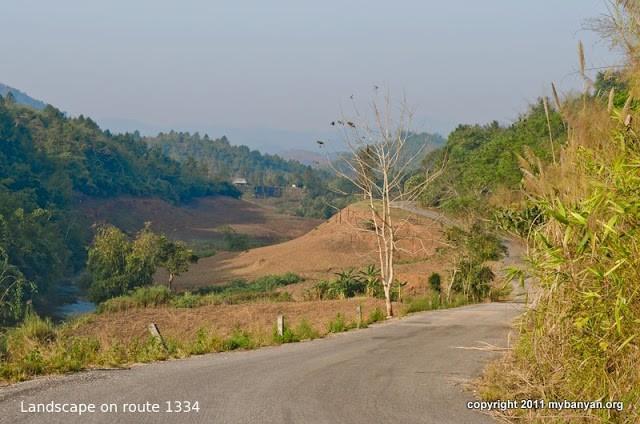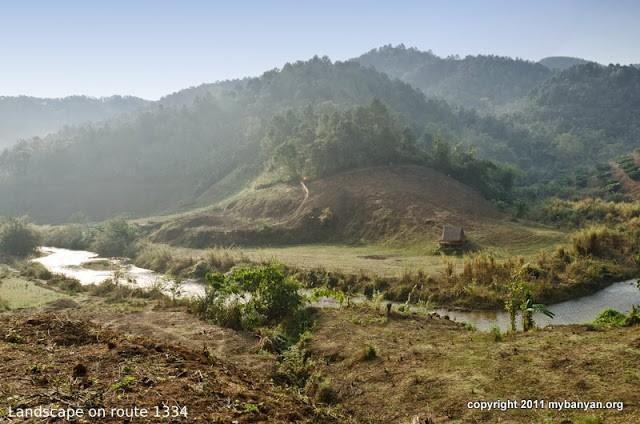 On this trip, I bypassed the royal garden as well as Doi Thung's temple and followed a larger circle, close to the Burmese border. This road also connects with route 1149, just before the "Thai-Myanmar Border Line" viewpoint and the police box. For the second time, on that itinerary, I passed through a control point and, again, I was not asked for my passport (in the past this document was necessary).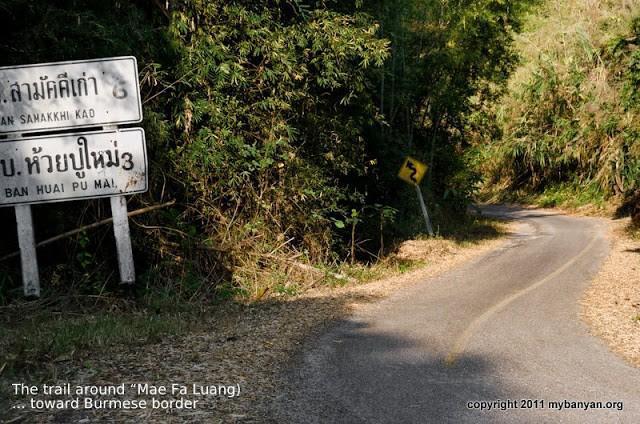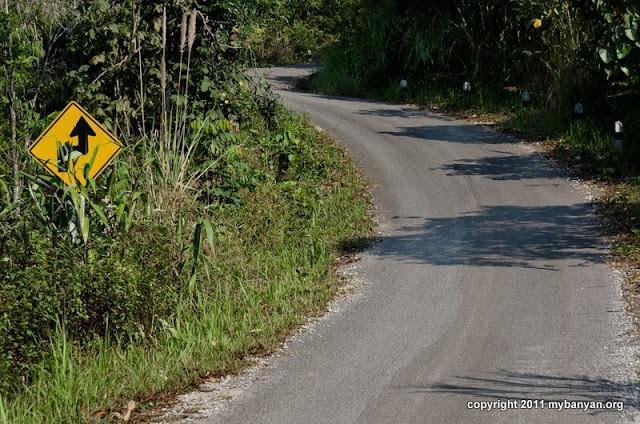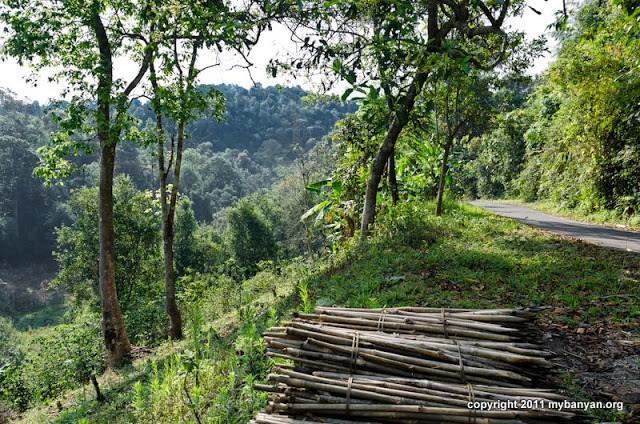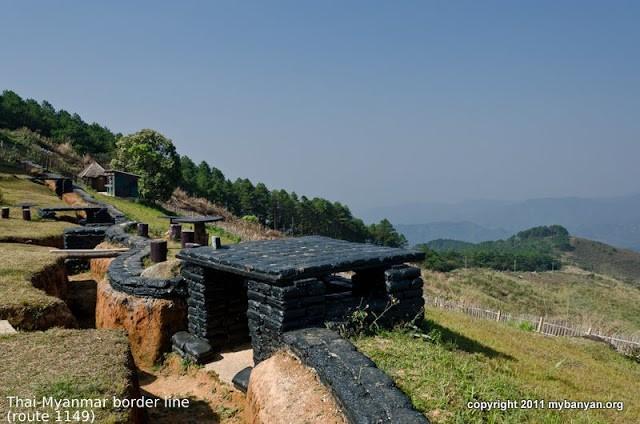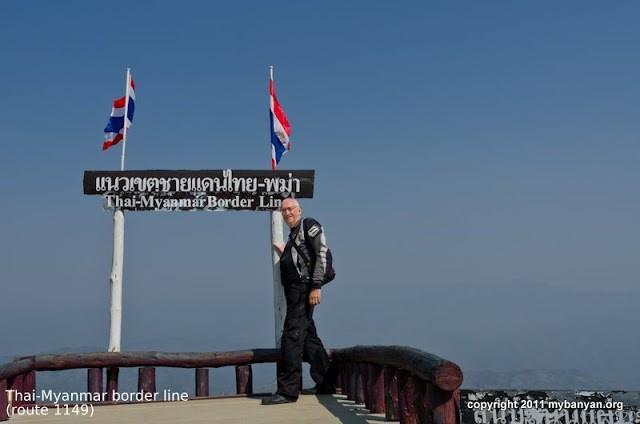 From Thoed Thai to Mae Sai, following the external arc, the distance is about 60 kilometres of great mountain road. This winding trail can be very steep and commands caution in the wet season. It makes, however, a marvellous ballade through lush (pine) forests, with scenic glimpses toward Burma.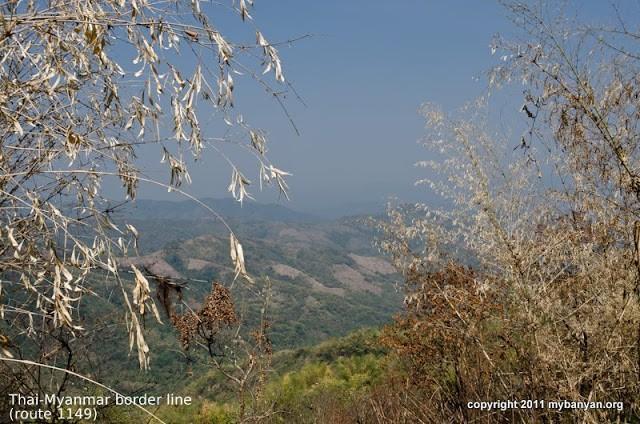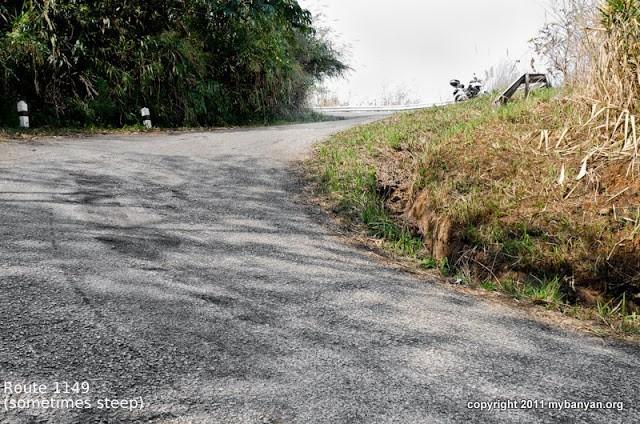 In Mae Sai, my favourite bakery was closed, so that I went on without lunch. The first part of route 1941, toward the Golden Triangle, is renovated. When I saw the traffic rushing through villages, with no (respected) speed limits, I got some odd feelings, wondering way so many highways have still to cut through settlements, before a ring road is eventually built.
This link is not yet totally completed, and the last portion, before the "Golden Triangle", was still on red dirt. Finally, when driving down the last hill, the Mekong suddenly flashes his silver ribbon at the horizon. Nice to see you again old friend!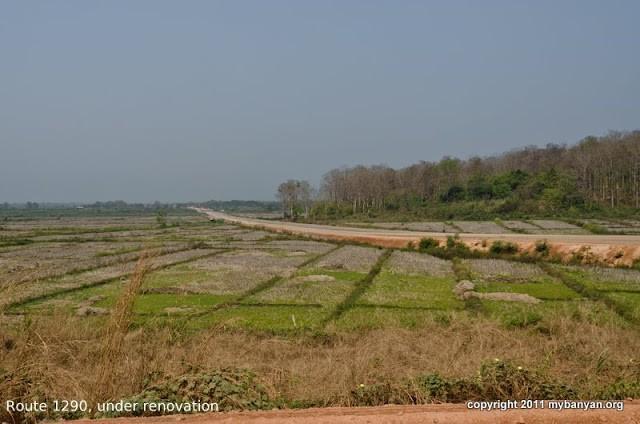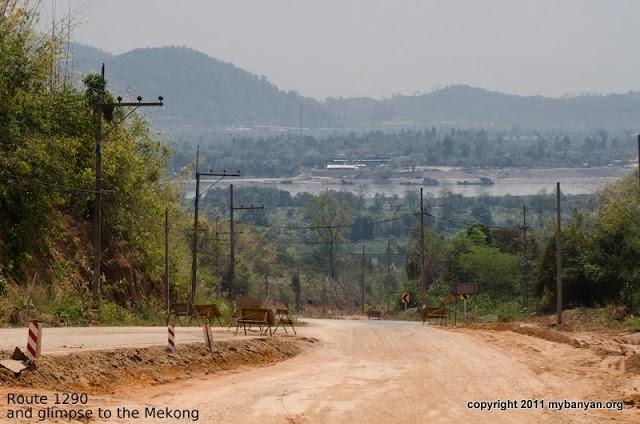 "Development" has also reached the Golden Triangle, with casinos on the other sides and colourful supermarket infrastructures on the Thai shore. I have already filled shoe boxes with old and new pictures from this area, but I can not stop collecting a couple more shots. Then, It was time for some coffee and snacks, in one of the numerous eateries for tourists.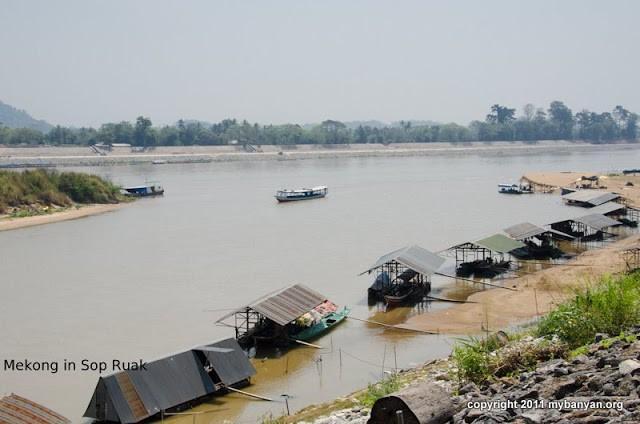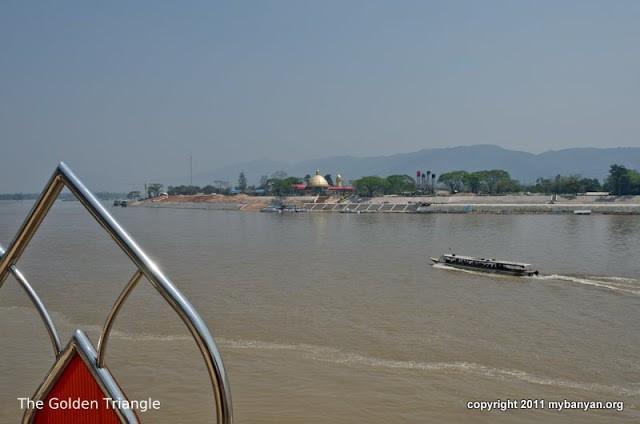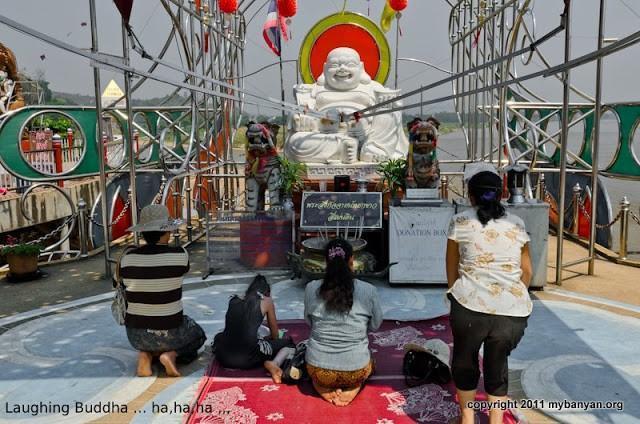 After Sop Ruak and Chiang Saen, route 1129 goes up and down, following the river or climbing on hills. In Ban Saeo, as usual, I called at the new temple of 108 Buddha images (Wat Phra That Hua Kwan), were the construction is still in progress.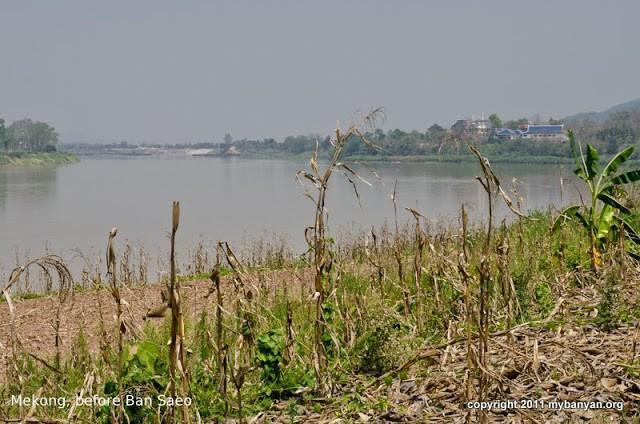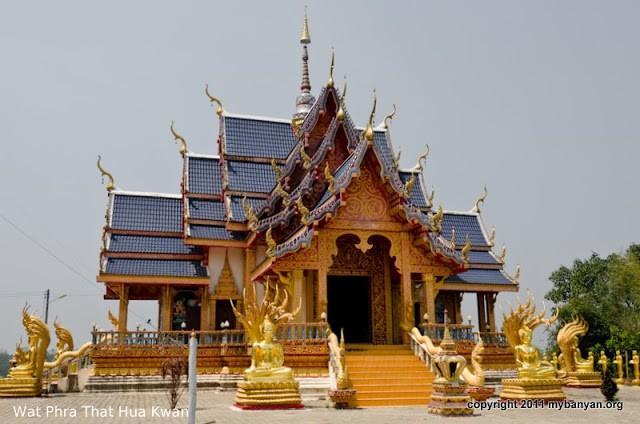 From the village of Saeo, route 1129 cuts over the mountain, so I choose route 4007, following the rim of the Mekong. Along this road, the village of Baan Had Bai specialises in Tai Lue hand-weaving. In a small shop, a family operate a couple of looms. It was an opportunity to buy a piece of weaved cotton, directly from the craftspersons.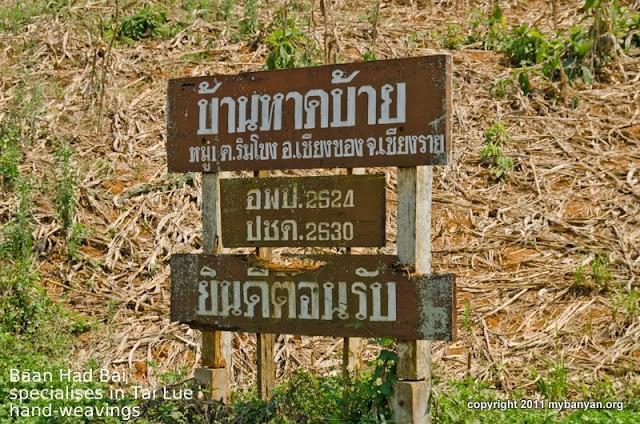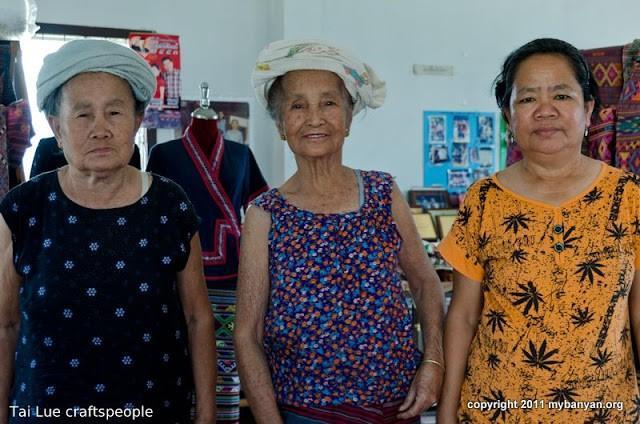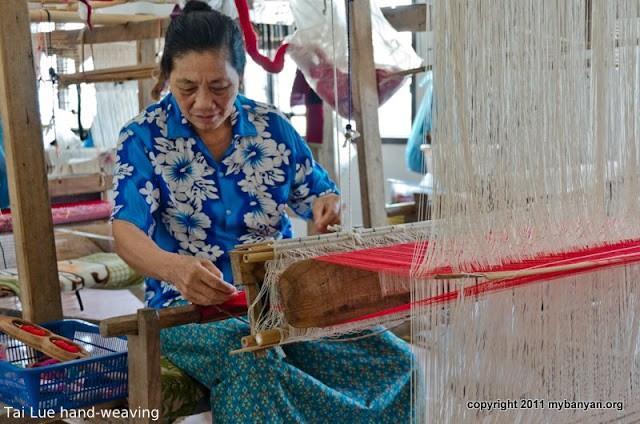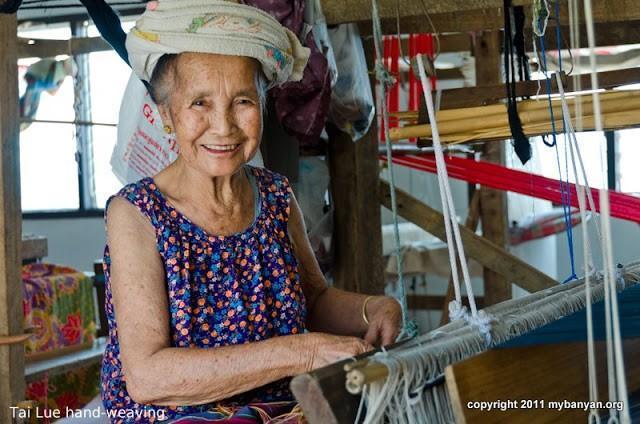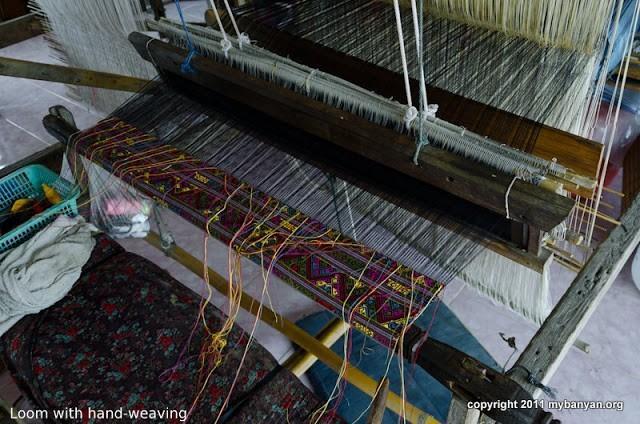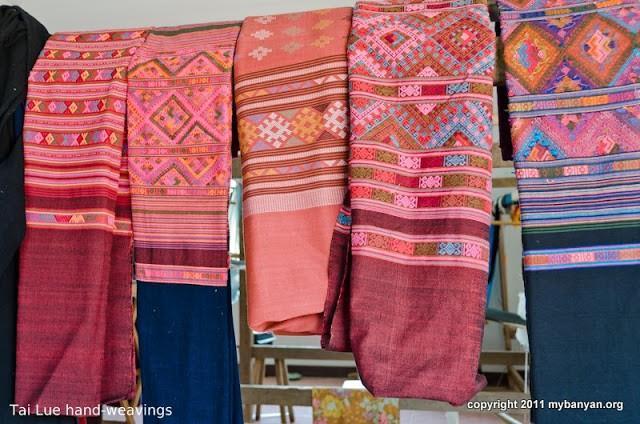 A couple of kilometres ahead, I came across the first scorched and still burning landscape of this trip. The out of season downcast had, until now, cleaned the air and extinguished the fires.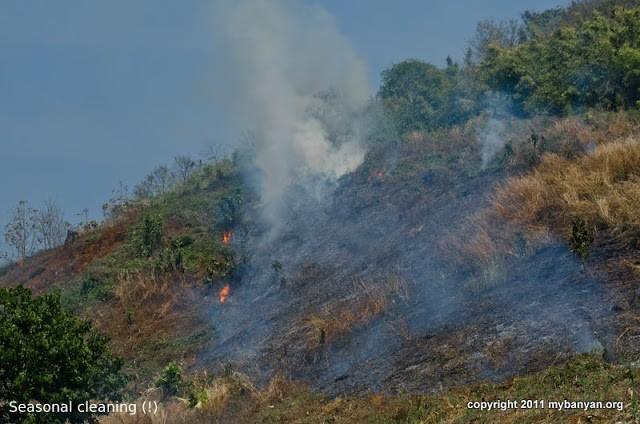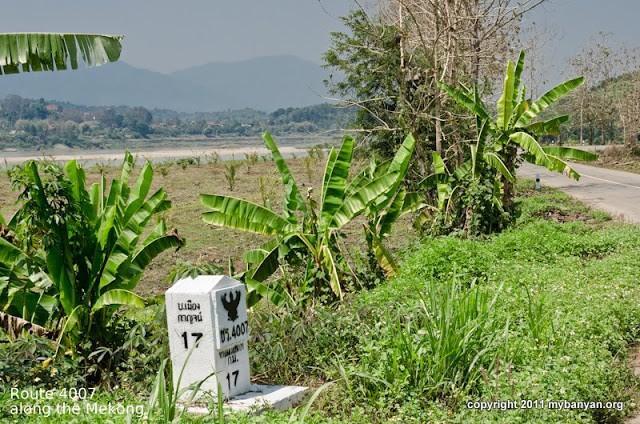 Whilst passing "Rai Saeng Arun Resort", I remembered my first motorcycle tour in this region. The rainy season had caught me ill prepared, on my AX1, and I was lucky to meet this shelter, just in time to escape a cloudburst.
Link to my related story, "The North by the Book" :
North Thailand - 2 The North by the Book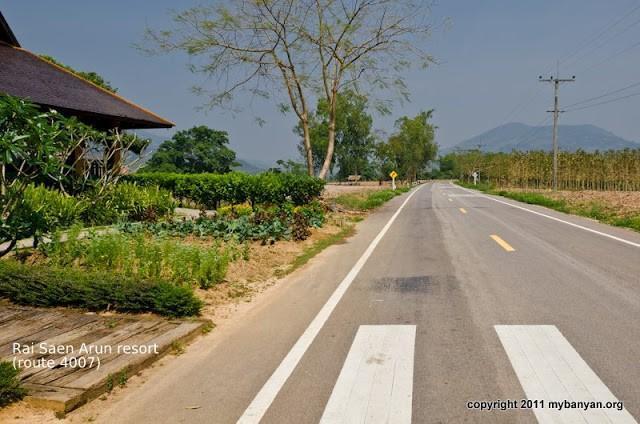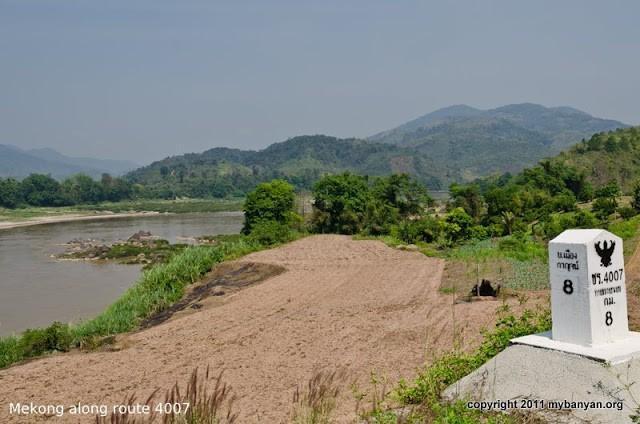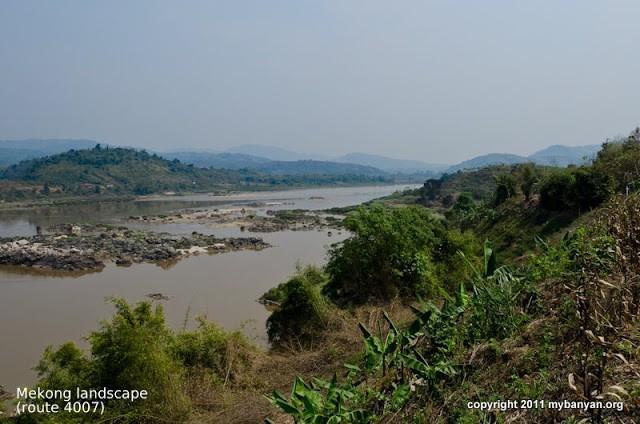 As usual, in Chiang Khong, I checked in to Tammila guesthouse and relaxed at the view of boats arriving from Pak Beng. Considering the meagre tourist population in town, they might be nearly empty. Later, my atavism led me again to Mexican food (Bamboo bar), it's fun and next to my quarter.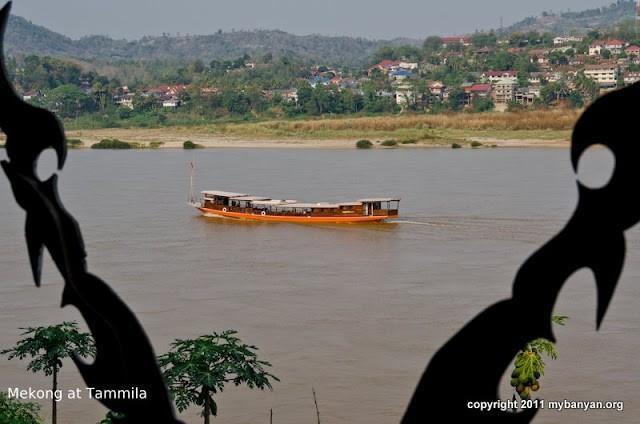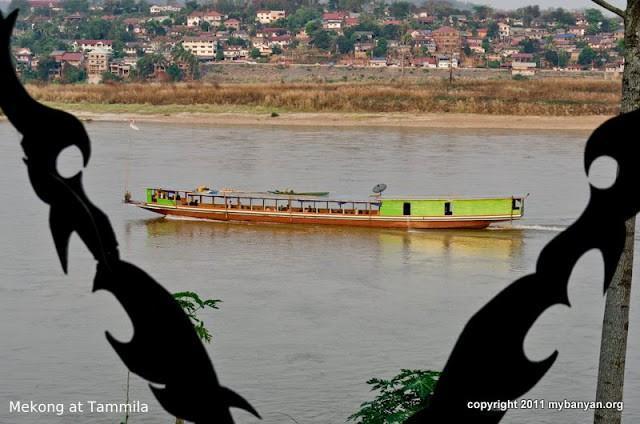 I had covered 173 kilometres during this day. The first 60 kilometres, on steep and winding mountain roads, have a low average speed.
Links to my related stories:
The quest of the Laughing Buddha:
North Thailand - 1 The Quest For The Laughing Buddha
The North by the Book:
North Thailand - 2 The North by the Book
A New Golden Triangle:
Around North Thailand – A New Golden Triangle?
Climbing Phu Chi Fa mountain
Map of the route through Phu Chi Fa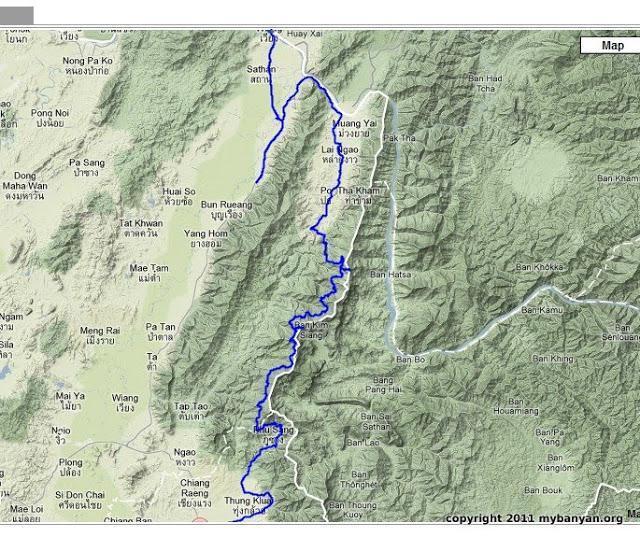 In Chiang Khong, I am longing for (Tammila) breakfast, and my first thoughts are not for the weather conditions. That morning, however, I was blessed with a spectacular aurora, over the Mekong, announcing an agreeable day, despite some early haze.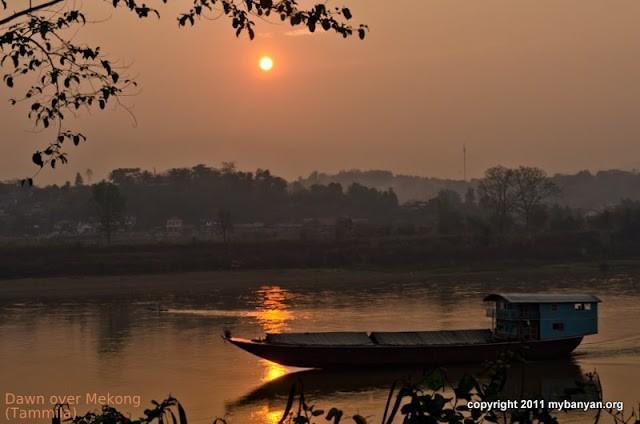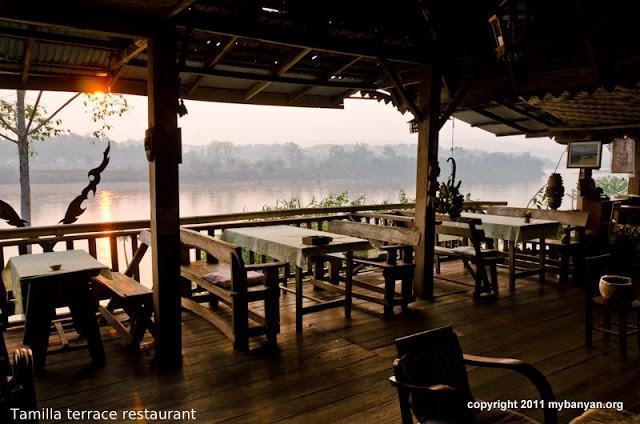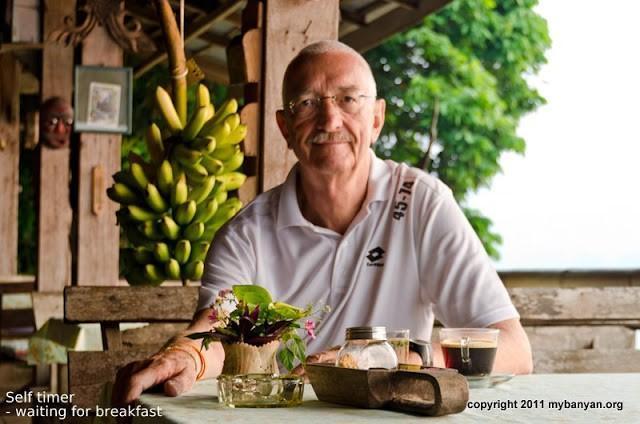 My itinerary was only to Phu Chee Fa, and I had no reason to rush. A Tai Lue village, with hand-weaving, is located on route 1020, and decided to visit it. The road is an highway under extension, annoying to travel. My personal GPS ("brain") also began to play havoc and I passed the place by 15 kilometres, doubling the distance on crumbles by returning on my tracks. The village of Si Donchai is cut in parts by work in progress and, to admire traditional Tai Lue houses, I had to enter the settlement. I was also lucky to meet a woman, working on a loom under her home.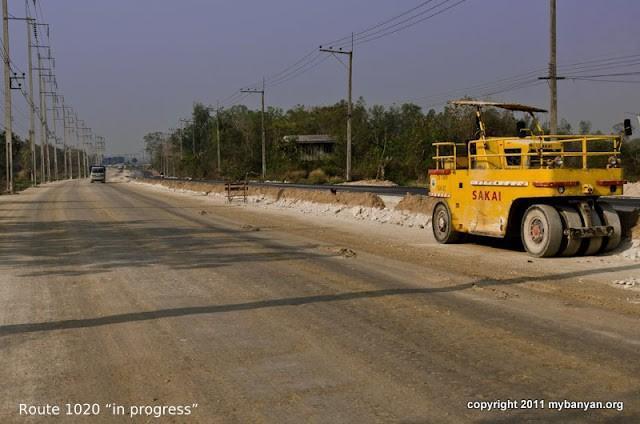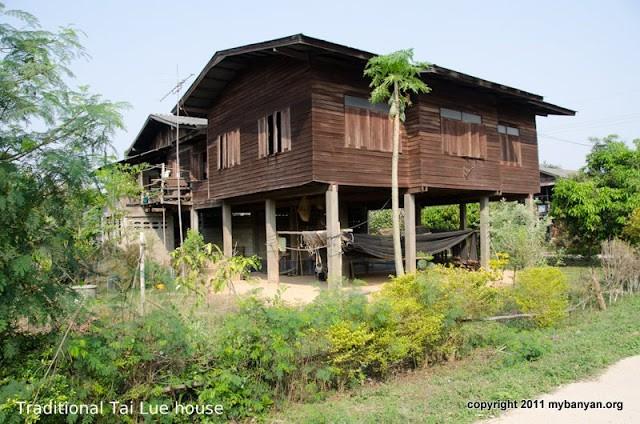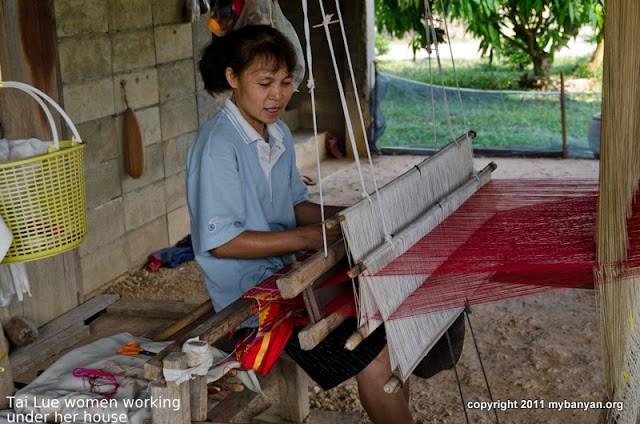 Back to the bifurcation, I took route 1155, the link up to Phu Chi Fa. Soon the Mekong is again in sight, still a mighty border with neighbouring Laos. After a couple of impressive views, down to the rocky water, it was time for a farewell. Before Wiang Kaen, the river follows the path of history, whilst the road climbs to new mountain boundaries.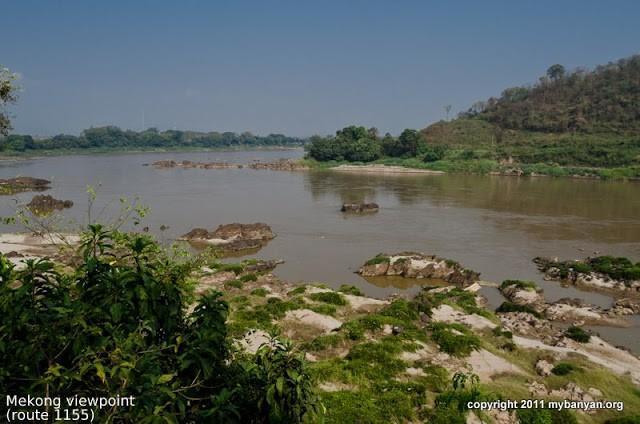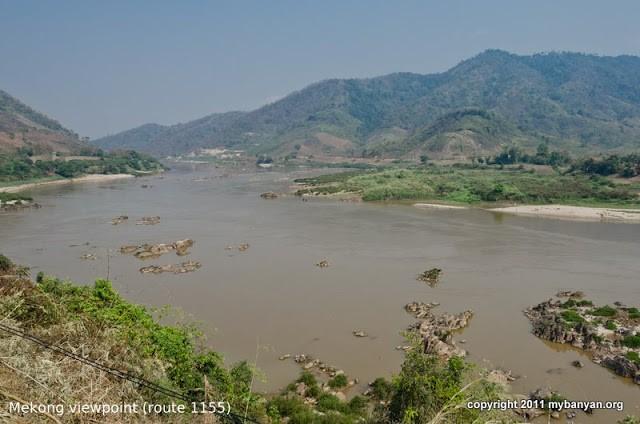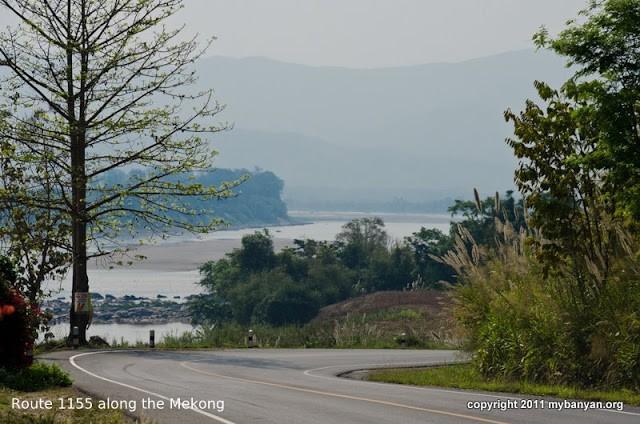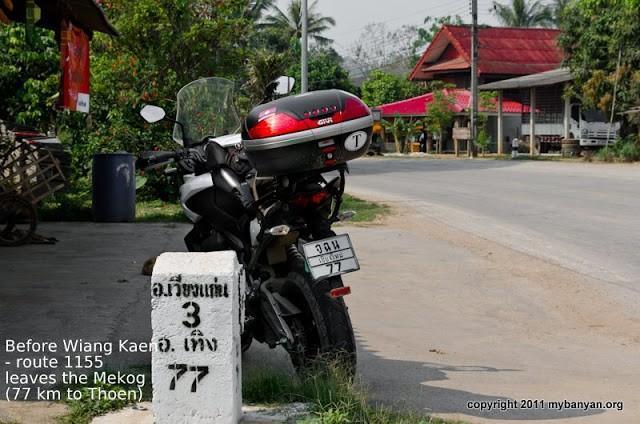 Different ethnic groups have settlements in this region. I stopped at a market and spent some time in the Tai Lue village of Pang Hat, particularly to visit the traditional temple.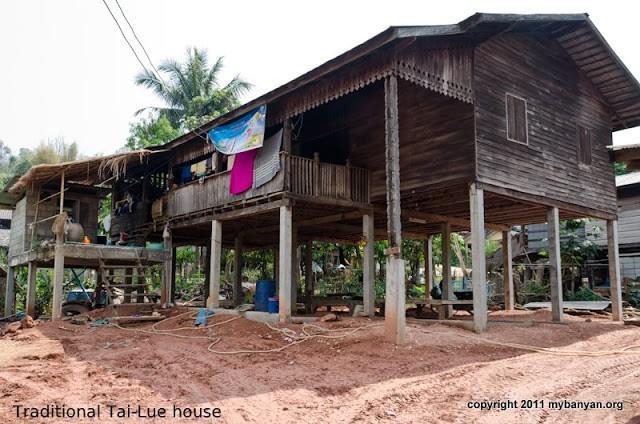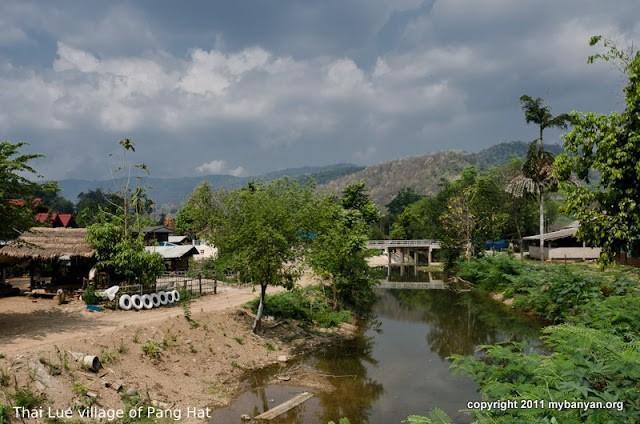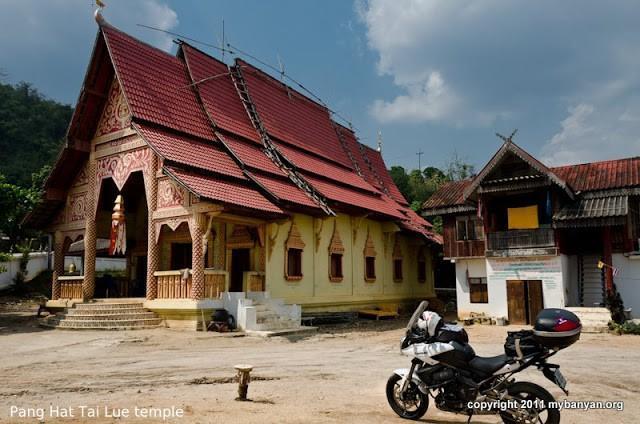 Pang Hat is a crossroad where I left route 1155 for the mountainous route 1093. After fifteen steep kilometres, I reached Pha Tang and the "Pratu Siam" viewpoint. The weather had already deteriorated, with menacing clouds hanging around the summits. I expected an early shower, but was confident to escape it, as my scheduled stopover was just a couple of kilometres ahead.
Despite the haze and an obscured view, the sights were still sublime. I imagined a breathtaking landscape, over the forests and down to the Mekong, probably one of the greatest panoramas in Thailand.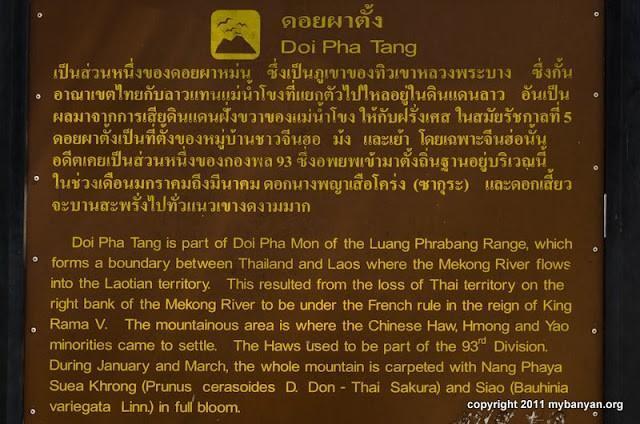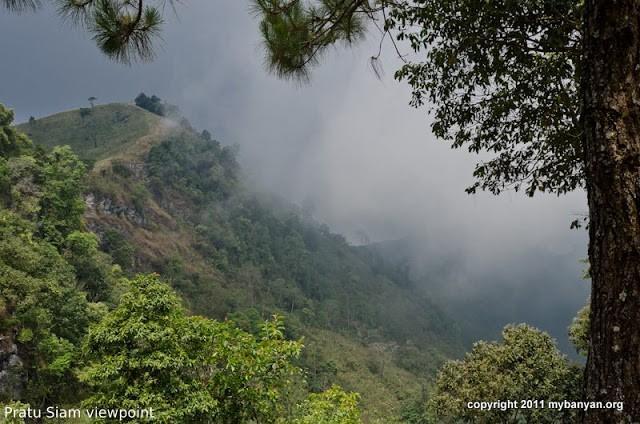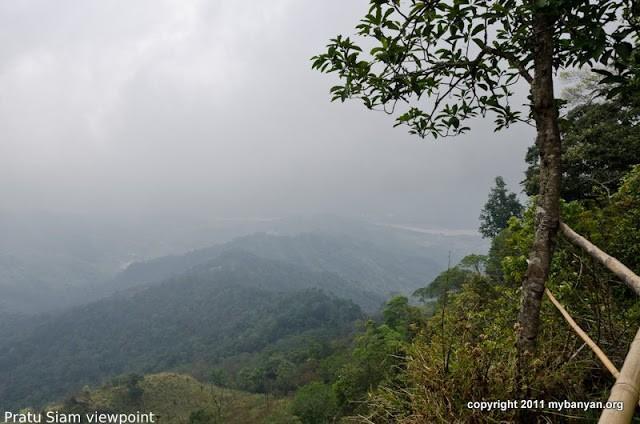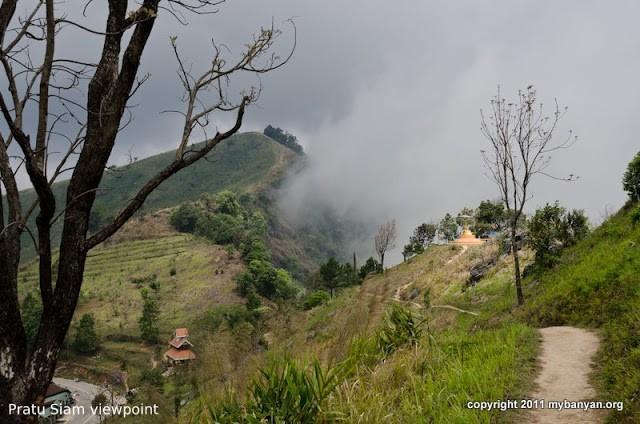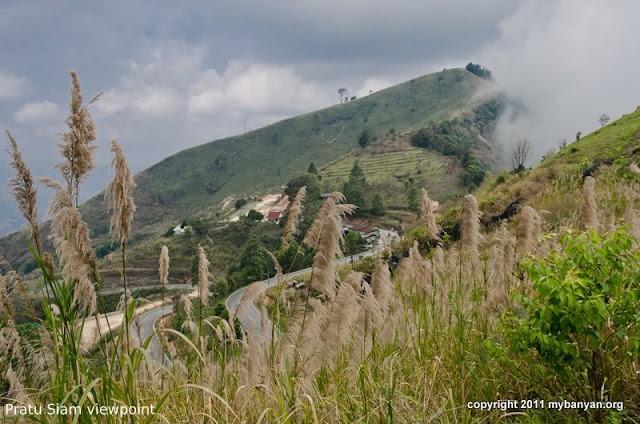 My next break was at Phu Chi Fa Forest Park. Walking is the only "authorized" way to reach the top of the mountain. The quoted distance is 760 metres, but, in full biker's attire, it feels like an indication of the difference in altitude!
Wind had begun to wipe parts of the sky, letting blue hope and sun rays illuminate the hilly backdrop. This was again an amazing vision, with a sensation of dizziness as rocks and cliffs hang over the abyss of the valley.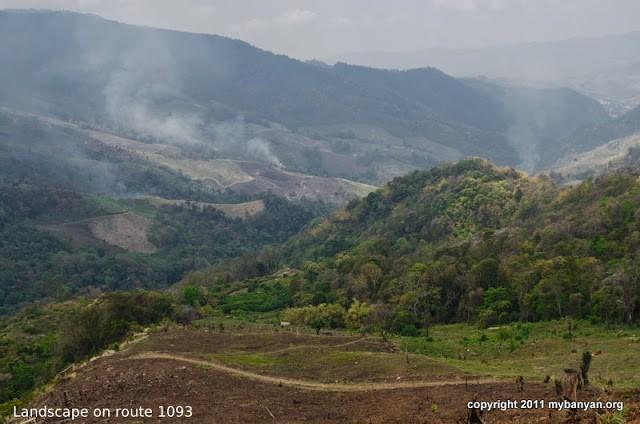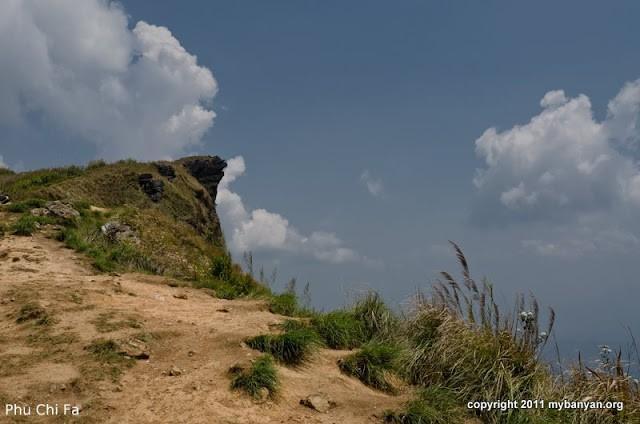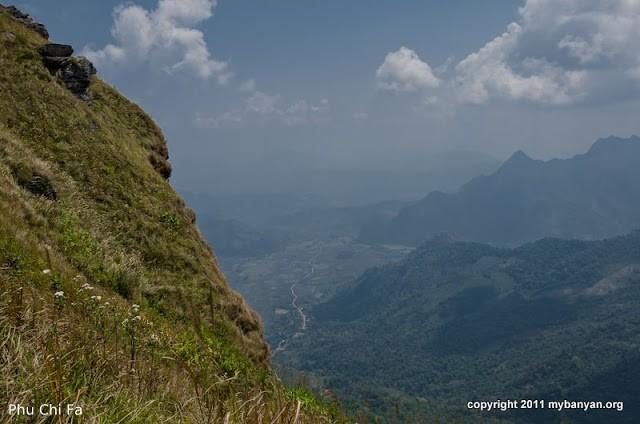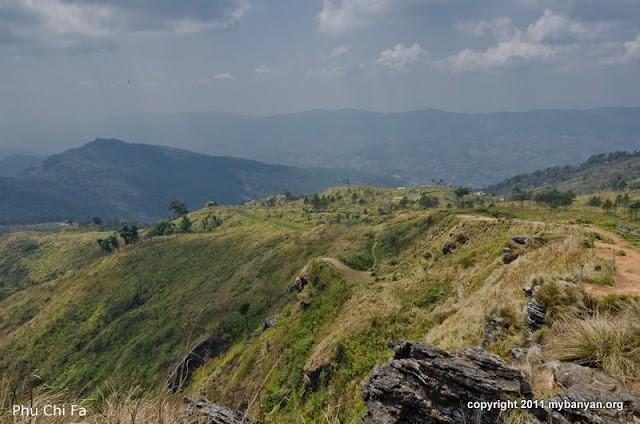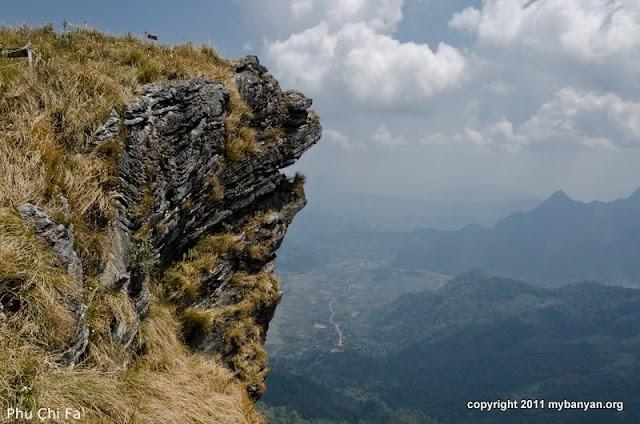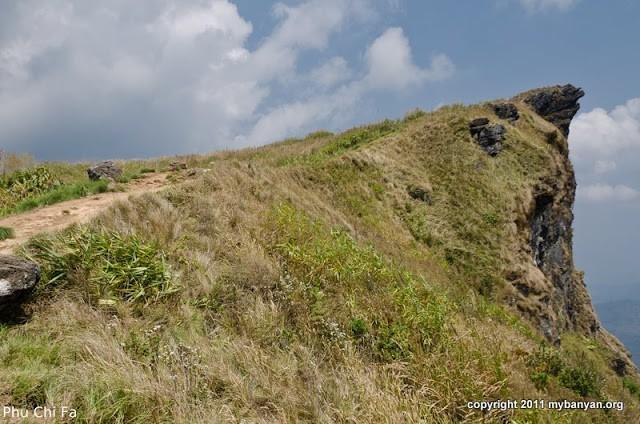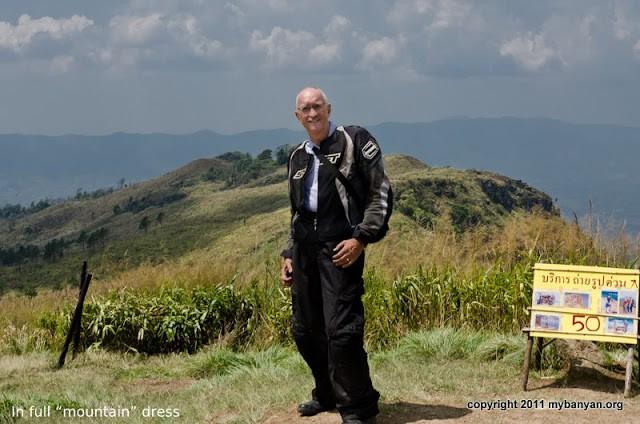 At the main settlement of Phu Chi Fa's guesthouses, I searched for a shack to spend the night. The low season prices are affordable (300-500 THB), but I spotted few living beings around the village. The chance to enjoy a spectacular sunset and a colourful dawn was also low as haze and fumes from seasonal burnings gloomed the horizon. Without lunch, or even a coffee - everything was closed - I jumped on my bike and glided down to Chiang Kham..
The Phu Chi Fa road (1093) is a lovely undulating mountain trail, sometimes shadowed by trees and often heavily worn out, an itinerary allowing to write off the cost of a Versys.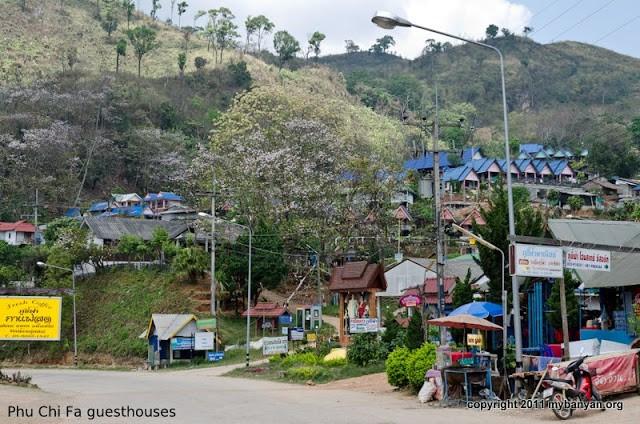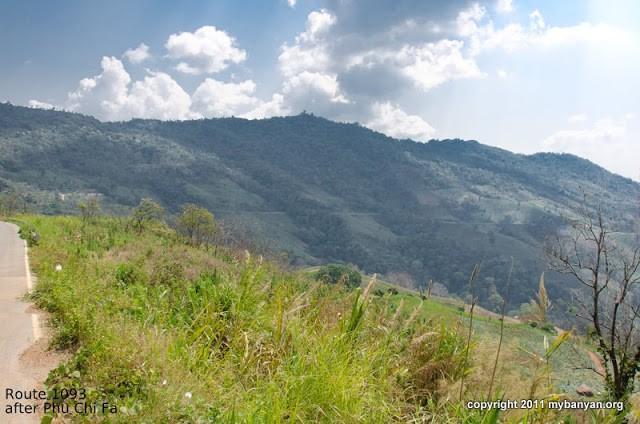 Pusang has a popular waterfall, located next to the road. It was an ordinary day, but many people crowed the area, splashing under the stream or enjoying a picnic.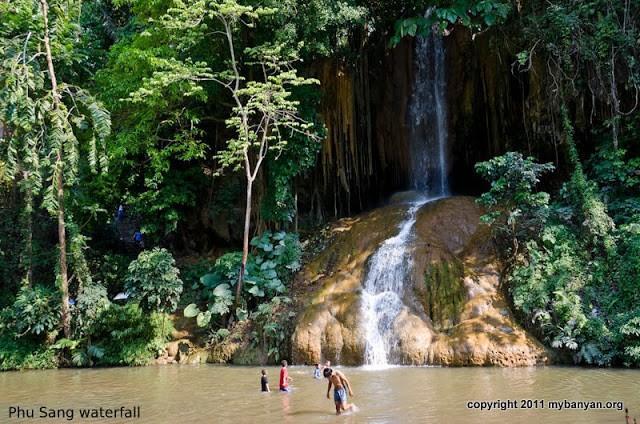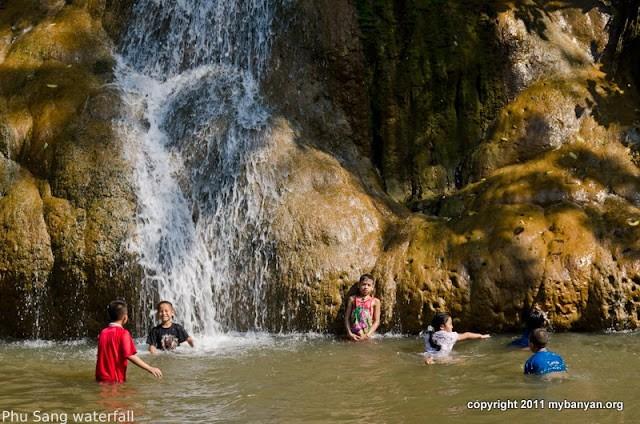 Further down, in Muang Chum, route 1093 is split. I took the longer branch, driving around the hill.
My hotel for the night is located on this link, just before the intersection with route 1021, the main road entering Chiang Kham. Unfortunately, I was unaware of this place when I passed by. After someone recommended the newly opened "Nana Guesthouse" (rooms at 400 THB), I had to drive back from the city.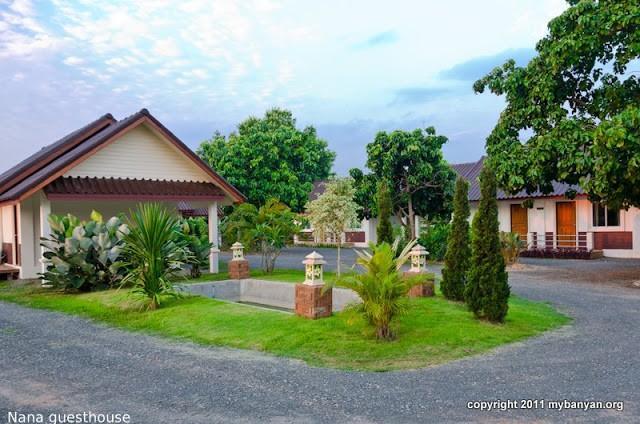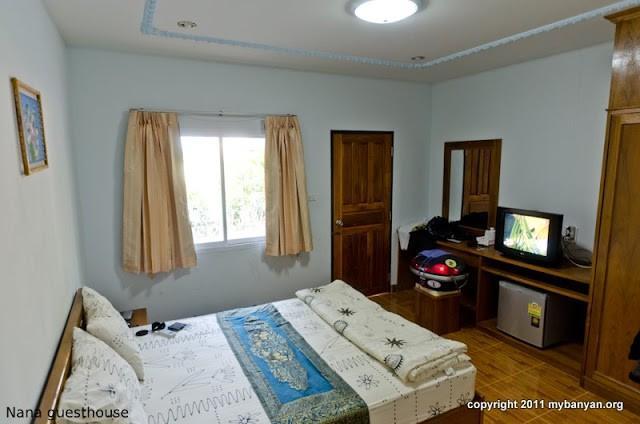 Chiang Kham has a "Tai Lue Cultural center". As I followed the signboards, they brought me to the wrong site, but with a similar ethnic interest. It is a traditional Tai Lue house, located inside the compound of Wat Phra That Sop Waen, with (usually) operating weaving looms. All craftspeople had already left the premises, but I was invited to visit the rooms and took the opportunity to buy some handicrafts. My plan was to come back next morning and to call at other interesting places.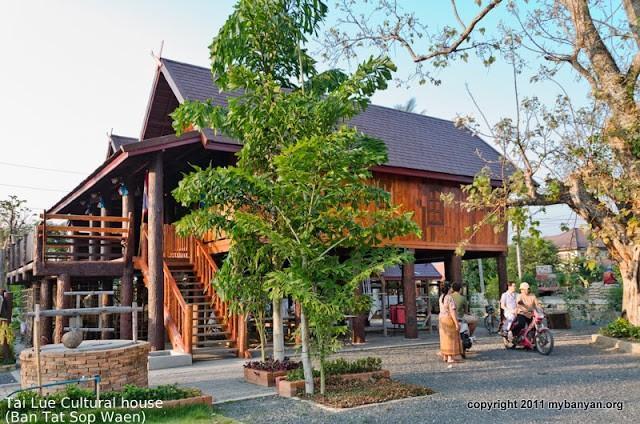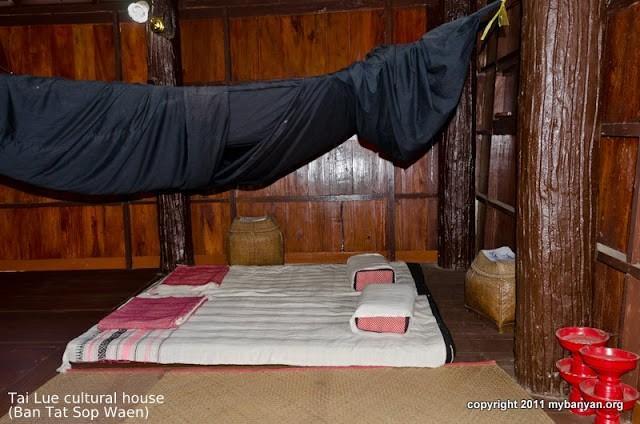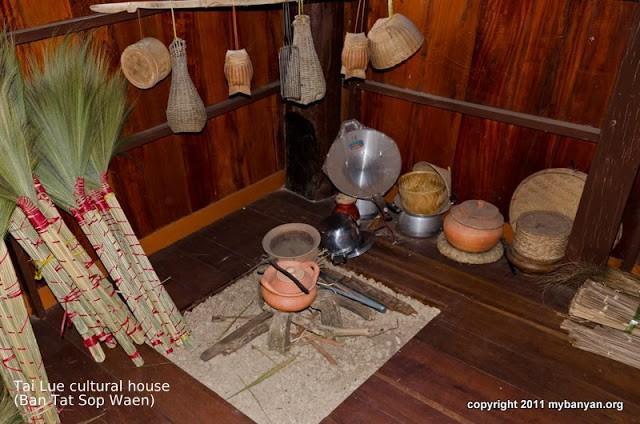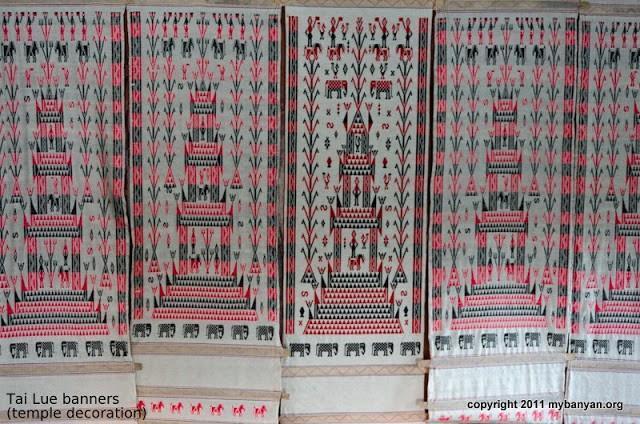 The sun had bid a slow farewell over the palm trees and I ambled through an evening attraction park. Finally on the way back to the guesthouse, I stopped, for dinner, at a roadside restaurant with music.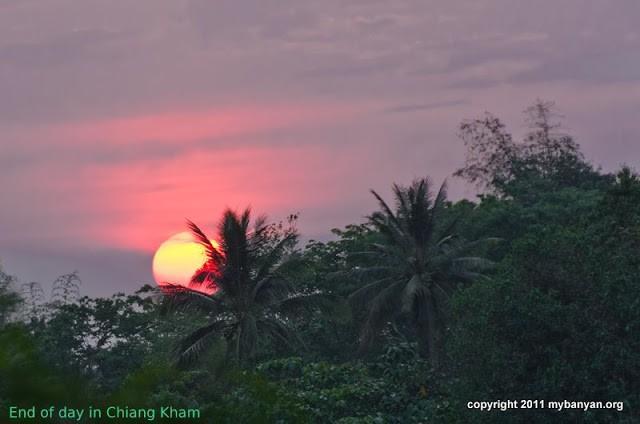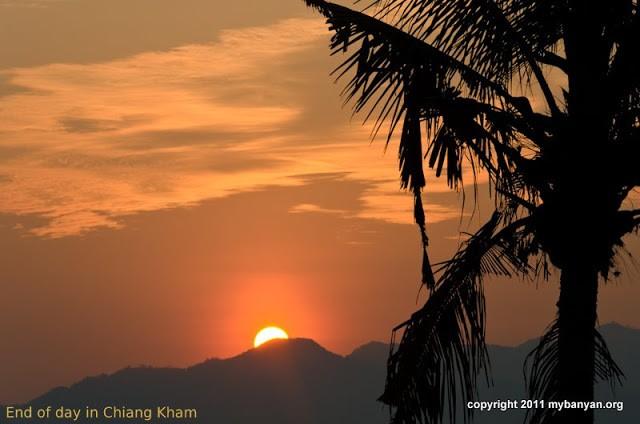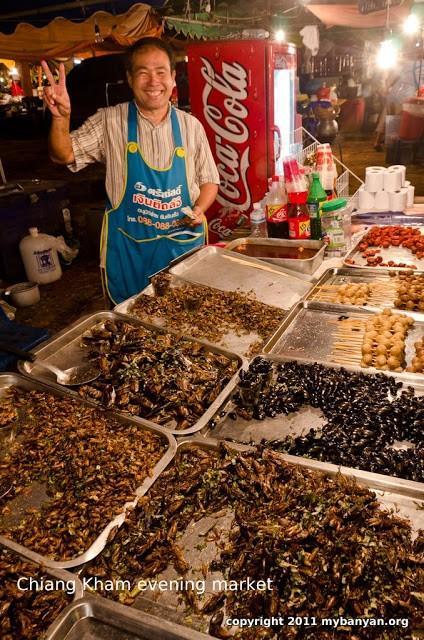 At half past eight, I was laying flat and reading a book, when I felt like the feedback of a biker's day. Slow but strong undulations brought me to the reality of an earthquake. It is an unpleasant experience and, after connecting the wifi, I learned that the epicentre was at the Burmese border, next to Mae Sai.
During this day, I have covered 240 kilometres
.
In the morning, Thai television was still effervescent with news about the quake. After the Japanese catastrophe, the slightest move brings fear and uncertainty.
My itinerary for the day was to Chiang Klang only and I had enough time for some local visits. I left the guesthouse early and my first encounter was with a colourful procession of monks. The warm shades of the robes, the composure of the Bhikkhu, walking barefoot to allow followers to make a good deed, the serenity of thousands years of tradition, always illuminate my day.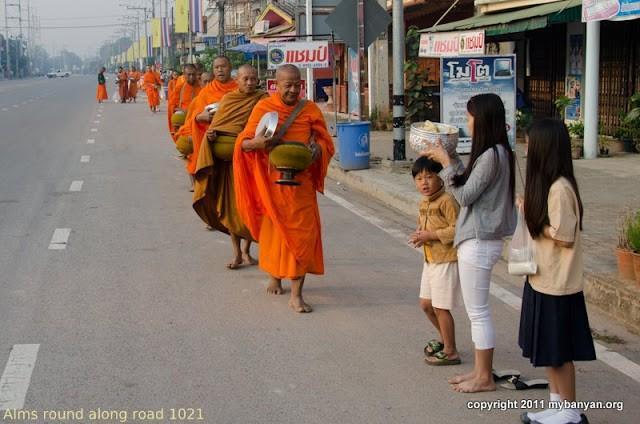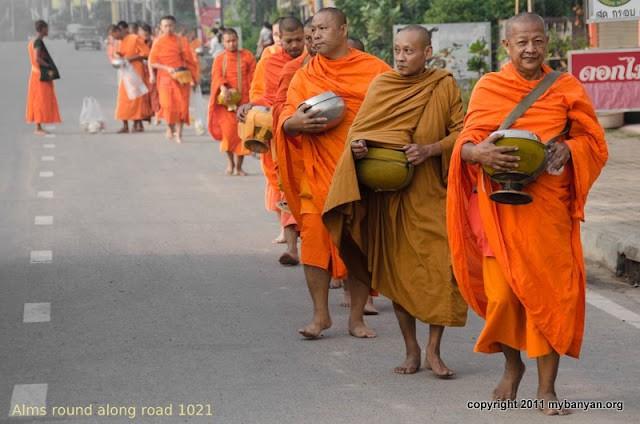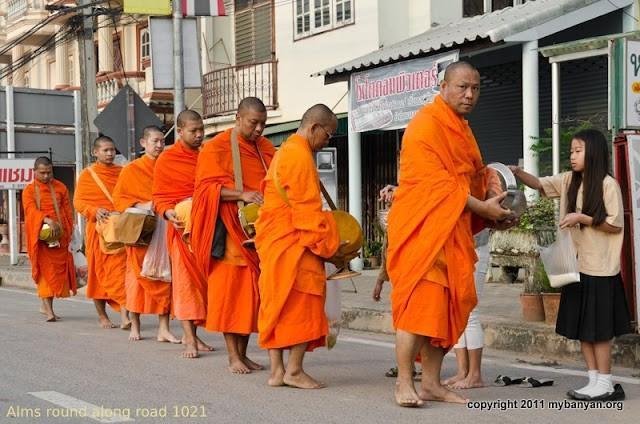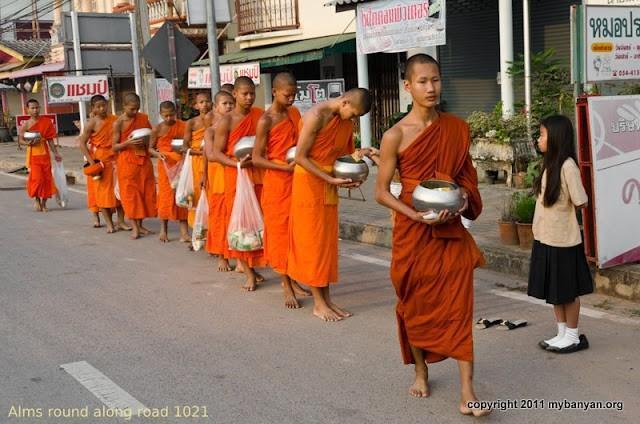 A couple of Amazon coffee cups and a 7/Eleven "footlong", put my day on the right path. I reckoned that places of interest would begin to open and it was time to circle the city.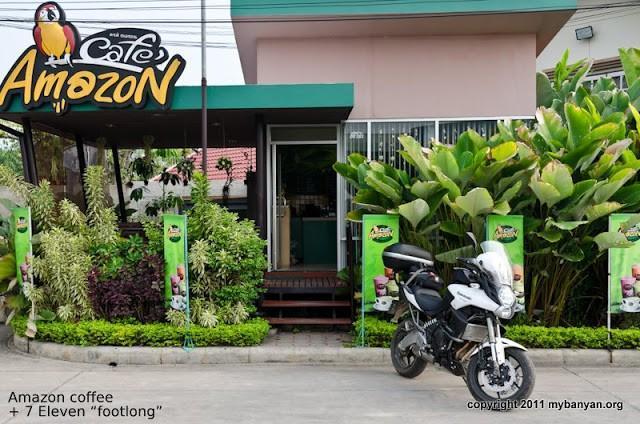 Wat Nantaram, a Burmese-style temple, built entirely with teak, was my first visit. The chiselled craftwork, outside and inside the building, and the construction's design are enchanting sights for wood lovers.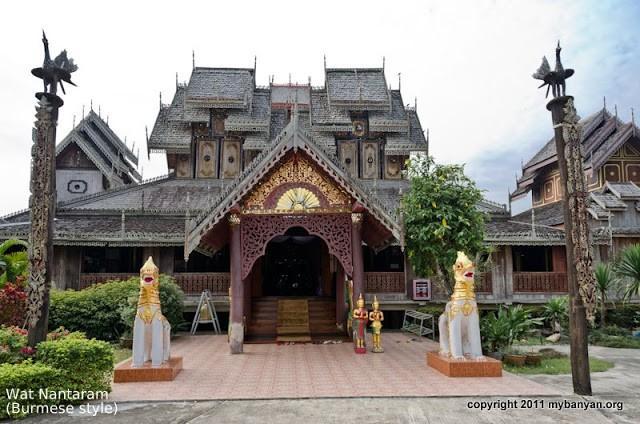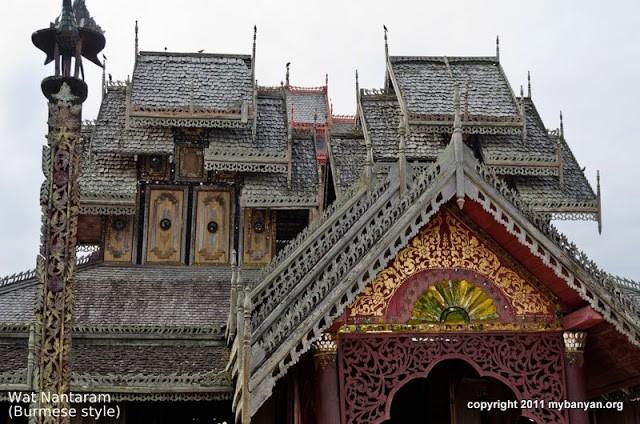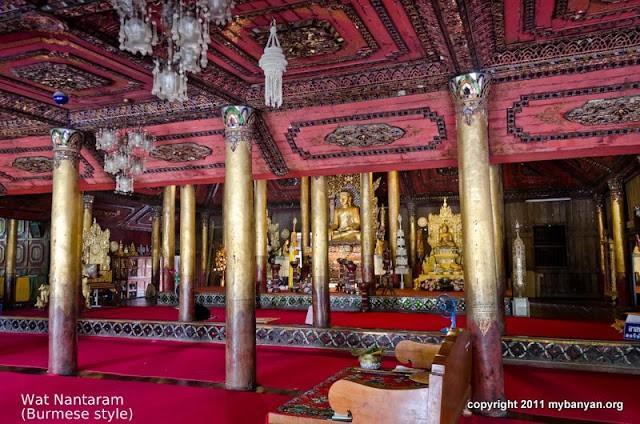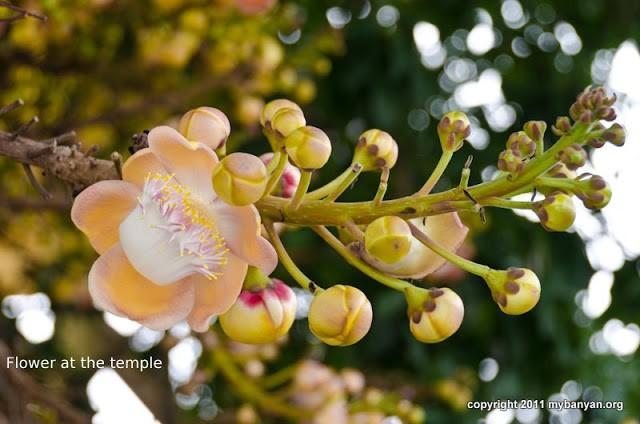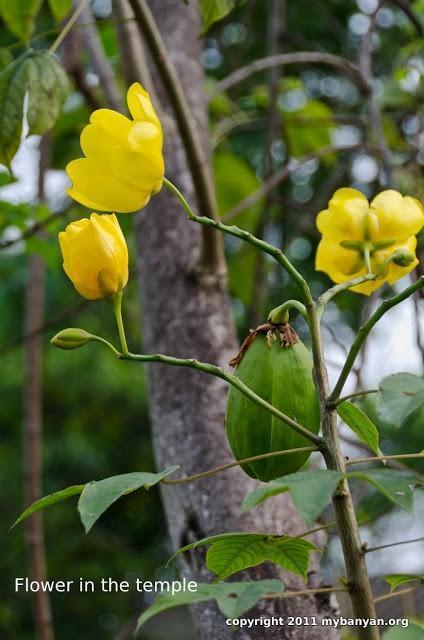 As I went back to Wat Phra That Sop Waen, to see hand-weaving, I found only deserted looms and a large crowd assembled to watch the kid's "sports day". The only craftspeople at work were Tai Lue men, chatting and assembling traditional brooms. Weaver would probably show up late and I moved to another place.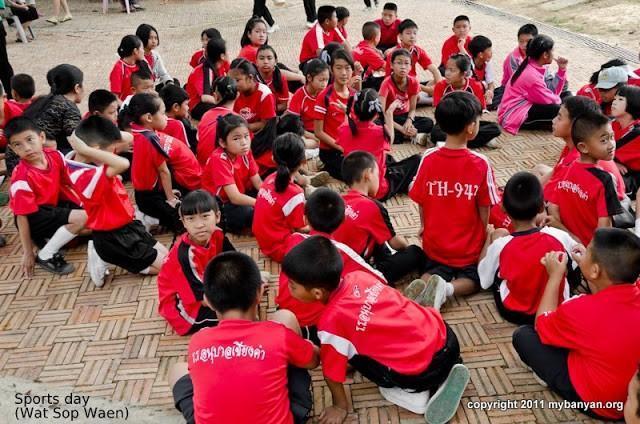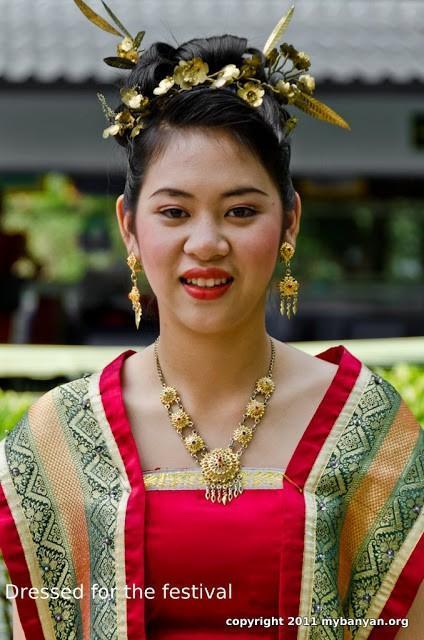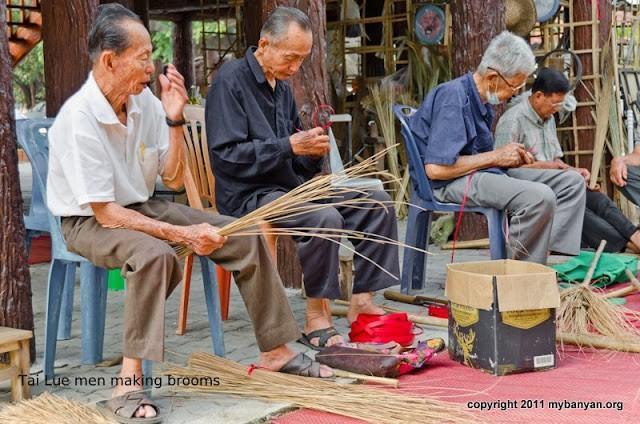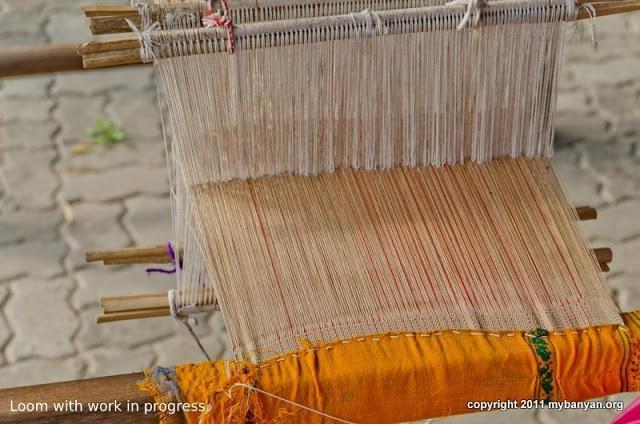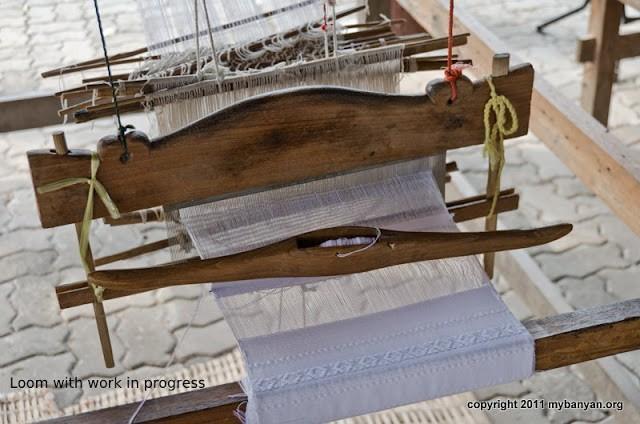 Down the road, driving to Wat Yuan, I found the "Tai Lue Cultural Center", a closed museum and nobody working on looms. Luckily, I meet a compassionate lady, who went hunting for keys and opened the place for me. Tai Lue are an important ethnicity and deserves a more comprehensive and less dusty presentation. Fortunately, they are conservative people, keeping their traditions and culture alive in villages, and presenting their crafts and costumes during annual festivals.
Wat Yuan itself, is a nice community temple, with a large Buddha image in the viharn.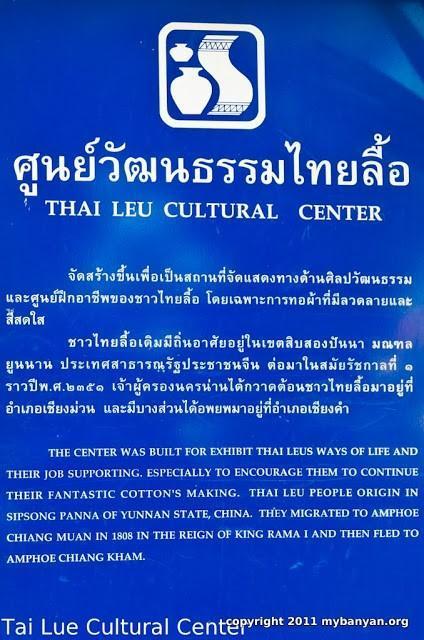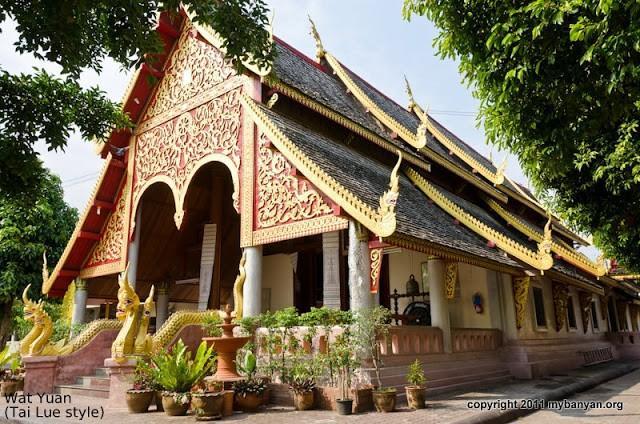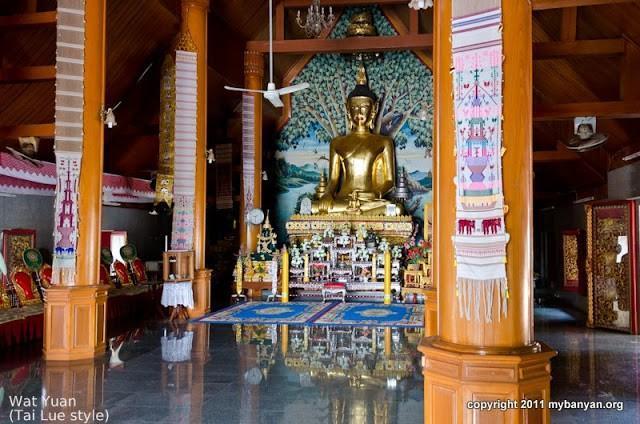 On route 1148, already outside the city, I made a last stop at Wat Phrachao Nang Din. His impressive viharn hosts a unique Buddha image, sitting directly on the floor. Local people once constructed a base, but were unable to lift the statue on top of it. Another legend is that the image was casted during the time of the Buddha, two thousand five hundred years ago.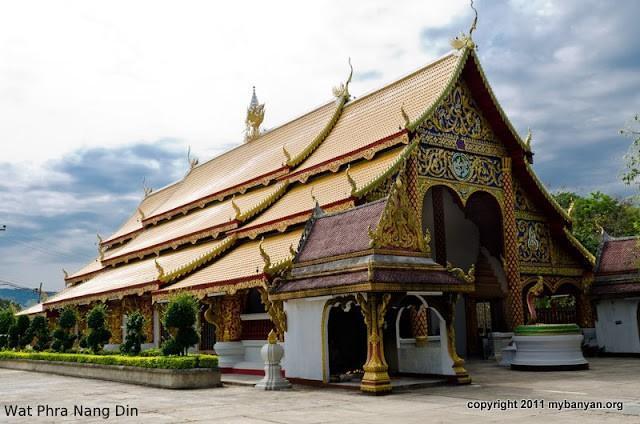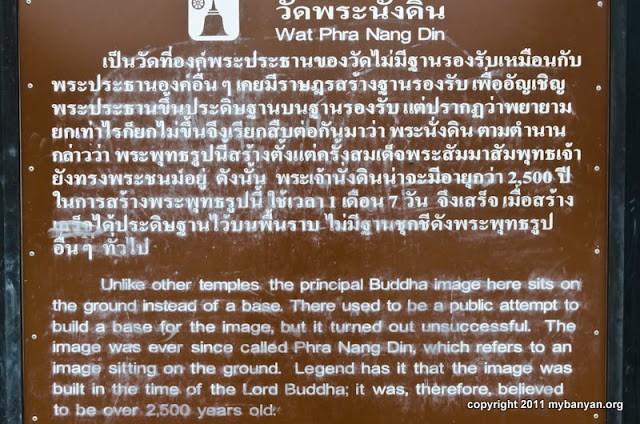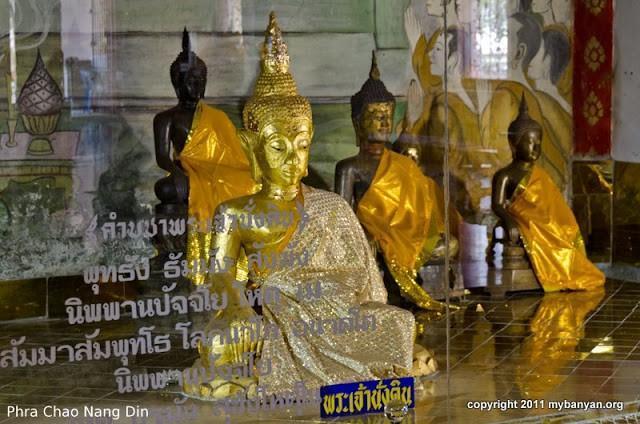 After Chiang Kham, route 1148 is an enjoyable promenade toward Song Khwae (77 kilometres). Mostly mountainous, it crosses the lao river, undulates around Phu Lanka and from Pha Chang Noi dips to a valley with impressive karst hills.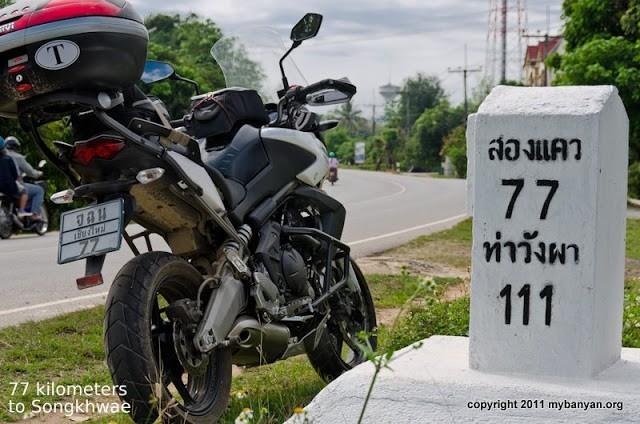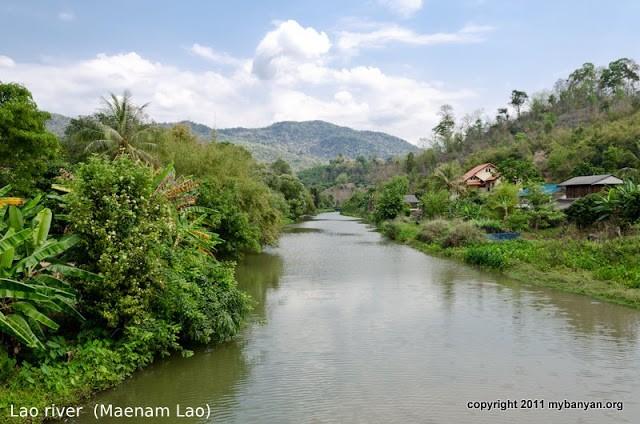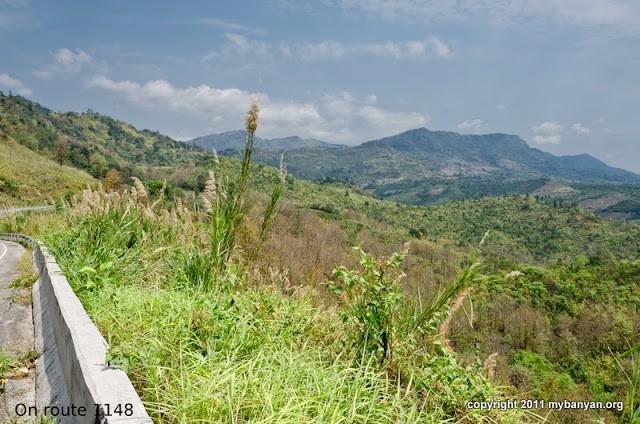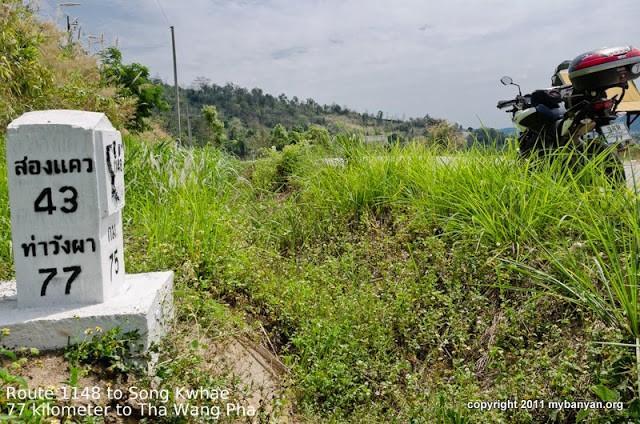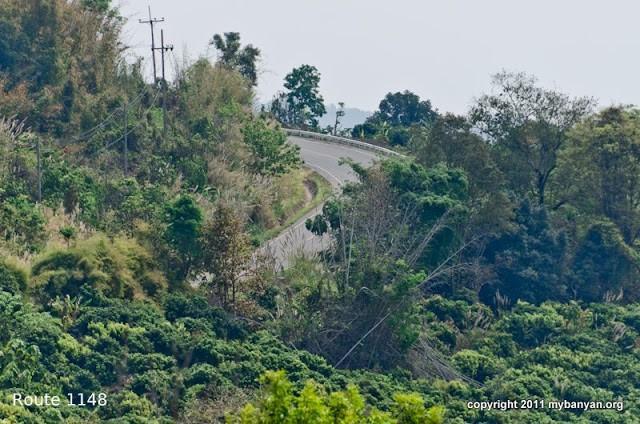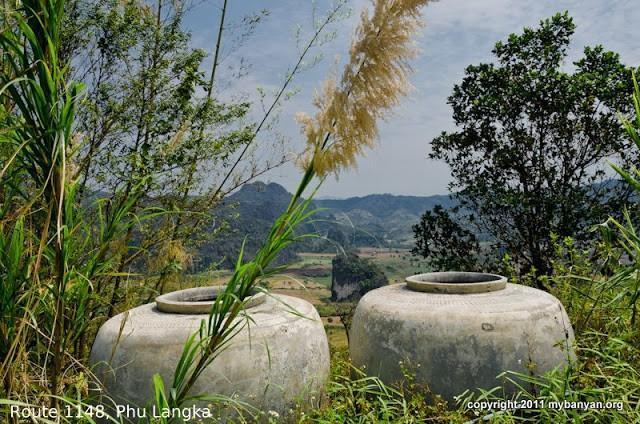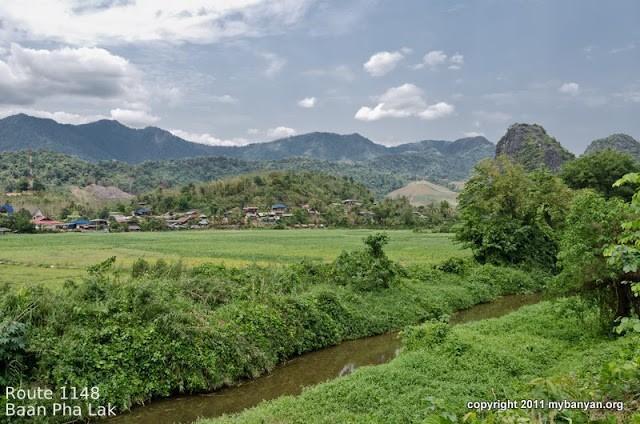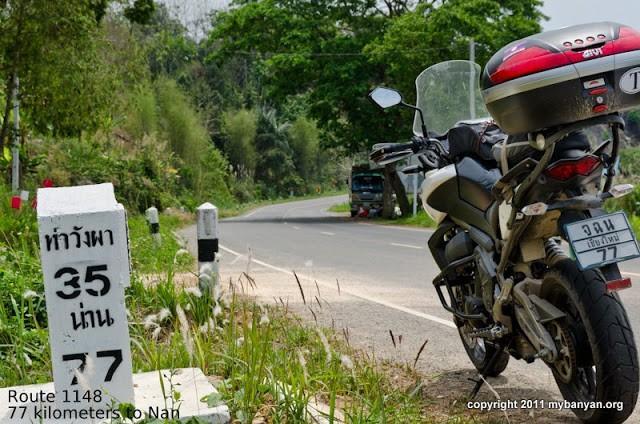 After Song Khwae, a bifurcation leads to route 1097, a twenty kilometres shortcut, over the mountain. The first half of the link is heavily worn out but still enjoyable on an appropriate bike.
The journey passes Hmong villages with stalls selling noodles or rice. I also spotted a colourful displays of sliced pumpkins. As I asked about it, a smiling and amazed girl, explained: " It is food for pigs, and drying it is a way of conservation".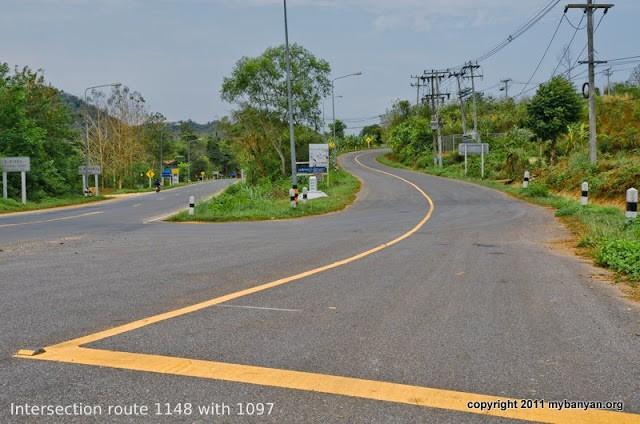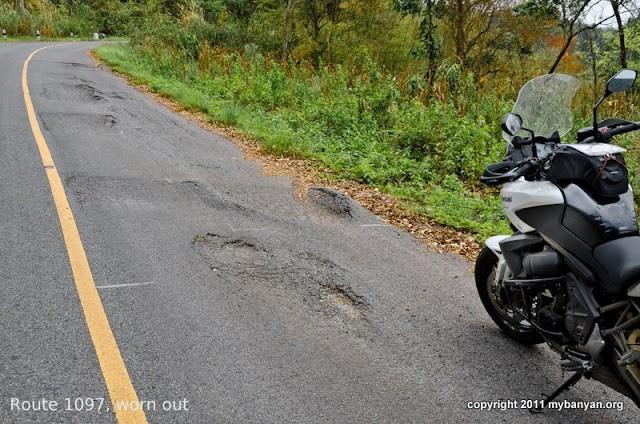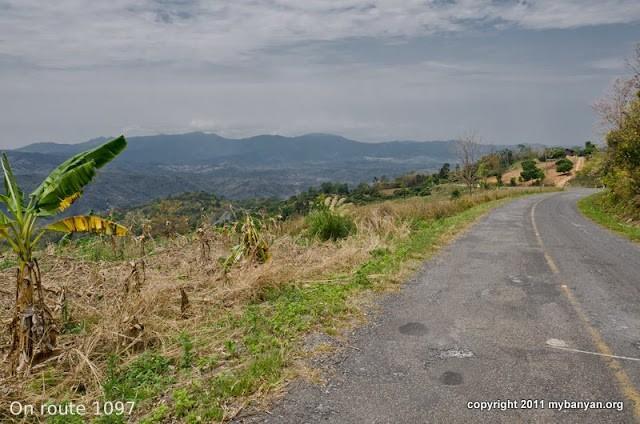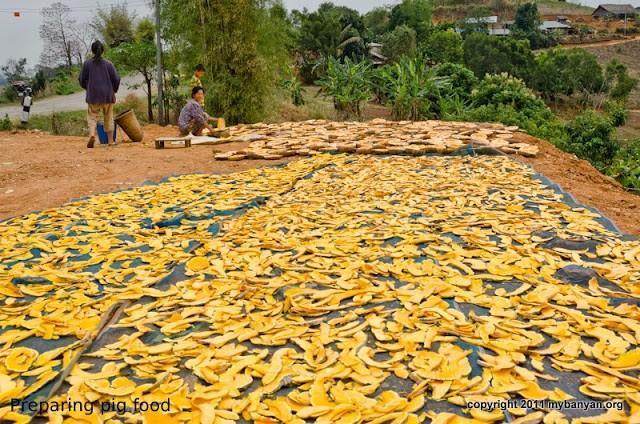 The second part of the trip, is on a smooth pavement, the road plunges to the valley and crosses the Nan river, on a bridge to Chiang Klang.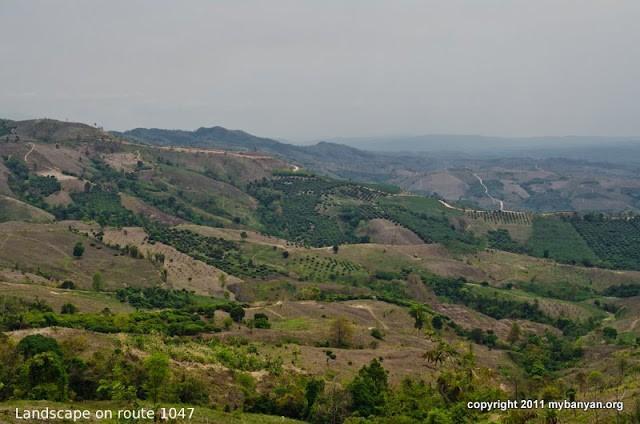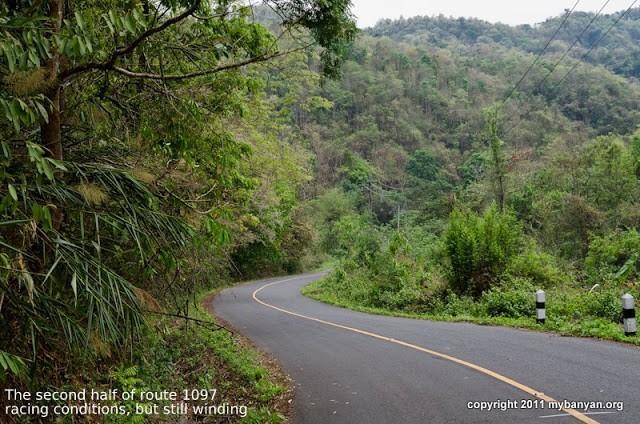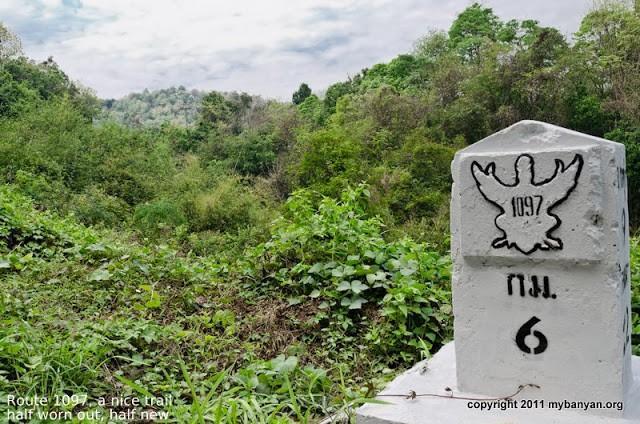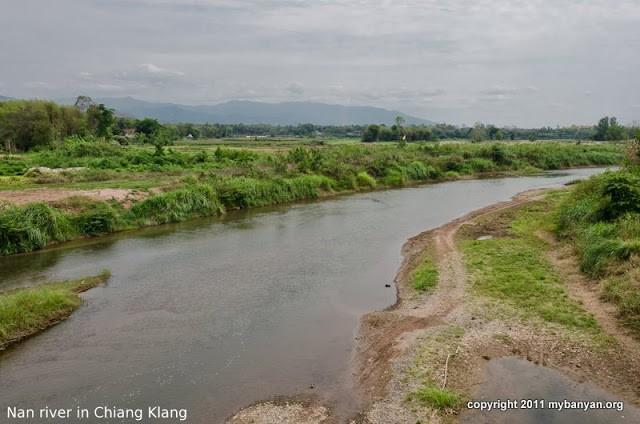 My destination was Cheung Doi guesthouse (300 THB), where I stayed during another trip. This time the swimming pool was filled, with green water.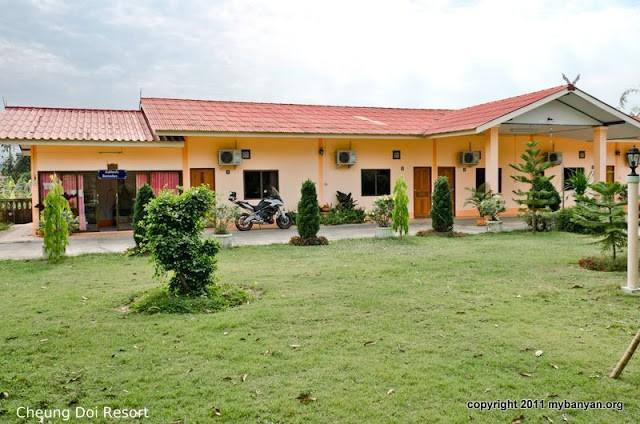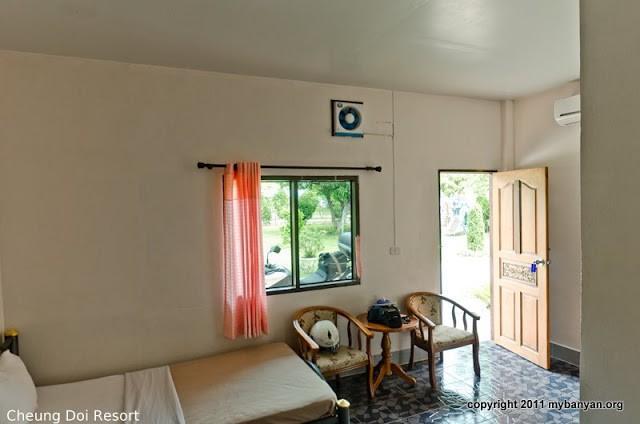 As I had enough time left, I amble around the village and I visited wat Sri Boon Rueang before drifting on small side roads to nowhere.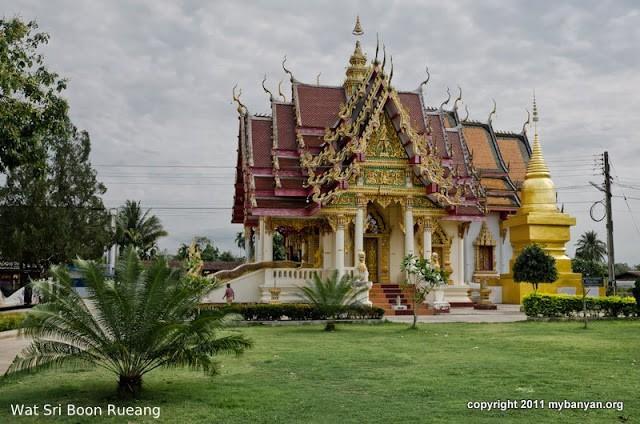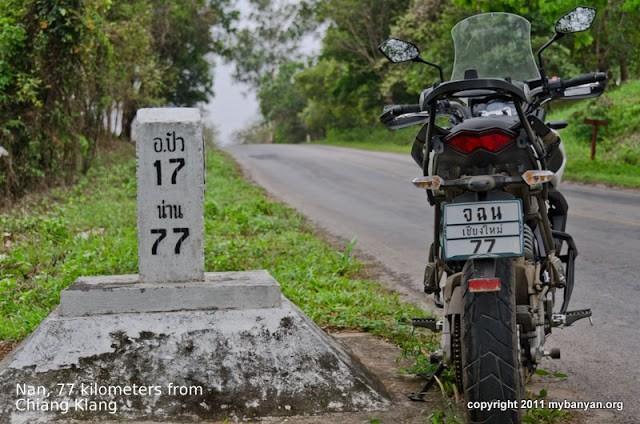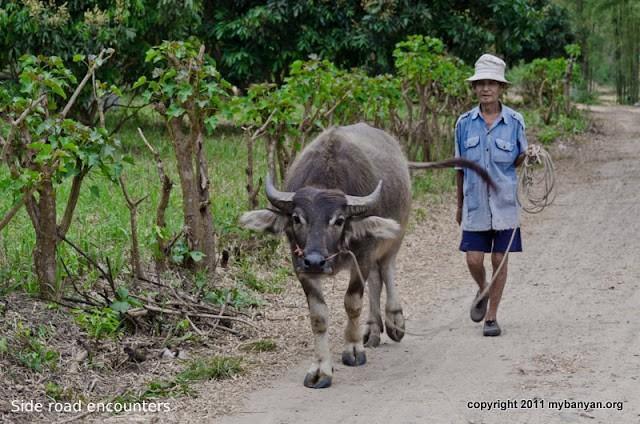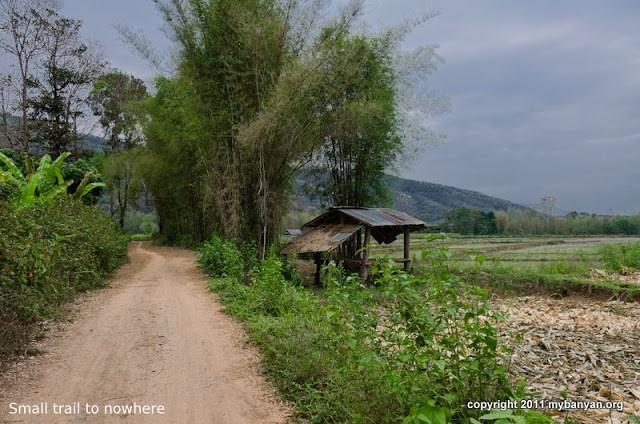 Chiang Klang has few hangouts and I chose «Heun Hin Nan» restaurant, on the shore of Nan river for diner. I was the only guest and the owner was happy to have a chat with me. I found nothing better to do, later on, than to drive back to the paddock and call it a day.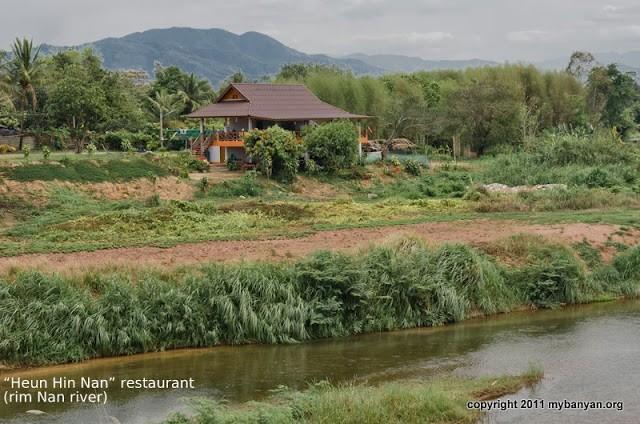 The covered distance for this trip was 144 kilometres (about 120 for the link between the departure and arrival cities).
Links to my related stories:
An Easy Road to Laos - 1 Crosing the border
A loop through Eastern North of Thailand
Around Phu Ka and Bo Kluea
itinerary around Phu Ka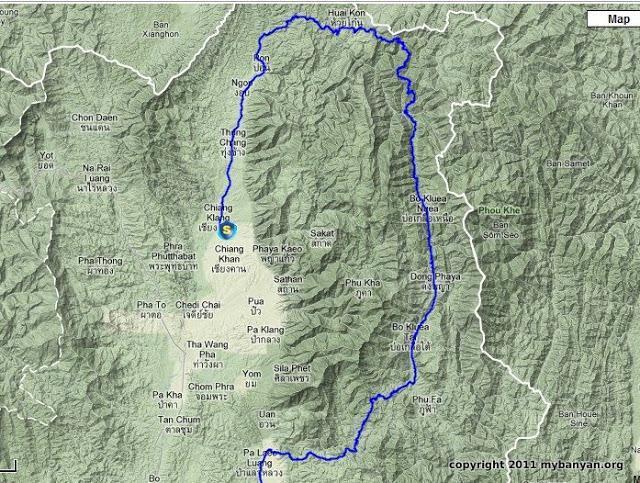 Saturday morning, I woke up early, as this could be one of the most problematic sector of my tour. I was unable to estimate a feasible distance for the trip and had vague ideas about lodging possibilities. Stopping in Bo Kluea would make a too short stage and Sukhothai was probably out of reach, particularly on the expected type of roads. The weather forecast was also bleak, with rain already hitting the neighbouring provinces.
Asian Higway 13 (route 1080) runs to the Laos border crossing point. It is a good road, well paved and gently climbing the mountain. The weather was still enjoyable with harmless cumuluses shining in the morning light.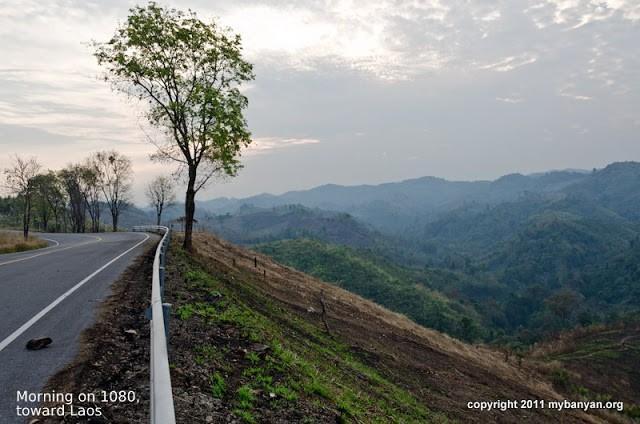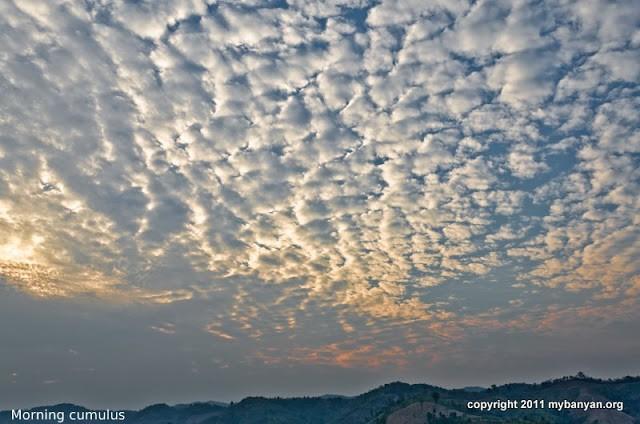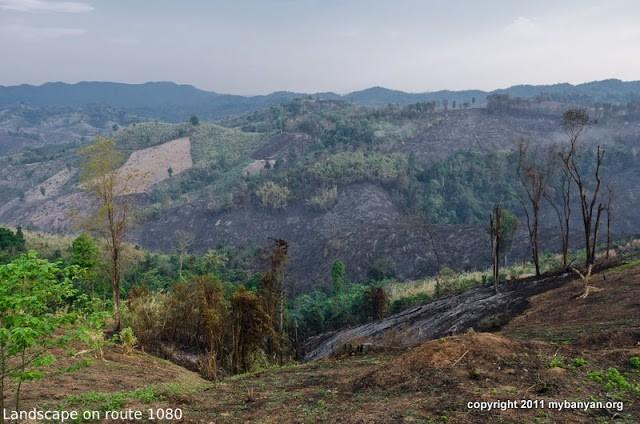 I took a rest in Huay Khon to fill the bike's tank and for some snacks.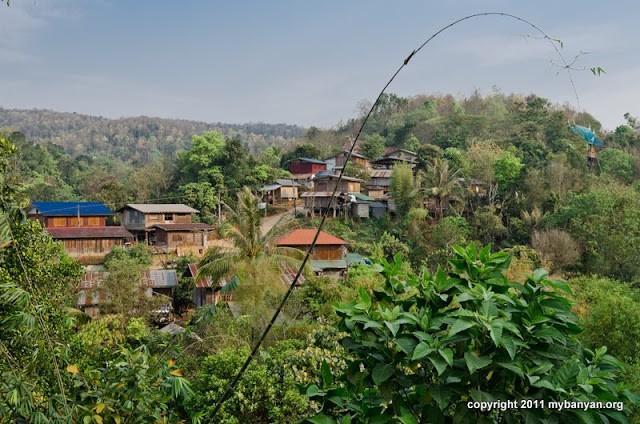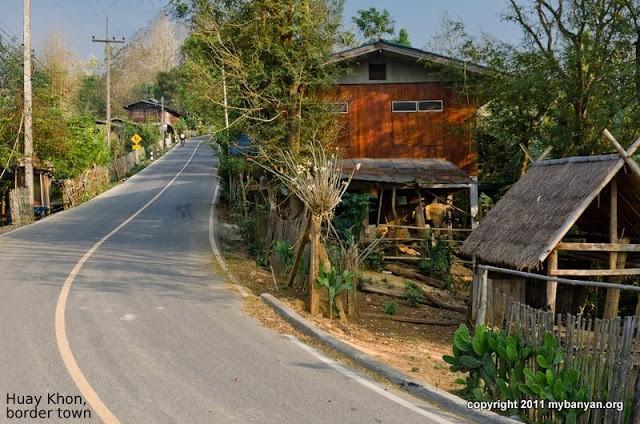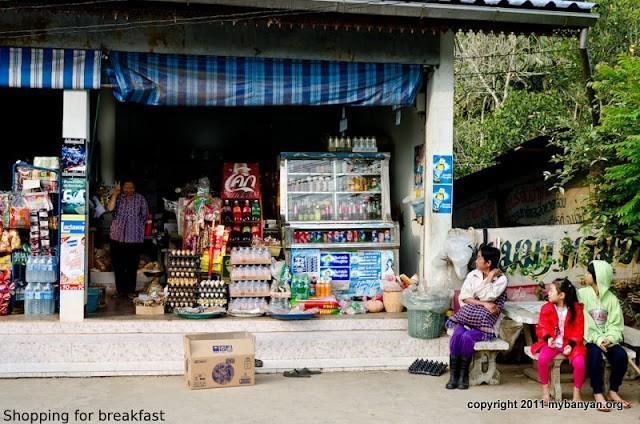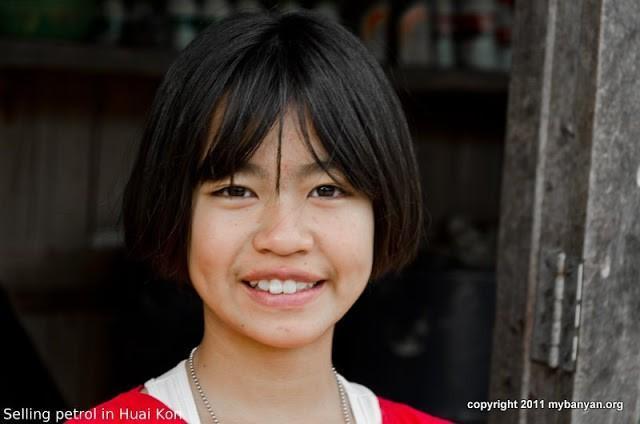 At eight o'clock, I was set to continue the journey, driving around the mountains in direction of Bo Kluea.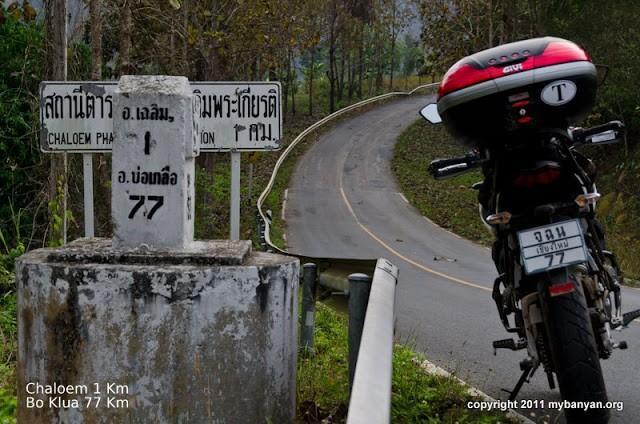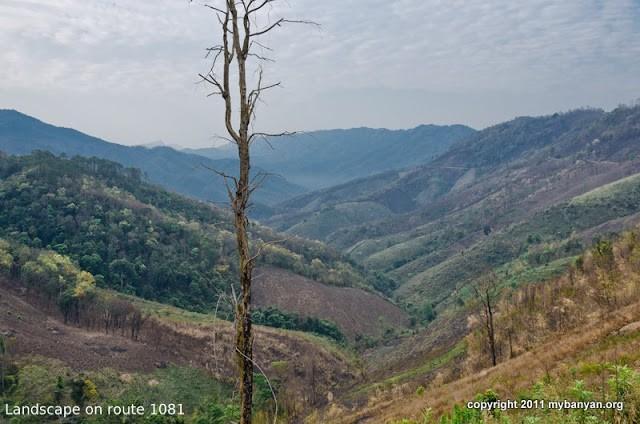 Following route 1081, east of the mountains, leads through lunar landscapes. The sight of bald hills, deforested and scorched through seasonal cleaning, is sad and particularly dramatic during the Winter. I would thing that such intensive abuse of nature is only possible in hidden hinterlands, but similar panoramas adorn more beaten circuits.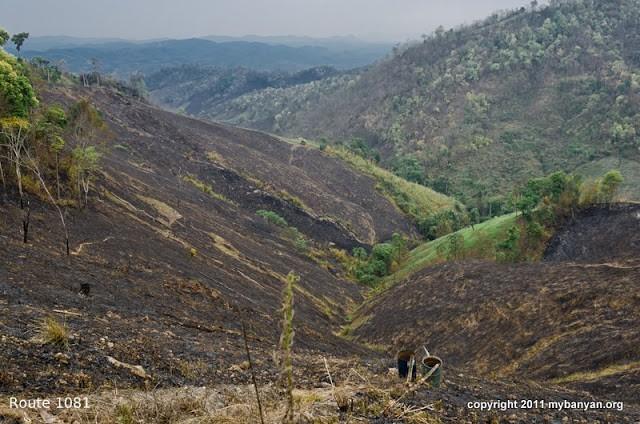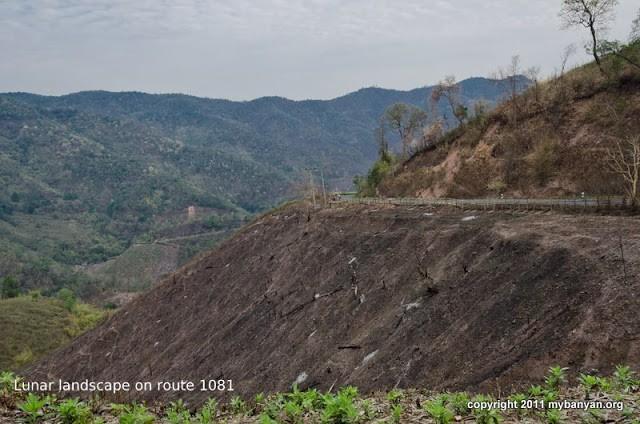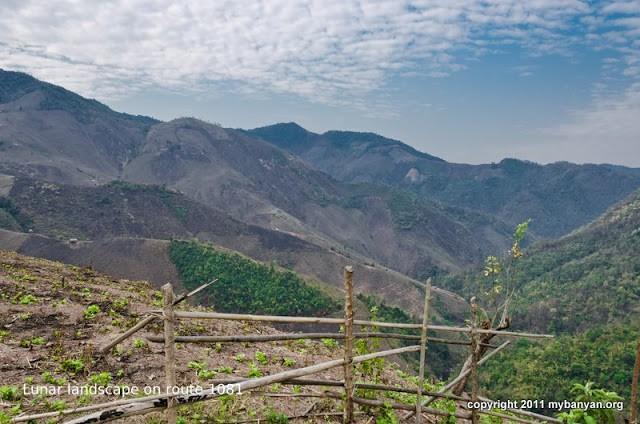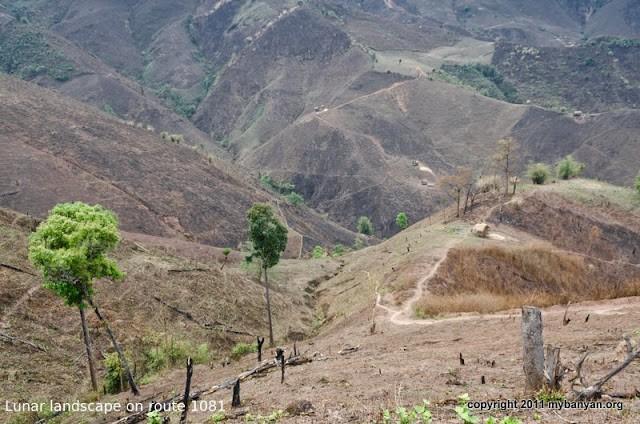 On this sector, the pavement is often bad, and ongoing improvements, by mean of sprayed asphalt and rolling gravels, just make is worse. As the "black side" has absolutely to be avoided on a bike, I prayed to be on the right lane, or the only vehicle along the road.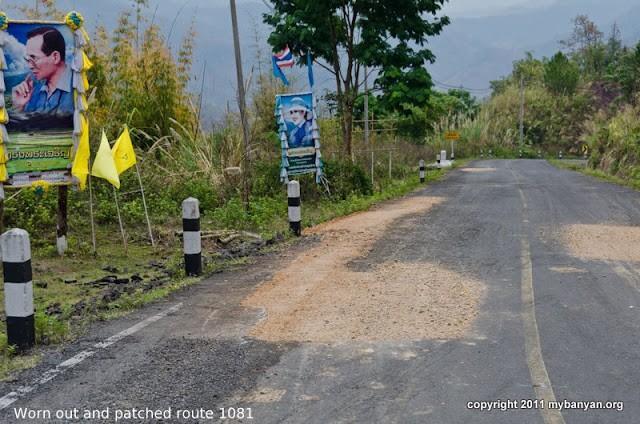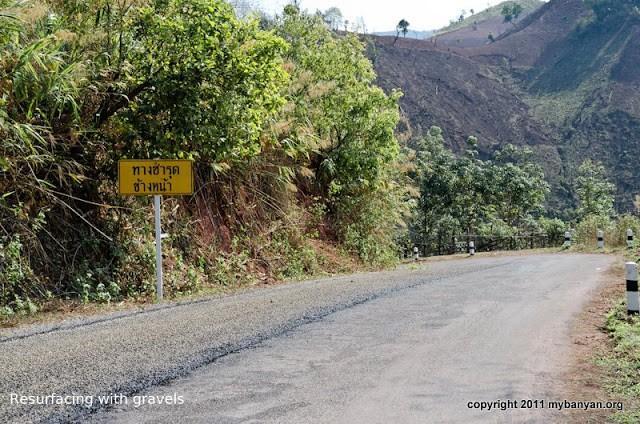 A forest, mostly of pine trees, had been ordained to protect it against destruction. I reflected that such wood burns easily, whilst the original teak trees are more resistant, if not attacked by chain saws.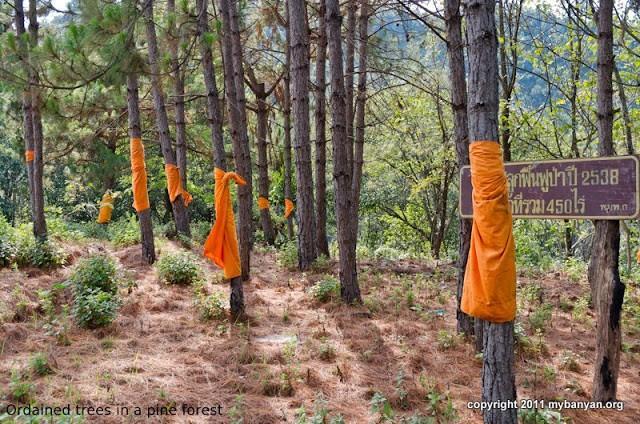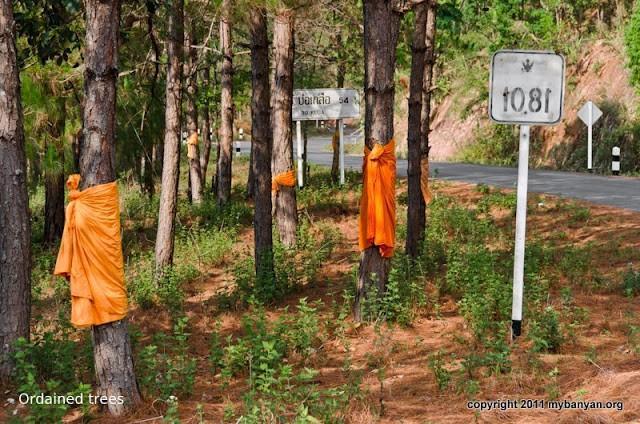 Once again the landscape became bald and dusty, with cattle searching their meagre pittance in scorched pastures. I wondered if grass would again covers these hills and what the purpose of all this might be. I have to be back at another season, for a better impression of this itinerary.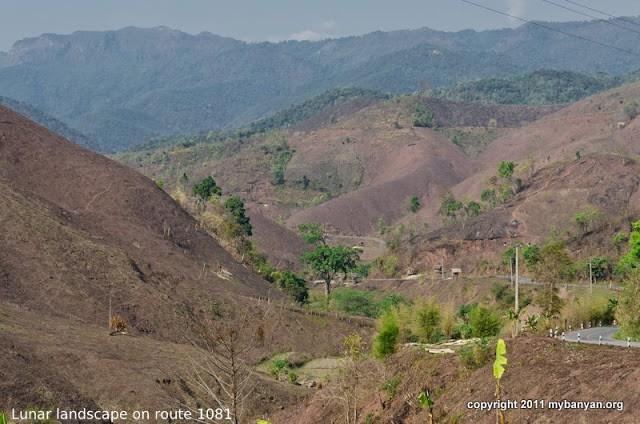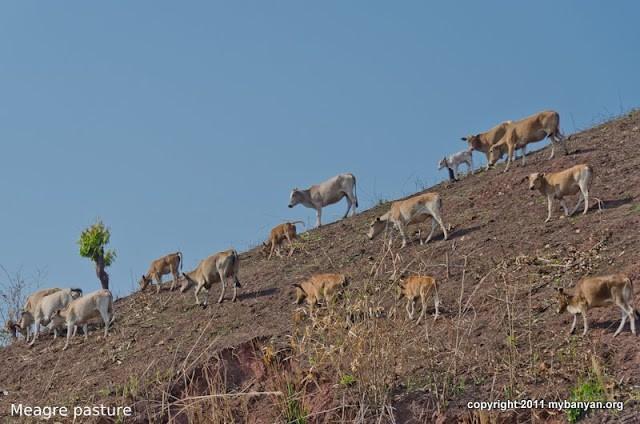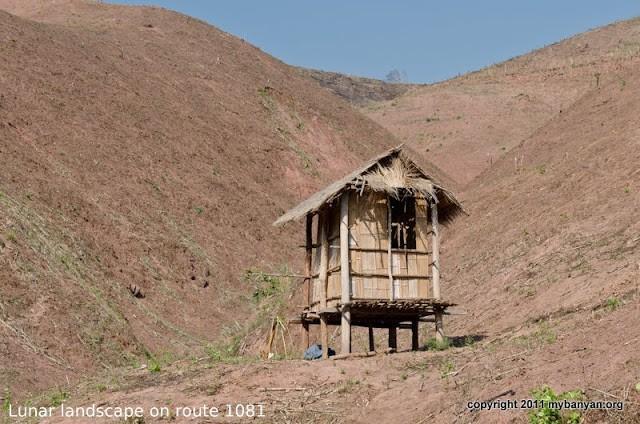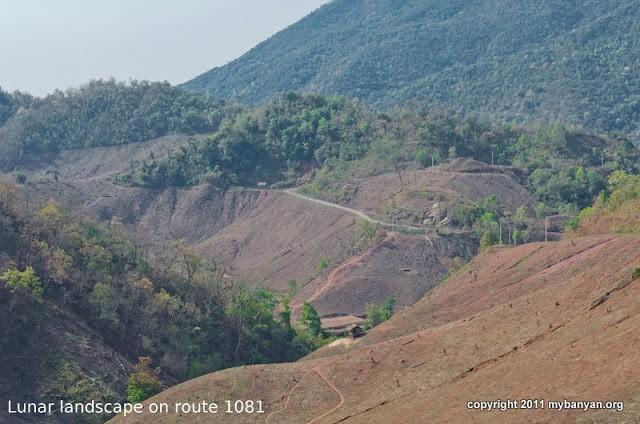 Near Bo Klua, the valley becomes greener, irrigated and cultivated. Trees again cast some shadows on a road with an improved pavement.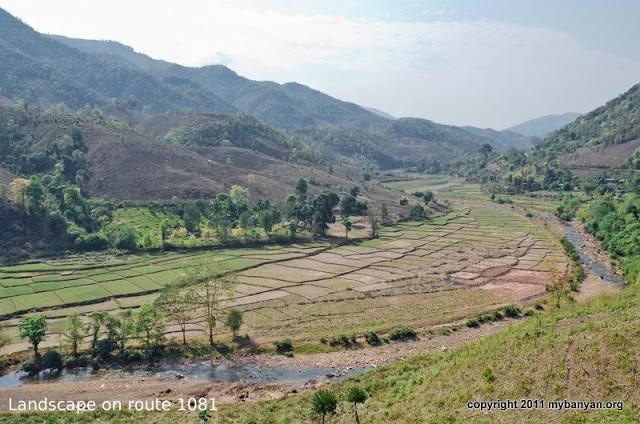 I had a rest, in a small place called "Bo Klua Coffee", for a couple of shots, before hitting the road again toward Pua, on a nicely renovated track.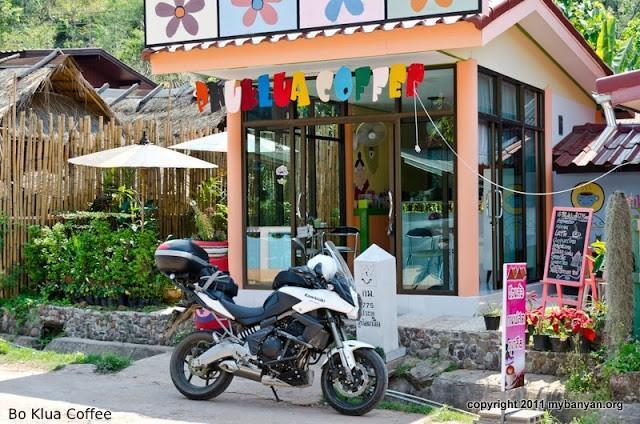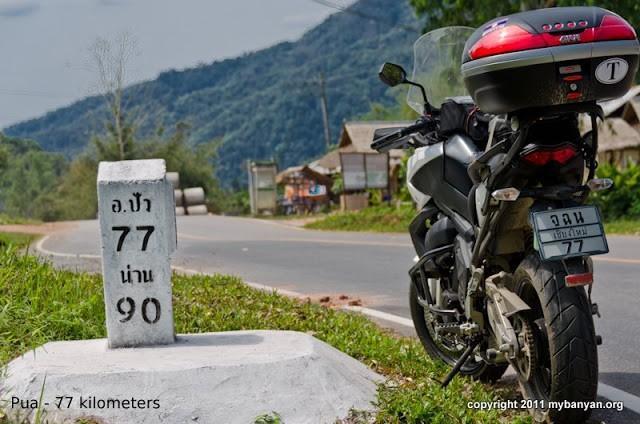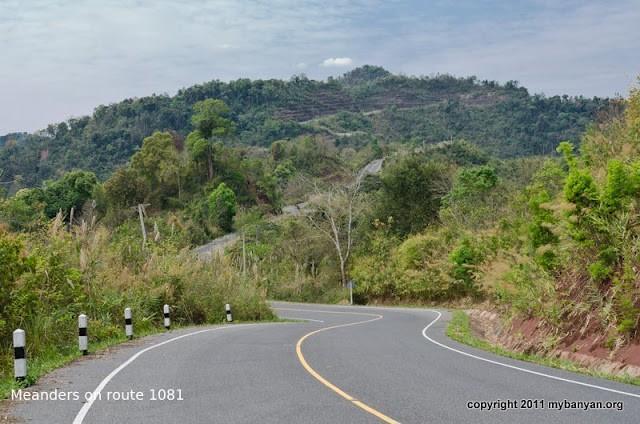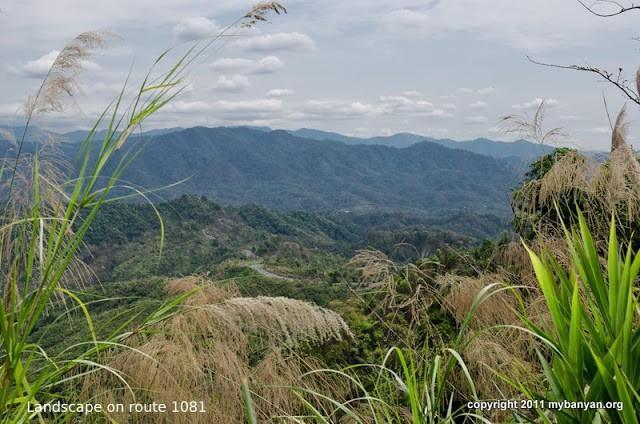 I passed a small road side shelter, were on my AX1 bike, I had once found relief from a downpour. This time no rain was in sight and, anyway, my waterproof outfits would allow me to keep on going.
Massive work is in progress on this route to upgrade the link to a "mountain highway". Ochre earth, sombre scorching and the blue fumes of fires draw again a landscape resembling the moon.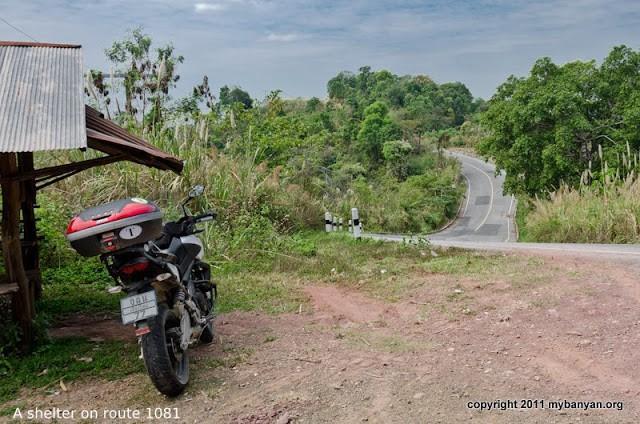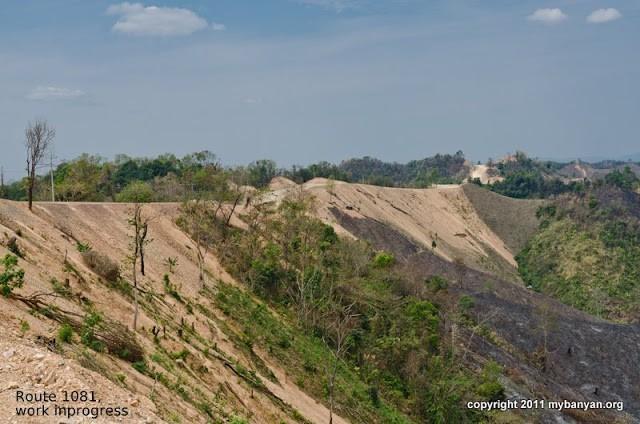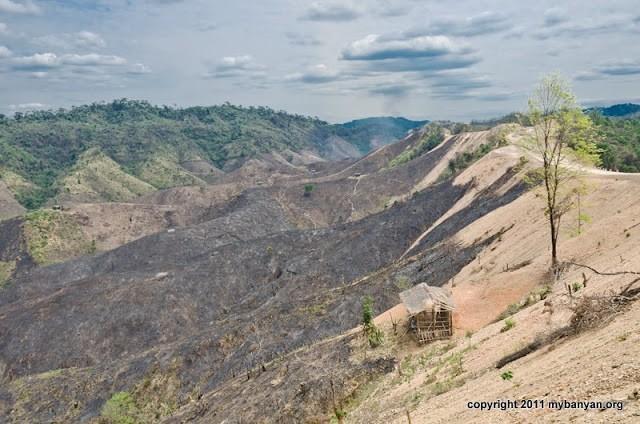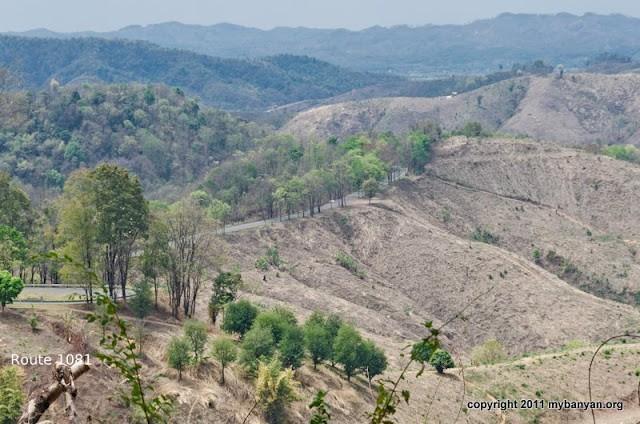 After Santisuk and Mae Charim, I reached the intersection of route 1243 (Mo Muang), the way over the mountain, to Uttaradit province.
It started nicely, with a good trail passing the village of San Na Nong Mai.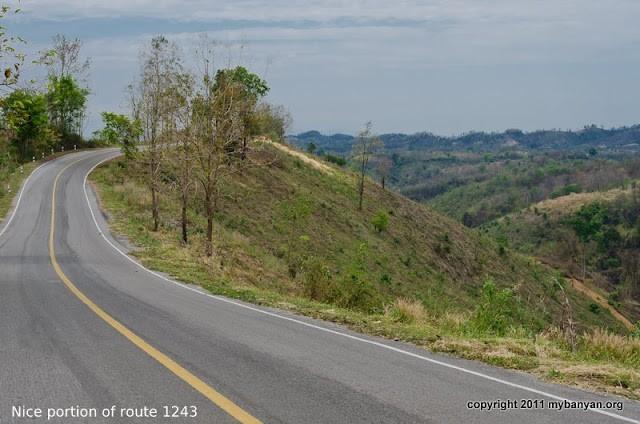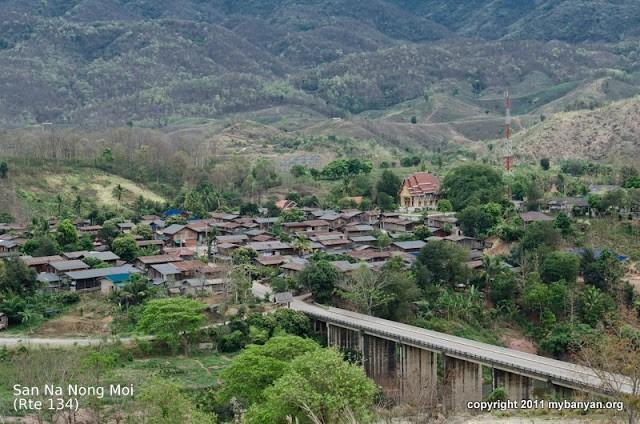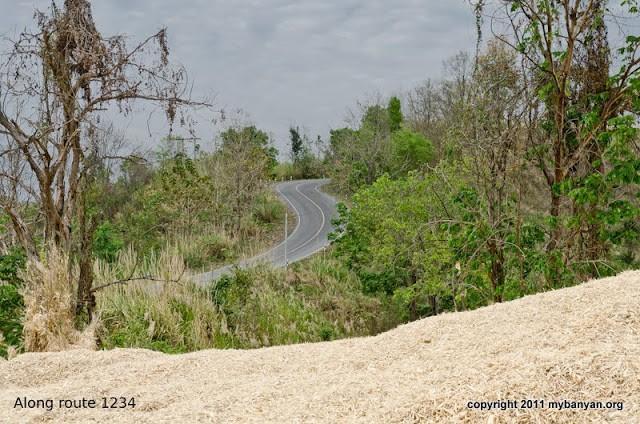 I even found a bunch of bananas on the road, and would have indulged them, as a needed meal, if they had been ripe. Later, the pavement became more and more worn out, without being a problem for my mount.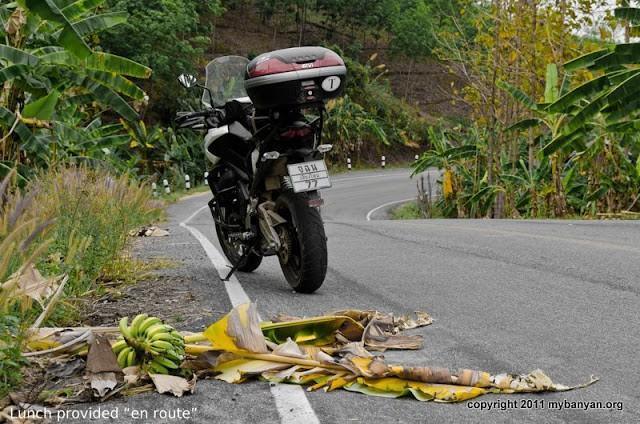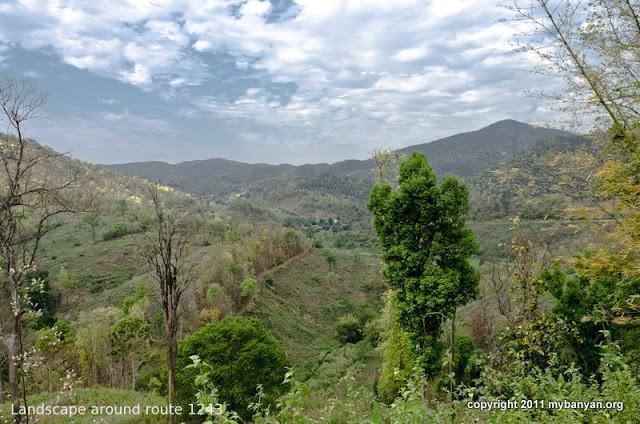 Finally, just after the village of Sali, the surface changed to dirt. At an open barrier, I met friendly people informing me about difficulties for the 15 kilometres ahead. Later on, it would be great again ("sabai, sabai"). As the road was firmly on the map, with an official number, I expected few driving problems and continued my way.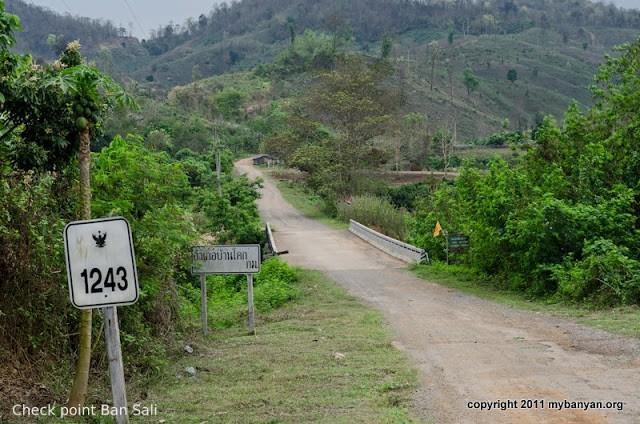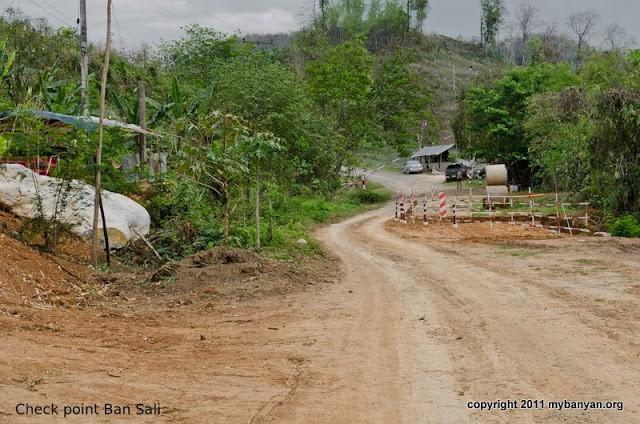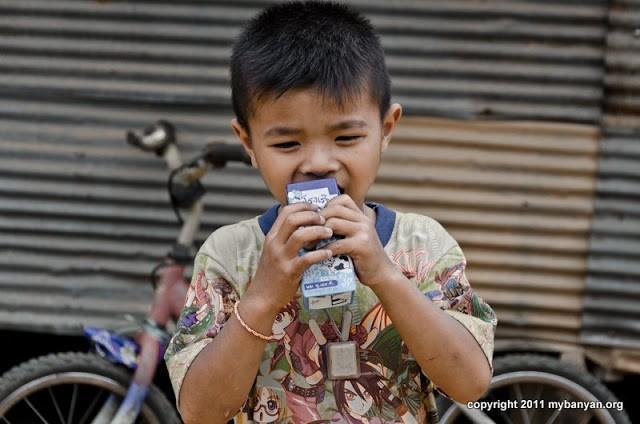 The beginning was still smooth but, as the trail climbed the mountain, boulders mixed with the earth, making the progression bumping and shaking. I did not illustrate these sectors, as I was concentrated on driving. In addition, two dimensional pictures never render such situation accurately.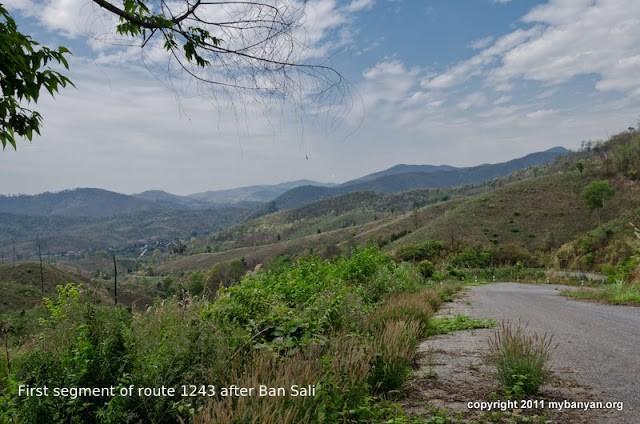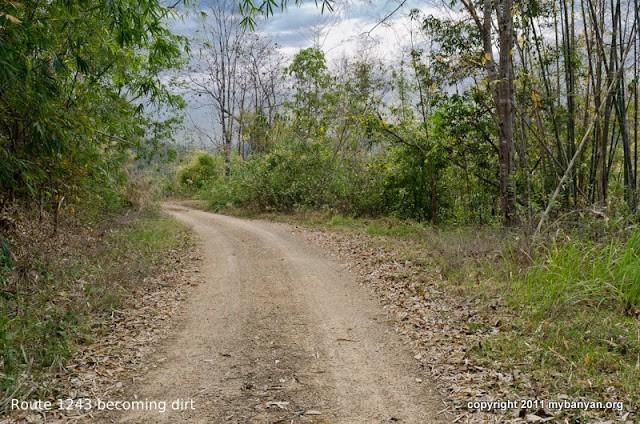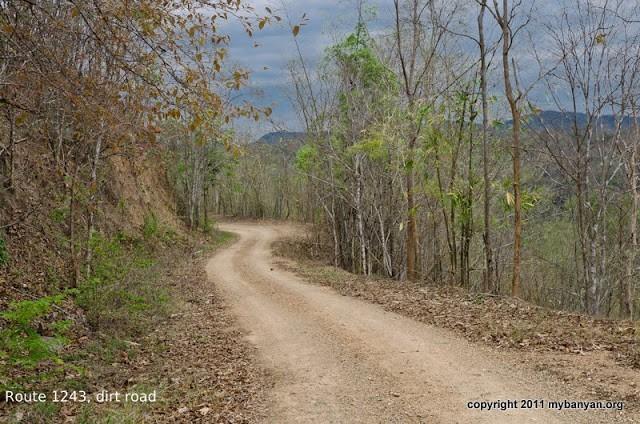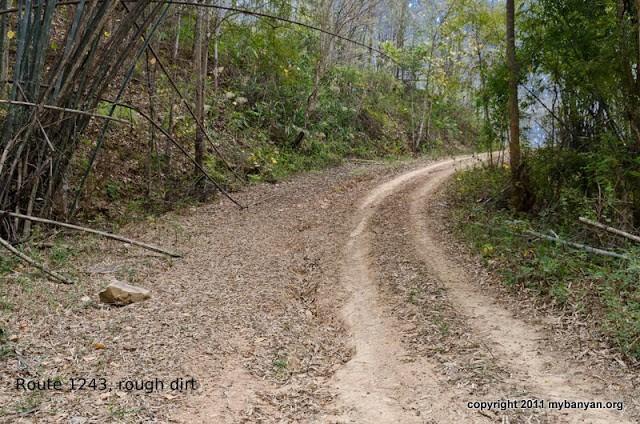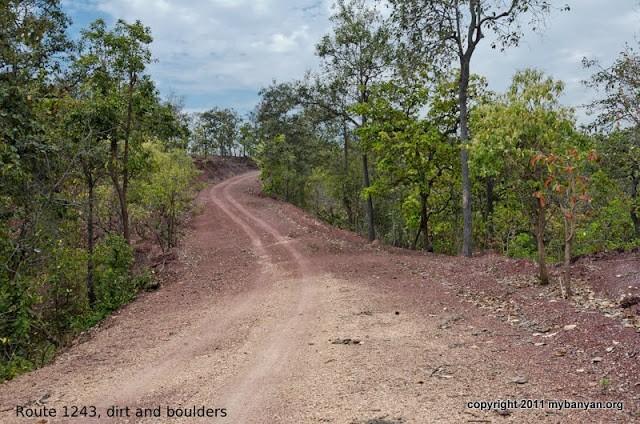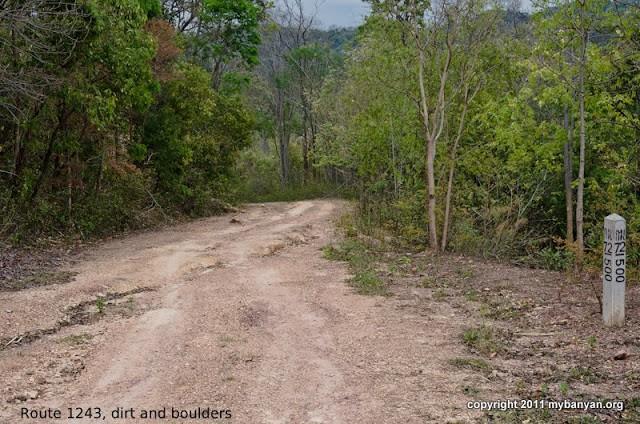 At the top of the hill, the pavement starts again. Welcome to Uttaradit province! No barrier or signboard provide a warning on this side. It is just the beginning of a dirt road.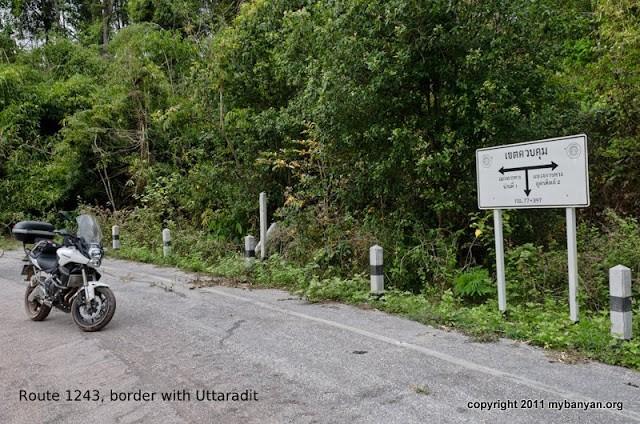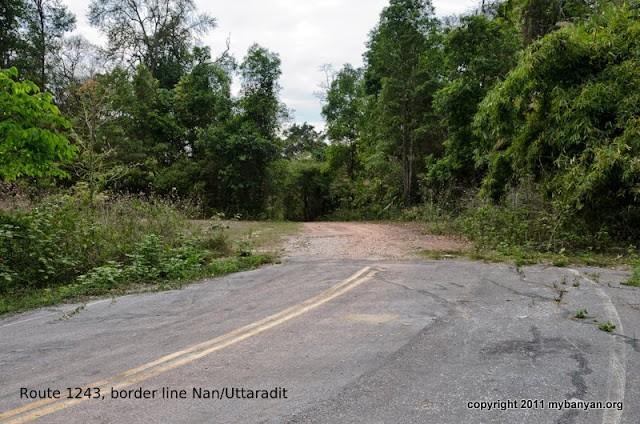 Looking back to this sector, I would avoid it, as far as possible. It is not safe or even feasible on a low bike or with an ordinary car. The Versys, however, behaved well and never put me in difficulties. The "Scorpion Trail" tires also delivered the goods, but, for peace of mind, I would favor the MT 90, with more grip, in such situations.
The next segment, toward Fak Tha and Nam Pat, is a good road. It crosses route 1241 from Ban Khok, a link that I have travelled on trips back from Isan. It than changes to route 1123 and then to route 1047, down to Nam Pat.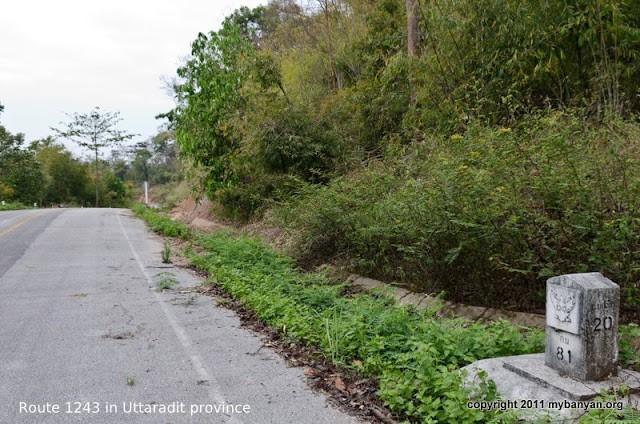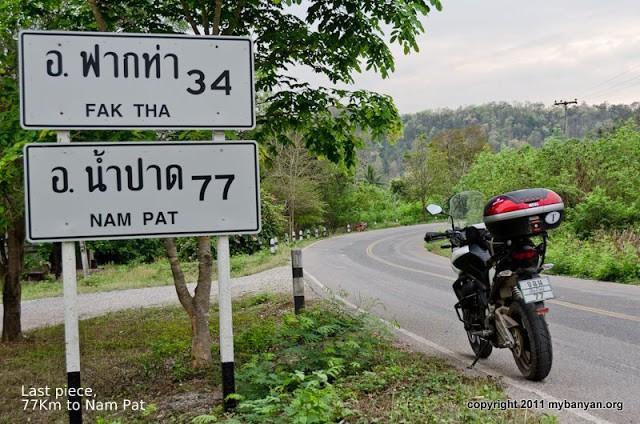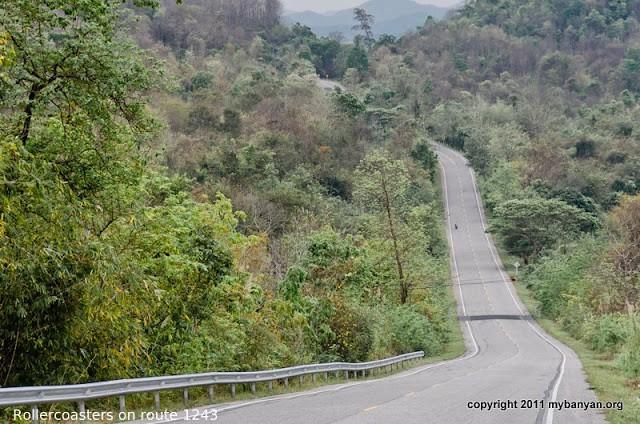 Link to my related story:
Page Error | GT-Rider Motorcycle Forums S.E. Asia
and back from Isan ( work in progress)
The afternoon became late, darkened by clouds gently falling down from the sky and it was time to think about lodging possibilities. I remembered that Nam Pat had a hotel and asked about it in the city. I arrived at a nice new place, but fully booked (Tanaya resort). The one that I had in mind was only two hundred meters further and I checked in to Kit Samrit hotel, an acceptable rest, particularly after a long journey.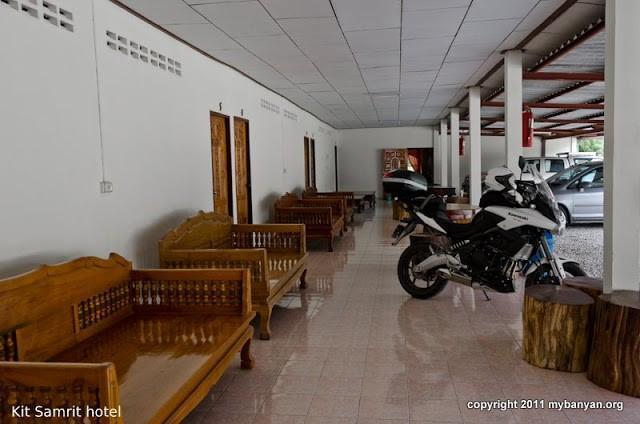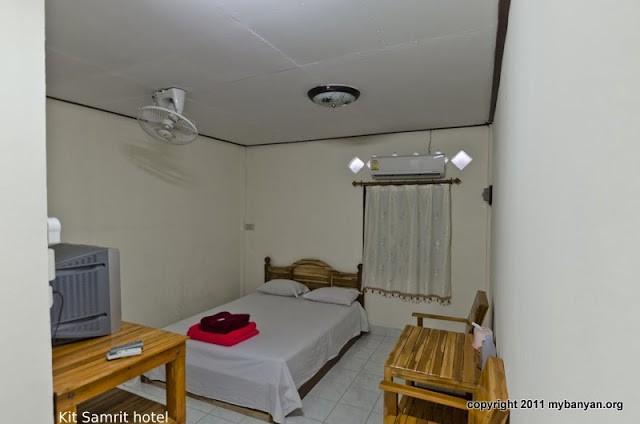 That day, I have covered a distance of 427 kilometres, wich is not comfortable on such roads. The drive lasted eleven hours, without a real rest for a meal. I found no alternative on this itinerary. It is better to avoid the sector on route 1243 and to drive through Nan and Wiang Sa, or to stop over in Bo Klua.
Next post - Lower North Thailand
-----------------------------------------------------------------------------------
1 Index of links to my related stories:
1 - Mae Hong Son Loop – Twenty Years Later:
="https://www.gt-rider.com/thailand-motorcycle-forum/threads/31733-Mae-Hong-Son-loop-twenty-years-later"
2 - Mae Sot – A Short Loop:
Mae Sot - a short loop
3 - The quest for the Laughing Buddha:
North Thailand - 1 The Quest For The Laughing Buddha
4 - The North by the Book :
North Thailand - 2 The North by the Book
5 - A New Golden Triangle :
Around North Thailand – A New Golden Triangle?
6 - A Loop through Eastern North of Thailand:
A loop through Eastern North of Thailand
7 - Down The Central Plains:
Touring The Khorat Plateau - first part : Down The Central Plains
8 - Crossing the Border:
An Easy Road to Laos - 1 Crosing the border
9 – Bridges and Mountains:
Bridges and Mountains - Mukdahan to Chiangmai
(2)
I was standing by my window,
On one cold and cloudy day
When I saw that he**** come rolling
For to carry my mother away
Will the circle be unbroken
By and by, lord, by and by
There's a better home a-waiting
In the sky, lord, in the sky
Nitty Gritty Dirt Band
Last edited: