0
Staff member
Subscribed
Jan 16, 2003
14,082
5,080
113
69
A weekend in Houei Xai.
Why? When I first moved to Chiang Khong after 35 years in Chiang Mai, one of my fantasies was to be able to do lots quick 'n easy trips to Laos, maybe China & even a Xieng Kok loop & a Muang Sing loop.
Why I moved to Chiang Khong
As some of you know in the last couple of weeks I've moved on from Chiang Mai to Chiang Khong on the Mekong. It was a difficult decision to make after so long in Chiang Mai - at 64 years of age, more than half my life has been in Chiang Mai! We had a nice GTR send off at the Kafe on 27 March...

www.gt-rider.com
Whilst Chiang Khong is still a magic little spot for me, the fantasy of little loops through Laos/ China / Myanmar didn't eventuate for multiple reasons.
Computers, bureaucracy & corruption all made it more difficult, not easier for border crossings!
Once upon a time, before computers, it was actually easier to cross borders where your details were simply written in a book, with some details ignored or even fudged. There were no boxes to tick & supporting documents to be submitted & verified.
For years I rode my Africa Twin to / from Laos with no rego, you simply write down some engine & chassis details with no check 99% of the time. It is what it was and nobody really cared. They all knew you & away you went, and then computers came. Grrh.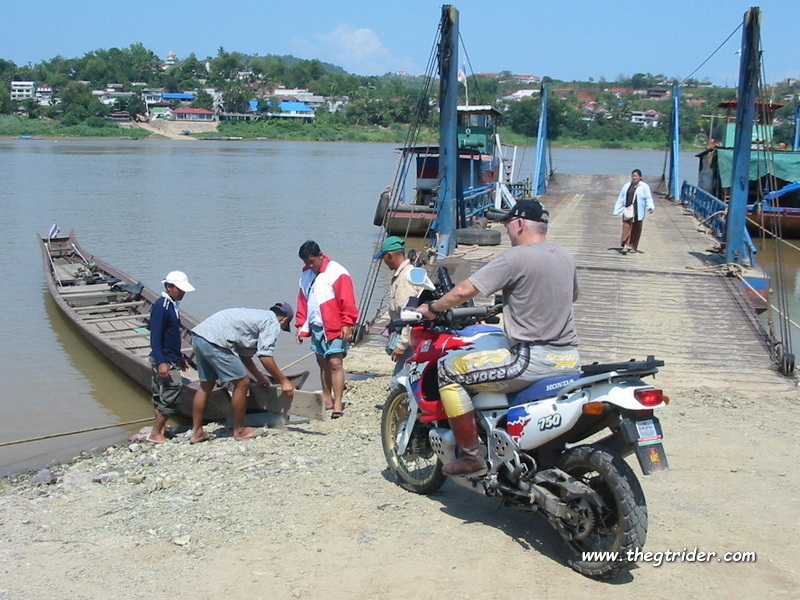 2004 crossing to Laos with a Kafe sticker on the bike for rego.
Sadly, for the border crossings China, never relaxed the regulations to facilitate travel, and Myanmar never came to agreement with the Shan to open the border at Kenglat opposite Xieng Kok.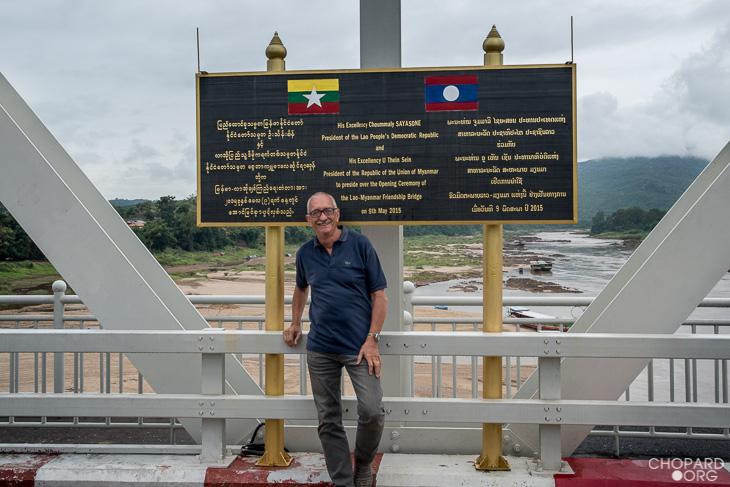 A trip from Muang Sing (Luang Namtha province, Northwest Laos) to the new Lao Myanmar Friendship Bridge, in Chiang Kok (Long district). This write-up was meant to be the last of a series about Muang Sing and the former Chiang Khaeng [1] principality. However, as the new "Lao Myanmar Friendship...

www.gt-rider.com
Huay Xai to Xieng Kok - Laos May 2019 There's a great ride heading north from the Golden Triangle on the Lao side. I had been to the Golden Triangle a few times on the Thai side and have read about some of its stories. This is the area where the borders of Thailand, Laos and Myanmar meet...

www.gt-rider.com
In 2019, a bike crash in Laos enroute to Luang Prabang
My absolute lucky day = first prize in the lottery! A quick one day ride to Luang Prabang from Chiang Khong, to deliver some maps & catch up to a few friends. It's been too long since I've been in Luang Prabang, so rather than bus the maps to Luang Prabang for delivery, why not just pop over...

www.gt-rider.com
and then 3 years of covid
and then another bike crash near Chiang Khong in 2022
Time for a quick cuppa on the Khong it's a 16 kms meander upstream to 1 of my favorite coffee shops, Enjoy on the Mekong. Enjoy Coffee has a magical relaxing atmosphere, but it was a boiling hot day when I left Enjoy to gently meander home. An old rustic house with a magnificent tree on the...

www.gt-rider.com
all kept me out of Laos for too long!
The old ferry crossing downtown Chiang Khong used to be so much fun, 500 baht for the ferry and away you went.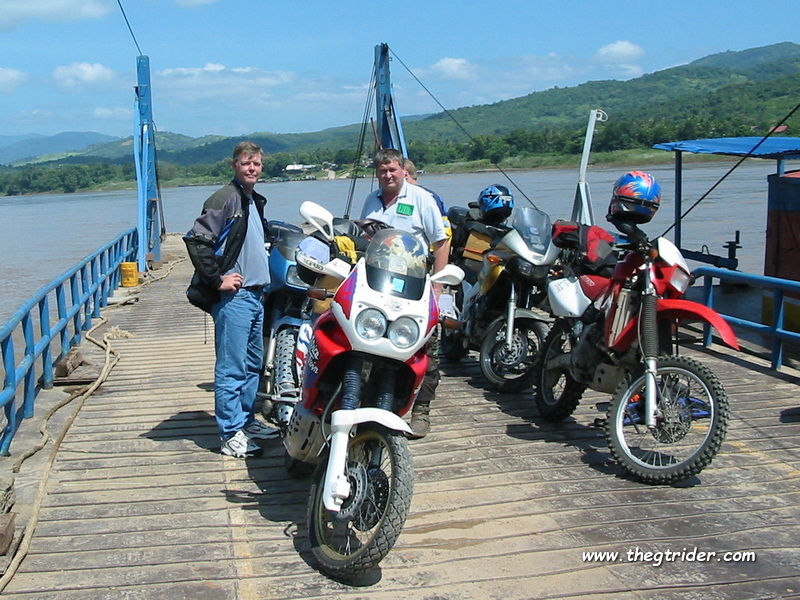 Sometimes it seems as if it was easier & quicker!
From 2013 you downtown ferry port was closed for international crossings & we all had to use the bridge FB4.
Like all the Friendship Bridges they facilitated trade & cargo for the big companies out of town, but for the local traders downtown, they all lost a lot of business; and just for many restaurants they all lost their lunch time walk in trade from customs & immigration officials downtown. With the bridges so far out of town, and most of them are 5-10 kms away, those bridge officials sought out new places to go.
A busy Chiang Khong ferry port 2003.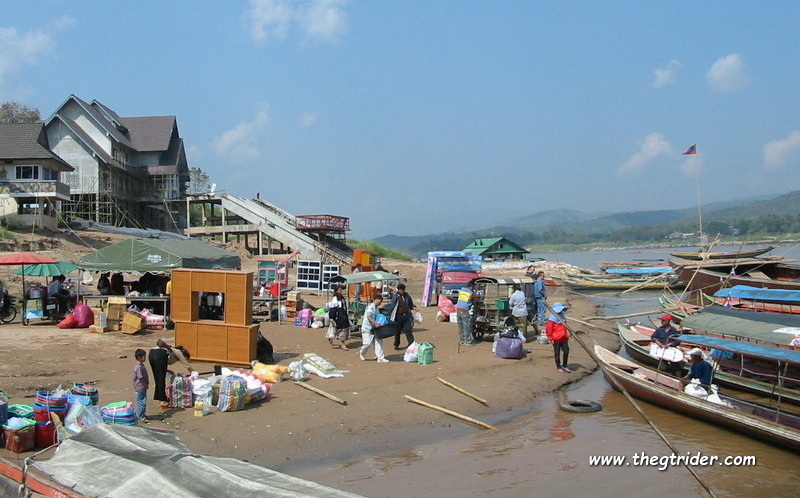 Building the FB4
http://w2.bikepics.com/pics/2007/01/15/ ... 4-full.jpg Construction of 4th Lao-Thai Friendship Bridge to kick off in 2009 (KPL) The 4th Lao-Thai Friendship Mekong Bridge Construction Project will link the Bokeo province of Laos and the Chieng Rai province of Thailand. This bridge, which will...

www.gt-rider.com
Time to head back to Houei Xai & the GT after several years absence.
Entry to the Chiang Khong FB4 port, 6 kms out of town.
My departure for my weekend getaway was late & somewhat "delayed" on account of getting my days mixed up.
In the morning I got an invite from Luca to meet up for a Flow Brekky @2.20PM, which I gratefully accepted.
Then 2hrs beforehand I realised that I was supposed to in HX & not at the Flow.
However with the bridge not closing until 10PM, I thought what the heck, just crossover at dusk or in the early evening, there will be less traffic too, so it will actually be easier. And so it was!
Nobody there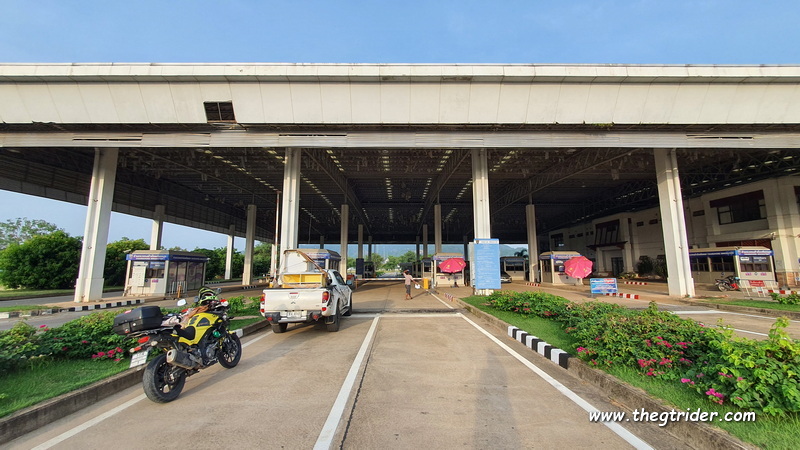 The proceedure, hasn't changed in years. Stop at the line & proceed to complete the necessary paperwork.
1. Get your immigration forms TM2 Information of Conveyance & TM4 Crew List for the vehicle you taking out of the country.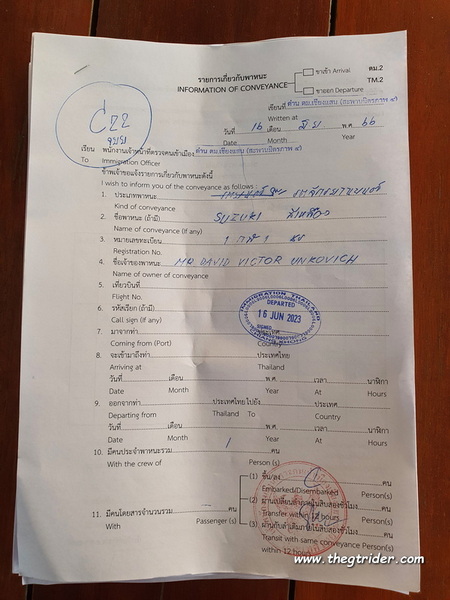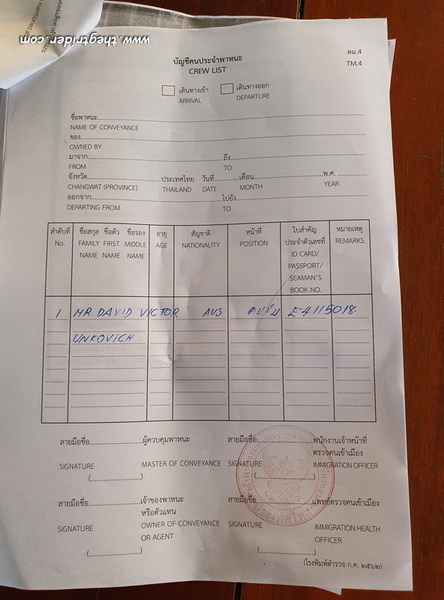 (The immigration staff were a bit slack completing the forms for me, as they knew me & that I was returning home to Chiang Khong after my weekend getaway.)
2. Get your immigration exit stamp & present the TM2 & TM4.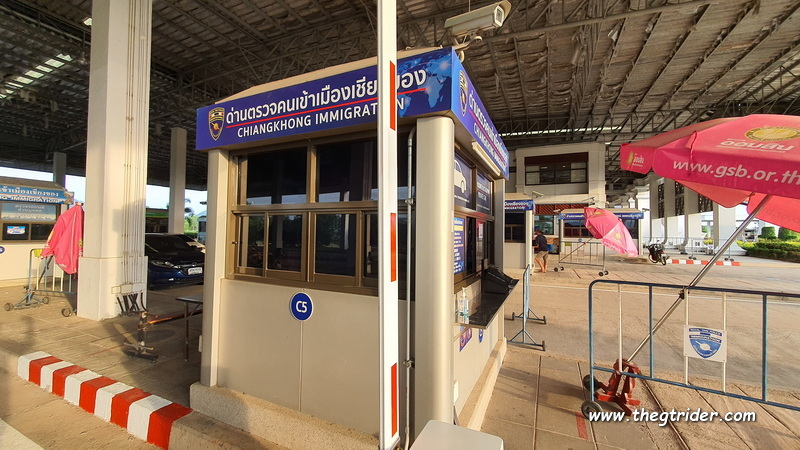 After you've done immigration, move your bike forward to the customs booth after the immigration booth.
3. Complete the customs temporary export papers .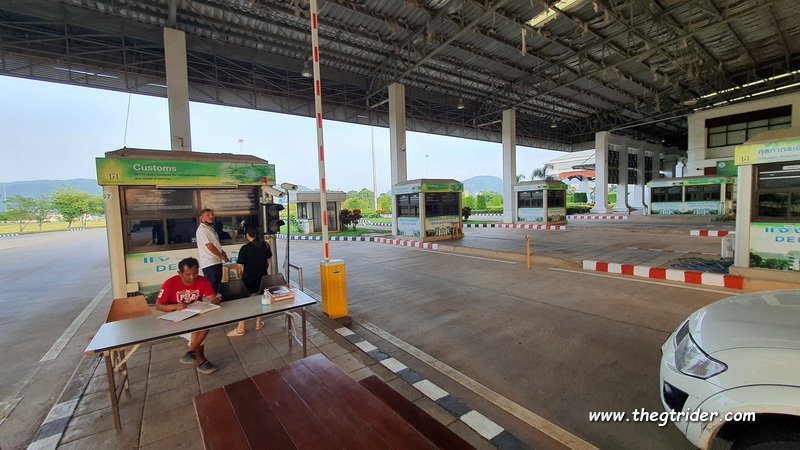 A completed customs temporary export form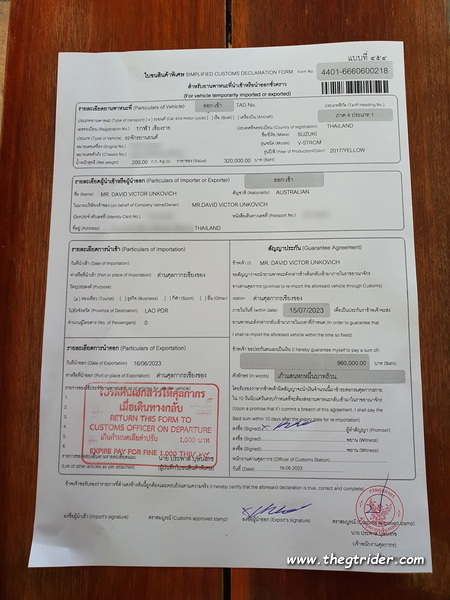 If you have crossed the Thai border with the same vehicle before, your detail should be in the customs computer & they will rapidly print out the form for you sign. They are efficient. If the bike's details are not in the computer, then it may take 5-10 minutes for the data to be put into the computer.
Overstay Fines.
Many people have asked me recently about the overstay fines for export / import.
According to the customs officer who did my paperwork, there are two scenarios.
1. Thai registration.
the maximum fine is 1,000 baht regardless of how long the bike overstays!
However, if you are going on an extended trip, please advise the main customs office from where you are exiting.
2. Foreign registration.
the fine is 1,000 baht a day, maximum 10,000 baht.
Start to finish on the Thai side = 25 minutes. Exceptional service & no excess fees asked for.
It could not be easier.
Customs paperwork dome, move your bike forward again, park it on the designated spot for a photo. Then off you go across the bridge.
Crossing the bridge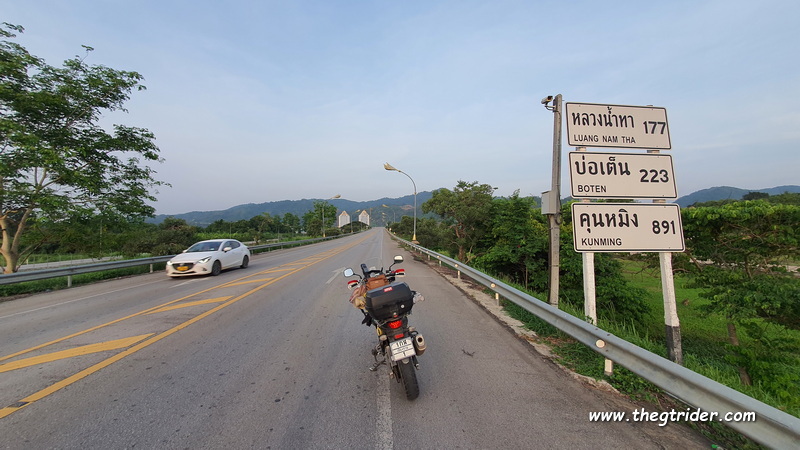 New staff housing alongside the bridge, in preparation for the proposed one-stop service coming, once the train line is operating?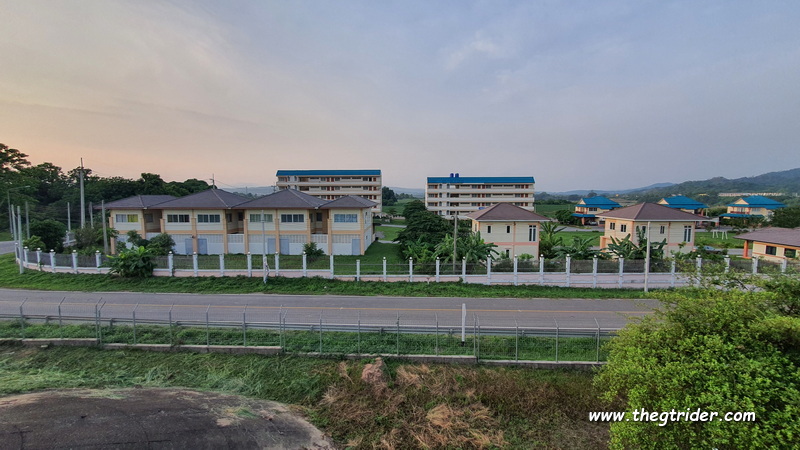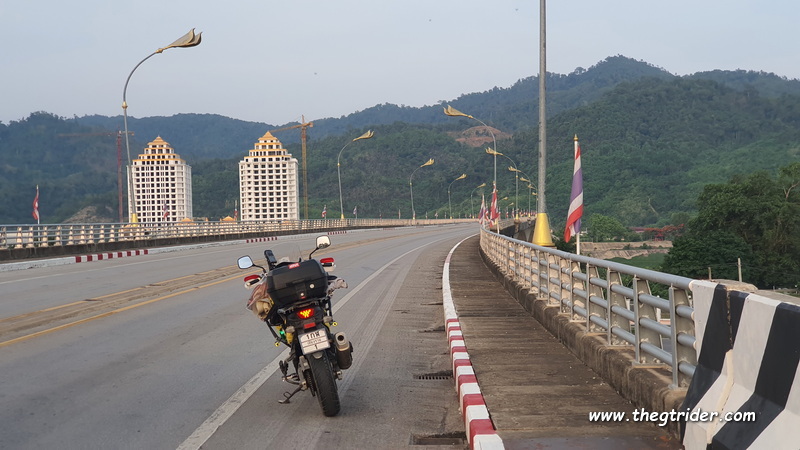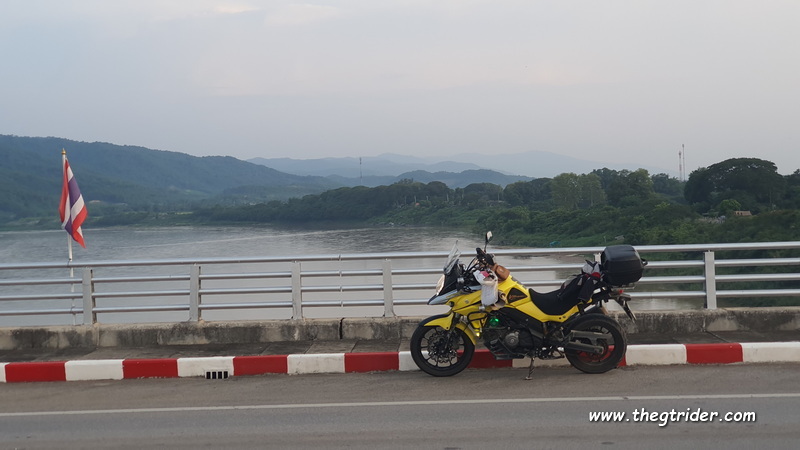 Entering Laos & the new Houei Xai city project which seems to have come to a halt. Financial issues? No one I asked in Houei Xai seems to know the answer.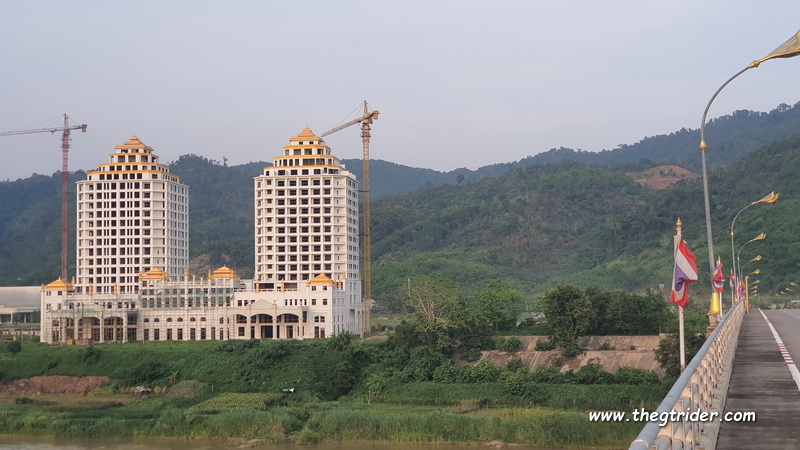 Entering Laos
Same as on the Thai side. Park your bike carefully behind the line.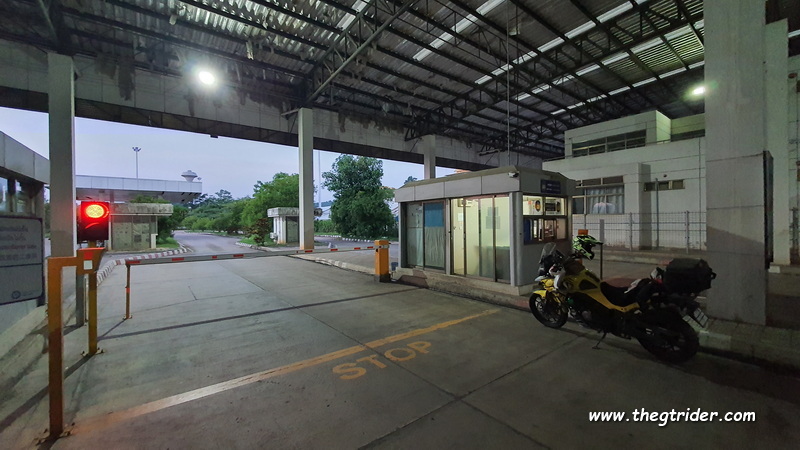 The procedure, clear immigration first.
1. Get your visa on Arrival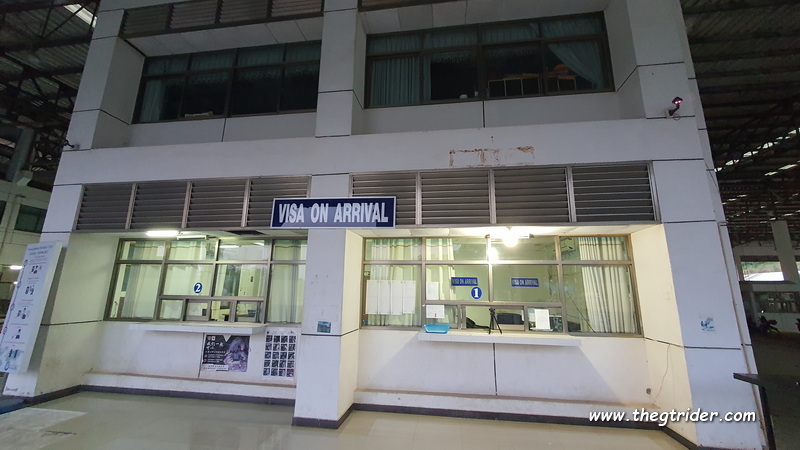 2. Go to the immigration booth & get stamped into Laos.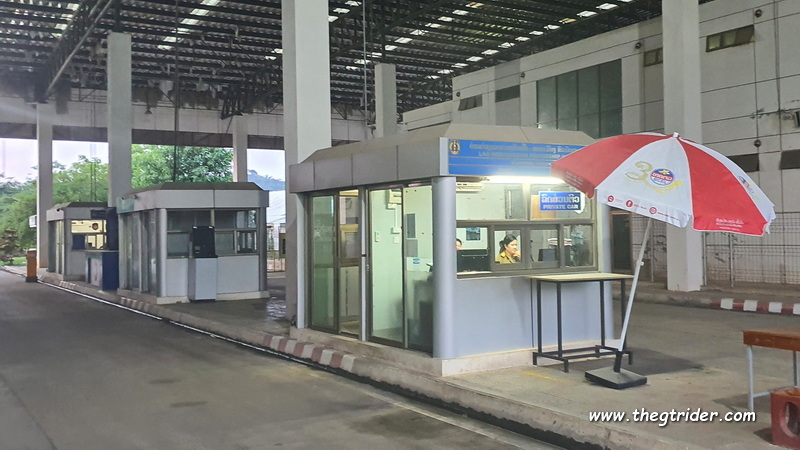 Move your bike forward to the customs booth. Park behind the line.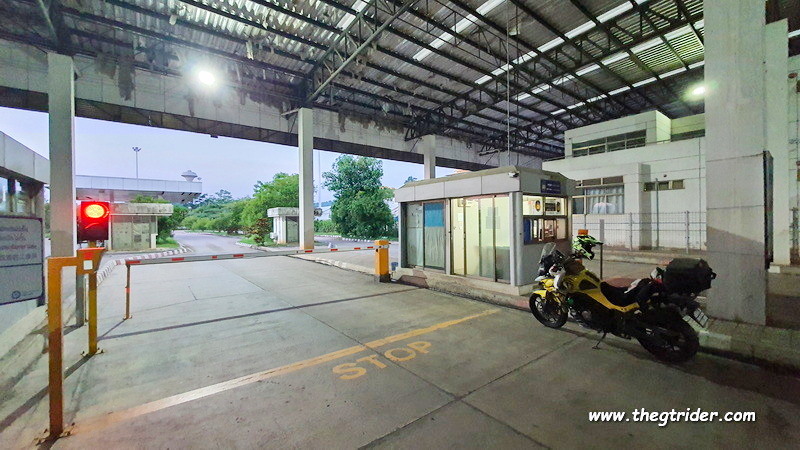 3. Police Security Clearance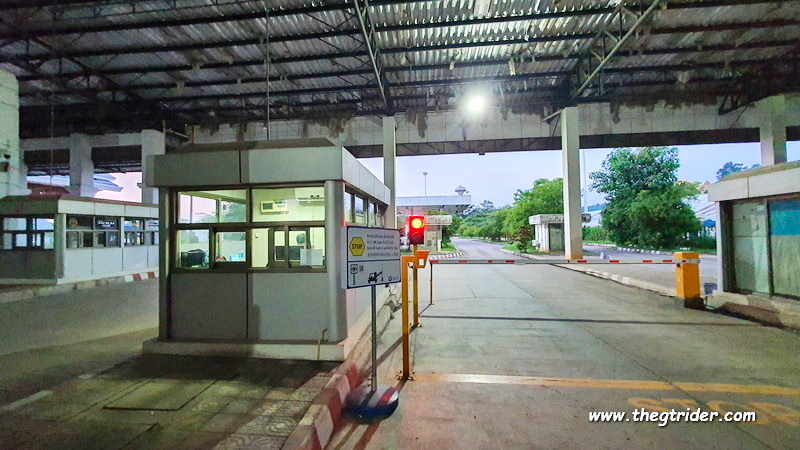 The gentleman here was most polite & efficient entering the bike & my details in the computer.
On my last entry there was a giant touch screen where you entered your own details.
I asked what happened to this machine. We don't use that anymore, stopped years ago?? Strange I thought.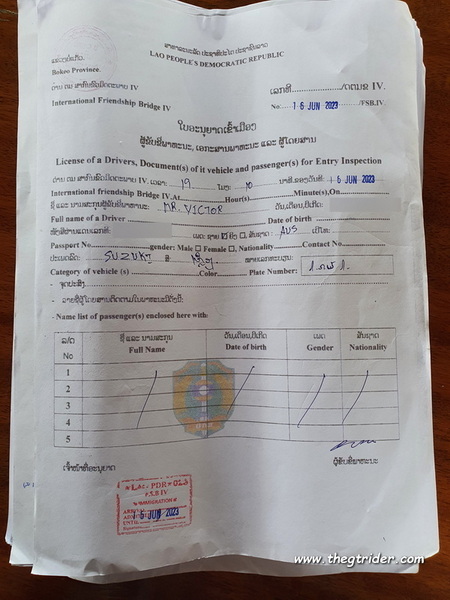 3. Pay your registration fee & get a sticker @ the LDB.
4. Clear customs,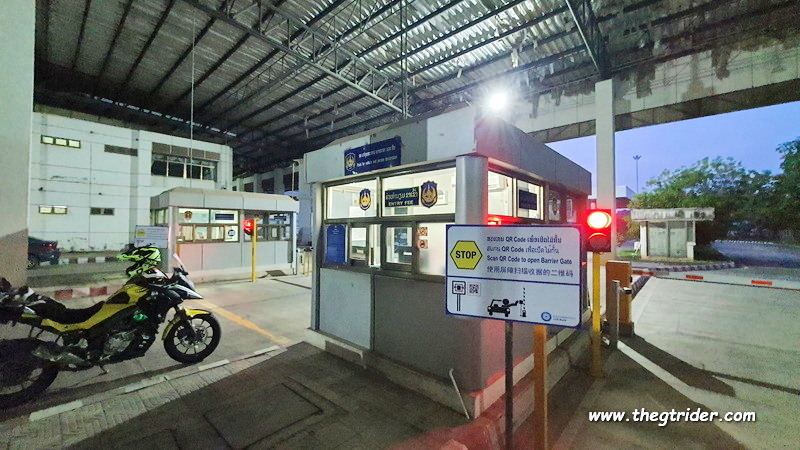 No friendly cop, looking to extort money 2,000 baht for entering Laos!
All friendly staff, looking for something to do & someone to talk to perhaps?
Total cost including 150 baht insurance, was 300 baht I think + Laos visa cost.
Total time = 30 minutes = zero complaints.
It couldn't have been easier. Welcome to Laos.
30 minutes later downtown HX.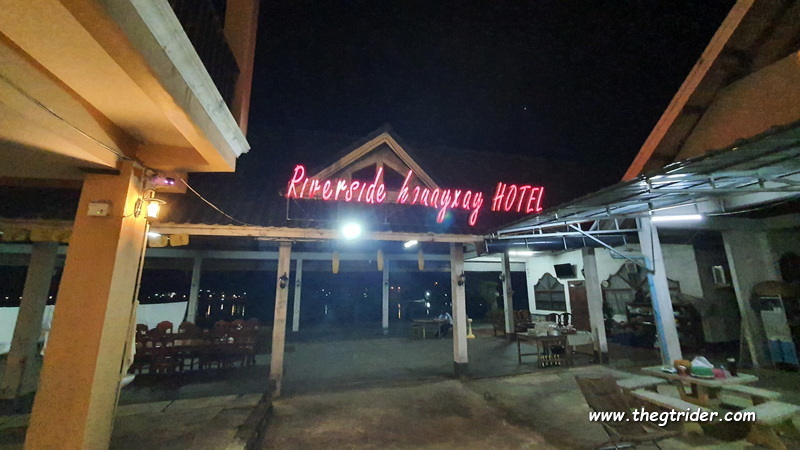 The Riverside HX is great for undercover parking & location.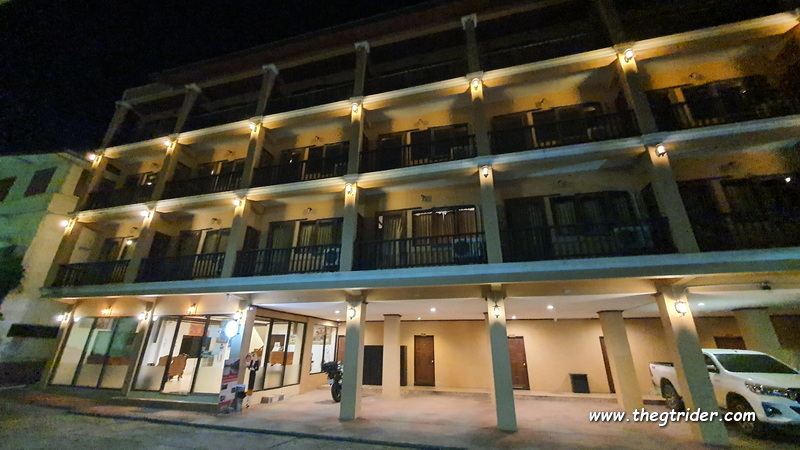 Kicking back in Houei Xai looking at Chiang Khong.
more to come, looking for old contacts & checking what's going on in HX / Bokeo...
Last edited: