I havent posted any tripreports albeit being a member here for quite a while, but since I recently did a great 24 day trip in Laos (great for me at least...) I thought I could give it a try.
Im not a native english speaker so not fluent in english and the photos in the posts are taken with a 4-5 year old iPhone - so I hope you will bear over with such shortcomings.
For those of you that dont know me, and I guess that would be most of you I can mention that Im a 52 year old norwegian guy who just recently finished a 5 year RTW trip on a motorbike. I was done last September with the trip and came to Thailand late October. I have been a regular visitor to Thailand since 2002 and also visited many of the other countries in SE-Asia. But I didnt get into motorbike travelling until 2011-12 although I did some daytrips on rented Honda Dreams and such since around 2005 though.
My Mianoi is a Honda Crf250L that I purchased in August 2016 while my RTW bike was shipped from Sydney - Australia to Valparaiso - Chile. I had a good break from the RTW trip then and have also had a couple of breaks since were Mianoi have been very useful.
I spent quite a lot of time in SE-Asia during my RTW trip, almost 6 months in Thailand and also a 30 day «roundtrip» of Laos. I had earlier done both an organised biketrip in Laos and a quick run-through after passing through China and before that several trips without a bike so Im quite familiar with Laos. And isnt it just a great country to travel in by your own vehicle?
In late January my thai visa was over I had to leave the country - and I thought why not do a trip into Laos with Mianoi, she would be a perfect companion for the ride I thought. Earlier biketrips in Laos had been on bigger bikes and thus not too much distance on gravel roads and to really remote parts, but now it was going to change. With a 250 cc bike equipped with new Dunlop 605 tyres and a huge aftermarket gastank from Acerbis I was prepared!
So 27th of January I left my base in Lampang and headed for Chiang Khong and the Friendship bridge 4 over to Huay Xai - Laos.
Everything went smooth as silk until I entered Laos. It was a lot of run-around confusion and the insurance guy had left the office early so I had to come back the next day to purchase insurance.
And then I was taken to the tourist police office where they tried to persuade me to buy a «tour package» which they daid was mandatory. Luckily David U had noticed me about this potential scam (Thanks David!) so I just politely and firmly said no thanks to that «offer». They wouldnt accept that at first and tried to tell me about the dangers of Lao roads. But I told them I had just ridden around the world for 5 years and approx 250 k kms without causing any damage to other than myself and I considered the dangers of Lao roads to be highly exaggerated
and eventually they let me go.
I found a room at Bokeo GH almost in town. Parking in the lobby and initially the woman in charge wanted 120 k kip for the room but soon lowered the price to 100 k kip. I was afaik the only guest there that night. It was spacy and clean rooms with nice warm showers and fast wifi and all in all good value for money imo.
A few pics from day 1 Lampang to Huay Xai. Comments under each photo.
My Mianoi aka Honda Crf250L year 2012 ready for a Laos trip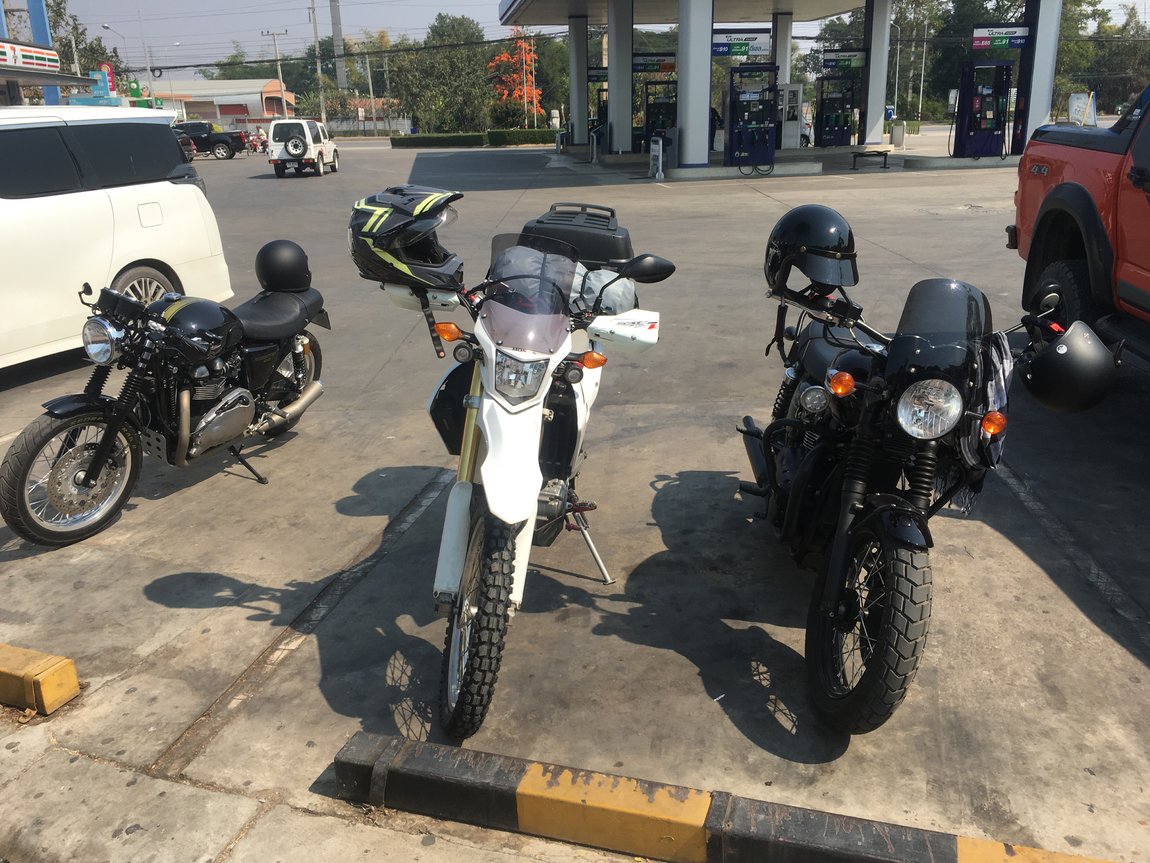 How dare you?!!! Had a short break near Phayao and coming back to continue somebody had parked this bike next to Mianoi. Some people have absolutely no shame at all....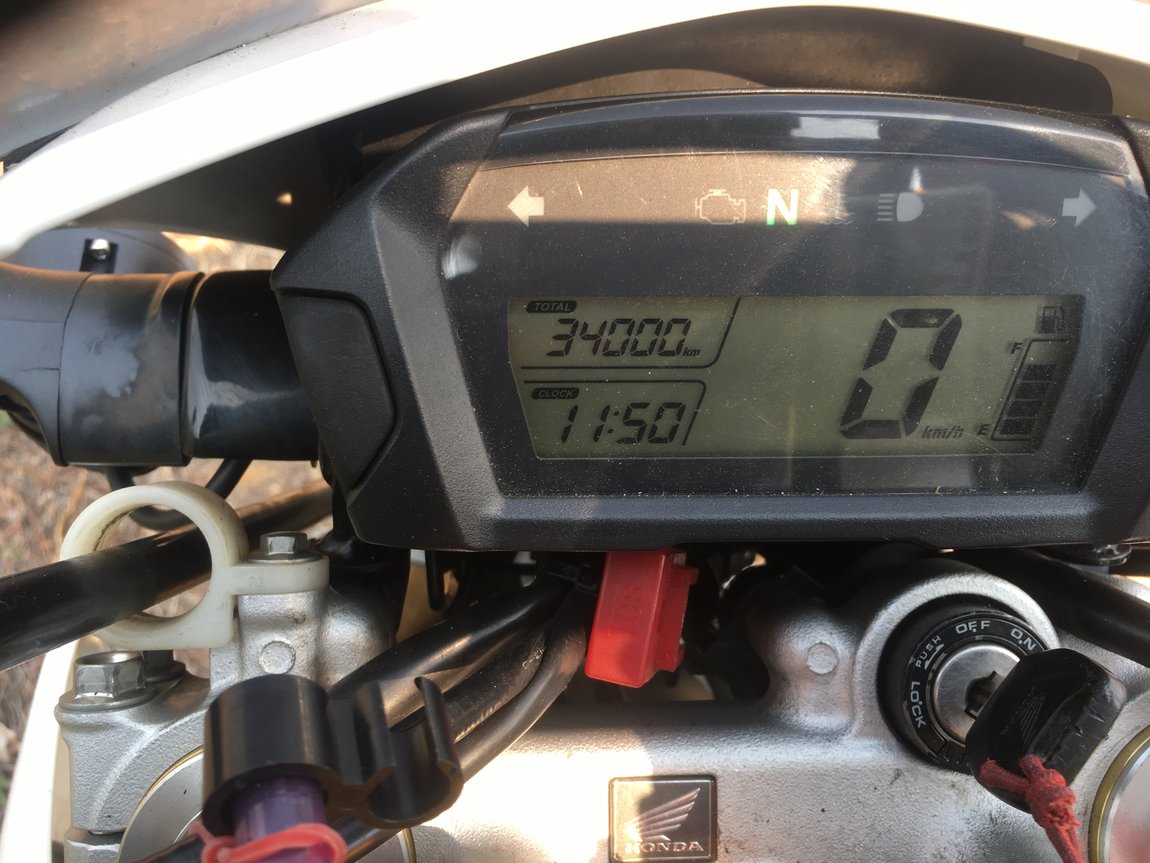 Passed 34 k on Mianoi that day, and all those kms without skipping a beat of course. Its a Honda ya know...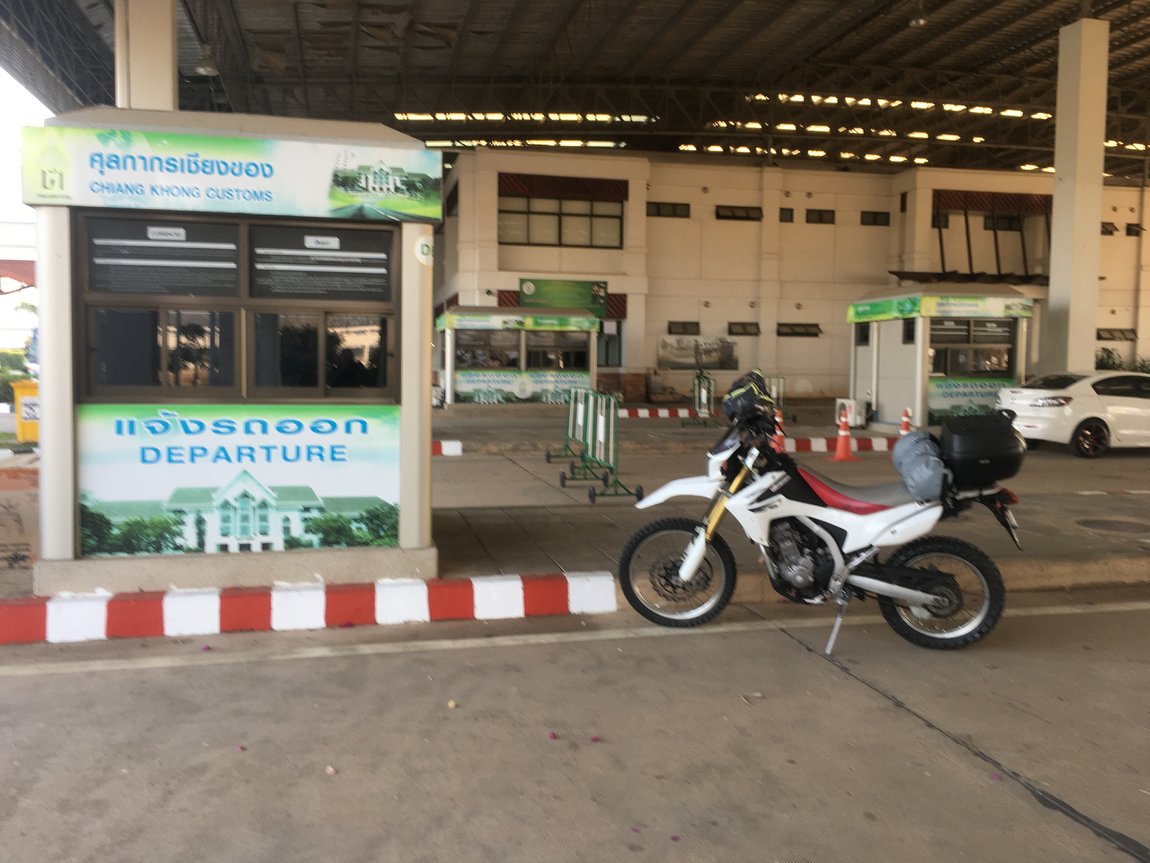 Exiting Thailand was smooth and painfree...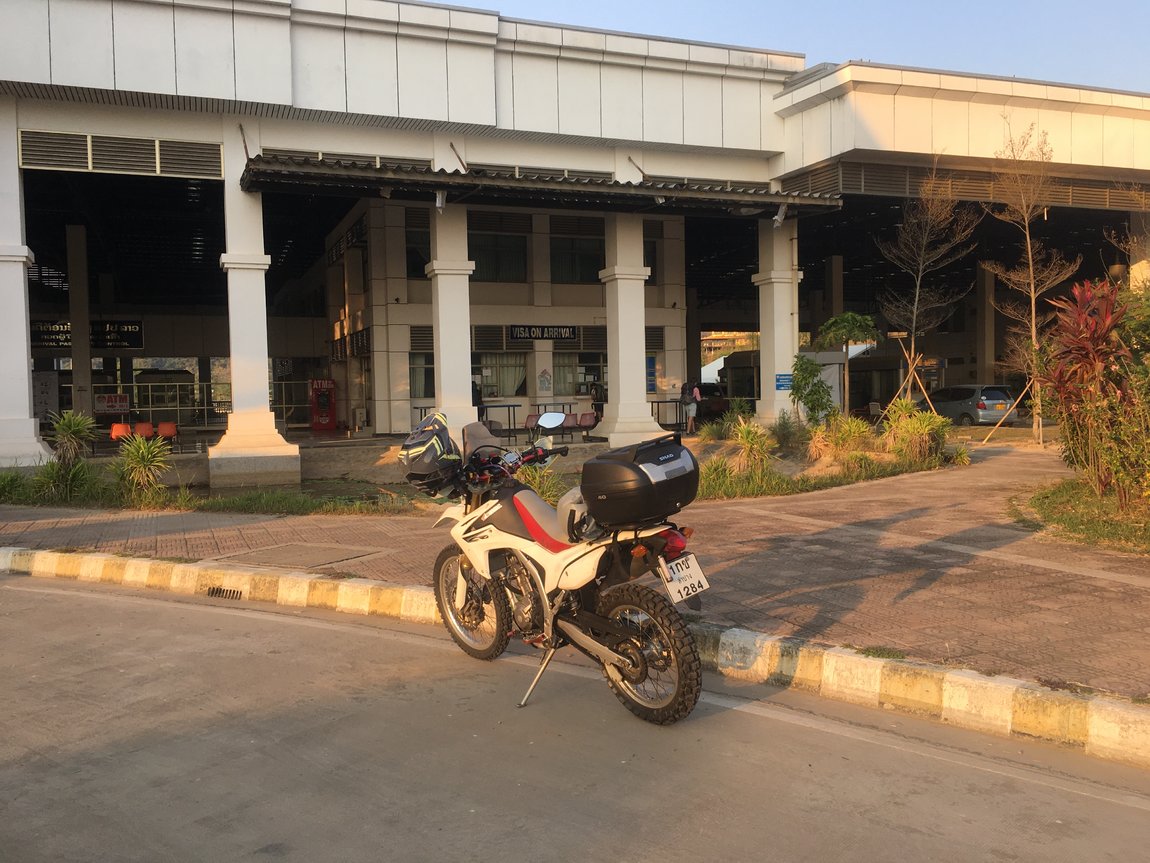 Entering Laos was a little more strenious but we came through in the end.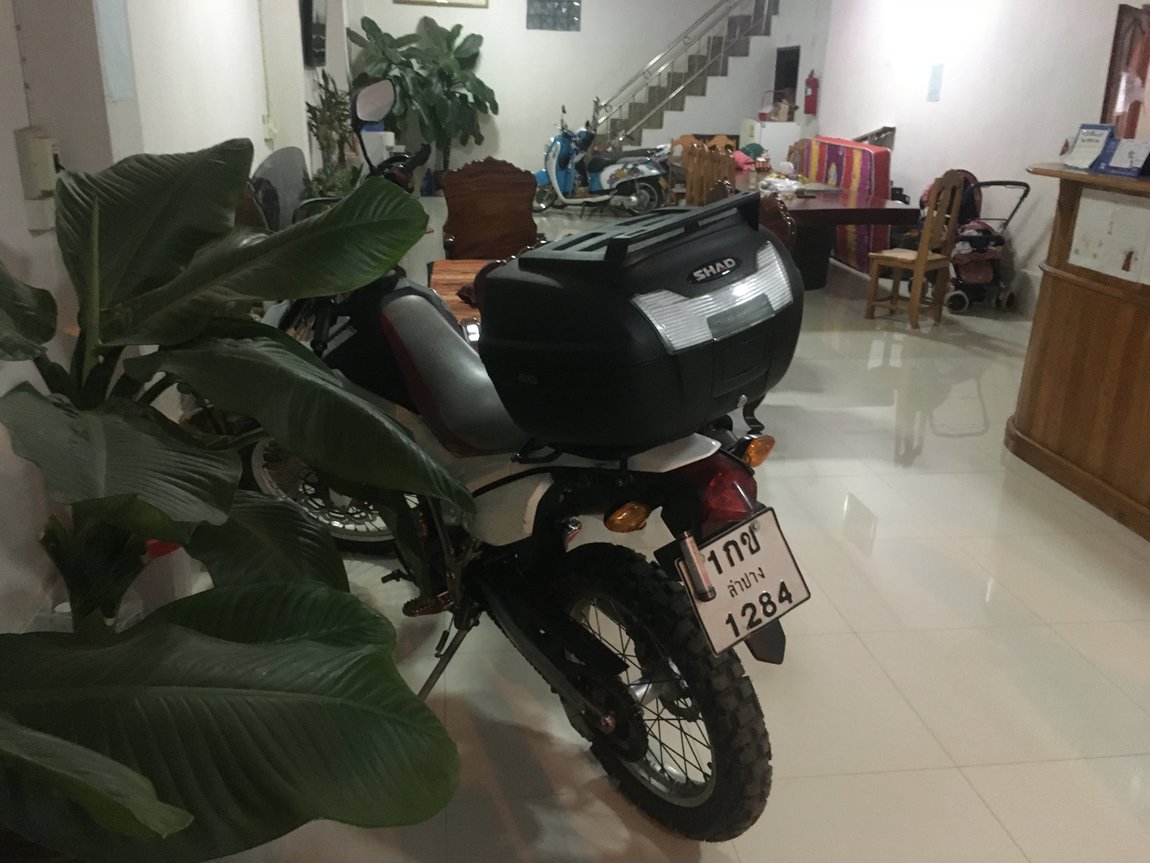 Safely parked in the lobby of Bokeo GH in Huay Xai.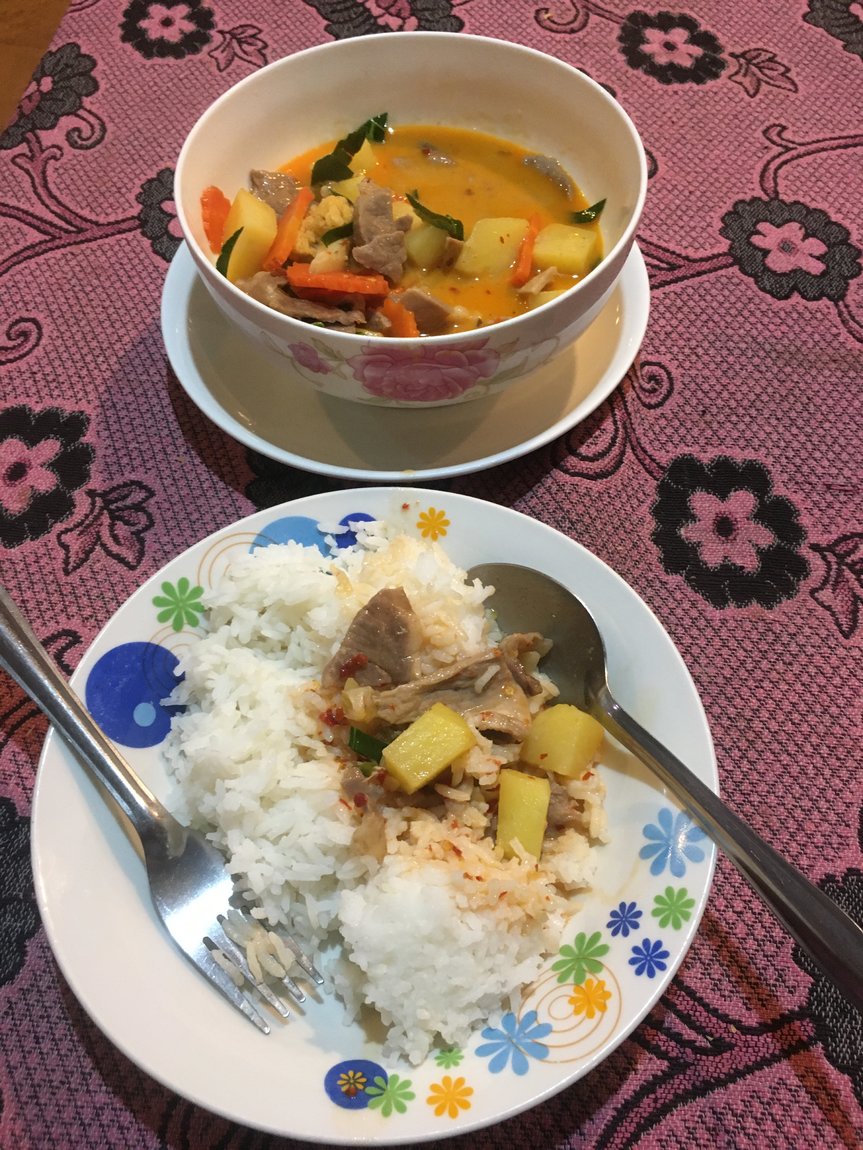 A good meal in the end of the day
Day 1 Lampang to Huay Xai, approx 310 kms, all paved.
Last edited: