0
Staff member
Subscribed
Jan 16, 2003
14,099
5,085
113
69
Accidents, safety and why we ride.
My recent day time dreaming accident where I hit a pick up 16 kms up stream from Chiang Khong gave me time to reflect on life and riding.
Thanks to my father, motorbike riding has been my passion all my life, and at 68, going on lucky # 69, I am proud to say I have never owned a car or driven apart from a couple of driving lessons which I rapidly gave up on due to lack of interest.
Some people say you've had too many crashes, but I've done a million + kms in Thailand and have no regrets. Only 2 have ever been my fault, day dreaming & going out for dinner one night = not paying attention, and they have both been not far from home.
One was stupidly just 500 metres from home,
One of the most dangerous corners / intersections I know is just 500 metres from my house. There is an accident there almost every month. I use it several times a day, going in & out. And sure enough my number came up 2 nights ago. hit by / collided with a young gal on a Scooby, whom I...

www.gt-rider.com
after the last one MotoRex made the wise comment "when you're on the gas, you're focused on your riding, but when your cruising and dreaming you're more likely to crash." I agree.
I had a huge crash in Australia when I was 20 and ended up with 13 fractures. Pelvis, ribs, both arms, collar bone & jaw. How I survived that nobody knows. But was my biking spirit damaged? Nope, I was back on another bike asap.
In 1993, I got hit by a bus on R11, on the ridgeline heading North from Uttaradit.
At the Snail's send off show last night he presented me with an old pic outside the original GT Rider bar An injured GT rider with a full leg plaster. Not a broken leg, but one with 100+ stitches from getting clipped by an orange crush tour bus (on R11 north of Uttaradit). So I dug out a...

www.gt-rider.com
Something on the front right corner of the bus – door hinge or fender - sliced open the fuel tank on my bike, like you would open a can of sardines, and as I was catapulted up off the bike my left leg was sliced right open, knee to groin. I was so lucky because the cut stopped just a few cms from the family jewels.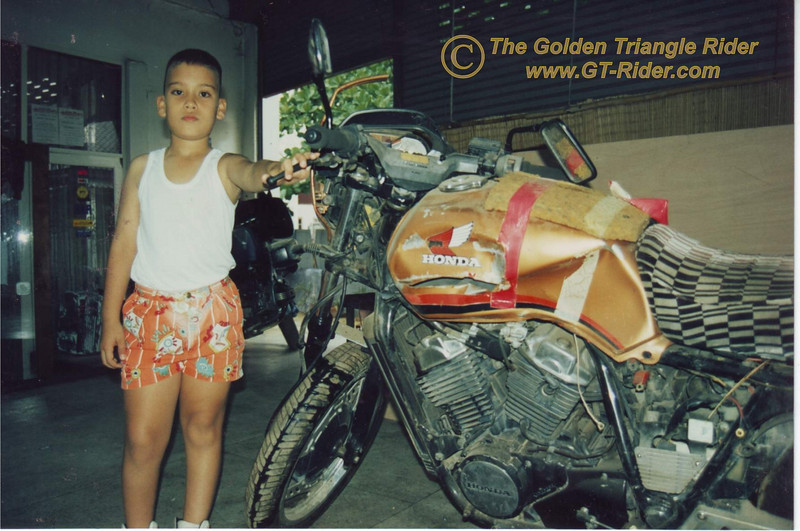 Unbelievably I did a 360 somersault in mid air, flew over the road and landed on the edge of the massive roadside drain, sitting bolt upright with my legs out in front like reading a book. The rest of my body was unmarked, except for the massive open meat sandwich that was my leg, sliced open to the bone and looking at me. I had 100 stitches in my leg and massive skin grafts to hold it all together again. How I survived that and the loss of blood nobody knows.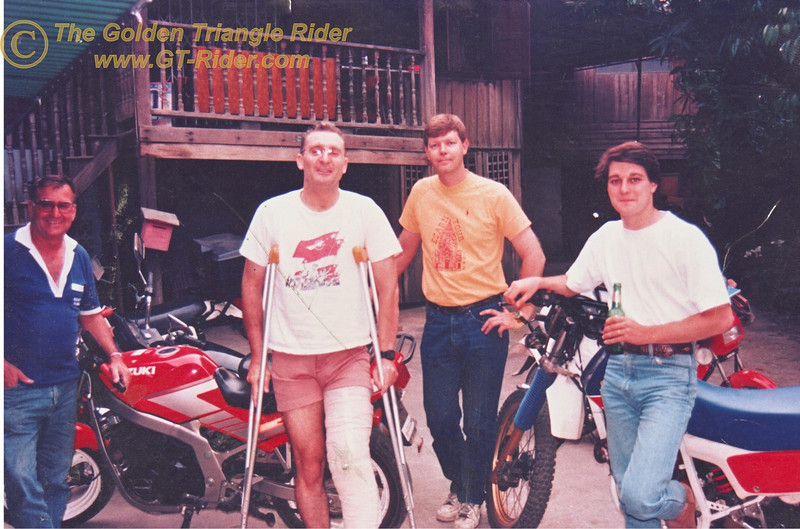 But was my biking spirit damaged? Nope, I was back on the same bike asap, courtesy of a fantastic David Lek repair job.
A year later I had another freak accident on R12 heading east out of Phitsanulok. In the distance there was a slow moving pick up struggling up the steep inclines. Eventually as we closed in the pick up slowed dramatically, missed a gear?. And I swerved out to overtake the pick up, but just as I swerved out to overtake, the pick up drove over a large rock on the road, hidden from my view. You sometimes get these rocks on steep slopes where vehicles have stopped and put a sizeable rock under the wheel to stop them rolling back. Luck was & wasn't on my side. My front wheel hit the rock, causing the rim to fracture & down I went. My momentum carried me alongside the dramatically slowing pick up and I fell into the rear wheel arch & dragged along the road. You're gone this time I thought or it won't be a happy ending.
But luck was on my side & before long I was spat out & rolled along the road. I sat up & felt myself, everything still in tact and working. I was sore but ok. My Arai helmet had rubber across the visor from the tyre, as did my riding jacket chest and shoulder, rubber coated. An hour or two later I was in the Lomkao hospital getting 4 stitches in my left shoulder. How I pulled that one off I don't know. It was a good accident. Lucky I was. But was my biking spirit damaged? Nope, I was back on the same bike asap, courtesy of another fantastic David Lek repair job.
Not long after I got the Africa Twin & clocked 320,000 kms on the bike.
God's gift to motorcyclists this bike was.
I only dropped the AT once, in bulldust & stones coming out of Hongsa in Laos in February 2007.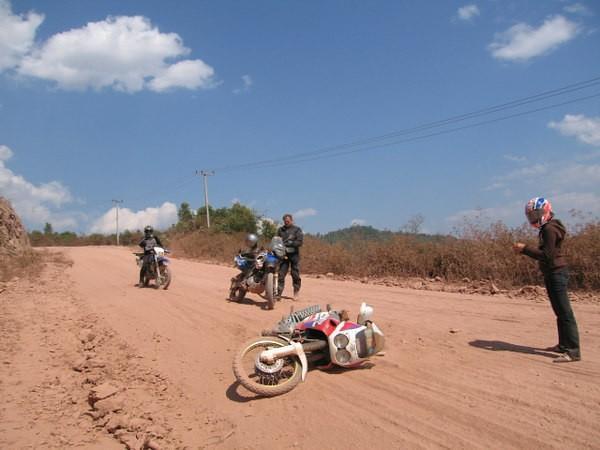 DATE; Friday 16th Feb 2007 Dropped the Africa Twin whilst riding it! It's only taken 180,000 kms. Result lots of pain – a broken arm, plus a broken mirror & turn signal on the bike. Not much eh. What happened – riding down a steep descent & hit a rock in bulldust, which tucked the front wheel...

www.gt-rider.com
The bike damages were minimal & I was back on the bike as soon as physically possible.
I've come of twice on the greasy old R118 road, in almost the same spot.
Once on a 500X renta from Mr Mechanic & once on my Versys heading to Laos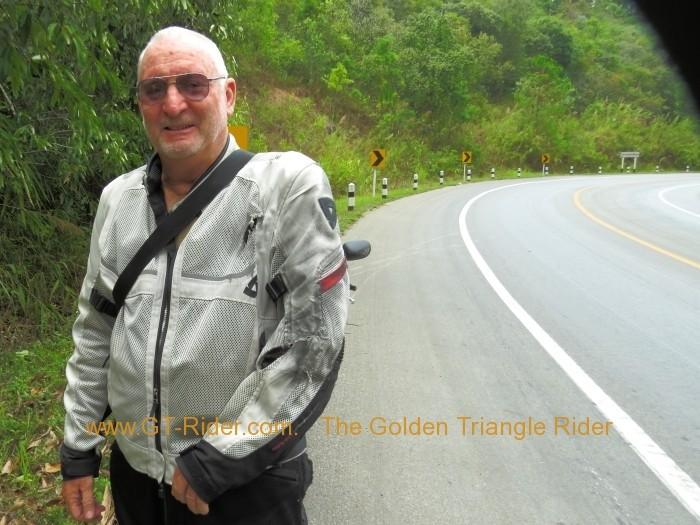 Off for the weekend to Phu Chi Fah & Doi Pha Tang, the Versys is still off the road waiting for parts, so what better to rent than a new Honda 500X. and 60kms north of Chiang Mai on route 118 going into a nice corner I tip the bike over to power on a little through the corner & the bike keeps...

www.gt-rider.com
and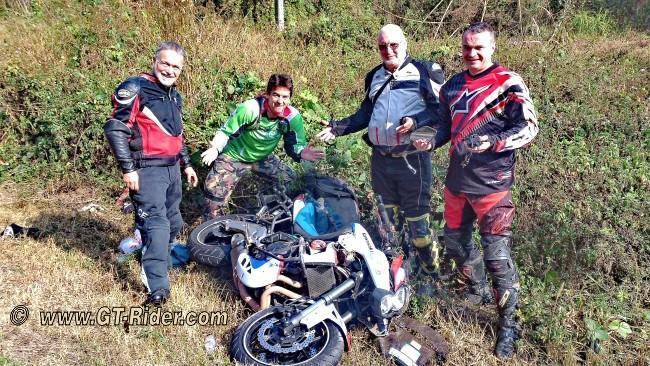 On the way to the 2014 GTR Mekong Boat & Bike Trip and what happens...R118 bites me again. Damn damn damn. And almost the exact same corner! Unbelievable, cruising along slowly, aware that I was in my "corner danger zone" & then suddenly without any warning I'm on the deck, the...

www.gt-rider.com
Both these spills were embarrassing and only a few corners apart. I was well aware of the black ice on R118 in those few corners, had backed right off both times & was riding cautiously, but still went down both times absolutely no warning??
In 2019 I was hit by a Chinese 22-wheel trailer truck in Laos & got a bit beat up, as was the bike.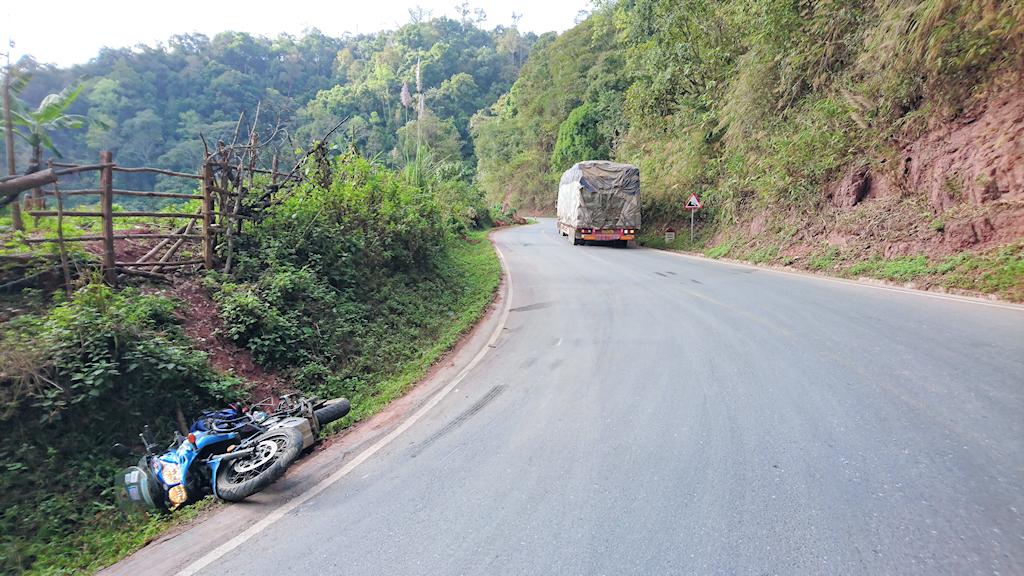 My absolute lucky day = first prize in the lottery! A quick one day ride to Luang Prabang from Chiang Khong, to deliver some maps & catch up to a few friends. It's been too long since I've been in Luang Prabang, so rather than bus the maps to Luang Prabang for delivery, why not just pop over...

www.gt-rider.com
I made it back to Chiang Mai in a few days, after 3 or 4 sore, but enjoyable nights in Luang Prabang celebrating another great escape, with the brilliant Peter Faessler.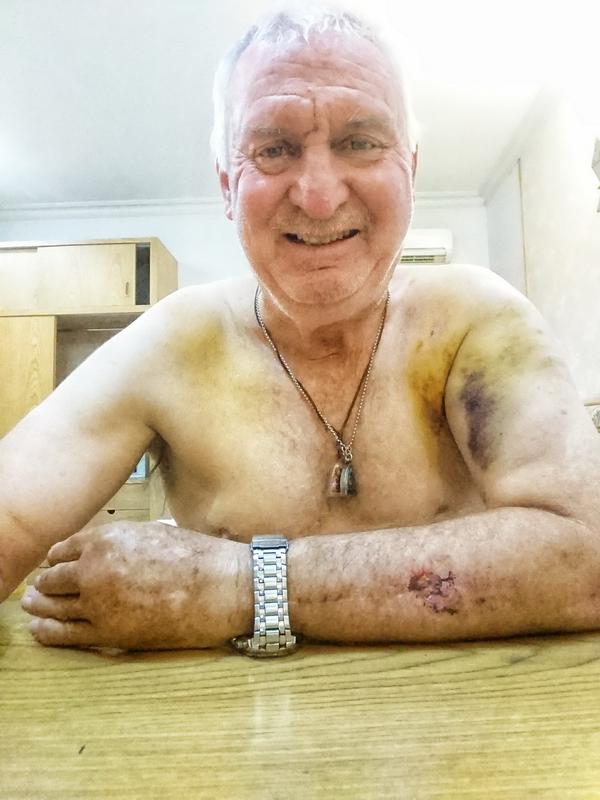 Peter drove up from Nong Khai to pick me up to take take both me & the bike home to Chiang Mai.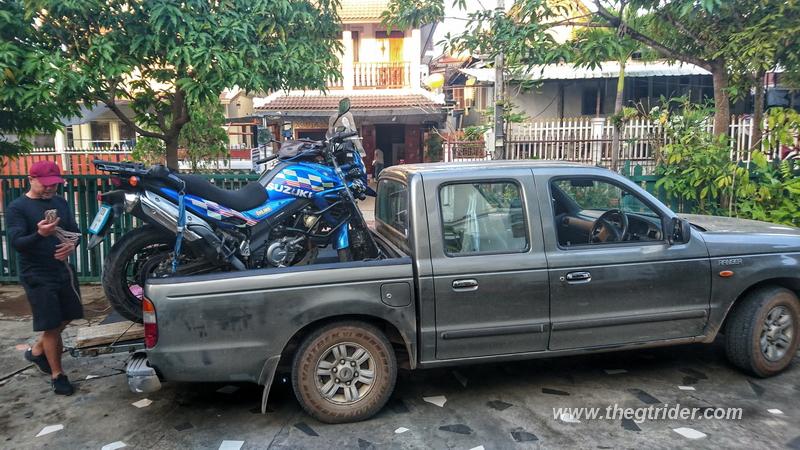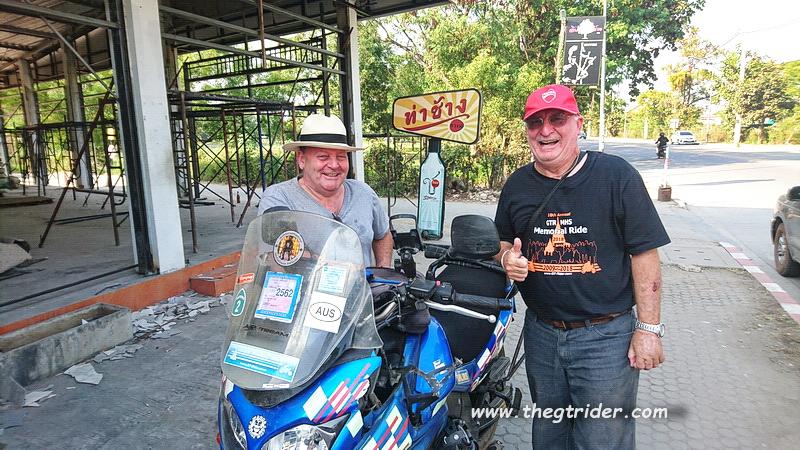 I was sore for a couple of weeks, but was my biking spirit damaged? Nope, I was ready to ride again by the time Tim & Liam had fixed up the bike. I did another 100,000 kms on that bike before I sold it & got the 2017 model 650 VStrom in 2021.
So here we are in 2022 @ aged 68, going on 69 & I've done it again.
Time for a quick cuppa on the Khong it's a 16 kms meander upstream to 1 of my favorite coffee shops, Enjoy on the Mekong. Enjoy Coffee has a magical relaxing atmosphere, but it was a boiling hot day when I left Enjoy to gently meander home. An old rustic house with a magnificent tree on the...

www.gt-rider.com
I wasn't so lucky with this one, a double fracture of the right leg & the right arm.
It hurts & the rehabilitation is going to be a few months.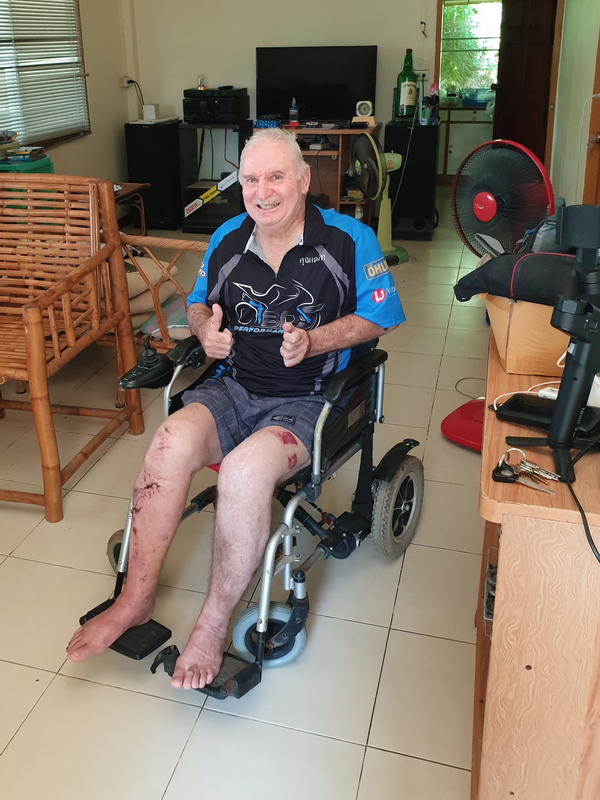 Has my biking spirit been damaged? Nope, I plan to be back on the bike as soon as I'm physically capable & the bike is repaired.
But the thought does occur to me how many more times can to pull off lucky happy-escape accidents like this & keep riding? Is it worth it? Riding is in my blood & has been my passion all my life.
As I said earlier I reckon I have done a million kilometres riding in Thailand / Laos, with multiple bikes
4 or 5 Honda Wing 125s in the 1980s - early 90s. Each of them would have had at least 60,000 kms on the clock.
The Honda NV400SP, I think, had over 100,000 kms on the clock when I sold it.
The Honda Baja 250 had 25,000 quick kms on the clock when I traded it for the Africa Twin.
The Africa Twin had 320,000 kms on the clock when I sold it.
The Versys 650 had 100,000 kms on the clock when I sold it.
Vstrom #1 had 180,000 kms on the clock when I sold it.
Vstrom # 2 has 79,000 kms on the clock at the time of this latest crash.
Looking back now, the riding is not as much fun as it used to be.
Riding the smaller bikes it was much more enjoyable. Why?
Well basically everyone had the same bike 125 Honda Wing or the mighty MTX 125. The speeds were much lower, but you rode just as hard to get somewhere. The roads were deserted, narrow country lanes, with no traffic lights.
Some of our riding times from 20-25 years ago were almost as quick as today.
We used to go to Nan & a Caesar Salad for lunch at Dario's on the old Honda Wing 125.
You took off from lights at the super & didn't see another one until you reached your destination that night, if the town had one. There was no build up of traffic or endless traffic lights on the super highway around the big cities. It was more fun & so much easier to get around.
Nowadays with increased wealth we have fast highways, fast vehicles, many more vehicles big & small, plus more inexperienced drivers on the road in their new vehicles because of easy finance. It is a hell of a lot more dangerous.
Even on the MHS Loop I don't consider anywhere near as much as fun as it was 20 years ago! Sure the roads were narrower, more "demanding", but with less traffic it was less stressful, more fun & enjoyable.
Just back from a run to MHS to suss out what can / cannot be done for the 13th annual GTR MHS Memorial Ride. Dare I say it Going from Chiang Khong my preferred ride is across Paradise Road to Chiang Saen, then 1016 to Mae Chan, then 1089 to Tha Ton & onto 107 down to Mae Malai, and then a...

www.gt-rider.com
No trailer trucks like you see on the road nowadays.
Once upon a time a 6-wheel truck was a big vehicle on the MHS loop. Now you can get hit by the trailer trucks, corner cutting & dragging the trailer across the corner to maintain some speed. Then you've got all the mini vans from the mass tourism, often driving in a convoy & not wanting to let anyone else pass.
Nan is on the map for sport bike touring & scores of inexperienced Bkk riders like to try out their inadequate skills & racing each other at speed on the public roads. All the roads of Nan used to be deserted once upon a time & decades ago I was riding past T3 when it was dirt & you never even noticed it. Just another series of corners among the endless winding mountain corners in the province. One needs to be careful of the traffic out there at all times now.
The bigger bikes of the last 20 years, brought more speed & enabled your travel quicker & longer distances. I've done some big rides, Chiang Mai - KL in 3 days in 95 for MotoGP. Last year Nakhon Phanom - Chiang Khong non-stop for something to do during covid-19.
The Snail is still my long distance riding hero in Thailand. He used to ride Chiang Mai - Singapore "non-stop" & did it multiple times. It used to be fun, less traffic and wasn't that difficult; but despite the better roads, I don't think he would enjoy doing that nowadays - too much traffic & heavy vehicles.
The Snail also did Chiang Mai - Luang Namtha - Luang Prabang non-stop on his Ducati in 2008.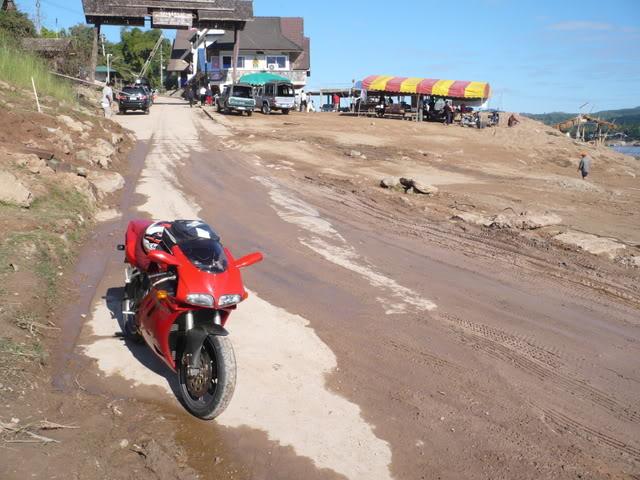 Couple of nights ago, bored and restless I decided to head to Luang Prabang for New Year. Didn't leave much time to get there at it meant departing Chiang Mai on the 30th(yesterday) so the obvious thing to do was pack my bag straight andhead out early morning. Left my house at 0515hrs on a cool...

www.gt-rider.com
I wonder would he enjoy trying that again with the better roads & all the trailer traffic, probably not.
Do I intend to stop riding?
Nope but it maybe time to ride less, I can't afford another "lucky accident" @ 69 in December.
A lot of the riding thrill may have also gone, "I've been there done that" to most places now.
However I still love the mountain air, hanging out with the ethnic people, talking to them, getting their history & life stories of the struggles they have had, bringing up kids, building a house, getting an education for the kids & generally just surviving as well as possible.
I look forward to being back on a bike asap & pottering round the mountains, talking to the old folks about their lives & history.
Long may it continue.
I hope to inspire more people to ride & enjoy this fantastic biker paradise.
Thank you everyone who kindly donated to the recent Go Fund Me drive, to help get over this financial speed bump of the next few months.
You all take care out there now.
Last edited: